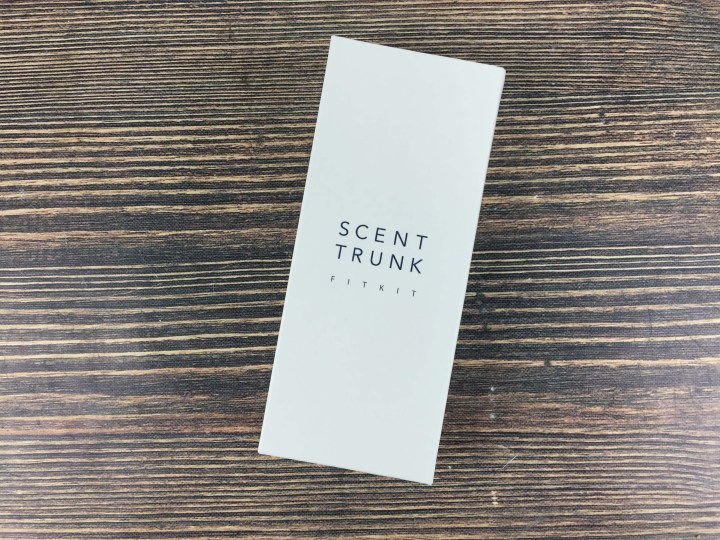 Do you have difficulty picking out a signature scent for yourself? This subscription may be the solution to your problem. Scent Trunk is a scent discovery subscription. Of the men's fragrance subscriptions we regularly review, Scent Trunk is the subscription best triangulated between niche and mainstream – the fragrances are from niche designers, but they are balanced similarly to mainstream scents. They offer both a men's and women's version, and they are launching a new format, starting October 16th. Every month you'll receive 5 ml of a curated fragrance based on your preferences! It all starts with the Fit Kit. They have a beautiful new website as well.
This month we received the Scent Trunk Fit Kit. It is meant as a means of figuring which classes of scents you enjoy so you can fill out your profile accurately. All new subscribers receive it before their first fragrance, and its free (you pay $4.95 shipping).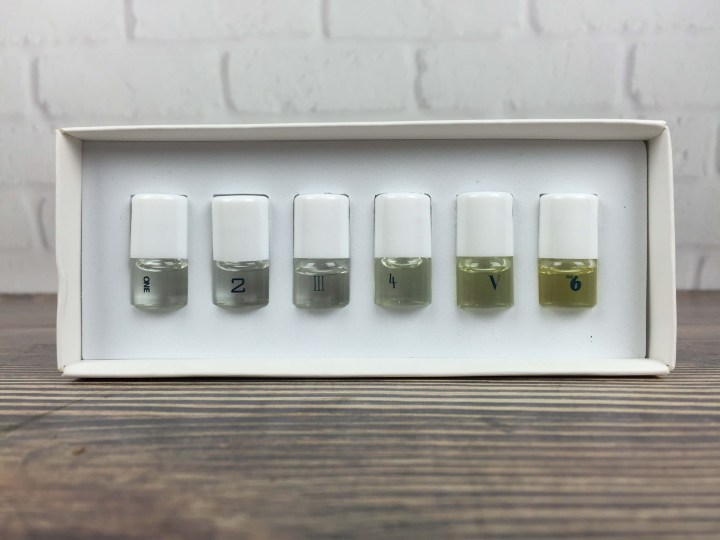 It contains six samples of fragrance archetypes. I don't think the vials contain actual, branded perfumes – I think each is just a generic blend of some major scent notes within a genre. The idea is just to get a sense of your preferences.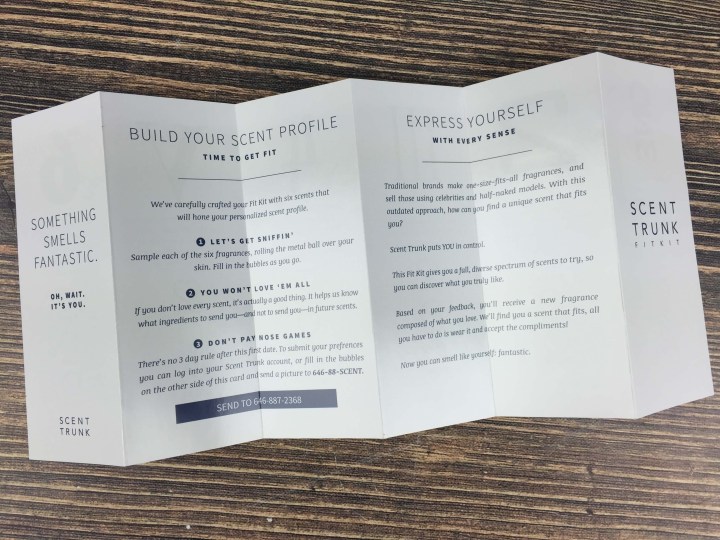 Once you've completed the "sniffing," you can fill out your profile using the info. Soon, you will even be able to just text a pic of your completed preference sheet!
The simple preference sheet. You rub the fragrance on your skin, smell it, and mark whether you love it, like it, or don't care for it at all.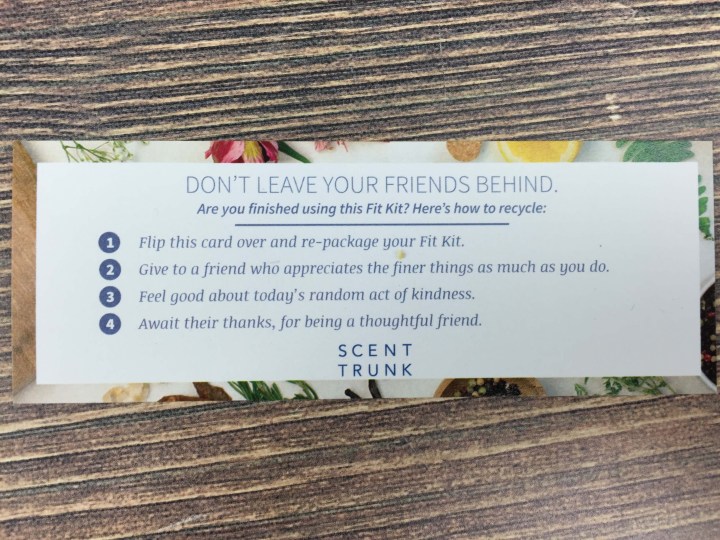 The box came with an instruction card on how to recycle it by passing it along to a friend.
Each of the sprayers has a cap and a label to identify the fragrance.
One: Citrus, such as lemon, bergamot, and orange.
2: Woody, with warm, dry notes, like cedar and sandalwood.
III: Herbal – slightly ozonic with tones of basil, lavender.
4: Floral – sweet and uplifting like rose and orange blossom.
V: Spicy/smoky, with incense, resin, and musk.
no. 6: Exotic – deep, profound scents like oud, guaiac wood, and ambergris.
Once you submit your form, Scent Trunk selects a new fragrance each month to match your likes.
They are shifting up their model a bit – instead of sending a few tiny samples, they are now sending a single, larger 5 ml bottle with a selection chosen based on your preferences. The amount of fragrance should be similar to what you'd get from Scentbird, but with the selection curated for you instead of chosen and queued by you. The monthly bottle is $11.99, and it looks like it will come with a sprayer, at least in the initial order.
Visit Scent Trunk for Men to subscribe or find out more! Save 40% on your first box. Use coupon code HELLO40. Or while supplies last get a free trial! Use this link to get the deal.
The Subscription
:
Scent Trunk for Men
The Description
: We don't wear the same clothes every day, so why wear the same scent? With Scent Trunk, you get a new fragrance every month. Each box is customized to your unique tastes, so you'll love every box. You fill out a Profile which let's the Scent Trunk team know what you like, then, they scour the world to find the most unique fragrances which will suit you. Fragrance is the ultimate fashion accessory, and like fashion, we're all different. Scent has the power to change moods and evoke emotions, so 1.5% of sales go towards fighting mental
illness. Women's
also available.
The Price
: $11.99 per month