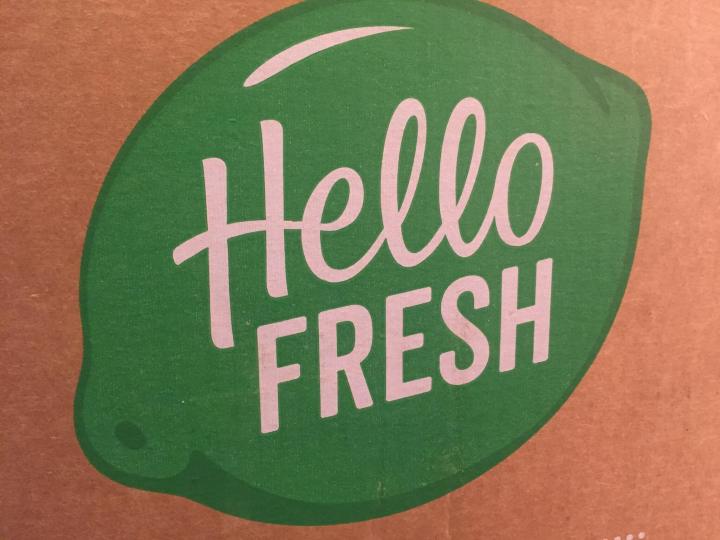 Hello Fresh is a meal kit subscription box with complete recipes and ingredients to make 3 meals every week, with each meal feeding either two or four people, depending on the plan you choose.  
Though it is a subscription, you can pause your deliveries when needed — whether you are out of town, have other dinner plans, or just aren't in love with that week's selections.  The standard subscription provides high-quality meats (free-range chicken, antibiotic meats, etc.) to use in the recipes.  
Though we do eat meat, we cook vegetarian three times a week.  Thankfully, Hello Fresh has a vegetarian subscription for both casual and dedicated vegetarians.  This review covers the vegetarian box, which featured a recipe by Jamie Oliver!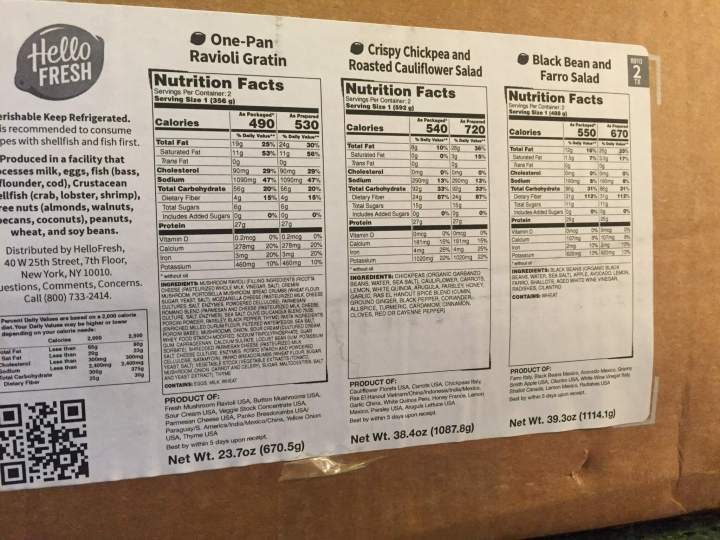 The boxes used by Hello Fresh keep all the ingredients for the recipes in order, and they stack nicely in the fridge.   Within each box, everything but the largest vegetables is separately packaged, and is packed at the bottom. Condiments and canned goods are provided in high-end, commercial packaging.  Hello Fresh usually provides spices in their own, pre-measured branded packaging.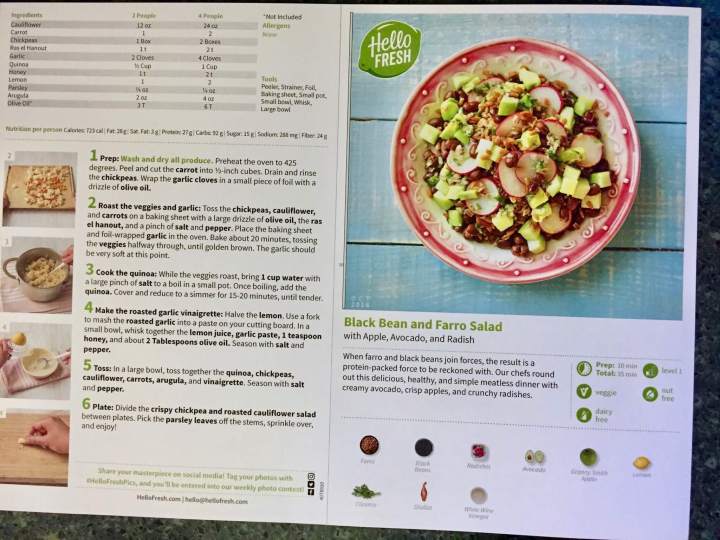 Hello Fresh has great instructions, and they are easy to follow even if you are an inexperienced cook. There are even some kitchen tips included in the information card.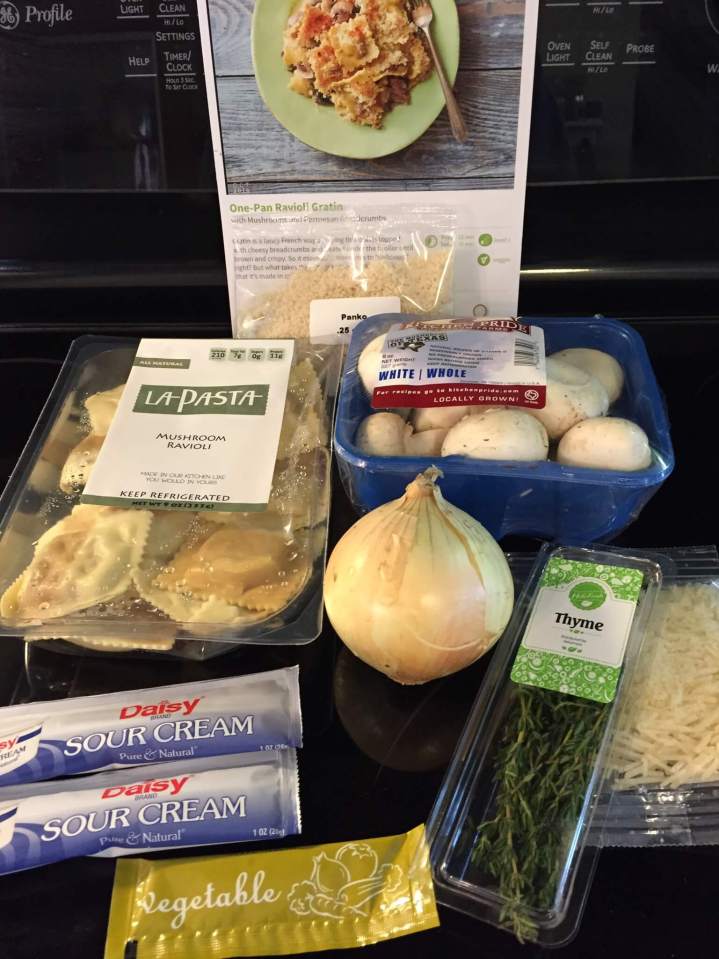 One-Pan Ravioli Gratin With Mushrooms And Parmesan Breadcrumbs. 35 minutes, level 1, 526 calories per serving.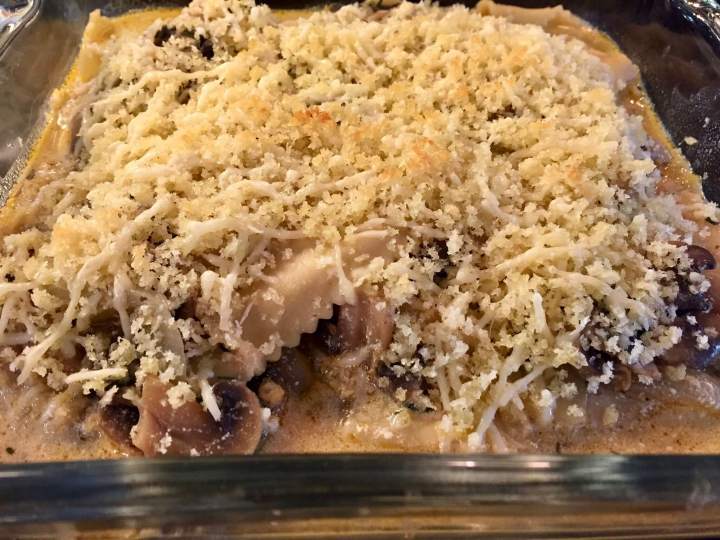 "It only tastes good because you didn't have to cook it,"  that's what my grandma used to say. Everything she made tasted so good and maybe there's some truth to what she said.  Today, was no different, my husband started out slicing the mushrooms and ended up cooking this ravioli. Delicious.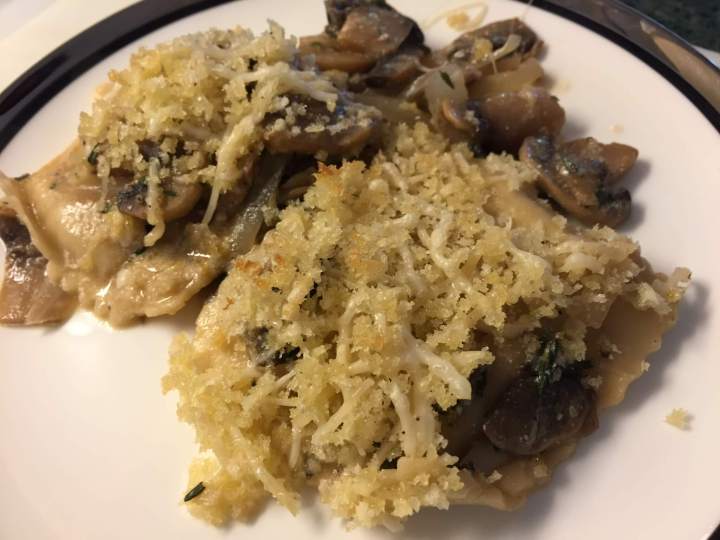 I said there was a strong mushroom flavor and he corrected me and said it was woodsy.  Is woodsy even a real word?  Either way it was good.  And I loved the olive oil, Parmesan, panko topping heated to just the perfect color of golden brown and crunch.  Loooove that texture.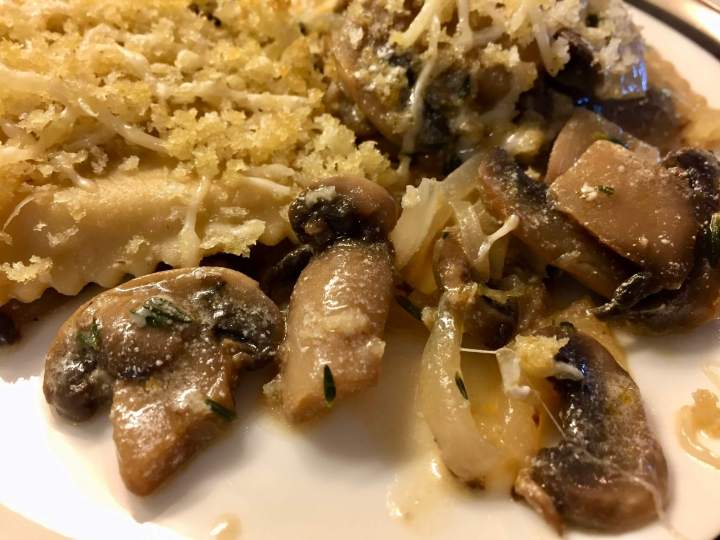 This was another filling meal thanks to the ravioli and again we have leftovers.  I really do like leftovers because the flavors were good to begin with but most of the time they will blend after sitting in the frig.  It seems they are even better later.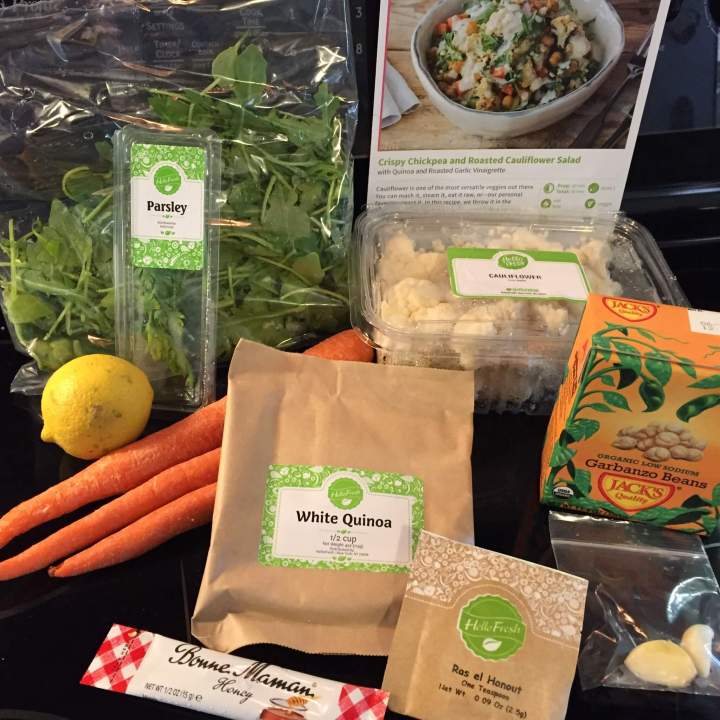 Crispy Chickpea And Roasted Cauliflower Salad With Quinoa And Roasted Garlic Vinaigrette. 30 minutes, level 1, 723 calories per serving.
With a recipe name like that do I really need to tell you anything else? Ha.
Actually, there's a lot to tell beginning with the roasted vegetables.  425 degrees and 20 minutes is the perfect temperature and time to roast vegetables.  I swear I'm going to write that a sticky note and put it on my cabinets as I've seen so many variations of time and temperature.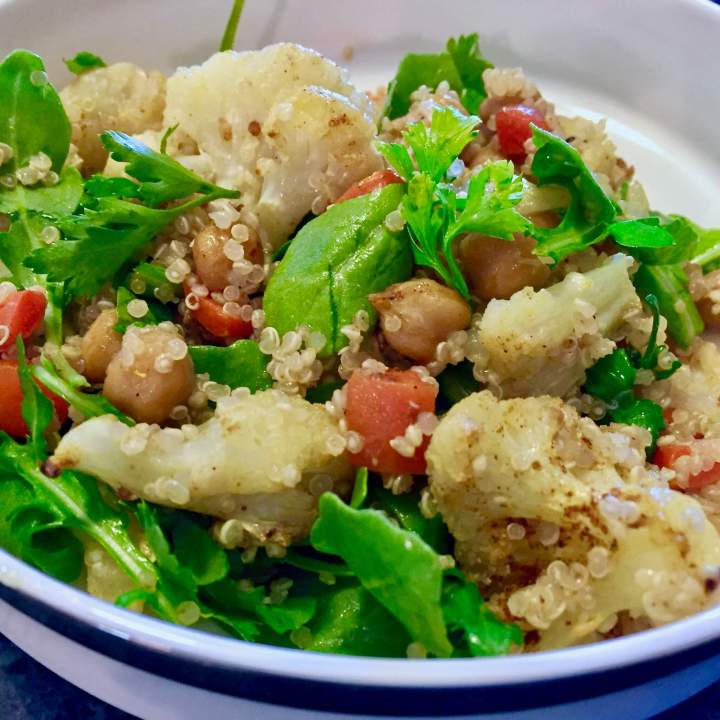 The salad itself was a great mixture of items but what set it off was the Roasted Garlic Vinaigrette. You use the juice of a whole lemon and you'd think it would be very lemony but with the roasted garlic it wasn't.  The mix was a perfect blend of strong flavors coming together for a non concentrated taste.  It was just right.
Great salad with a great dressing and we were able to have 4 servings out of this dish.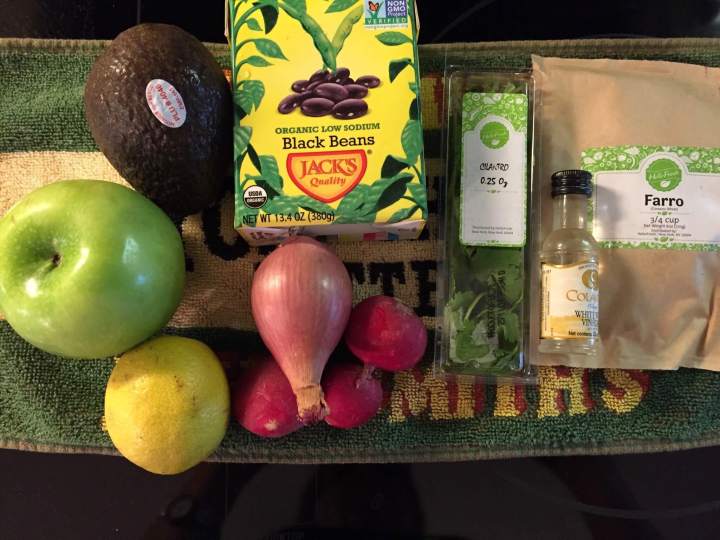 Black Bean And Farro Salad With Apple, Avocado, And Radish. 35 minutes, level 1, 674 calories per serving.
Once again I had help in the kitchen with my granddaughter.  It's fun watching her learn and blossom.  All she had time for was to wash the produce, drain the beans and zest the lemon.  She liked that part because her hands smelled lemony fresh!  This was such an easy meal, she really could have made the whole thing.  Yes, it was that easy.  Now if I could just get her to try it!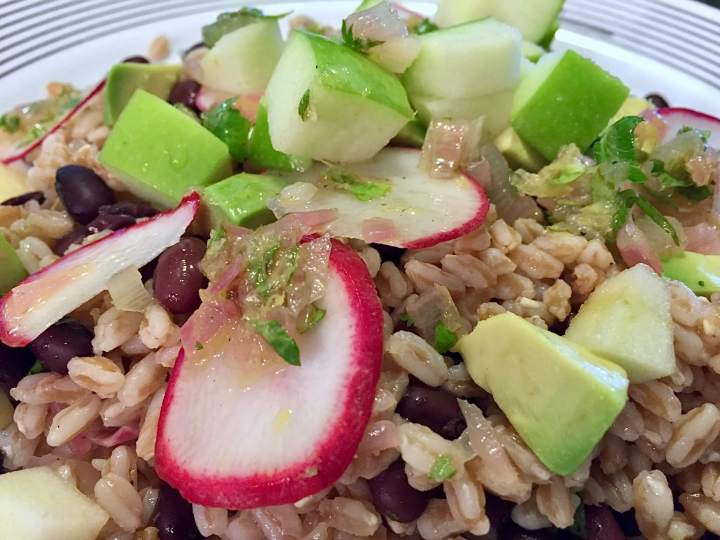 Chewy, crunchy, mooshy, zesty, this recipe had a lot going on.  And it was filling because of the farro.  We have leftovers for today, yum again.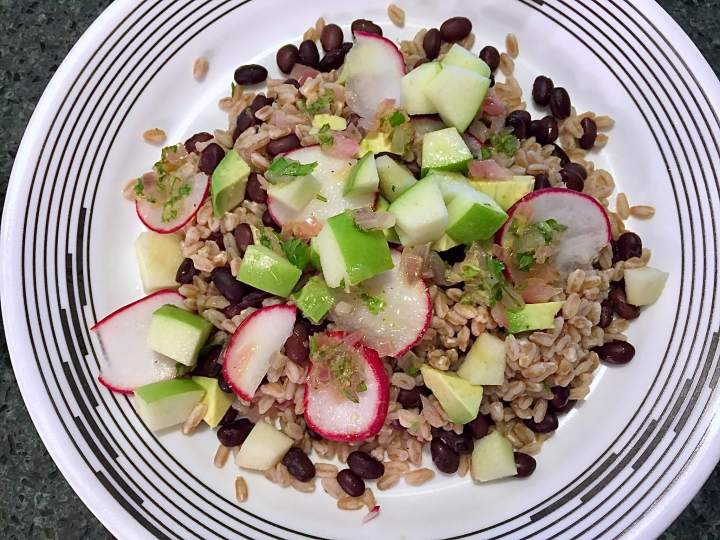 I totally get presentation, presentation, presentation so I made this the way the recipe shows and even ate a few bites and it was good.  BUT then I cut up the radishes on my plate and stirred it all around so I'd get a little bit of everything in almost every bite.  Then it was really good.  So try this recipe your way, pretty as a picture or mixed up salad.
 Have you tried Hello Fresh? Currently you can get a $50 Discount on your First two Boxes with coupon code HF50SUMMER.If you just want to try one box save $40 off your first box with coupon code 7UT7K8.
Visit Hello Fresh to select your box for next week!
The Subscription
: 
Hello Fresh
The Description
: Each week Hello Fresh delivers beautifully photographed step-by-step recipe cards, with the exact fresh ingredients needed to create a selection of new recipes.
The Price
: $69 per week for 3 meals (59 vegetarian)