eSalon Custom Hair Color is an at home custom color subscription. I've been using it for awhile now and I'm in love with it. When you first log in you fill out a survey and answer questions about what you are looking for in a color and what color your currently are etc. eSalon then had a chart showing where you are and what would work for you. From this, they will send a custom blended color right to your door.
eSalon's color is $24.95 per box, $19.99 on subscription – try your first month for $10 with this link!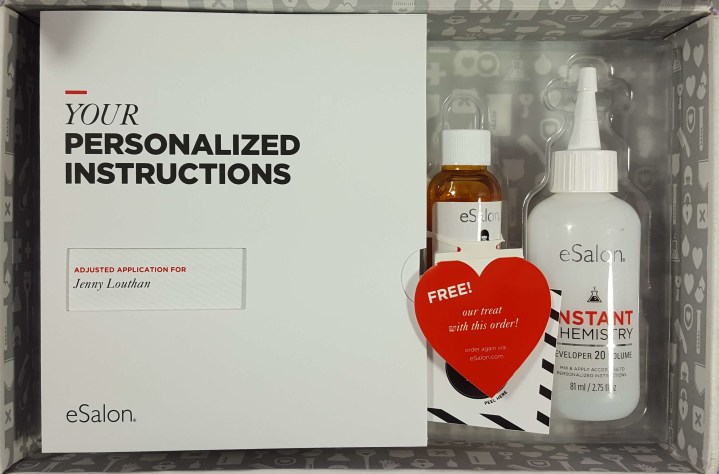 First look in the box and you will see your customized information and instruction card on top of your coloring supplies. This month they sent me a free second application so I could touch up my ends easier.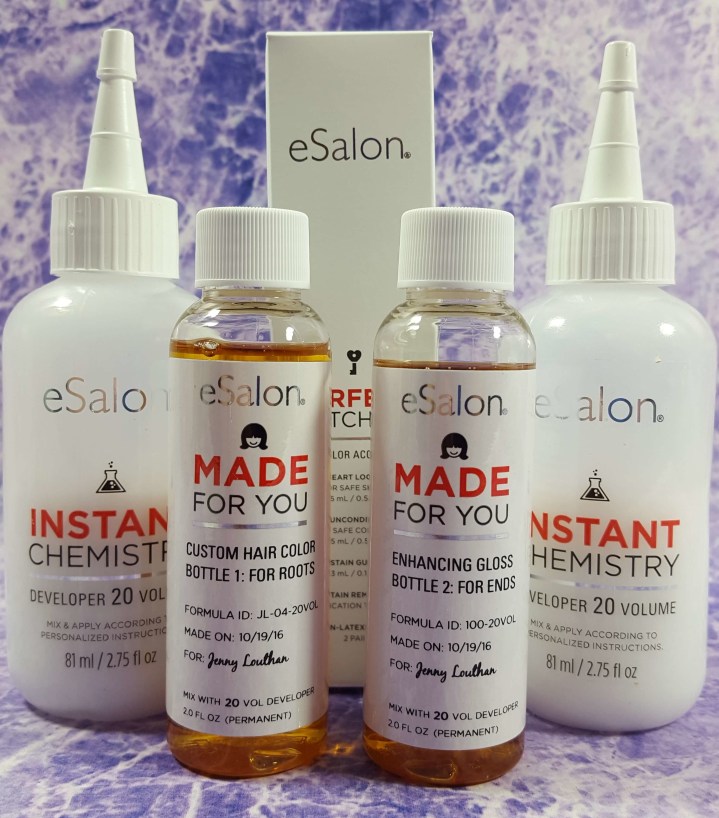 Everything included in my box this month. I was excited to see the second set of coloring and developer.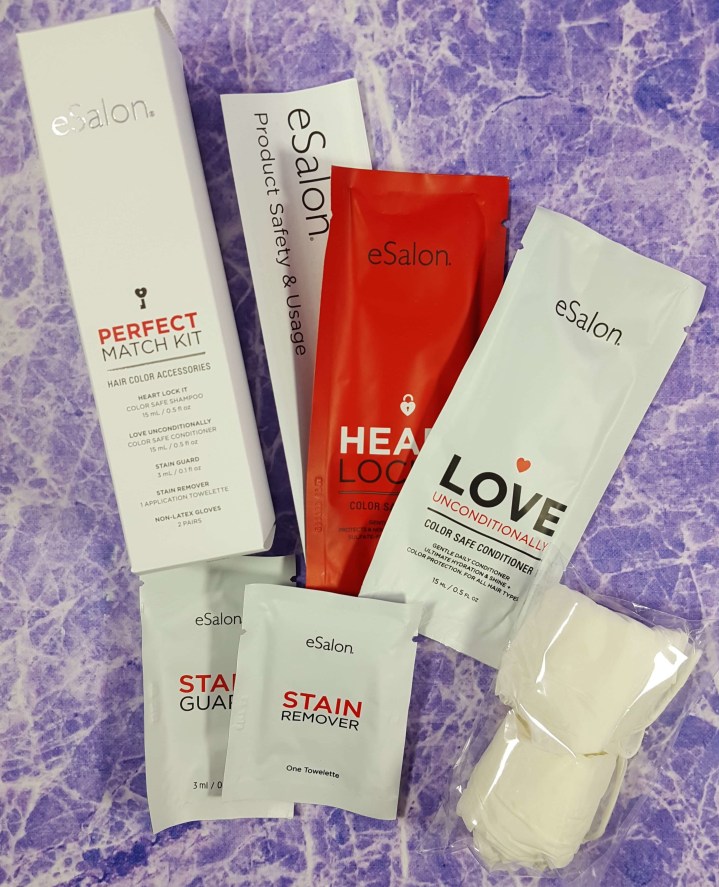 This is the perfect match kit and is all included in the little box. It is all the extras you will need to color your hair: shampoo, conditioner, stain guard, stain remover, and gloves.
The subscription comes with easy to follow instructions. With fall coming quickly here in NC I made a change to my color and asked for them to take it a shade redder then I had it for the summer. Making changes is easy and you can do it in your online account and they will send you a message saying they received it and are going to make the adjustments.
The instructions are easy to read and to follow.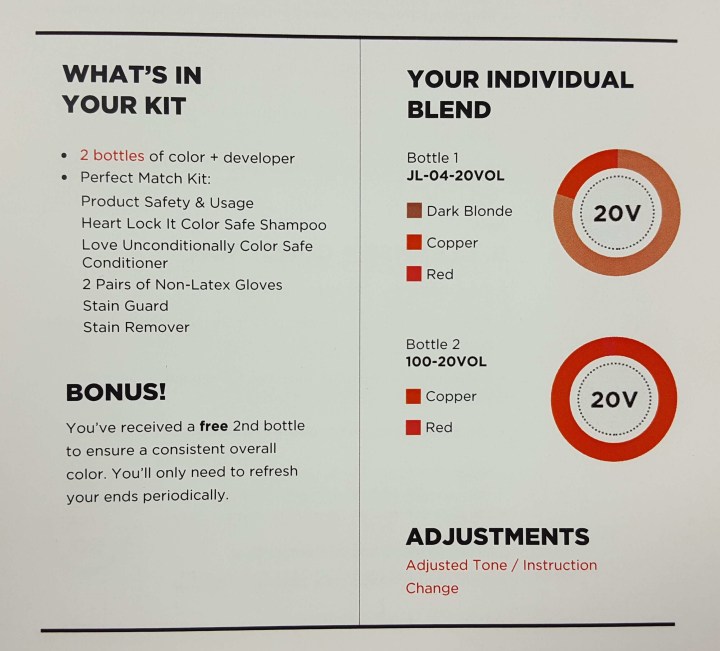 The bottom section of the front of your directions has the included items and then your color formula and any adjustments that you made.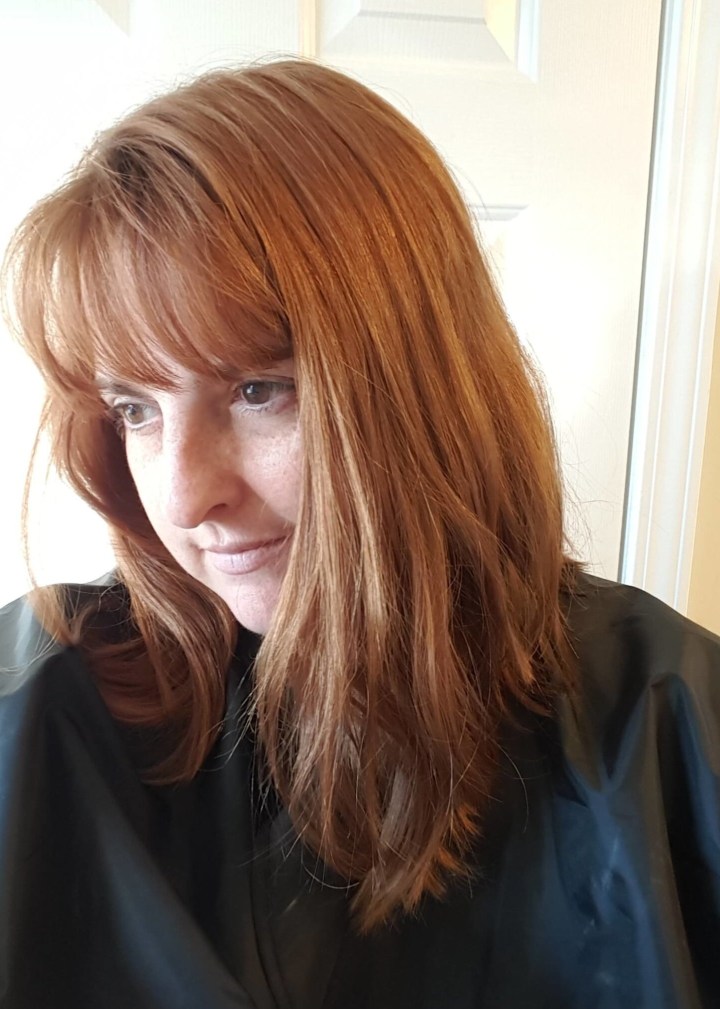 Here is me and my hair before I started. I am using my cape from my first The Matchup box. It was much easier to color with the cape instead of the towel that I used to use. The towel was clunky and hard to move my arms around but the cape is lightweight and easy to maneuver with. You have to excuse the scraggly hair. I didn't brush it or anything before starting this morning.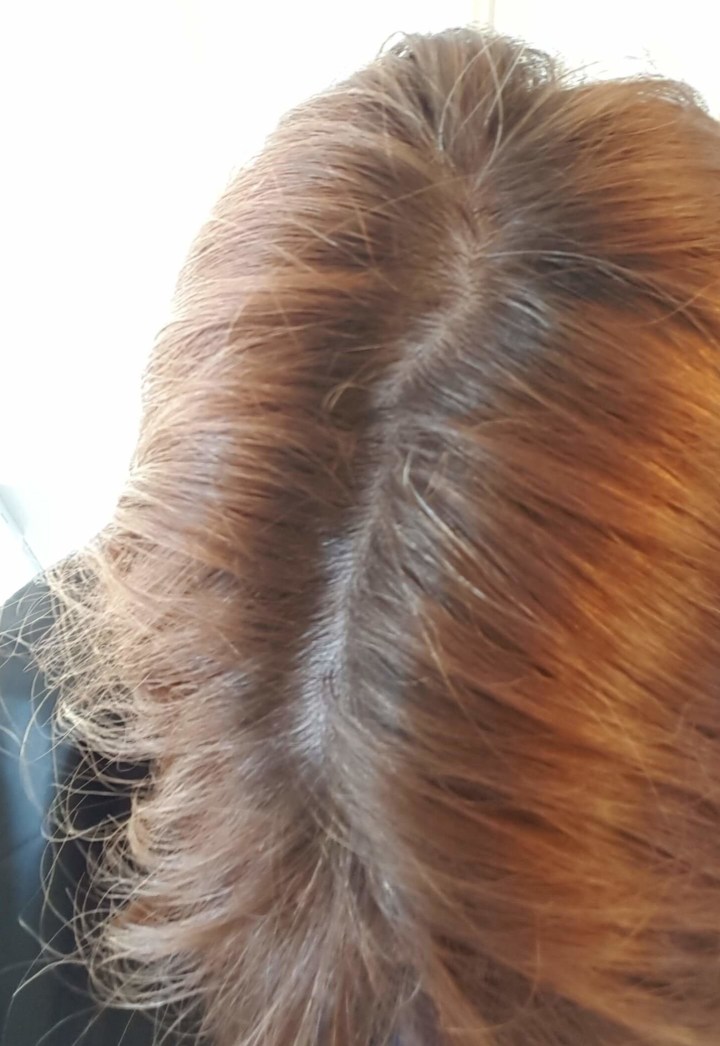 Oh WOW, you can really see the roots in this picture. While some of that is the color growing out some of it is also fall and me not being in the sun every day and it getting its natural high lights. You can also see some of the gray popping through and not blending as well as it does in the summer months.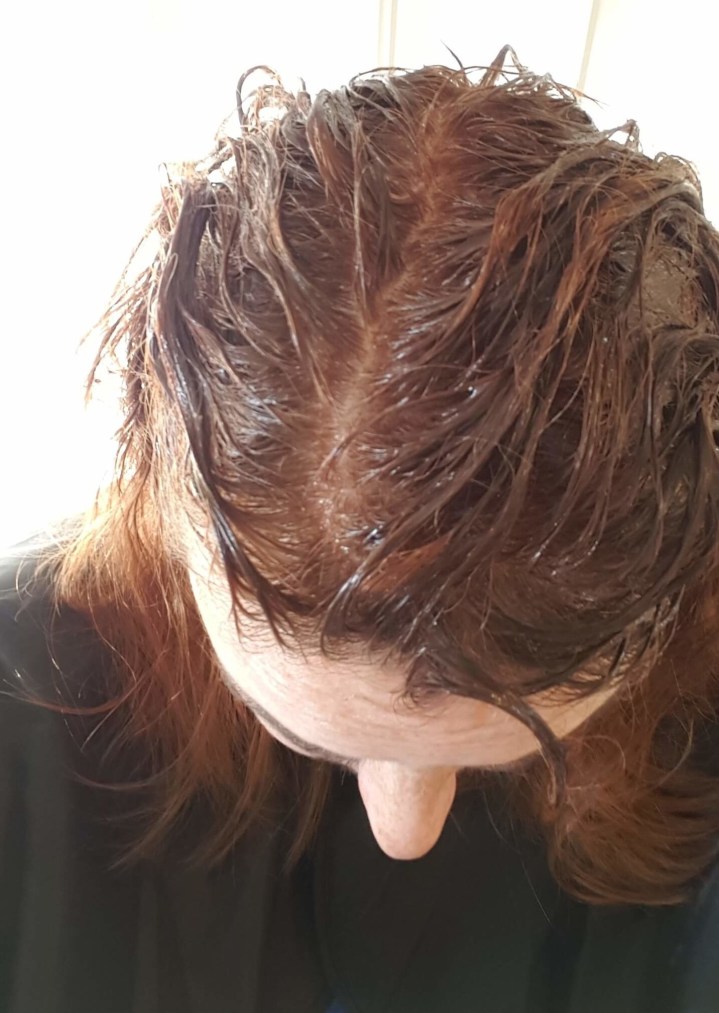 My instructions this time told me to do my roots with bottle 1 and wait 20 minutes, and then to do the ends with bottle 2 and wait 5 minutes. This was after bottle 1 before I clipped my hair back up and waited for bottle 2.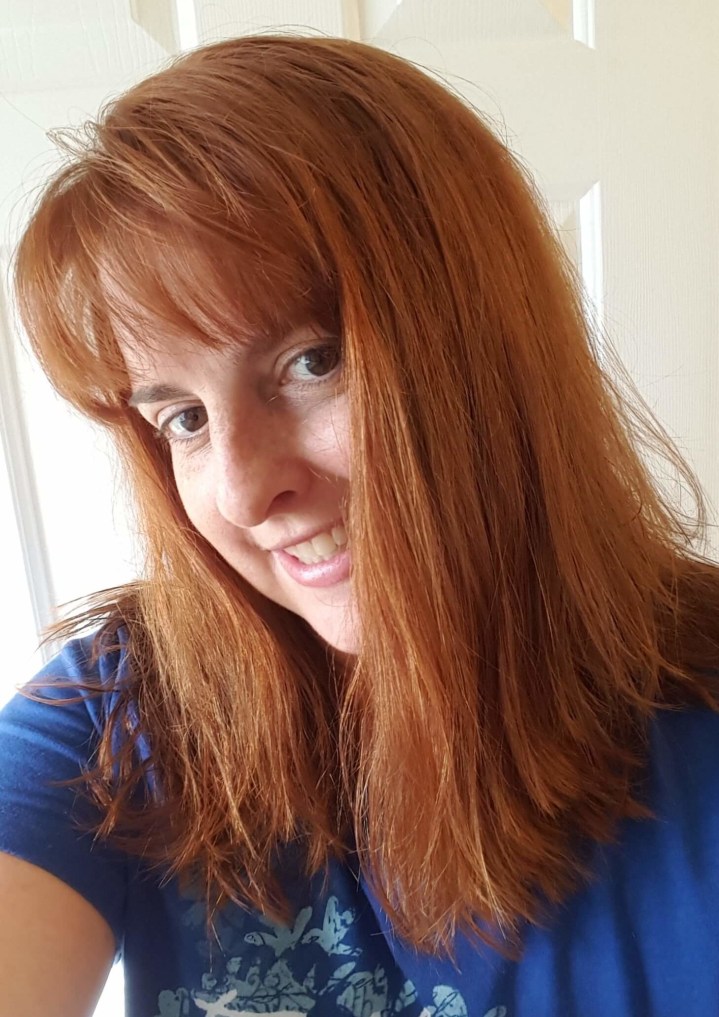 Here is my hair all ready to go. I'm loving this new color and how bright it is. I always say my hair looks shiny and vibrant after I do some coloring.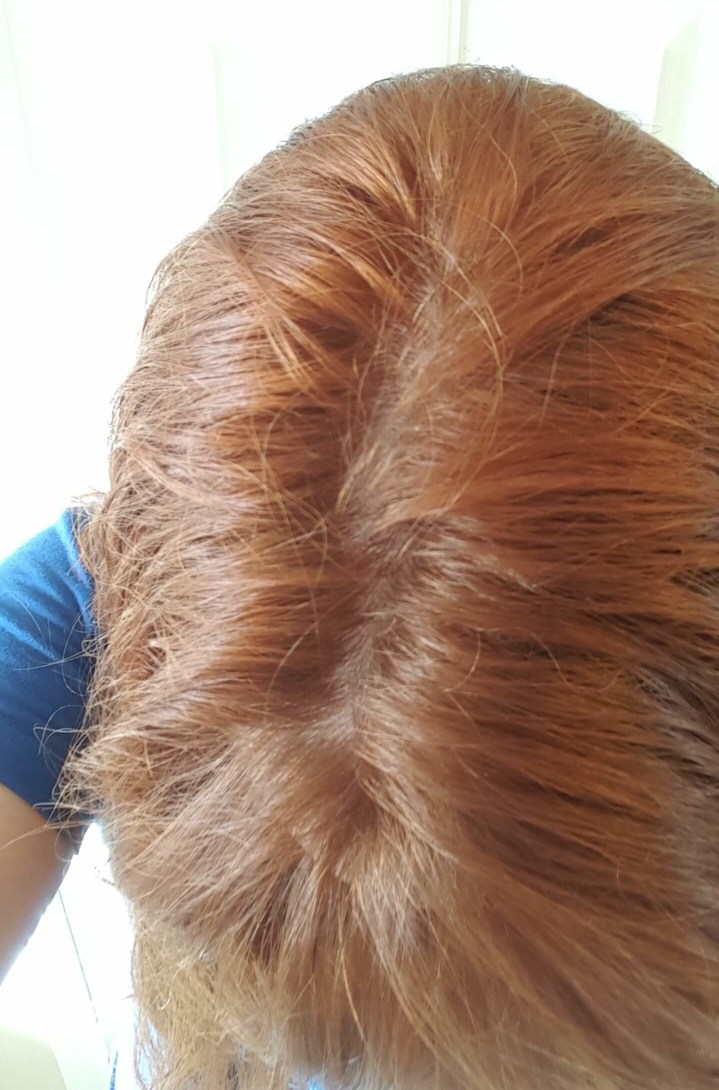 Take a look at the top now! I really should take pictures of the top of my head more often since I have no idea what it looks like normally. This looks great and I don't have the dark roots anymore and you can't see the gray fly aways.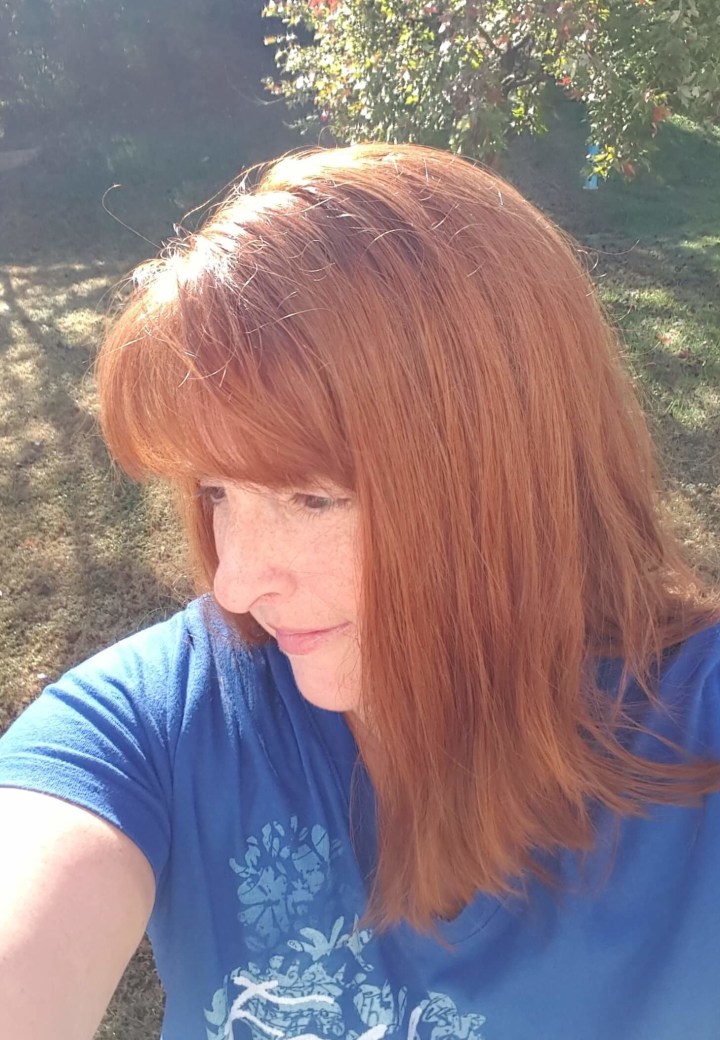 My friend told me I NEEDED to take a picture outside so while I was out today I snapped a pic. You can really see the coloring out in the sun and I still LOVE it. My son who has naturally really red hair even noticed it today and he's 8 so he doesn't notice much of anything like that. I'm calling it a big success.
I love eSalon and the ease in which they made selecting my color and then the easy to follow instructions. I don't really want to change my color much so I go a shade or two off my normal color with each application. I've been doing my hair about every 8 weeks and that is a great span for me however if I wanted to change the frequency I could easily make the duration different.
Do you color your own hair? Have you tried eSalon? You can try your first at-home color for $10 with this link – no coupon code required!
Visit eSalon Custom Hair Color to subscribe or find out more!
The Subscription
:
eSalon Custom Hair Color
The Description
: Get individually blended hair color crafted just for you by professional colorists. Individual hair color, crafted just for you, with personalized instructions for an easy at-home application. Advanced formula with high-quality ingredients for rich, long-lasting color and superior gray coverage. Our hair colors are not pre-stocked. Every order is custom blended, bottled and packaged, then sent to the client as soon as it's completed.
The Price
: $19.99 per month