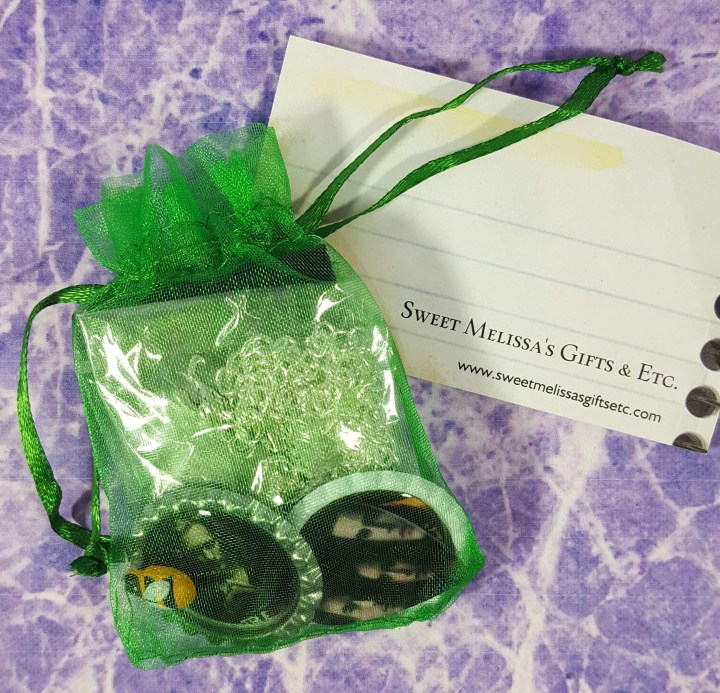 Buzz Bag by Sweet Melissa's Gifts & Etc is a subscription filled with fandom jewelry and gifts. The cost for each mystery bag is only $15 per month. Each bag you'll receive follows a certain theme, which is announced in advance (check the bottom of this post for the upcoming themes). This came in a small black bubble bag and when I dumped it out there was the green bag of goodies and a business card with all the info for Sweet Melissa's Gifts who is the curator of the Buzz Bags.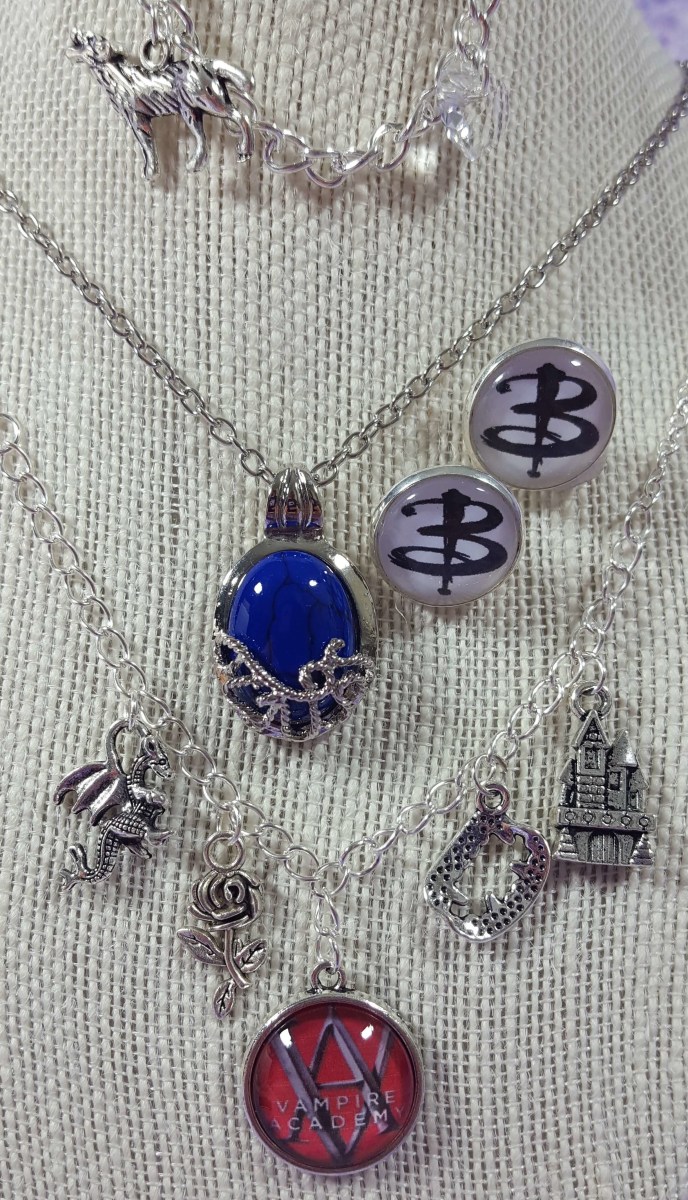 All of the jewelry in this months Vampire themed bag.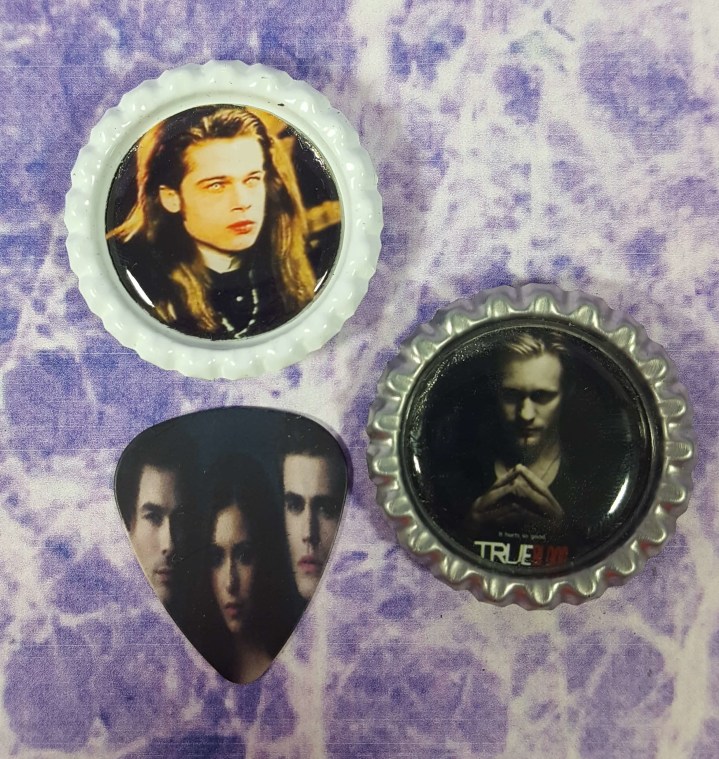 All of the extras in this month's bag – the Interview with a Vampire And True Blood Bottle Cap Magnets and the Vampire Diaries Guitar Pick. I don't play guitar but just last year we got my mom and mother-in-law necklaces that you can display picks in and I really think that I'm going to need my own so that I can show my love.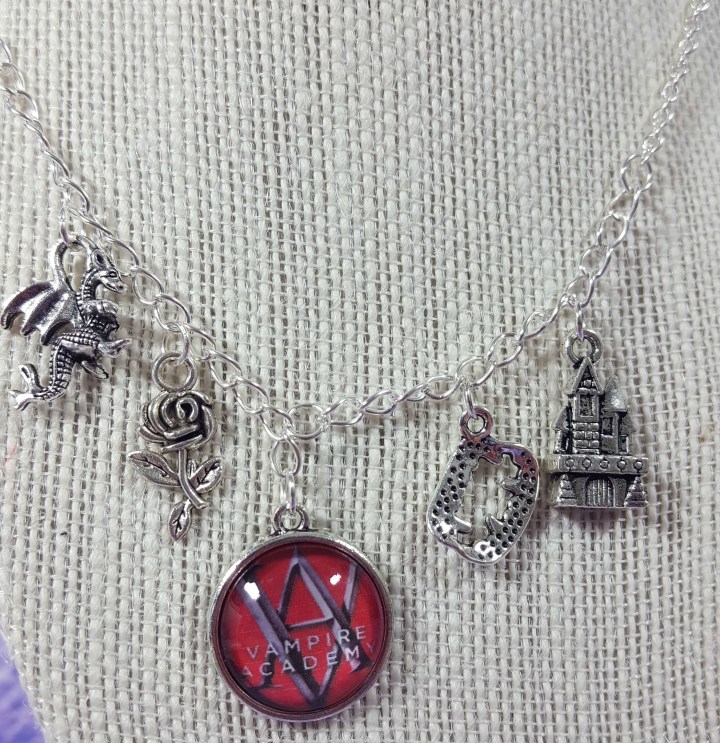 Vampire Academy Charm Necklace –  I love a good charm bracelet or necklace and this one is stunning.  I have seen the movie but have not read the books yet however I have heard great things about them and they are actually on my to be read list.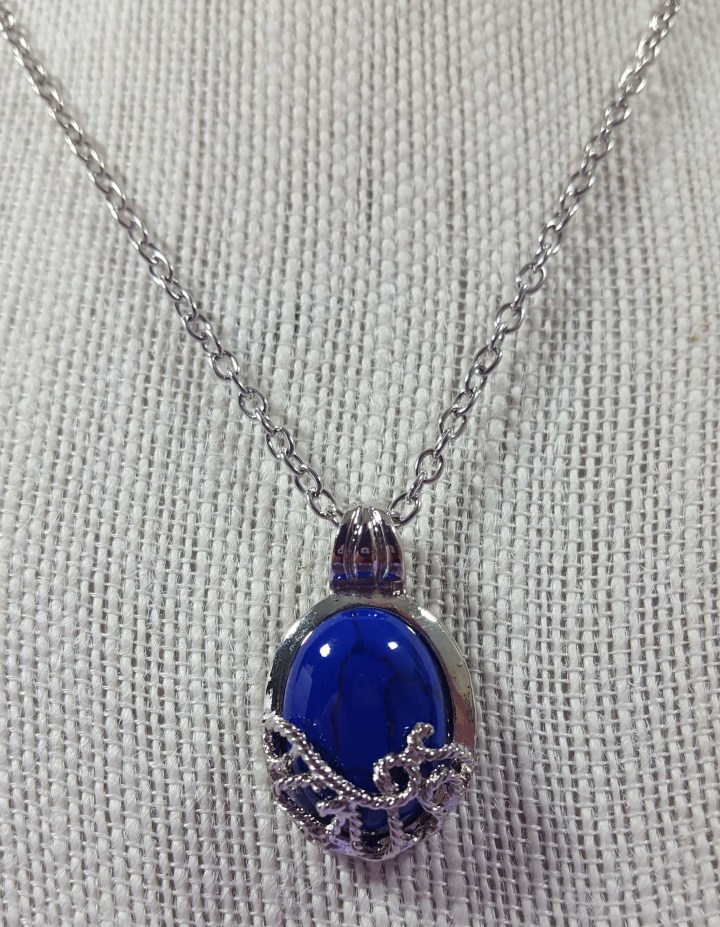 Vampire Diaries Katherine Anti-Sunlight Necklace – This is gorgeous and I love that it is show inspired however it doesn't scream Vampire Diaries and I will be able to wear it alot.  On the show Katherine was a doppleganger for Elena and the one who turned Damon and Stefan into vampires.  As most of you know normal vampires can not go into the sunlight but on the show they each have a stone that has been charmed by a witch that will allow them out in it.  They come in all different things like rings and necklaces and other charms.  Katherine's is a lovely blue lapis necklace.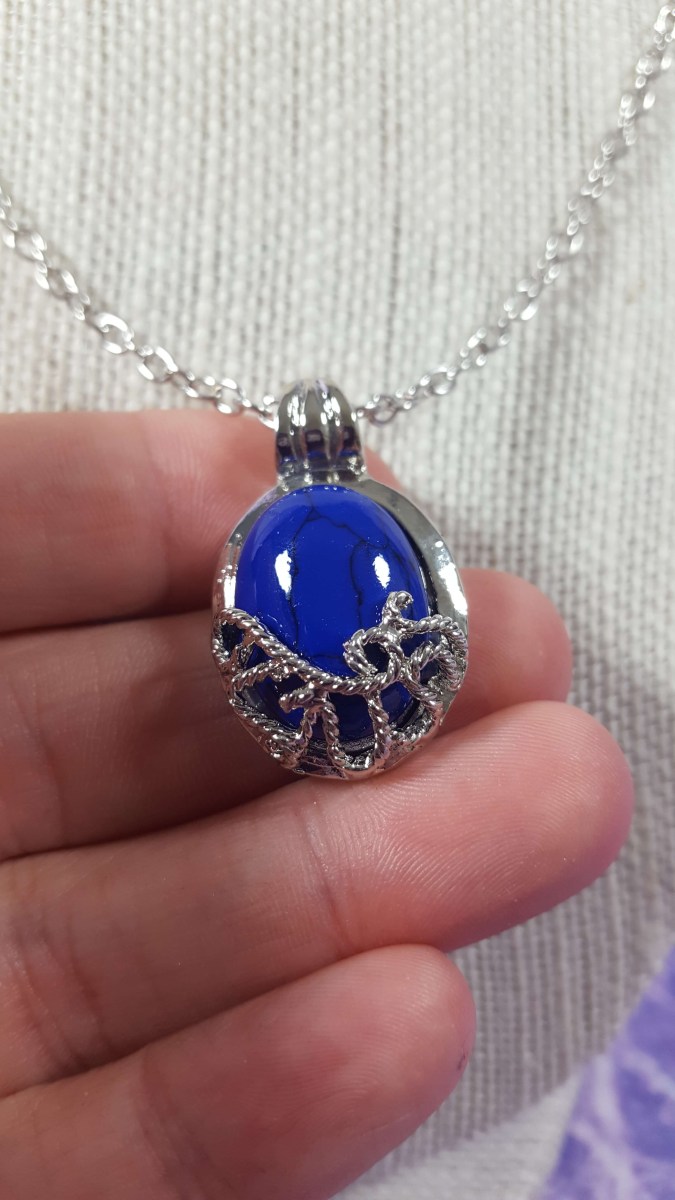 Just check out the detail in this necklace.  It is truly stunning.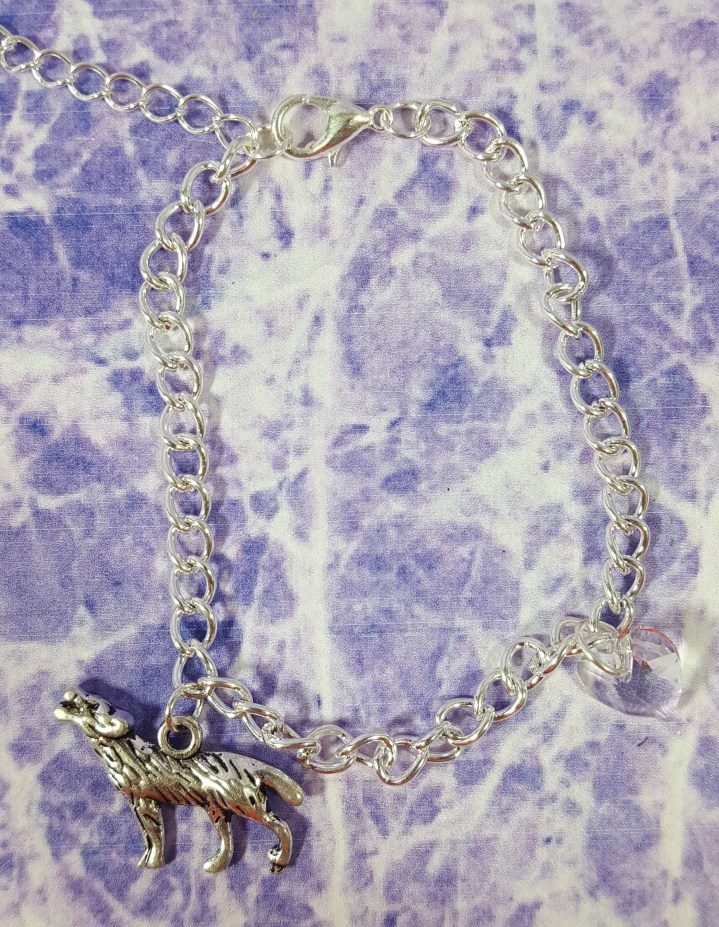 Twilight Bella Jacob And Edward Bracelet – I'll go ahead and say I'm a huge twihard and I was laughing when I saw this bracelet.  It is so fun and so perfect. While I'm Team Edward I did appreciate Jacob and all he did for the story and of course all of his shirtless scenes.  I love that they included both Jacob's werewolf and also Edward's addition of the heart diamond.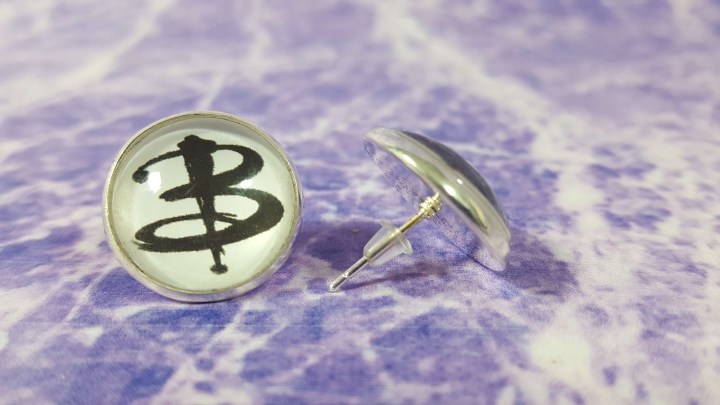 Buffy the Vampire Slayer Earrings – Love, love, love these.  Buffy the Vampire Slayer is one of my favorite shows of all times. I watched it from the very beginning all the way until the end of the show and Sunnydale.  These earrings are really large and sturdy and will show my love whenever I wear them.  As an aside they have started showing old Buffy episodes on the POP tv channel everyday. While I do own all the DVDs it is always exciting to just find it on randomly and not know what episode you will get to see.
I am a total Vampire nerd from way back. My first real true vampire love was back with the Lost Boys a very long time ago which is really aging me a bit but if you haven't seen it and you love vampires then you really must.  The jewelry is a great quality and so shiny and new and exciting.  I love getting fandom jewelry and being able to show my geekdom whenever I want.
Next month's theme is Fantastical Beast and will include Harry Potter items as well as other magical animal themed items. You can always see the monthly list of themes on her site for the most up to day information as themes are subject to change based on availability.
Upcoming Buzz Bag Themes:

2016

November – Fantastic Beast (The movie we've all been waiting for! This bag will include items from Harry Potter as well as magical animal themed items)
December – Nightmare Before Christmas (Tim Burton themed jewelry included)

2017 (themes are subject to change based on availability of merchandise)

January – Peter Pan

February – Once Upon a Time

March – Beauty & the Beast

April – 80's Quest Movies

May – Mermaids
What did you think of the October Buzz Bag?
Visit Buzz Bag – Sweet Melissa's Gifts & ETC. to subscribe or find out more!
The Subscription
:
Buzz Bag – Sweet Melissa's Gifts & ETC.
The Description
: A mystery bag filled with fandom jewelry & gifts, just for you! Buzz Bags are filled with items from your favorite sources of entertainment, including Game of Thrones, Harry Potter, Lord of the Rings, Star Wars, Legend of Zelda, The Hunger Games, Doctor Who, Percy Jackson and much more! We focus on giving fans high-quality, fun items that celebrate fandom. Each bag is tied together with a theme and is announced prior to your purchase.
The Price
: $15.00 per month