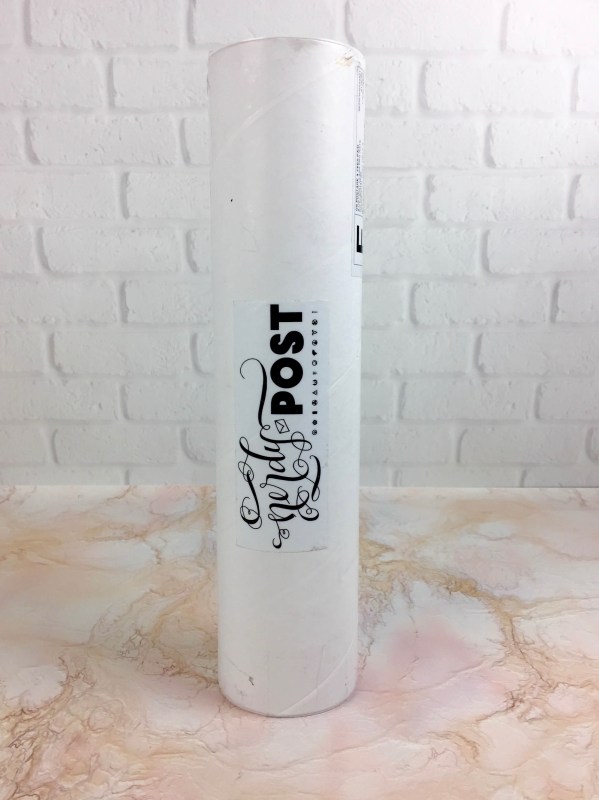 Nerdy Post is a subscription that sends original, hand lettered stationery, posters, prints, stickers, and other paper ephemera around a different theme each month! Not into that month's fandom? You can easily skip your shipment. It does come in a tube mailer!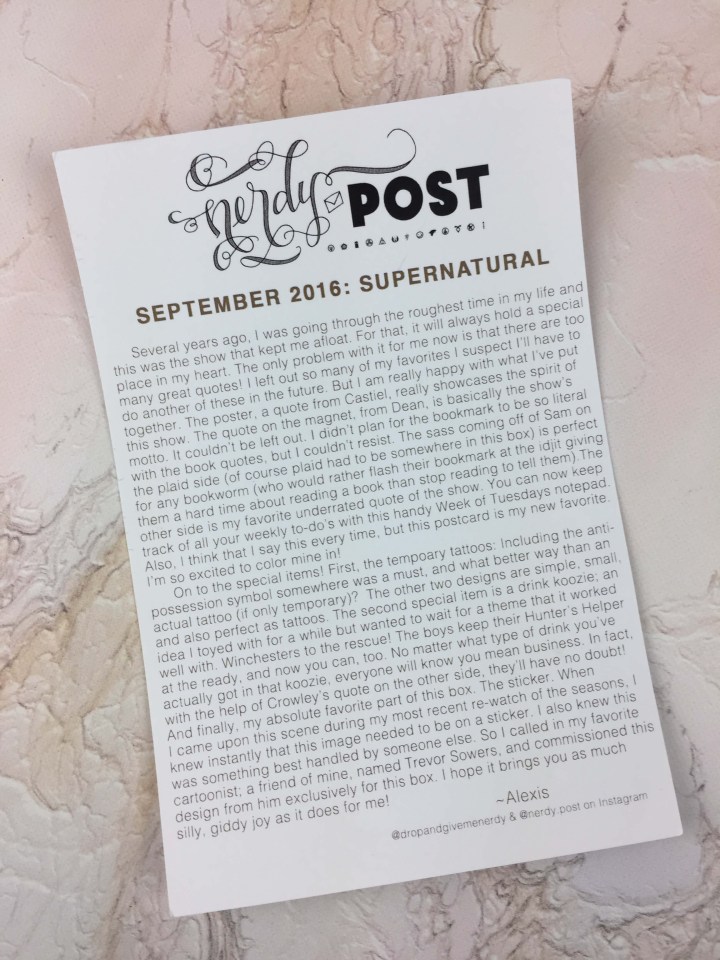 The theme for September is SUPERNATURAL!
They also have a step-by-step procedure on how to safely flatten your items.
Everything in my September box (or tube)!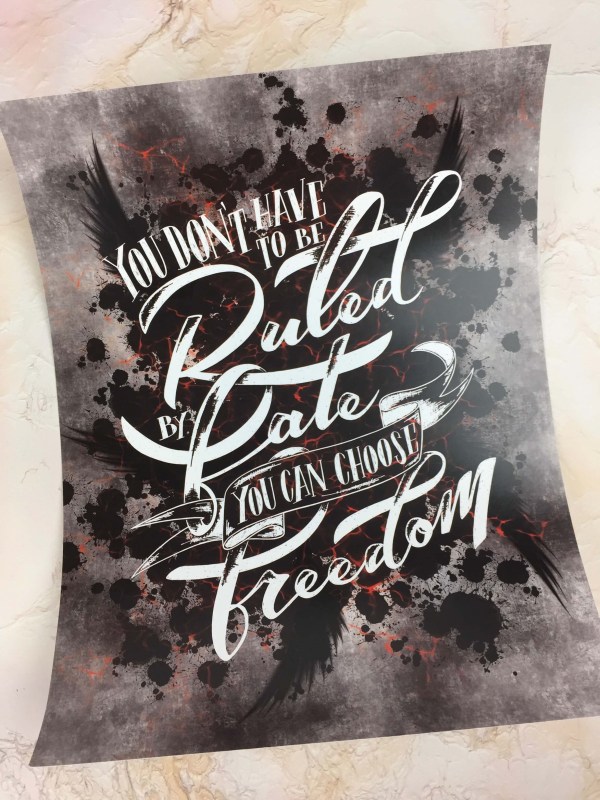 "You Don't Have To Be Ruled" Poster:  A poster featuring Castiel's quote from the episode "My Heart Will Go On," where Balthazar un-sinks the Titanic and Castiel unveils the cruelty and capriciousness of Fate to the Winchesters.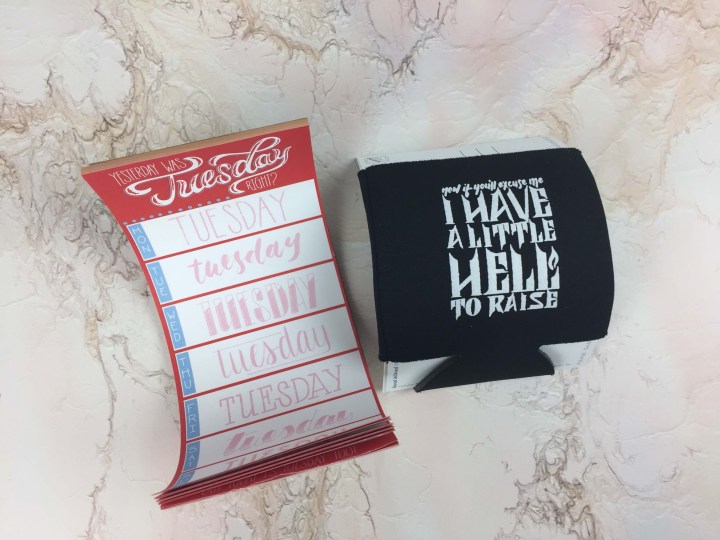 This photograph shows the curling of the items immediately after removing from the tube. We pressed everything under heavy objects for a few days before taking the remainder of the photos. We do wish they'd figure out some way to ship everything flat.
Daily Planner Sheets:  Plan your Tuesday with this pad, seven days a week!
Koozie:  A Koozie feels right at home in this fandom, though it's more of a Booby thing, as the boys tend to prefer bottles.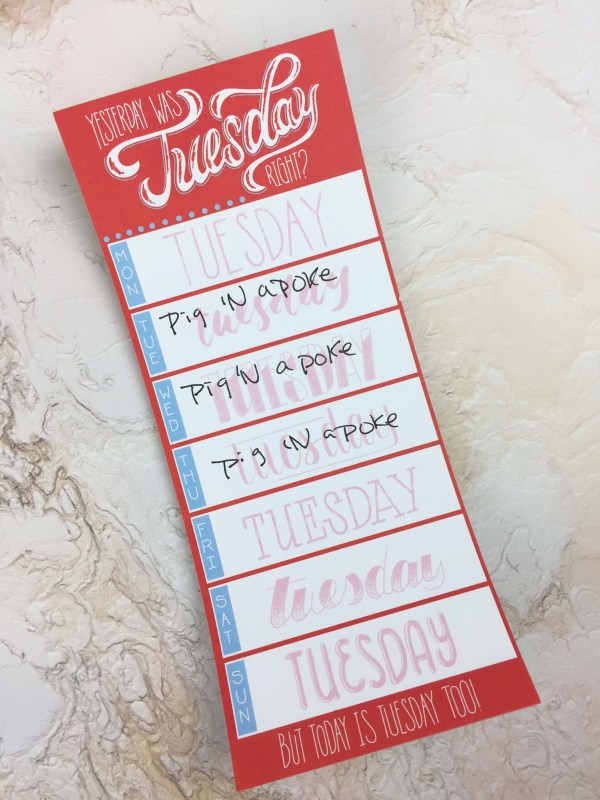 This pad references the "Mystery Spot" episode, one of my absolute favorites, where Dean gets caught in an endless Groundhog Day loop.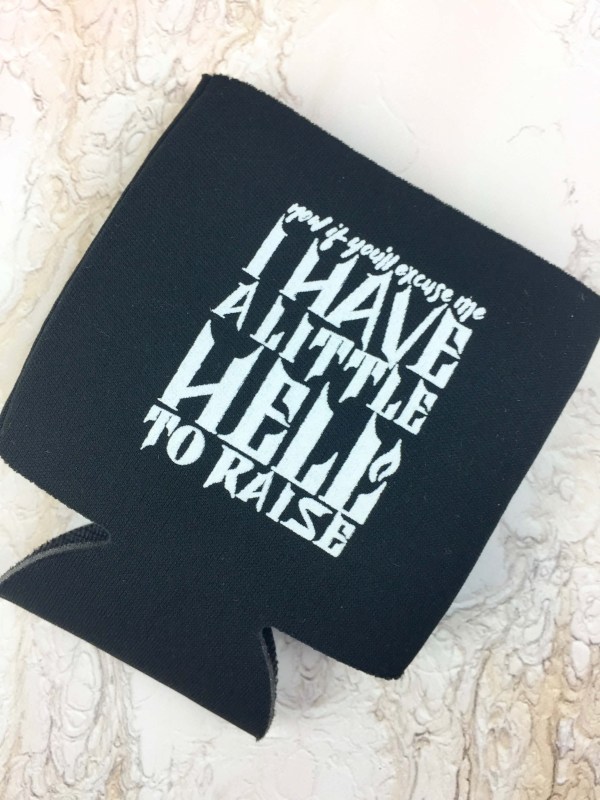 One side of the koozie has a quote from Crowley.
The other has a nice "Hunter's Helper" logo.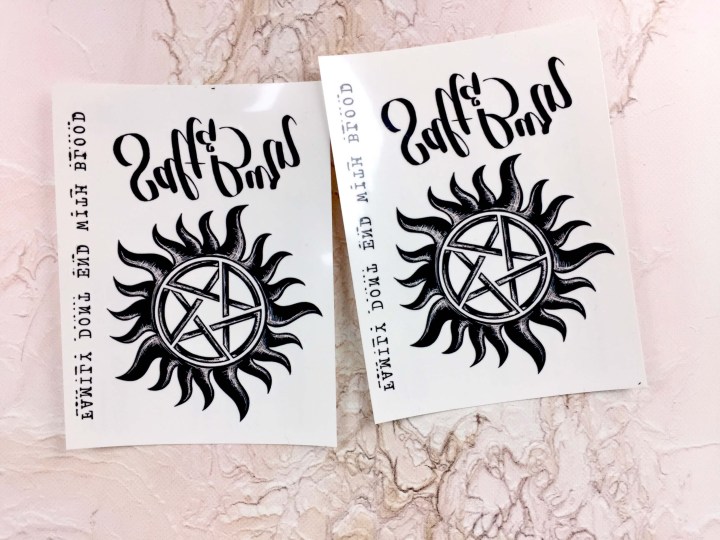 Temporary Tattoos:  A pair of temporary tattoos — they appropriately included two so you can share with family!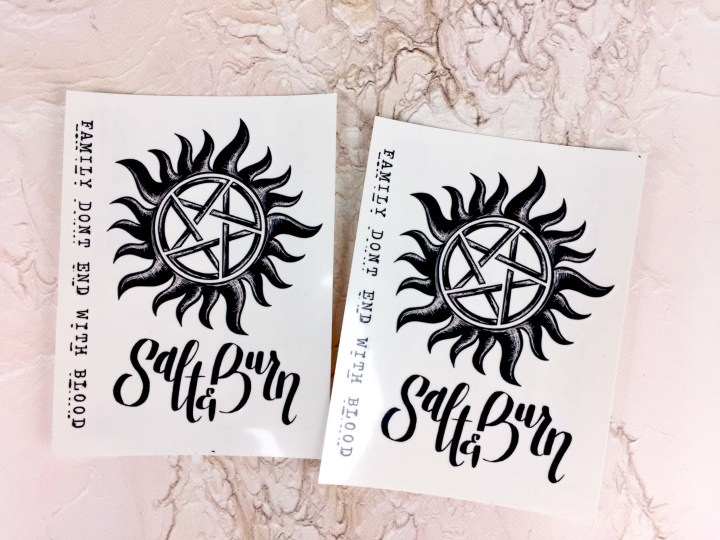 The image reversed so you can read it.  It says, "Salt & Burn – Family don't end with blood."
Sticker:  This custom sticker references another one of my favorite episodes (The Trickster always makes for a hilarious episode!), "Changing Channels," where Sam and Dean get trapped in TV shows like in the John Ritter movie, Stay Tuned.  In the opening credits, the two frolic about, play catch, race scooters, and even ride a tandem bike in a bit of a Laverne and Shirley homage, as a custom Supernatural theme song plays — the artist even made sure to capture the baguette and groceries!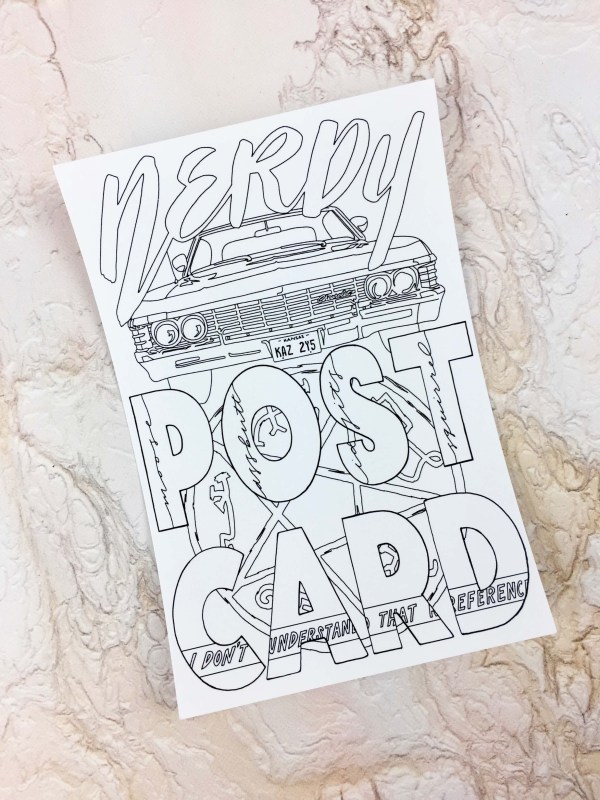 Nerdy Post Card:  This card contains several Supernatural references — within each letter of "POST" is a nickname used in the series:  Moose (Crowley's name for Sam), Assbutt (Castiel's attempt at an insulting address to Michael in "Swan Song"), Idgit (Bobby's preferred way to reference each of the Winchester boys), and Squirrel (Crowley's name for Dean).  With "CARD" is a Castiel quote, acknowledging his unfamiliarity with a reference to the Back To The Future Delorean.  
This magnet has Dean's pithy summation of the Winchesters' life purpose.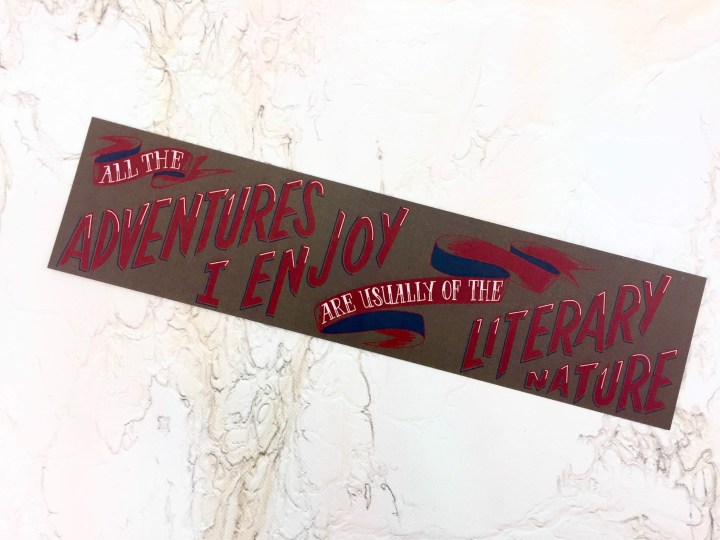 The last item has a quote from Henry Winchester in the episode, "As Time Goes By."
The flip side captures Sam's flippant remark to Dean during the episode "Slumber Party," professing that he hasn't read all the GOT books yet.
I loved this box!  Fandom subscriptions can be hit or miss, but it's hard to go wrong with a Supernatural box!  It was really great that the items weren't merely vague references to the imagery of the series — they used actual quotes from some of the more memorable and quirky scenes in the series.  I could tell that the creators are actually Supernatural fans, because they reference scenes from the episodes that fans remember and love the most.
Visit Nerdy Post to subscribe or find out more! Save 10% on your first month! Use coupon code  NERDYNEWBIE.
The Subscription
:
Nerdy Post
The Description
: Monthly Hand Lettered and Illustrated Fandom & Bookish Merch – every month features a new fandom theme from books, TV, and movies. Inside your Nerdy Post will be 4-6 items featuring original, hand lettered and illustrated quotes, symbols, images, etc belonging to that month's theme. Every month will always include a high-quality poster and bookmark, an auto-grade sticker, and a postcard that you can send or keep!
The Price
: $13.95 per month