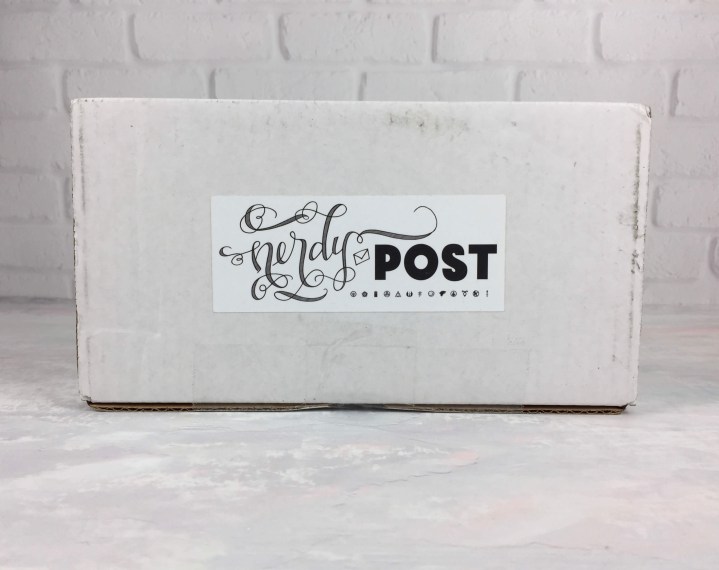 Nerdy Post is a subscription that sends original, hand lettered stationery, posters, prints, stickers, and other paper ephemera around a different theme each month! Not into that month's fandom? You can easily skip your shipment.
No more tube mailer! This is a new subscription and I love how responsive they are to subscriber concerns about their packaging!
Alexis, the owner (and designer!) of Nerdy Post sent out a handwritten missive explaining the change. Kudos to your hubs for figuring out the perfect shipping solution!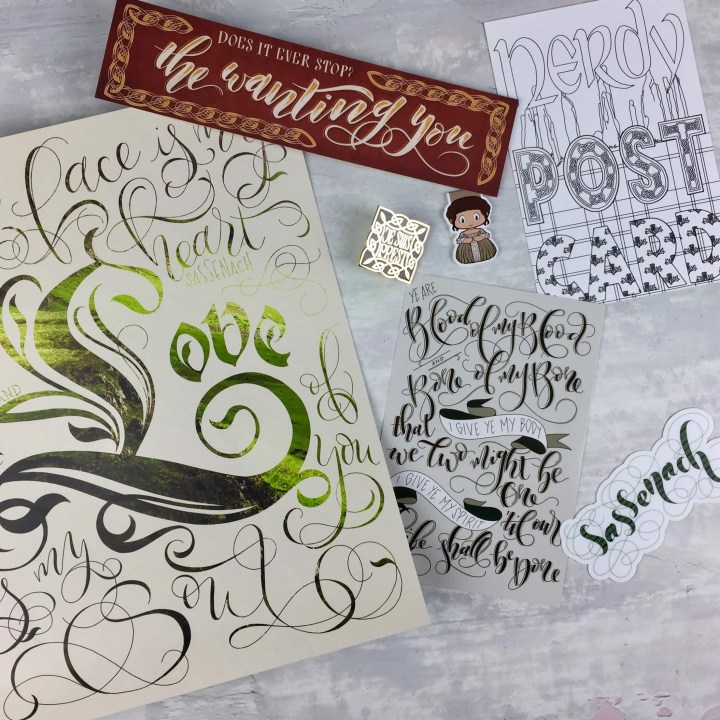 Everything in my October box!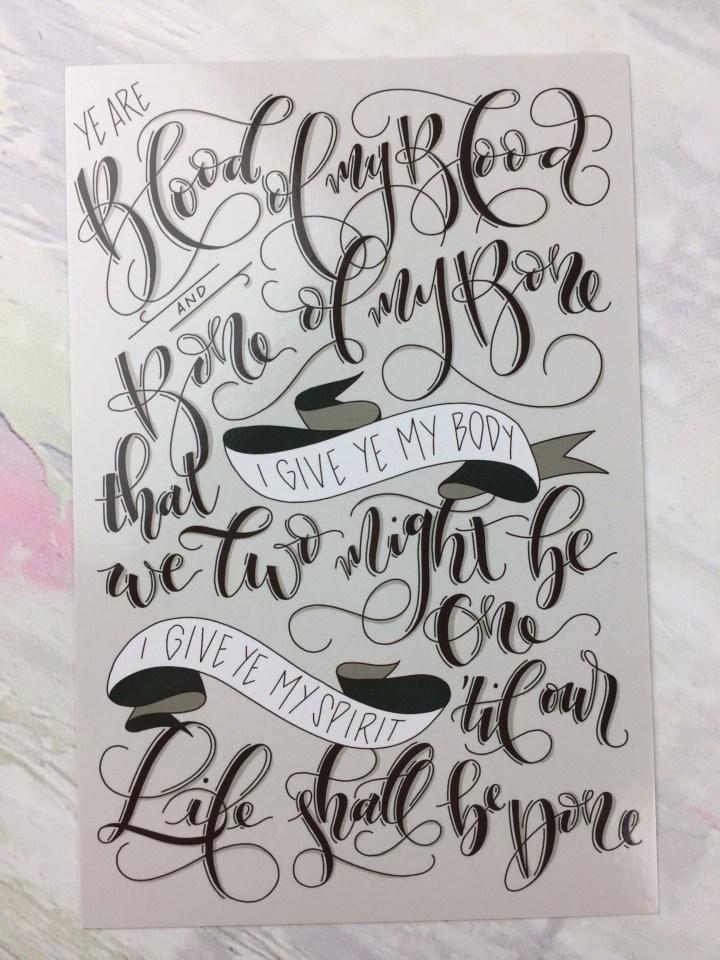 The small print in the box should give you a clue…
'Ye are Blood of my Blood, and Bone of my Bone.
I give ye my Body, that we Two might be One.
I give ye my Spirit, 'til our Life shall be Done.'
Jamie & Claire's blood/marriage vow!
The back is the info card! The theme for October is OUTLANDER!
Scottish Highlands, 1945. Claire Randall, a former British combat nurse, is just back from the war and reunited with her husband on a second honeymoon when she walks through a standing stone in one of the ancient circles that dot the British Isles. Suddenly she is a Sassenach—an "outlander"—in a Scotland torn by war and raiding clans in the year of Our Lord . . . 1743.

Claire is catapulted into the intrigues of a world that threatens her life, and may shatter her heart. Marooned amid danger, passion, and violence, Claire learns her only chance of safety lies in Jamie Fraser, a gallant young Scots warrior. What begins in compulsion becomes urgent need, and Claire finds herself torn between two very different men, in two irreconcilable lives.
If you're not familiar with Outlander, you can start reading the series, or watch the show on Showtime!
They also have a step-by-step procedure on how to safely flatten your items. The poster, which is very thick and high quality, comes rolled and in plastic.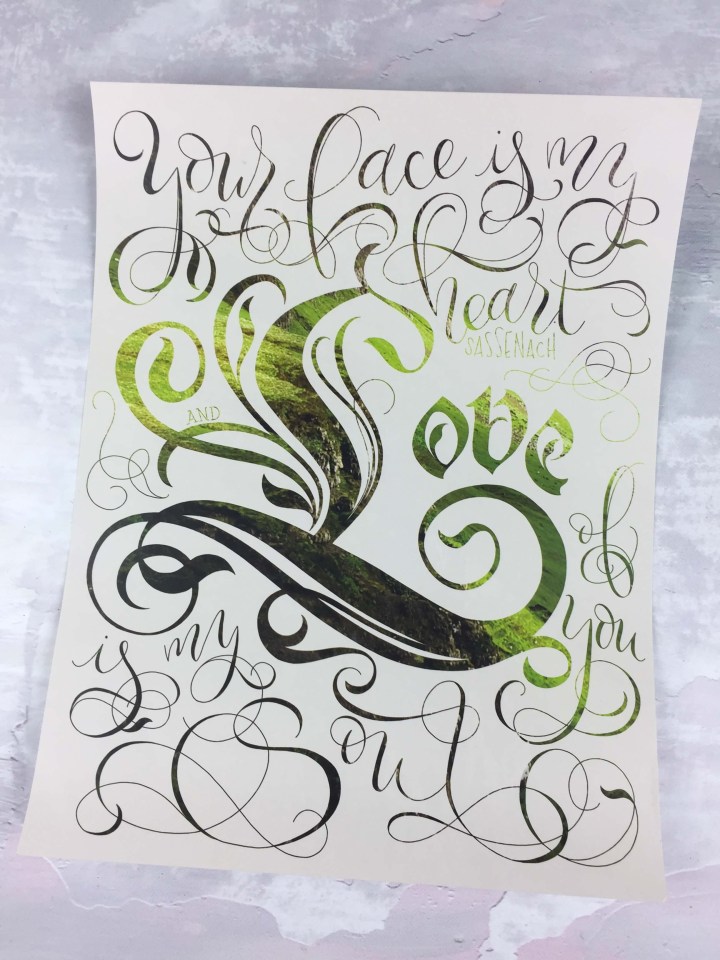 From Drums of Autumn: "Your face is my heart Sassenach, and the love of you is my soul." The lettering is delicious and uber romantic!
Every month comes with a coloring postcard. I think it's so funny that it says Nerdy Post Card every month. It really is. We have the ancient stone circle of Craigh na Dun plus Celtic knot and thistle motifs. While you can buy Claire's wedding ring (Gabaldon approved even – the design appears in the Outlandish Companion) this postcard presents the knots and thistle separately. Claire's wedding ring is "a silver band, decorated in the Highland interlace style, a small and delicate Jacobean thistle bloom carved at the center of each link."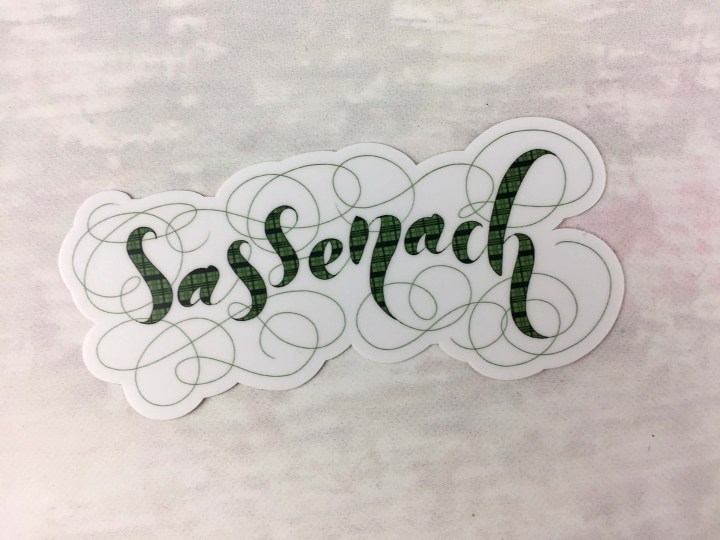 Jamie's nickname for Claire, Sassenach, which just means English person. It encompasses otherness but is definitely used as a term of endearment – at least by Jamie! Love the tartan and I think this is an awesome laptop sticker.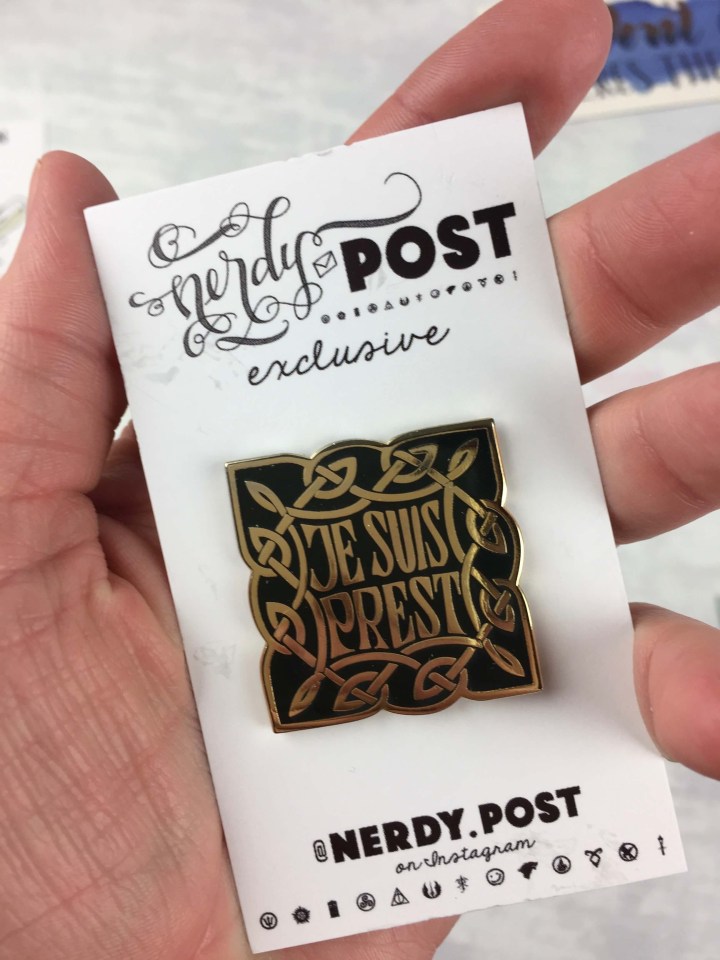 Jamie's motto has been turned into a gorgeous enamel pin! Je Suis Prest means "I am ready" in old (Norman) French and is definitely drawn from actual history, check out the Wikipedia page on Clan Fraser. This item was designed by Nerdy Post and created by Lapel Yeah. I was delighted to find it – I had only expected stationery type items! Can't wait to see what's in store with this subscription box!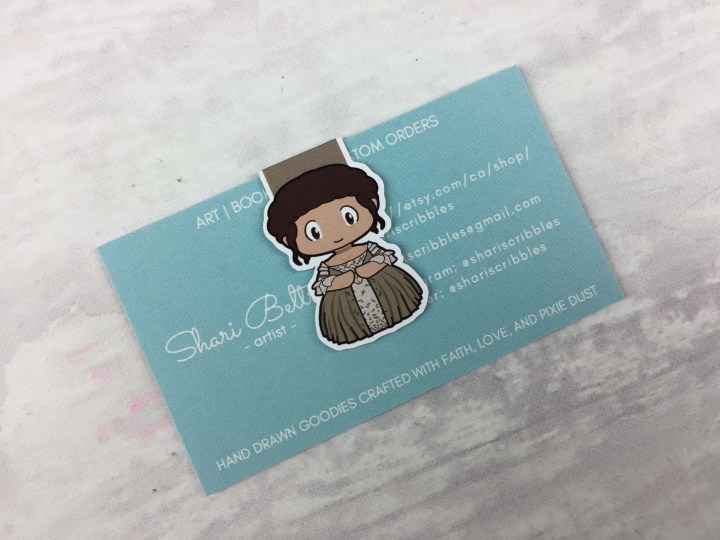 Shari Scribbles Magnetic Bookmark: Some subscribers received Claire, some received Jamie! So cute in her little wedding outfit! She is the same on both sides and opens right up to secure to your marked page with a little magnet.

There are two sides of this bookmark – a blue watercolor Claire side, and the manly fiery (yet romantic) Jamie.
This is just such a fun and thoughtful book and font nerd subscription! I was pretty impressed with the value too – to include an enamel pin in this subscription was really impressive. Most everything in the box is pretty usable too, even if you aren't into the fandom… yet! But we are pretty sure the designs will get you into a new one every month!
Visit Nerdy Post to subscribe or find out more! Save 10% on your first month! Use coupon code NERDYNEWBIE.
The Subscription
:
Nerdy Post
The Description
: Monthly Hand Lettered and Illustrated Fandom & Bookish Merch – every month features a new fandom theme from books, TV, and movies. Inside your Nerdy Post will be 4-6 items featuring original, hand lettered and illustrated quotes, symbols, images, etc belonging to that month's theme. Every month will always include a high-quality poster and bookmark, an auto-grade sticker, and a postcard that you can send or keep!
The Price
: $13.95 per month