MLP (My Little Pony) Subscription Box is for fans of My Little Pony, also known as Bronies.  Did you know that there were conventions in honor of MLP?  I had no idea that there were whole conventions just to celebrate all thing MLP, but I am proud to say that I was an original fan.  My kindergarten cohorts and I would pretend we were these wonderful flying ponies and fight over who got to be the coolest one.  Yes, I was there in 1983 when it all began.  (Some say 1981, but let's not argue.  K?)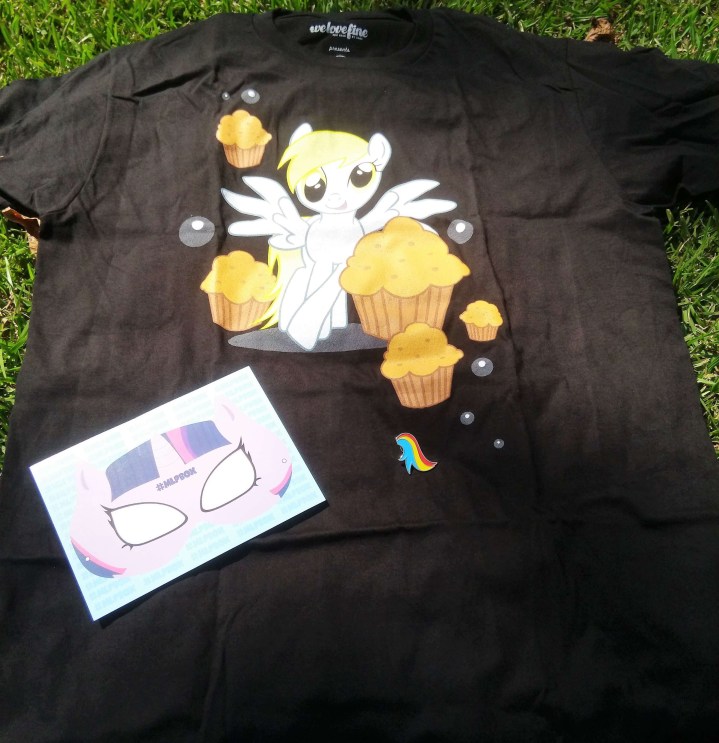 The MLP subscription box is only $9.99 a month (US shipping is $3.25).  Each box will contain one to two officially licensed MLP items and have a value between $20 and $25.  And, they like what you are going to get to remain a sweet surprise, so not all subscribers will receive the same items.  The merchandise may include t-shirts, hats, clothing accessories, toys, figures, and MLP books, among other things.
All of this Brony merch was in our box.  (Excuse me.  I am really getting into the lingo.)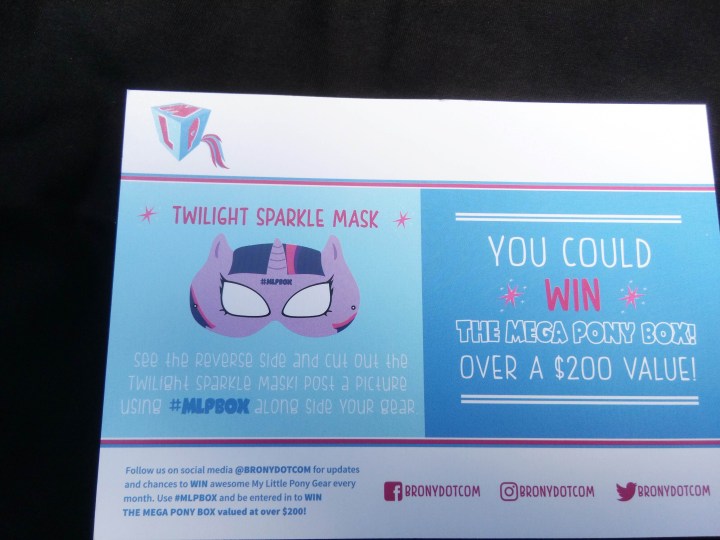 This card welcomed us to the MLP Box.  By using the hashtag #MLPBOX and posting a picture of yourself wearing the Twilight Sparkle mask (it's on the other side of this card) you can enter to win a Mega Pony Box.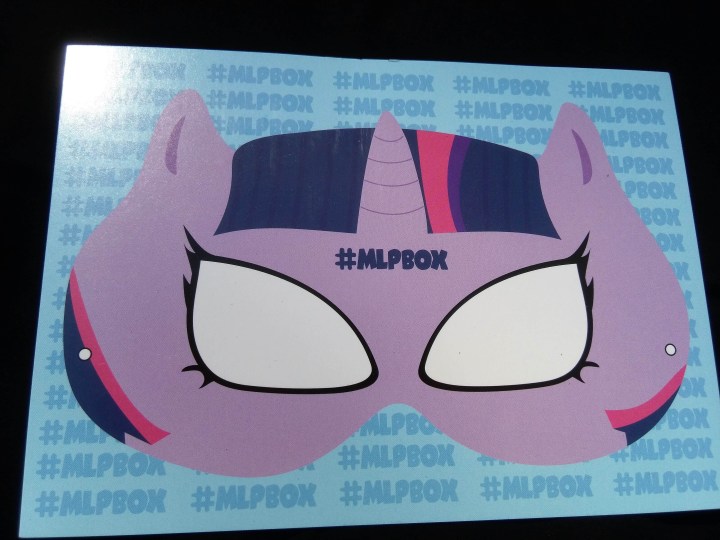 Here's the Twilight Pony Mask.  It was immediately swooped on by the 3 year old who declared that she was a magic flying pony.  (My life has now come full circle.)
Twilight Sparkle.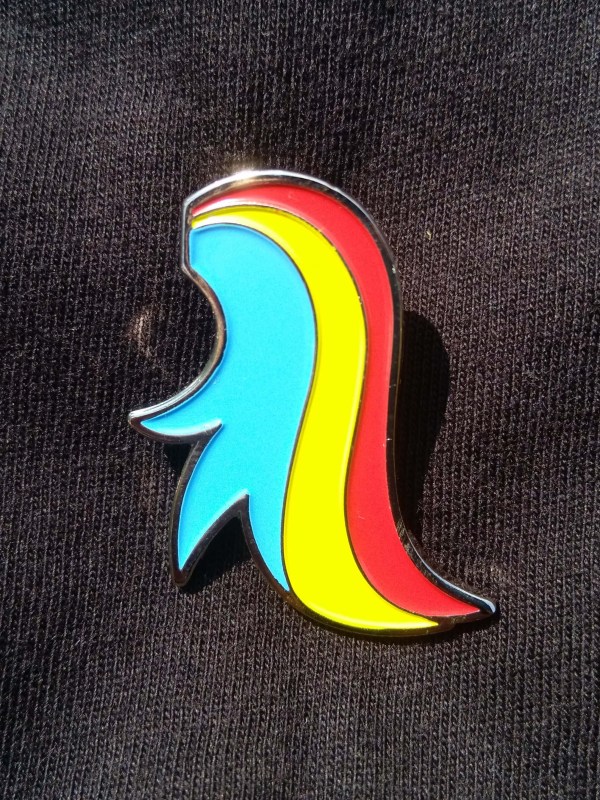 The first item in this box was a Rainbow Dash tail pin.  It's bright, flashy and beautiful.  Daughter number two claimed it.  I hope she wears it on the collar of her jean jacket or puts it on her trapper keeper.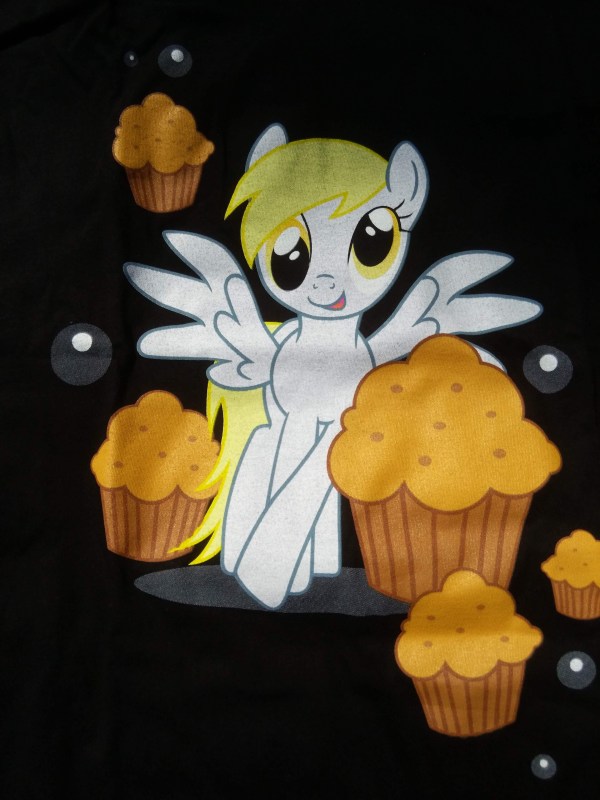 This fabulous Derpy Hooves or Muffins shirt was the big item of our MLP box.  Derpy Hooves as she is affectionately referred to by her fans has slightly crossed eyes and made cameo appearances (you have to look to find her) in many episodes.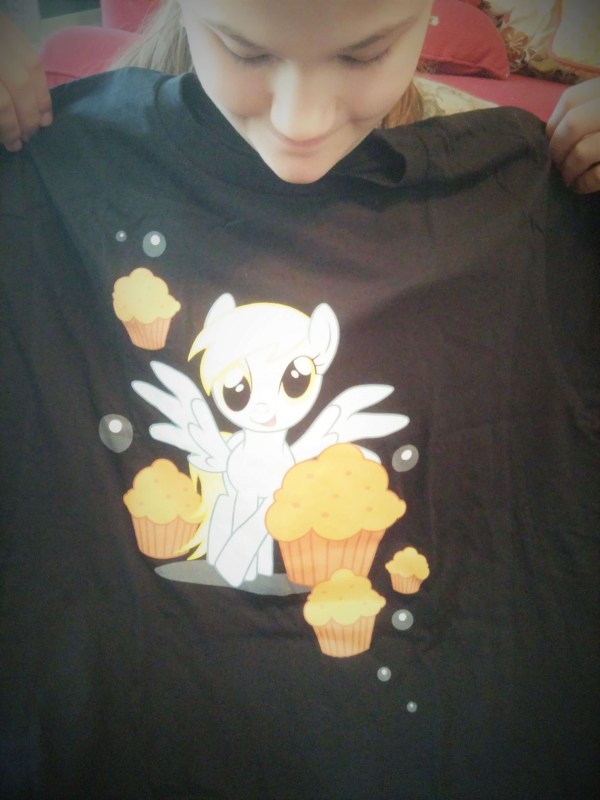 Yet another daughter (seriously, they are everywhere!) claimed this t-shirt.
Isn't everything 80's wonderful?  Bright, shiny, scented wonderfullness.  I realize MLP is still around, but it all started in the 80's because the decade that I grew up in was really cool.  The MLP subscription box totally took me back to my childhood and made me smile.  So, Bronies unite!  And, join me in loving the MLP box.
Did you order the MLP box?  What Brony merch would you totally love to see in the MLP box?
Visit My Little Pony Box to subscribe or find out more!
The Subscription
:
My Little Pony Box
The Description
: Every box will contain 1-2 MLP items! Each month's MLP BOX will have items in it that will have a total value of between $20-25 dollars. Not all subscribers will receive the exactly same thing. Some customers each month may receive completely different items than others who have subscribed. We do this so that the box will remain a mystery for all our customers. The mystery is part of the fun! NOTE: Not every box will feature a t-shirt or plushie every month.
The Price
: $9.99 per month