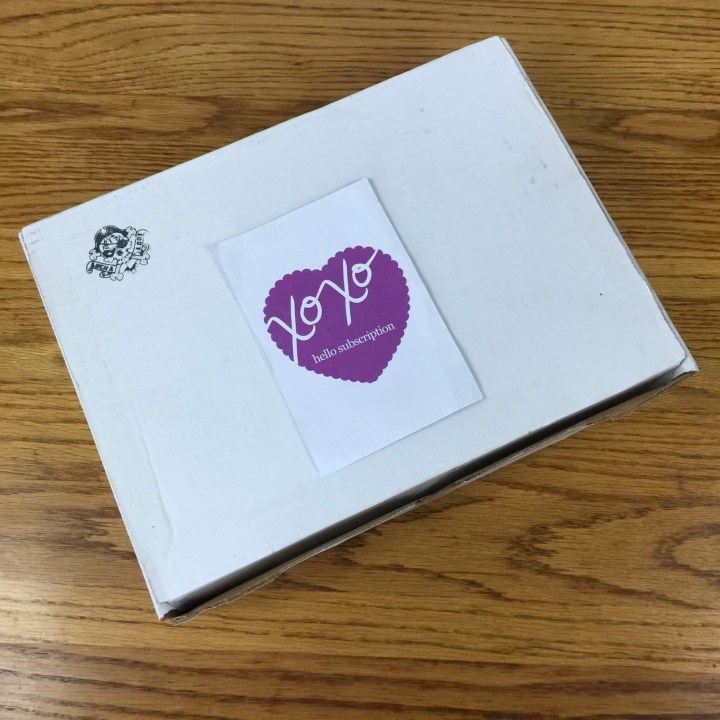 Lucha Loot is a monthly subscription box devoted to all things Lucha Libre! Lucha Loot is committed to officially licensed 100% items with lucha libre collectibles including DVDs, magazines, posters, art and more, plus lucha masks, all with royalties paid to or purchased directly from luchadores.
T-shirt, autographs, DVD and more.  There is a lot of loot packed into this treasure box.  There are two sizes of Lucha Loot – the Lucha Loot Standard Chest ($19.95 + $8 shipping), and the Lucha Loot Deluxe Booty Chest ($29.95 + $8 shipping). I subscribed to the Deluxe Booty chest!

CMLL 83rd Aniversario Official T-Shirt from Mexico.  This t-shirt is exclusive to the Deluxe Box.  This is one of my favorite t-shirts I have ever received from Lucha Loot.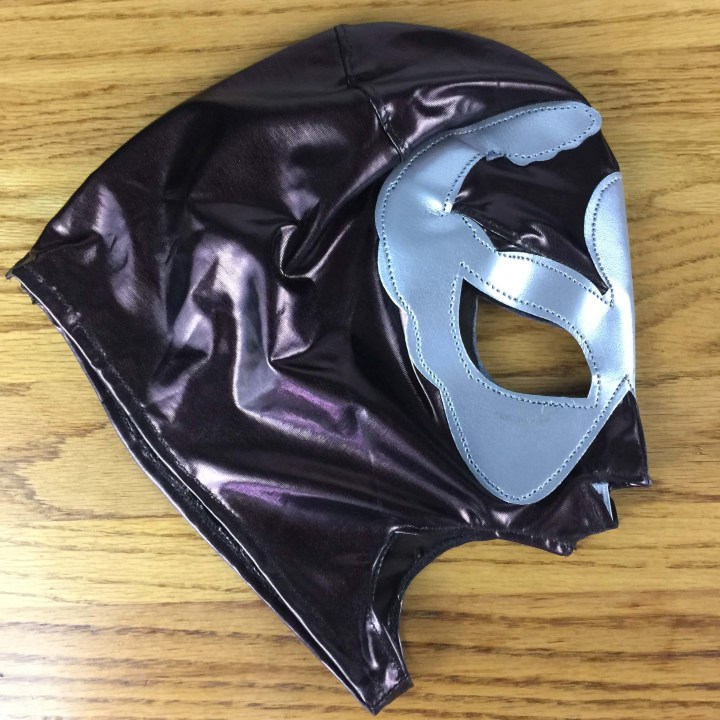 Brazos Mask.  This mask looks amazing and wears well.  The mask uses a zipper as opposed to being tied in back. Brown and silver make for a cool looking mask to go with the ever-growing collection.  I'm not a big fan of the nose hole but the mask is still great.
Viva La Lucha 2016 Screener DVD.  This is a super wrestling show full of some of the greatest luchadores in the world.  There are many very recognizable names within this incredible collection of Lucha Libre matches.  Last month, Lucha Loot had collectible items from this show and now we get to see the show.  This is exclusive to Lucha Loot and it is never to be sold.  Exclusive to the Deluxe Box.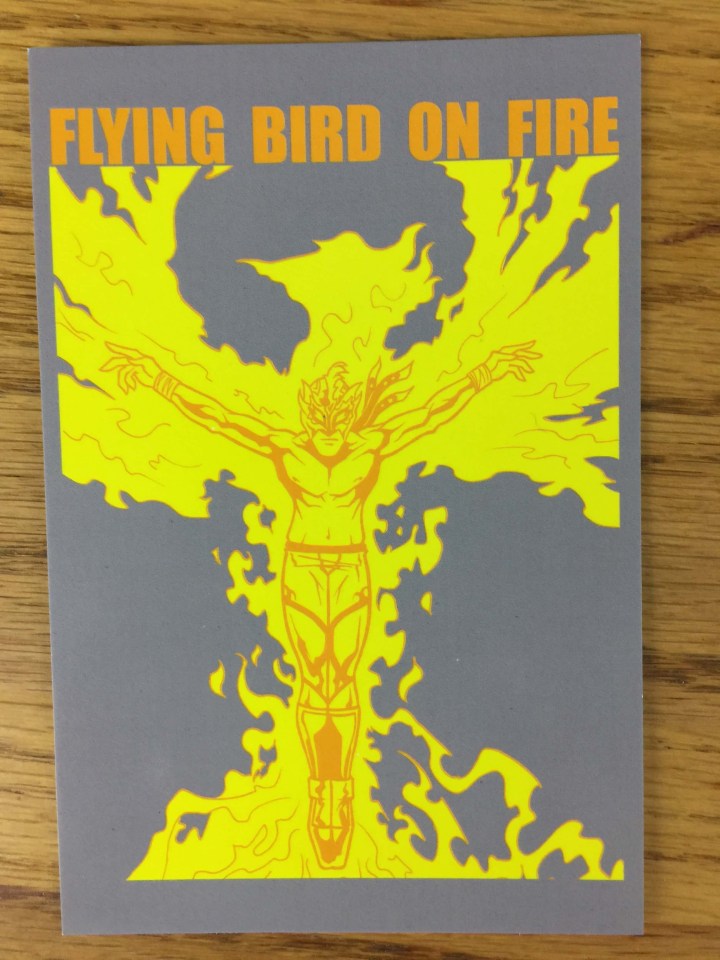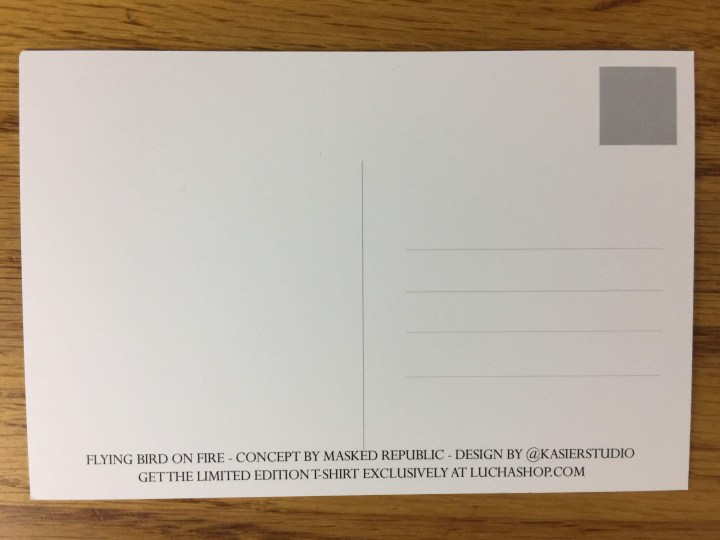 "Flying Bird on Fire" Postcard.  A postcard from The Kaiser, a remarkably talented artist.  Be sure to follow @KaiserStudio on Twitter to see more artwork.  LuchaShop.com also has a matching t-shirt available for purchase.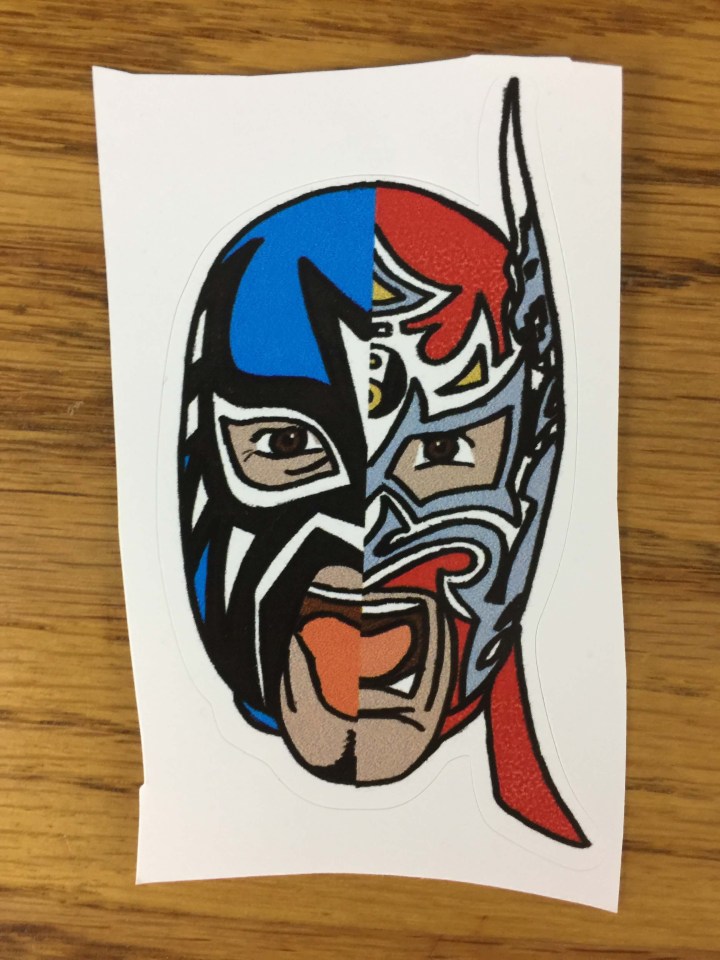 La Mascara vs. Dragon Lee.  Mask vs. Mask sticker.  The sticker is to commemorate the same match celebrated on the t-shirt that I also received in this box.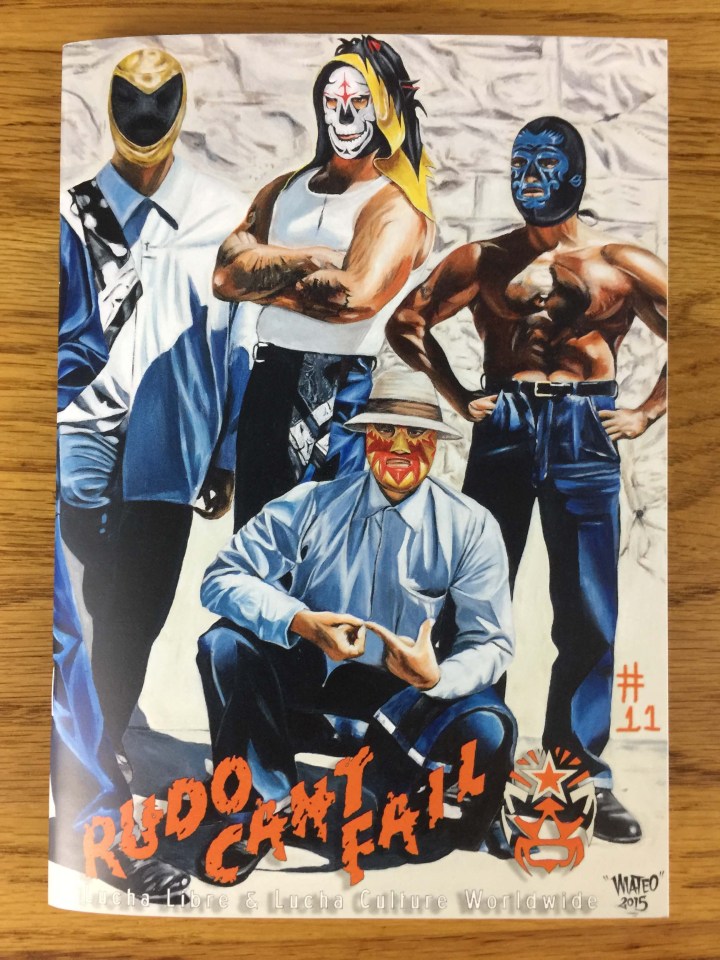 Rudo Can't Fail magazine.  Issue #11 has tons of news and photos from the world of Lucha Libre.  I enjoy receiving this magazine each month with Lucha Loot.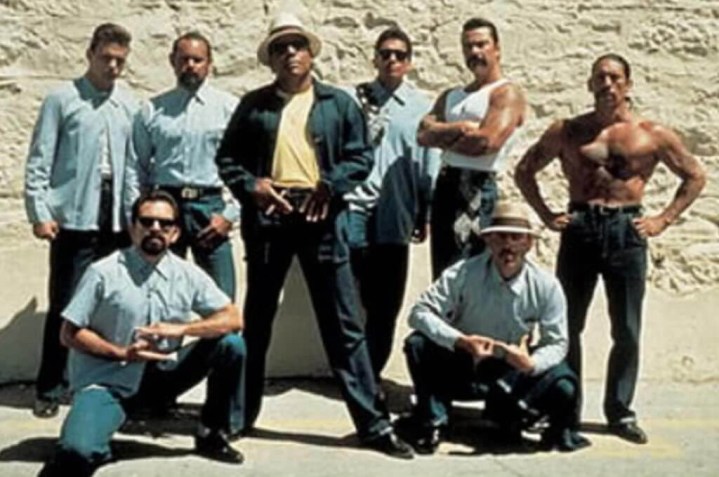 I like that the art on the cover reminds me of a scene from one of my favorite movies; Blood In, Blood Out.  I just wish I was able to get my hands on issue #1.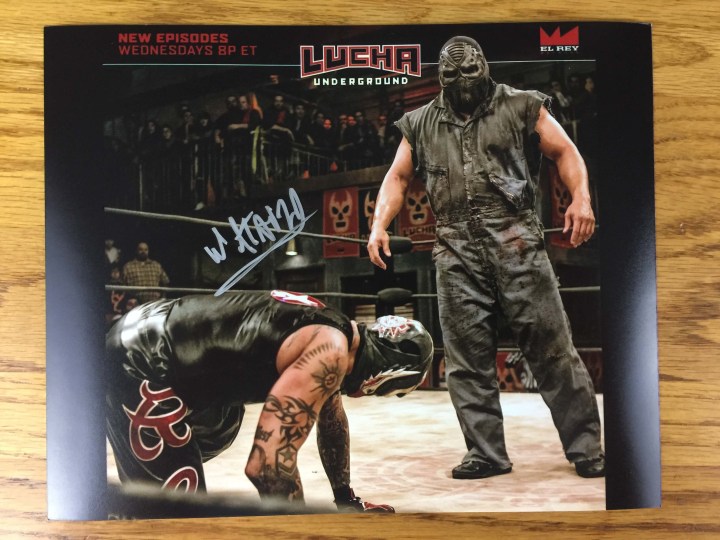 Monster Matanza Cueto Autographed 8×10 photo.  Lucha Loot is amazing with the way they include autographed items from some of the greatest in lucha libre today.  Matanza is the current Lucha Underground Champion and seems to be unstoppable.  This was a great addition to the box this month.  Lucha Underground is the most fun wrestling show on television.  Now if we could just get one of those awesome looking Lucha Underground t-shirts in this box…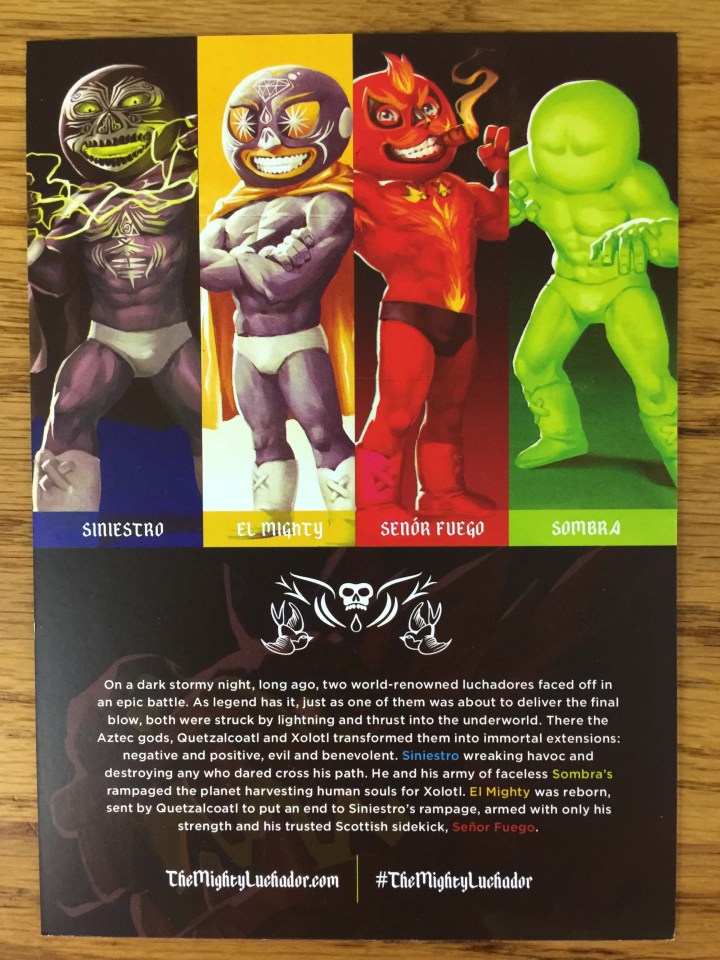 The Mighty Luchador Description Card.  The description sheet called this a postcard but it's more like a hard copy introduction to the characters from the website.
Rey Mysterio 619 Pin.  This is a nice looking pin and you can show your support for the most famous luchador in the world.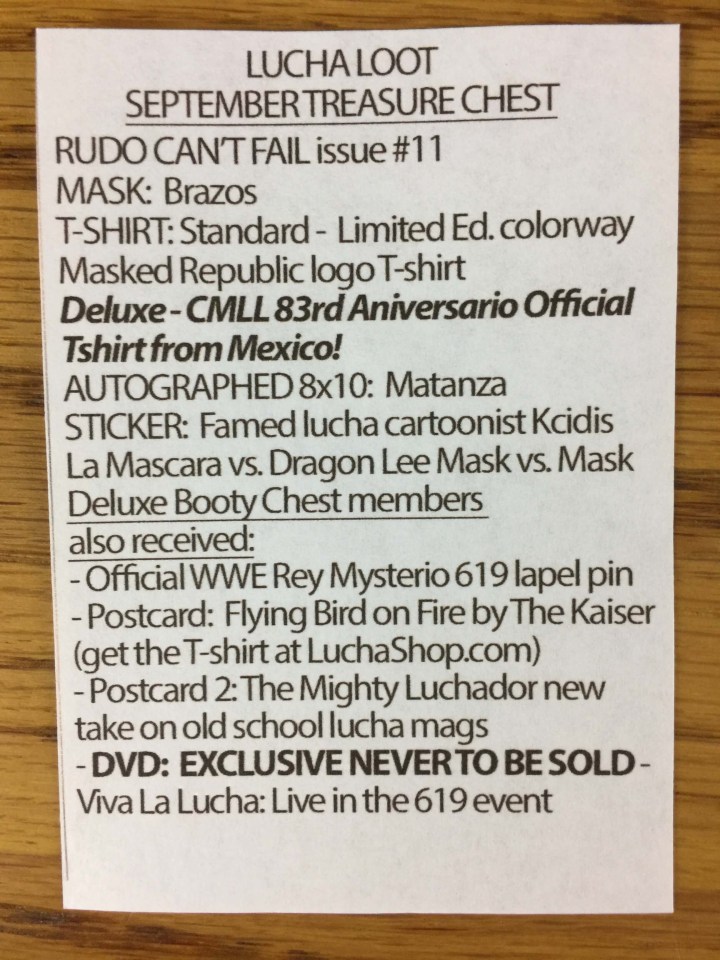 Lucha Loot Description List.  A nice and concise list of everything packed inside this extraordinary subscription box.  You can see which items come in the Standard and Deluxe boxes.  I look forward to seeing what's in these boxes every month!
This is easily one of my favorite subscription boxes.  There is a nice variety of items which is something I definitely love about this box.  I'm looking forward to seeing what Lucha Loot has in store for the upcoming months!
Visit LuchaLoot to subscribe or find out more! Save 10% on your first box! Use coupon code TRYLL.
The Subscription
:
LuchaLoot
The Description
: Lucha Loot is the first monthly subscription lucha libre themed "blind box." Every month we curate a new box full of lucha libre related treasures – guaranteed to include an adult "commercial" mask, t-shirt and the latest issue of Rudo Can't Fail, a new English language lucha libre zine – PLUS bonus goodies, many exclusive to Lucha Loot.
The Price
: $19.95 per month