Konenkii is a quarterly "discovery" subscription box for modern women – north of 40. According to the website, "Each quarter, we find some intriguing items to share. Some you can use right away and some are to savor. But it's really about giving yourself a little treat. Something to look forward to. Just for you." Although the contents of the box are a surprise, Konenkii promises that "you can always count on finding something fabulous to eat, to wear, to read, or share." The quarterly subscription is $49 every three months, with a discount for purchasing a full year (four boxes) at a time.
DEAL: Save $10 on any subscription! Use coupon code HELLO10.
TIP: FYI the fall box is still shipping through November 15 – this box will be your first box!
I am a huge fan of Konenkii – every box I've received so far has been absolutely perfect. So of course, I was excited when I got the Fall box. Let's see what's inside!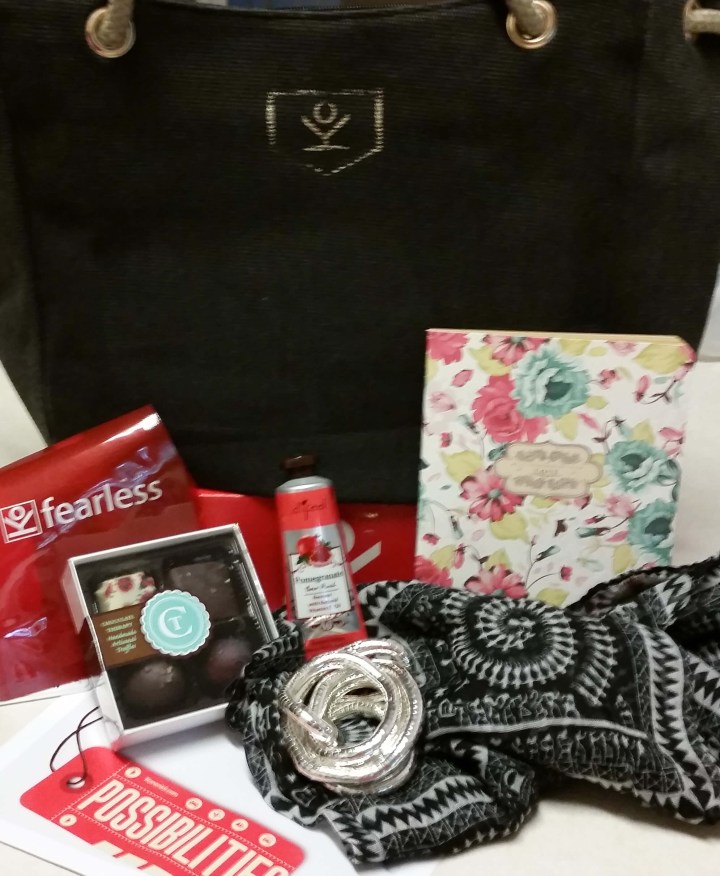 Here's a look at everything in the box.  Check out the "Possibilities"!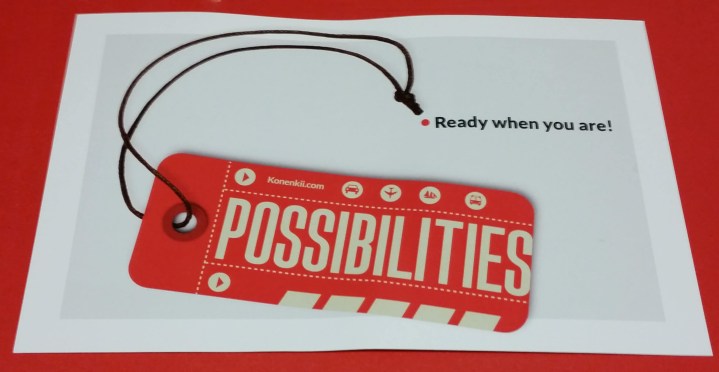 The front of the information card – I love possibilities! And the travel theme is perfect too.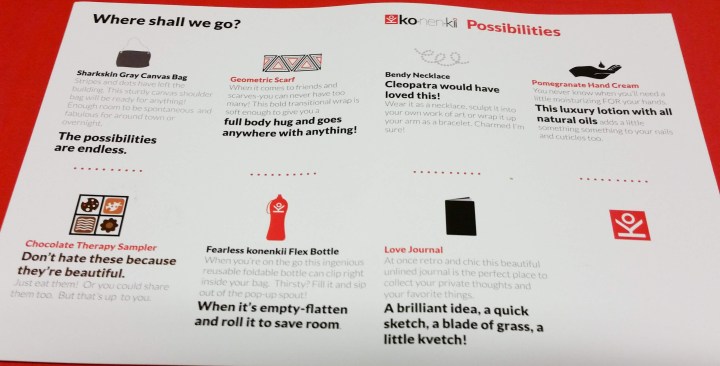 The back of the information card. In addition to providing information about the items in the box, the card is fun. Between the little cartoons of the items enclosed are clever comments – the scarf gives you a full body hug, don't hate the chocolates because they're beautiful, etc. I truly enjoyed reading them! The curators of Konenkii have totally nailed my interests and sense of humor!
.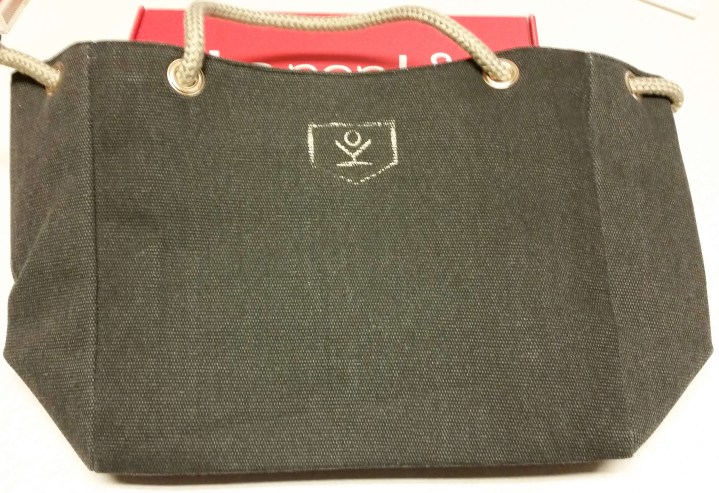 Sharkskin Grey Canvas Bag: I just love this bag. I'll admit, I'm a bag junkie. But this bag is just great. It is well-constructed and made of a heavy canvas – and best of all, it's big! As the information card notes, it's fabulous to take around town or overnight. It's smaller than a laptop bag, but larger than a medium-sized purse. A great size for travel or even a day adventure. The bag is lined and has a small zip pocket, and my favorite part – it stands up on its own!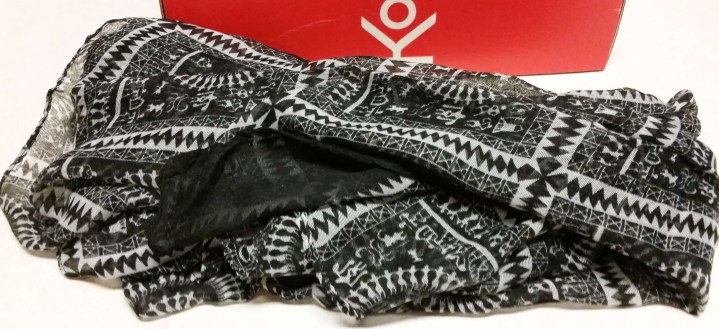 Geometric Scarf: This scarf is lovely. Because it's black and white, it goes with everything. (No seriously – it goes with everything in my closet!) It's soft and fairly large, so it can be worn in many different ways (including, as the information card suggests, as a full body hug!). I've gotten two of my favorite scarves from Konenkii boxes. They know what is awesome!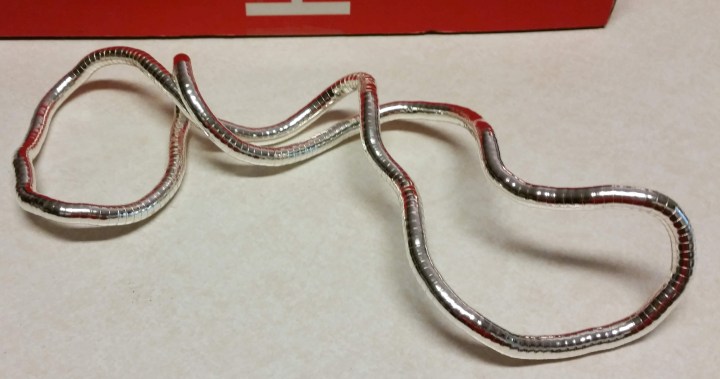 Bendy Necklace: OK. I'll admit it. I had as much fun playing with this necklace as I will wearing it. It's oddly soothing to just keep working it into different shapes. And, as the information card notes, it is vaguely snake-like.  ("Cleopatra would have loved this!")
Instead of a necklace, I prefer it wound into a multi-ringed bracelet. Here is my daughter modeling it for me.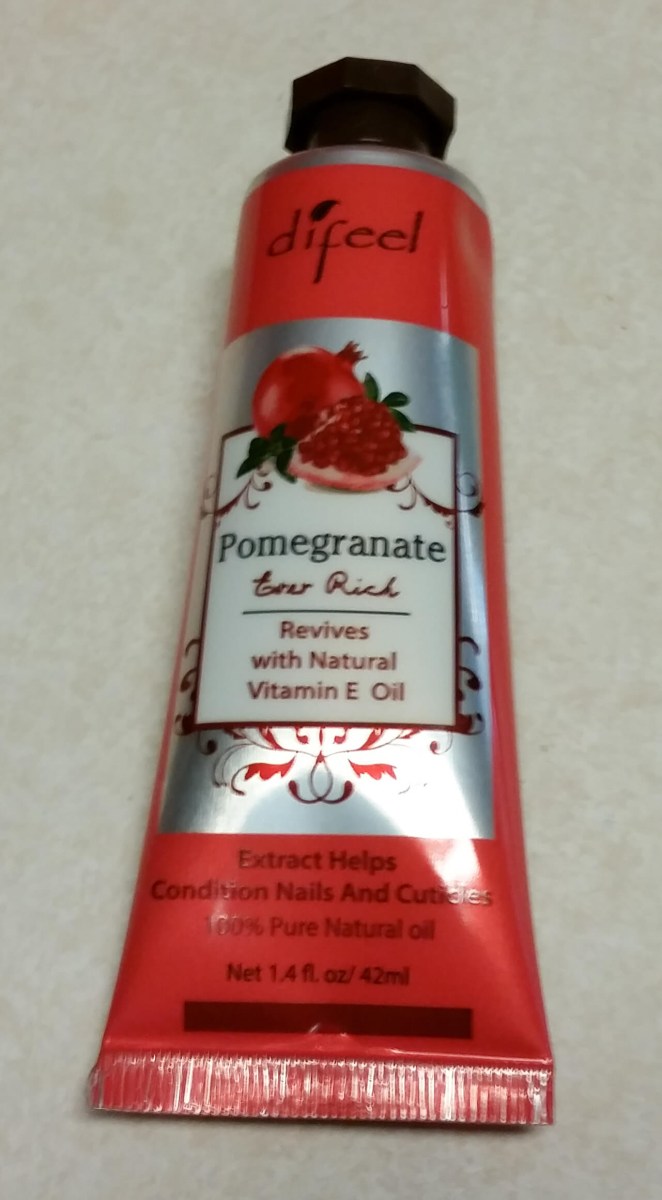 Difeel Pomegranate Hand Cream: So luxurious! It smells amazing. The lotions that I've received in various Konenkii boxes have been fantastic and this one is no exception. Hand lotions are so great in the fall and winter, as well as when traveling, to help with dry skin.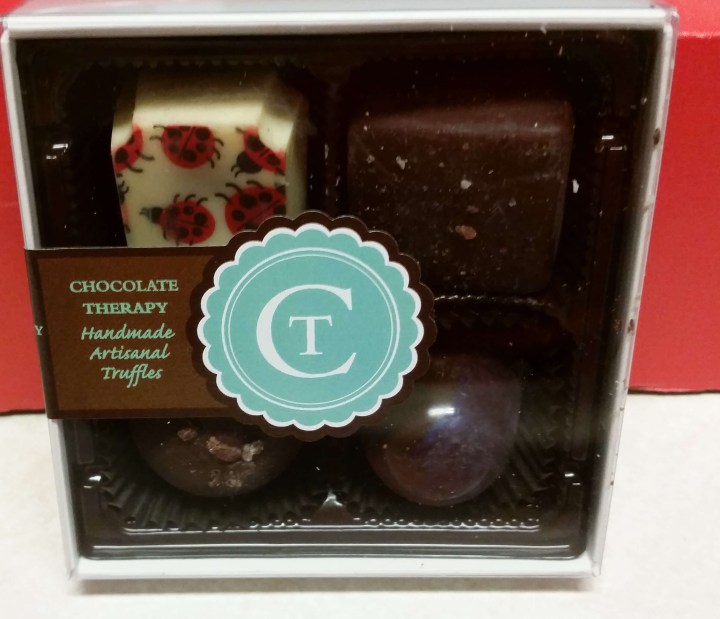 Chocolate Therapy Sampler: I don't know how they do it, but the curators at Konenkii have found the best sweet treats. This box has a 4-pack sampler of truffles from Chocolate Therapy… and they were divine. I ate all four and didn't share. And I don't feel guilty about it. At all. Each of the four truffles was different and big enough to warrant two bites. Yum yum yum!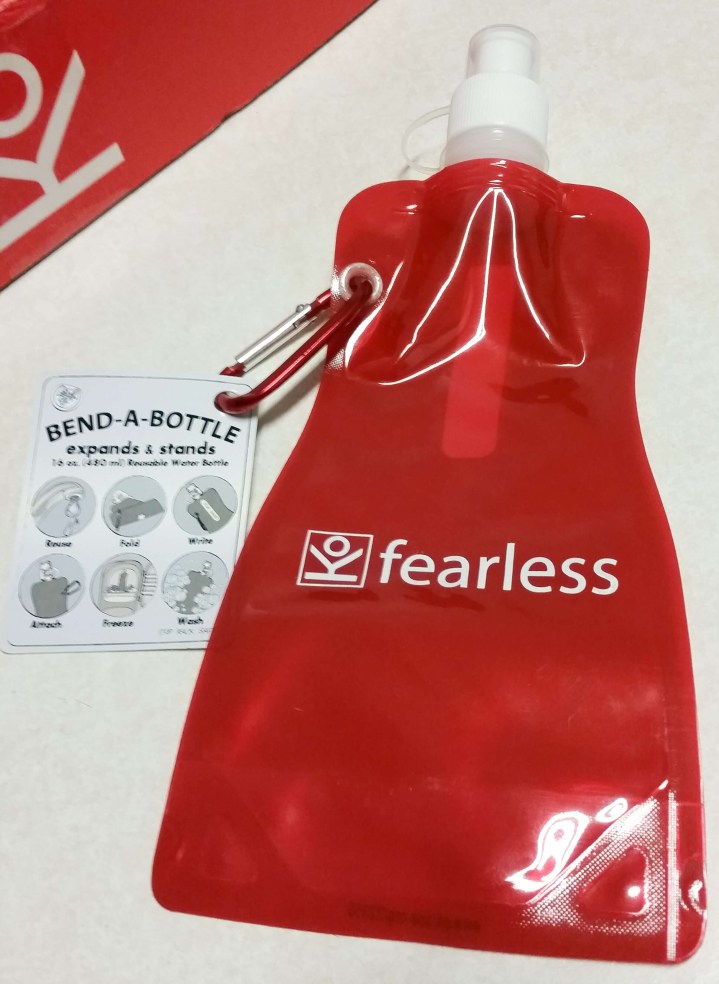 Flex Bottle: I travel frequently for work and have always thought I should get one of these… but have been too lazy. Konenkii took care of that for me. These little flex bottles are so useful – they are basically flat when empty and easily fold or roll up smaller, so they fit conveniently in a purse or suitcase pocket, but hold about 16oz of water when filled. Once empty, they can be folded or rolled again. I love that this one is red (my favorite color) and has the Konenkii logo and "fearless" on it. Fashionable and fun, plus super practical.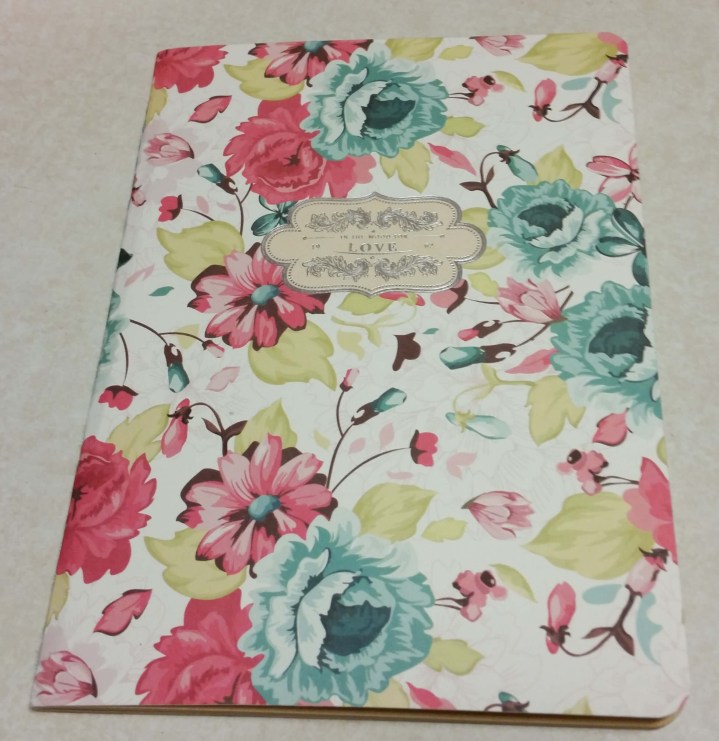 Love Journal: As the information card notes, this is retro and chic. The floral pattern is just pretty.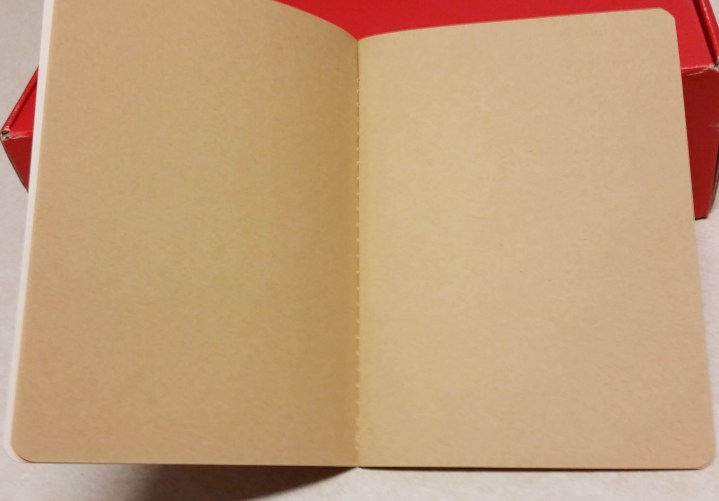 Inside are plain brown papers for collecting thoughts. I love the seamed binding and that it will lay flat for doodling or writing. (As much as I love bags, I'm an even bigger lover of all things paper – I just love journals!)
Konenkii creates awesome boxes. Every time I get one, I know I will love… and use… everything in the box. Sometimes there are things I wouldn't pick out for myself, but end up loving (like the snake bracelet). Other times, there are things (like the flex bottle) that I have wanted but haven't gotten around to purchasing for myself. The products are perfect for Konenkii's target audience (women north of 40) – especially because there's not a wrinkle cream to be found. Instead, everything is designed to celebrate the fun of being a bold, mature woman. I honestly feel each time I get a Konenkii box, that the curators absolutely know me. It's awesome! I recommend Konenkii for anyone like me, women who are "aging fearlessly and having fun along the way!"
Visit Konenkii Box to subscribe or find out more!
The Subscription
:
Konenkii Box
The Description
: Konenkii is a quarterly subscription gift box filled with hand selected full-sized products and the latest ways to help ease, educate, and empower modern women through the aging process – with grace and a bit of humor.
The Price
: $49.99 per quarter