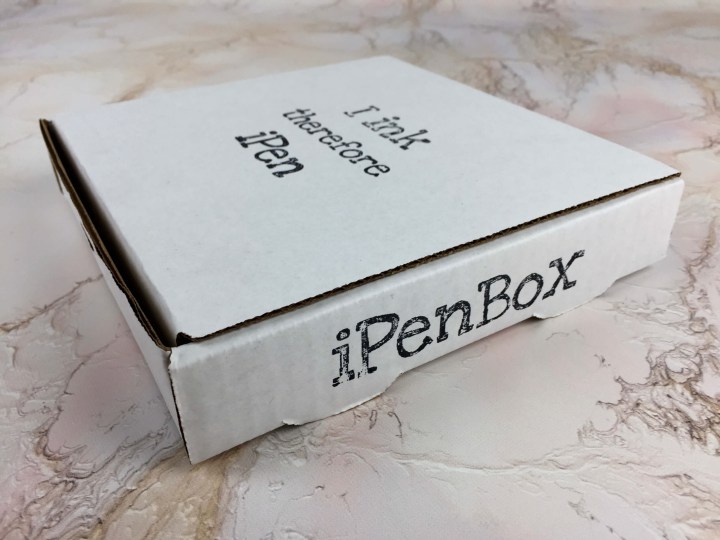 The iPen Box is a monthly subscription box that offers varieties of pens, paper, and inks every month, delivered straight to your door. For only $30.00 per month, you'll get 6-9 new, unusual, cool, and innovative pens and paper products based on a monthly theme in every box.
This month's theme was 'Metal' and the curators did a fantastic job of selecting unique items to creatively go along with it. The information card, which is aptly in metallic paper, gives you a list of all the items inside the box.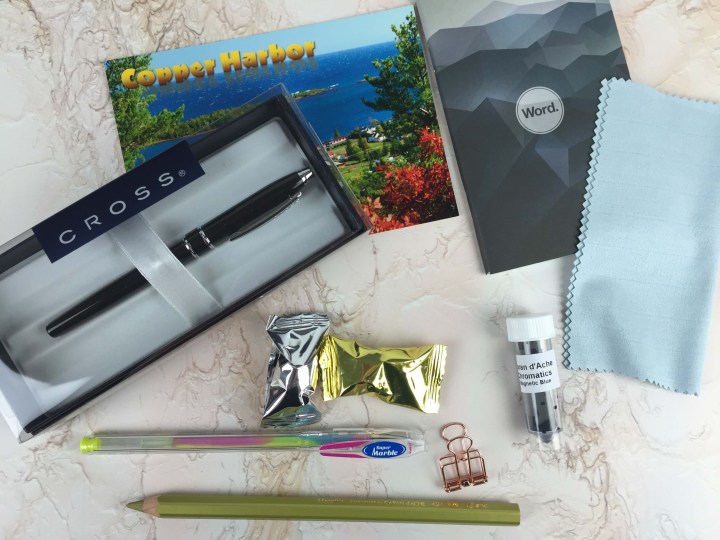 Everything in my iPen Box!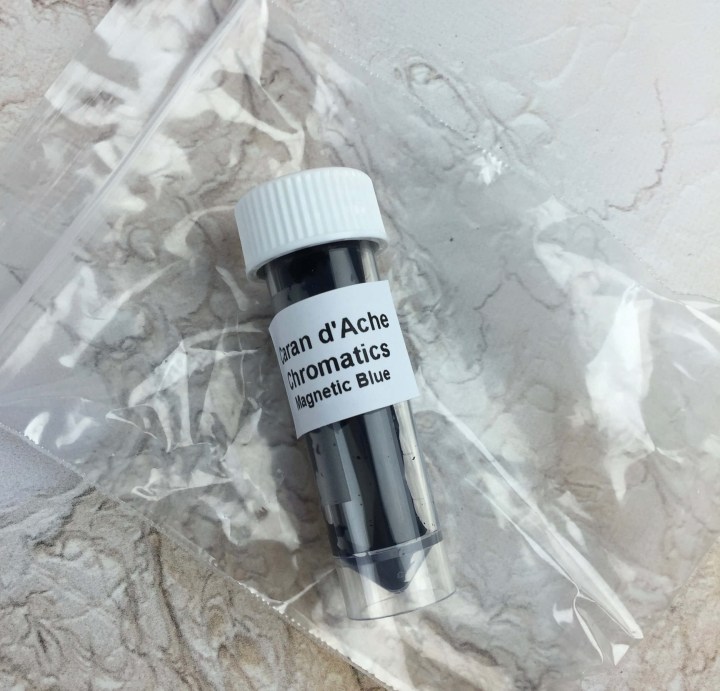 Caran d'Ache Chromatics Magnetic Blue Ink – This month's ink sample was the dark Magnetic Blue from Caran d'Arch.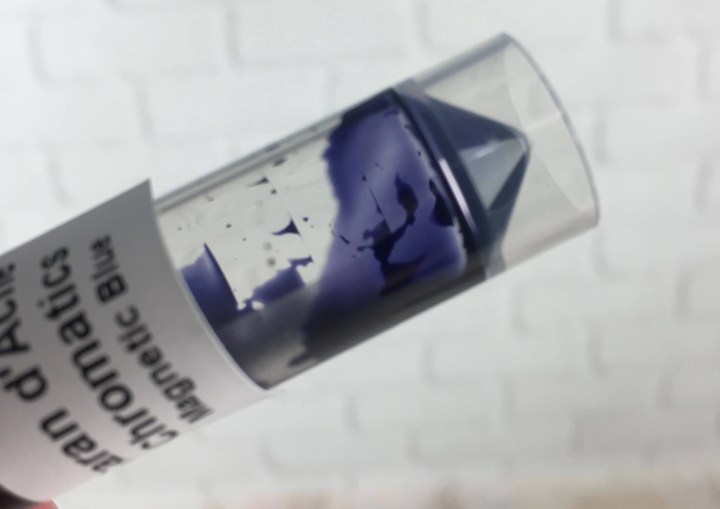 This ink could easily be mistaken for black if a finer nib is used. However, a flex nib or a broad FP nib would probably show up the steel blue tones well. My Zebra G nib easily revealed a beautiful blue and in areas where ink was the  thickest, some red sheen was visible.
Copper Harbor Postcard – In keeping with the idea of writing, our box included another postcard. This one is fall-themed and also employs the box theme in its name.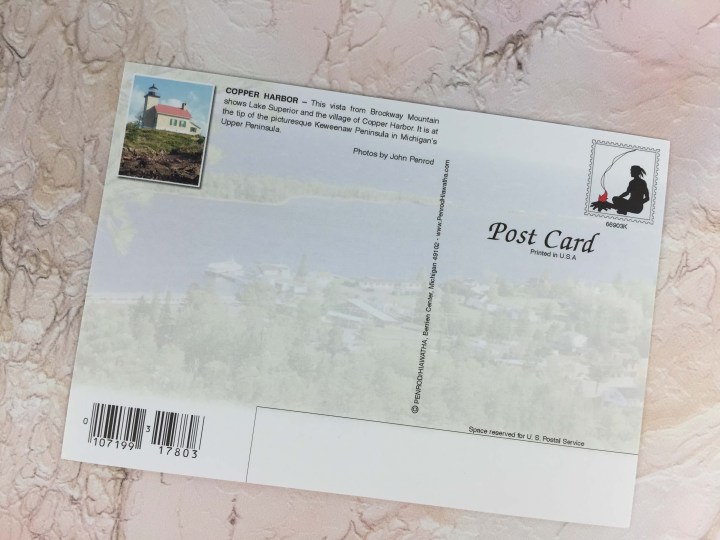 Put your new writing goodies to use!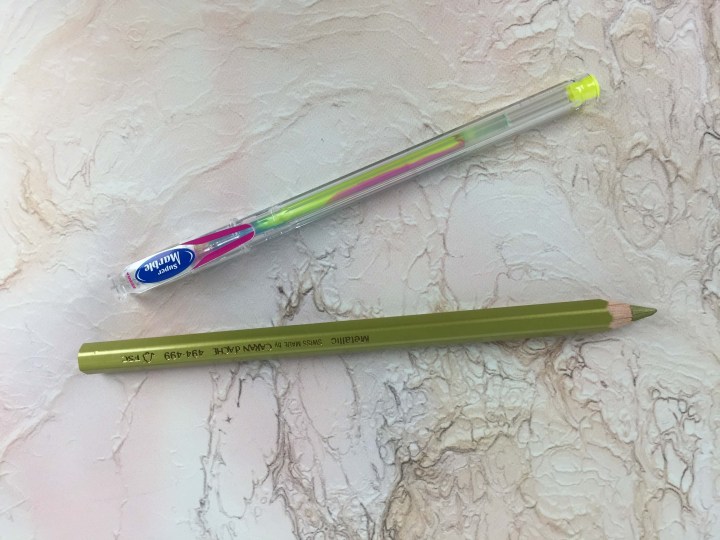 Zebra Super Marble Pen – This fun little pen was a delightful addition to the box! After about every four or five words, expect your ink color to change.
Caran d'Ache Colorblock Metallic Pencil – This chunky pencil is a great all around tool to liven up any project you're tackling. Its metallic sheen is wax-based to provide a smooth application that won't dry out, bleed through, or change any print with which it's paired. Great for scrapbooking, letter writing, coloring, or just about anything you can think of. The lead is a generous 4.5mm and our color was, I believe, supposed to be metallic gold (it looked like it had some green overtones to me).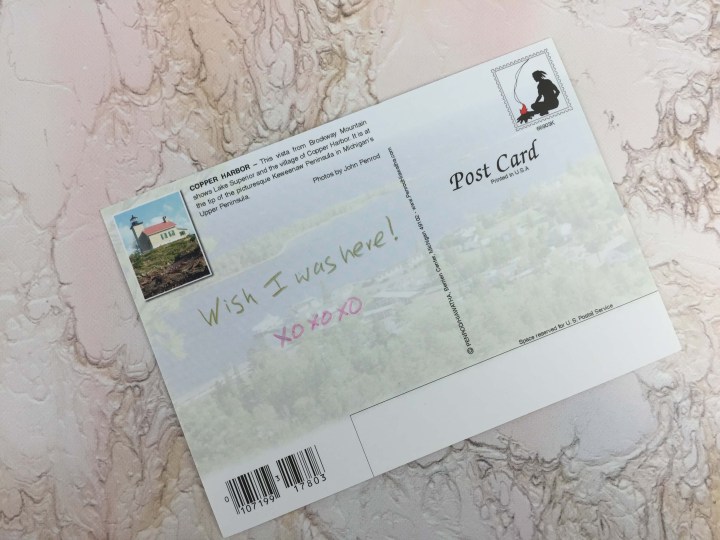 The effect of the marble pen is gradual and you end up with a pretty rainbow sentence. I look forward to using this in my journal!
Word. Blue Mountains Notebook – Featured by names like GQ, Gear Patrol, and LifeHacker, Word notebooks are well known within the fountain pen community and among those who value having a compact and quality notebook on them at all times. Word does not disappoint in utility and quality with its paper easily handling fountain pen ink. Different artistic designs, some of them limited, grace the covers and provide a pleasing visual  upgrade to the normally drab covers that most notebooks sport. Internally, the little books are as varied as their covers and range from a simple notebook with circles to help you organize your thoughts, to books specifically made to help you record adventures and even prime surfing spots. The company is based in California and prints each book one at a time.
Rose Gold Skeleton Binder Clip – Prized by journalists for holding their pages taunt while they write, this clip is a classy twist on the old  black office binder clip. The skeleton design allows you to see what's underneath as you work- a feature that artists especially prize. I had been looking at buying some of these for a while, so it's wonderful  that one happened to be tucked into this month's box!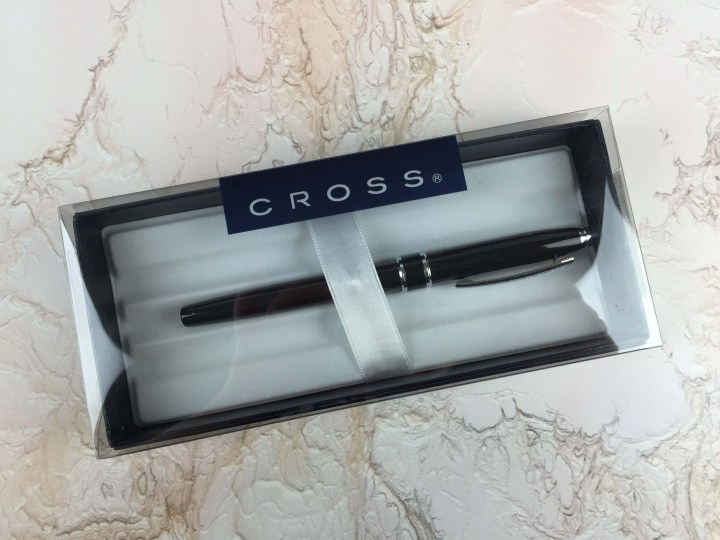 Cross Stratford Fountain Pen – It's pretty hard to go wrong with a fountain pen, especially with a name as well-known as Cross. A staple for gift-giving for years, Cross doesn't disappoint with this model.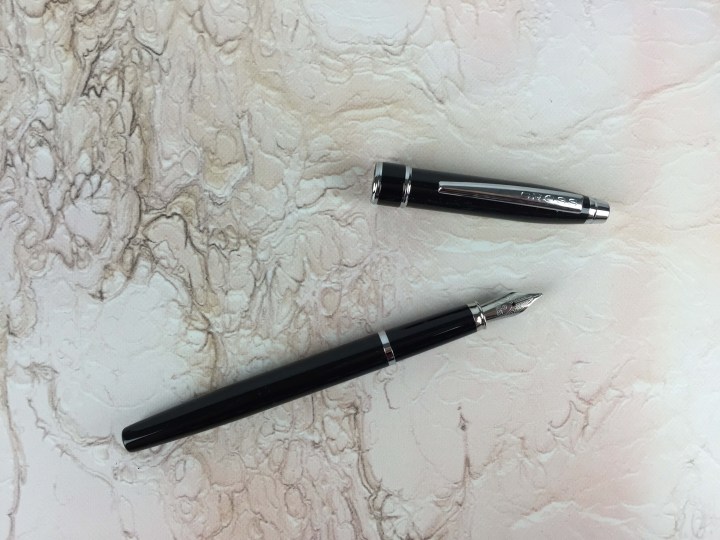 The pen itself is a little on the  small side with a narrow body that may feel awkward for those with larger hands. If you can deal with its smaller stature, though, you've got a great writing instrument!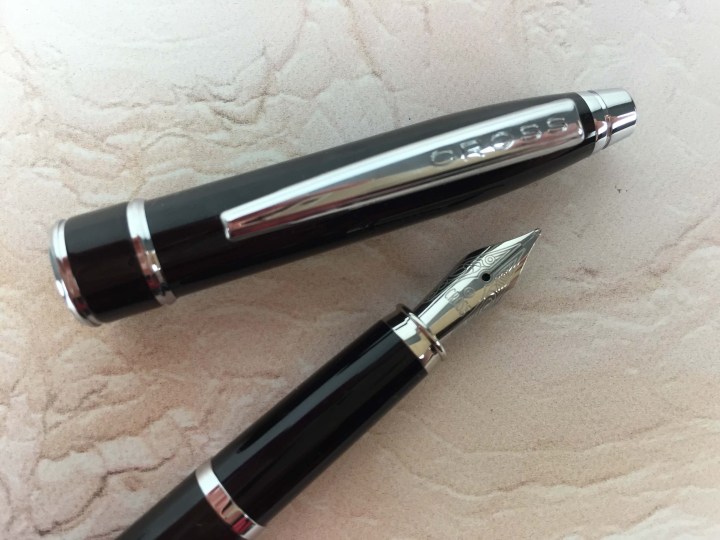 The lines that the steel nib puts down are bold and would easily be called a medium nib.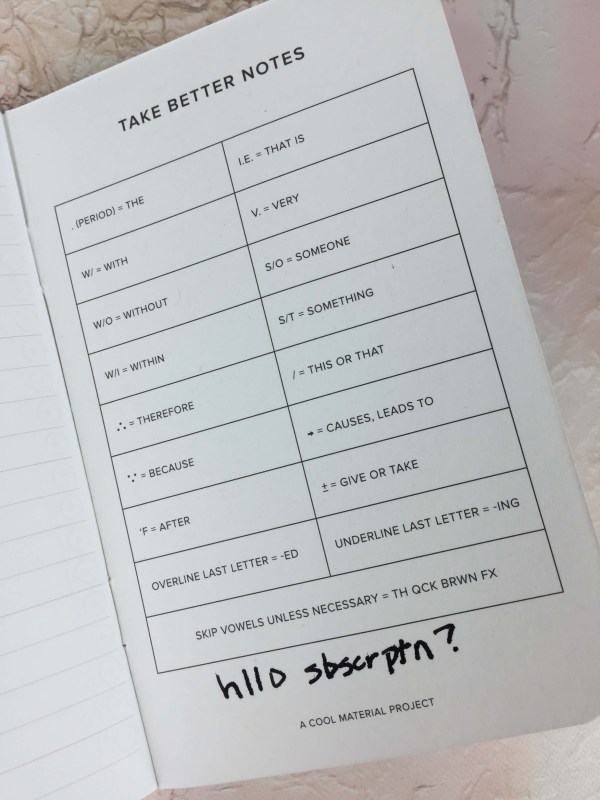 This pen is a smooth writer and the ease of using the replacement cartridges would make a good addition for any pen nerd.
Here are this month's writing samples: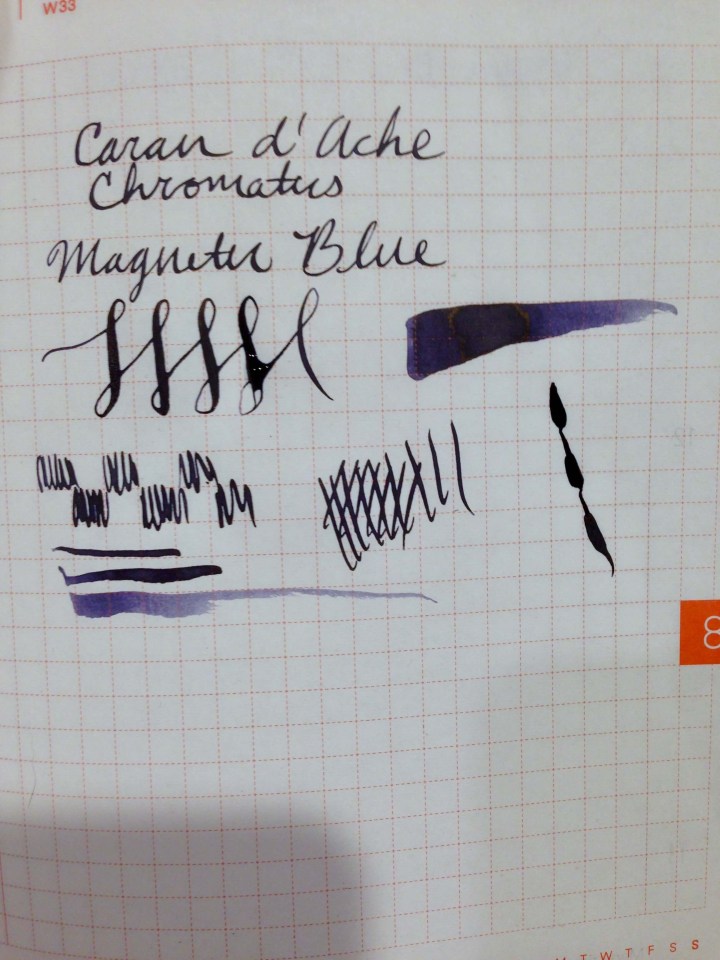 Caran D'Arch Magnetic Blue Ink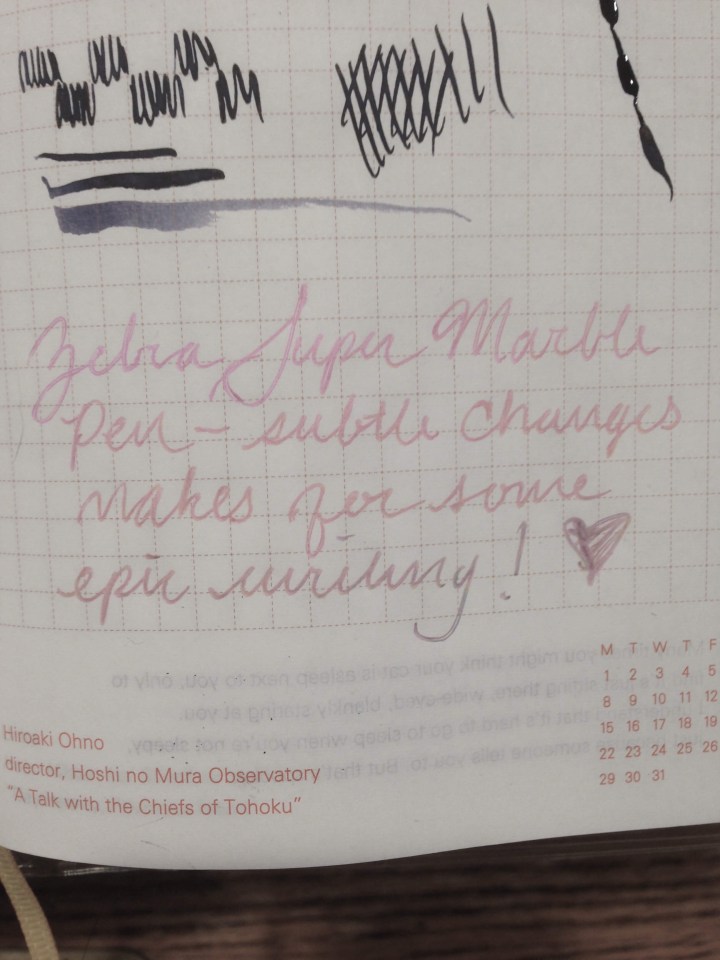 Zebra Super Marble Pen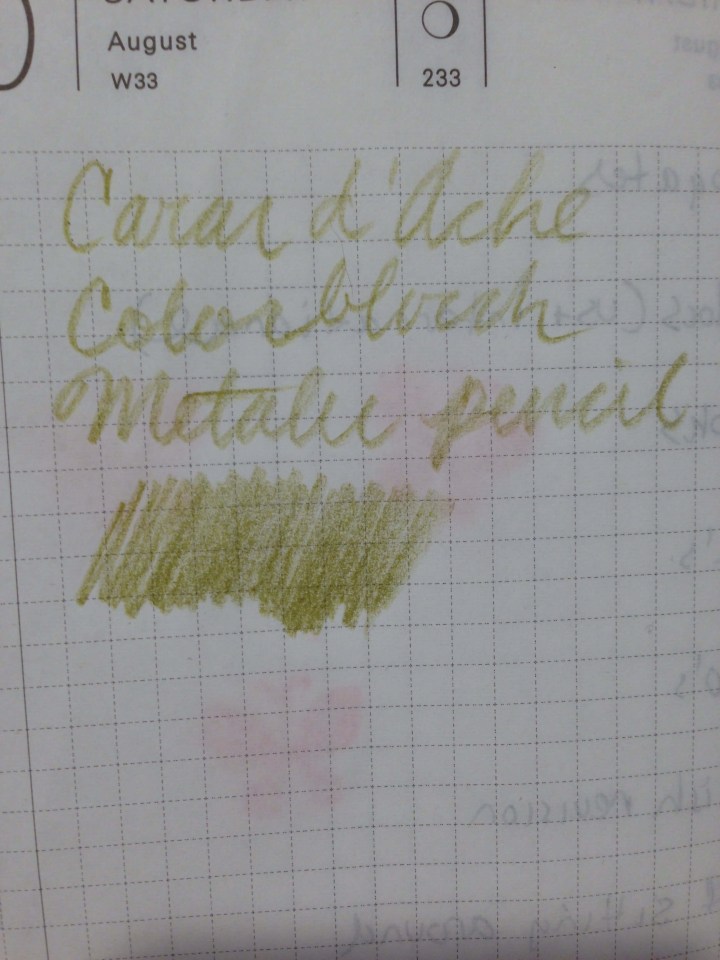 Caran d'Arch Colorblock Metallic Pencil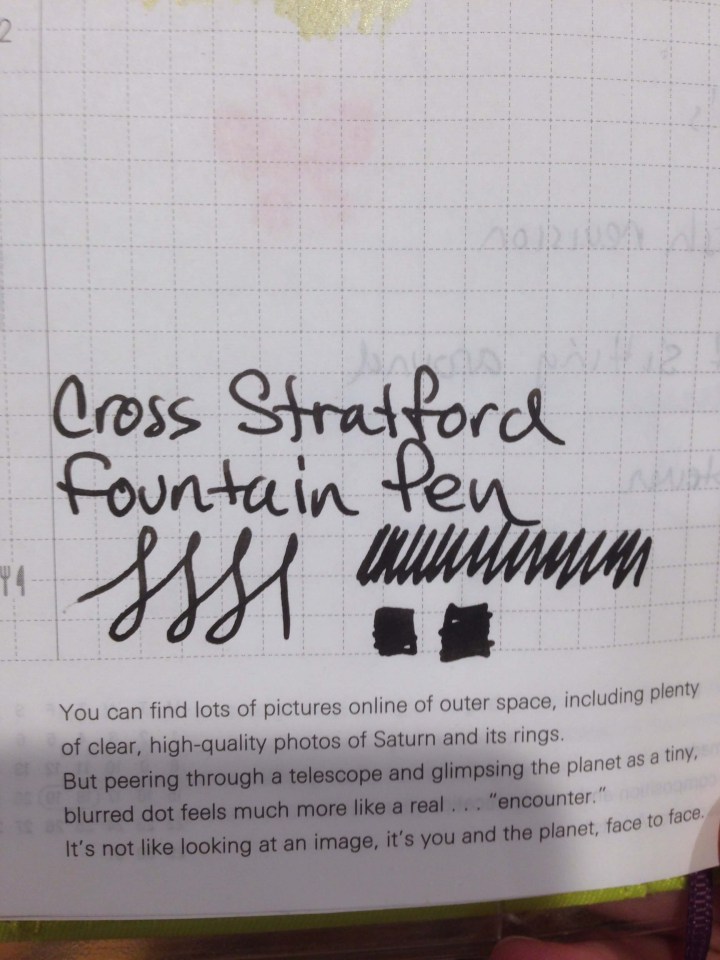 Cross Stratford Fountain Pen
This month's pens and inks vs others.
What did you think of the The iPen Box?
Visit The iPen Box to subscribe or find out more!
The Subscription
:
The iPen Box
The Description
: This is for anyone who loves pens, paper and inks. iPenBox is a subscription box for the pen, paper and ink enthusiast, delivering a monthly box of products to your door. Each month this mystery box will be filled with new, unusual, cool and innovative items from the pen, paper and ink world. We travel the world to find the best products and hand pick 6-9 items around a fun monthly theme!
The Price
: $30.00 per month