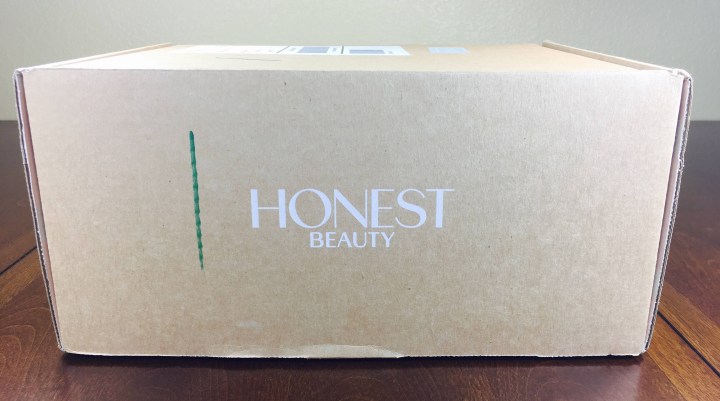 Honest Beauty is a monthly subscription service that sends skin care, hair care, and cosmetics to your home. Honest Beauty utilizes the same standards of its sister company, The Honest Company. Safety and effectiveness are of utmost importance. Honest Beauty's monthly subscription is a 3-item bundle. Each month when you choose items for your bundle, you can then select up to 5 additional items at a 25% discount off MSRP. The monthly Honest Beauty 3-item bundle costs $50. As a shorthand, put your 3 most expensive products in your bundle. The items in the bundle average out to $16.67 each. Add-on items at a 25% discount that exceed an original cost of $22 will cost more as add-ons than they would in the bundle. You can get a free skincare trial with this link!
You can mix and match products to your heart's desire, however, I am reviewing items from the new hair care offerings!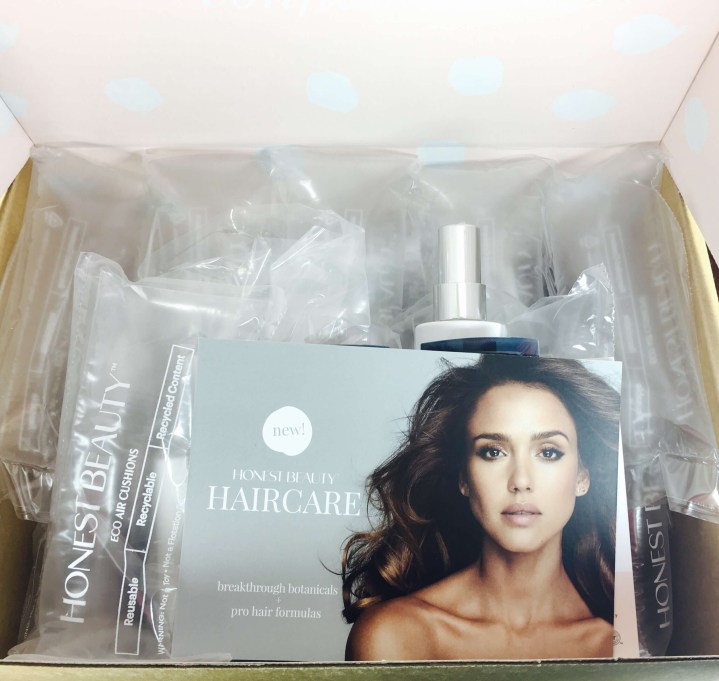 Everything arrived safely packed with air bladders to keep products from shifting.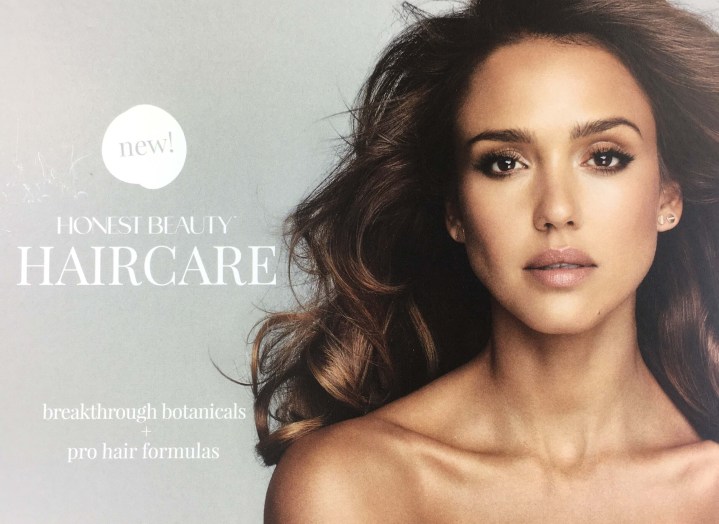 In case you have been living under a rock, Jessica Alba is the founder of Honest Beauty, and doesn't she have lovely hair! Please note: my hair doesn't even come CLOSE to looking like this. I have fine, straight, thin hair that is chin length and that I have to wash, blow dry (with a considerable product), and heat treat into submission on a daily basis.
The flip side of the card mentioned that you can now add hair care products to your monthly bundle.
I also received a sample of shampoo and conditioner, which would be great to take along on a weekend trip.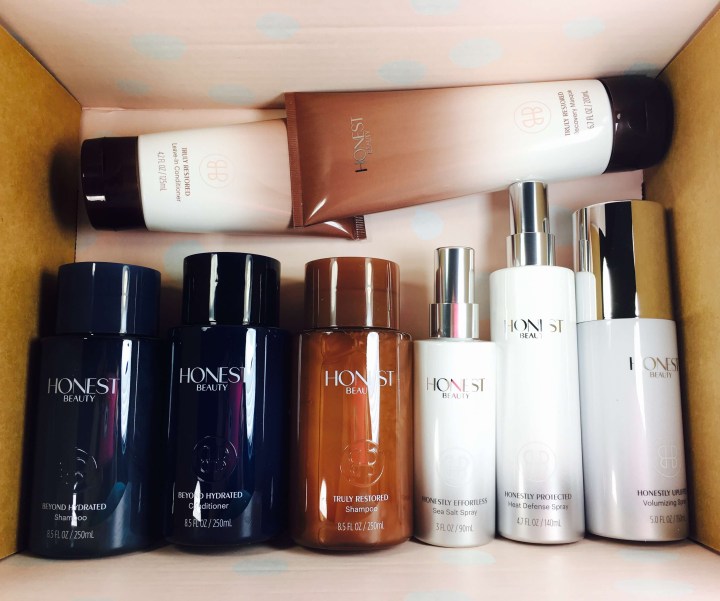 Here are my new babies! There are 11 items in the hair care line and I picked the 8 that I hoped would work best for my fine hair needs. I was a bit disappointed that they didn't have any volumizing and/or clarifying products specifically for my hair type. Also, a hairspray, mousse, or gel would have been nice but maybe these are harder items to make without iffy ingredients. Speaking of ingredients, here's what you WON'T find in Honest Beauty products:
We're guided by transparency and the strictest (self-imposed) standards to ensure our products perform safely and beautifully. We're thoughtful about the pure, raw ingredients we use and the hundreds of harsh chemicals we don't. Our products are made without any questionable ingredients, such as parabens, phthalates, formaldehyde carriers, PEGs, MCI/MI, steareth-n, synthetic fragrances, propylene glycol, butylene glycol, petrolatum, mineral oil, SLS, SLES, sulfates and chemical sunscreens.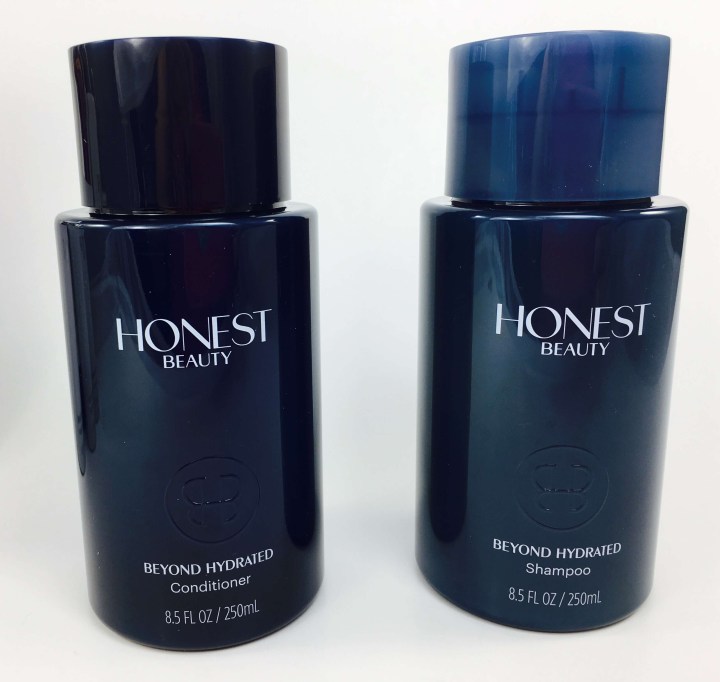 Beyond Hydrated Shampoo ($20) is for normal to dry hair and has coconut oil, juice, and extract; orange, mandarin, lemon, and bergamot oils; aloe; and tea extracts. It lathered well and had a mild, pleasant scent.
Beyond Hydrated Conditioner ($20) goes great with the shampoo and has the same scent, too. Coconut juice contains protein and amino acids, sweet almond oil softens and helps with shine, and aloe vera adds antioxidants to the mix. Again, I thought this product worked well and surprisingly these items didn't weigh down my hair. That's a big deal in my little world!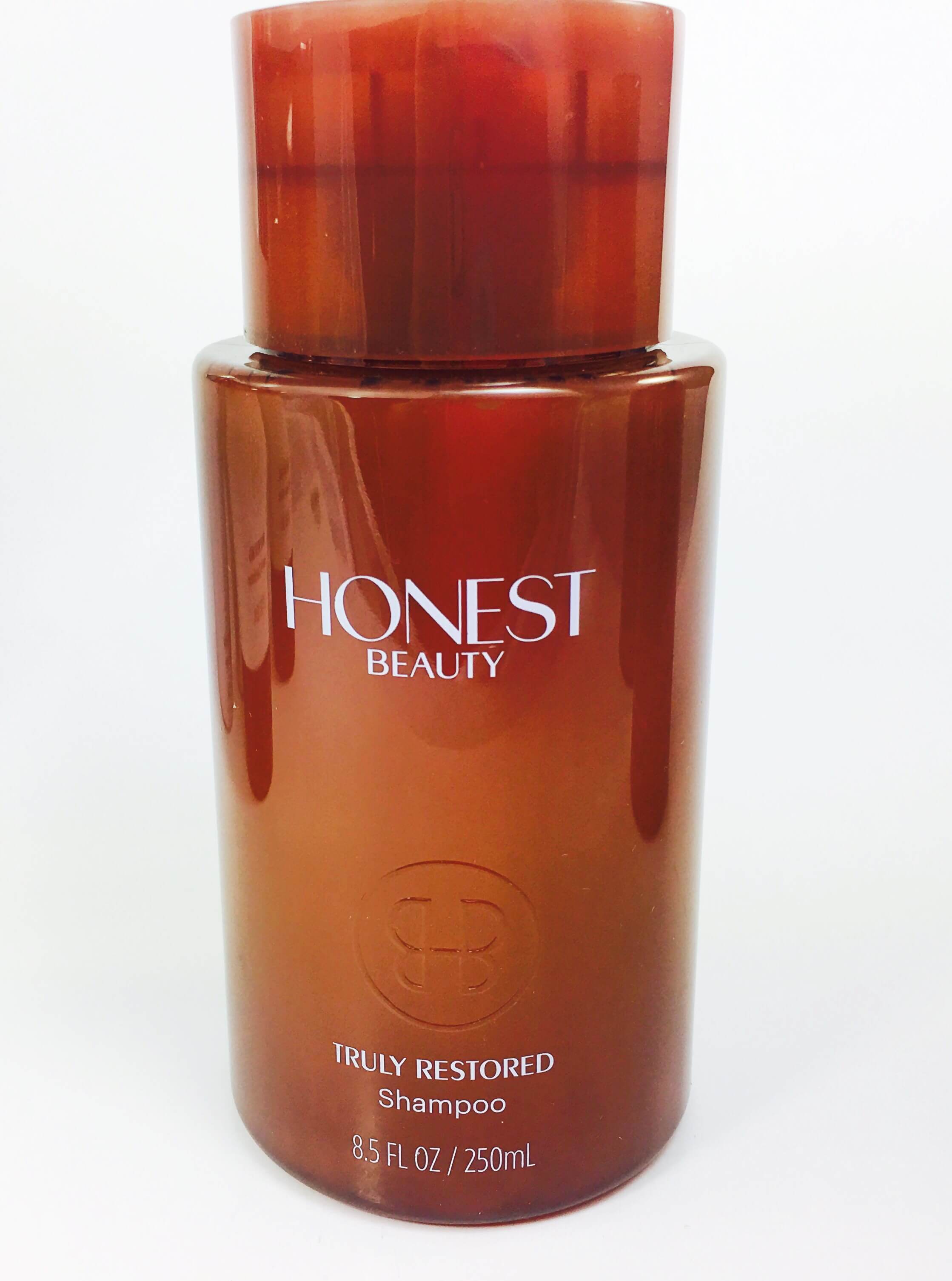 Truly Restored Shampoo ($24) smelled lovely (like honey and pineapple) and lathered well. This shampoo contains 18 plant-derived amino acids that are supposed to be similar to keratin and has antioxidants such as tocotrienols (vitamin E) and niacinamide. I used this with the Recovery Masque (below) and styled my hair as usual and was really surprised that it didn't fall flat.
I used the Truly Restored Recovery Masque ($30) on a Sunday, which is the day I deep condition my hair and expect that it won't hold a style for the rest of the day. I shampooed with the Truly Restored Shampoo first (above) and then let the masque sit in my hair for a couple of minutes before rinsing. It had the same great scent as the shampoo along with the 18 amino acids. Sweet almond oil adds shine and coconut oil, royal jelly extract, and sea buckthorn are also in the mix. I was floored when I was able to style my hair and it didn't fall flat. I finally had a Sunday without flat hair!
Once a week I use a clarifying shampoo to remove buildup but it also leaves my hair dry and hard to comb. I applied just a bit of the Truly Restored Leave-In Conditioner ($24) to my hands and disbursed it evenly through my hair and it combed out easily. Again, 18 amino acids are there to help give hair strength, shine, elasticity, and antioxidants. Sunflower seed oil has essential fatty acids that mimic the ones that naturally occur on the scalp.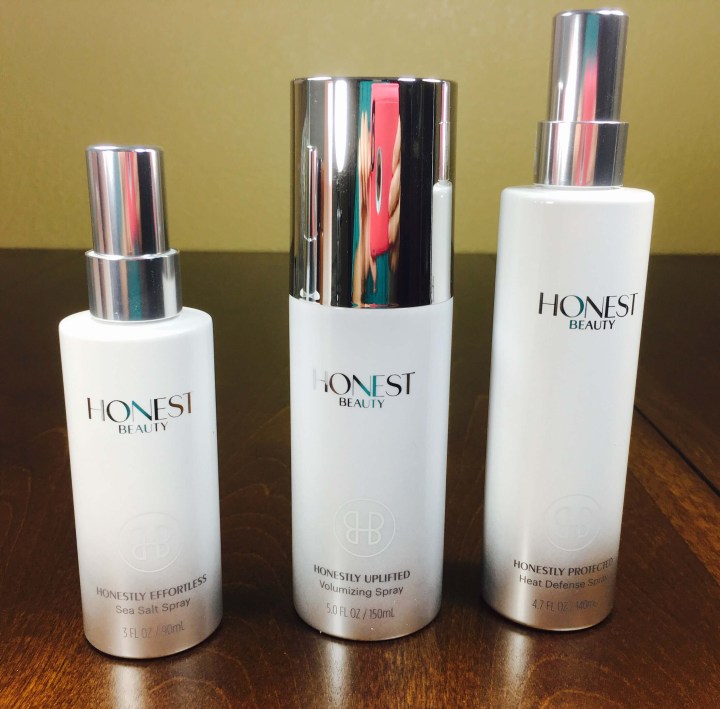 I have absolutely no curl to my hair at all but tried the Honestly Effortless Sea Salt Spray ($18) in the hopes that it would offer a bit of grit to my hair but I didn't get that effect. Himalayan Pink Salt is the star here, as it is supposed to give that fresh from the beach tackiness (at least, that's how my hair feels after a day at the beach!) and algae extract provides amino acids, vitamins, and antioxidants for their nutrients.
Honestly Uplifted Volumizing Spray ($24) has pea protein for fullness, shellac to add volume and hold, and niacinamide for antioxidants. I had more hold when I combined this with a mousse than when I used it alone.
Honestly Protected Heat Defense Spray ($24) has barley protein for thermal protection up to 450 degrees, honey to soften the hair, and amino acids for antioxidants and to improve manageability. Citrus and lavender oils give it a nice scent. It said to spray on hair and let dry before heat styling but I have to blow my hair dry and just waited a few moments for the alcohol to (hopefully) evaporate.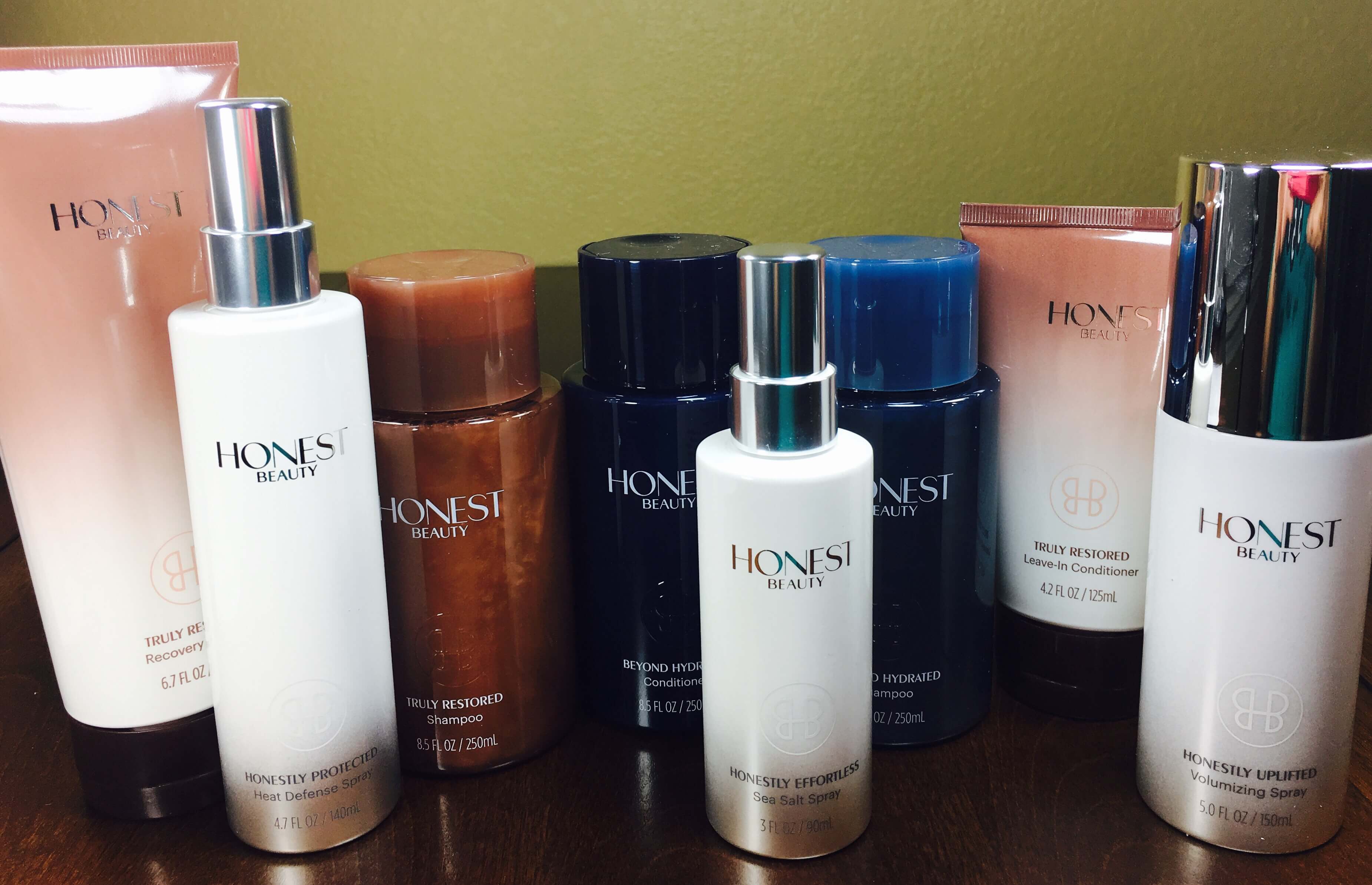 I was pleasantly surprised at how well Honest Beauty hair products worked for my hair! They didn't leave my hair flat and I had a great hair day when I used the "Blue" line followed by the heat defense spray, volumizing spray, and my usual "root pump" mousse. The scents were pleasant and fleeting and I enjoyed giving everything a try and will be adding them to my regular beauty routine!
My Honest Beauty Bundle had a total value of $128 before taxes and shipping. With the eight items included that averages $16 per item. All of the items at full price would have cost me $184 so that's a savings of $56 to bundle. I enjoyed my first experience with Honest Beauty and love that everything is natural and safe, too!
Have you tried Honest Beauty? What did you think of the products? There's no free trial yet for the hair products, but you can get a free skincare trial with this link!
Visit Honest Beauty to subscribe or find out more!
The Subscription
:
Honest Beauty
The Description
: Honest Beauty is a comprehensive line of skincare and makeup that has been formulated to match the standards of The Honest Company. Their Honestly Free Guarantee means the products perform safely and beautifully with no questionable ingredients! Line consists of face, lip, eye, and cheek products for makeup, as well as enhance, protect, cleanse, and hydrate products for skincare!
The Price
: $50.00 per month