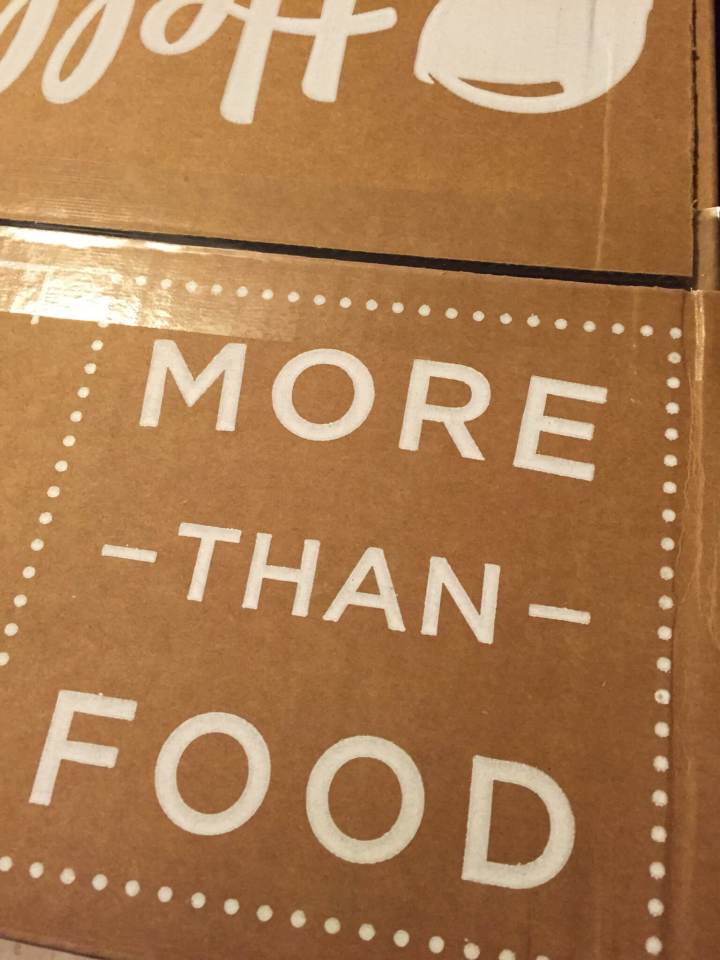 Hello Fresh is a meal kit subscription box with complete recipes and ingredients to make 3 meals every week, with each meal feeding either two or four people, depending on the plan you choose.  
Though it is a subscription, you can pause your deliveries when needed — whether you are out of town, have other dinner plans, or just aren't in love with that week's selections.  The standard subscription provides high-quality meats (free-range chicken, antibiotic meats, etc.) to use in the recipes.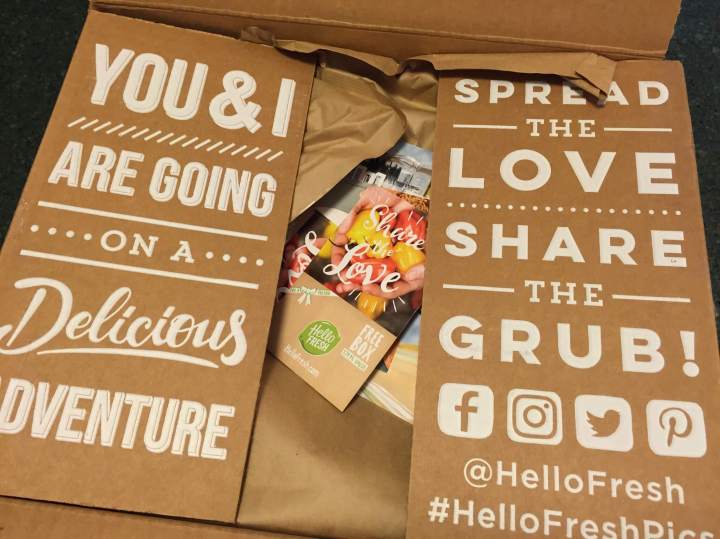 Though we do eat meat, we cook vegetarian three times a week.  Thankfully, Hello Fresh has a vegetarian subscription for both casual and dedicated vegetarians.  This review covers the vegetarian box, which featured a recipe by Jamie Oliver!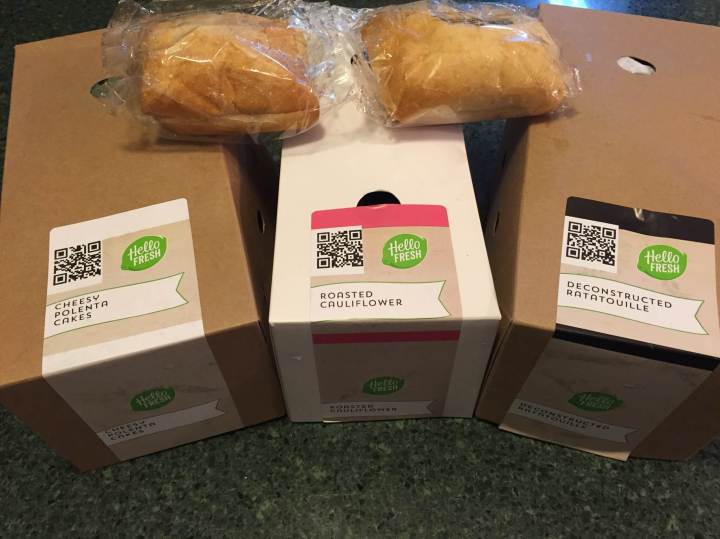 The boxes used by Hello Fresh keep all the ingredients for the recipes in order, and they stack nicely in the fridge.   Within each box, everything but the largest vegetables is separately packaged, and is packed at the bottom. Condiments and canned goods are provided in high-end, commercial packaging.  Hello Fresh usually provides spices in their own, pre-measured branded packaging.
Hello Fresh has great instructions, and they are easy to follow even if you are an inexperienced cook. There are even some kitchen tips included in the information card.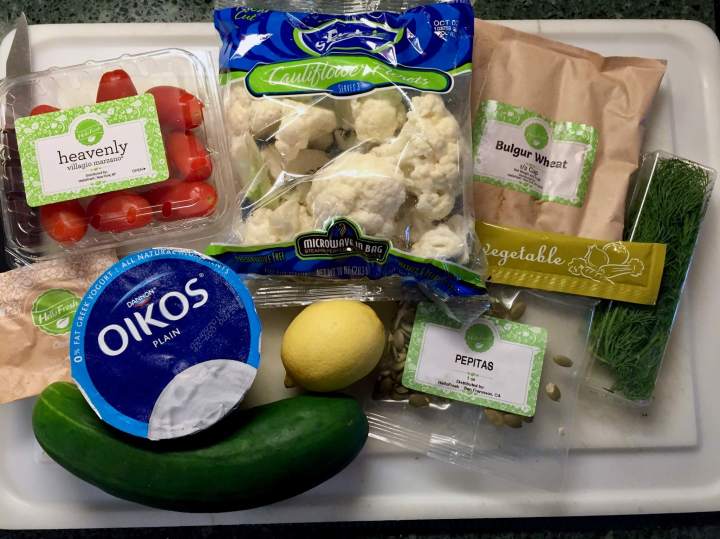 Roasted Cauliflower With Bulgur, Tzatziki, And Spiced Oil. 30 minutes, level 1, 472 calories per serving.
I don't know if you'd consider this a Greek dish but I do simply because of the Tzatziki.  Tzatziki is a sauce with yogurt, cucumber and garlic or dill.  Our sauce had lemon zest and dill.  My husband really liked it, said, "it added a bit of tang to the dish."  Hello Fresh described the roasted cauliflower as the star of the meal.  I totally disagree, it was the Tzatziki, nothing like a great sauce to compliment the rest of the ingredients.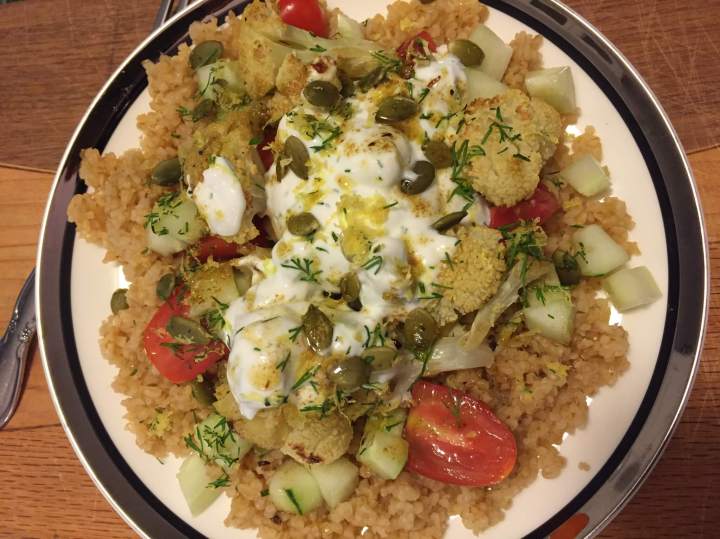 I like the chewiness of the bulgur and with the vegetables either fresh or roasted there was a lot of texture in this meal.  And the color was very eye appealing.  I don't mention nutrition much because most of the meals are very nutritional but this one had a lower calorie count per serving.  I'm trying to cut back, so I was happy with that.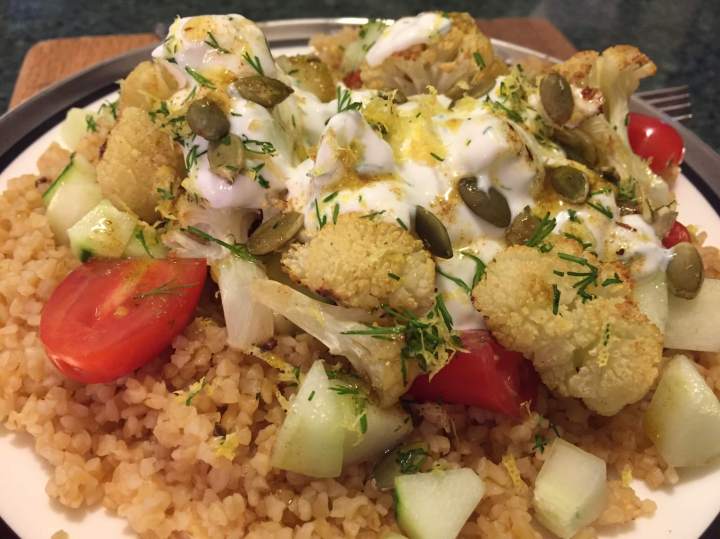 On another Hello Fresh note, recently a friend asked on Facebook if she should buy Hello Fresh or a competing company, Hello Fresh won 7 to 2!  I think that speaks a lot.  Keep up the good work Hello Fresh.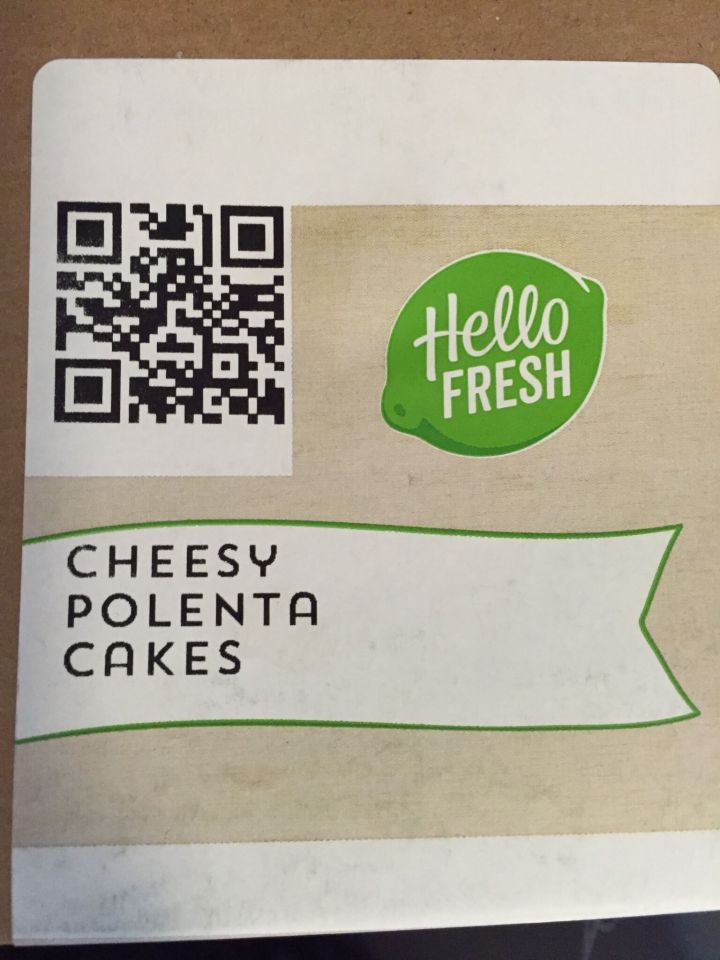 Cheesy Polenta Cakes With Kale Mushroom Hash And Eggs. 35 minutes, level 1, 551 calories per serving.
We tried something new today, Hello Fresh for lunch!  Woohoo, I lead such an exciting life sometimes. 🙂  Too much hubbub in the evening on Friday nights, picking up grandkids and shuttling here and there.  So lunch it was.  Wow, not rushing or anything.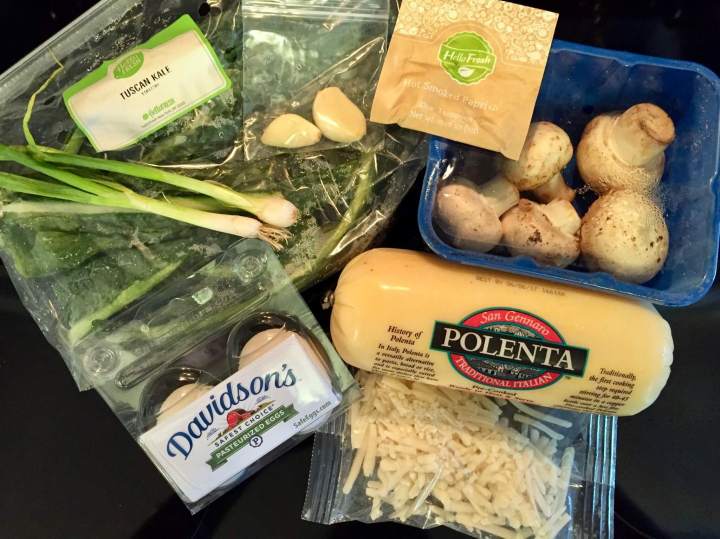 One thing I love about Hello Fresh is how easy it is to adapt the recipes to your personal wants/needs.  I hate mint and no I won't even try it, done that and been there, now I use basil.  My husband has a few medical issues and that's why we eat vegetarian part of the week.  He also has a weakened immune system so he can't/shouldn't eat raw egg.  So you'll see in my pictures that our egg yolk is broken whereas in Hello Fresh's, it's a perfect sunny side up.  There has been nothing in Hello Fresh's boxes that I couldn't adapt to us.  Wonderful!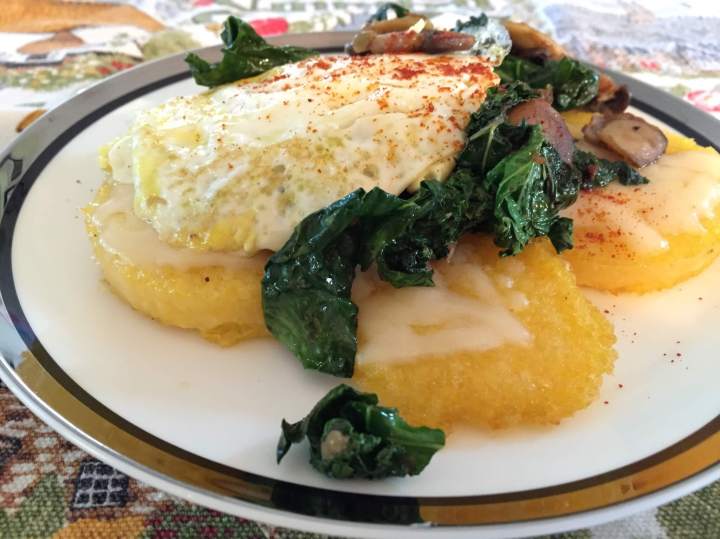 This Cheesy Polenta Cakes was a perfect lunch meal for us and hubby raved about the mushrooms.  25 years of marriage and I'm just realizing how much he loves them!  We're looking for fiber and protein in our meals and this has a nice portion of both.  This also had less than a third of your daily intake of sodium.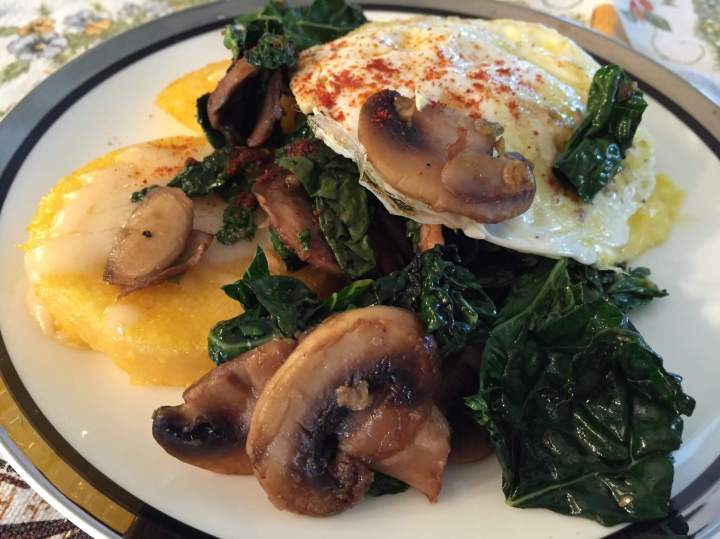 This luncheon meal  was packed with nutrition and flavor.  And, there's more polenta in the refrigerator.  It will make a great base for tomorrow's lunch.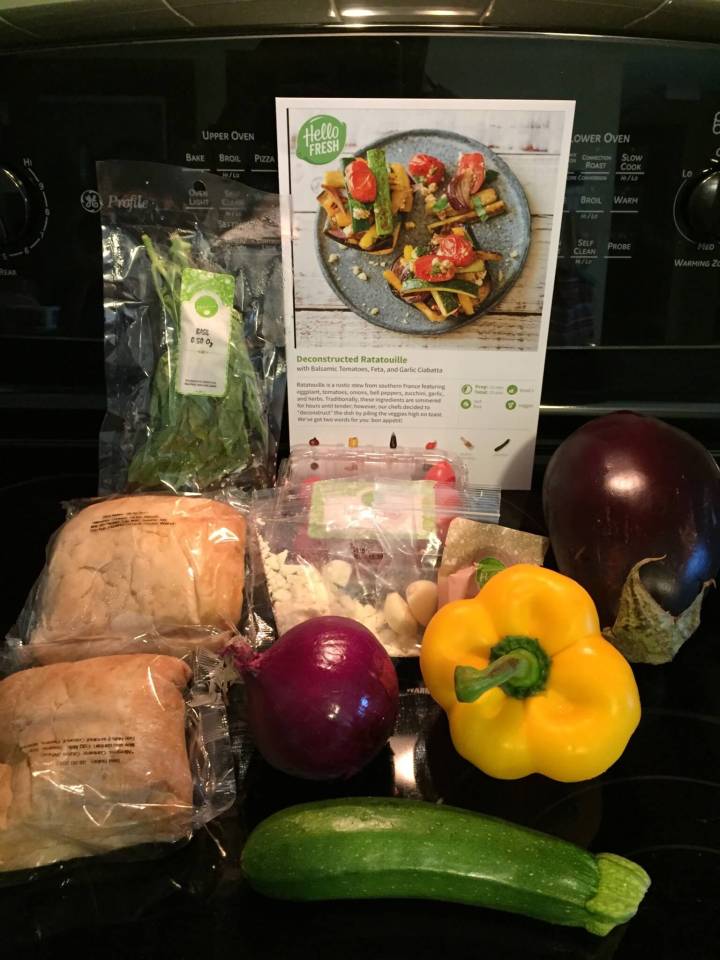 Deconstructed Ratatouille With Balsamic Tomatoes, Feta, And Garlic Ciabatta. 35 minutes, level 2, 636 calories per serving..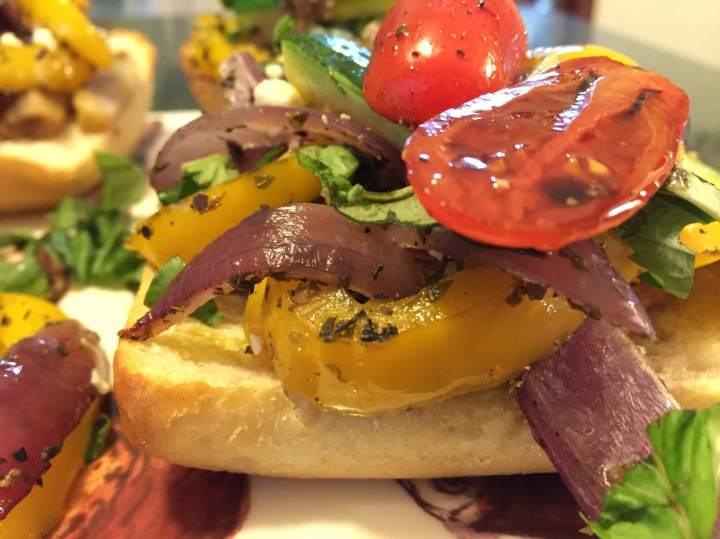 Deconstructed…huh?  I had to look that up and it means:   term coined by French philosopher Jacques Derrida — refers to the idea of breaking apart elements traditionally combined together to make a dish, and serving the items separately in a unique way.  And of course I saw the movie, Ratatouille, so I knew basically that it's a French dish.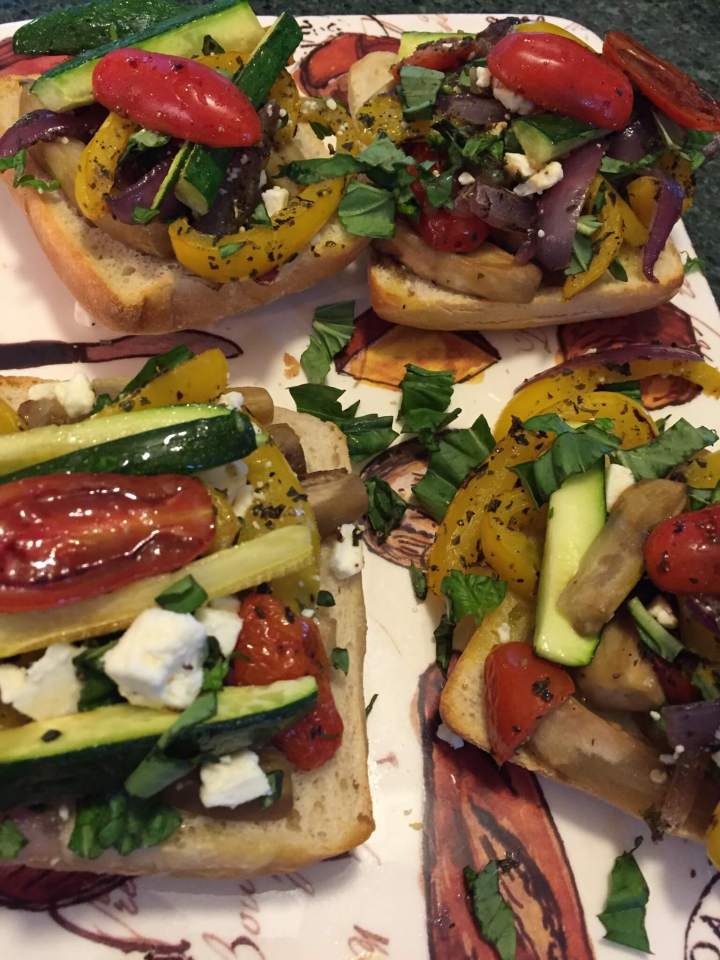 My pictures are pretty but I had to dump off the veggies and pull apart the bread in order to eat it with my braces.  Either way, as a sandwich or the way I ate it, it was so delicious.  I'm really liking all the meals with roasted tomatoes, never did that before.  I always thought they'd be too mushy but no, warm and almost melt in your mouth good.  I ate only 1 ciabatta toasts with veggies and was quite full.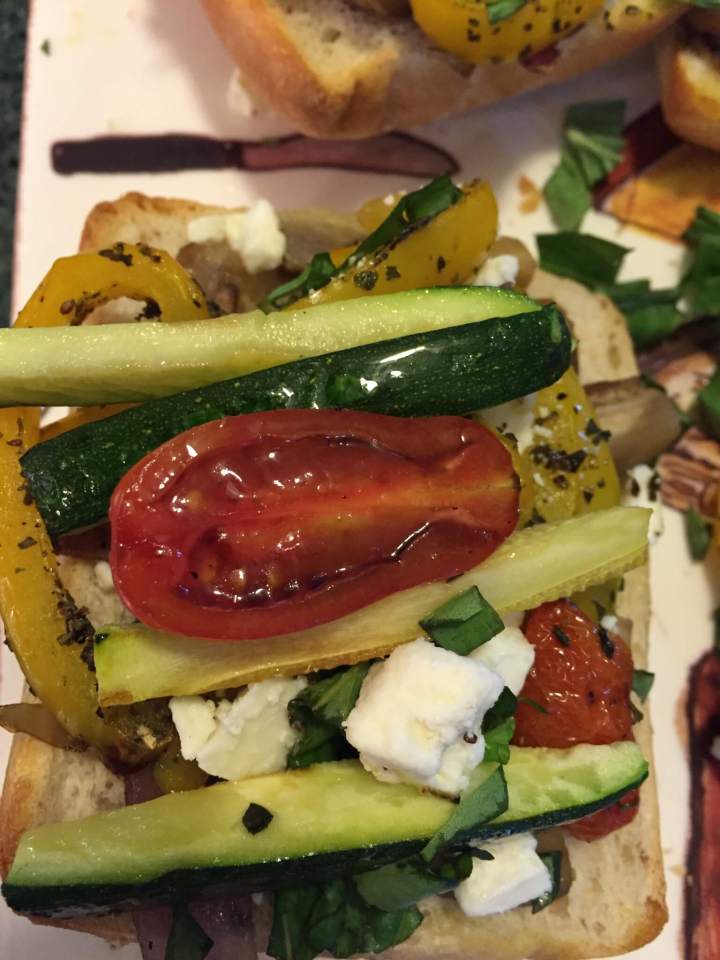 Hello Fresh sends enough that there were extra vegetables still in the pan so there is leftovers for another day!  Yay!
 Have you tried Hello Fresh? Currently you can get a $50 Discount on your First two Boxes with coupon code HF50SUMMER.If you just want to try one box save $40 off your first box with coupon code 7UT7K8.
Visit Hello Fresh to select your box for next week!
The Subscription
: 
Hello Fresh
The Description
: Each week Hello Fresh delivers beautifully photographed step-by-step recipe cards, with the exact fresh ingredients needed to create a selection of new recipes.
The Price
: $69 per week for 3 meals (59 vegetarian)