Heaven's Honey is a fairly new subscription box that features one-two artisan body care brands a month. The products will be all natural, chemical-free, and cruelty-free. 5-8 products will be showcased each month. As Heaven's Honey explains, " Examples of natural body care items that can be featured are body butters, soaps, lotion, face scrubs, face moisturizers, deodorant, toothpaste, body scrubs, face parfaits, eye creams or parfaits, body wash, bath bombs etc." All items will be chemical, toxin, phthalates, sulfate, pesticide, herbicide and gmo-free. Time to indulge in luxurious, natural body care products!
I am excited to see Heaven's Honey again. I've been impressed with every box received. There are so many excellent natural brands out there that are unknown to me. Heaven's Honey helps bring them to my door!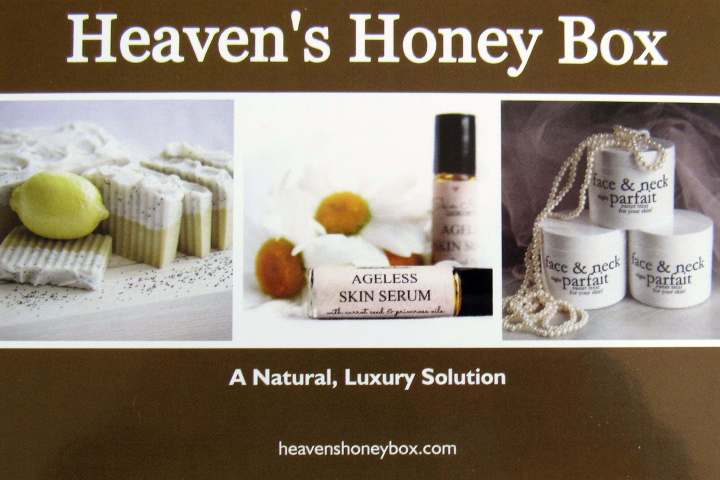 I was hoping that there will be an information card included this month.
I already love the October Heaven's Honey box because of Vintage Body Care's labels. Love it! It harkens back to a time of simplicity and romance.
Vintage Body Care is a small family owned business in Wyoming, USA that handcraft luxurious body products in small batches. Organic ingredients are used when available.
The Vintage Body Care Lotion Bar in Apple Blossom (1.7 oz, $9.99) is a hard, solid lotion bar in a reusable tin. The lotion melts into a heavy cream which is extremely moisturizing because it has Kokum, Mango, and Illipe butters. The lotion bar has a warm scent to it with a touch of sweetness that I find to be intoxicating. I will be using this in the fall and winter!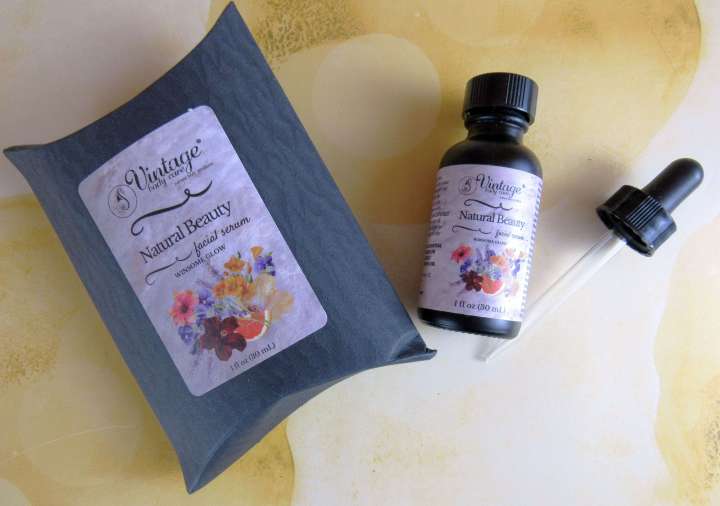 The Vintage Body Care Natural Beauty Facial Serum (1 oz, $29.99) came packaged in a beautifully designed pillow package with the dropper wrapped in tissue. The serum is a true serum that can also be used to clean your face or be applied as a serum after using toner. The golden color serum quickly absorbed into my skin leaving behind a barely noticeable delicate scent. The serum has an amazing essential oil blend that includes few favorites of mine which are bergamot, ylang ylang, and Australian sandalwood. I am thrilled to see that the Vitamin E is from organic sunflowers because most vitamin e in beauty products are from GMO sources.It's also packaged in a dark glass bottle which will protect the serum from degrading if you forget to store it in a cool, dark place.
I am almost out of facial cream and am excited to try out the Vintage Body Care Restorative Facial Cream (1 oz, $35.99) which has hyaluronic acid. The bottle looks a little empty because it is in a larger size container, not a one-ounce size container. The cream is a little heavier than what I am used to but felt calming and luxurious on my skin. I am thrilled that the ingredients will work for my rosacea and haven't experienced any issues using the facial cream. I like that both a serum and a facial cream was included. The serum is used first which is followed by the facial cream.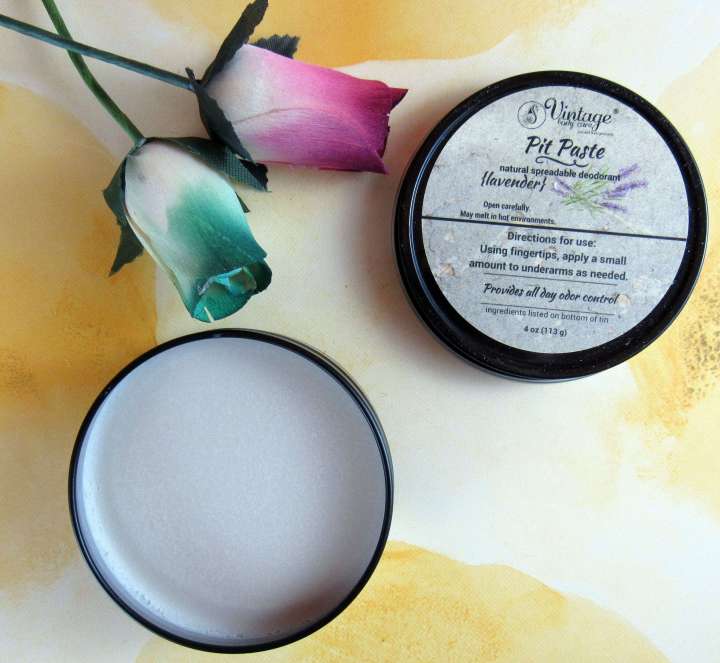 It's time to get personal with our pits. The Vintage Pit Paste in Lavender (4 oz, $10.99) has that amazingly pure sweet lavender scent that I can't help but love. The pit paste does have baking soda in it which may require a period of adjustment if you are new to baking soda deodorant. Wait until your armpits are dried before applying it which will help your body adjust to it. It is a more gentle baking soda deodorant with shea butter and coconut oil in it. I tried it out and had no odor issues. I will finish using it after I finish up another natural deodorant. I am very happy with the lavender scent!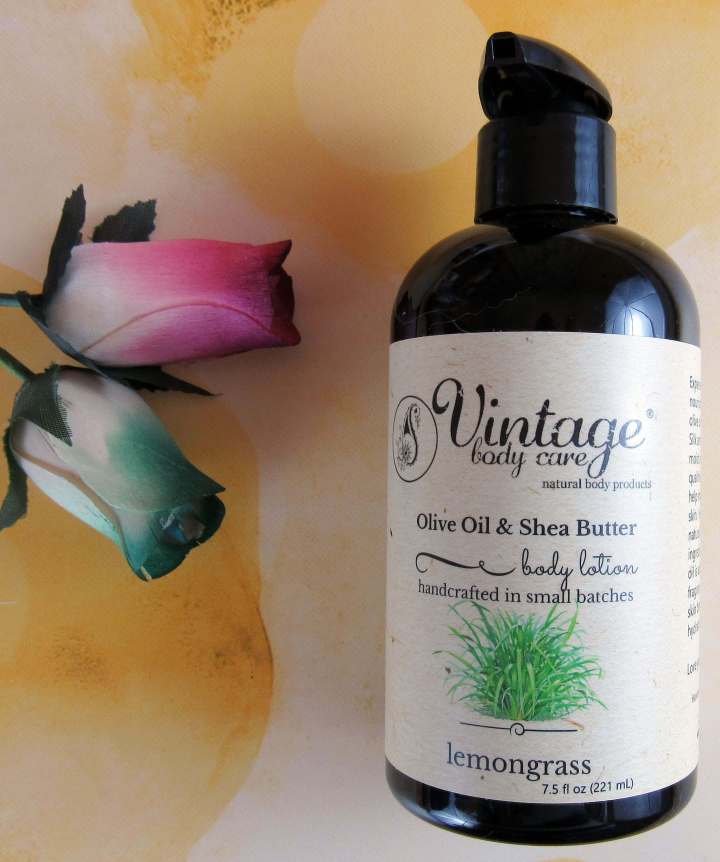 The Vintage Body Care Olive Oil & Shea Butter Body Lotion in Lemongrass (7.5 oz, $15.99) is what I need when my body butters harden up in my house during the cold weather. The lightweight lotion has an invigorating lemongrass scent that wakes me up in the morning. It absorbed quickly into my skin and left it feeling moisturized thanks to the organic extra virgin olive oil and organic raw shea butter.
I can't believe that I received five full-size products from such an amazing product line! Heaven's Honey did an excellent job in selecting products to help my skin through the transitional weather while making sure my pits smell great. I can use everything in the box which makes me happy. I love discovering new products especially ones that uses essential oils. It's a joy to learn about a small business that cares about their customers and take pride in their work. The value of the box is over $100.00 which is outstanding in a luxury natural body care subscription box working with small companies. Overall, the variety is great, the ingredients are excellent, and the selection reflects upon Heaven's Honey mission of wanting to provide an array of natural body products!
What did you think of the October Heaven's Honey? Save 15% on your first box with coupon code HELLOSUBSCRIPTION.
Visit Heaven's Honey Box to subscribe or find out more!
The Subscription
:
Heaven's Honey Box
The Description
: Heaven's Honey is a luxury subscription service that delivers an enticing package of natural body care products. Discover a wide variety of Artisan companies who offer quality products and uncover the benefits these products provide.Every month subscribers receive 5-8 quality, full/value size natural body care products. 1-2 Artisan companies will be featured every month and will create a package that they feel our subscribers will love. All products will be toxin and chemical free the way your body prefers it.
The Price
: $49.95 per month