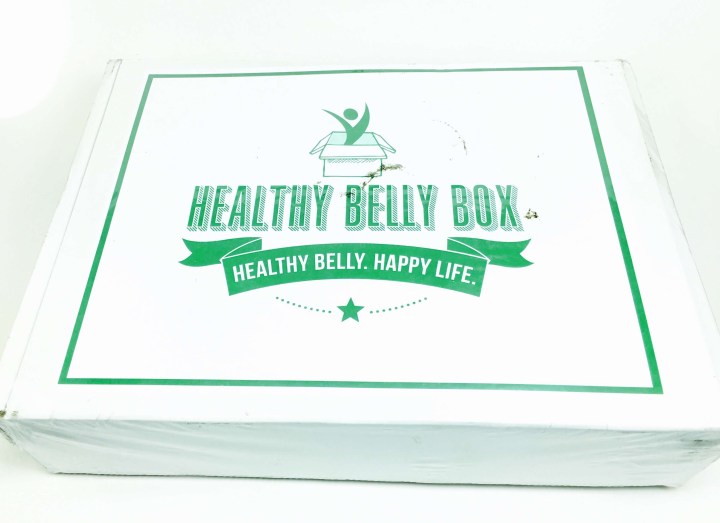 Healthy Belly Box is a monthly subscription that sends a minimum of 8 delicious gluten-free snacks in every box.
Each snack is hand-selected, carefully tested for quality satisfaction, and customizable to your digestive needs. Enjoy a pain-free snacking experience and let your belly be happy!
This box is $34.99 a month plus $5 for shipping and they also have a one-time box purchase available.
Healthy Belly Box claims they are suitable for people with celiac disease, MTHFR gene mutation, sensitive stomachs, or anyone who is on a dairy- or gluten-free diet. Boxes can be customized to exclude allergens so let them know if a product is not on your eating plan.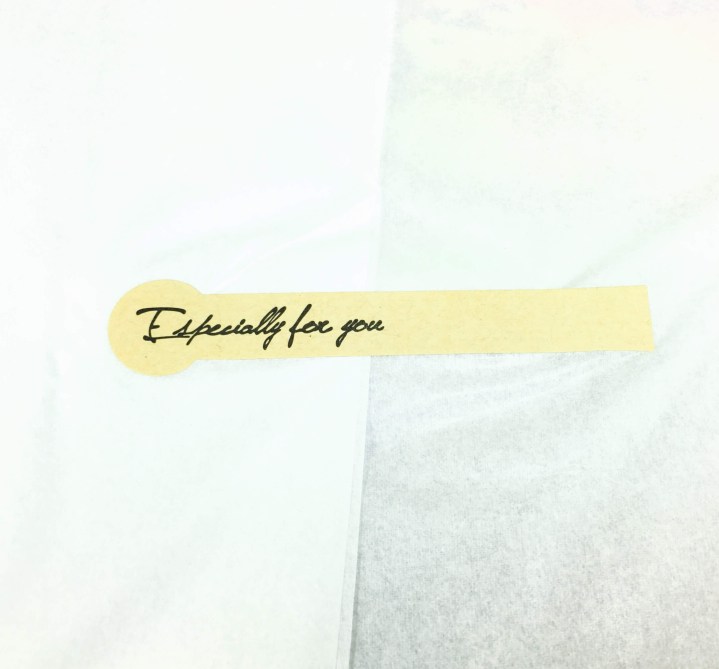 This washi tape with a note on it was a nice touch.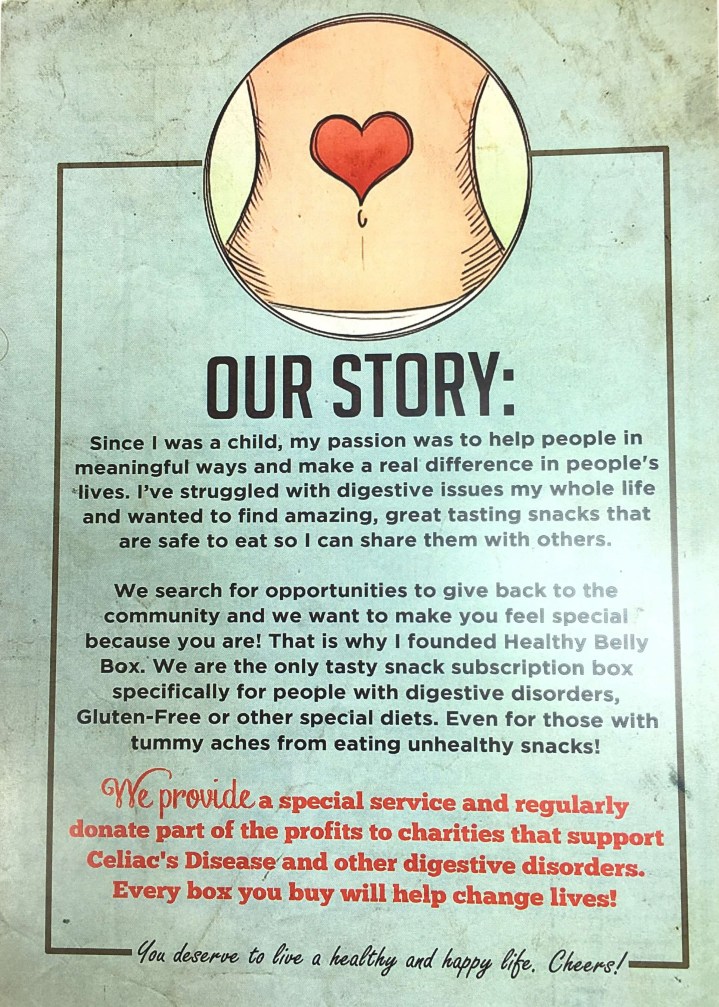 There was a card inside that listed the HBB goals and mentioned that they make a donation to charities that support digestive disorders ($1 per box sold, according to their website).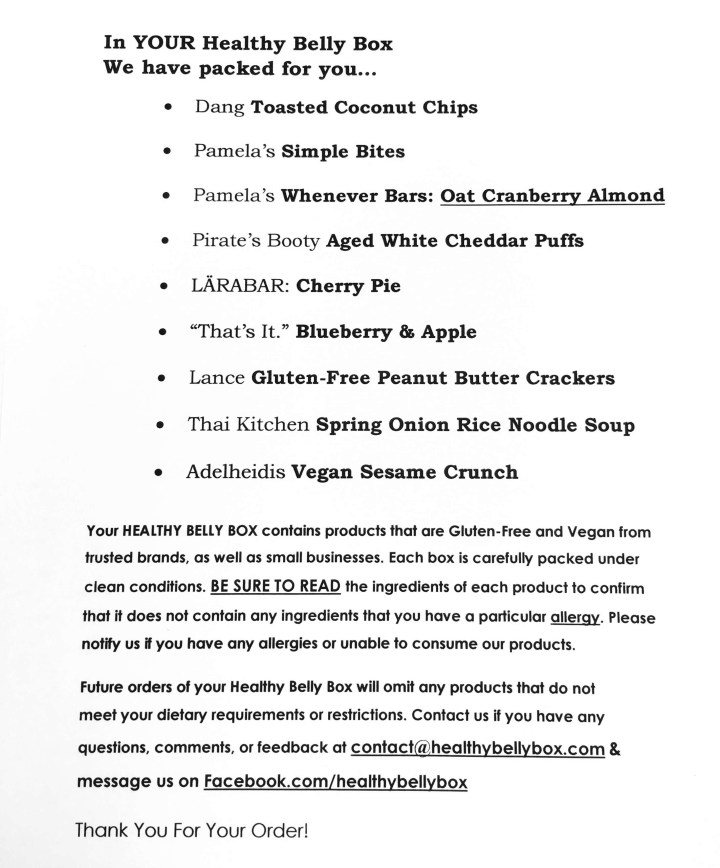 I love product info cards! This one listed the items in my box and included a warning to make sure to look for ingredients that may cause you problems. This says that the products are also vegan. I found the following on their website:
Each month you will receive a variety of tasty snacks that are:

–  Premium Snacks with High-Quality Ingredients
– 100% Certified Gluten-Free
– Dairy-Free
– Vegan
– Safe For Sensitive Stomachs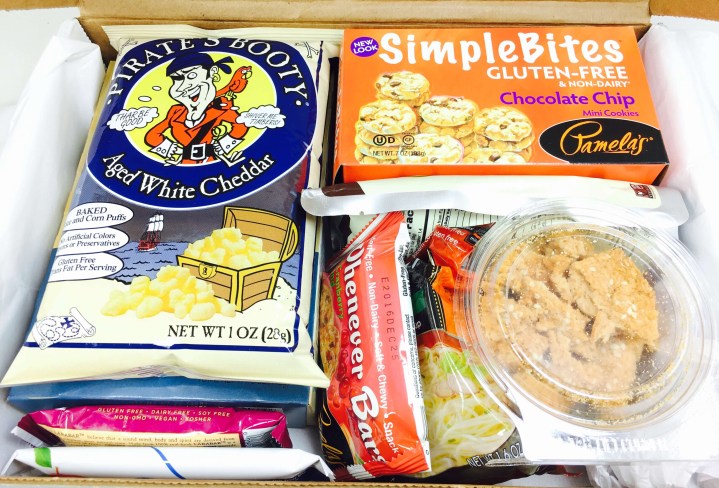 The presentation was perfect and all of my items arrived safely. I was surprised to see Pirate's Booty, which contains milk and therefore isn't dairy-free OR vegan.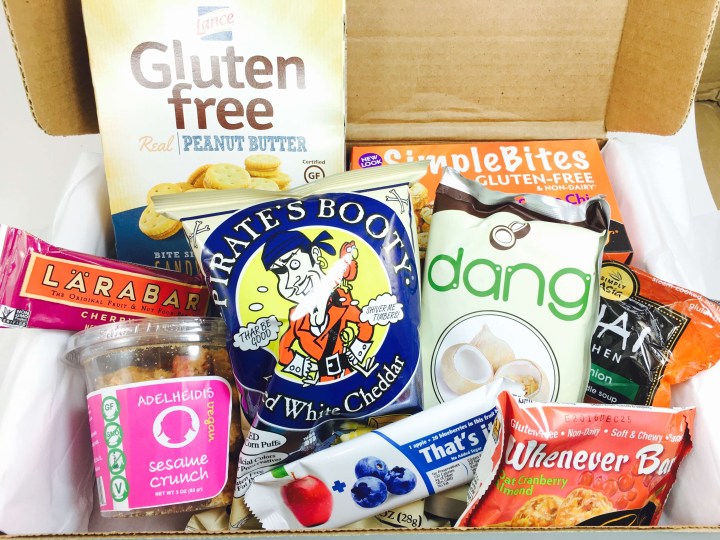 Everything in my box! I received 9 products for the month of September.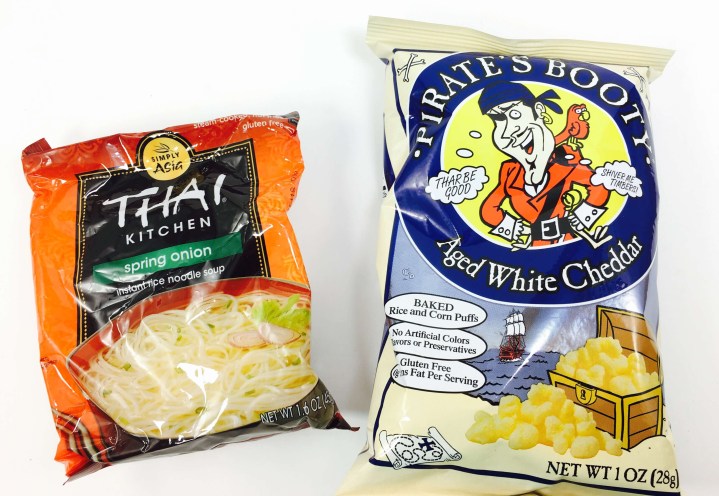 Thai Kitchen Spring Onion Instant Rice Noodle Soup ($0.94) is gluten-free and vegan and will make a handy emergency lunch so I'm going to keep it at work. Unlike traditional ramen soups this one is made from steam-cooked rice noodles as opposed to fried wheat noodles and is MSG-free.
Pirate's Booty Aged White Cheddar ($0.83) has been a staple in my house since my children were small but it's neither dairy-free nor vegan. The rice and corn puffs are covered with a cheesy powder and dissolve quickly. I'm going to share it with my preschool students since they love this stuff!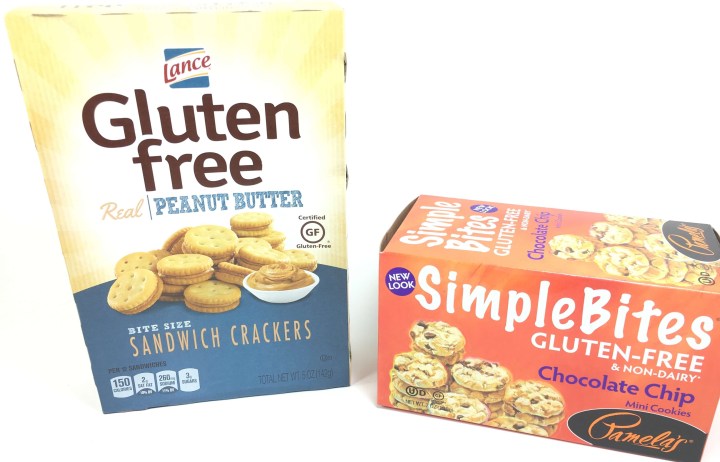 I thought that Lance Gluten Free Peanut Butter Bite Size Sandwich Crackers  ($3.99) were just as good as, if not better than, their conventional cousins. They were crispy and a bit sweet and perfect! These contain nonfat dry milk and are not vegan.
Pamela's Chocolate Chip SimpleBites Mini Cookies ($3.31) state they are non-dairy but also have a disclaimer that says "chips may contain traces of milk protein due to manufacturing equipment". They reminded me of Chips Ahoy, crispy and super sweet. They also contain eggs and are not vegan.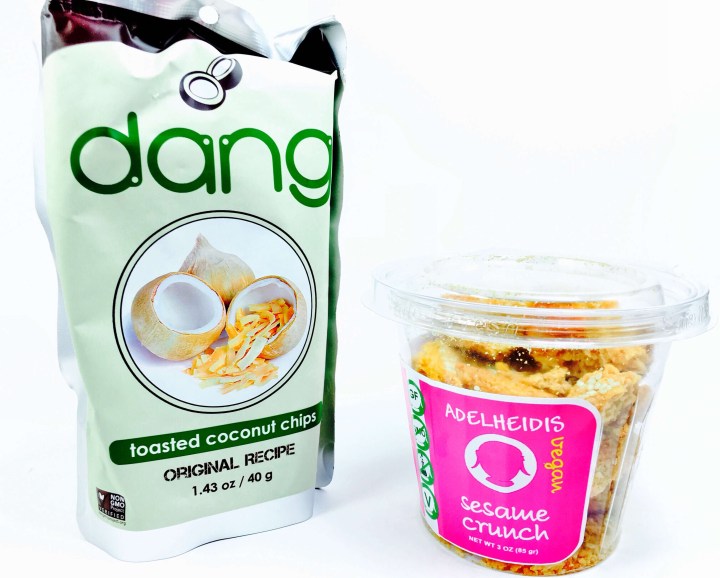 Dang Toasted Coconut Chips Original Recipe ($7.67) are very sweet and delicious and have a simple ingredient list of coconut, cane sugar, and salt. They suggest adding them to salads or yogurt but I can't stop eating them straight out of the bag. So gooood!
I like the crispy texture of Adelheidi's Vegan Sesame Crunch ($4.80) and this is also a coconutty treat. Adelheidi's is a snack shop in Florida that makes their own products in a gluten-free facility. There is a disclaimer on the side that says the facility also makes products that contain milk. These are best eaten shortly after opening. I saved some to try just before my review and some of the crispness was lost.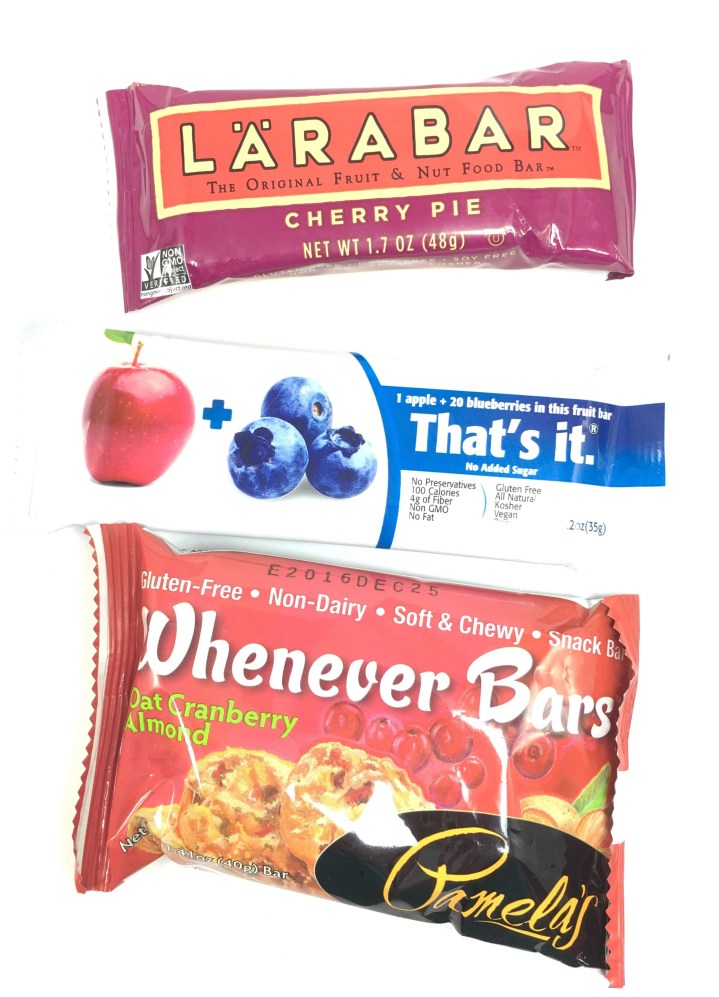 I keep a steady supply of LäraBars ($1.69) in my snack drawer and Cherry Pie is one of my usual choices. The ingredient list is short and sweet and they are dairy- and gluten-free as well as vegan.
That's It in Apple + Blueberry ($1.67) has only two ingredients: apples + blueberries. It was delicious and sweet and even my teenager loved it. This is gluten-free and vegan but manufactured in a facility that processes dairy.
Pamela's Whenever Bar in Oat Cranberry Almond ($0.77) was a great-tasting soft baked oatmeal bar with a cherry flavor, probably because of the cranberry/almond combo. The bag says that this item is made with gluten-free oats and carries the certified gluten-free label. This bar has eggs (not vegan then) and is processed in a facility that also processes milk.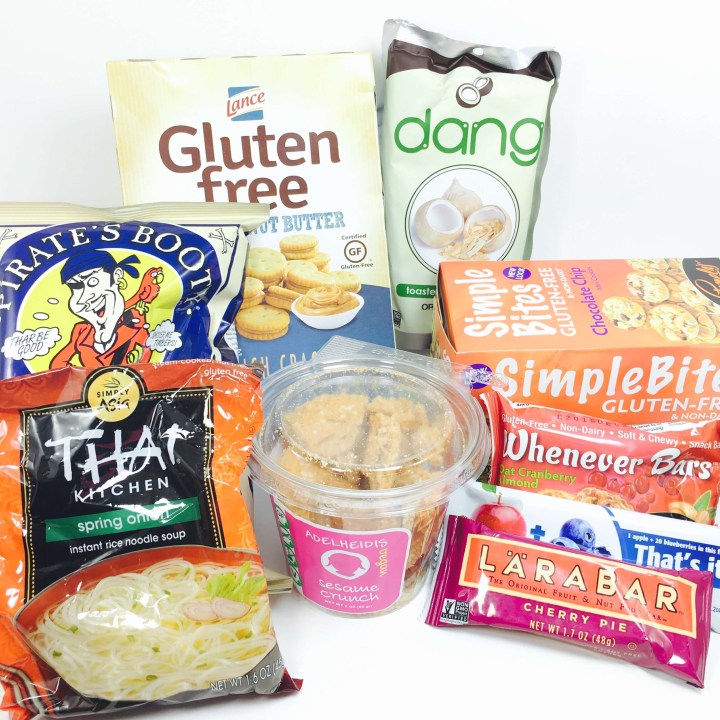 As a person who eats a traditional (not gluten-free, vegan, or dairy-free) diet I loved the snacks in my very first Healthy Belly Box! They were all tasty and there was a nice variety of "junk" food and healthy snacks. However, I was confused about why my info sheet and the website specifically said that my products are dairy-free and vegan and then contained items that had milk or eggs as ingredients. All of the products had the words "gluten-free" on the package but only some of them contained the "Certified Gluten-Free" label. My box had a value of $25.67, which is below the price of the subscription plus shipping. I would like The Healthy Belly Box to clarify whether this is a vegan and dairy-free box as stated on their website or change the wording to reflect what they actually send in a typical box, such as "can be customized to exclude dairy" or whatnot. Of course, a better bang for the buck, value-wise, would be expected too.
What do you think of Healthy Belly Box?
Visit Healthy Belly Box to subscribe or find out more! Get 15% Off Your First Healthy Belly Box! Use coupon code  BELLYBOX.
The Subscription
:
Healthy Belly Box
The Description
: Healthy Belly Box is a premium gluten-free snack subscription box. We search for the best Gluten-Free snacks on earth, gather them in a box, and deliver them to you. You will receive a minimum of 8 delicious gluten-free snacks in every box. Also Dairy-Free & Vegan snacks available. Each snack is hand-selected, carefully tested for quality satisfaction, and customizable to your digestive needs. Enjoy a pain-free snacking experience and let your belly be happy! For every box sold, we donate $1 to The Celiac Disease Foundation. 🙂
The Price
: $35.00 per month