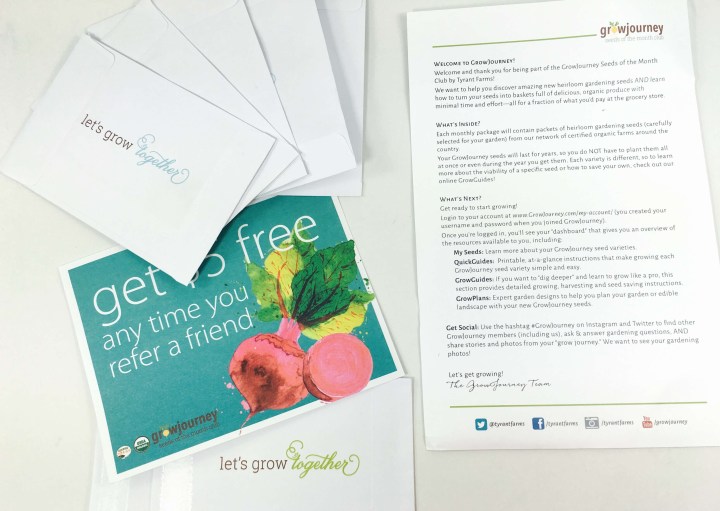 GrowJourney is a monthly seed subscription service. Every month you will receive 5 packets of organic, heirloom seeds that are appropriate to grow for the current season. You will also get access to online grow guides, seed information, and more. The subscription is $14.99 a month for the Large Garden Plan (5 seed packets), $9.99 a month for the Small Garden Plan (3 seed packets), with discounts available on 6 and 12 month subscription plans.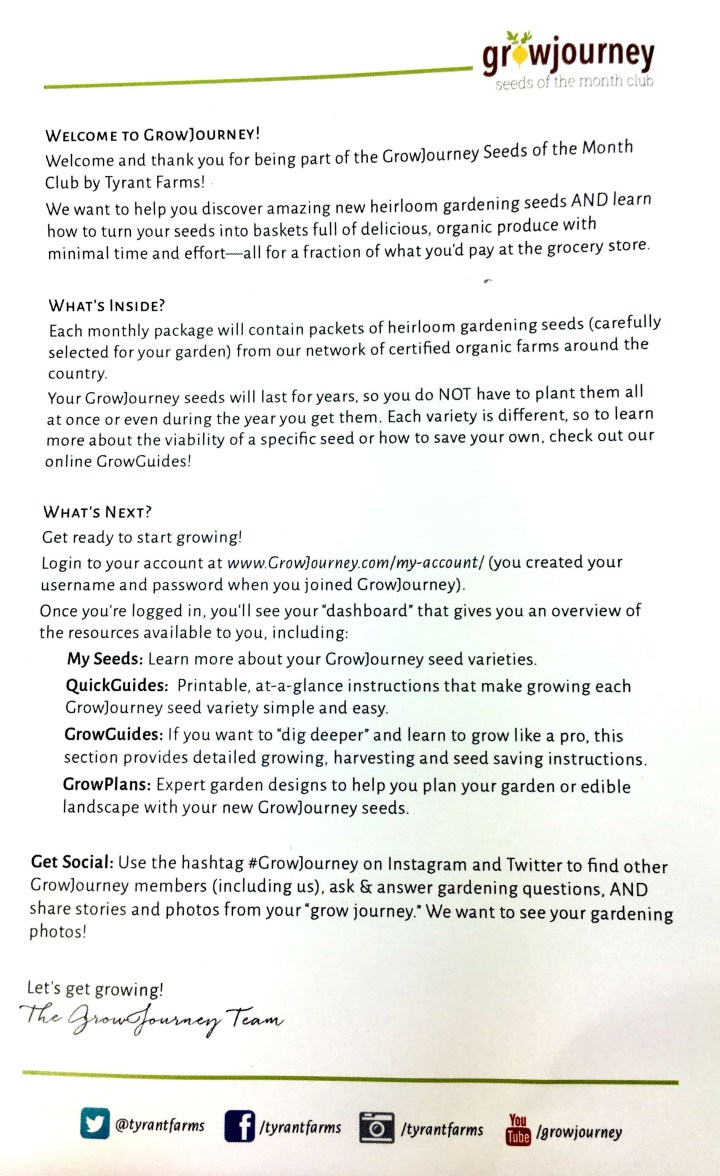 There was a welcome letter that explained how GrowJourney works and I was happy to see that my seeds could be used year after year, and did not need to be planted all at once.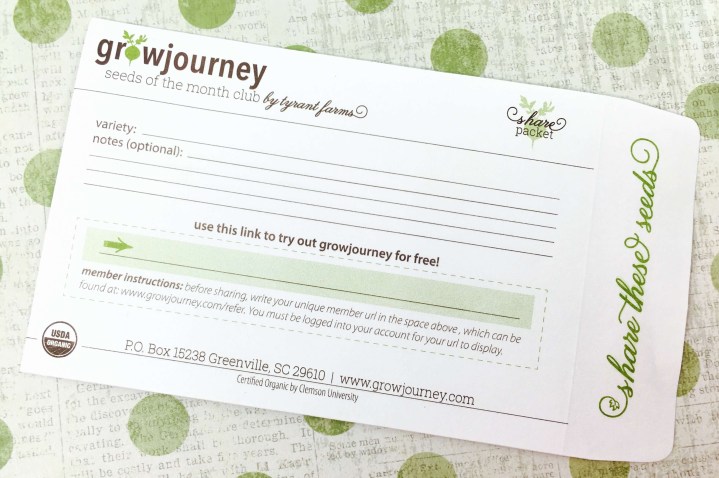 GrowJourney sent an envelope which you can fill with seeds. There's also a unique invitation code you can pass along to a friend who might be interested in starting their own gardening adventure.
If your friend uses your link you will earn $5, which can be put towards your subscription fee or to buy products in the online shop.
I am reviewing the Large Garden Subscription. I received 5 packets and each one says it can be planted in the fall, winter, or spring.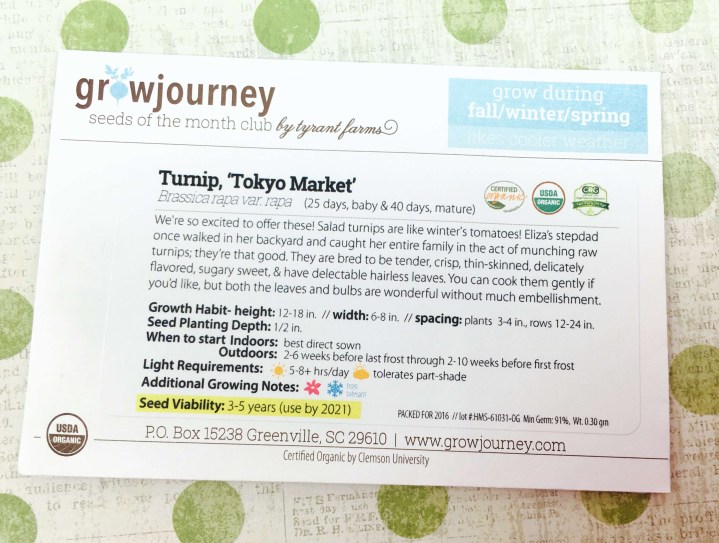 I'm not sure if I have eaten a turnip in the last few decades, and I'm a pretty adventurous eater! I love it when a vegetable is 2-for-1, I can eat the roots and the leaves!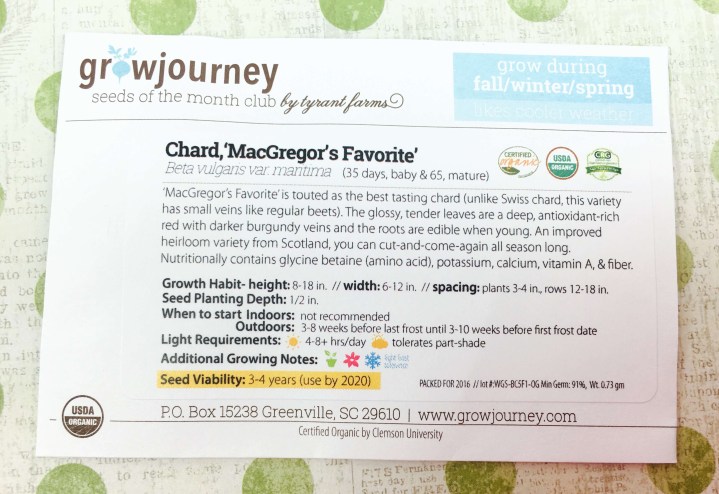 Chard is one of my favorite vegetables and I am so happy to have a new variety to try. My dad always called chard "beet-less beet greens".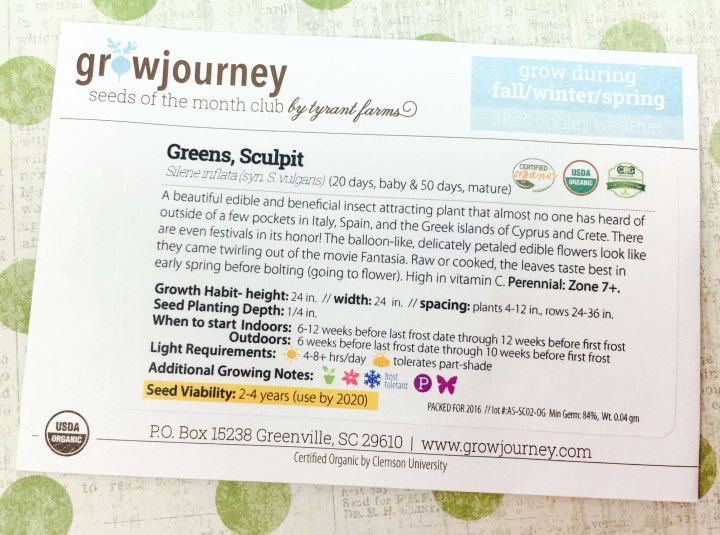 Here's a green I have never heard of before. Sculpit has pretty flowers but tastes best before the flowers set.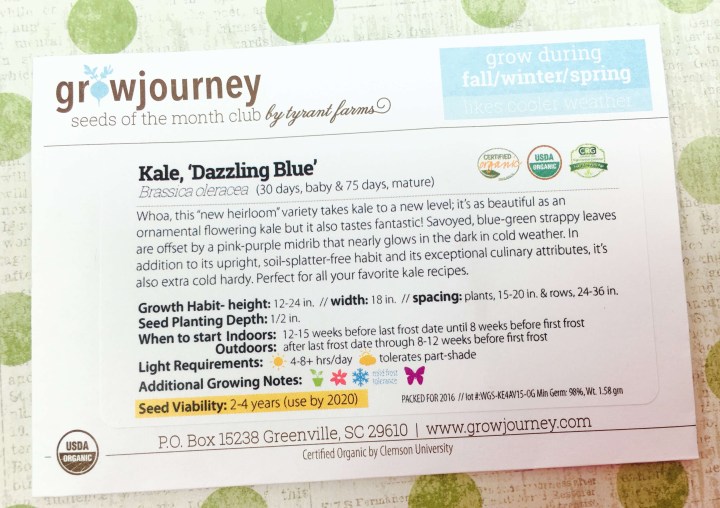 OK, how cool is it that this kale variety has ribs that glow in the dark? This kale is cold hearty and I can't wait to see if it really glows!
I cook with a lot of onions so growing my own should save me some cash. Plus, the green shoots can be used as scallions.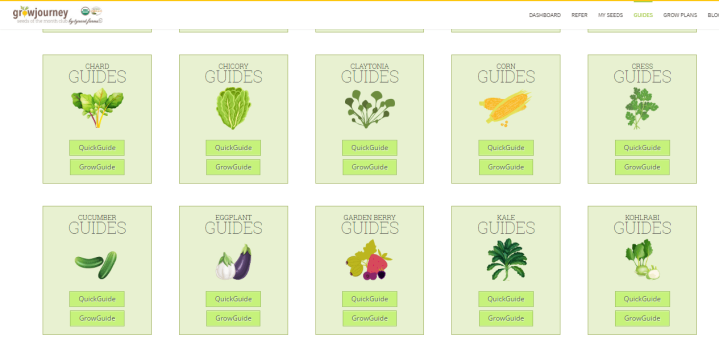 The subscription comes with online access to the GrowGuide, which gives in-depth info on different plant varieties.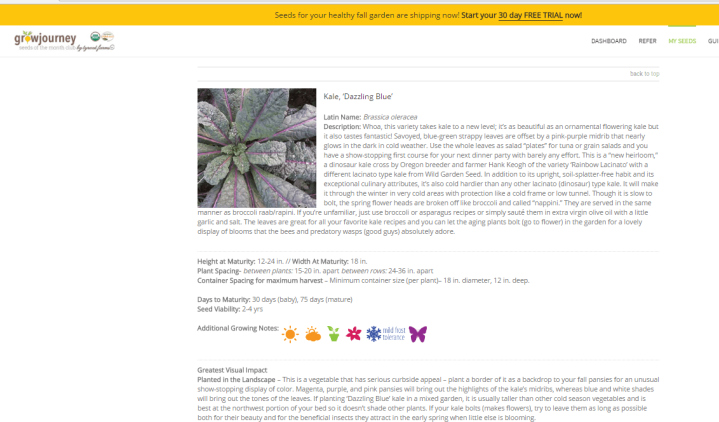 You can click on one of the varieties you received and have all the info at your fingertips. It also lists all the seeds you have received so you can reference it quickly!
The QuickGuide gives info on how to start your seeds indoors or out and lists other helpful growing info such as companion plants, days to germination, and how to care for your new plants.
I am really looking forward to putting my seeds in the ground and hopefully reaping some vegetables in the near future. I am trying a growing method that is new to me, bag gardening. I am going to cut slits in the bottom of the bags of topsoil my husband bought, then cut out a large rectangle in the top and plant my seeds. I will let you know how it turns out! I feel like the value for GrowJourney is worth it since you not only receive the seeds but helpful online info as well. Plus, the varieties I received are unique and in some cases offer a twist on the usual offerings.
Do you grow your own food? If so, let me know which method works best for you!
Get your first month of the Large Garden box FREE! Deal applies automatically, just visit and subscribe. Just pay $3.99 shipping.
Visit GrowJourney to subscribe or find out more!
The Subscription
:
GrowJourney
The Description
: Surprise! A new package arrives on your doorstep each month. Inside, you'll find unique, seasonally selected varieties of certified organic heirloom gardening seeds sourced from our network of USDA certified organic farms. (Three varieties for Small Garden Subscriptions; five varieties for Large Garden Subscriptions.)
The Price
: $14.99 per month