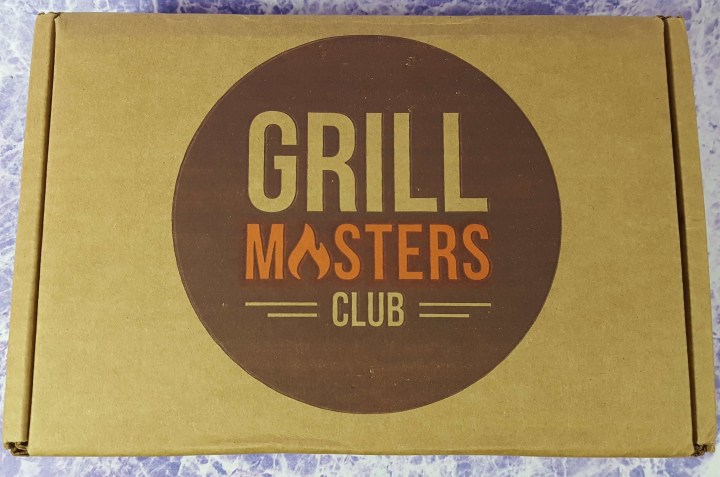 Grill Masters Club is a monthly subscription box of grill goodies sent right to your house.  When you subscribe you can pick from the Grill Master's Box or the Firestarter's Box.  The Grill Master's Box is the ultimate box for the grilling master where you get 4-5 grilling goodies an a recipe sent each month.  The Firestarter Box is more for the BBQ hobbyist and will include one rub, one BBQ sauce, and one surprise item each month.  I was sent the Grill Master's box to review.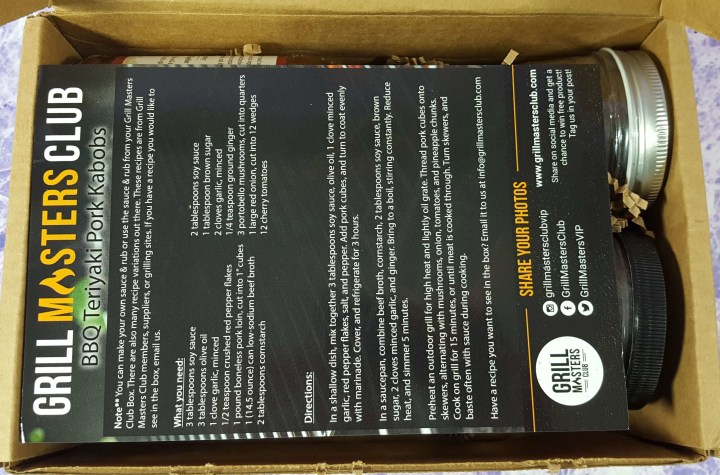 First look into my box. This box is always so heavy when it comes and this box ships inside a padded flat rate envelope to give you an idea of the size of it.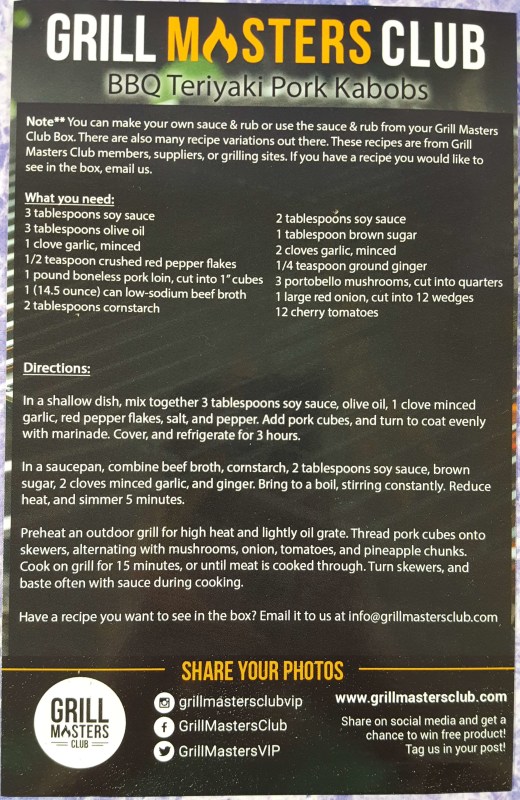 This month's recipe is for a Teriyaki Pork Kabobs and they look delicious. I love kabobs and my son loves teriyaki so these will be some that we will need to try out.
Everything in the box this month.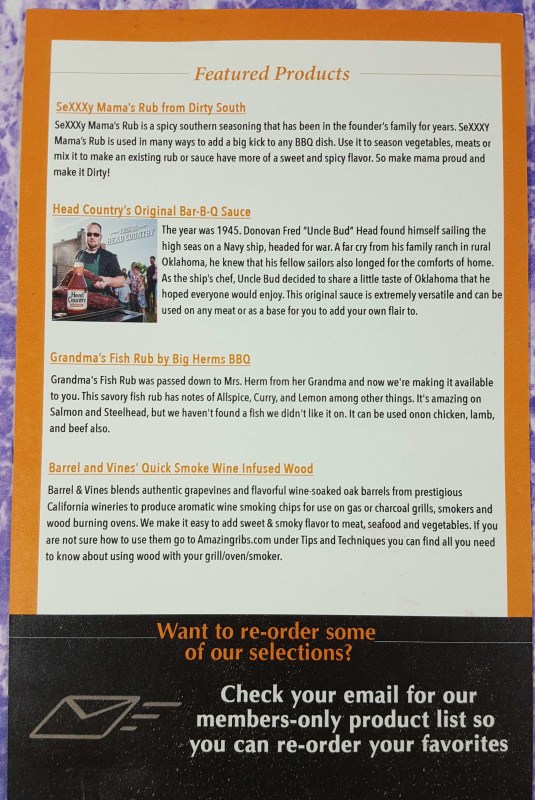 The back of the recipe card has information on all the different items.
SeXXXy Mama's Rub from Dirty South ($8.99) – This is a spicy BBQ rub that can be used on many different items. I love to have something I can easily add to a dish and give it a kick and this does just the trick.  The name of it just makes me laugh a bit and had me a bit concerned when I went looking for it online but I found it without issues.  We actually used this one on our dinner tonight and it was delicious and spicy.
Since the weather is pretty iffy here right now I decided to just put the pork tenderloin in the over. I seasoned it all over with the rub and then baked it.
This is after I had pulled it out and let it rest for a bit in the pan. I pulled it over to a cutting board so I could cut it up. Look at the crisp and coating on this! It looked and smelled so good.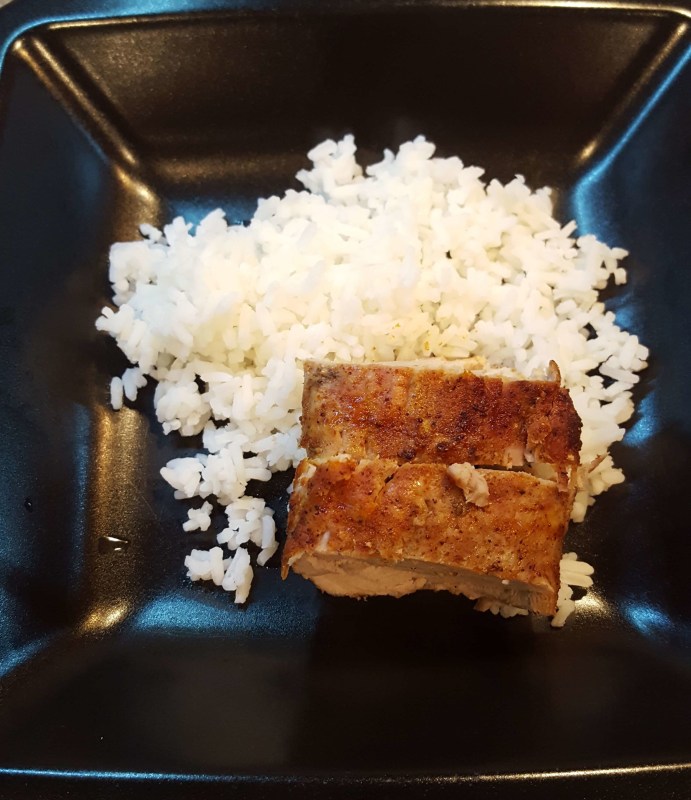 All plated up. My 8 year olds favorite side is white rice so we pretty much have it with almost all of our meats.  It was a good thing we did today since the SeXXXy Mama Rub has a kick to it and the rice helped cool down our mouths.  We all love spice here so no problem for us but if you are more sensitive to it then you will want to use the rub more sparingly.  We also had a salad to go with it so don't think we didn't do a veggie it's just not on the plate.  I think this would have been delicious with some baked squash and zucchini but I didn't have any of that today so we used what we had.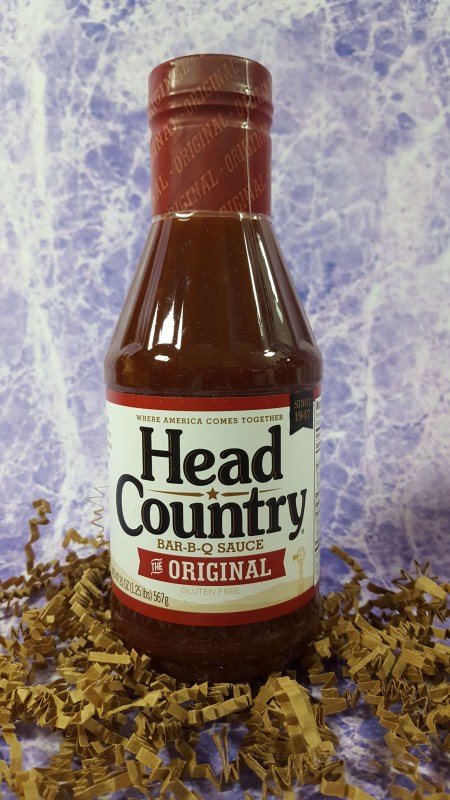 Head Country's Original Bar-B-Q Sauce ($3.70) –  This is a nice regular BBQ sauce that you can use on your own or add your own flair to it.  I'm all about adding to most of my sauces so this sounds great. I'm thinking this would be great in the crockpot with some chicken.  Yummy!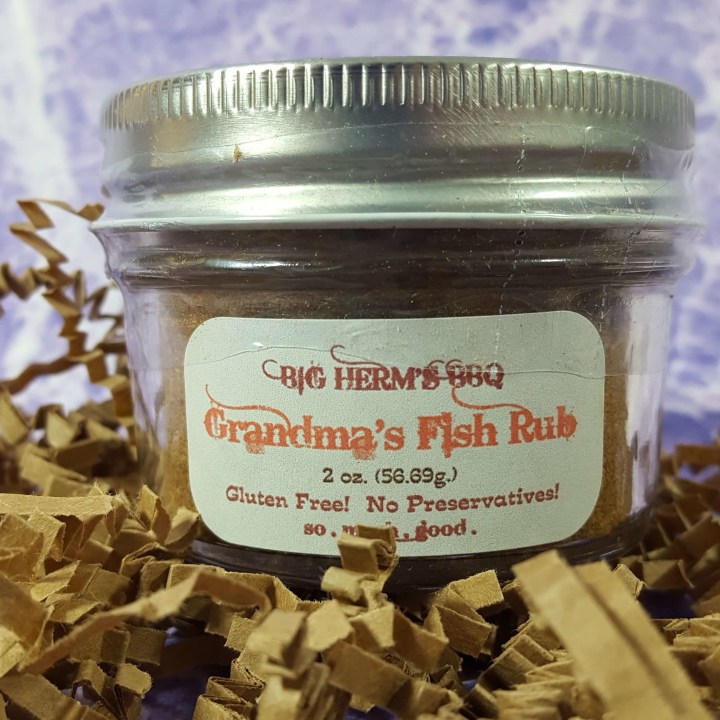 Grandma's Fish Rub from Big Herm's BBQ ($14 for a 5oz bag) – I will admit I don't cook as much fish as I should since my boys don't really like it but I do and I can't wait to try this out.  I keep working on them and if I can get a good flavor to it maybe I can find one that they will love. The info also says this is good on chicken, lamb, and beef so I can mix it up a bit.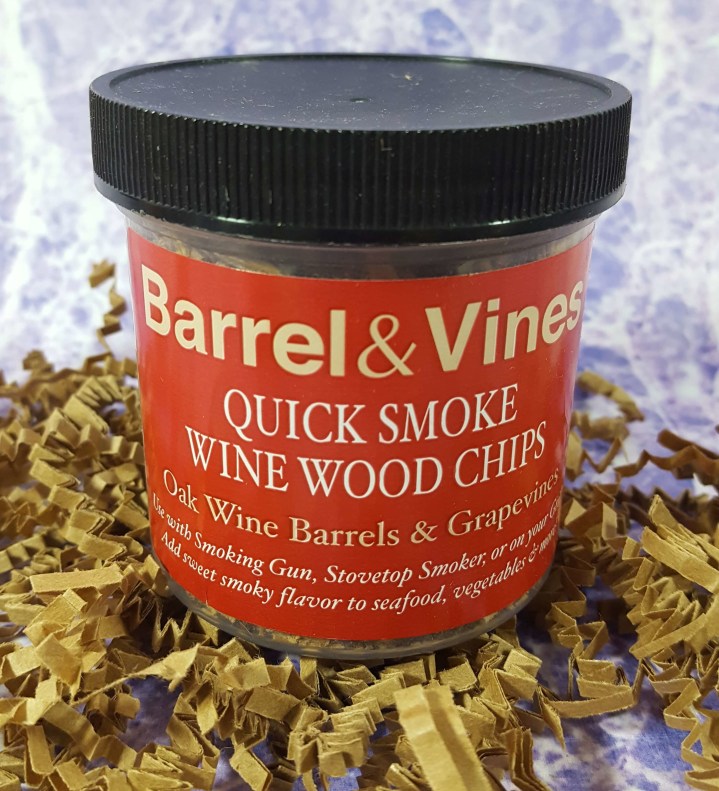 Barrel and Vine's Quick Smoke Wine Infused Wood ($11.95 for a 1.7lb bag) – I'm passing this one on to my hubby since I'm not good with how to use the smoke chips but these sound so good.  I'm all for some smoked meat and these will give a nice sweet and smoky flavor to it.
This box is so fun and delicious every time it comes. I live in a house of boys and we eat a lot of meat so I'm always looking for new and unique seasonings to go on them. Since we are in NC we actually can grill out all year but its almost too hot to do it much in the summer so we are just getting into the fall and the perfect outdoor grilling season.  I can't wait to make some more recipes with the different rubs and sauces.
What do you think of Grill Masters Club? Are you a Grill Master or a Firestarter?
Save $5 on your first box! Use coupon code GMCHS.
Visit Grill Masters Club to subscribe or find out more!
The Subscription
:
Grill Masters Club
The Description
: When you get your Grill Masters Club Grill Box every month, you will get the best curated grilling goods from all over the country. Specialty Rubs, Spice Blends, Sauces, Marinades, Wood Chips, Salts, Cedars wrap, and more.
The Price
: $28.94 per month