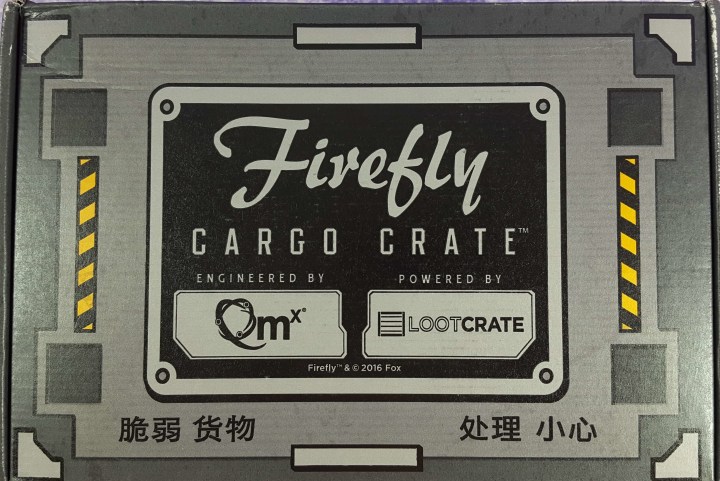 My Loot Crate Firefly Cargo Crate came and I couldn't wait to open it up. There was a bit of a delay in shipping this month as they were waiting for an item so I was eagerly awaiting it. I have loved Firefly since it was on TV the first time and then when the movie Serenity came out I was even more excited and I waited in line for the sneak preview and then watched it many times after that. I actually own the DVD boxed set to so I will put that in and watch it all the way through.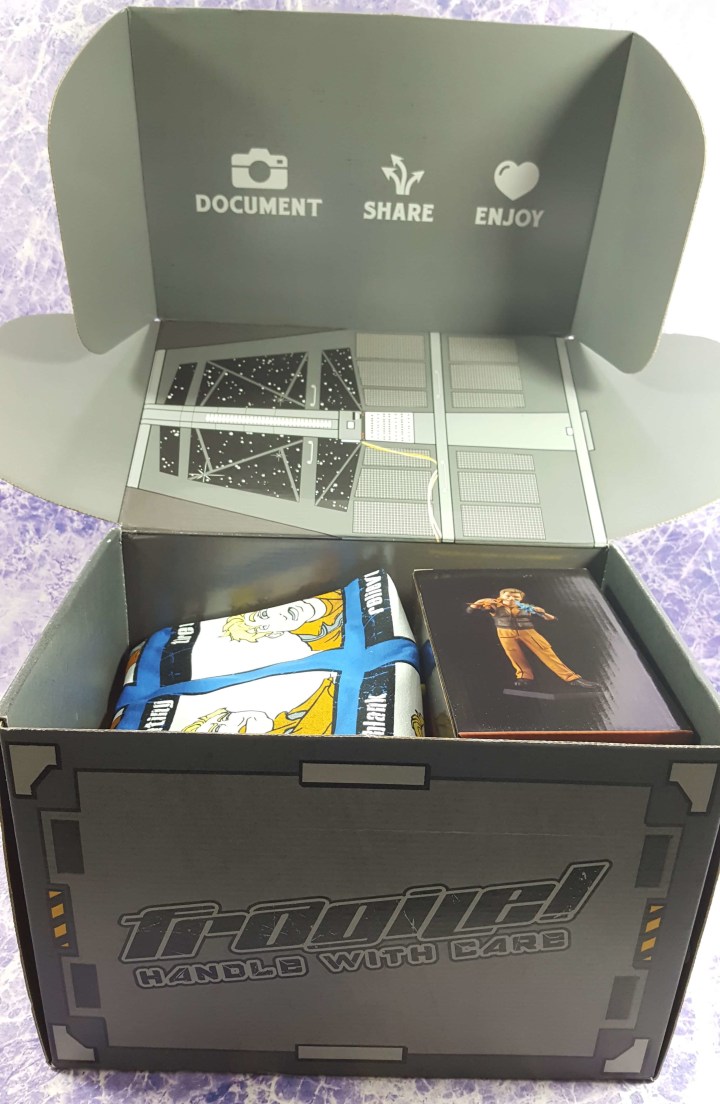 First look and the box is huge this month. This is about double the depth of the normal box. The theme for this crate was Wash. He is our true Leaf on the Wind.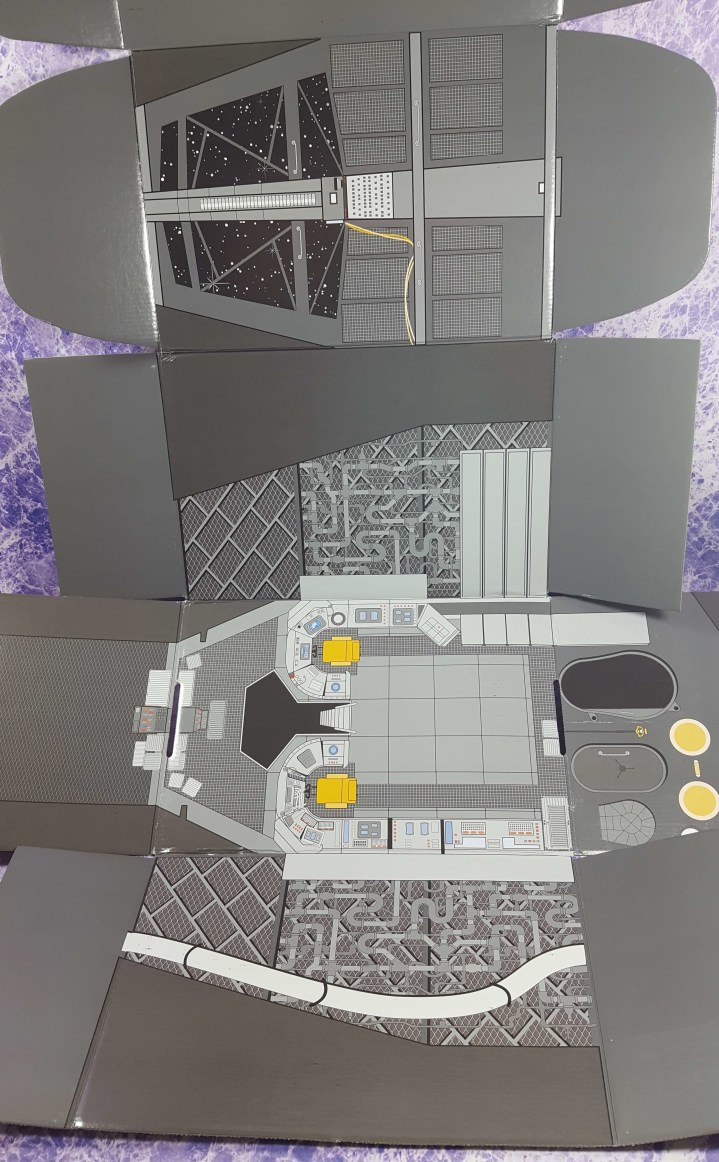 Each month the box has a fun interior that my boys love playing with. Normally, it looks like the hull of the ship. However, in this month large box, we get the control room which is where Wash would fly the ship. We already opened it up and it is awaiting characters to man the stations.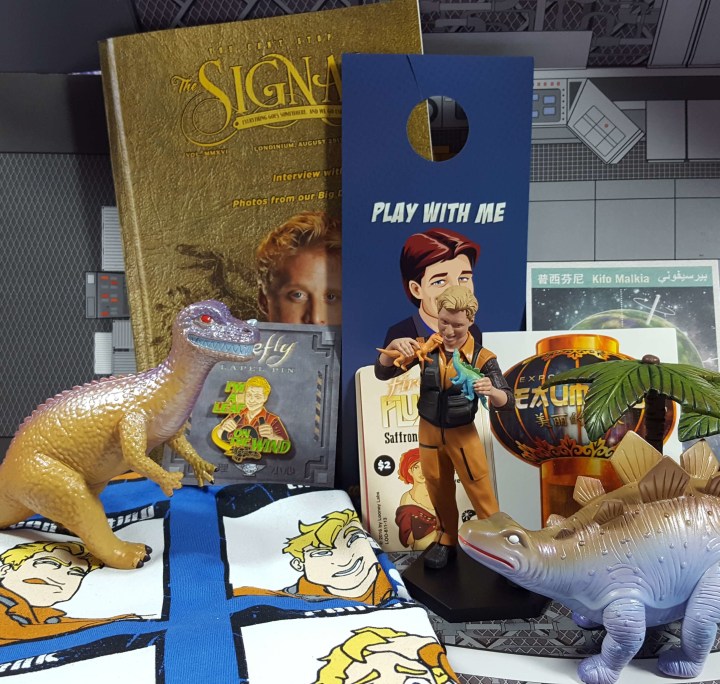 Everything in the Wash crate.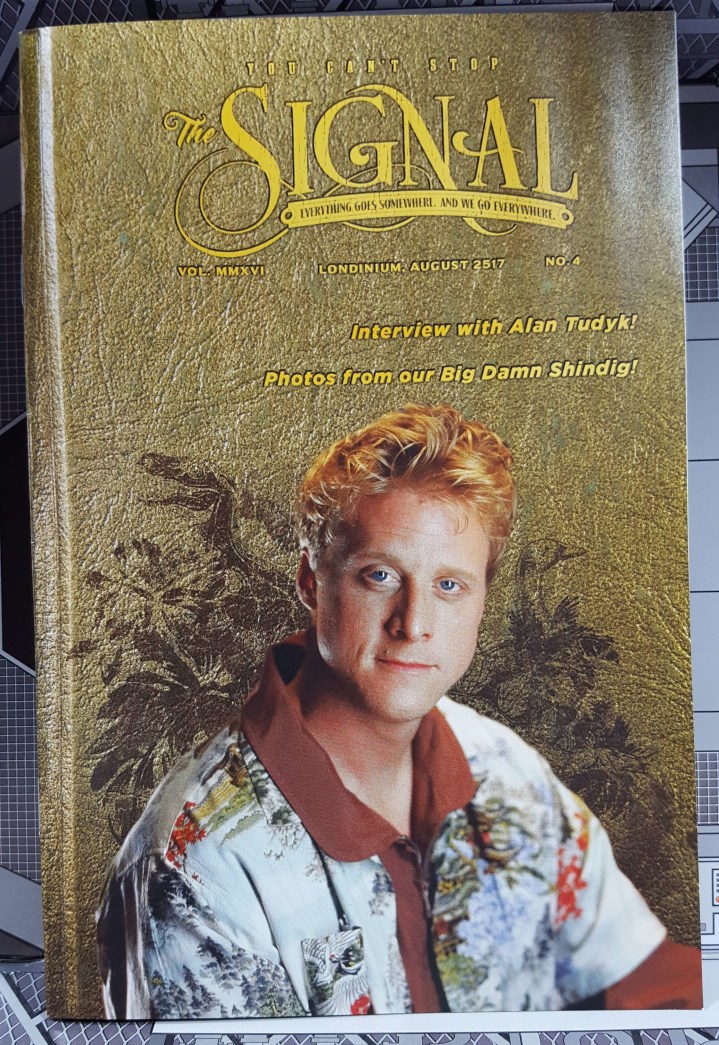 I love the way they pack this box with all of the papers on the bottom so that they can stay relatively flat and not get wrinkled and torn up in shipping. The Firefly crate does not just send an info card but they send a whole mini magazine called You Can't Stop the Signal. It gives information on the items in the crate and other behind the scenes stories.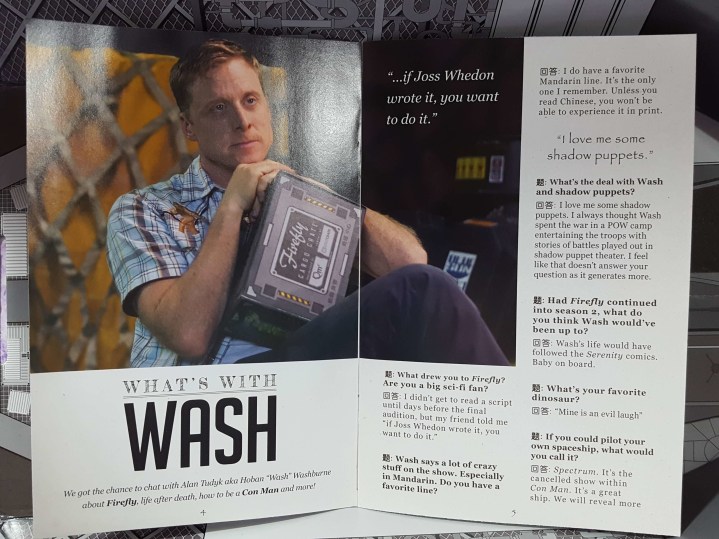 The Signal includes an interview with Alan Tudyk who plays Wash, notes, intros and the information on the items.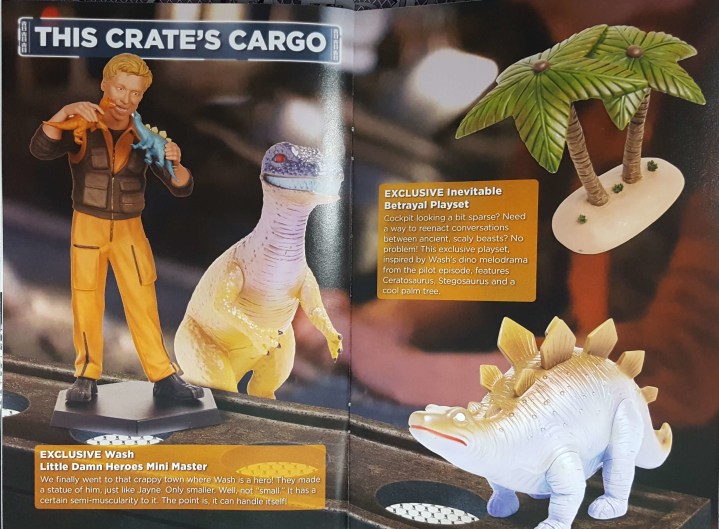 The info pages in the magazine.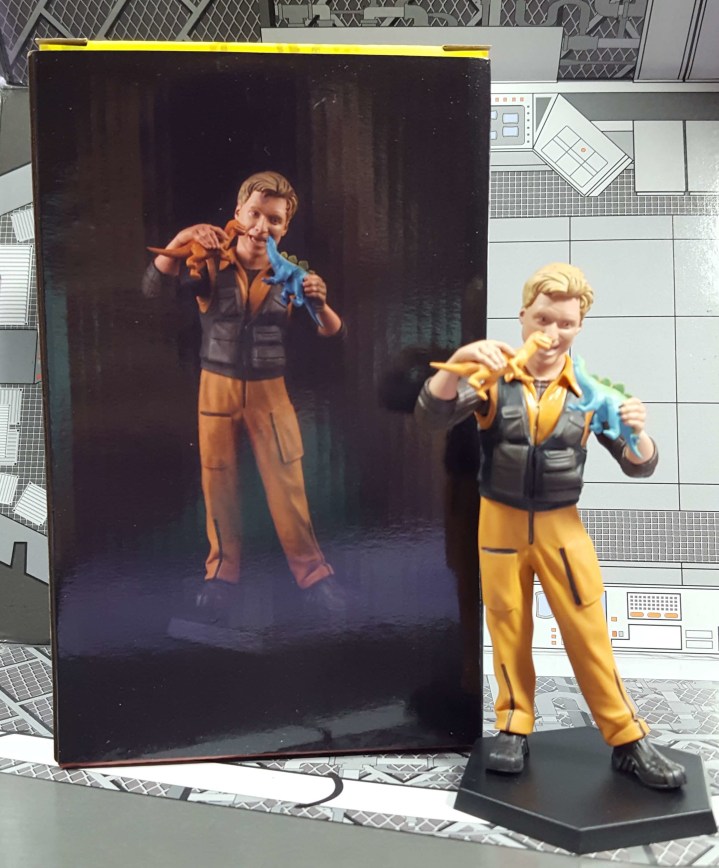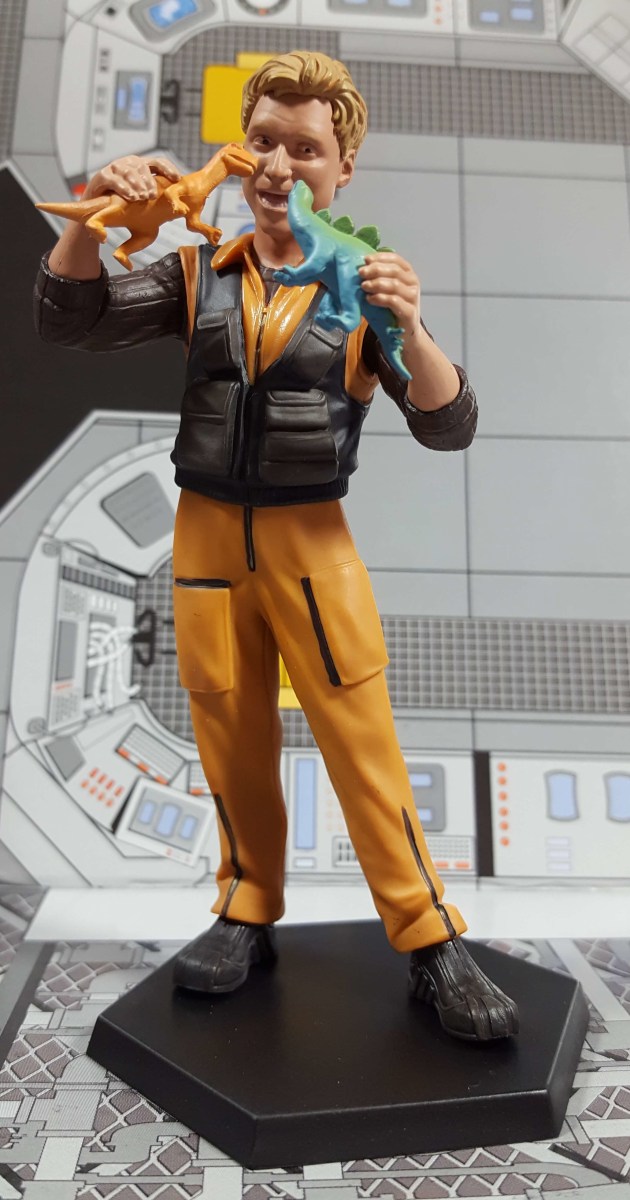 Wash Little Damn Heroes Mini Master – These mini masters are going to be available exclusively through Firefly Cargo Crate and I LOVE my collection so far. Wash is pretty whimsical and playful and full of heart. I love that this figure has him playing with his dinosaurs.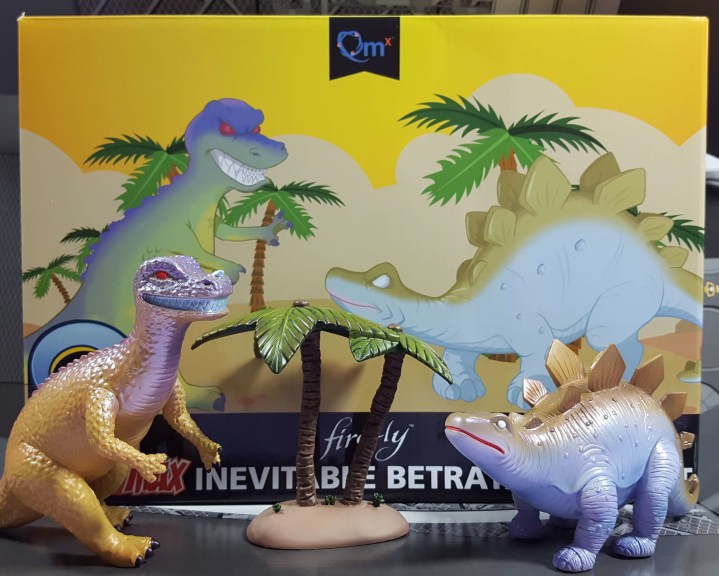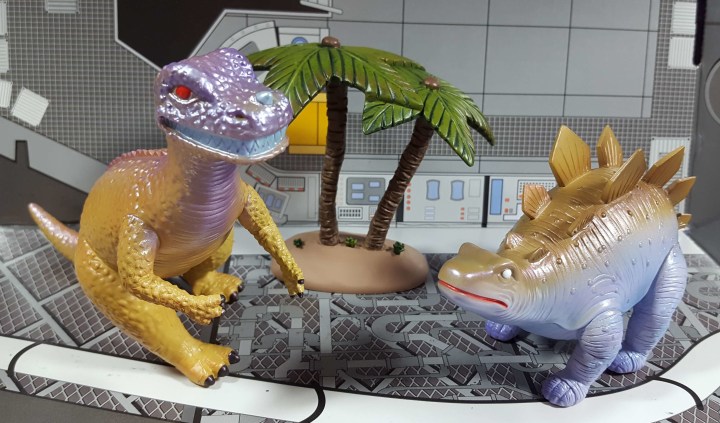 Eeeehhh I have my own little dino set. This is an Exclusive Inevitable Betrayal Playset is inspired by Wash's set from the pilot.  My boys area already wanting this one but I'm not so sure I'm going to be sharing. I think I NEED them in my display.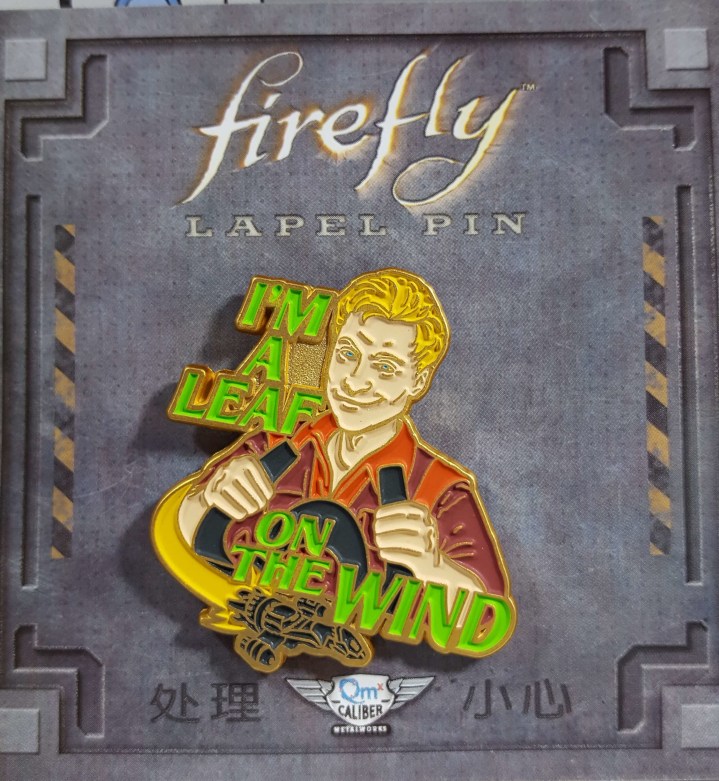 This is the line that I always associate with Wash and I'm sure many people do which is why they included it in the box.
Firefly Fluxx Saffrom Expansion – I don't have the card game but I'm looking into it. It sounds really fun since my hubby and I both like the show and have other friends that do to it sounds like a good game night.
Join Mal, Wash, Zoë, Inara, Kaylee, Jayne, Simon, River, and Book as Fluxx enters the 'Verse at full speed. With the rules constantly changing, Firefly™ Fluxx is just as unpredictable as misbehaving in space! Featuring sumptuous art by Adam Levermore, Firefly™ Fluxx is perfect for fans and collectors of both Firefly™ and Fluxx.
Where in the 'Verse? Planetary Flash Cards #36, 80, 105, & 185 – These are indepth cards on Persephone, Higgins' Moon, Beaumonde and Hera. Any great pilot needs to know what is going on in the world.
Our exclusive travel sticker is from Beaumonde this month.
If you didn't know Alan Tudyk and Nathan Fillion are creating a new series call Con Man. The door hanger is too funny and while I do like Nathan's side my boys are loving Alan's Quarantine side. I mean really what little boy wouldn't love puke?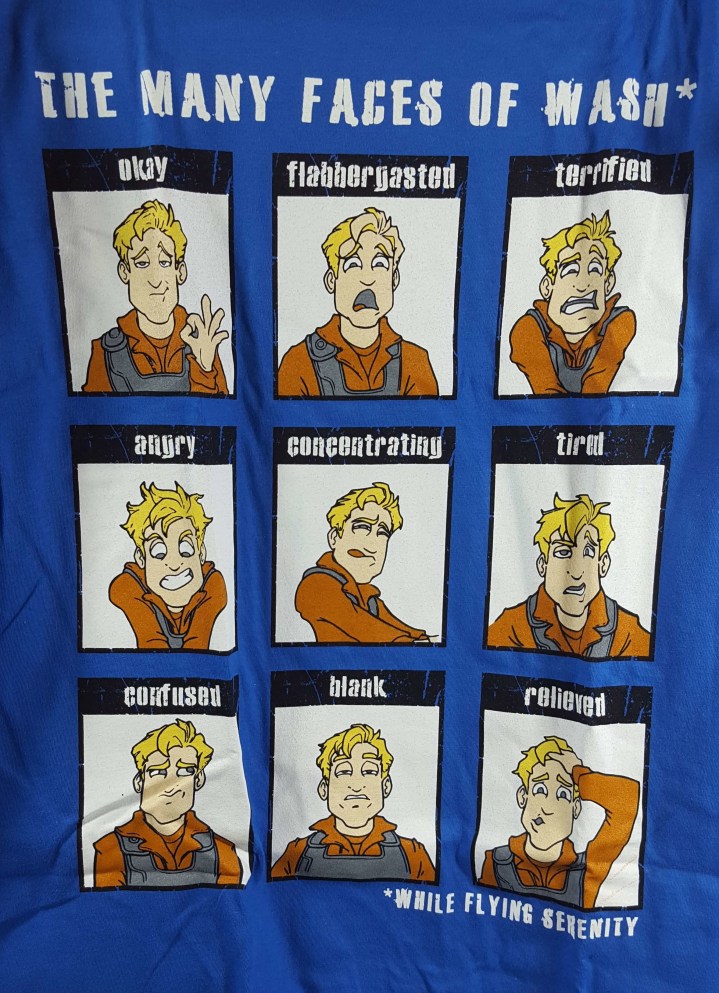 The Many Faces of Wash T-shirt – This shirt is so funny and I'm loving it. Wash has some great expressions and sayings through out the show and this shirt will make you laugh and remember your favorites.
This was a great and shiny crate for Firefly. I love Wash and they really represented him in this one. My collection of figures is ever growing and they look so great one my shelf. Now I need to figure out a good way to get my new dinosaurs on there too.  I'm still working on an idea for displaying my pins but for now, they are still propped up in front of the figures.
The Firefly crate comes every two months and I get crazy excited when I see it on my doorstep. The next box theme has already been announced and it will be all about Serenity!
Visit Firefly Cargo Crate from Loot Crate to subscribe or find out more! Use coupon code HELLOSUBSCRIPTION to save 10% off your subscription.
The Subscription
:
Firefly Cargo Crate from Loot Crate
The Description
: Serenity is back in the sky and ready to deliver an official Firefly Cargo Crate filled with shiny contraband! Every two months she'll return from the edge of the 'Verse to drop off an epic box packed with 5 to 7 exclusive collectibles! A $65+ value!
The Price
: $39.99 every other month