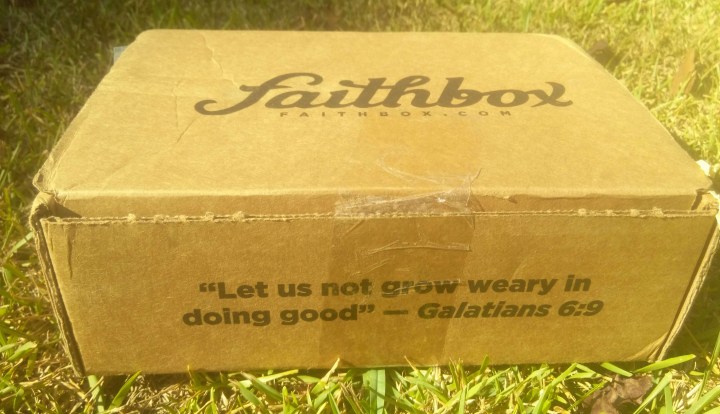 Faithbox is a Christian company that seeks to help strengthen your faith in God with their devotional and bring joy with their great products from companies that do good. With the purchase of each box they provide 3 meals for hungry children through a partnership with Rice Bowls. In 2015, they were able to provide over 100k meals for hungry children. Plus, you get a box full of cool stuff in the process.
Sometimes, it is easy to grow weary of helping others especially when they are not thankful for what you do for them or good stewards of what you give, but when you give you have to let what you give go completely. You are not responsible for what the receiver does with what you give, but you are called to give as if Christ himself was the receiver.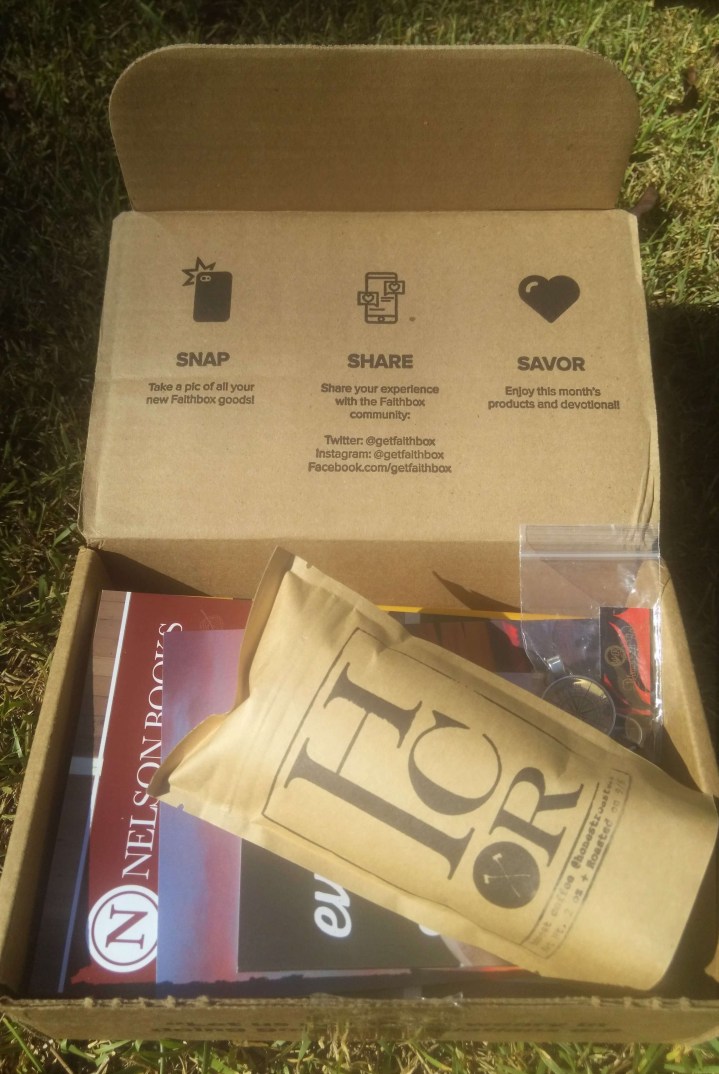 This inside of the top of the box invites you to visit them on social media and share your Faithbox experience.
You can subscribe to Faithbox with a month-to-month plan, a 3-month plan or a one-year plan. With the month-to-month plan, you pay $20 plus $5 shipping each month. The 3-month plan reduces the price per box to $19 plus $5 shipping when you pay for 3 months ahead of time. For the best price per box, you can pay for one year at a time and get each box for the price of $17 per box plus $5 shipping.
The Faithbox Impact Guide in each box will give you a detailed description of each product in the box and tell you a little about how the companies that make each one striving to impact the world for good.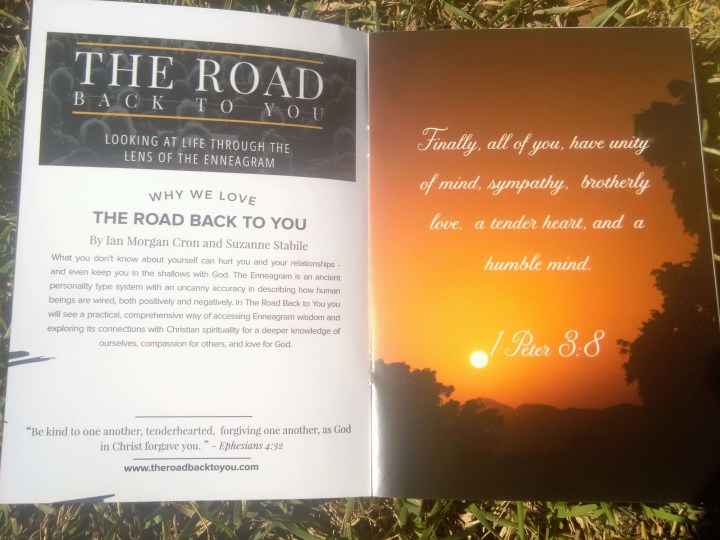 The Impact Guide really goes into detail with a glossy picture for each product, a description of the product and the company that makes it, and a verse that corresponds to the products.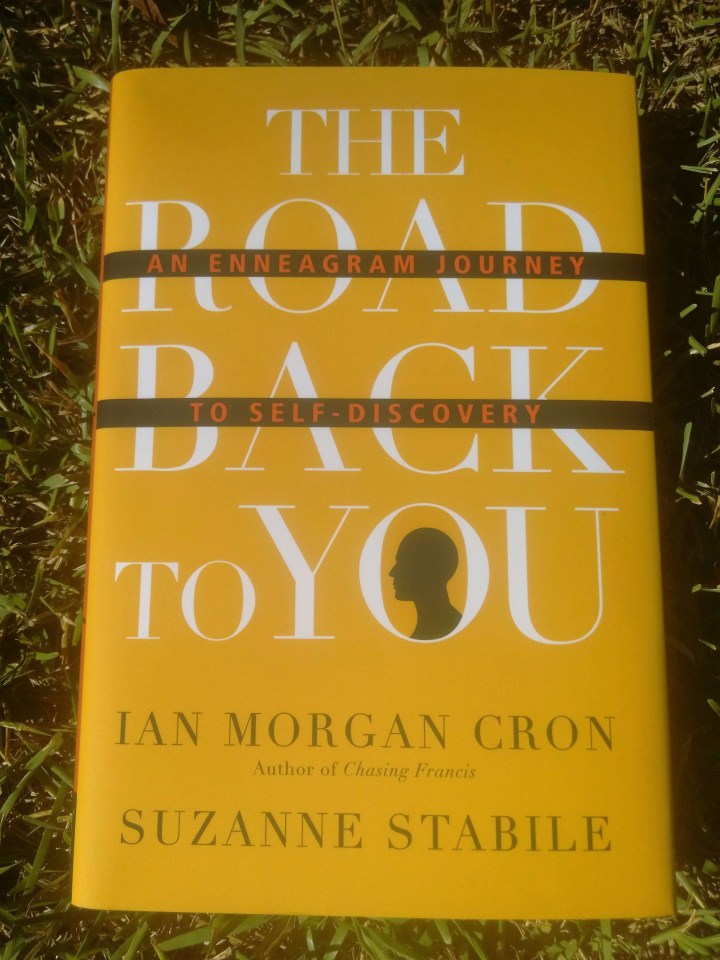 The book, "The Road Back to You, An Enneagram Journey to Self-Discovery," by Ian Morgan Cron and Suzanne Stabile ($17.76) was in the box.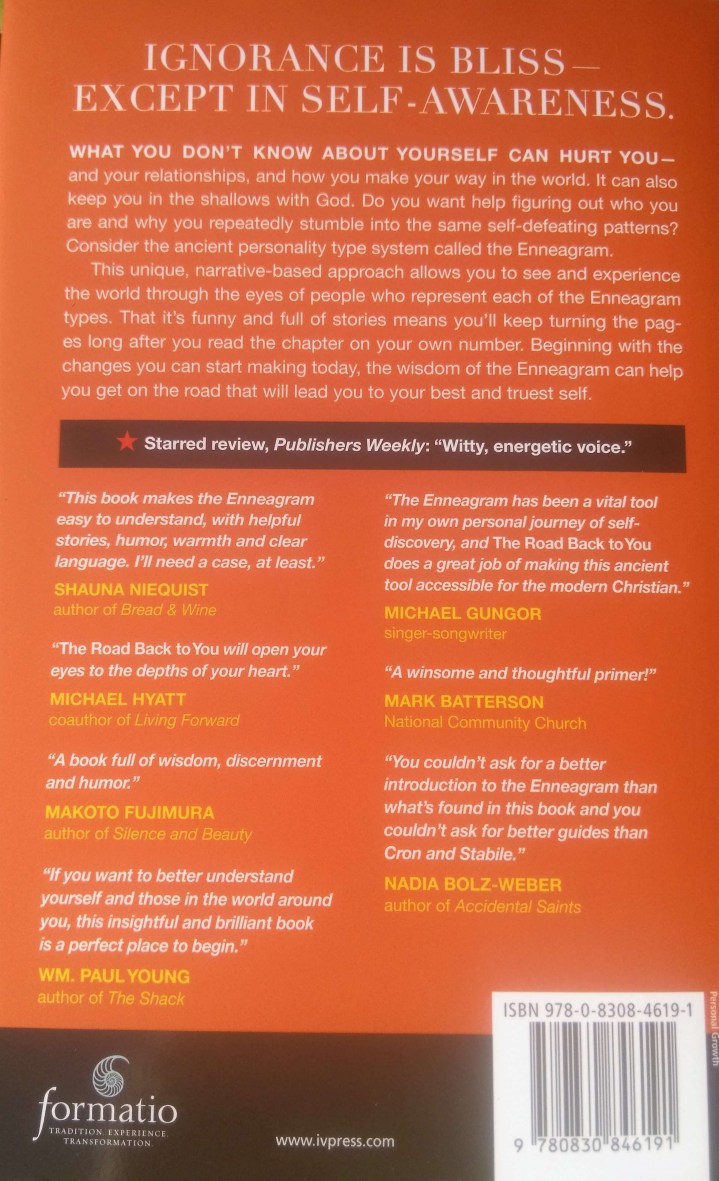 The Enneagram is a long used personality type system that is used to describe how we as humans work.
"Used by therapists, clergy, and business consultants around the globe, the Enneagram teaches that there are nine different personality styles, one of which we naturally gravitate toward and adopt in childhood to cope and feel safe. Each type has a distinct worldview and an underlying motivation that powerfully influences how that type thinks, feels and behaves. Unlike other personality typing systems, the Enneagram shows us who we are at both our best and worst and suggests ways we can relax our grip on the self-defeating behaviors that prevent us from becoming our best, most authentic selves."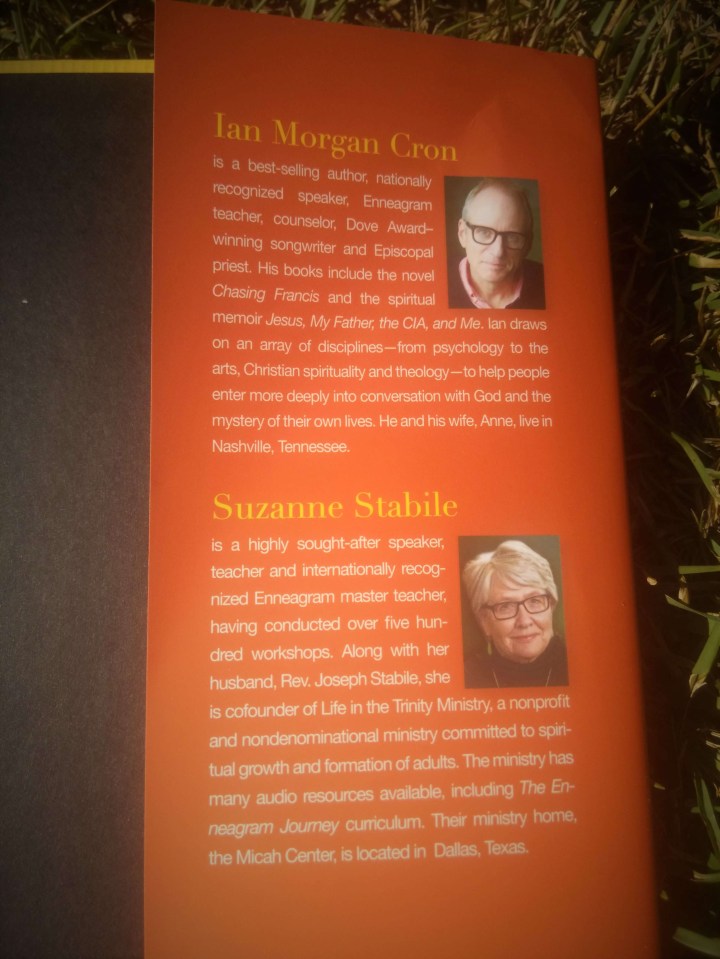 The co-authors, Ian Morgan Cron and Suzanne Stabile use the Ennegram as a tool to help you better define yourself personally and spiritually.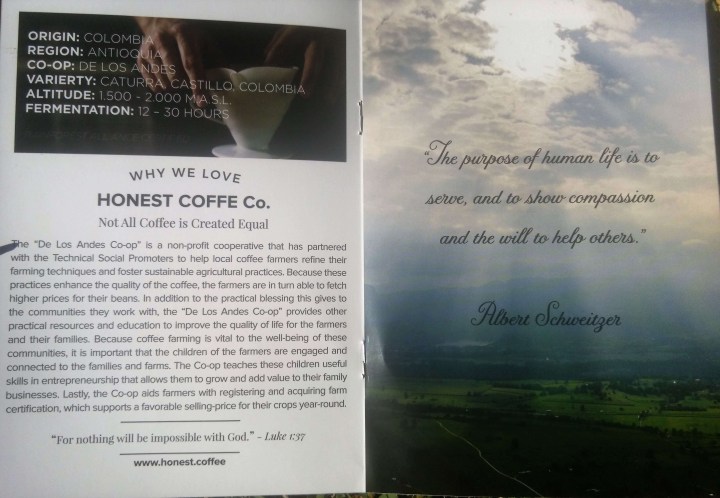 Why do coffee and religion seem to so often go hand in hand? Perhaps because God himself specifically designed these glorious beans for our enjoyment and consumption. I think yes.
The coffee that Faithbox was so kind as to include in this month's box was from the roaster, Honest Coffee Co. out of Franklin, TN. The coffee beans are from the De Los Andes Co-op. De Los Andes Co-op is a non-profit cooperative that seeks to help the coffee farmers be better at what they do through education and training, therefore improving the coffee itself while improving the lives of the farmers and their families at the same time.
Also, it's really good. A Colombian coffee processed using the wet method, it is a fruity coffee with a light body.
This small keychain stands for so much more. It is from WAR. Don't let the acronym fool you though, WAR stands for Women at Risk, an organization that endeavors to help women escape brutality. Women who are at-risk or have been rescued from sexual abuse in its many forms in the United States actually crafted the keychain as a part of their restoration programs. You can find more products at their online storefront, the War Chest Boutique.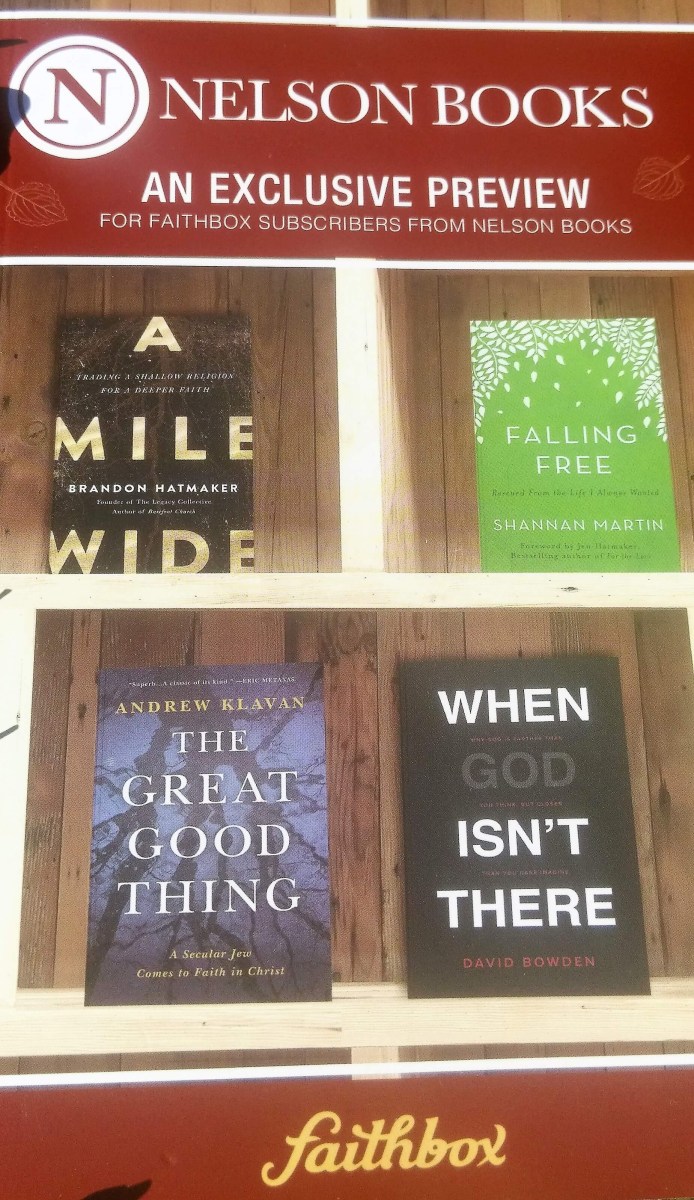 This book sampler from Nelson Books was in our Faithbox. "Thomas Nelson Publishing has been one of the largest Christian publishing companies in the world for over 200 years. What started as a way of making books, particularly Christian classics, affordable to the common man became an avenue for international best-sellers and coloring books alike to be produced and distributed all over the world. As a Faithbox subscriber, they are offering you a special opportunity to purchase a number of their latest books for only $5 each."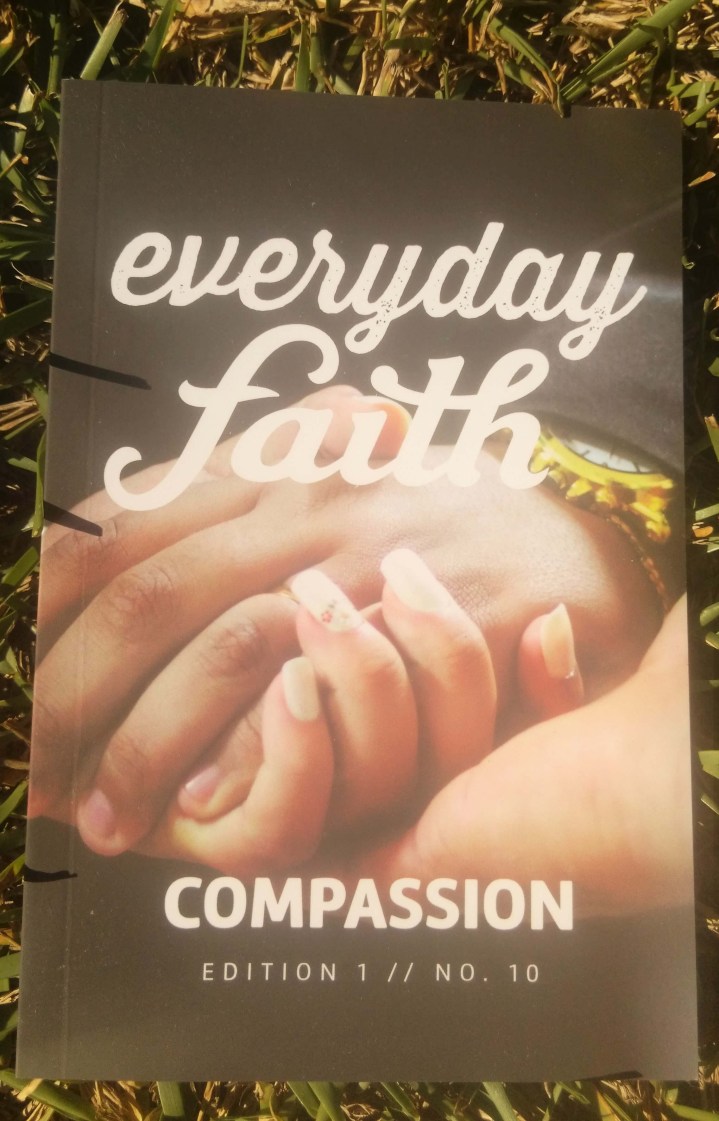 This is their monthly devotional book, Everyday Faith, that was in the box. They are now offering a monthly subscription called Every Day Faith for just their devotionals. If you pay month to month you can get the book for $4.99 a month, shipping included. If you prepay for the year the price drops to $49.99 for the year, shipping included. Your first month is free. They also provide meals to children for each of these purchased.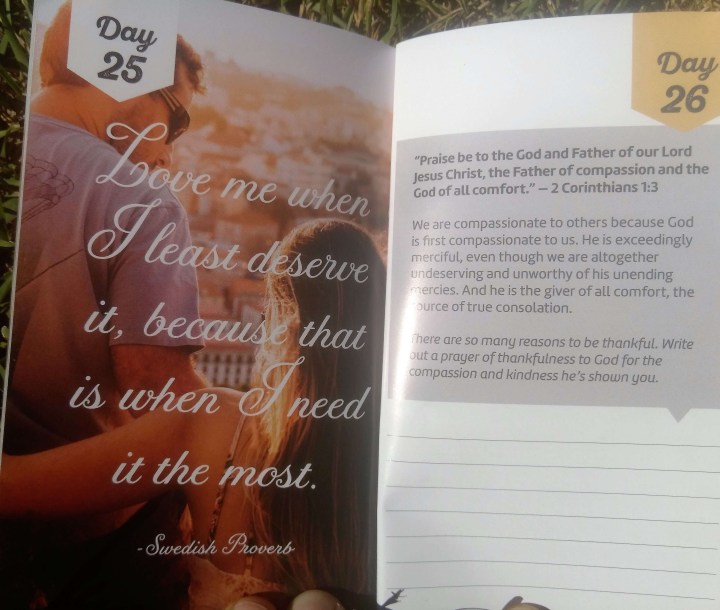 Each day is numbered 1-30, but not dated so you can start whenever you want.  Most days begin with a verse from the Bible, a couple of sentences elaborating on the verse and encouraging you in the faith, and then end with a challenge to bring the verse to reality in your life (plus space to write down your own thoughts).  Other days just have a challenge or a saying like Day 25 above.
Faithbox will help you reexamine your faith and your relationship with God, ensuring that you are being the very best you that you can be in your walk with Christ.
Save $5 on your first box with coupon code SAVENOW.
Visit Faithbox to subscribe or find out more!
The Subscription
:
Faithbox
The Description
: Faithbox inspires positive Christian living by helping people grow in their faith, impact their community, and discover meaningful products. Faithbox hand-picks the products from companies and organizations who share our vision of a triple bottom line: people, planet, purpose.
The Price
: $25.00 per month