Espionage Cosmetics now has their own bi-monthly subscription box! If you've ever received nerdy, fandom-themed nail wraps in a LootCrate or any geeky box, chances are they're from Espionage. The BOOM!Box delivers a box of goodies for nerdy and geeky manicures, makeup, and other fun things every other month. They now also have a monthly subscription just for nail wraps.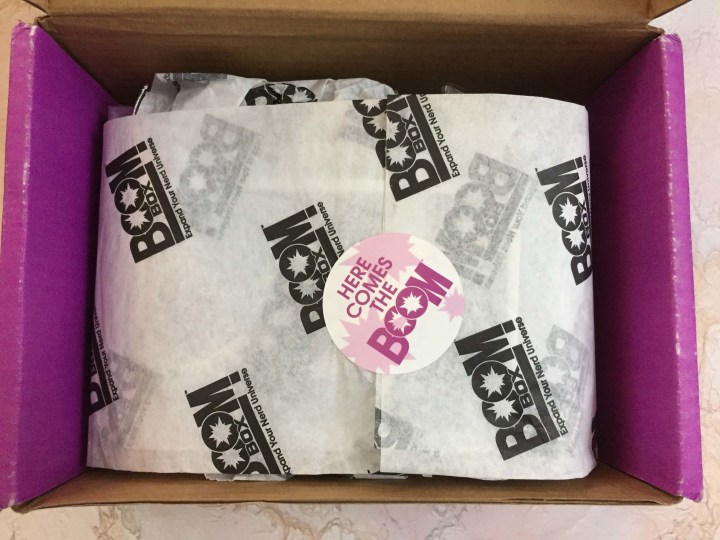 Everything is printed with the logo and looks great!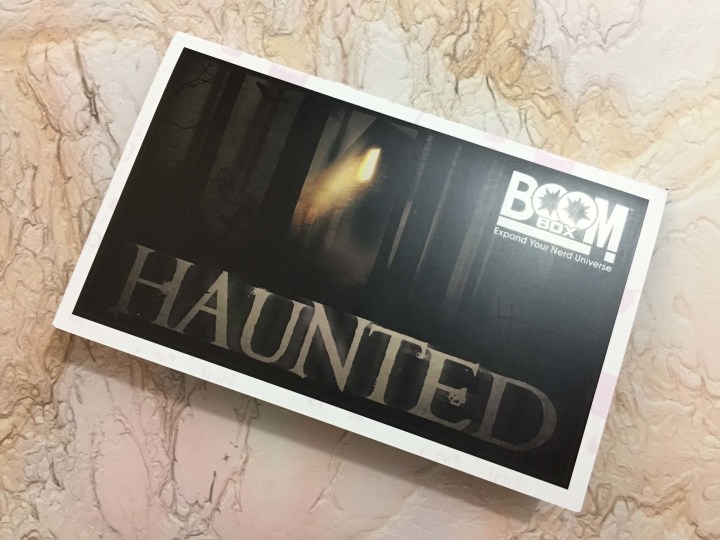 October's theme is Haunted, perfect for Halloween.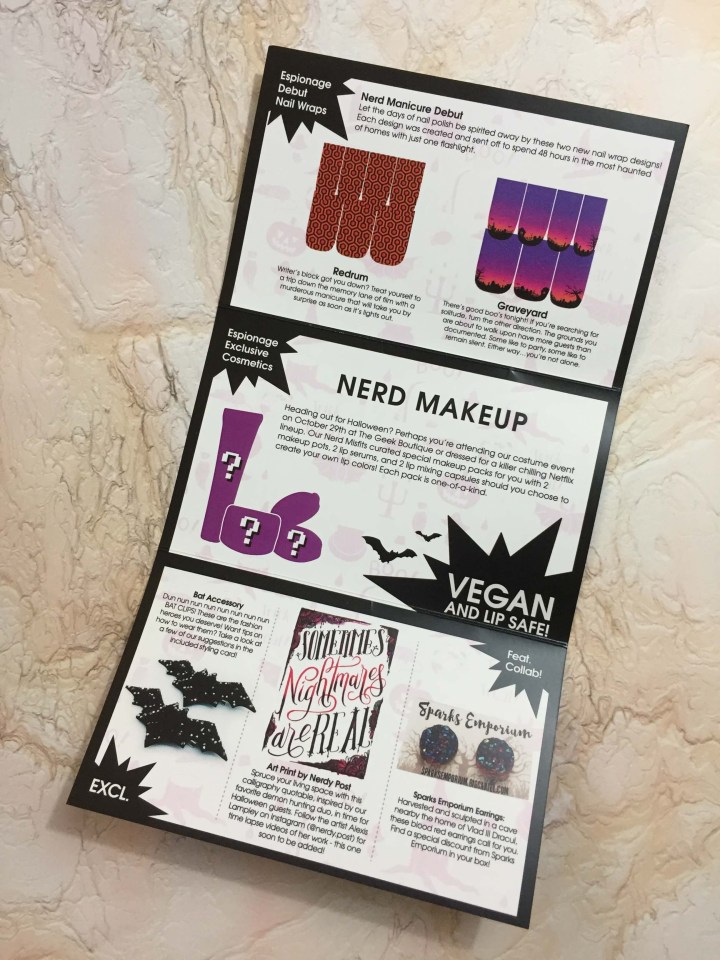 The info card is a tri-fold breakdown of everything included, and the reverse also has a makeup tutorial and information about the subscription.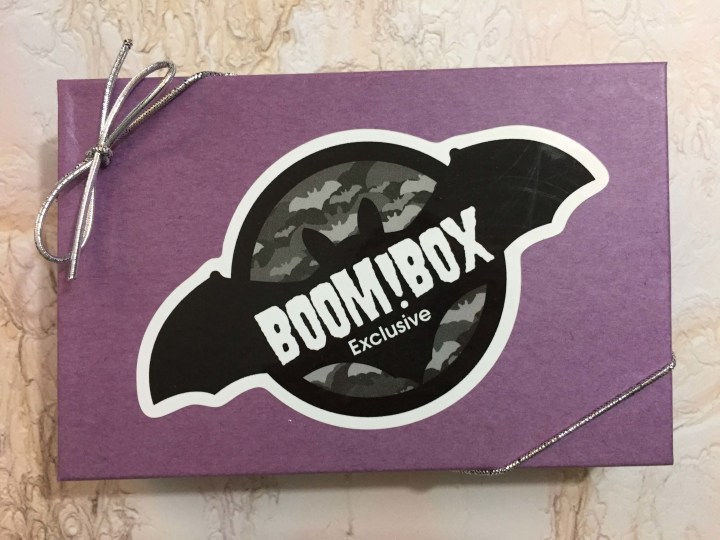 The first item I pulled out is a BOOM!Box exclusive…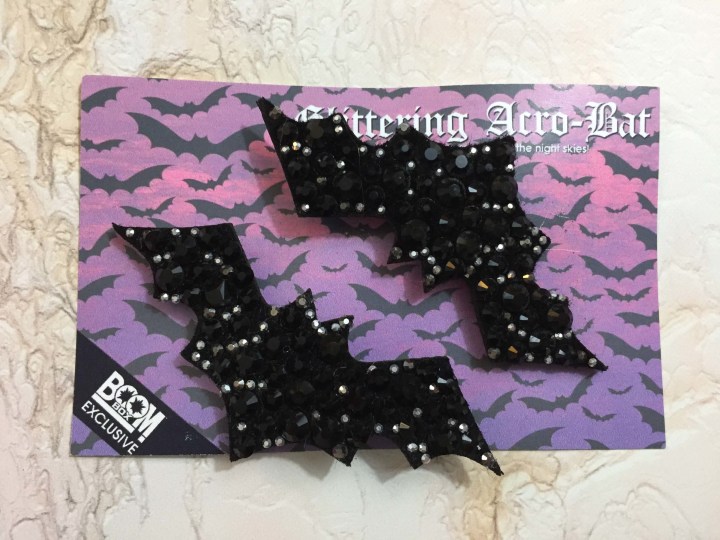 These glittering bat clips are awesome!
They are made of a flexible material and aren't heavy to wear.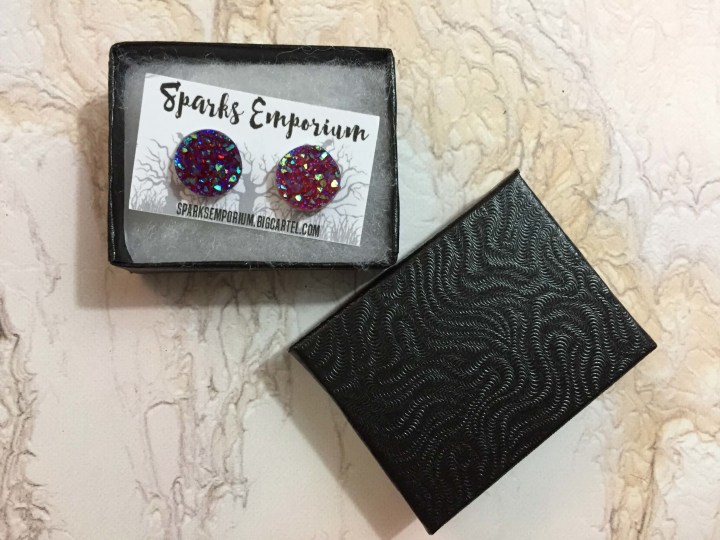 Opening this little box, I lament once again that I can't have pierced ears (my ears rejected the piercings when I had it done as a young girl) because I am loving these Dark Ruby Raw Druzy Stud ($3) earrings.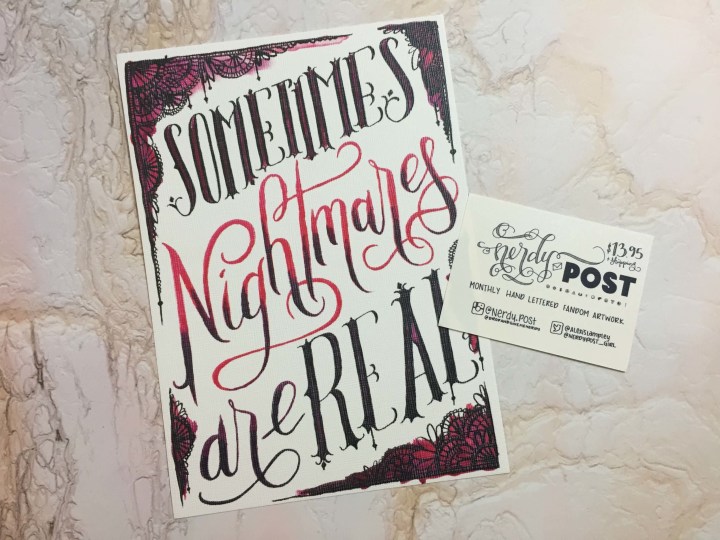 This awesome lettered print is by Nerdy Post, which has their own subscription for monthly fandom wonderfulness! I love the border design on this little print; it's elegantly spooky.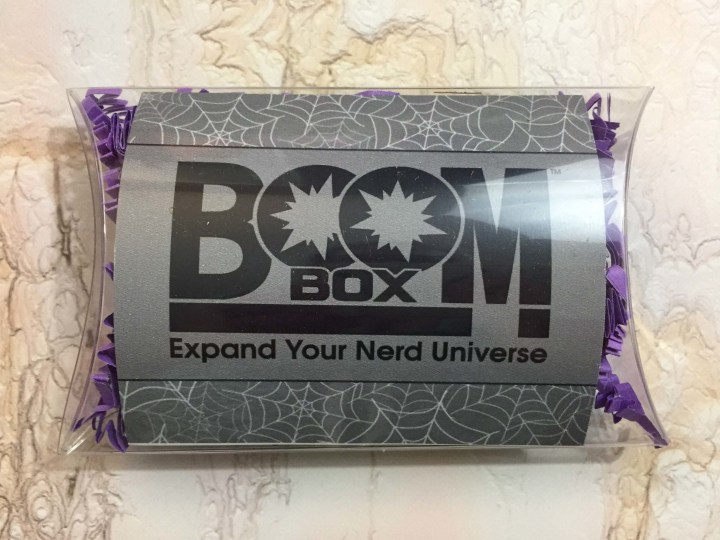 BOOM!Box always includes a makeup item as well; Espionage Cosmetics' line is cruelty-free and most of the time vegan as well – they do let customers know when a certain shade or formulation might not be.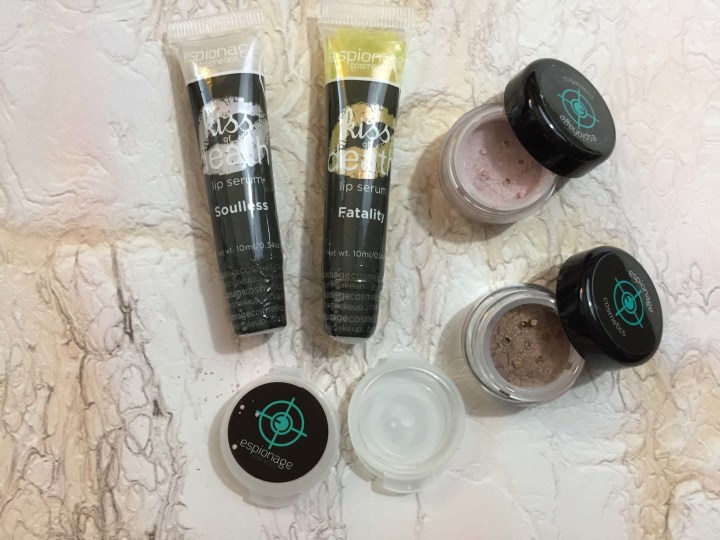 Soulless Lip Serum ($9) Scented with candy apple, this clear gloss base has shimmers of pink and teal. It's inspired by Harry Potter and the Deathly Hallows.
Fatality Lip Serum ($9) It looks yellow, but it's really not – it's a translucent gloss with a slight shimmer and tastes like buttercream. EC Lip Serums are formulated with lots of healthy oils to repair and restore moisture while looking fabulous as well.
Mrs. Reynolds ($7.50) Despite not enjoying Firefly as much as I love other Whedon productions, I was still impressed with myself for recognizing this reference to Christina Hendricks' character on the show. This is a soft nude pink. I'm not a huge fan of mineral eyeshadows, so I haven't decided whether to keep this or gift it.
Barbara Lauwers ($7.50) Barbara Lauwers was a corporal in the Women's Army Corps and received a bronze star medal for her work in espionage during World War II. This is a bronze metallic shadow. Again, not sure this is for me, but I do like the color.
We were also sent two plastic mixing pots – you're meant to mix the shadows with the glosses to create your own custom lip colours.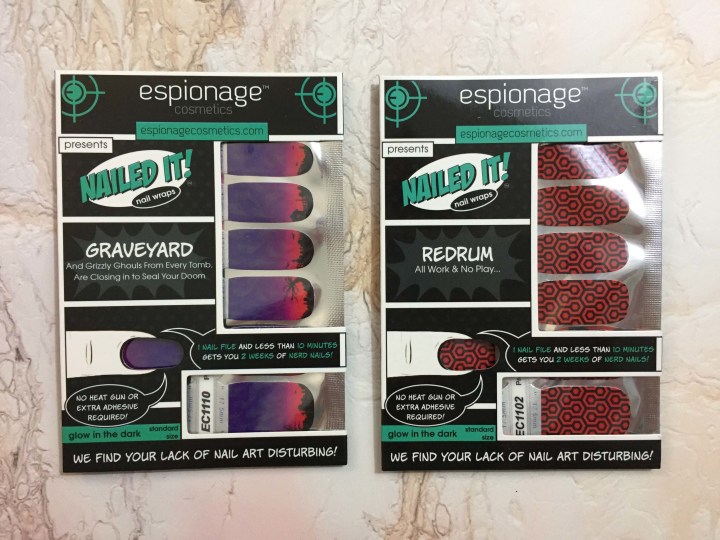 Graveyard Nail Wraps ($10) These are subtly spooky, and glow in the dark!
Redrum Nail Wraps ($10) These wraps are inspired by The Shining and also have a hidden message when they glow in the dark…
The fall BOOM!Box was great! I loved the Halloween theme. It was fun to see Nerdy Post pop up in this box, and the lipglosses are great. I love the bat hair clips and will definitely wear them on Halloween!
Visit BOOM!Box by Espionage Cosmetics to subscribe or find out more! Save $5 on your first box! Use coupon code  HELLO5BOOM.
The Subscription
:
BOOM!Box by Espionage Cosmetics
The Description
: There will be one BRAND NEW "Nailed It!" nail wrap design in each EC BOOM!box. Beyond that, everything else is a magical mystery! Scarves, beanies, makeup, jewelry, games, books, who knows! We're here to expand your nerd universe one delivery at a time!
The Price
: $36.25 every other month