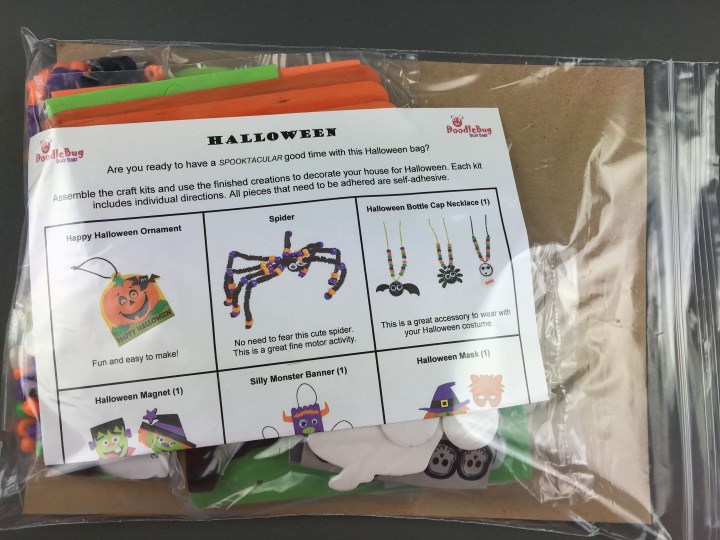 Doodlebug Busy Bags is a monthly subscription service that sends fun seasonal crafts for kids. Each Doodlebug Busy Bag contains 4-8 crafts that help children develop their fine motor skills, creativity, and confidence. This subscription service is run by Kidable Adventures, who also produces the Little Thinker Box. My son loves the themes of the easy-to-assemble crafts, and I appreciate the tips contained on the detailed instruction sheets. New subscribers receive a nice big red bag, perfect for holding lots of beautiful Doodlebug crafts.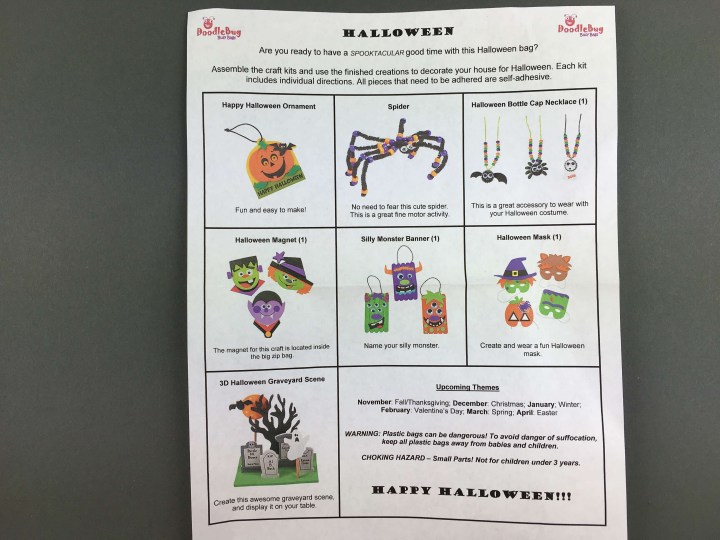 The information sheet contains an overview of all the crafts as well as color pictures of the finished crafts. Each craft comes individually bagged along with any other supplies that might be required, such as glue dots and magnets. This month's theme was "Halloween."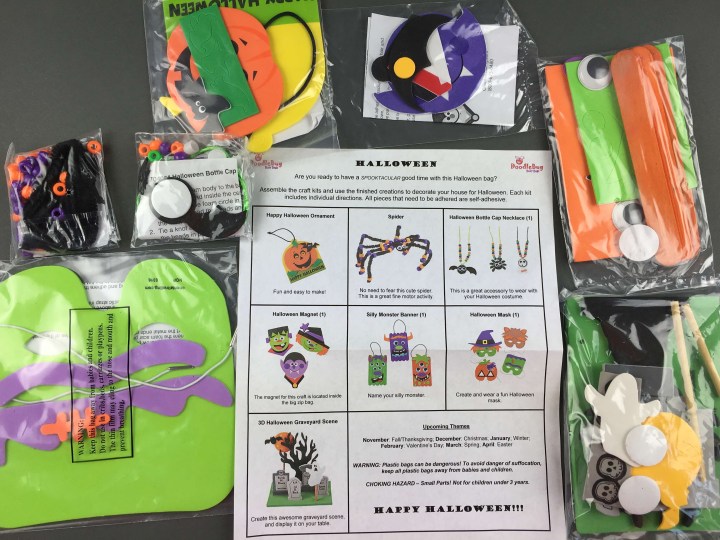 My son is excited that Halloween is coming, and he couldn't wait to complete these activities!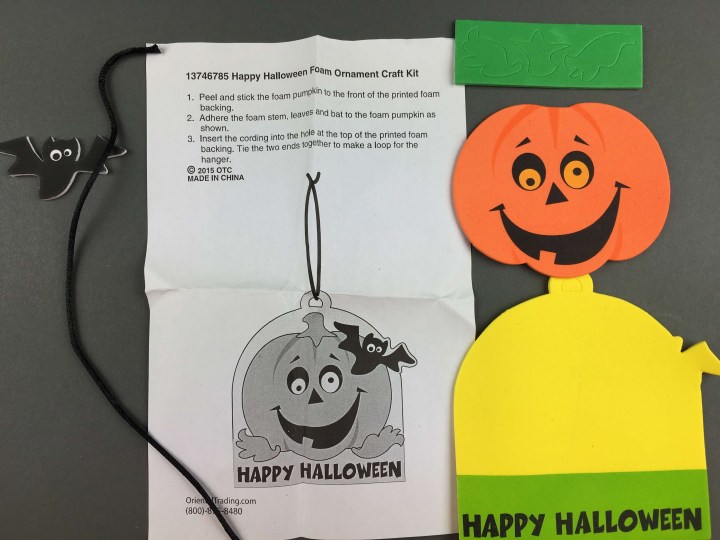 This first project is very straightforward – lots of peeling and sticking.
My son enjoyed completing it by himself as I walked in and out of the room.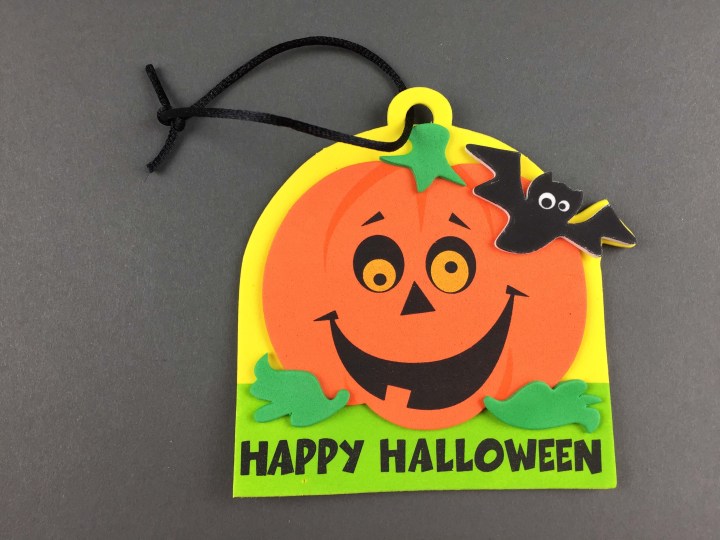 Adorable!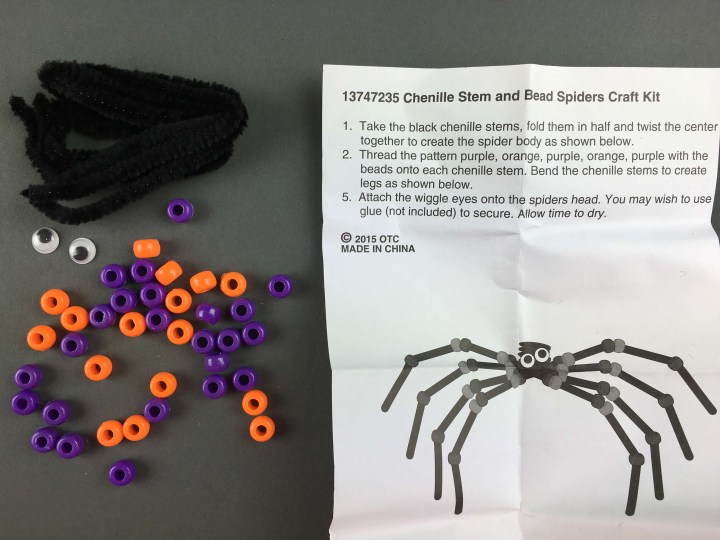 In the next activity, my son constructed a cute spider.
He enjoyed recreating the same pattern on each leg.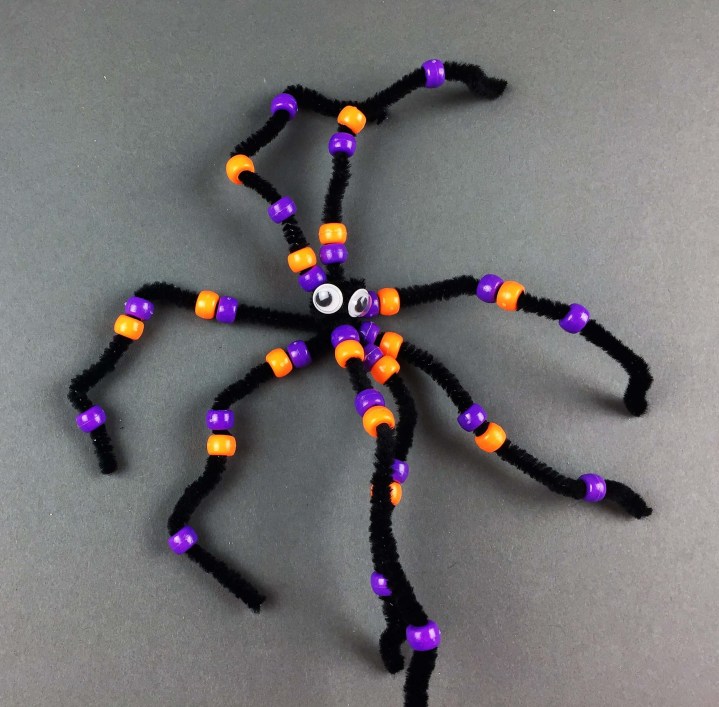 My son's only difficulty with this activity was getting the eyes to stay put. My son used Elmer's glue. Were we to do this activity again, however, I'd probably opt for a glue gun.
This necklace looks really cute!
As my son constructed his necklace, we talked a bit about multiplication and division: the craft came with three sets of six beads. We talked about how 6 x 3 = 18. Then we chatted about fair share and my son divided the 18 beads into two to get two sets of 9 beads each.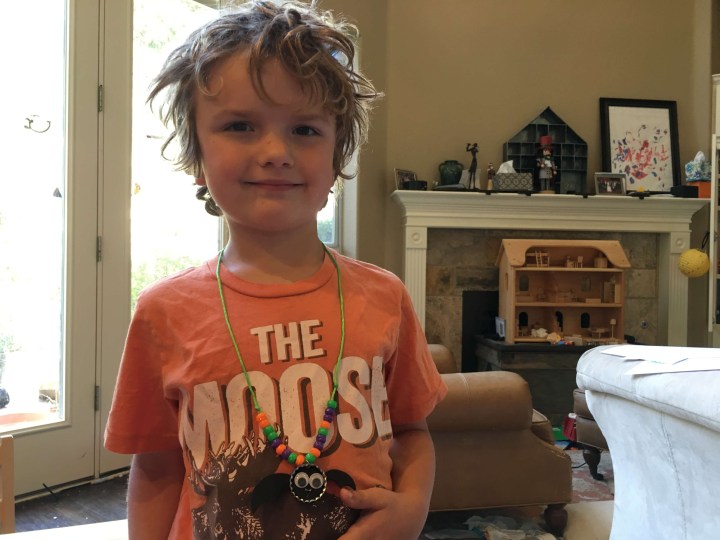 Living in a city that's known for its bats, we've come to love the little critters. My son was delighted with his bat necklace.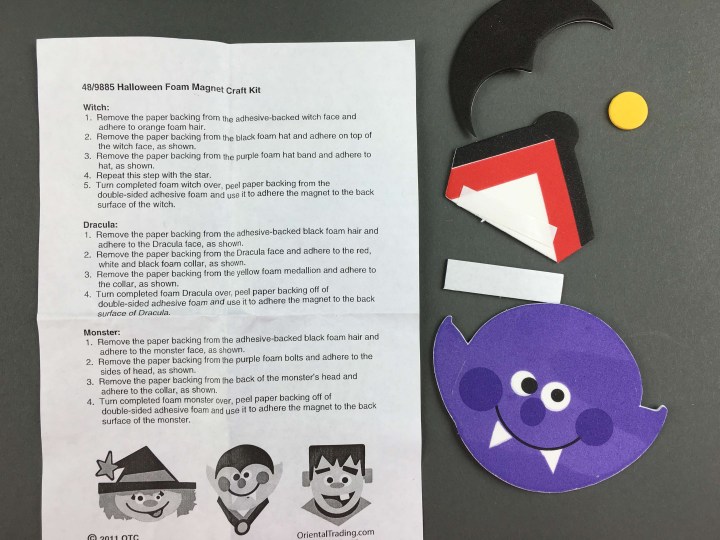 I know this craft is supposed to depict Dracula, but he looks like Sesame Street's The Count to me. (I told my son about The Count, and he was excited to make him!)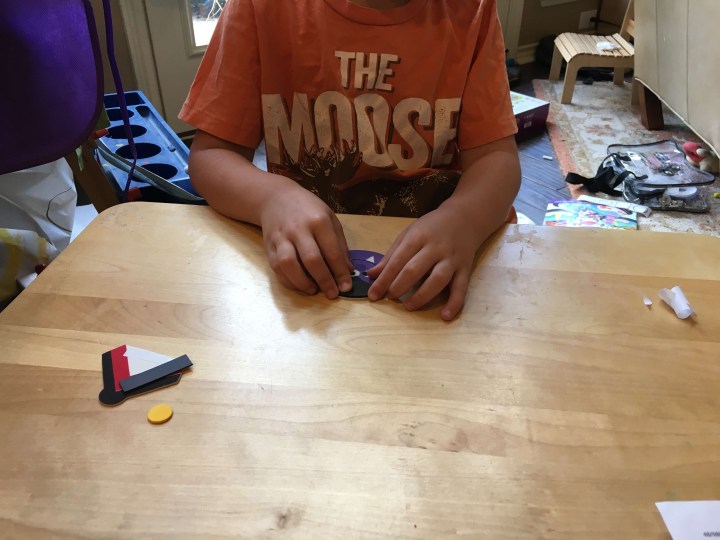 The Count was easy to assemble – just a lot of peeling and sticking.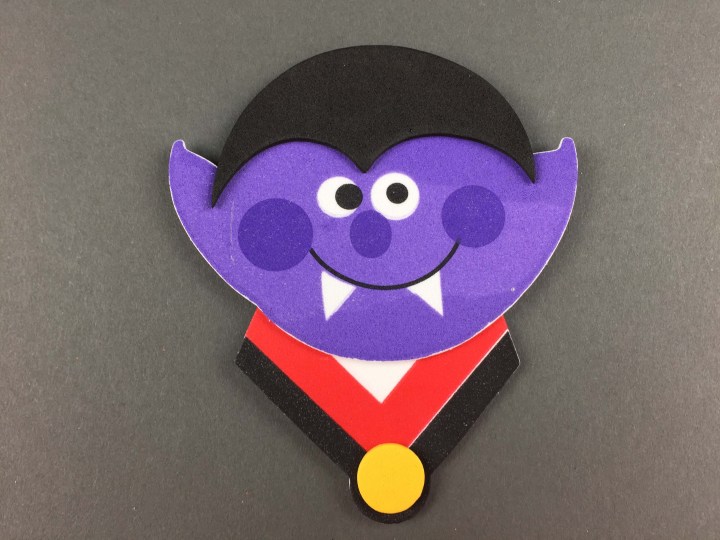 He has a nice magnet on the reverse, which we'll use to affix him to our refrigerator.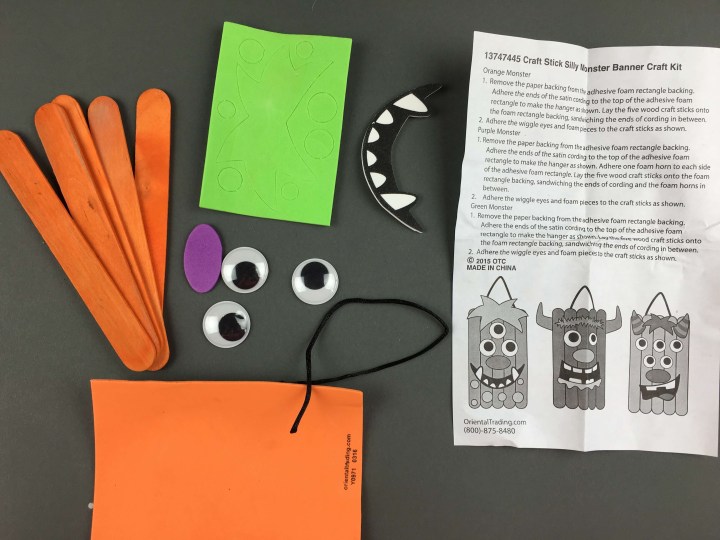 My son couldn't wait to construct the craft stick silly monster banner!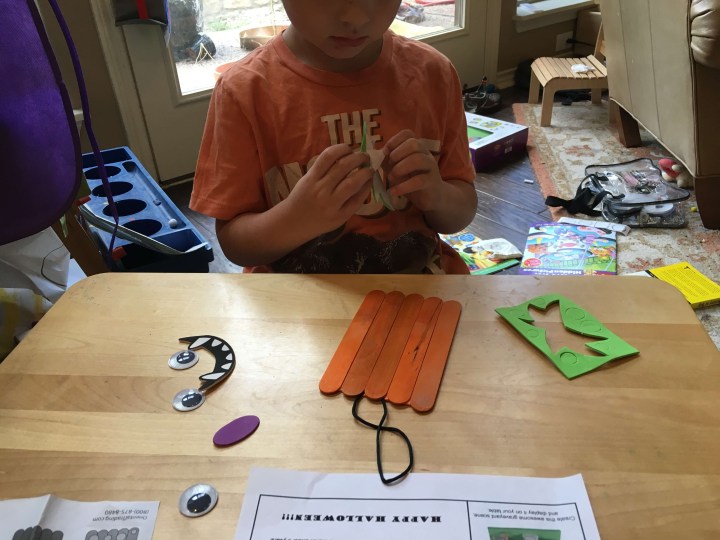 The adhesive rectangle made this craft a snap to construct – just a lot of peeling and sticking!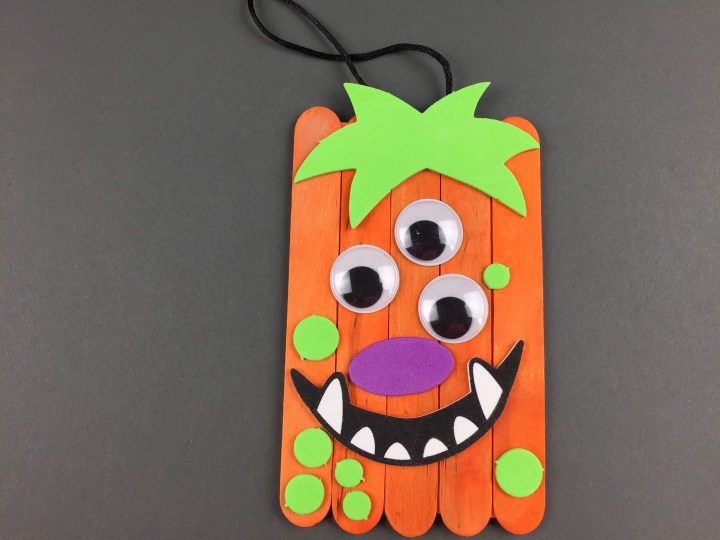 I love the warts!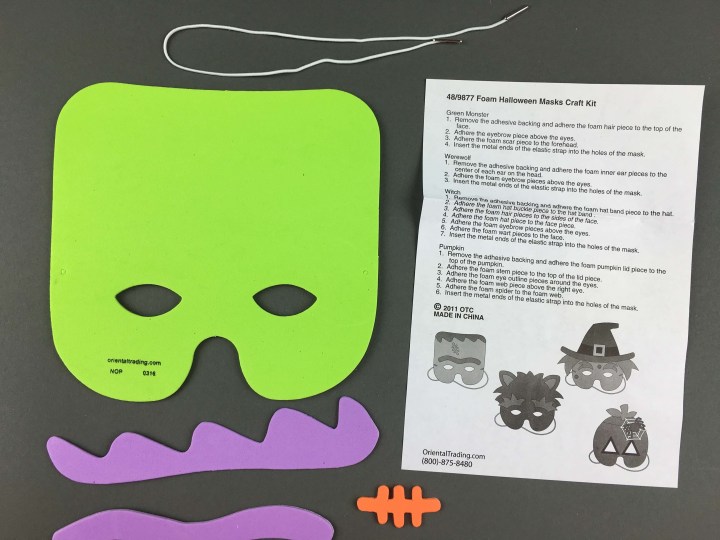 Masks are always a hit in our house, and this green monster mask was no exception.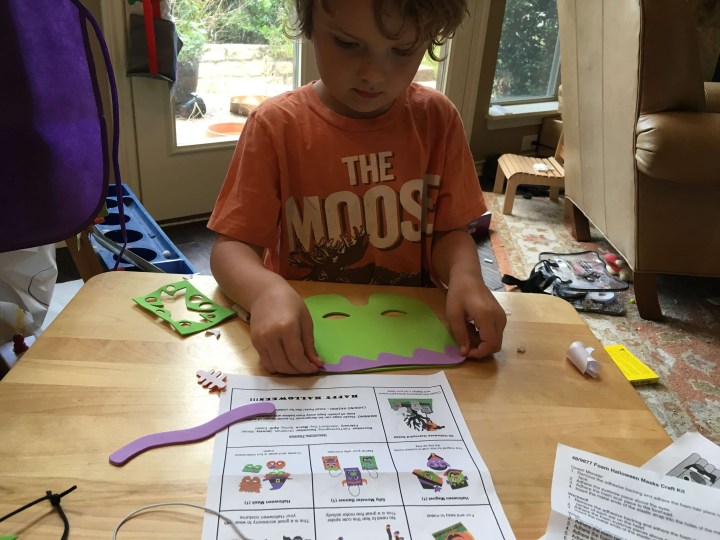 Construction was very straightforward – a lot of peeling and sticking.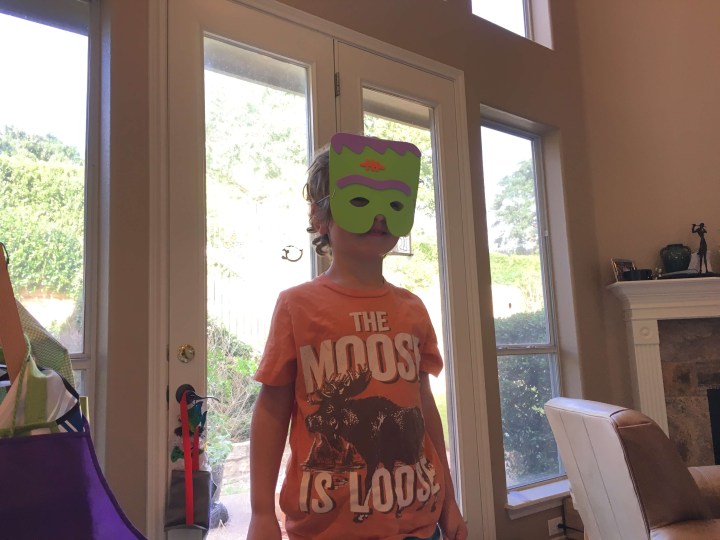 Roar! Later in the day, my husband got a hold of this and pretended to be a monster. My son thought that was hilarious!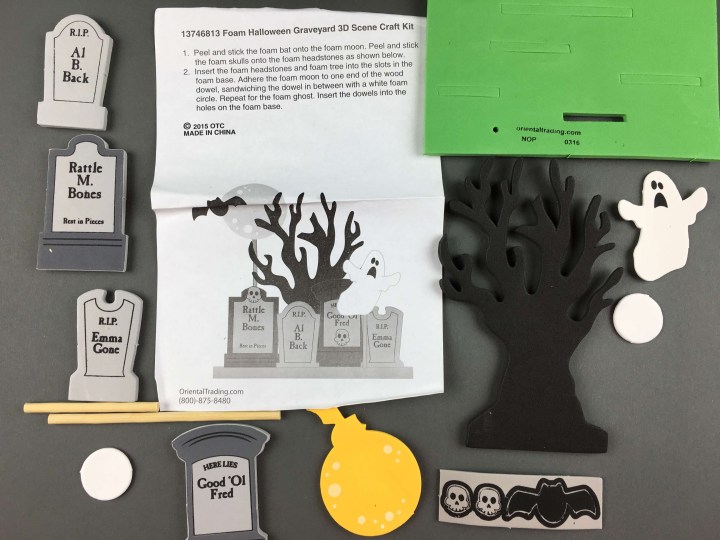 Of all the crafts this month, my son was especially excited to create the graveyard.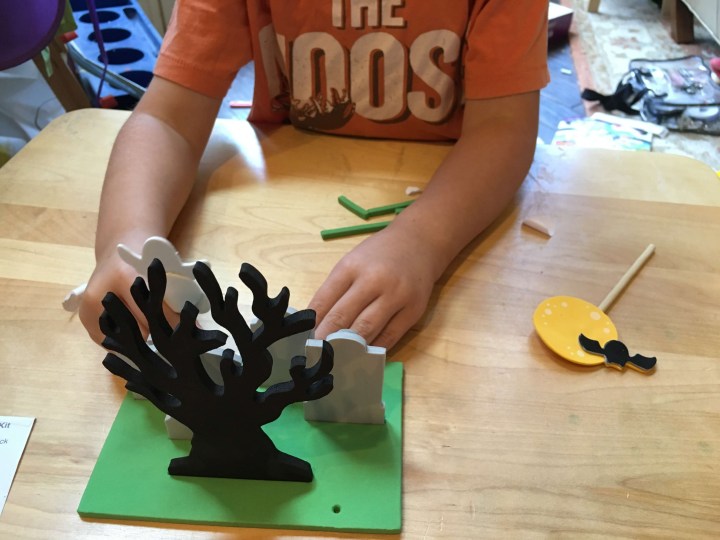 He loved the word play of the names! They reminded me of the Haunted Mansion at Walt Disney World.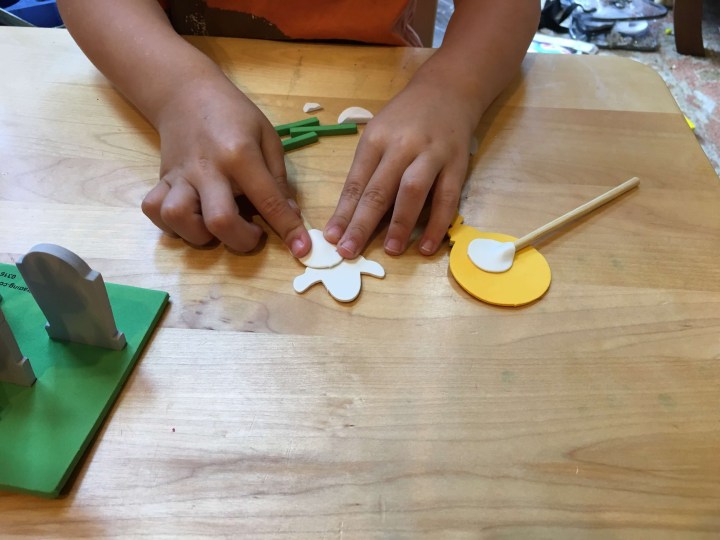 My son had no difficulty affixing the dowels to the ghost and moon.
The end result looked fantastic! My son has put his graveyard on display in his bedroom. He can't wait for Halloween!
As always, my son and I enjoyed working through his Doodlebug Busy Bag together. He finds great satisfaction in creating the enclosed crafts by himself, with his cheering squad giving him high fives as he completes each one. I'm grateful for the bonding time it provides us each month.
Holiday themes are always a bit hit at our home, and my son can't wait for next month's Thanksgiving-themed Doodlebug Busy Bags to arrive.
Visit Doodlebug Busy Bags to subscribe or find out more!
The Subscription
:
DoodleBug Busy Bags
The Description
: A monthly craft subscription for kids ages 3 – 8 that will keep little hands busy and little minds active. Each month your child will receive a bag of 4 – 8 curated crafts, often centered on a holiday or seasonal theme, and all the supplies your child needs to complete each activity.
The Price
: $16.00 per month