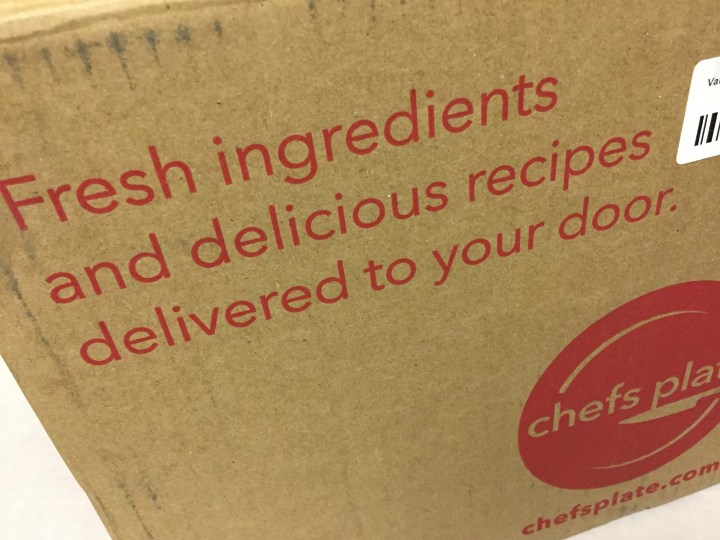 I've always been envious of the amazing meal planning boxes in the States – I'm a single girl, and grocery shopping always yields me too much wasted food! Meal planning boxes always appealed to me, but Canadian boxes have so far been limited to the East Coast. Not anymore! In the last six months, some have made their way west and Chef's Plate is one of the few that delivers to my area. I'm so excited to be trying their service. Like most meal plan subscriptions, it's shipped weekly but you have the option of skipping if the recipes don't appeal to you, you're going to be away, or have other plans.
Chef's Plate plans are pretty simple!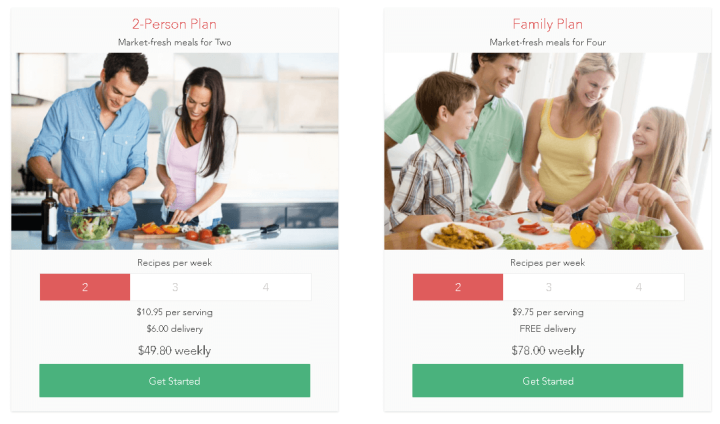 2-person plans let you choose 2-4 recipes weekly. If you only choose 2 recipes there is a $6 delivery charge. 4-person (family) plans have the same options. The recipes available differ slightly between the two. The recipes available can be customised based on your preferences; you can choose to only request recipes with or without certain meats. Gluten-free and vegetarian meals do pop up occasionally.
This month my order was processed twice in error; I emailed them immediately and they replied within the hour – a refund for the duplicate order was processed same-day and they encouraged me to give the second box to a friend or family member to try!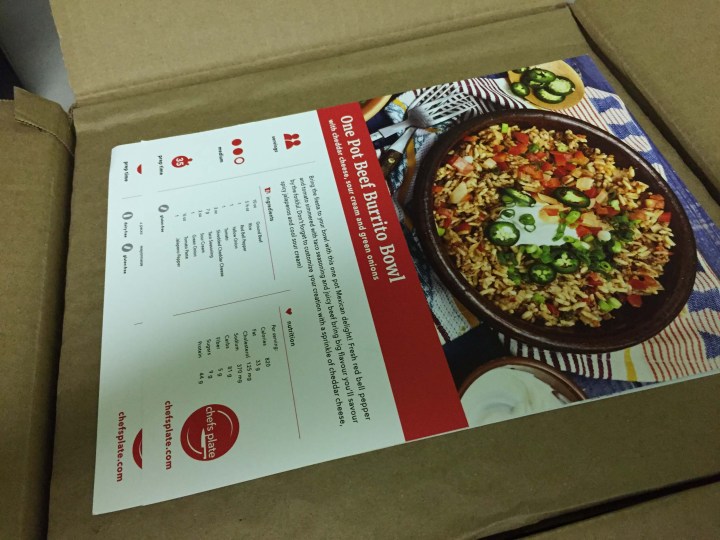 Chef's Plate is sent by FedEx; I have mine shipped to my work address as I live in an apartment. Chef's Plate provides adequate packaging to keep ingredients fresh and cold if they need to leave it at your door.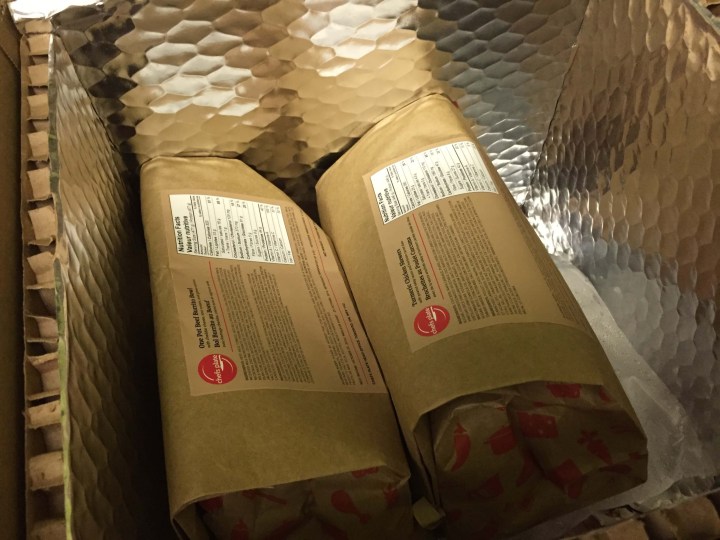 The two bags are packed above the meat. Everything was cool to the touch.
The meat was hiding under the bottom! All meat products are Canadian raised.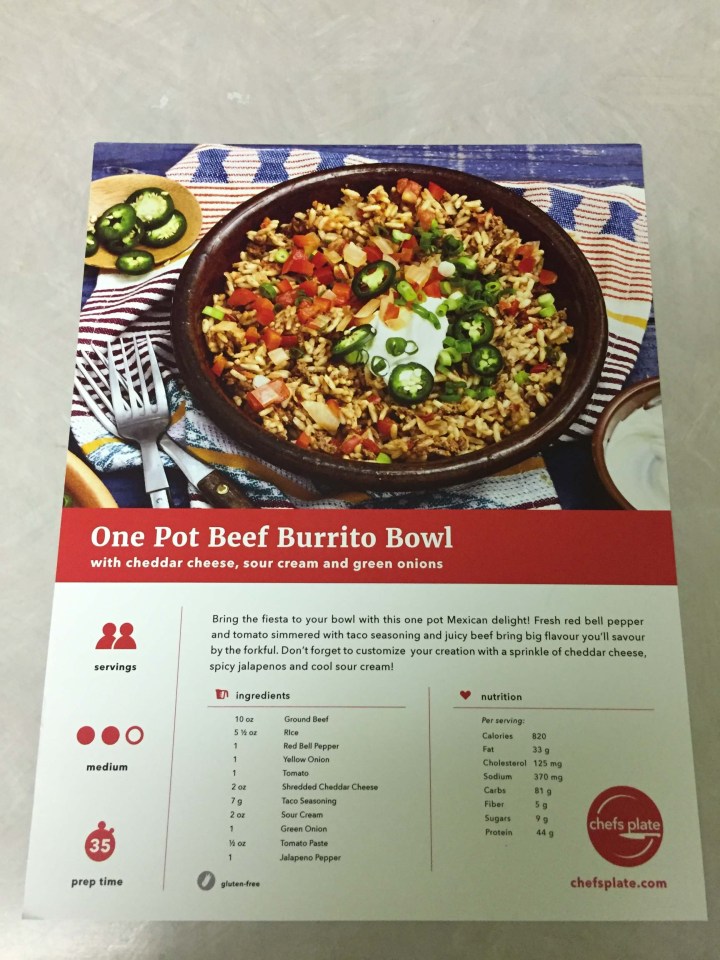 The first recipe, One Pot Burrito Bowl, was prepared in one pot just as the name says – this made cleanup a breeze! The recipe cards are great. In addition to having step by step instructions (on the reverse) they are also the perfect size to hole punch and keep for future reference.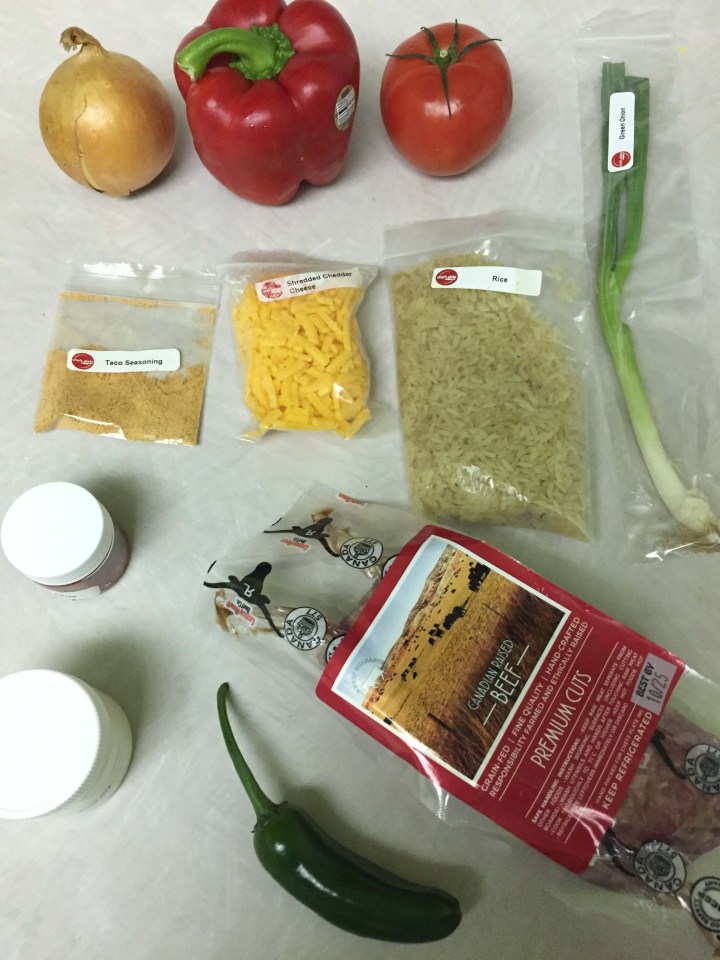 Everything was fresh and none of the veggies were bruised. The tomato sauce comes in a plastic container, but I am actually not a fan – the jar is too small to get a spoon into, so I kind of had to try and scrape everything out with the end of a chopstick. The larger container used for the sour cream is much easier to empty.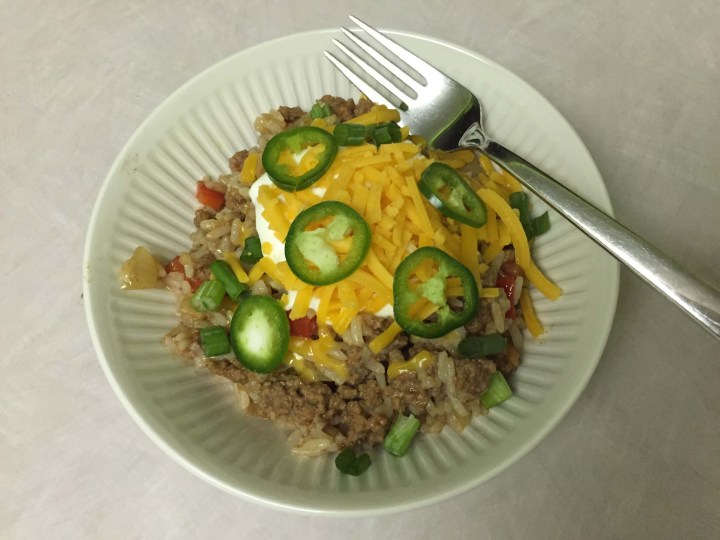 This was great – the beef and rice were seasoned nicely, and I even used the onion this time around to add extra flavour. A dollop of sour cream and cheese, and topped with green onion and sliced Jalapenos finished it off!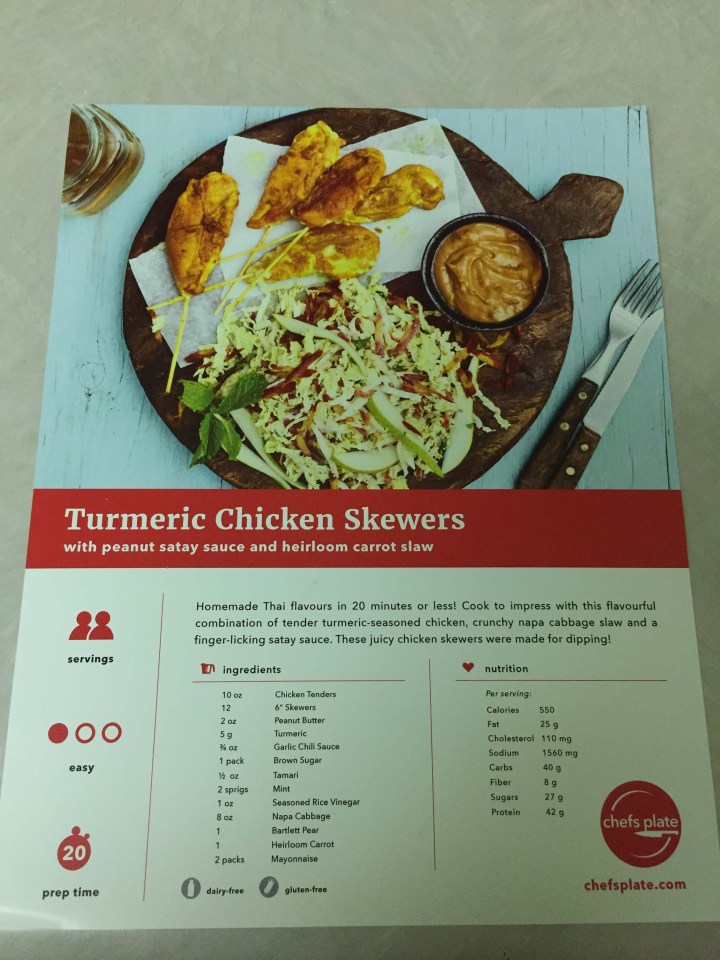 I also chose Tumeric Chicken Skewers. This was my first time using tumeric, and my hands are still stained yellow. Yikes!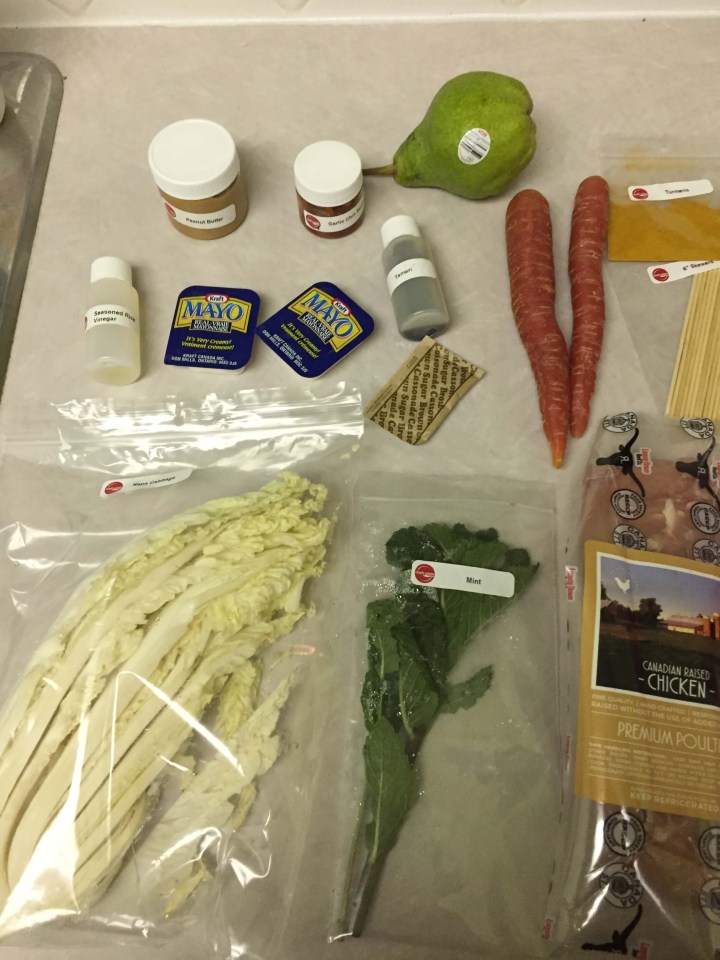 Again, everything ready to go; liquids come in their own plastic bottle and in the case of the mayo and the brown sugar, I was sent just the right amounts of each. The mint was a bit wilted but once it was chopped didn't really make a difference. I LOVED how beautiful the carrots were; they were not a bright orange but more of a red-orange.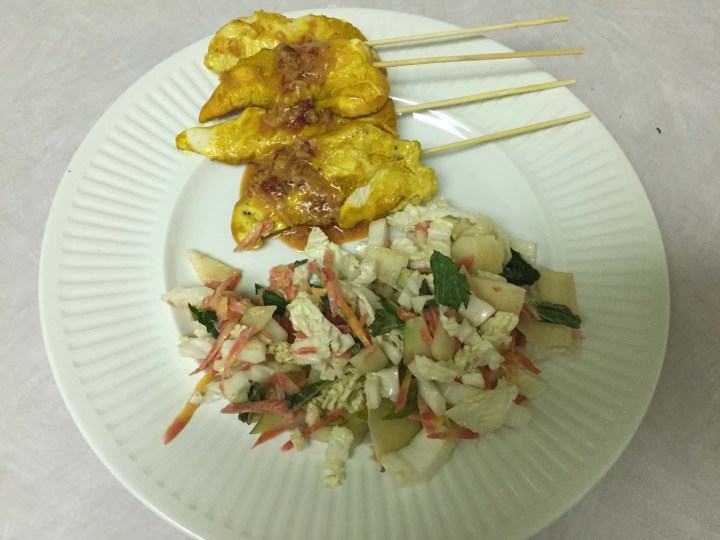 I need better lighting in my kitchen! Here's how my chicken and 'slaw came out. The chicken was tender and juicy; I drizzled the satay sauce on over instead of dipping the chicken. I chopped my pear instead of slicing whole pieces and I think it came out great! I scarfed down most of the chicken in one sitting but have loads of leftover coleslaw which is great.
I'm continuing to enjoy Chef's Plate! It definitely takes the guesswork out of my weekend dinner plans, and it's even more fun making it with a friend – my friend came over for Thanksgiving a couple of weeks ago and we made a Chef's Plate recipe in less than 20 minutes. (Leaves more time for chatting and wine!)
Are you a fellow Canadian looking to give Chef's Plate a try? They have service in BC, AB, MB, and ON. Use the promo code #3platesFromUs for three free plates to start out  – you can skip weeks easily if the recipes don't appeal to you. And yes, the hashtag is part of the coupon!
Have you tried Chef's Plate? What recipes have you enjoyed?
Visit Chef's Plate to subscribe or find out more!
The Subscription
:
Chef's Plate
The Description
: Chef's Plate is a weekly meal delivery service putting Canadians back in the kitchen. With easy-to-follow recipes and fresh pre-portioned locally sourced ingredients right to your door. Currently delivers to Ontario, British Columbia, Alberta & Manitoba.
The Price
: $37.70 every week