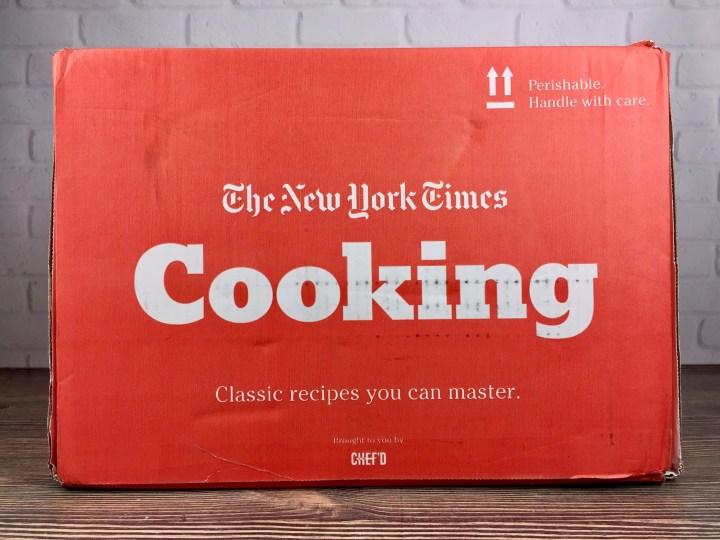 Chef'd is a meal kit delivery service delivered straight to your door — you get pre-portioned ingredients to prepare delicious meals at home!  Chef'd is unique, in that they offer several meal plans designed by their partners, including Atkins, Weight Watchers, American Diabetes Association, and many others specializing in nutrition or just culinary excellence.  There are tons of recipes to choose from within each plan.
TIP: Prices vary by meal — this one was $43 and serves four. The price for a 2 person meal was $33 so it was a no-brainer for us to try out, and many of the meals have a deep discount for getting that second set of servings. There's free shipping for orders over $40 (before the discount!).
DEAL: Save $10 on your first order with this link!
You can also get 250 loyalty rewards points when you sign up. No coupon needed – just use this link to subscribe.

You select how many servings you want to receive, as well as the number of meals per week.  This meal delivery service is a little different than some of the others we've reviewed – there are tons of options – hundreds of recipes – along with the subscription meal plans.
The shop also lets you filter the meals quickly and when you sign up you can quickly state any allergens and your preference in proteins so your meals are pre-screened!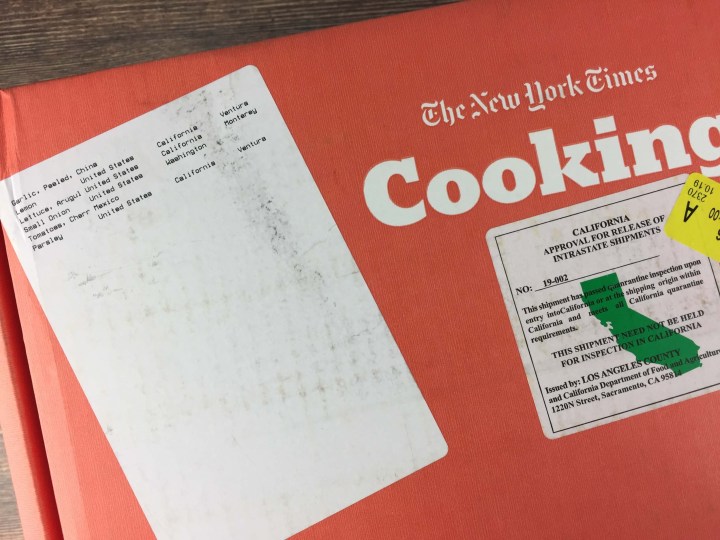 The box ships from California, and it shows in the extra labelling requirements.  Unlike other meal kit subscriptions, you do get a list of country of origin for the produce in the box.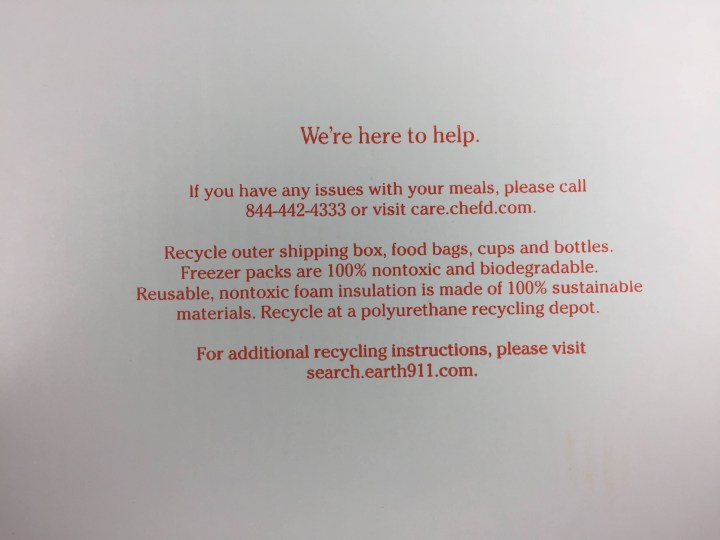 They have a helpline, should you encounter any issues with your Chef'd package.  They also considered the environment when choosing their packing materials, and they even have a line for recycling guidance!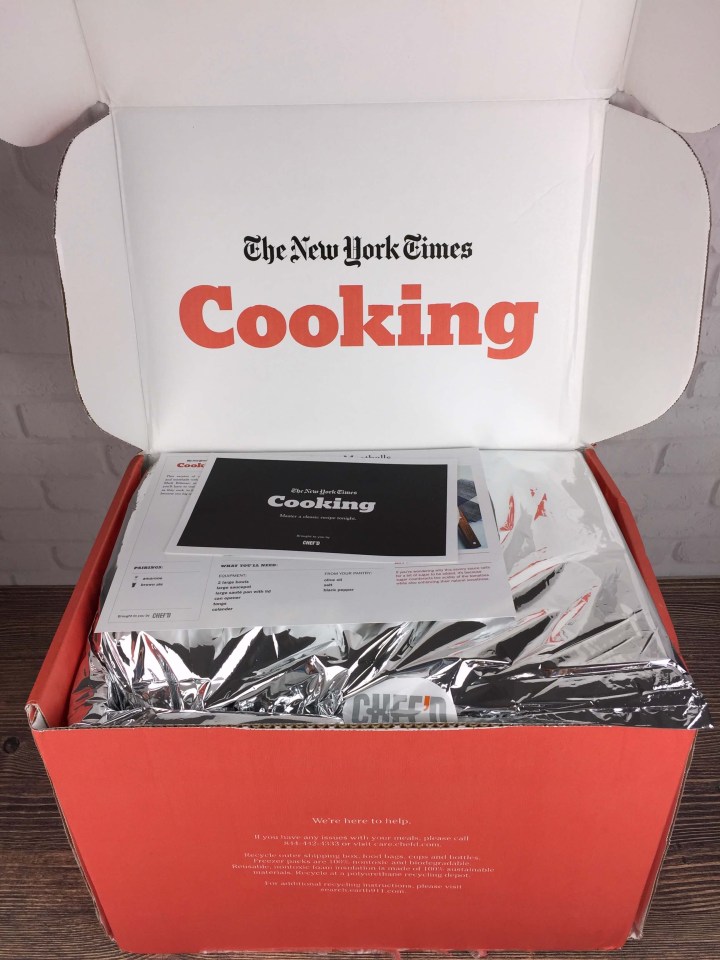 This is The New York Times Cooking box.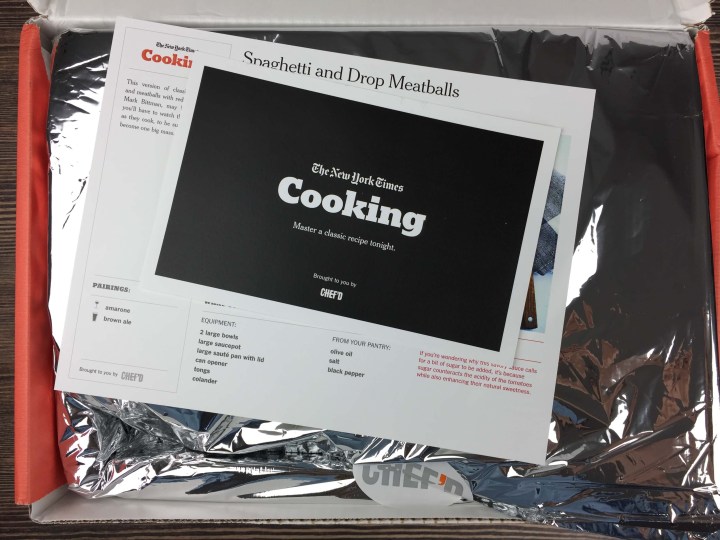 Imagine delicious home-cooked meals curated by culinary pros respected the world over. Look no further than Meal Plans from NYT Cooking brought to you by Chef'd.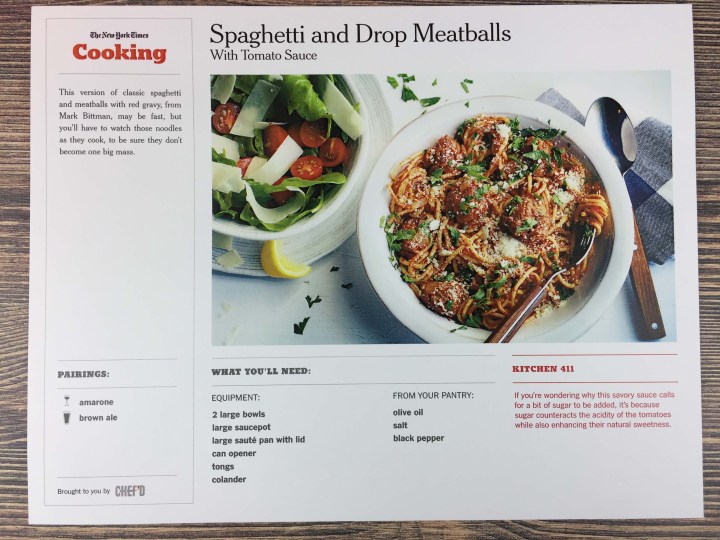 The format of the recipe card should be very familiar to anyone who has tried a meal kit subscription, as nearly everyone uses this format now.  The front includes a photo of the prepared meal, a list of items you'll need from home, and even a Kitchen 411 blurb and drink pairing suggestions.  Though it is similar in format to the recipe cards of others, it had one element that made it stand out as a NYT Cooking box — the amount of white space employed on the card reminded me of a newspaper!
The back has a full listing of the box's contents, as well as info on number of servings, cooking time, allergens, skill level required, and spice level of the dish.  Chef'd has great instructions, and they are easy to follow even if you are an inexperienced cook.  With the exception of nutrition information (fat and calories), the Chef'd card packs in more info than most services.  I think only Hello Fresh has a more comprehensive info and recipe card.
The food was bagged neatly together, with meat and larger items packed separately.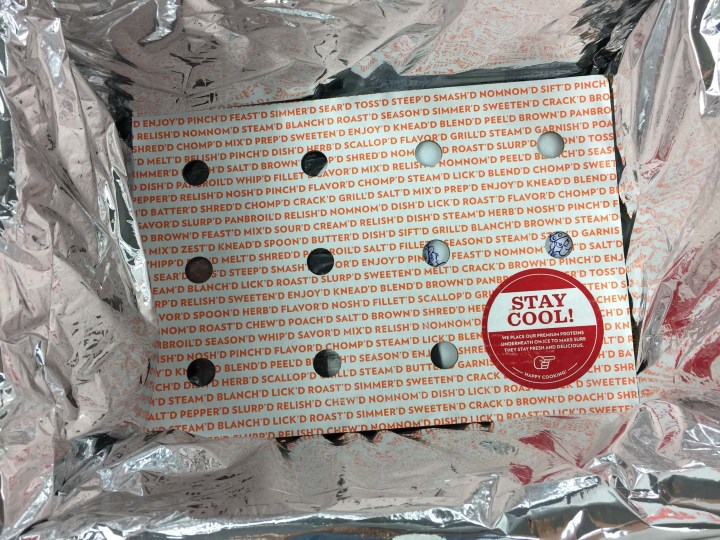 A cardboard sheet protects the produce from direct contact with the ice packs below.  As a result, none of the greens had wilted, and everything looked very nice — the food was very cold when it arrived, because there was a sufficient number of ice packs within the lower chamber to cool the box without needed any on top.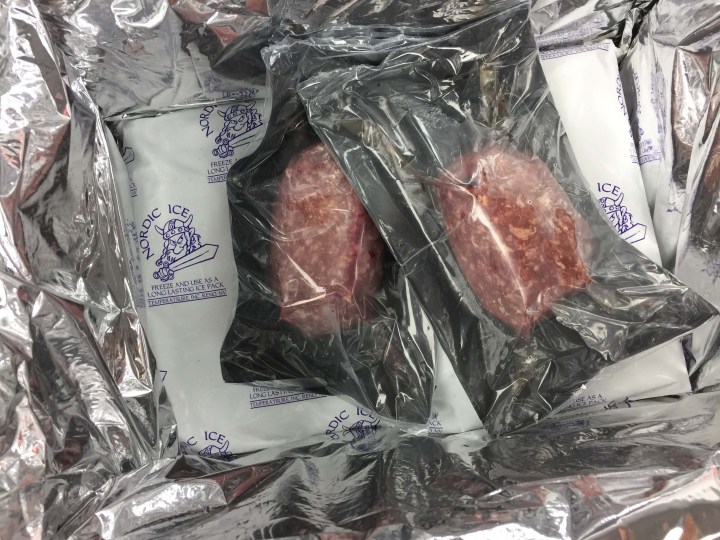 The meat was in the bottom compartment with several large ice packs.  This recipe called for two half-pound portions of ground beef.
Everything in my box!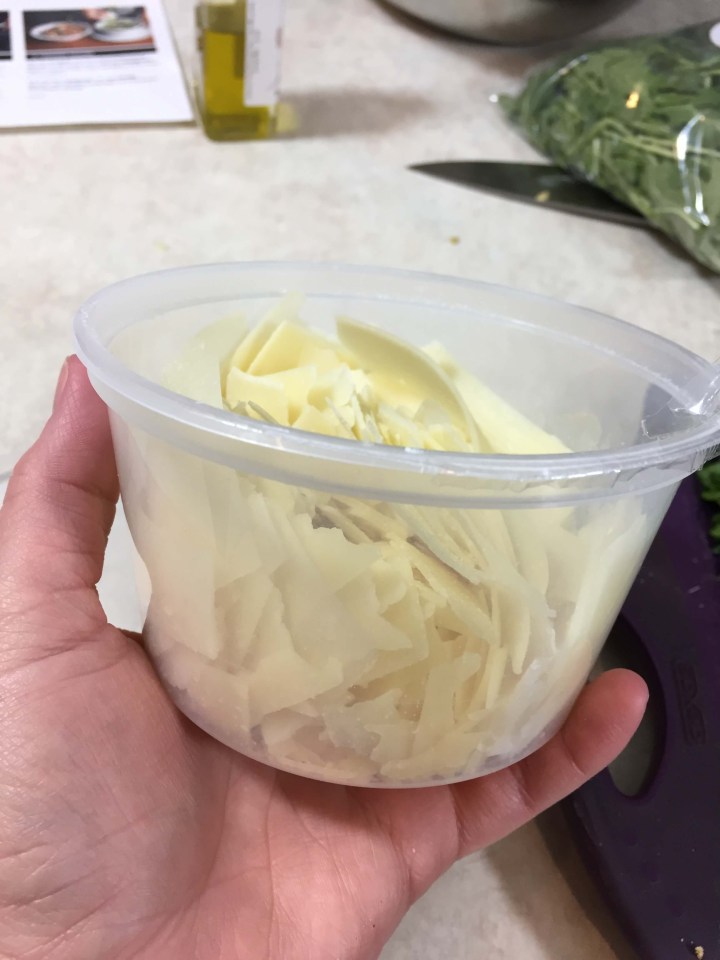 When we ordered the box, we didn't even realize that it came with a salad.  In addition to a big bag of splendidly fresh arugula, cherry tomatoes, and lemons, the box included this HUGE bucket of shaved Parmesan cheese.  We tossed a bunch in with the salad as directed, but they gave us so much that we had plenty to throw on our pasta, too, and we still have some in the fridge for later.  Score!
They even sent real eggs, carefully packed in a separate holder and box!  In contrast, Plated requires you to provide eggs, while Home Chef provides liquid eggs when needed.
Spaghetti and Drop Meatballs With Tomato Sauce. 45 minutes, easy, 290 calories per serving.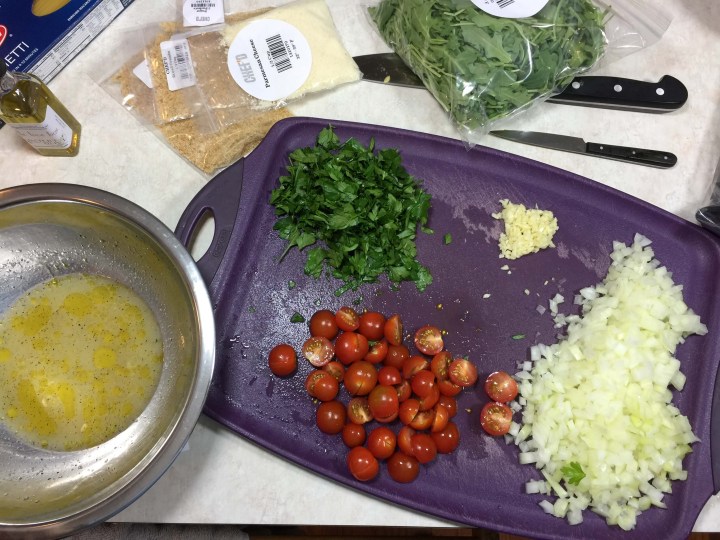 There were a lot of ingredients going into this meal, so prep took longer than expected.  I'm not too slow with a knife — most of the additional time was actually spent picking parsley off off the stems (there was a lot of parsley)!  Pictured is the mis-en-place with chopped veg and the dressing for the salad.
The ingredients for the homemade meatballs.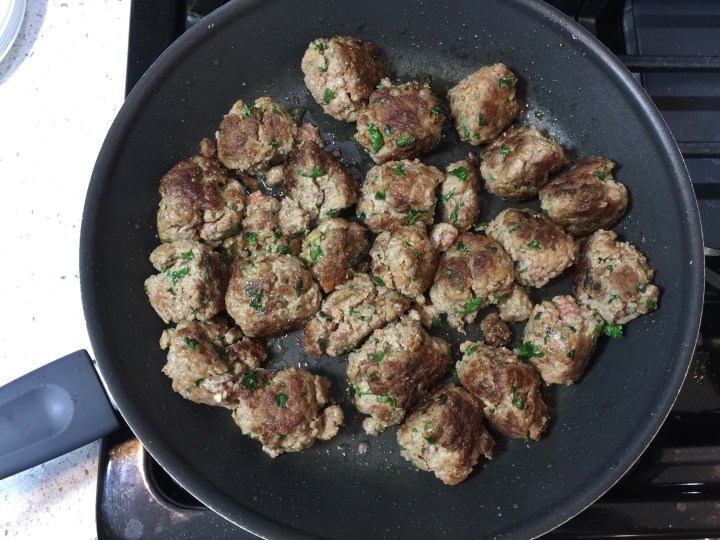 The recipe was a bit different from the approach I usually take — this being our first try at Chef'd, I tried to stick to their instructions as closely as possible.  Instead of hand-rolling, the recipe calls for forming the meatballs with two teaspoons.  This made for tender meatballs, but they were also a bit more delicate for the pan frying.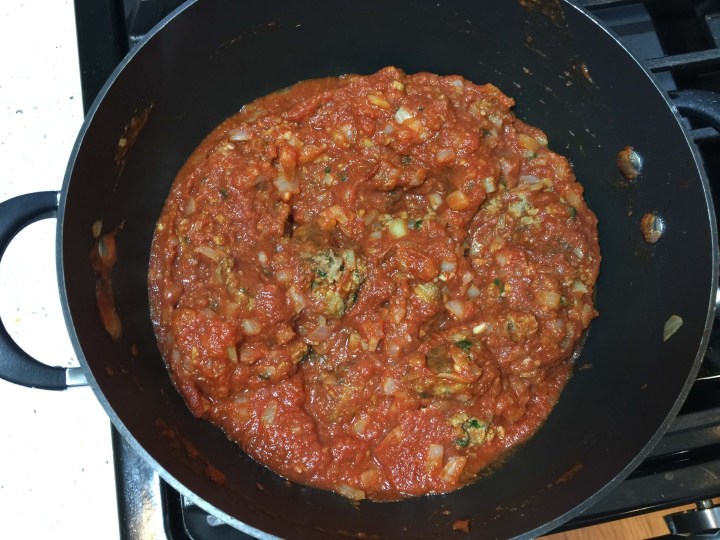 The sauce is then built right on top of the meatballs.  My pan wasn't big enough, so I had to transfer to a larger pot to add the addition ingredients and simmer.  The sauce was very thick, and I was afraid that the meatballs would break apart with the force needed to stir it, but they held together quite well.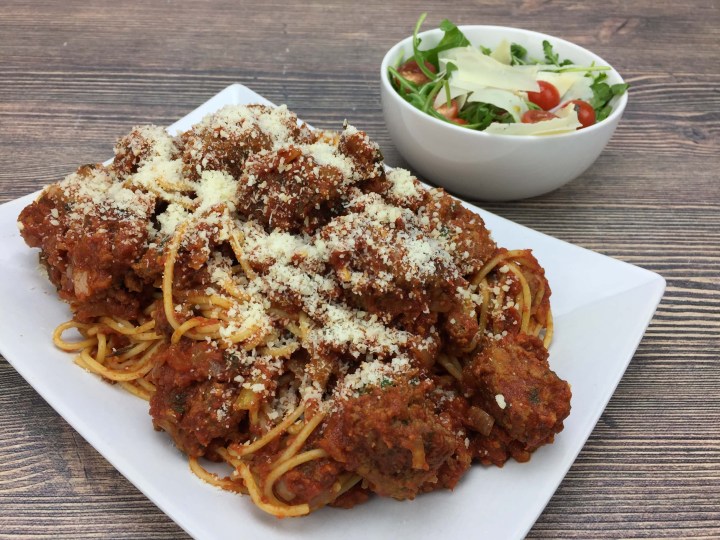 This dish is intended to serve four people, and I have no doubt it could do so easily.  The above plating shows only half the pasta, plenty for two people.  After stuffing ourselves, we still had about 2/3 of the total recipe for leftovers, meaning the recipe made closer to 6 servings for us!  The side salad shown used a little less than half the greens provided.
We were really happy with our first Chef'd!  The food was very delicious, and the sauce had a great balance and flavor, with a sufficient number of meatballs for the amount of pasta.  It was certainly plentiful, too, giving us a whole box of pasta for the meal.
The ingredients provided for the salad were top notch and tasted great, but the balance of the dressing was a bit off.  It used the juice of two lemons and called for 1/4 cup of olive oil from home.  The lemon was a bit too much, and half of one would probably have sufficed.  
The instructions were very clear and thorough, though there were a couple quirks.  The pasta recipe made tons of food, so it would be a challenge to do it in a single pan unless you had an enormous one (the meatball, sauce, and pasta all end up in it together) — I'd rather they had worked a large pot in for the sauce instead of potentially catching the cook unaware and out of room in their pan.  It was also humorous that they provided guidance, more than once, on the importance of stirring the pasta so it wouldn't stick.  I thought from the heavy emphasis that it surely must be some kind of ultra sticky pasta, but it was a box of Barilla!  Still, it was nice to see that they were watching out for novices, even if being a little too paternalistic (and they didn't go so far as to warn me that my knife might be sharp).
This was a great, classic dish.  It was very approachable, with great flavor and wide appeal.  We loved the quality of everything that sent with the kit — organic tomato sauce, really fresh veggies, and high quality beef (and even real eggs)!  It was a great surprise to see that they didn't skimp on the ingredients, sending us a huge tub of shaved Parmesan — more than we could hope to use in the dish!  At $10.75 a huge serving, it is a great deal amongst meal kits (and even rivals grocery store prices once you tally the cost of the meat, cheese, fresh arugula, etc.) if you can score this reduced price for 4!