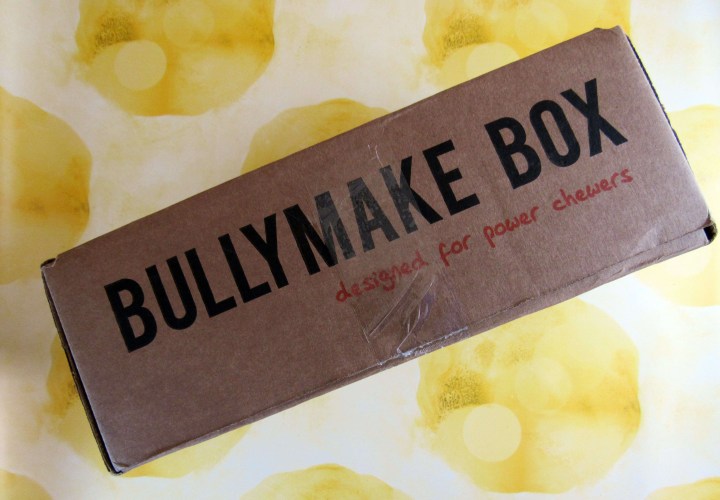 BullyMake Box is the monthly box for power chewers! No plush toys in this subscription! Each box comes with 5-6 toys and treats for your dog. Have more than one dog? Add an extra toy for an additional $9.00 a month. Be sure to fill out the additional information section when checking out. There are four options for allergies including a toy only box. Also, select the weight of your dog which starts at 10 pounds and continues with 10-pound increments to 200 pounds.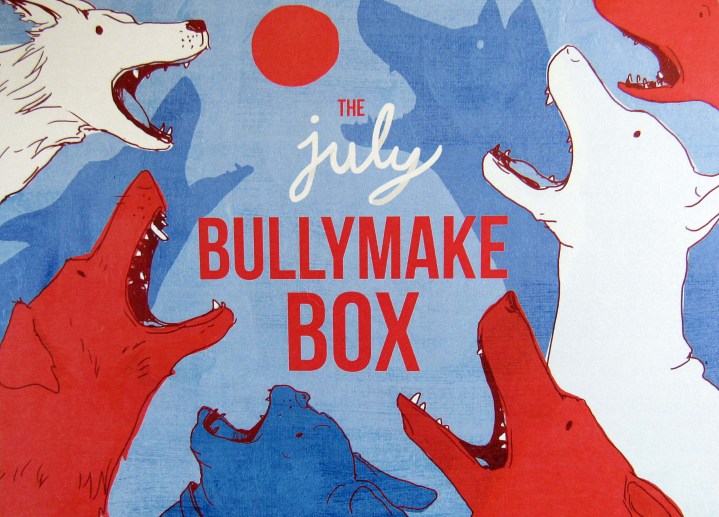 The July featured products are Mojo by Petsport and the Indestructible Ball by Softflex.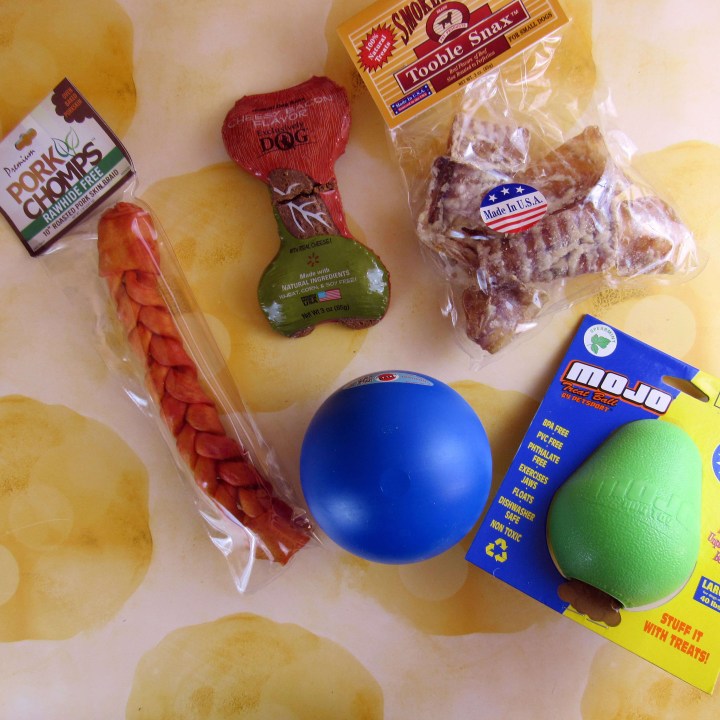 Here are the items in the July Bullymake Box. The box items were selected with Odie, our Borador, in mind. He is half Border Collie and half Labrador Retriever. He also destroys all dog toys including the expensive durable dog toys that I buy for him. Odie's weight is in the 50-60 pound range. Bella, our Mini Rat Terrier, will also join in on the fun when appropriate.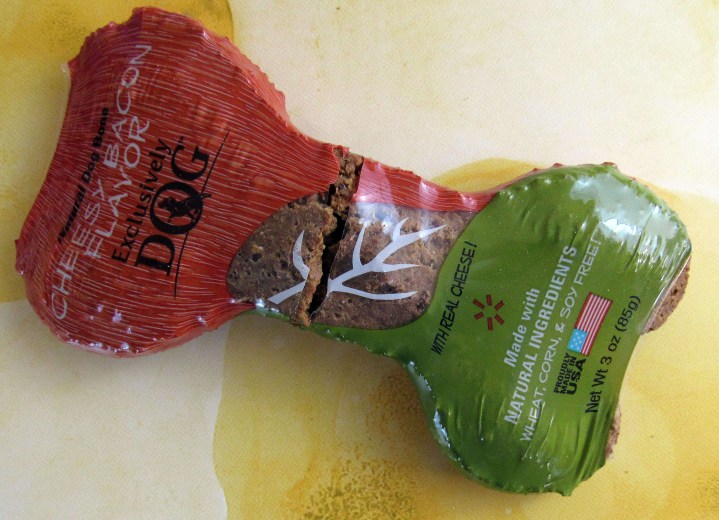 Bella and Odie enjoyed the Exclusively Dog Cheesy Bacon Bone (3 oz, $3.86). The bone is made in the USA with ingredients sourced in the USA and contains no added sugar. The bone is easy to break into smaller pieces.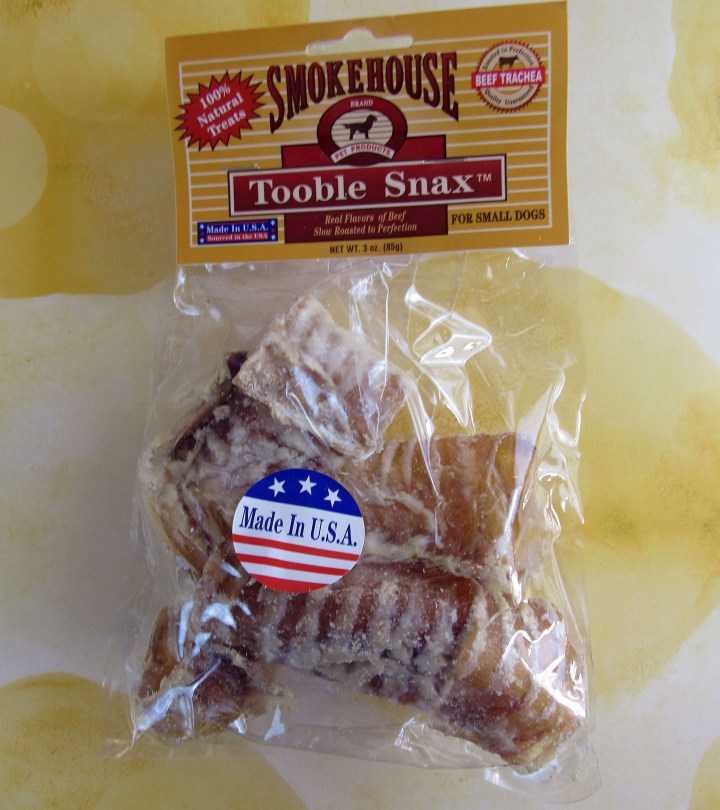 The Smokehouse Tooble Snax (3 oz, $2.29) are beef trachea made and sourced in the USA. Odie loved them even though it is labeled for small dogs. Bella passed on them.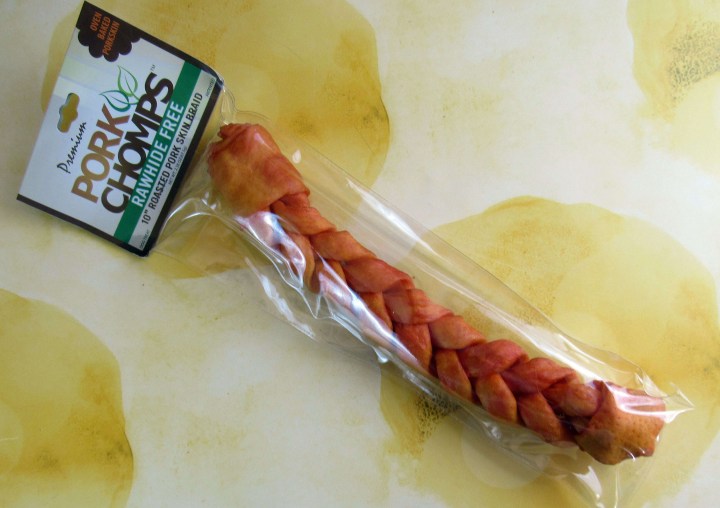 The doggies went crazy over the Premium Pork Chomps 10″ Roasted Pork Skin Braid (10″,  $1.99). Bella and Odie are obsessed with the rawhide free pork braid. One will bury it, the other will dig it up, and the cycle continues. I will take it away once they show interest in eating it because it is made in China. Here's additional information from Scott Pet that explains why they are made in China.
We looked at China we found answers that made sense for our product. China processes their pork skin in a unqiue way that specifically fits the Pork Chomps patented process. China continues to make high standards of quality a priority. Pork Chomps have been in the market since 2006. To ensure the highest quality standards Pork Chomps are manufactured in a state-of the-art facility built in 2013 that has been certified by the Global Food Safety Initiative (GFSI). GFSI is an international organization formed in 2000 to establish consistent regulations for human food production. Scott Pet is proud of the dedication, hard work and commitment to quality that was required to earn the certification from GFSI. The Scott Pet Pork Chomps facility is one of the few pet manufacturing facilities in the world to receive GFSI certification. The ultimate goal was to give our retailers and consumers the highest level of confidence and quality assurance in Pork Chomps products.
I'm still going to take the treat away once they show interest in eating it. However, I wanted to provide Scott Pet's explanation on why the treat is made in China.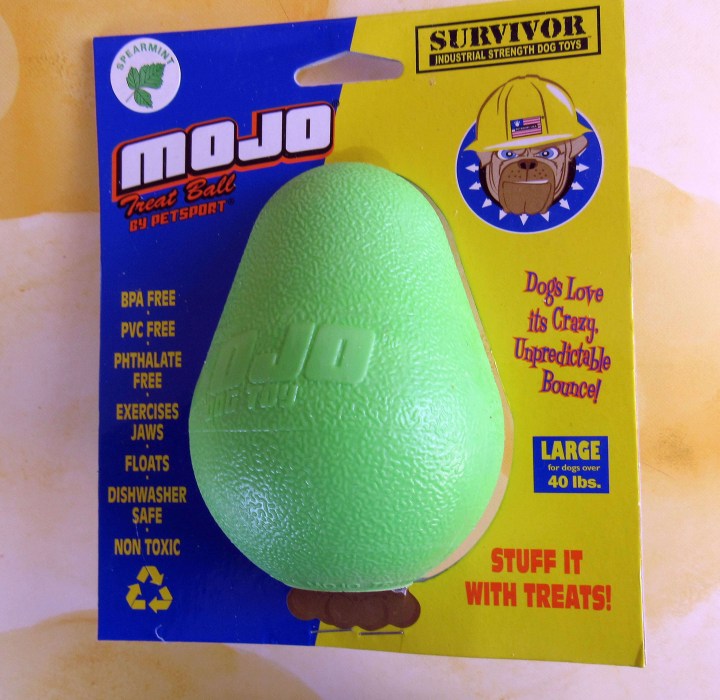 Odie showed interest in the Mojo by Petsport – Large ($9.99) when I filled it with peanut butter. He had no interest in it when I placed treats inside it. He gave me a puzzled look when I showed him that it bounces.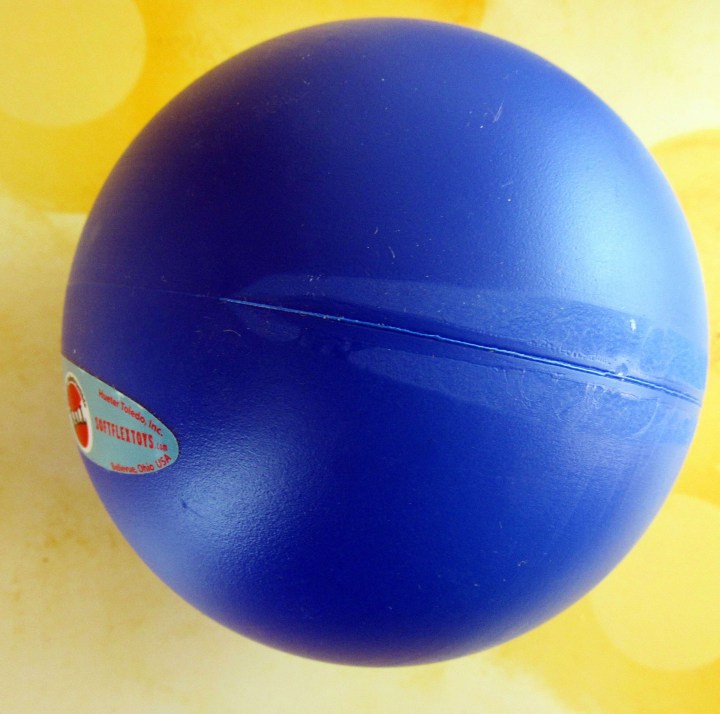 The Indestructible Ball by Softflex ($16.00) reminded me of a child's toy. It felt like hard plastic which Odie found to be unappealing.
Time for doggie pictures!
Mom, I feel like I should do something with the pork braid. My doggy instincts are kicking in, but I am confused.
I'll snack on a couple of tracheas while figuring out what to do with the pork braid.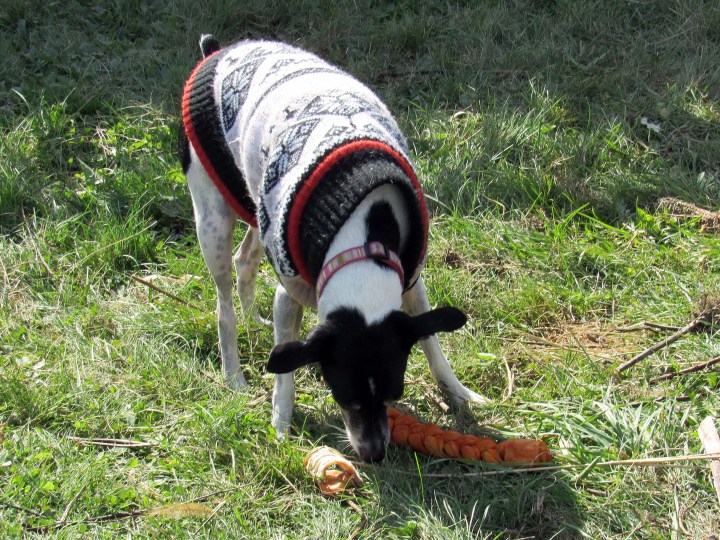 Tracheas or pork braid? Easy choice!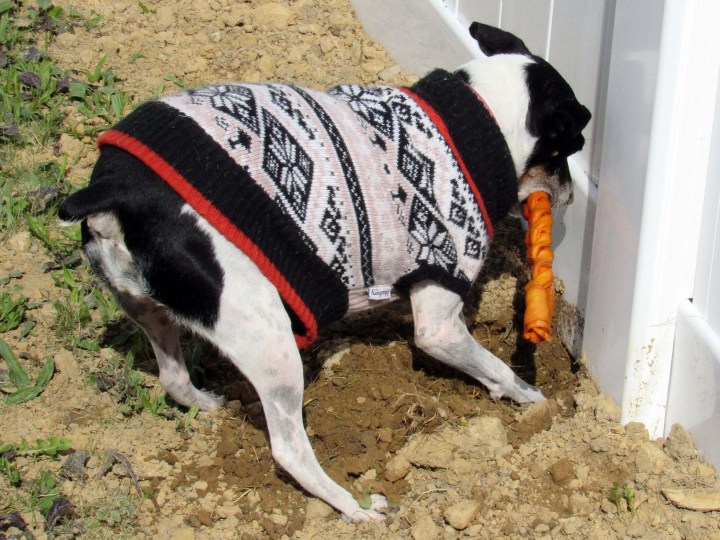 I am going to bury the pork braid while Odie is busy eating those disgusting tracheas. Maybe I will dig a hole and escape too while I am at it.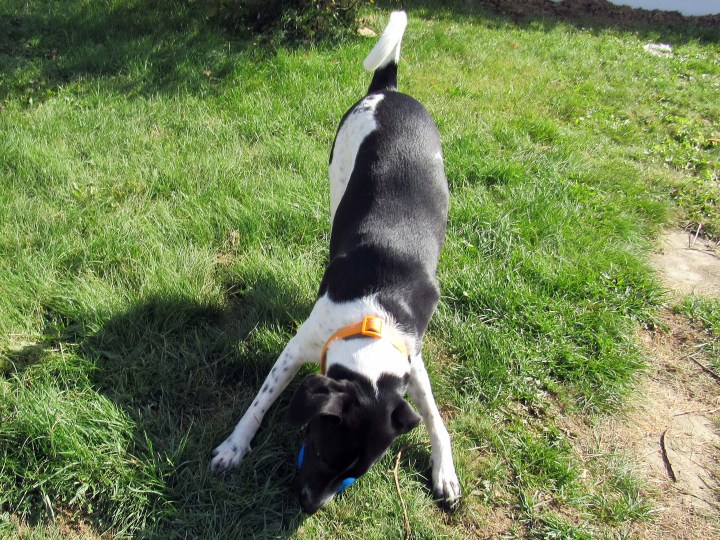 Mom, I am not sure about this ball.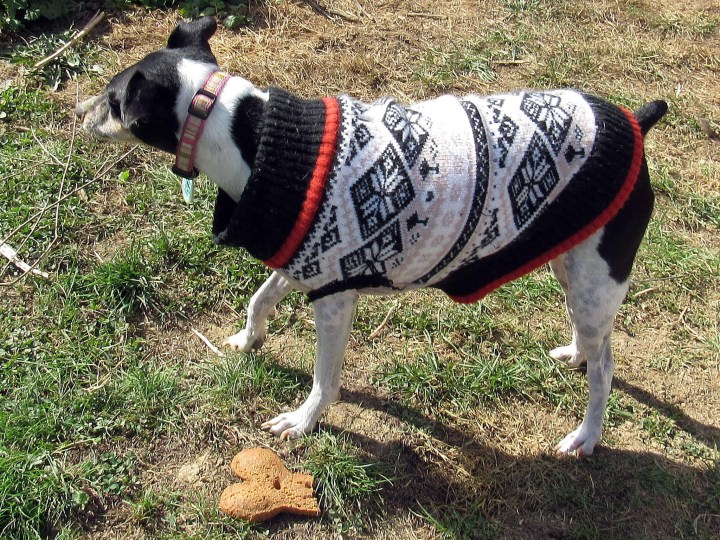 I need to bury my biscuit while Odie is preoccupied with the ball. Where shall I bury it?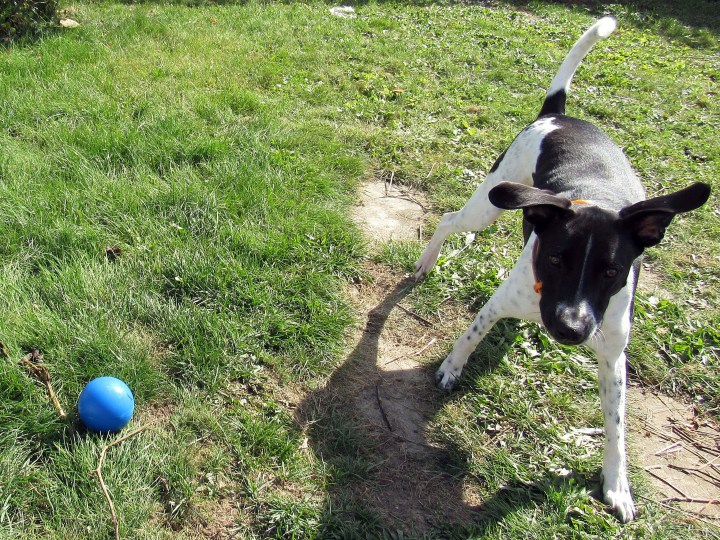 Mom, that did not feel like a ball in my mouth. What was that?
I must bury the biscuit before Odie notices.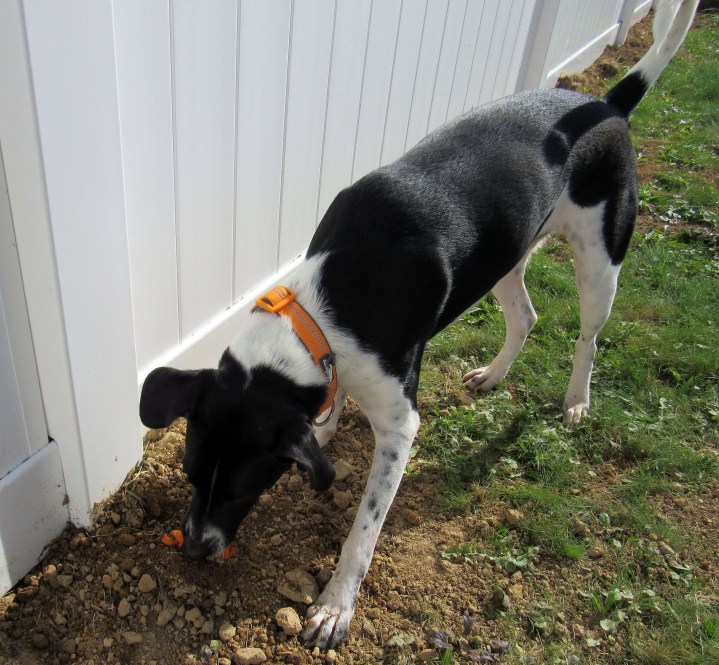 How do I dig out a pork braid? I am going to use all my strength to pull it out.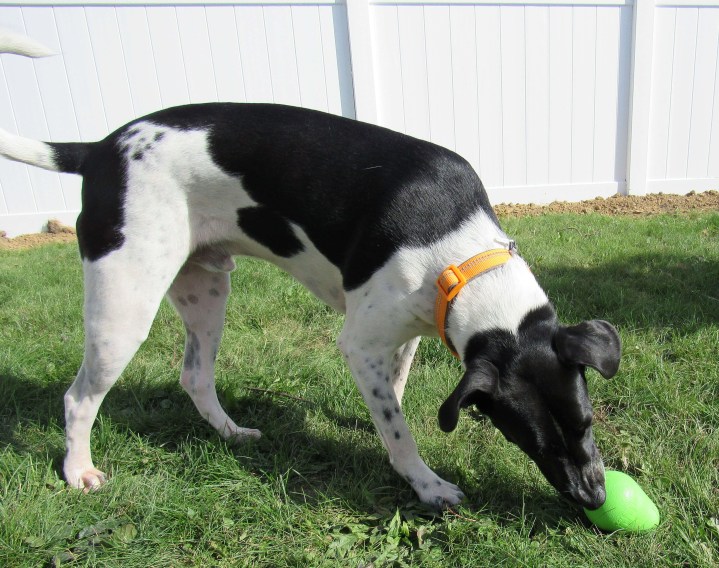 I.need. peanut.butter. I will make my mom work hard for a decent picture if she fills it with dog treats. It must be peanut butter.
I know I am supposed to do something with the pork rind. What is it? Where's my dog manual?
Do I bury it? How? Where's Bella? Help!
I should add that Odie was raised by an older couple that also crated him for the first year of his life. They raised a very sweet, loving, well-behaved dog who does not know how to dig. It looks like Bella needs to teach him how to bury bones. He has no clue.
The pork braid was the big hit in the July BullyMake Box. Bella keeps burying it while Odie keeps pulling, not digging, it out of the ground. I think Odie would be lost if Bella buried it deep enough. Odie keeps running around the yard with the pork braid with a confused look on his face. Bella did eat her share of the cookie after digging it back up.
I have mixed feelings about the box. Odie did not care much for the toys. The pork braid is made in China while the other treats are sourced and made in the USA. Overall, Odie and Bella enjoy their Bully Make boxes.  Bullymake selects durable toys and yummy treats that make the dogs happy.  It's a fantastic box that accommodates allergies and is weight specific for heavy chewers.
What do you think about BullyMake? Get $10.00 off on our 3, 6, or 12-month Bullymake Box Plan! Use coupon code  FB2016.
Visit Bully Make to subscribe or find out more!
The Subscription
:
Bully Make
The Description
: Bully Make is the only subscription company that focuses on heavy chewers! We deliver toys and treats based on your dog's weight. You get hand selected perfection in every Bullymake Box.
The Price
: $39.00 per month