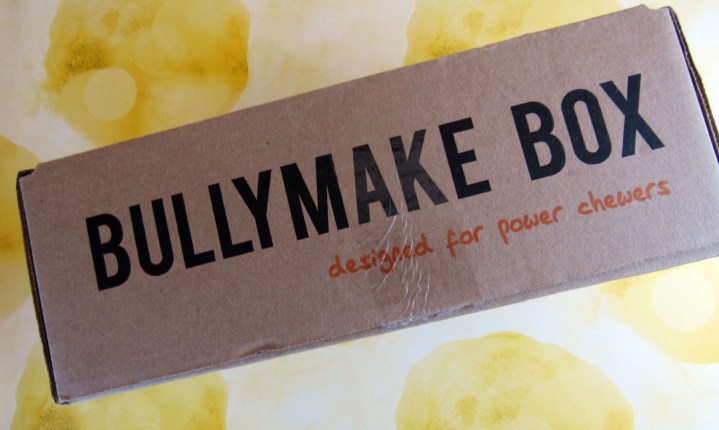 BullyMake Box is the monthly box for power chewers! No plush toys in this subscription! Each box comes with 5-6 toys and teats for your dog. Have more than one dog? Add an extra toy for an additional $9.00 a month. Be sure to fill out the additional information section when checking out. There are four options for allergies including a toy only box. Also, select the weight of your dog which starts at 10 pounds and continues with 10-pound increments to 200 pounds.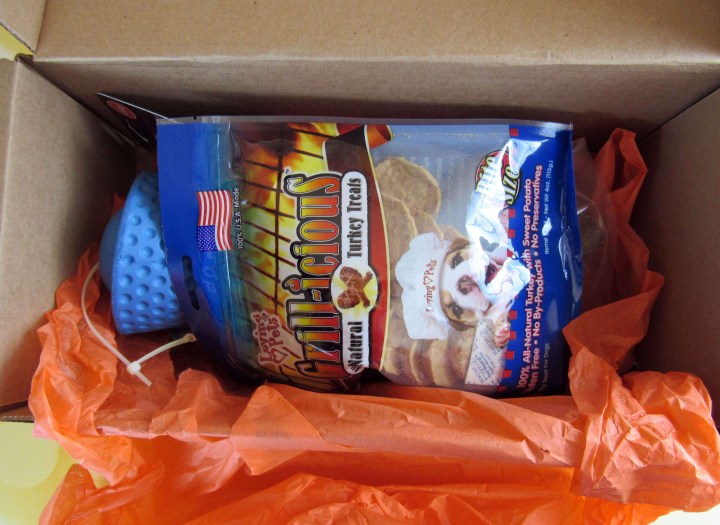 The doggies are excited that I am opening the box. The box is mainly for Odie, a Borador – although Bella, a mini rat terrier, can be quite fierce.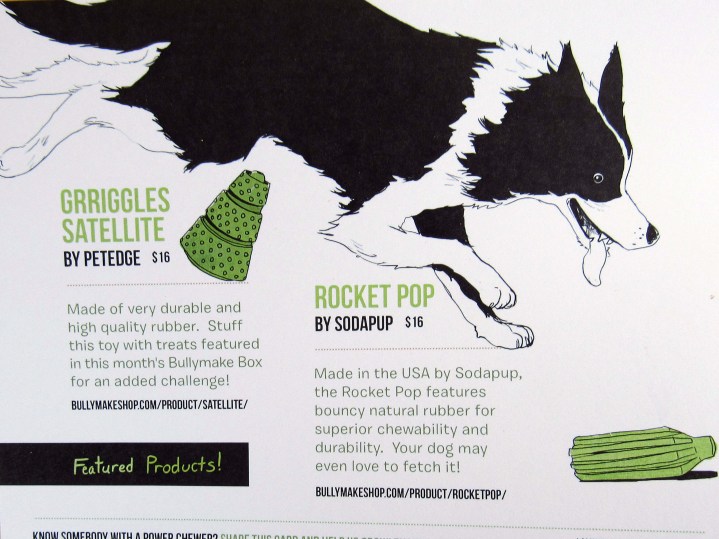 The Grriggles Satellite by Petedge and the Rocket Pop by Sodapup are the September Featured Products!
The doggies are going to find the September Bullymake box quite tasty! The box items were selected with Odie, our Borador, in mind. He is half Border Collie and half Labrador Retriever. He also destroys all dog toys including the expensive durable dog toys that I buy for him. Odie's weight is in the 50-60 pound range. Bella, our Mini Rat Terrier, will also join in on the fun when appropriate.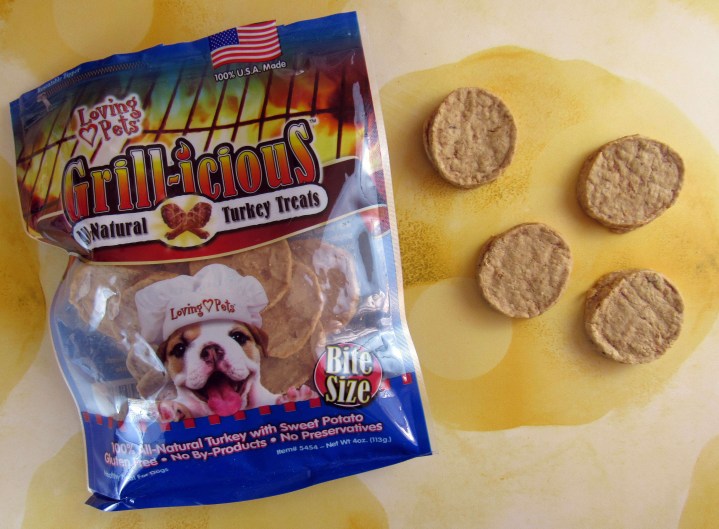 Odie is looking at me and giving me the big brown eyes as I look over the  Loving Pets Grill-icious Turkey Treats (4 oz, appx $3.25). The only ingredients in the treats are turkeys and sweet potatoes which are sourced in the USA.  Bella and Odie loved the treats.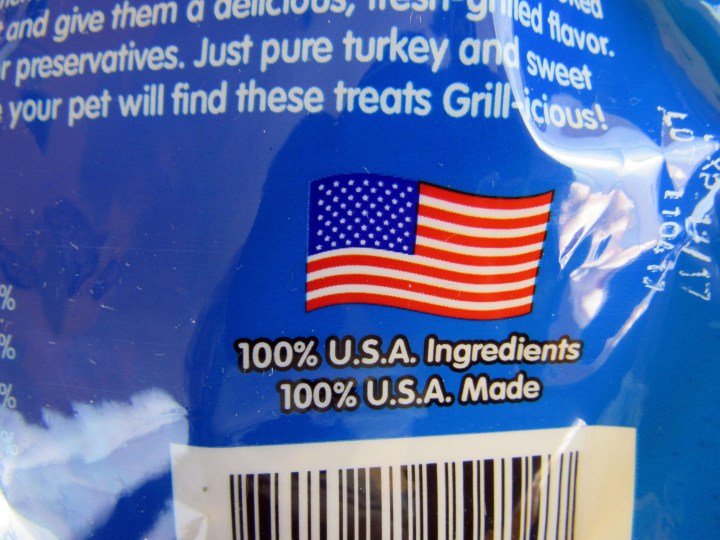 I appreciate it when pet treat makers list where the ingredients are sourced and where the treats are manufactured.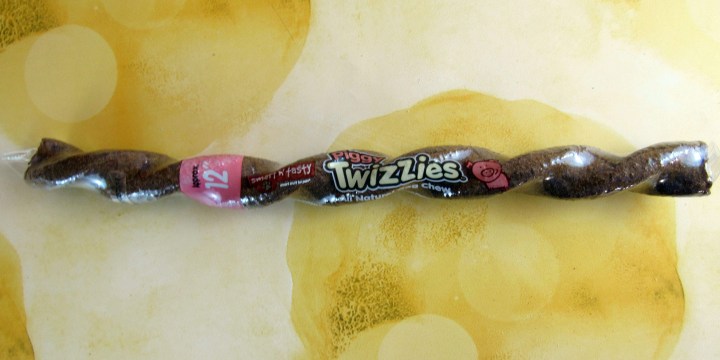 The Piggy Twizzies (12″, appx $2.35) is a single source protein stick. Odie was a happy boy as he chewed on his pork stick. The treat is made in the USA with USA ingredients.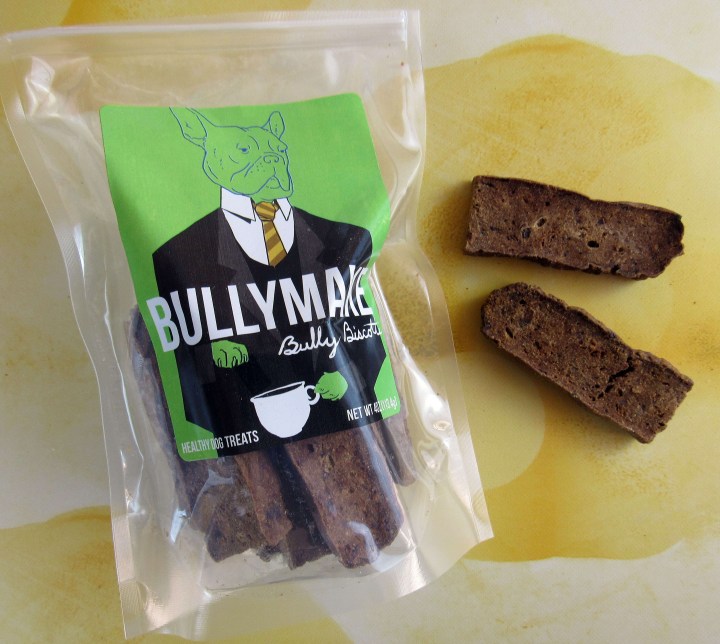 Bella and Odie thought it was time for high tea when they ate their Bullymake Bully Biscotti (4 oz, $9.00).  The Made in the USA treats are hard but not as hard as a traditional human Biscotti.
The Rocket Pop by Sodapup ($16.00) is a rubber toy that is made in the USA and is dishwasher-safe. It's a fun toy for fetching and chewing.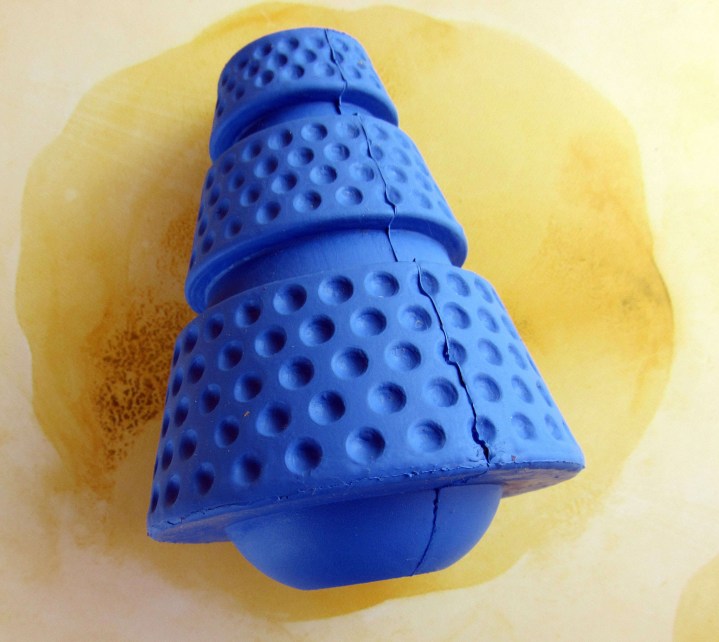 The Grriggles Satellite by Petedge ($11.69) is a durable rubber toy that can be filled with treats. The shape provides an awkward bounce to the toy that amused Odie.
What do our power chewers think of the September Bullymake Box?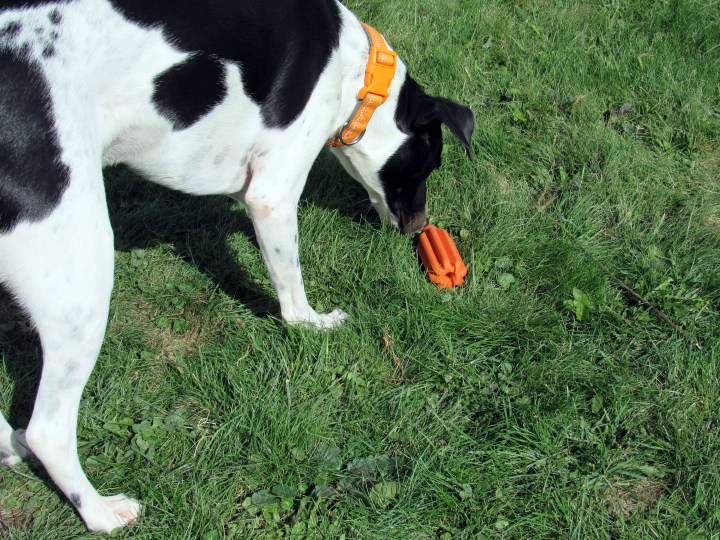 I've noticed that Odie does not like most rubber toys. He chased after the Rocket Pup and then declined to retrieve it.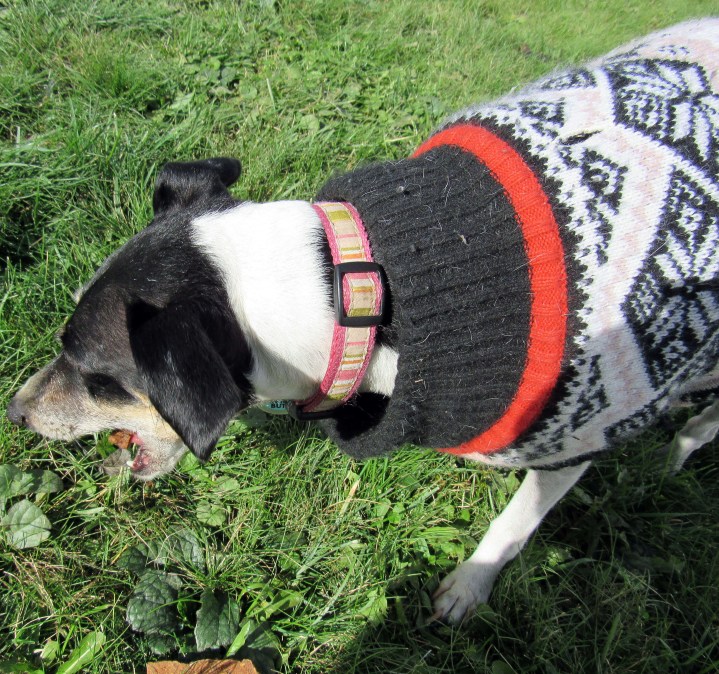 Bella loves her biscotti treats!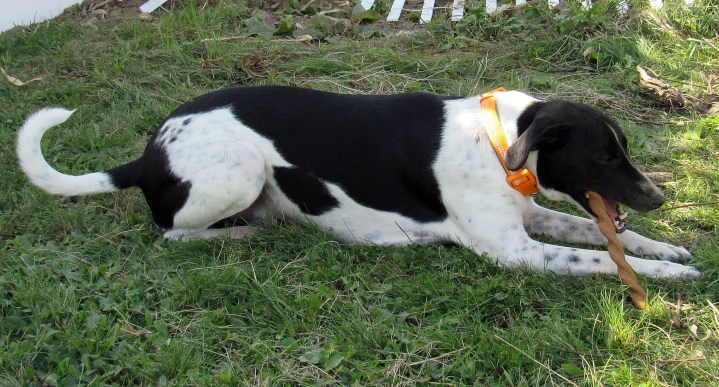 I could not understand why Odie did not use his paws to hold his treat in place.
He finally figured it out. Odie thought the Piggy Twizzies was woofilicious!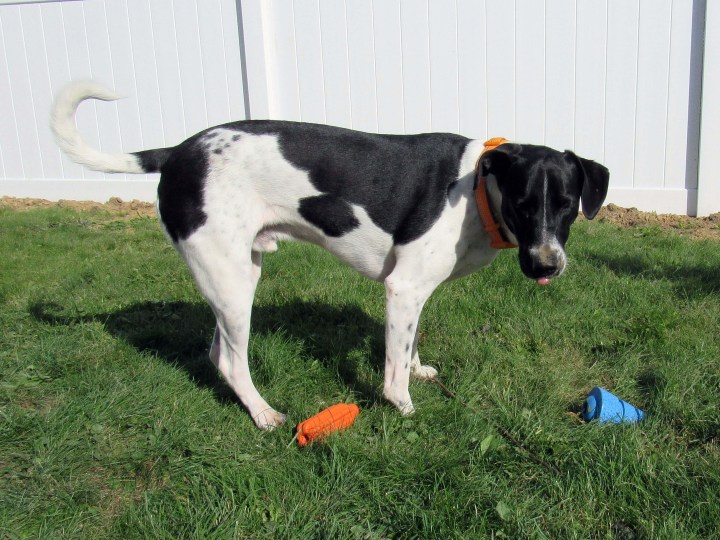 Odie is unsure about the toys. He is hoping for a sturdy tug-of-war toy in his next box.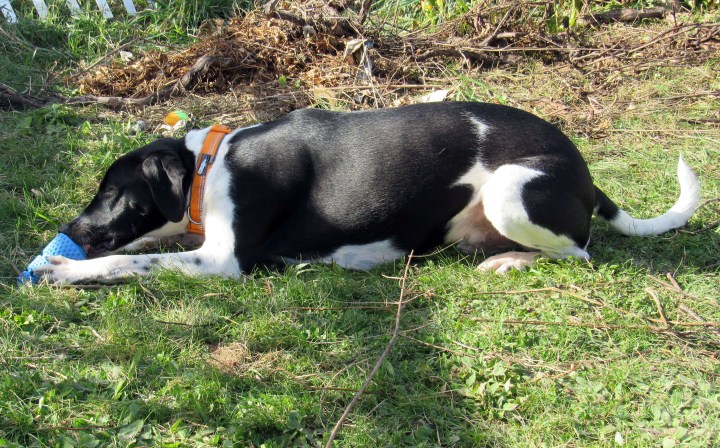 He sure loves his peanut butter.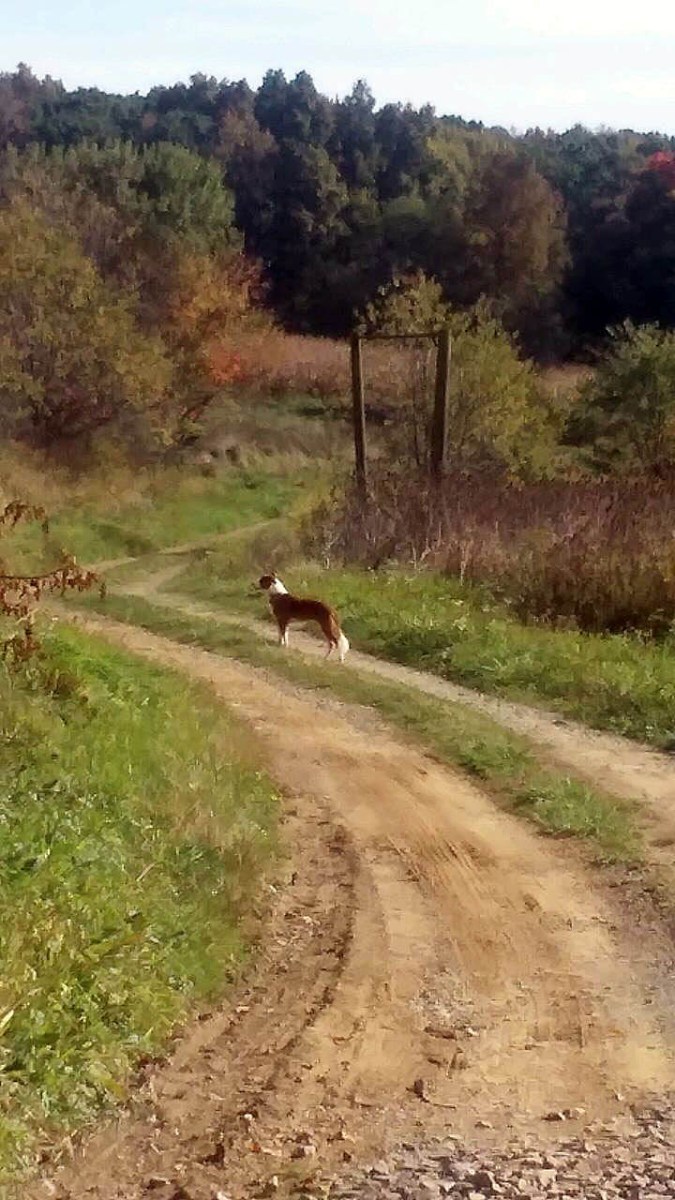 My sister took this picture. Daisy says hi from the farm. This is a township road that goes through our farm. There are pastures and fields on both sides of the road.
Odie and Bella loved their treats in the September Bully Make Box. The toys are great for power chewers, but Odie is ready for a tug-of-war toy. Bully Make an excellent box that accommodates allergies and is weight specific for heavy chewers.
What do you think about Bully Make? Get $10.00 off on our 3, 6, or 12-month Bullymake Box Plan! Use coupon code FB2016.

Visit Bully Make to subscribe or find out more!
The Subscription
:
Bully Make
The Description
: Bully Make is the only subscription company that focuses on heavy chewers! We deliver toys and treats based on your dog's weight. You get hand selected perfection in every Bullymake Box.
The Price
: $39.00 per month