Bramble Box is a monthly subscription for 3 to 8-year-old children that helps foster pretend play. Each month, you can choose your own theme! Just remember to select your box by the fifth of each month. If you would prefer to receive the newest monthly theme, simply select "surprise me," and you're all set! Your box will arrive mid-month via priority mail.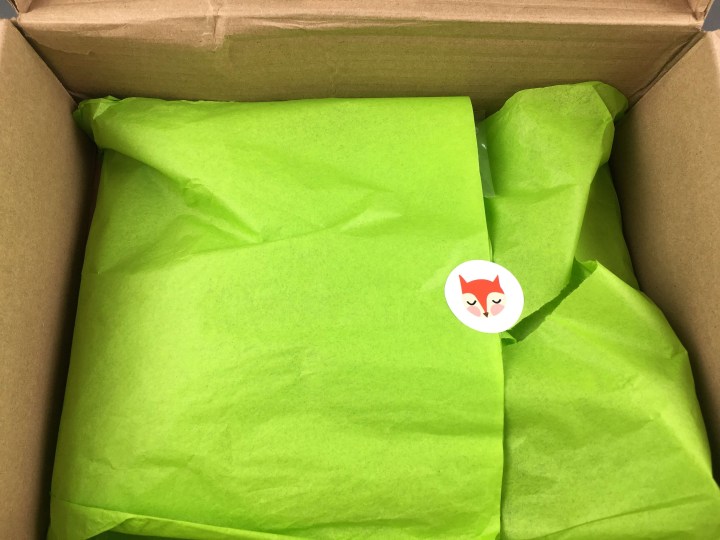 Your first box will contain a special welcome pack that you can use throughout your subscription to supplement the material contained in each Bramble Box. All subsequent months will include a collectible sticker.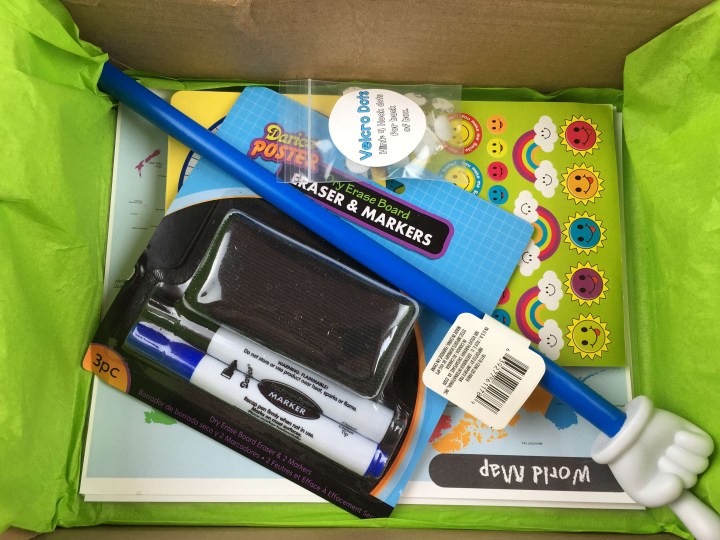 Each package arrives beautifully wrapped in tissue paper inside a decorative box.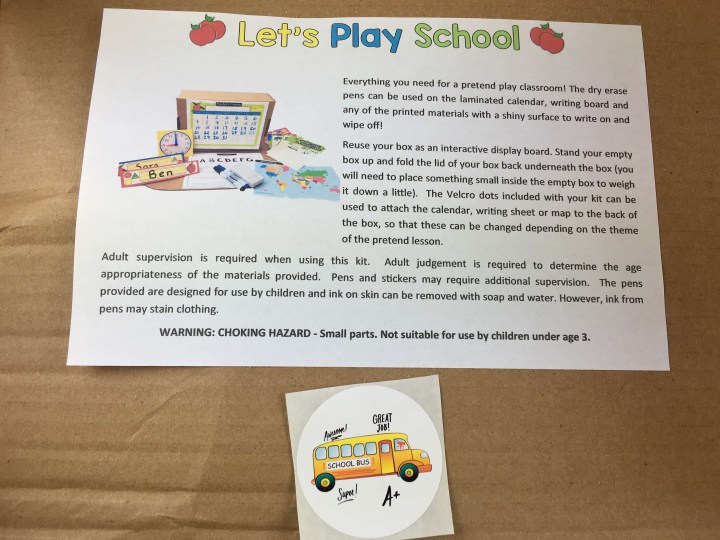 September's theme was Back to School! My son's school started just over a month ago, so I had a feeling this box would be a hit… and it was!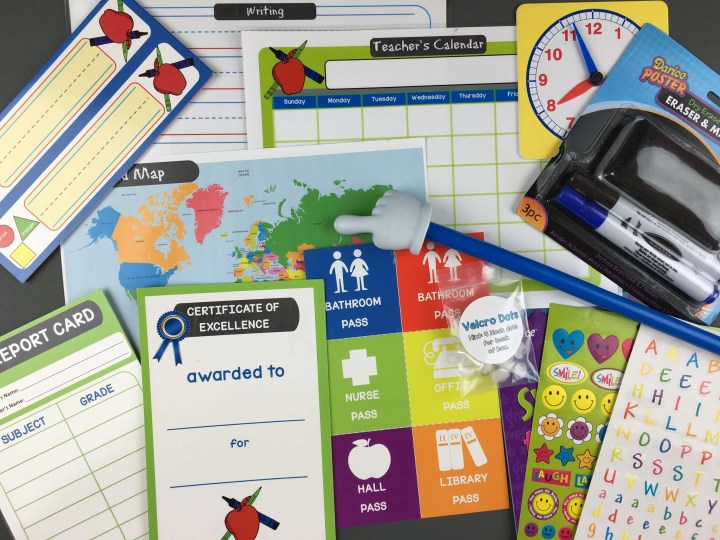 The box arrived with everything a teacher would need to teach school, including lots of stickers!
In preparation for his lesson, my son wrote out a calendar. It's important to discuss days of the week and the date during circle time!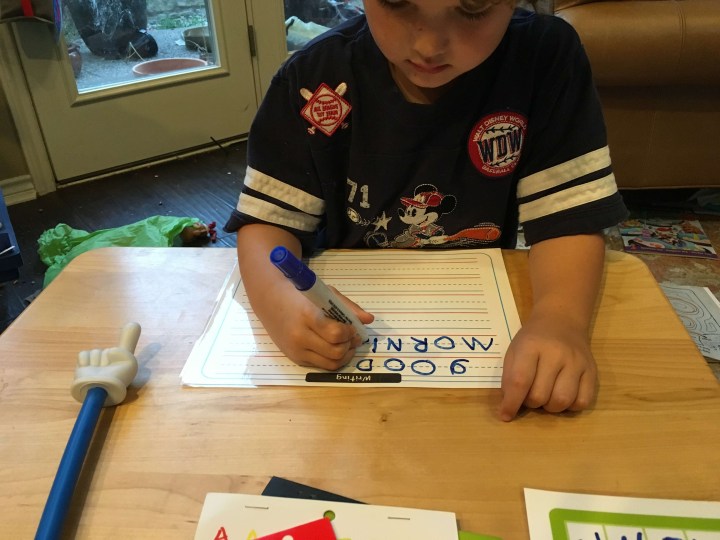 Next, he readied his "chalkboard" with a greeting to his students.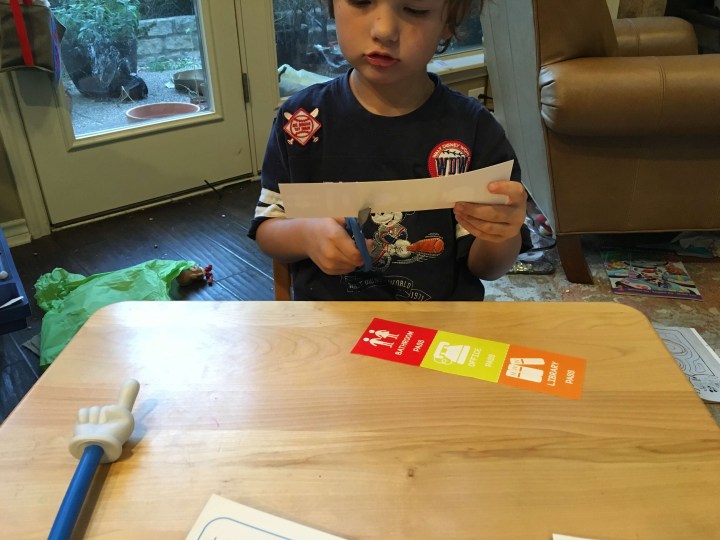 He cut out the bathroom passes, office pass, library pass and nurse's pass. I know that as a student, I'll need to use at least one of those!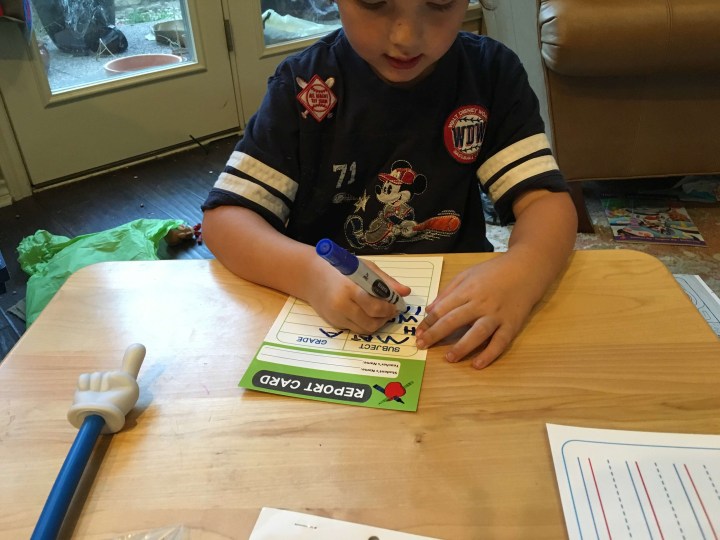 Then he made a report card for me.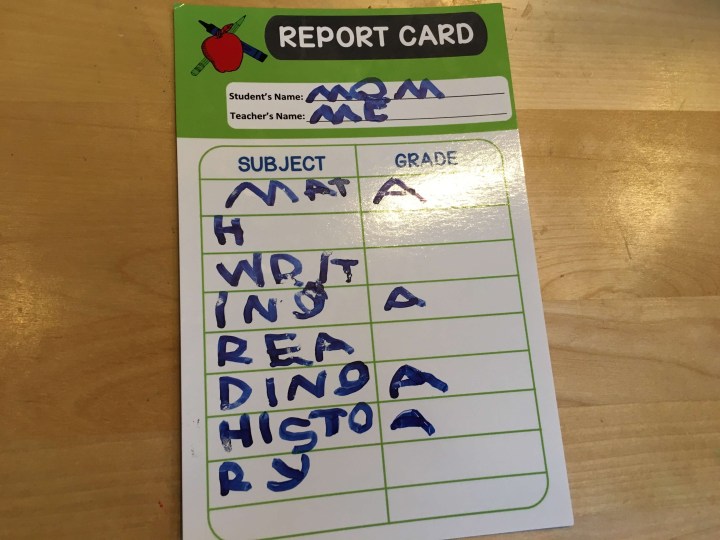 After some deliberation, he decided that I was an excellent student and awarded me all As.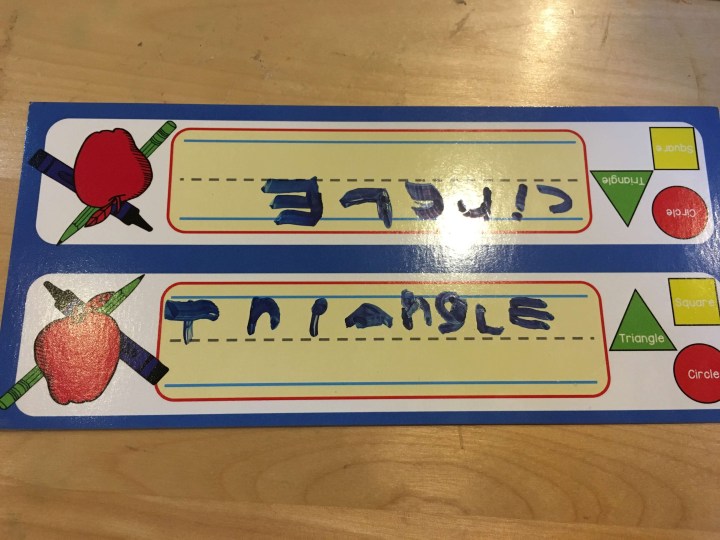 He wasn't sure what these were for, so he used them to write the words of the day: triangle, circle, and square.
After he had prepared his materials, I sat down with him to talk about how to tell time (a pretend clock was included in the shipment). By the time we finished, he was able to tell time as long as the minute hand landed on one of the numbers, i.e. he learned how to read 8:05, 11:35, etc. Once he felt confident with telling time, he got out his teacher's pointer, set the clock and quizzed me on my time telling skills. He thought that was very fun!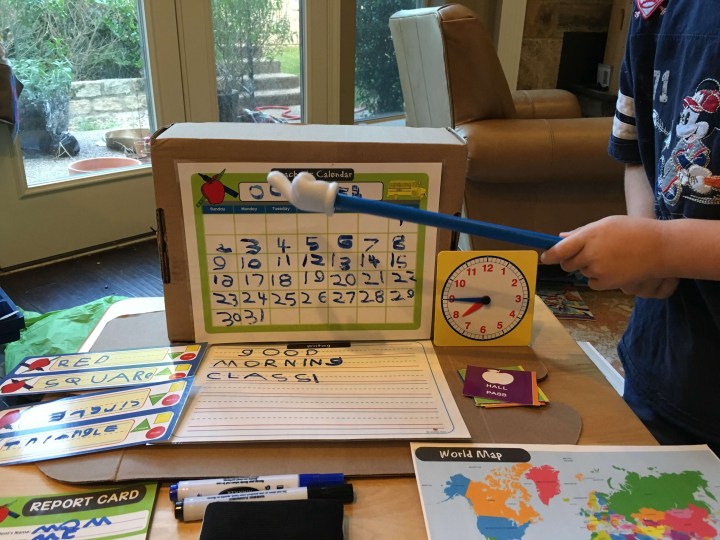 Next, he organized all of his supplies so he'd be ready to teach school. Once he began teaching me, he had so much fun that he begged me to play again.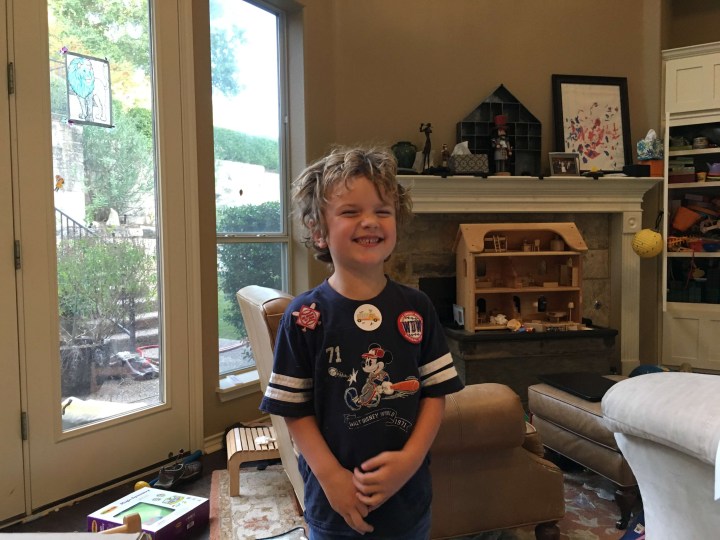 I'm sure we'll have lots of continued fun playing school together throughout the year!
My son and I look forward to all the fun we have exploring Bramble Box each month! Each box contains 1-2 hours worth of activities that can be enjoyed again and again. My son loved playing teacher this month and can't wait to teach the class again.
DEAL: Save 30% off any subscription with coupon code Hellosub30.
Have you tried Bramble Box yet? What did you think?
Visit Bramble Box to subscribe or find out more!
The Subscription
:
Bramble Box
The Description
: Imaginative play kits for kids age 3 – 7. A new themed box such as – post office, detective or community helper – each month. Each box is designed by parents, tested by kids to support a variety of role playing opportunities, through use of versatile, open-ended materials that provide hours of fun, educational and imaginative play. One of our kids' faves!
The Price
: $27.95 per month