Boxwalla is a bi-monthly subscription box. It's a bit unusual that you can select from one of four themes – natural beauty, artisanal food, international film, or books! In Boxwalla you'll be able to discover great artisans and artists from across the globe.  The Boxwalla Beauty Box contains non-toxic and cruelty-free products that focus on an aspect of the beauty ritual.  The packaging for this box is absolutely gorgeous. It has a raised paper texture. Brandy explained it best as being like a luxe cotton rag paper covered box handcrafted by artisans in Rajasthan, India (none of whom are children).
The items in the October Boxwalla Beauty Box look elegant.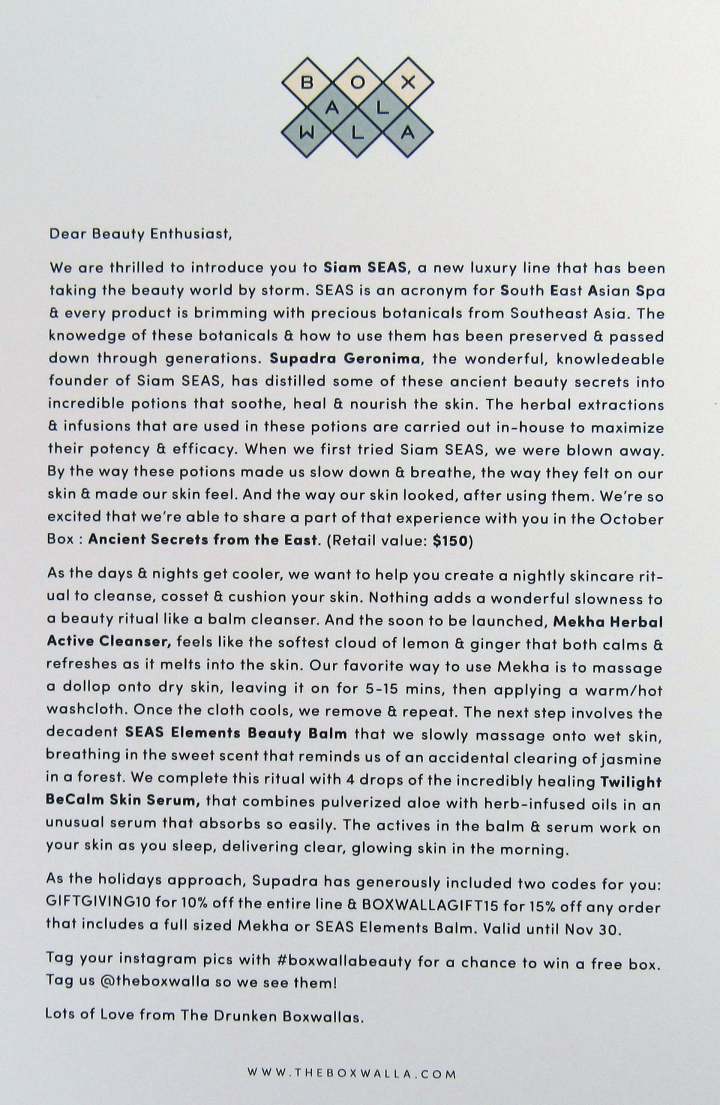 The information card is a letter from "The Drunken Boxwallas" (the content didn't indicate why they are drunk!) detailing each of the products. Time to try out a new nighttime skincare ritual. I can't wait!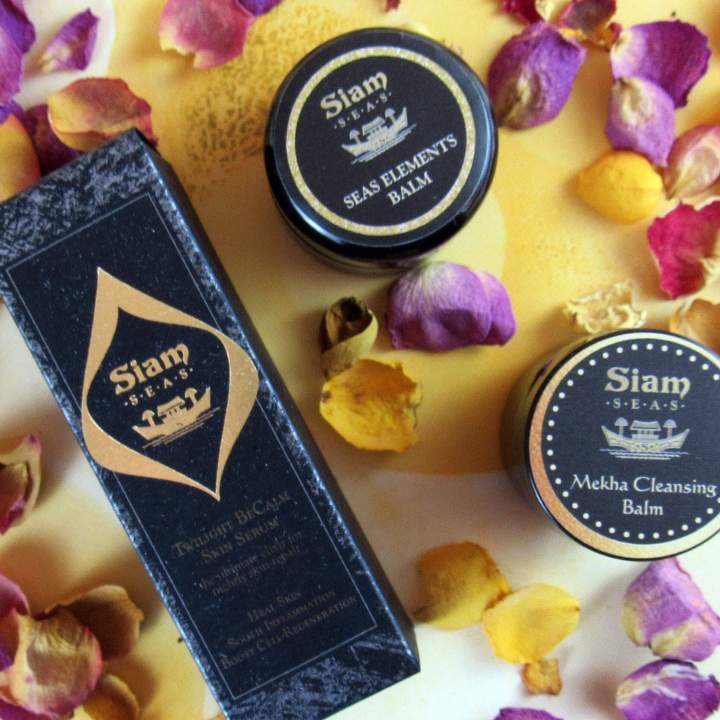 Here are the items in the October Boxwalla Beauty Box! I can't wait to learn more about Siam Seas.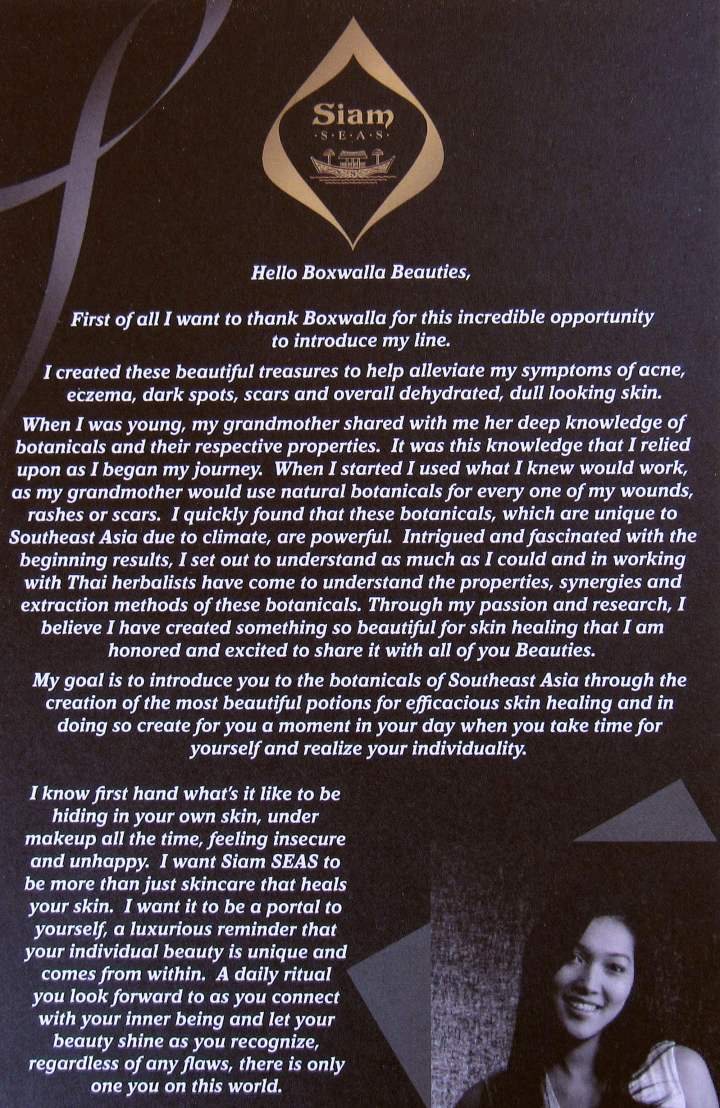 Siam Seas was founded by Supadra Gerinomoto using knowledge from her grandmother and her passion to create formulas that alleviated her skin condition. The powerful botanicals of Southeast Asia are the centerpiece in her products. Every product is made by hand and freshly made. Siam Seas products are free of toxins, allergens, phthalates, parabens, sulfates, PEGs, TEA and DEA.
It's time to take a journey with our senses as we relax during this nighttime ritual. I used a cleansing oil first before applying the Siam Seas Sea Elements Balm. Neither the Boxwalla information card or the Siam Seas information card suggests it so don't worry if you do not have one.
I then applied the Mekha Cleansing Balm ($30.00). Boxwalla subscribers are the first to try the cleanser! I modified the routine by using suggestions from both information cards. I laid a warm towel across my cheeks and nose for ten minutes to loosen impurities and sebum. Then I gently spread the balm across my face. It was a wondrous delight because I could smell lemongrass as I massaged my face! I laid a warm towel across my face after the balm had been on for ten minutes until the towel cools down. Then I removed the excess with a warm towel.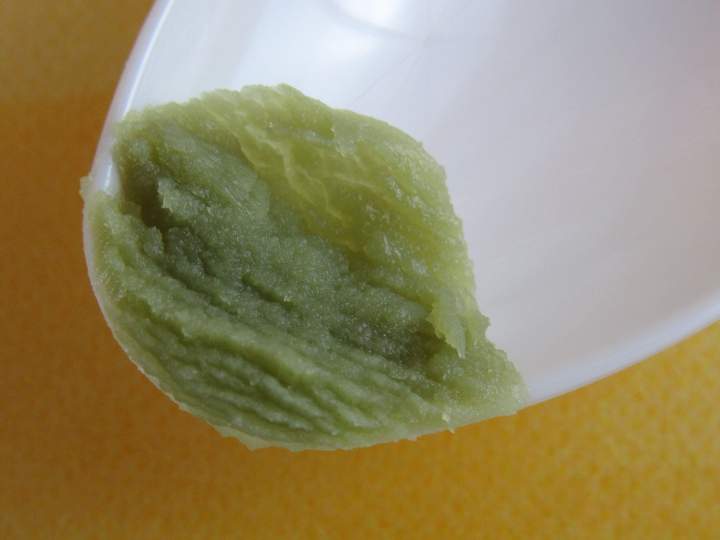 The cleanser is surprisingly smooth and creamy. It isn't until I spread the cleanser gently on my face that I can feel the tiny herbal grains. Keep the cleanser on for up to sixty minutes if you want to use it as a mask.
Mango Butter*, Raw Honey** infused Royal Jelly, Bee Pollen, Propolis, Grapeseed Oil*. Avocado Oil*, Olive Oil*, Sunflower Oil*, Capuacu Butter*, Pulverized Aloe gel*, Castor Oil*,  White Willow Bark*, Thanaka Bark***, Coccinia Grandis Herb***, White Mulberry leaf***, Witch Hazel***, Ginger*, Ginseng panax*, Curcuma Zedoaria***, Curcuma Longa*, Mix Tocopherol****(vitamin E), Vetgetable Glycerin****, Schisandra CO2, Hibiscus Roselle Calyx***, Geranium*, Lemongrass*, Frankincense Sacra*, Sweet orange*, Rosemary*, Grapefruit*, Lemon*, fermented Lactobacillus.
* Organically grown/Certified organic

** Unsprayed and from pesticide free farm

*** Wildcrafted

**** Non GMO
I did request more information because it is not yet available on Siam Seas website. I am thrilled to see that they use non gmo vitamin e. It makes me sad when I see a product with amazing ingredients, and it has gmo vitamin e in it. I hope more natural beauty products start using non gmo vitamin e.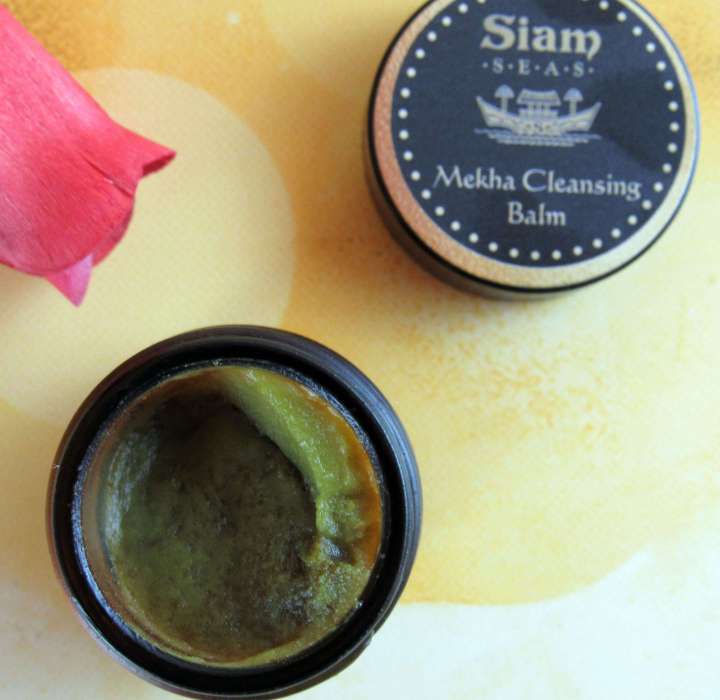 I used my toner next before applying the Siam Seas SEAS Elements Balm ($40.00?). The skin needs to be damp to receive the maximum benefit from the Siam Seas Element Balm so break out the Beauty Mists if needed. The Seas Element Balm is excellent for congested skin and helps heals the skin from acne. It also brightens and evens skin tone while fighting against free radicals. It has an intoxicating jasmine scent that makes it a joy massaging the balm gently into the face.
It felt smooth as I applied it to my skin. A little bit goes a long way! A few ingredients in the balm that I am excited to see are Argan, Jasmine, and Immortelle oils.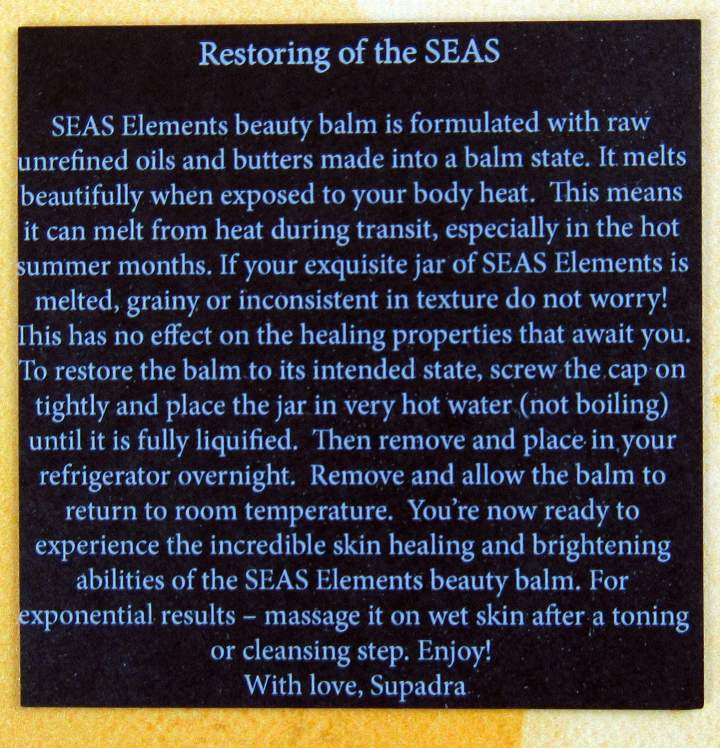 The information is good to know if the consistency of the SEAS Elements Beauty Balm changes.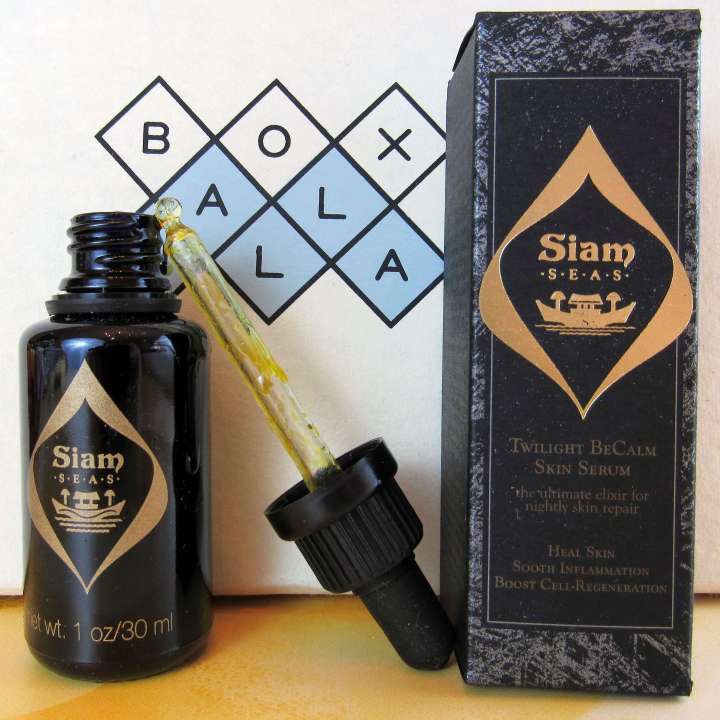 I applied the Twilight BeCalm Skin Serum (1 oz, $80.00) to my skin after applying my moisturizer. It felt incredibly soothing to my skin. It was an instant calm feeling. It has 24 organic, wildcrafted, and non-gmo ingredients including pulverized aloe vera gel and Andrographis paniculata which helps release heat from the skin.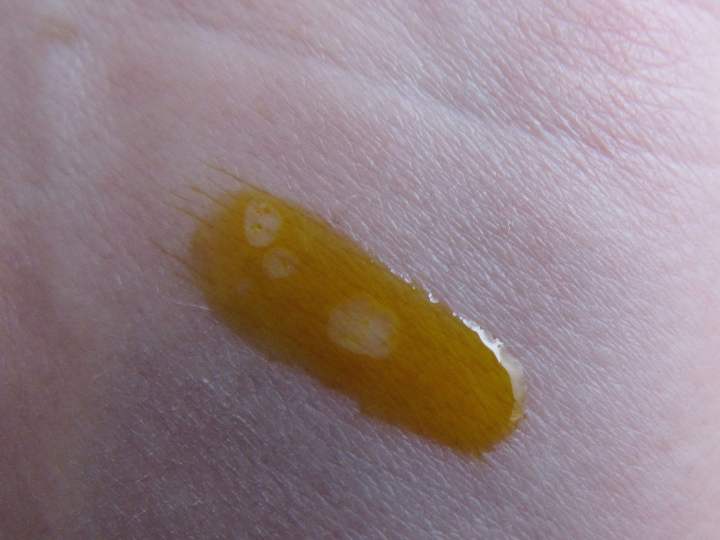 The serum helps fight against inflammation and calms cystic acne. I placed four drops in my hands, rubbed them together, inhale the scent and then applied it to my face. It had a light, sweet, almost fruity scent. I liked that it was packaged in a dark glass bottle which is better for the ingredients and will protect the formula from light degradation.
I indulged in the Siam Seas night skincare ritual for two nights and am impressed with the results. I feel as though I do not see me when I look in the mirror because the rosacea has distorted my face. I am now started to see the person that I was before the rosacea. The puffiness caused by the rosacea inflammation has died down in my cheeks giving my face more definition. I will continue with the nightly ritual to see what happens.
Once again I am impressed with the high-quality luxury brand featured in the October Boxwalla Beauty Box. The fragrances added a sensory experience as I applied the products. The ritual caused me to slow down and treat my face with love. The value is $150.00 which is outstanding! Boxwalla Beauty Box is an excellent choice for those seeking exciting green beauty products that are luxurious and uses the finest ingredients.
What did you think about this month's Boxwalla Beauty box?
Visit Boxwalla Beauty to subscribe or find out more!
The Subscription
:
Boxwalla Beauty
The Description
: Green beauty products often get the bad rap of being boring and ineffective. The Beauty Box aims to challenge that notion by being your partner-in-crime as you discover the most luxurious and effective products to nourish your skin and body. The products chosen have been carefully crafted by artisans from all over the U.S.A. Our artisans use the finest, most potent ingredients that are always cruelty-free.
The Price
: $49.99 every other month