Beyond Her Blush is a fairly new subscription box — they launched last winter. This deceptively small box holds 5-6 beauty treats curated by a celebrity stylist. The box might center around a specific brand, theme, or look!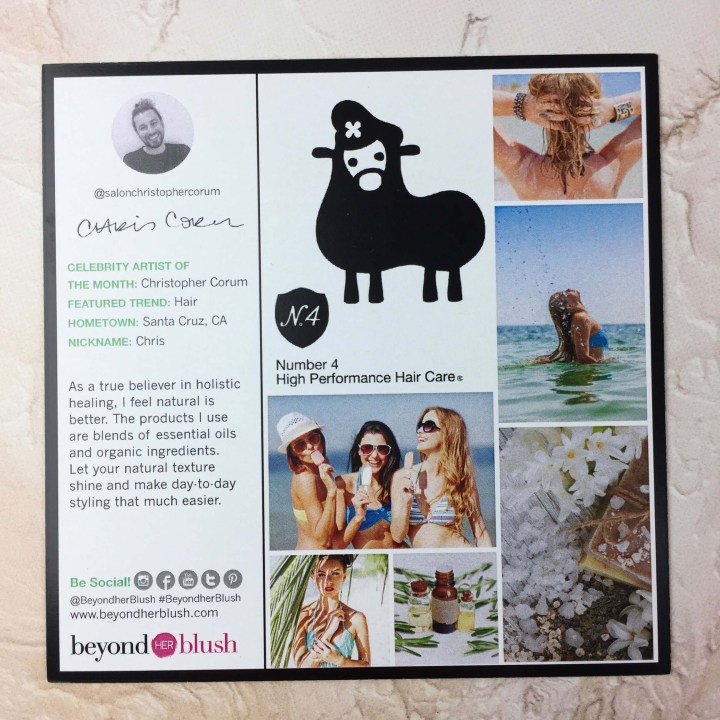 August's box is curated by Christopher Corum, a hairstylist from California.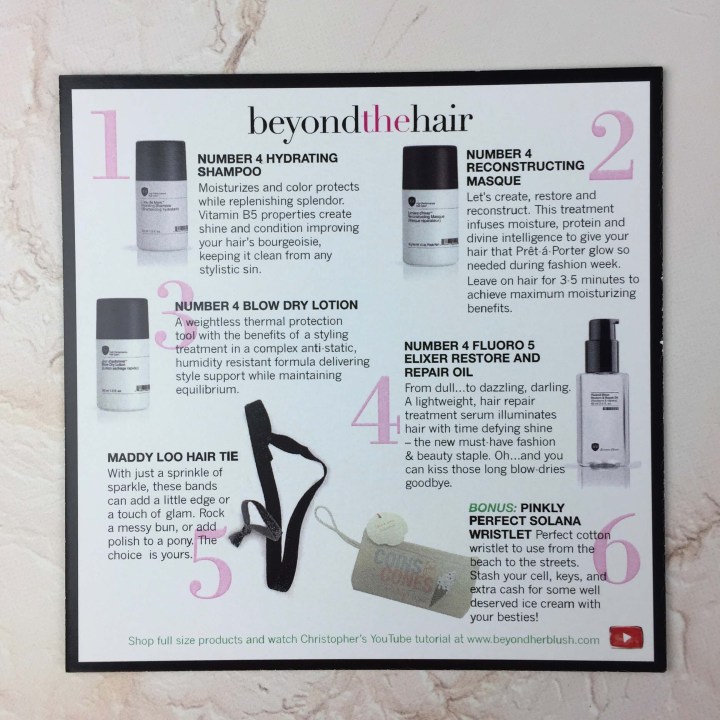 The box features haircare products by No. 4 High Performance Hair Care as well as some accessories.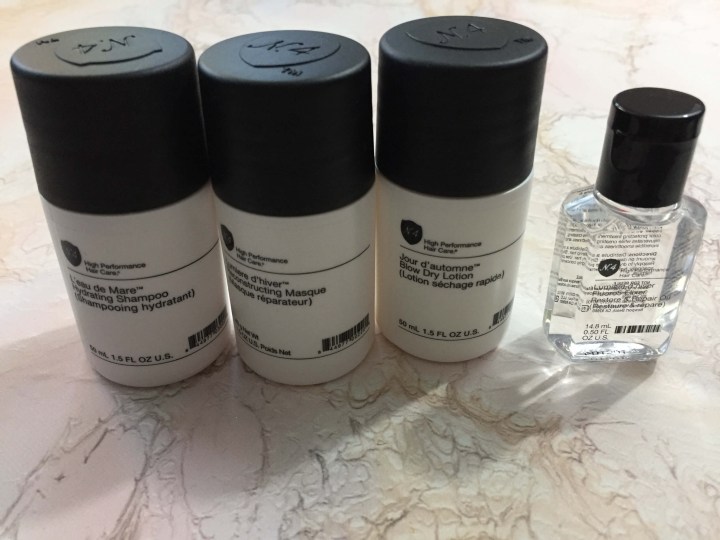 Mini Hydrating Shampoo ($7) This shampoo provides weightless moisture without stripping colour thanks to no sulfates or parabens! The scent is Ylang orchid, jasmine, vetiver and patchouli, which I am not a huge fan of, but it isn't as noticeable when hair is dry.
Reconstructing Masque ($19) I love hair masks; I will often use them in place of a regular conditioner just for a quick burst of moisture. The scent is white freesia, golden amber and warm musk — I liked this scent on my hair a lot more than the shampoo, but it didn't linger.
Blow Dry Lotion ($8.50) I don't dry my hair with heat, so I will pass this onto a friend — but it also is a thermal protector, which is a nice added bonus! The scent is Tonka beans, amber patchouli and Spanish moss and I really like this — all of their products are scented differently!
Fluoro5 Elixir Restore & Repair Oil ($6.50) This is scented with the same ingredients as the reconstructing masque, and it smells divine. Just a couple drops will do, and my hair felt soft and shiny once it dried. You can use this on damp or dry hair.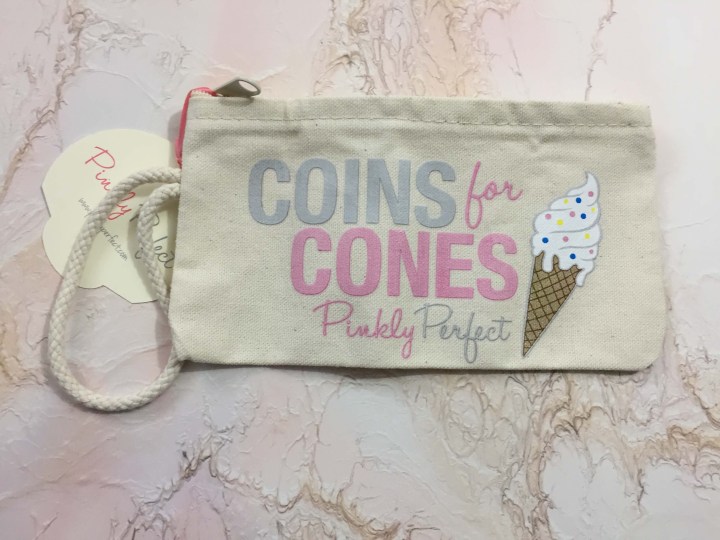 Solana Wristlet ($12) I love the natural fabric of this wristlet, and it has a sturdy woven cord on one end. It's a great size to organise a larger purse or to take out on the town or the beach!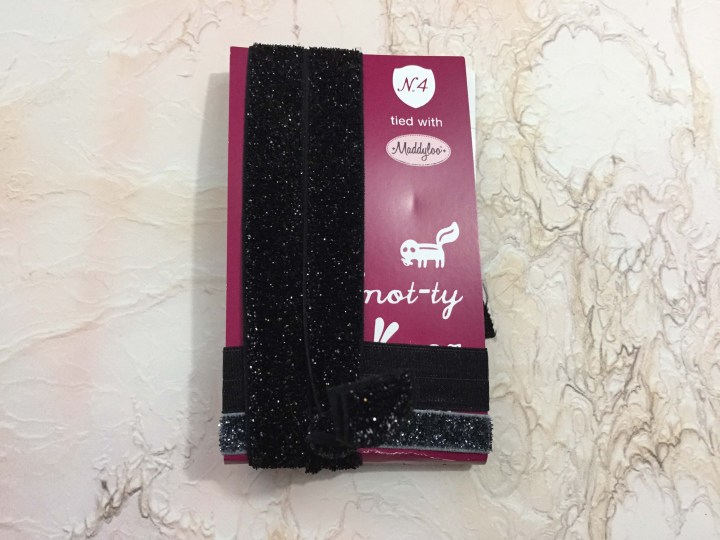 Maddyloo Hair Elastics Set (~$5?) This is a collab between No. 4 and Maddyloo! There are two hair elastics and one band. I love the sparkly elastic but sadly while I love the smaller elastics, these hairbands never stay in my hair — I need something grippier since my hair is so fine.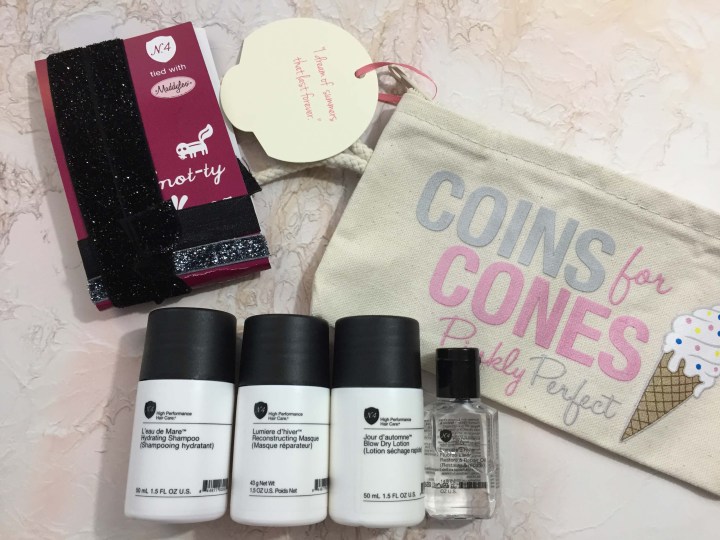 The August box had a value of $58! I am really excited to try a new line of haircare, and the added accessories complemented the theme nicely. This small box packs a huge value, and I'm looking forward to seeing what is curated for September!
What did you think of Beyond Her Blush this month?
Visit Beyond Her Blush to subscribe or find out more!
The Subscription
:
Beyond Her Blush
The Description
: Beyond Her Blush is a beauty subscription box service that delivers new looks curated by iconic celebrity stylists to your doorstep every month. The box will deliver 5-6 beauty related products that come together to achieve a fun and stylish trend.
The Price
: $18.00 per month