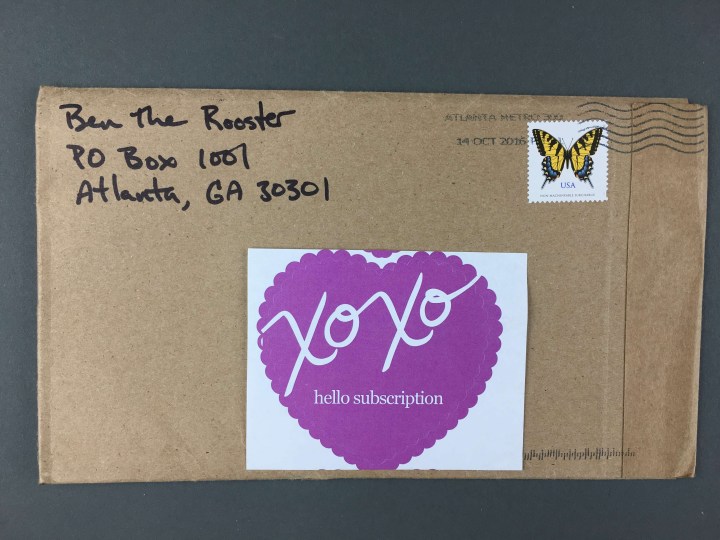 Ben the Rooster is a penpal subscription for young children. Twice each month, children can expect to receive a postcard from Ben detailing life on the farm and his adventures with friends. After reading Ben's postcard, children are invited to write back.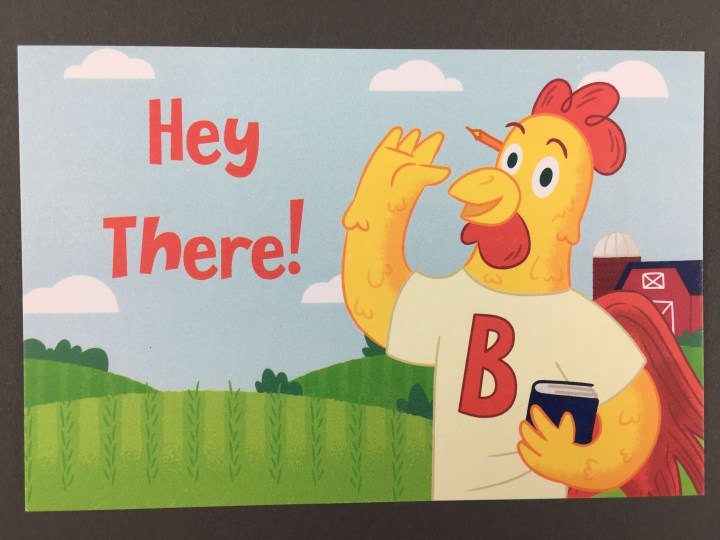 Subscriptions cost $4 each month and shipping is free in the United States.
Along with my son's first postcard from Ben, he received a welcome card and three return postcards and stamps that arrived packaged in a red envelope.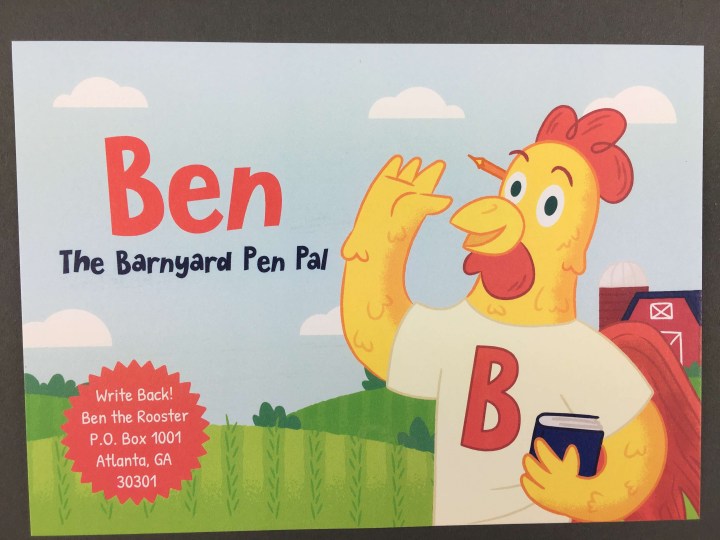 I love how Ben encourages young readers and writers to establish a dialogue with him! This is a great confidence booster.
My son had so much fun reading this! He loves outer space just like Ben, so we imagined what some of Ben's favorite books might be.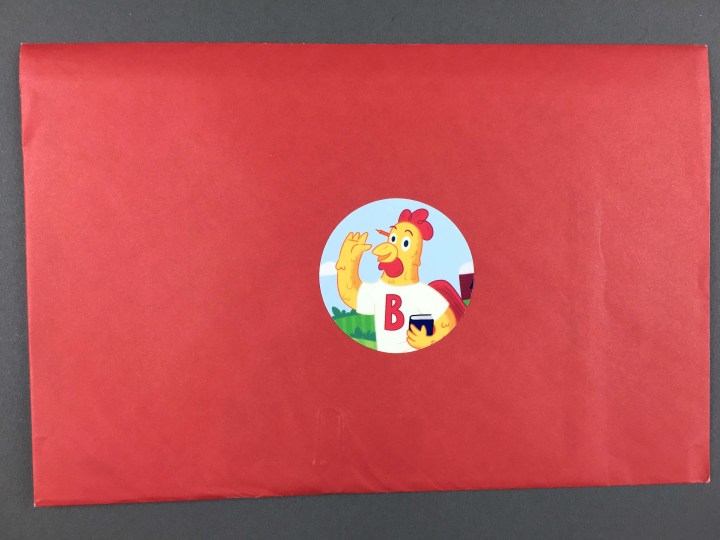 I loved how neatly the three return postcards arrived.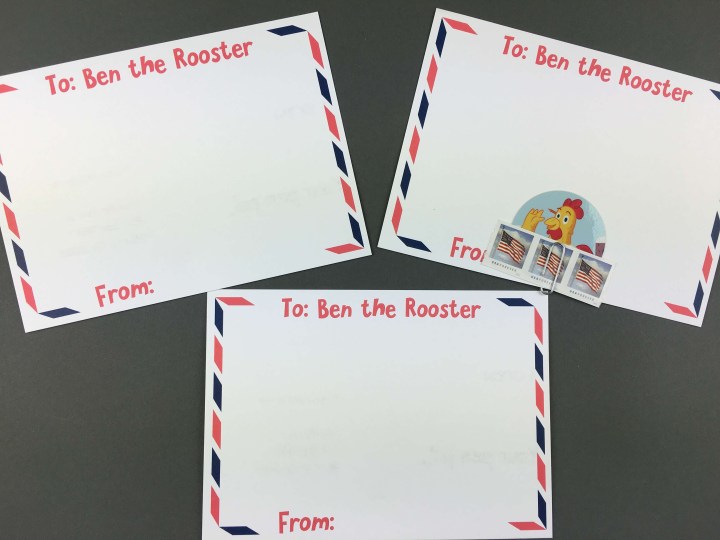 My son was fascinated by the stamps. He never realized before today that they are actually stickers.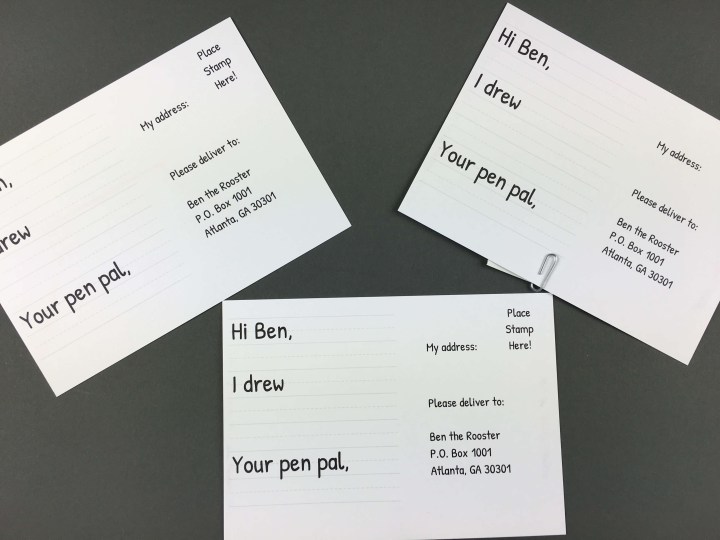 I like how the subscription provides the basic framework for the return postcard. This makes it easy for students to dive right in.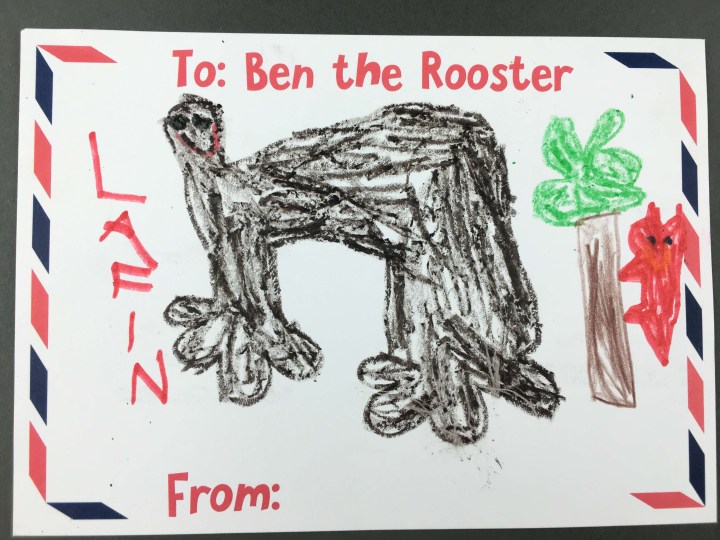 My son loves Elephant and Piggie, and decided to draw a picture of Elephant laughing when he sees Piggie climbing a tree.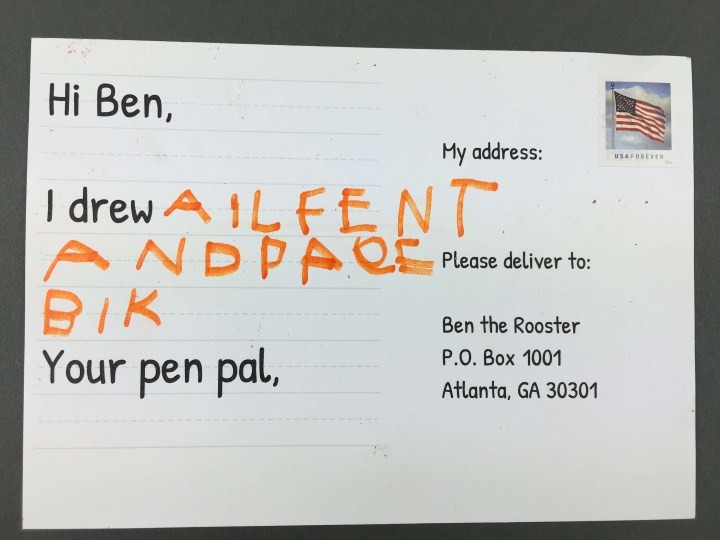 Here, my son said he drew an Elephant and Piggie book.
He loved wearing the enclosed Ben the Rooster sticker and can't wait to put his postcard in the mail! He looks forward to his new adventure at the post office tomorrow!
As someone who just started to read and write, my son loves his Ben the Rooster subscription! It's the perfect way for him to practice reading in manageable chunks, and he really liked having the opportunity to respond to his new penpal in a meaningful way. We can't wait to read about Ben the Rooster's escapades in the near future.
Do you subscribe to Ben the Rooster? If not, you can get your first month free. Just use the code HELLOBEN at checkout!
Visit Ben the Rooster to subscribe or find out more!
The Subscription
:
Ben the Rooster
The Description
: Ben the Rooster is a barnyard pen pal for kids ages 2-8. Twice each month, he sends a postcard about his life on the farm to his pen pals. He writes about going back to school, cooking pancakes, dressing up for Halloween, and many more adventures with his friends. Each card has a theme, and Ben always asks his friends to reply to him.
The Price
: $4.00 per month