Beekman 1802 offer's four different subscription boxes –  a monthly cheese subscription, a quarterly Beekman Beauty Box, a monthly specialty food club, and a scent of the month candle subscription box. Check each subscription here for more information. I am reviewing the quarterly beauty box!
The box came packaged inside a larger box with brown paper to protect it in its shipping travels.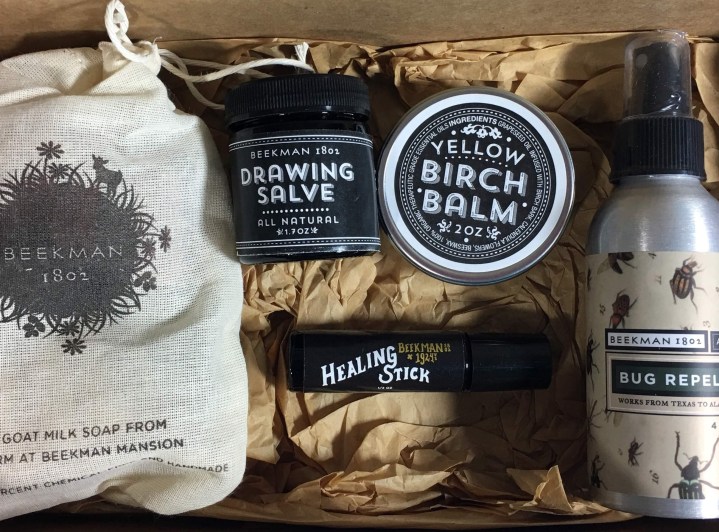 The items were cushioned on the top and bottom with heavy brown paper. This quarter's box is a collaboration with artist Christian Watson of 1924us and appears more masculine than previous boxes. Looks like were heading to the Great Outdoors!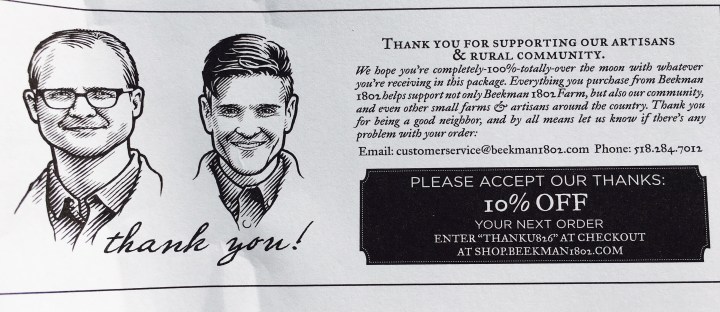 Josh and Brent are owners of a goat farm in New York and have a shop, too!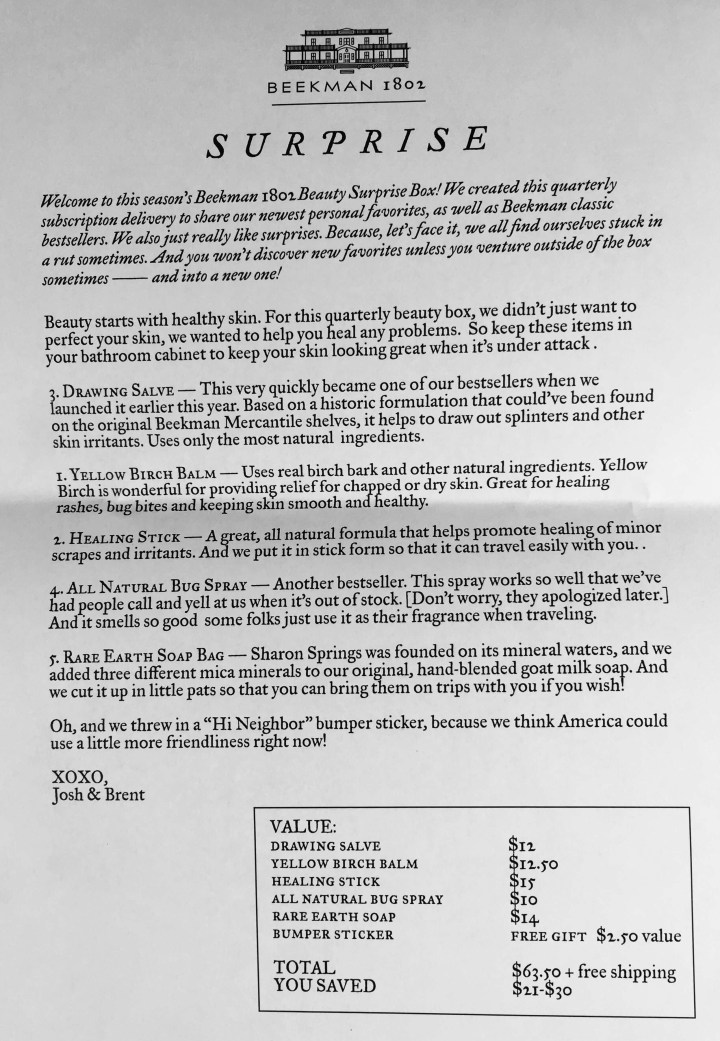 The Curator Letter explains the theme and why the items were selected.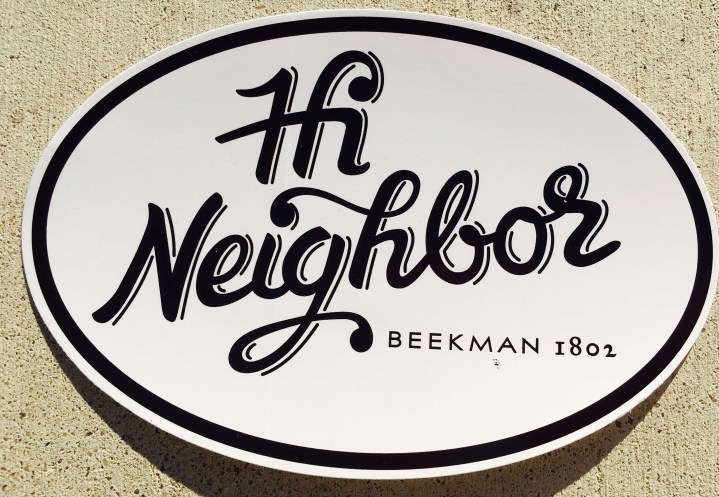 First up was a "Hi Neighbor" Bumper Sticker ($2.50).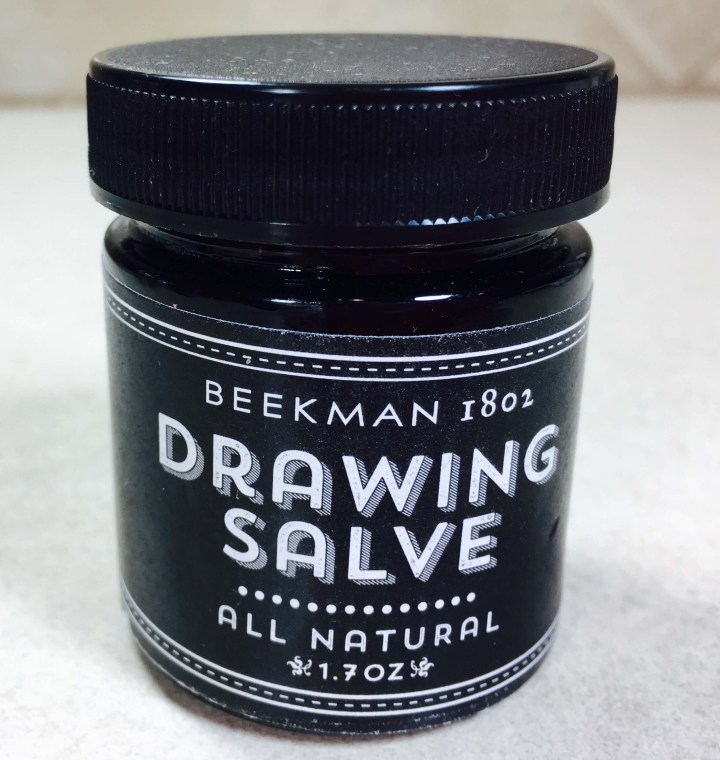 I had never heard of this type of product before but the Drawing Salve ($12) has olive oil, beeswax, and charcoal and is scented with lavender and clove essential oils. I rubbed it on a mosquito bite and it stopped itching. Can also draw out splinters and other irritants.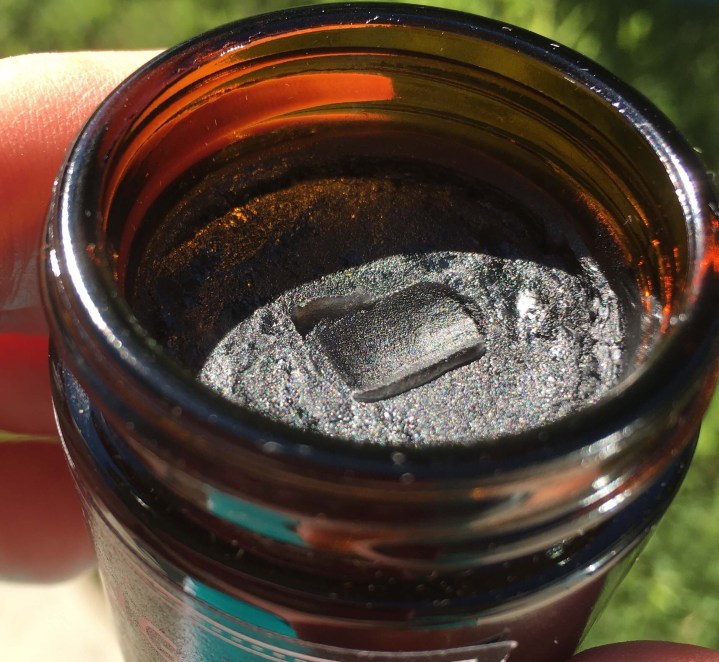 A little goes a long way and it does leave a bit of a black cast to the skin but it smells lovely.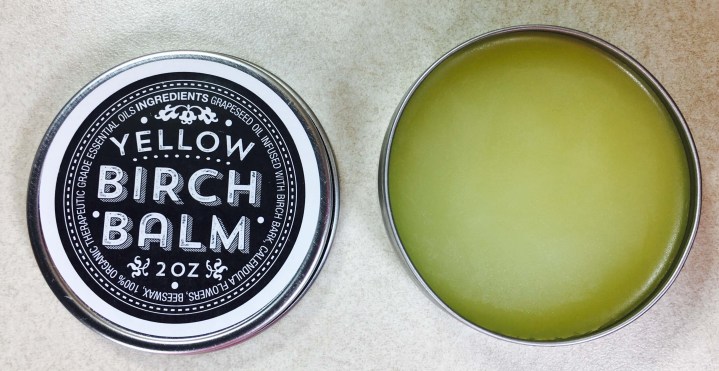 Yellow Birch Balm ($12.50) is one of 3 "foraging tree salves" that has a different use depending on the bark variety.
Yellow Birch Balm – Sometimes our skin just needs some soothing love to help bring it back into balance and counteract dryness. Yellow Birch is wonderful for providing relief for chapped or dry skin. Great for healing rashes, bug bites and keeping skin smooth and healthy.
The base is grapeseed oil and has birch bark, beeswax, calendula, plus a variety of therapeutic grade essential oils. I think I am in love.
All-Natural Bug Repellent Spray ($10) is DEET-free and safe for anyone ages 6 months and up. The base is water, witch hazel, and aloe along with a lovely essential oil blend that includes citronella, lemon eucalyptus, and lemon grass. Here in Texas we have mosquitoes most of the year so this will come in handy plus it smells so good!
The Healing Stick ($15) is a handy roll-on that can be applied to bug bites or other skin irritations. Sweet almond and rose hip oils are blended with therapeutic grade essential oils. Ahhhh!
Since the Beekman Farm is famous for its goats then it is only fitting that a goat's-milk based product be in this box. I couldn't find the Rare Earth Soap Bag ($14) on the website but according to the product letter they added "three different mica minerals" to their original soap and then cut them into "pats" so you can take them on trips!
The Beekman 1802 Fall Beauty Surprise Box was my first exposure to this brand and I was certainly impressed with the offerings! I think these products will make a nice addition to a natural first aid kit and the scents were just amazing. This box had a value of $66, which is over the subscription price. Plus, it can be enjoyed by the whole family!
What did you think of the Fall Beauty Box? Let me know in the comments and visit Beekman 1802 Beauty Box to subscribe or find out more!
The Subscription
:
Beekman 1802 Beauty Box
The Description
: With the Beekman 1802 beauty box, you'll receive a surprise box of their newest and bestselling soaps and skin care products every 3 months.
The Price
: $50.00 per quarter