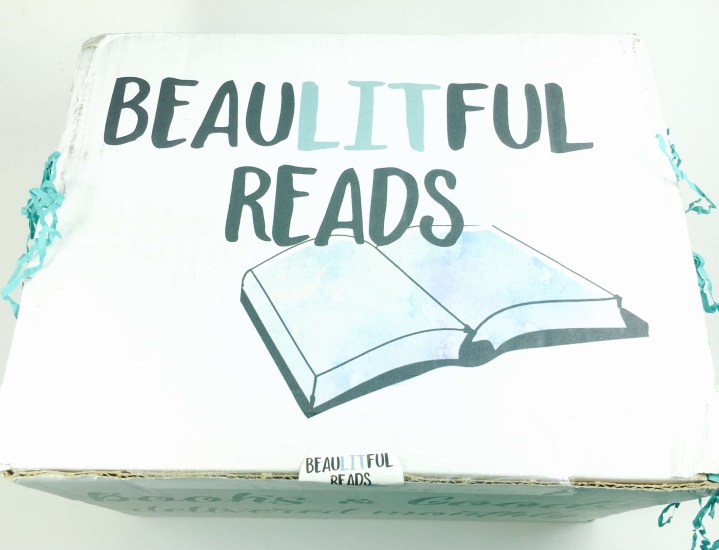 Beaulitful Reads is a monthly subscription service that includes a romantic chick lit book and 1-2 curated items for $24.99 a month plus $9.50 shipping to the U.S., $21 international. Subscriptions are available in 1 or 3 month terms that automatically renew until cancelled.
The presentation was nice and I love the aqua squiggles!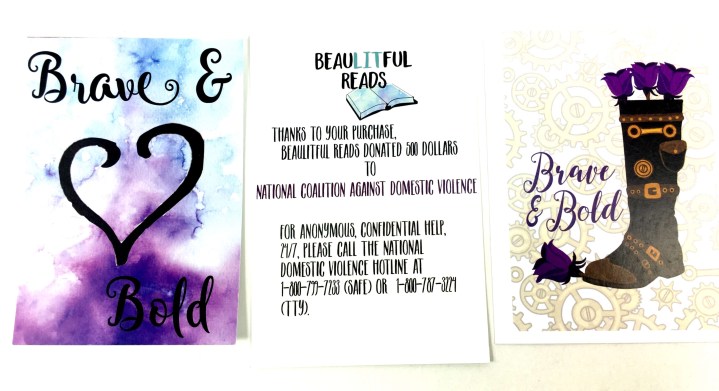 There was an assortment of cards (2 of which were hidden in the book) and one of them says that Beaulitful Reads made a donation to the National Coalition Against Domestic Violence.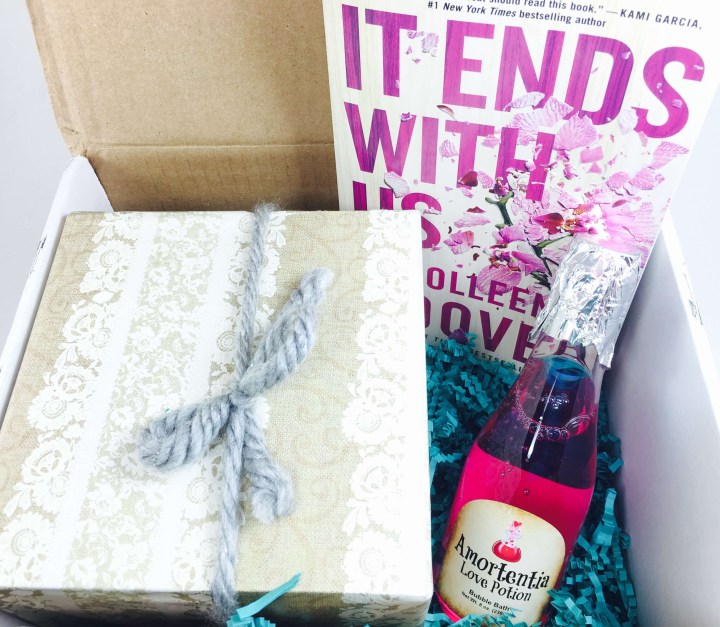 Ooohhh, a present was in my box, along with a book and a self-care item.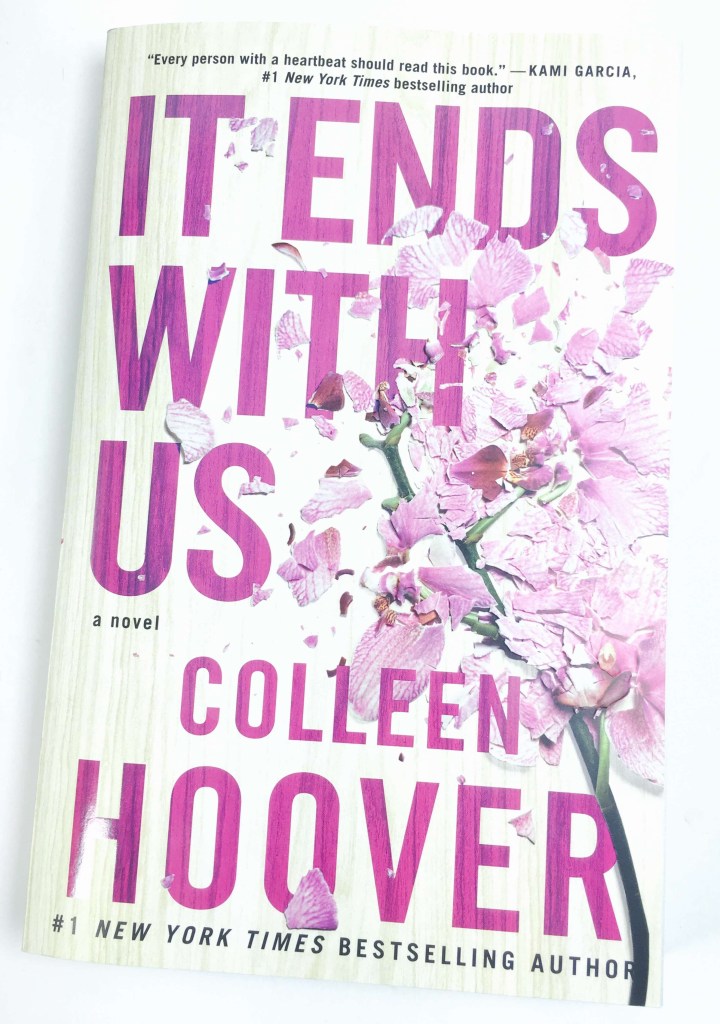 It Ends With Us by Colleen Hoover ($16 $9.60) was released in August and has 5 stars on Amazon!
Instant New York Times Bestseller The newest, highly anticipated novel from beloved #1 New York Times bestselling author, Colleen Hoover. Sometimes it is the one who loves you who hurts you the most. Lily hasn't always had it easy, but that's never stopped her from working hard for the life she wants. She's come a long way from the small town in Maine where she grew up—she graduated from college, moved to Boston, and started her own business. So when she feels a spark with a gorgeous neurosurgeon named Ryle Kincaid, everything in Lily's life suddenly seems almost too good to be true. Ryle is assertive, stubborn, maybe even a little arrogant. He's also sensitive, brilliant, and has a total soft spot for Lily. And the way he looks in scrubs certainly doesn't hurt. Lily can't get him out of her head. But Ryle's complete aversion to relationships is disturbing. Even as Lily finds herself becoming the exception to his "no dating" rule, she can't help but wonder what made him that way in the first place. As questions about her new relationship overwhelm her, so do thoughts of Atlas Corrigan—her first love and a link to the past she left behind. He was her kindred spirit, her protector. When Atlas suddenly reappears, everything Lily has built with Ryle is threatened. With this bold and deeply personal novel, Colleen Hoover delivers a heart-wrenching story that breaks exciting new ground for her as a writer. Combining a captivating romance with a cast of all-too-human characters, It Ends With Us is an unforgettable tale of love that comes at the ultimate price.
Next up was a gift-wrapped box. Inside the box was…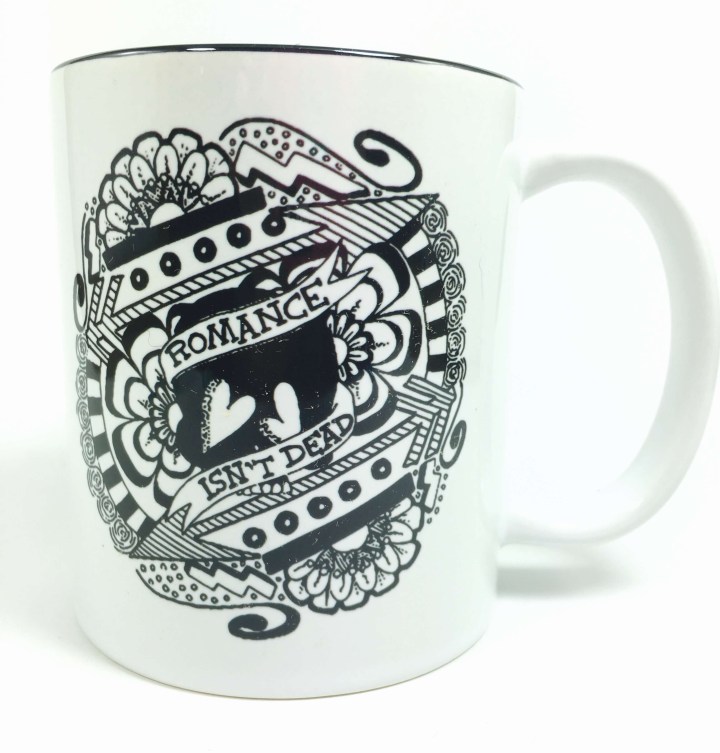 …a mug! Christina's Doodles "Romance Isn't Dead" Mug ($10) was a nice choice for a book box. I do wish there had been a product to brew up so I could test it out!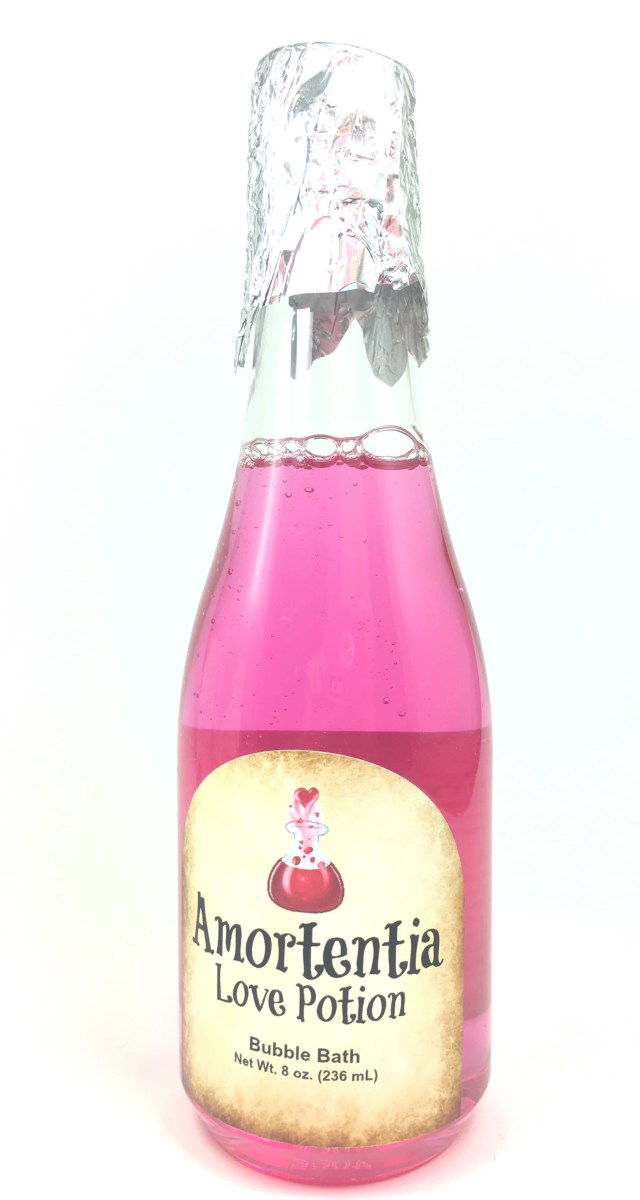 Speaking of brews, rounding out the box was a Harry Potter themed bubble bath. Cherry Pit Crafts concocts fandom based products that are handcrafted, not tested on animals, and all-natural. I didn't have time for a bath so I used the Amortentia Love Potion ($8) as a shower gel and it was super foamy and smelled like pomegranate rose (turns out its passion fruit and rose). NOTE: This product isn't "all natural" and contains fragrance, sodium laureth (and lauryl) sulfate, and other common grocery store bubble bath ingredients. Just FYI. It is cute though!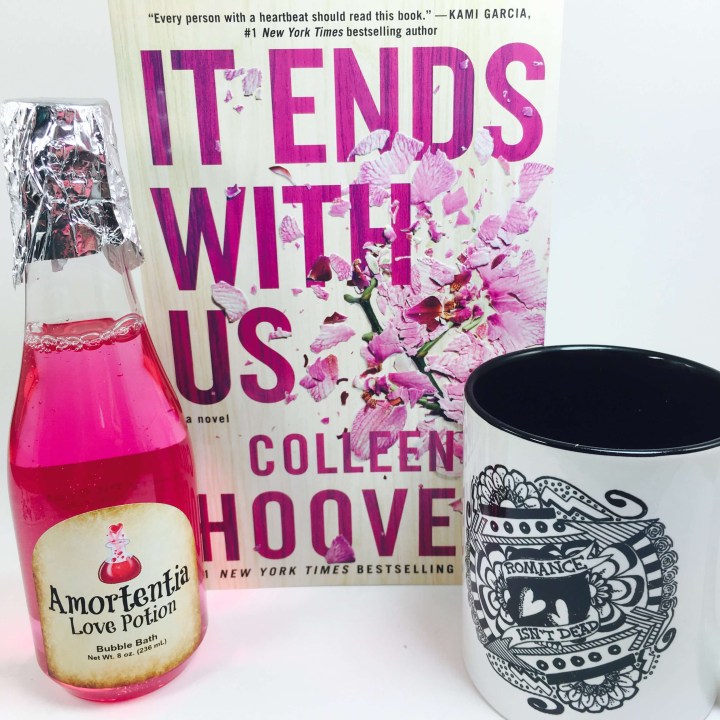 I enjoyed my first Beaulitful Reads Box but felt it could have used a few more items to round out the value and experience. A high quality snack item and some sort of drink mix (tea bags, nice hot chocolate mix, or even coffee, although I'm not a fan) would heighten the experience and bring up the value, which was only $27.60, not even enough to meet the subscription price plus shipping ($34.49). I hope to see an improvement, value-wise, in September's box! What do you think of Beaulitful Reads? Visit Beaulitful Reads to subscribe or find out more!
The Subscription
:
Beaulitful Reads
The Description
: Give a gift to yourself, sign up to receive the Beaulitful Reads box and join our book club! Each month we will be sending a newly released romantic chick lit book and 1-2 specially curated items. You can expect high quality, small shop sourced, literary inspired goods. Once you sign up, you'll be invited to join our book club.
The Price
: $24.00 per month