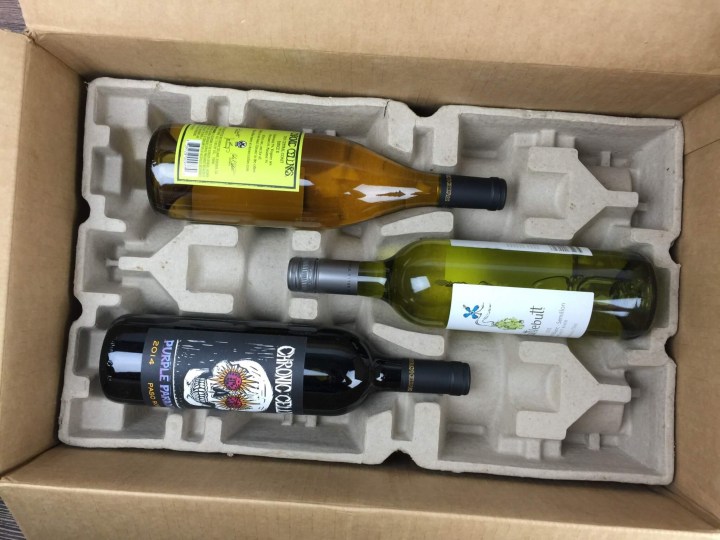 This month's Wine Awesomeness hunted down great wines that pair perfectly with Tacos!  Wine Awesomeness is a wine club subscription box  – great wines thoughtfully curated around a fun theme. You can choose reds, whites, or mixed —  One of the things that we like about this subscription is that they include rosé in with the whites!
You can adjust your preferences to style, frequency and even skip a month right in your account. The 3 bottle box costs $45, and the 6 bottle box is $75. We get a six bottle mixed box – it's one of the few wine subscriptions we can get in Pennsylvania.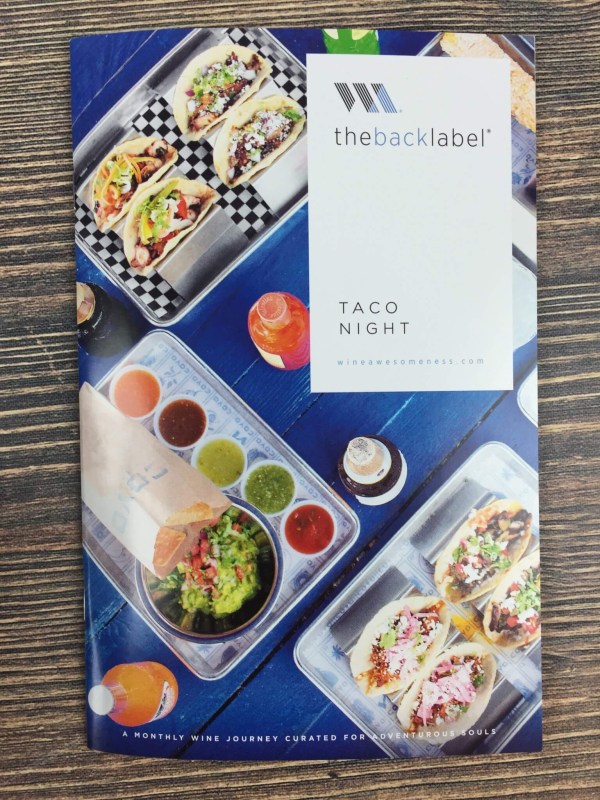 The theme this month is "Taco Night."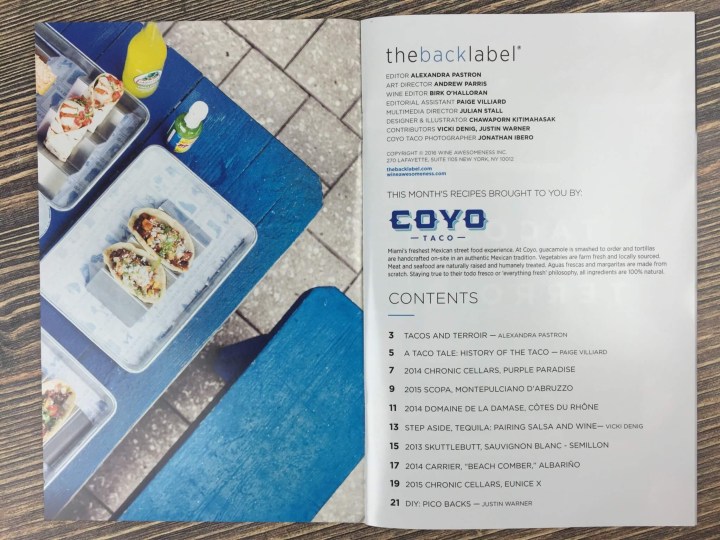 The mini-mag is full of cool stuff — full page intros with detail on the wines, paired recipes for each, and even several articles on the theme and its relation to wine culture.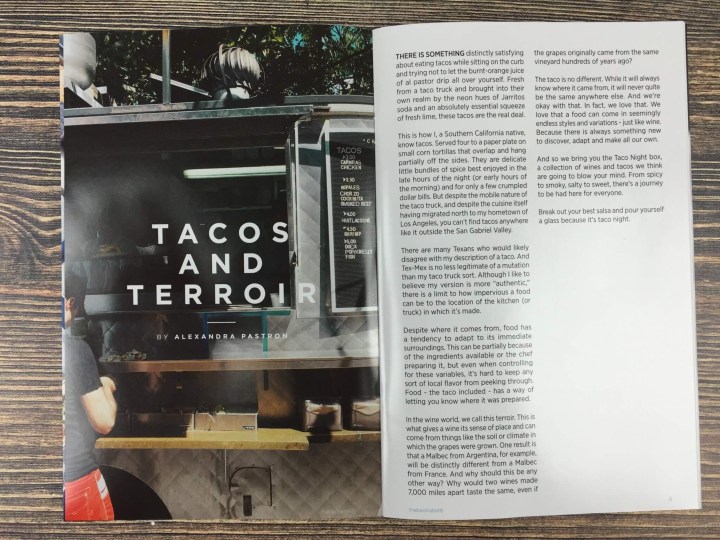 This is such a great, accessible mini-mag.  This is my favorite wine subscription because of the theme and the magazine (and the great wine!).  This article mused about the sense of place inherent in any particular taco.
In keeping up with the theme, this month's theme explores taco-themed drink service and salsa and wine pairings.
Each wine has its own information page including the following:
Wine Name
Grape
Location
What you should do while drinking this wine (many tongue in cheek)
What to eat with the wine
What to listen to while you drink the wine
A cool chart showing a visual on the Acid, Body, Tannin, and Fruit of the wine
Wine Bouquet
Tasting Notes
Description
Recipes:   We usually pick the recipe that is closest to what we're already eating and grab the corresponding bottle!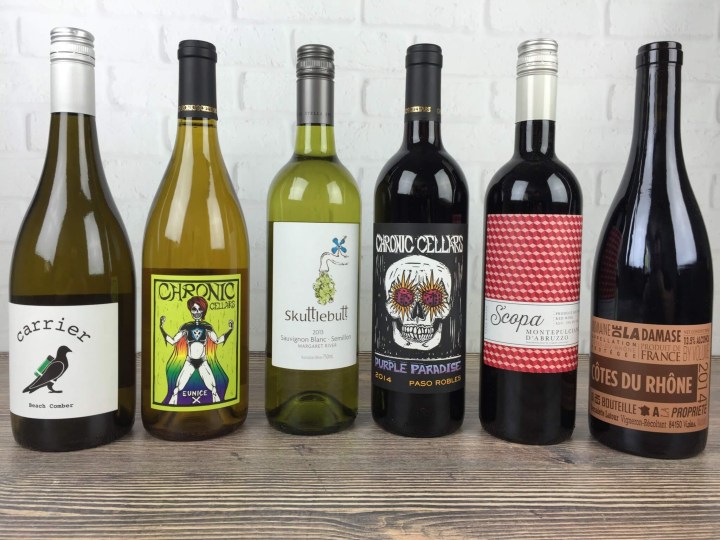 Everything this September 2016!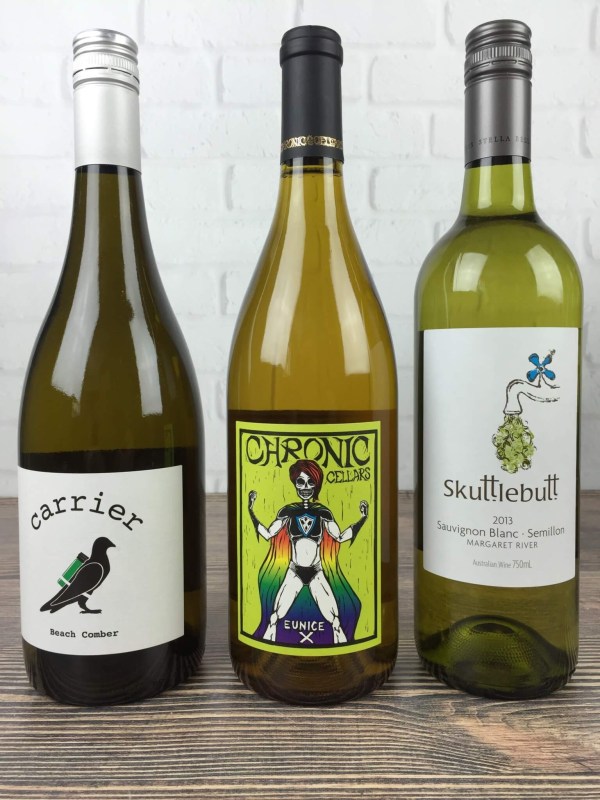 September Wine Awesomeness: Whites

2014 Carrier Beach Comber Albarino:  Produced in a Monterey, California, vineyard, this Albarino is loaded with bright, citrus flavor, with strong notes of lemon.  The limestone of the Gabilan Mountains is reflected in the pleasant minerality.
2015 Chronic Cellars Eunice X:  This predominantly Chardonnay blend from Paso Robles layers lots of fruity notes on the clean and crisp apple base provided by the Chardonnay.  The result is a balanced and intriguing glass that has enough tropical fruit-laden character to stand up to a spicy taco.
2013 Skuttlebutt Semillion-Sauvignon Blanc:  Light and soft, this wine is intended for enjoying with a lighter dish, like fish tacos.  Notes of tropical fruit and flowers sit atop a moderately acidic body.
September Wine Awesomeness: Reds

2014 Chronic Cellars Purple Paradise:  This Zinfandel-heavy blend has lots sweet stone fruit flavors, primarily of cherry and plum.  Clove, tobacco, allspice, and vanilla notes also present themselves, creating a plush and robust tableau that can withstand spicya nd tnagy pairings.
2015 Scopa Montepulciano d'Abruzzo:  This soft red has a full body and light tannin, bursting with raspberry and red apple fruitiness.
2014 Domaine de la Damase Cotes du Rhone:  Notes of licorice and berries pervade this spicy, tart, and full-bodied red.  Grenache and Carignane combine to create a tart palate meant for red meat.
Bonus!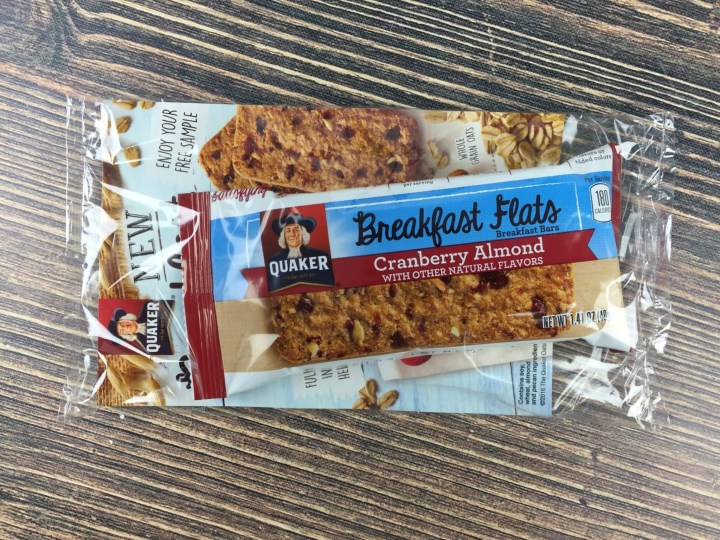 A couple bonus items!  While we usually get a Lindt square the Quaker was a new and bizarre addition. Yes, we will eat it – but prob not with wine.
Quaker Cranberry Almond Breakfast Flats:  Quaker's more adult version of their granola bar.
What did you think of this month's Wine Awesomeness theme? You can get your first month (3 bottles) free, just pay $22.50 shipping and handling – click here to activate the offer – no code necessary!
Visit Wine Awesomeness to find out more or to subscribe.
The Subscription
:
Wine Awesomeness
The Description
: Get 3 or 6 bottles of red, white, or mixed, curated monthly. WA membership comes with tasting notes, recipes, and music suggestions. Awesomeness!
The Price
: $45 per month
The Coupon
: Get $10 off your first club 6-pack box!
Use this link
and coupon code
YAY10
to get the deal.
Ships to
: All states except Alaska, Hawaii, South Dakota, and Utah. Yep, this wine club ships to Pennsylvania.