Umba Box is a monthly subscription that sends handmade artisan goods to your home. By providing a means for foreign and domestic artists alike to distribute their creations, Umba Box helps to empower makers while also bringing smiles to the faces of their own subscribers. All artists responsible for creating the pieces distributed through Umba Box receive a fair wage for their efforts.
Umba Box offers subscriptions at two different price points: the Delight Box costs $49/month plus $7 for shipping and includes items whose combined value is in the $50-$70 range, whereas the Discover Box costs $25/month plus $5 shipping and contains products whose combined value is between $25 and $35. Discounts are available for those who prepay for subscriptions of 6 months or a year in duration. Featured pieces could run the gamut from home goods to women's accessories, jewelry, stationery or bath products.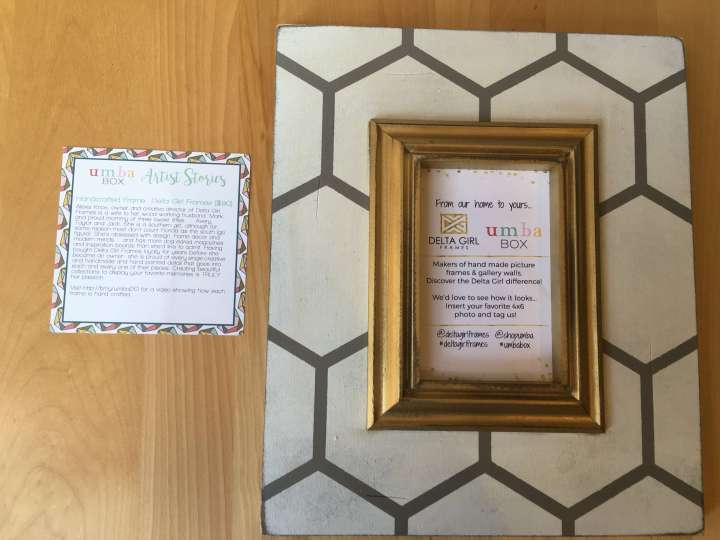 September 2016's Delight Box featured a gorgeous handcrafted frame and a note about the artist who created it.
I loved hearing the story behind Alexis Knox, owner and creative director of Delta Girl Frames!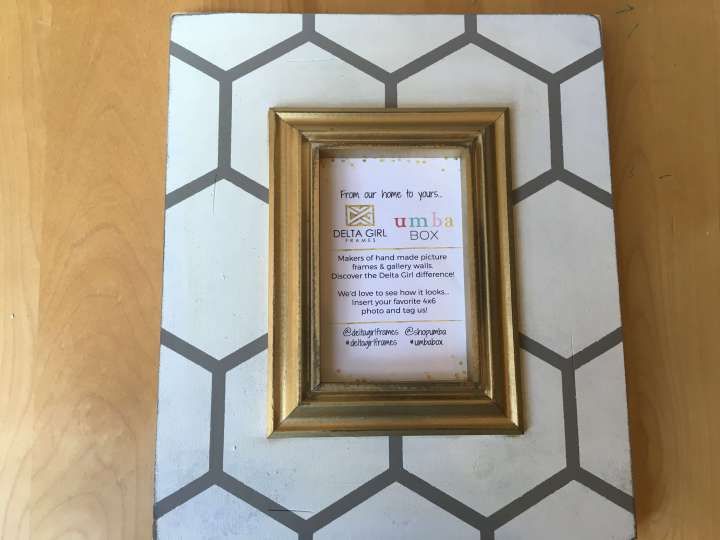 I love this handpainted honeycomb colonial wood frame by Delta Girl Frames ($90)! Made exclusively for Umba Box, I couldn't be more pleased to have received one! The hexagons are very attractive and on-trend, as is the combination of gold and silver. This 13″ x 11″ frame holds a 4″ x 6″ photo and will go perfectly with my decor!
I love how the frame arrives ready to hang!
I'm thrilled to have received my first shipment of handmade goods from Umba Box! I absolutely love the picture frame and can't wait to hang it in my living room! After receiving this frame, I went online to look at Delta Girl's other offerings, and I love them just as much as I love this frame. I think I need to order some more!
Do you subscribe to Umba Box? What has your favorite surprise been?
Visit Umba Box to subscribe or find out more!
The Subscription
:
Umba Box
The Description
: Receive monthly packages of 2-3 modern and whimsical women's handmade products – handmade jewelry, accessories, stationery and bath products. Umba now offers the Delight box, for those passionate about handmade, and the Discover box, for those wanting to explore!
The Price
: $30.00 per month