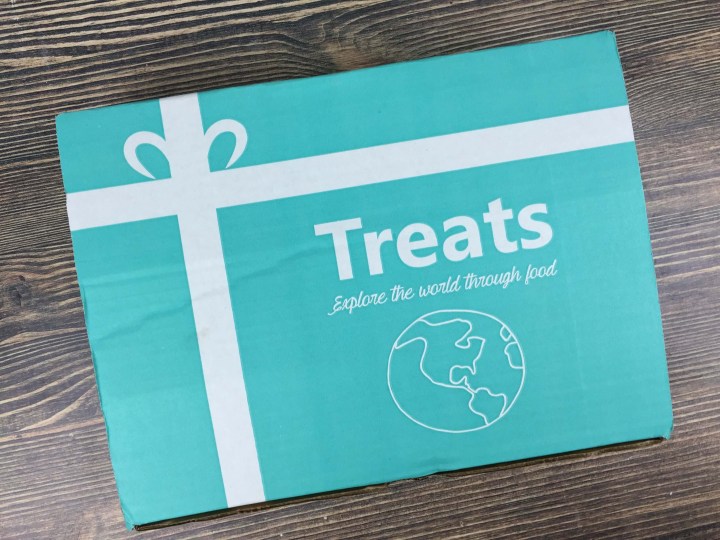 Annyeong Haseyo! Treats go to South Korea this month!  Treats is a monthly snack subscription full of snacks from around the world.  You can expect to receive eclectic and interesting snacks that you've never sampled before (unless, of course, you've lived in the featured country recently)!  The Standard Pack offers 4-5 snacks, while the Premium box offers 8-10.  This, of course, is the Premium Box.  It's quick to enroll, and you'll get your first box within a few days of when you subscribe.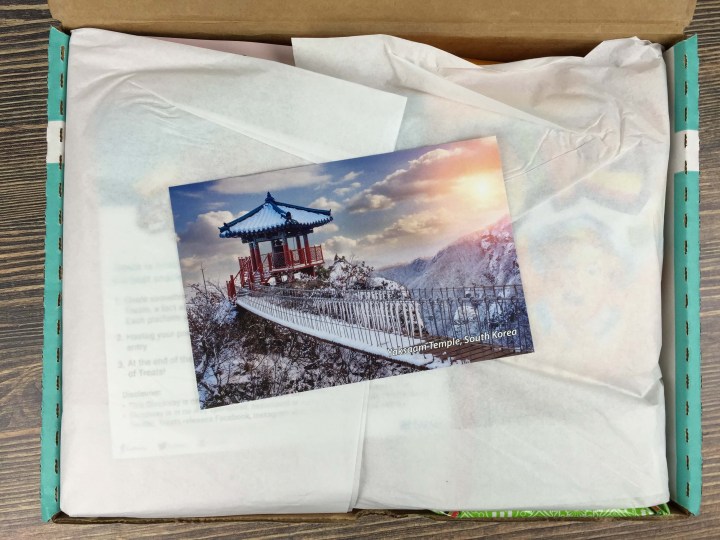 The packaging is simple and elegant.  Tissue paper keeps the contents a surprise until you are ready to immerse yourself in the destination country's food culture. The box is crowned with a beautiful postcard welcoming us to this month's Treats destination.
The box is filled to the top with goodies!
This month, we welcome a box from South Korea!  The back of the card has a welcoming message that points out some of the items with distinctly local and traditional character. FYI – this box was similar to one of their first boxes. I'm not sure if they're repeating countries, or if they're reusing the theme because their subscription has grown so much that most of their subscribers didn't get to experience the first box (I think it's the latter!).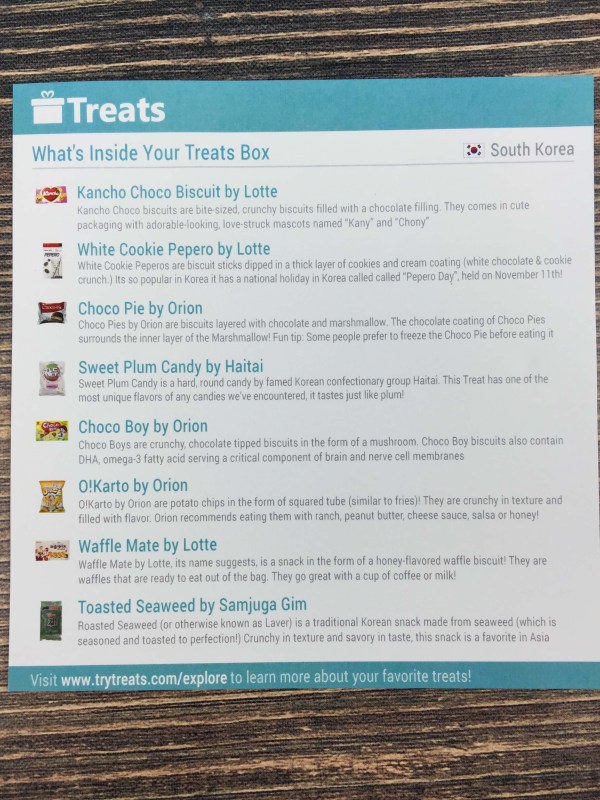 There is also a handy info card that gives the name and maker of each treat, as well as a short description of each.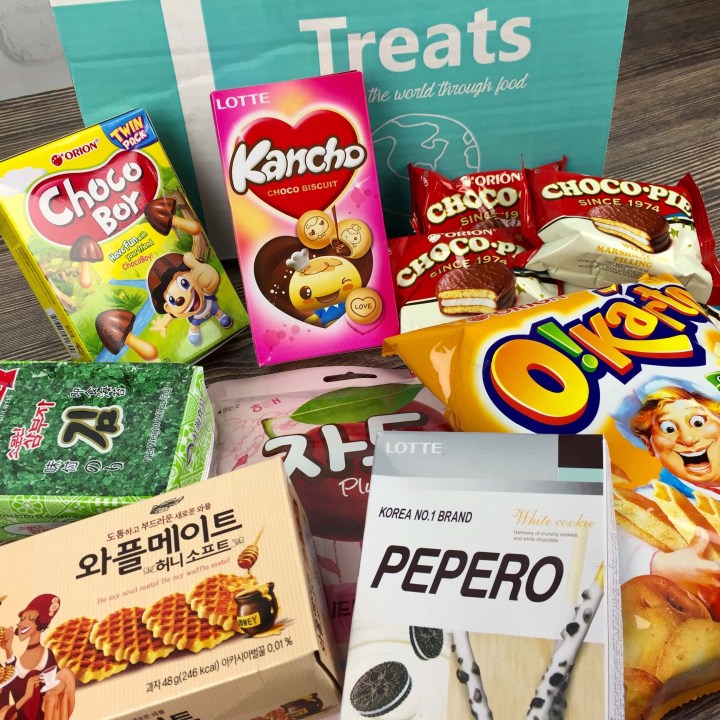 Everything in the box.  The composition of each Treats collection depends on the local snacking culture, but there is usually a good mix of sweet and savory and individual and family packs!  This was mostly sweets!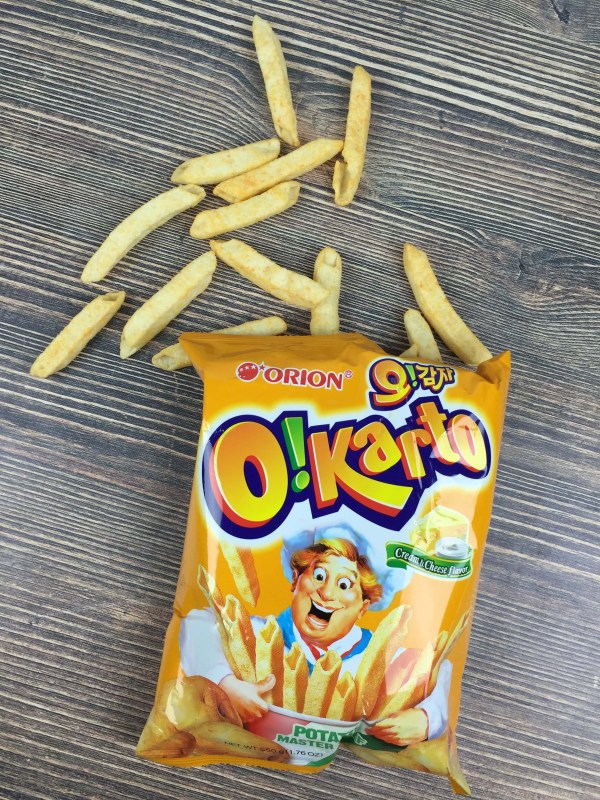 Orion O!Karto – Cream & Cheese Flavor: These square tubes are quite odd! They're made from potato starch, so like Pringles, except… not. It was unique & munchable!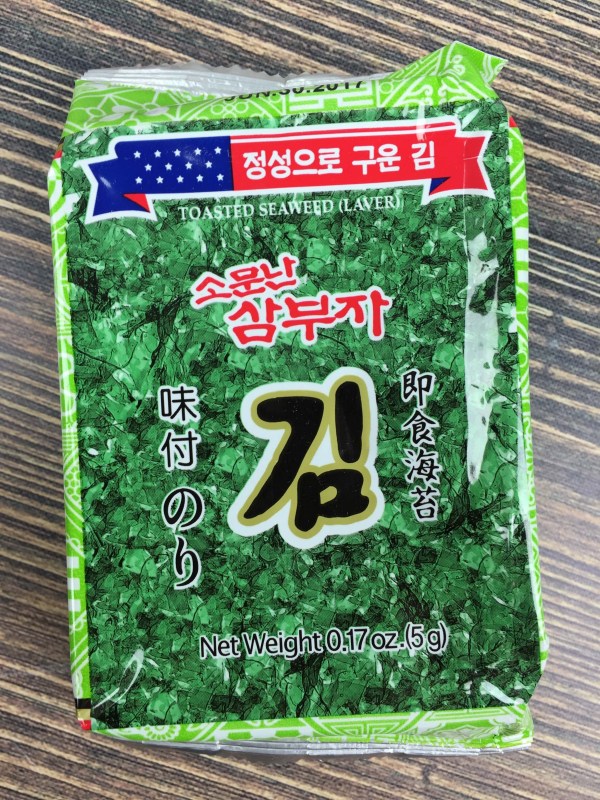 Samjuga Gim Toasted Seaweed: Our reviewer Sara thinks this is the best thing since sliced bread. It's showing up in the next care package!
Lotte White Chocolate Pepero: Pepero is like Korean Pocky, except heartier, and with a more devoted following. I ate all the Cookies and Cream, which I am sure ruffled my husband's feathers. There's a reason I'm writing this review. They were delicious!
Instead of a bland cookies and cream flavor, the coating is a delicious white chocolate.  The cookie stick, coating, and cookie chunks are really thick.  The cookie bits are chunks, too, not flecks.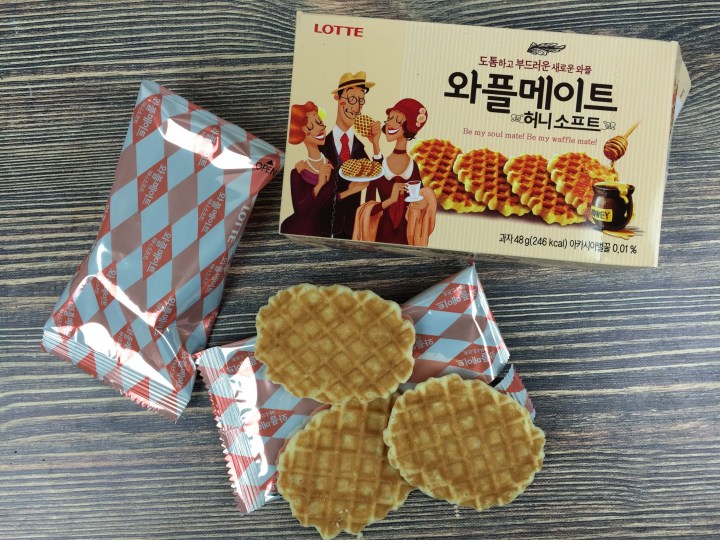 Lotte Waffle Mate: "Be my soul mate!  Be my waffle mate!" Yes, yes I will. These taste exactly like they look. Korean snacks have a high amount of french influence and these are no different. Yummy waffley goodness.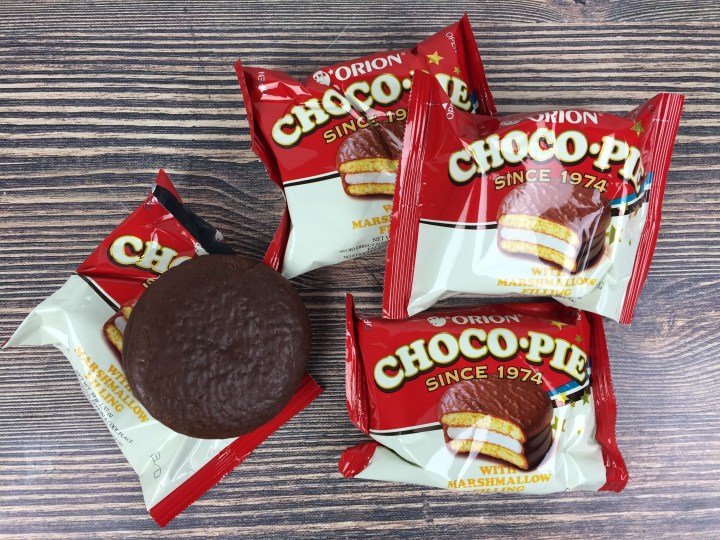 Orion Choco Pie: YAAAAAS! Four Choco Pies!! I like the Lotte ones better (there are 2 main brands) but these are also great and I've managed to stuff two in my face already.  Yellow cake with a marshmallow center and a chocolate icing.  The cake is light and crumbly, a tad dry, but tasty.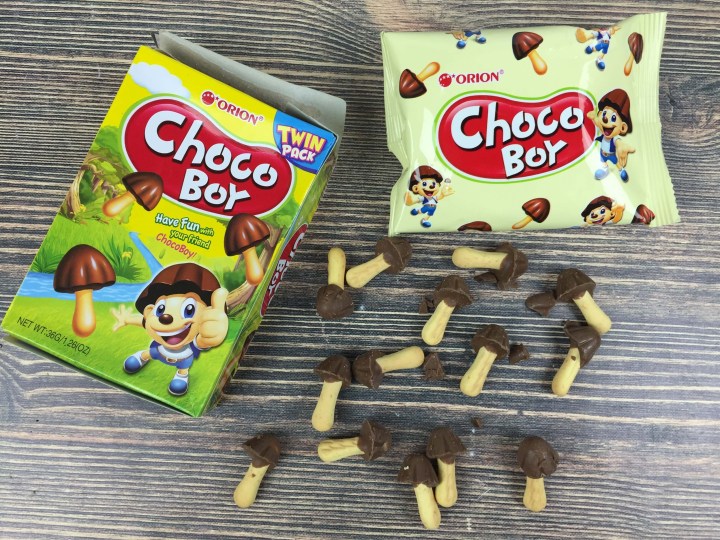 Orion Choco Boy:  Little cookie stems with a molded chocolate cap.  The chocolate has a surprisingly dark flavor, like it is spiked with coffee. We love these!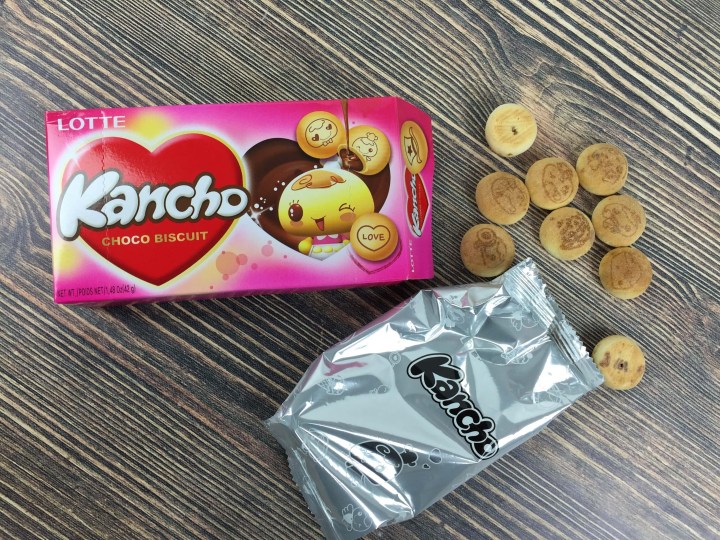 Lotte Kancho Choco Biscuit: Similar to Japanese Hello Panda cookies, these look like mini cream puffs filled with chocolate and emblazoned with cartoon stamps.  But these are tastier than Hello Panda — the chocolate is richer, and the cookie is more delicate and flavorful.
Haitai Sweet Plum Candy: Fruit candy is super popular in SK because it's crazy expensive (bananas = $5!?). I'm guessing this is because they have no access to land (their only bordering country is of course North Korea). A nice hard plum candy with great flavor – and a whole bag!
This was a fun, eminently munchable box with a great display of the sweet treats in South Korea. Only 2 savory treats – we would have liked to see some spicy bulgogi crisps – but no complaints here on the quality and taste of the items.  Treats is one of our very favorite discover-foreign-foods boxes because nearly everything is appealing (nothing too weird included merely for shock value – like squid peanut balls, yick!).
Have you tried Treats yet? What did you think of the box? You can save 15% on your first month with coupon code HELLO15.
Visit Treats to subscribe or find out more.
The Subscription
:
Treats
The Description
: Treats is a subscription service for international snacks. Every month they will prepare a box of snacks from other countries and ship it straight to your door. Explore the world through food, a new country every month!
The Price
: $12.95 per month for the standard pack, $24.95 per month for the premium pack.  Shipping to Canada is $11.62.