Threads Monthly is a subscription box for "women who love clothing and accessories."  Each month promises one t-shirt, one or two pieces of jewelry, and a themed accessory, all for $20 a month.  I reviewed this box with the help of my budding fashionista daughters, aged 14 and 11.  The box is aimed at women, but my girls wear adult clothes and the items in the package were perfect for tweens, teens, and grownups too! Yet again, Threads Monthly served up a box that both my daughters really liked.
Every month, the Threads Monthly folks find the prettiest mailing bag to ship the package in.  We totally loved this fresh, yellow daisy bag!

Opening the box, the prettiness continues.  This month, we were struck by the shininess of the box.  Look at how sparkly everything was!  So much fun.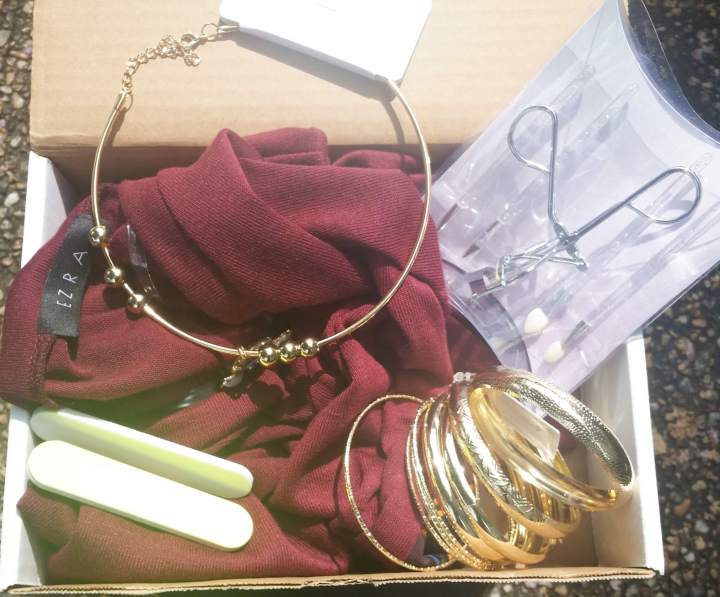 And here's a look at everything in this month's box.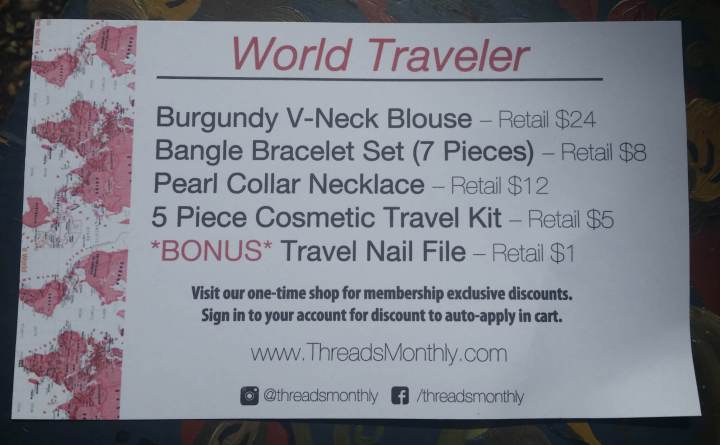 The enclosed card provides a list of items, as well as the suggested retail price for each.  The card also provides the theme for the box.  This month's theme is "World Traveler."  Let's dig in!
The Shirt ($24):  The card describes this as a burgundy v-neck blouse, but it's so much more interesting than that.  Looking at the blouse laid on the table also doesn't do it justice – you have to see how fun it is on.

Here is the front of the blouse, modeled by my older daughter.  It is a cute, burgundy knit v-neck shirt.  Super soft, very comfy, and a great fall color.
And here is the back – it's a fun, funky black/burgundy/blue/gold plaid!  This shirt is super cute and super trendy and just right for fall.  We all really loved this shirt.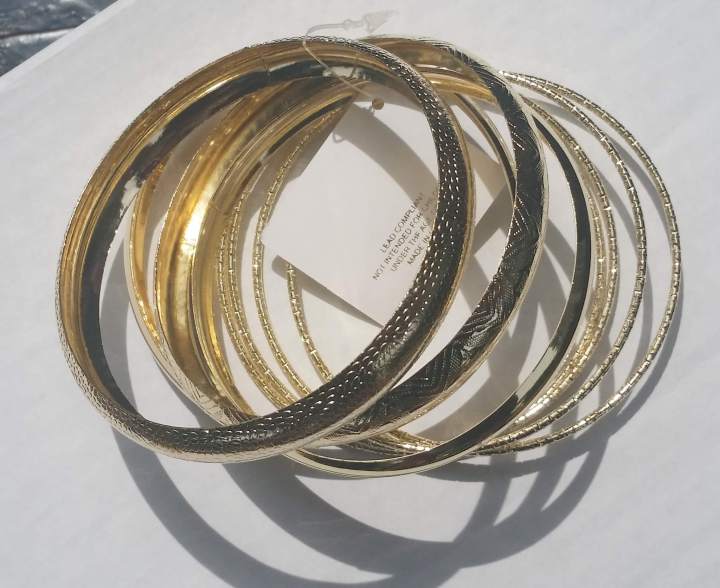 Jewelry #1, Bangle Set ($8): Check out this super pretty bangle set.  There are seven gold-colored bangles of varying widths and etched designs.  You can wear a single bangle or mix and match a bunch of them.  Whichever way, this is a great item.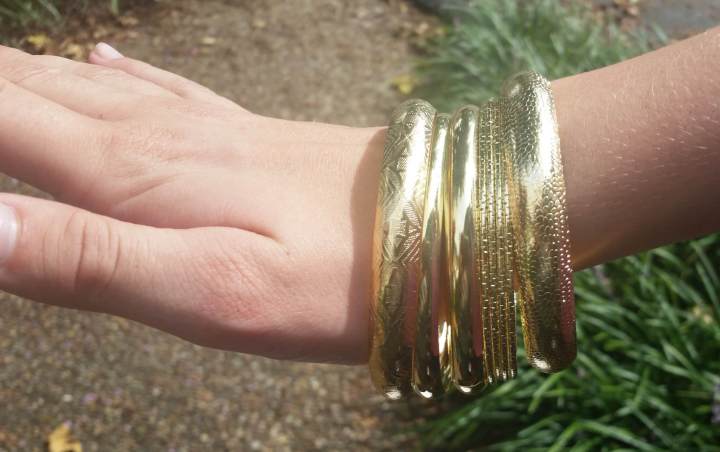 And here is my younger daughter, styling all seven of the bangles at once.
Jewelry #2, Pearl Collar Necklace ($12):  This necklace is super trendy – it has a gold-colored rigid "collar" with a pretty pearl-like bead and jewel pendant.  Not only are collar necklaces very popular right now, but this particular pendant is so pretty.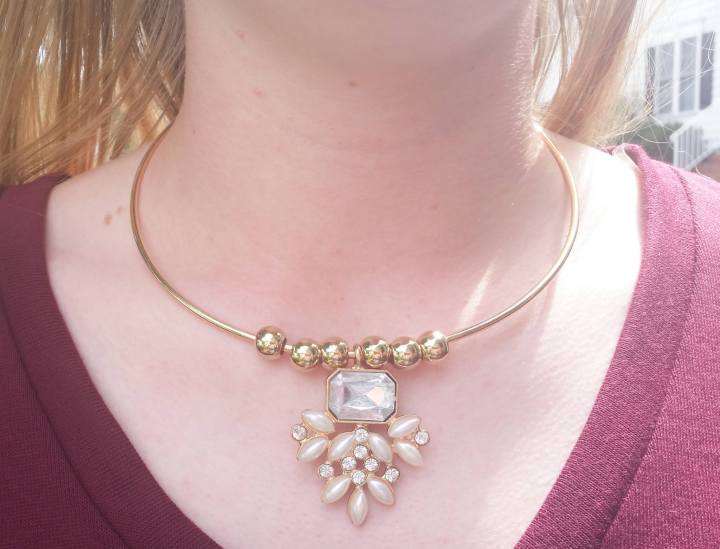 And here is my daughter modeling the necklace.  She wasn't a big fan of the collar design, but it looked really great with the burgundy v-neck shirt.  Even if she wasn't a big fan, my other daughter and I both really liked this necklace.

Accessory, Travel Cosmetic Kit ($5):  The perfect accessory for the theme "World Traveler" — a travel cosmetic kit.  It includes a couple of brushes, a couple of applicators, and an eyelash curler.  (Is it just me that has nightmares about this thing?)  Anyway, just what the well-made up traveler needs to keep up her good looks.

Bonus, Travel Nail File ($1):  Last, but not least, the perfect bonus – two travel sized nail files.  One has a coarse grain and the other is more of a buff-type board.  Both are small enough to fit into a travel cosmetic case.  Super useful.
Both of my daughters and I totally love Threads Monthly.  Each month, the box is filled with things that we love – even if there is something that one of us doesn't love, another one of us is a big fan.  We think this is a real complement for Threads Monthly…because shirts and jewelry are so hard.  Making everyone happy is not easy – but because Threads Monthly provides a great variety each month (as well as month to month), there will always be something (if not everything) to love in each box.  This box is awesome for teens (and tweens that wear adult sizes) as well as grownups — sizes adult S-XL are available, subject to inventory).  We love it and we think you will too!
What did you think about Threads Monthly? Save 20% with coupon code HELLO.
Visit Threads to subscribe or find out more!
The Subscription
:
Threads
The Description
: Included in every month's subscription is one T-shirt, one or two pieces of fantastic jewelry, and one "Monthly Themed" accessory.
The Price
: $20.00 per month