Sun Basket is a meal kit delivery subscription box.   Their chef-developed and nutritionist-approved recipes focus on helping people create delicious, healthy meals using quality ingredients and globally-inspired flavors.  Recipes are created by Chef Justine Kelly, formerly of the James Beard award–winning restaurant The Slanted Door.  Meals are between 500–800 calories.  Meal ingredients use certified organic produce and responsibly sourced meats and seafood (free from antibiotics and added hormones).  Pick and choose 3 recipes between the following meal plan menus for your weekly selections:  Chef's choice, Paleo, Gluten-free, and Vegetarian.  You can also opt for the Rise & Shine menu which consists of two dinner recipes and two 5-minute breakfast recipes.
Sun Basket included this label on the outside of the box.  This information is useful if you have concerns about where your food is sourced.
Food is well insulated, and recipes are separated into individual bags (with color coded labels).  Meals are packaged to stay fresh in the box for up to 8 hours after delivery.  Immediately refrigerate ingredients after removing from the box.  Note from Sun Basket, recipes with delicate greens and fresh mushrooms are best used within 4 days of delivery.  Sun Basket provides most of the ingredients needed for your recipes, but there are a few pantry staples that you'll be asked to add such as olive oil, grapeseed or sunflower oil, plus salt and freshly–ground pepper. Occasionally, you'll be asked for wine or butter as an optional recipe item. All Sun Basket packing materials are either recyclable or compostable. (Note:  SunBasket has recently changed it's insulation, and the new version can be rolled up and put out with your plastic recyclables.)
Week 1: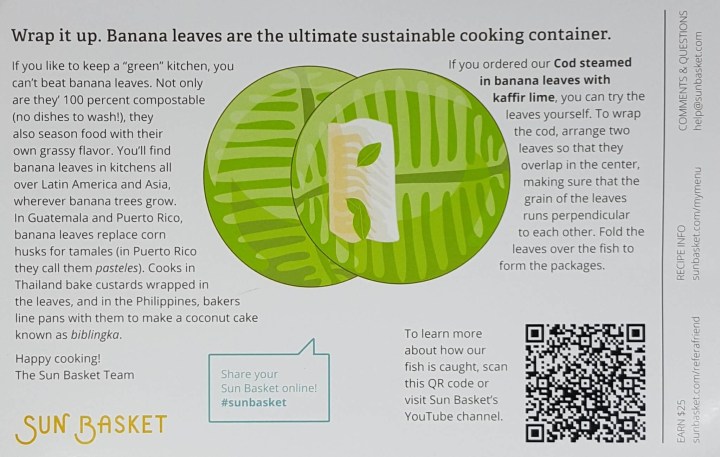 Sun Basket has provided tips on using banana leaves as wraps for cooking.  This practice is common in Latin and Asian cuisines.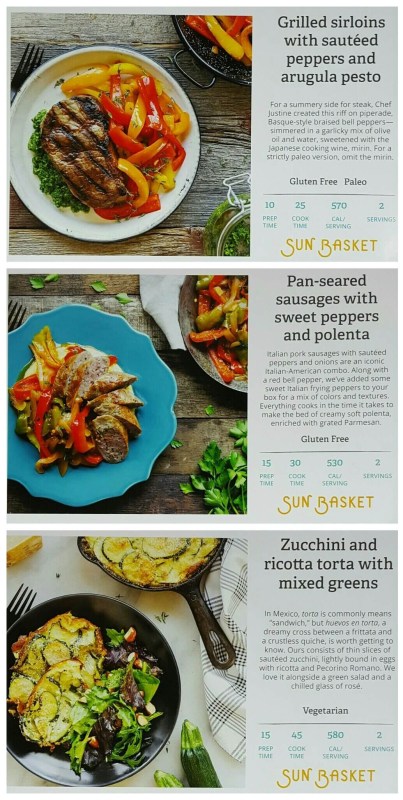 Week 1's Recipe Cards
Grilled Sirloins with Sauteed Peppers and Arugula Pesto

: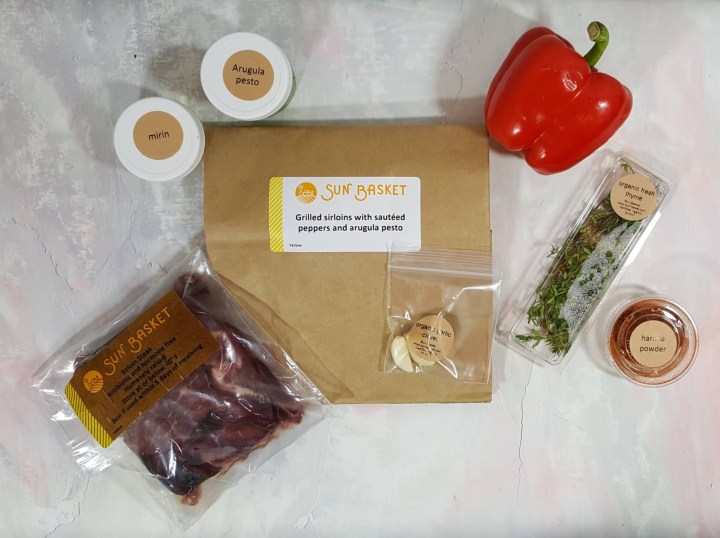 Ingredients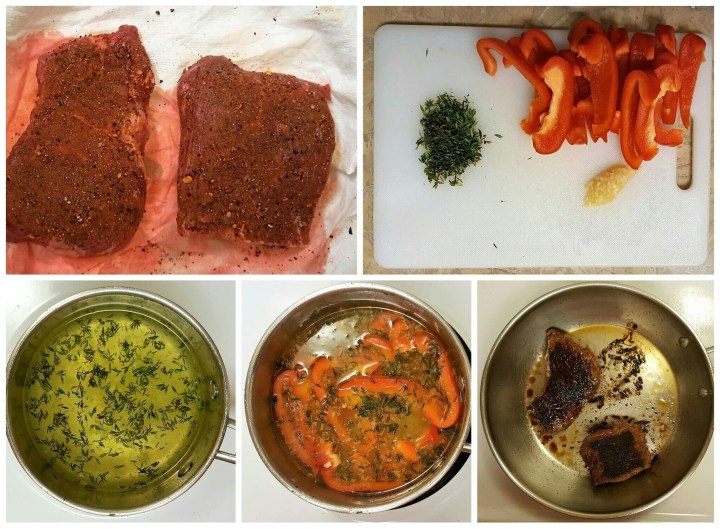 Making the meal:  Season the steaks; prep the bell peppers and garlic, cook the peppers, and cook the steaks.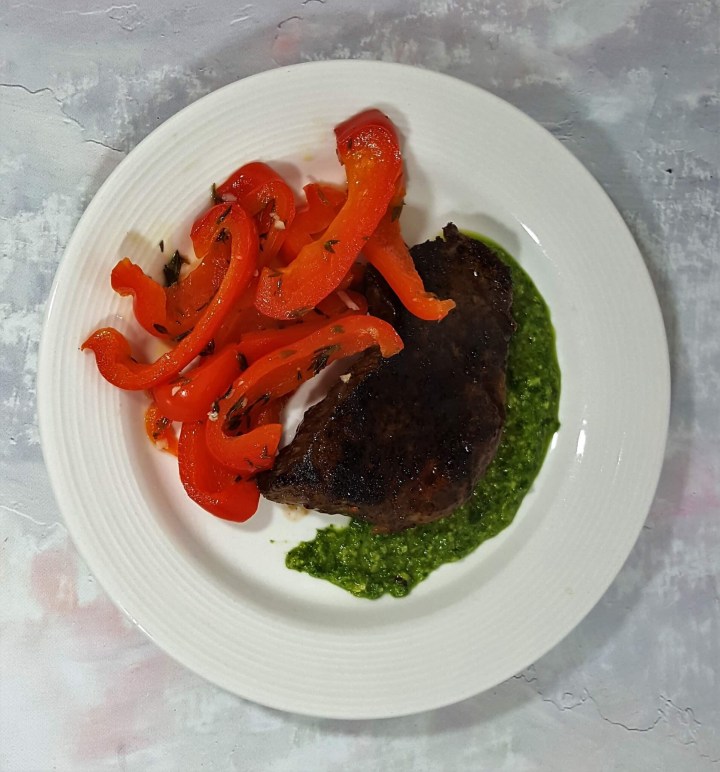 The peppers were simmered in a mirin-based stock with garlic and thyme.  The liquid added a small amount of sweetness to the already sweet peppers.  I surprised myself and ended up with the perfect medium steaks.  They were super tender.  The arugula pesto added a bit of bite and was a nice change up from regular pestos; made with arugula, walnuts, and no cheese.  This was a filling meal, but I still wanted something a bit heavier/starchier on the plate.
Pan-seared Sausages with Sweet Peppers and Polenta

: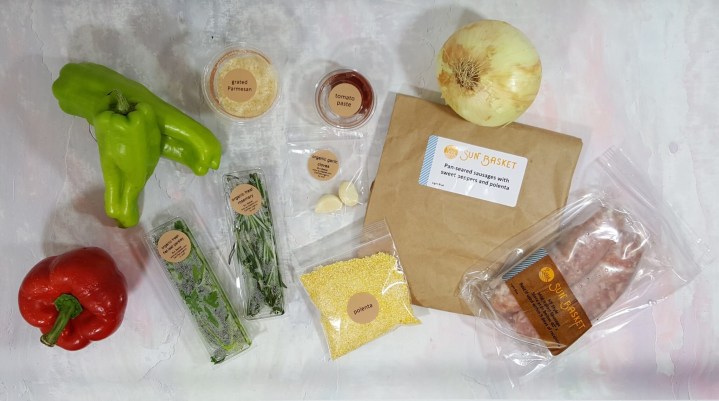 Ingredients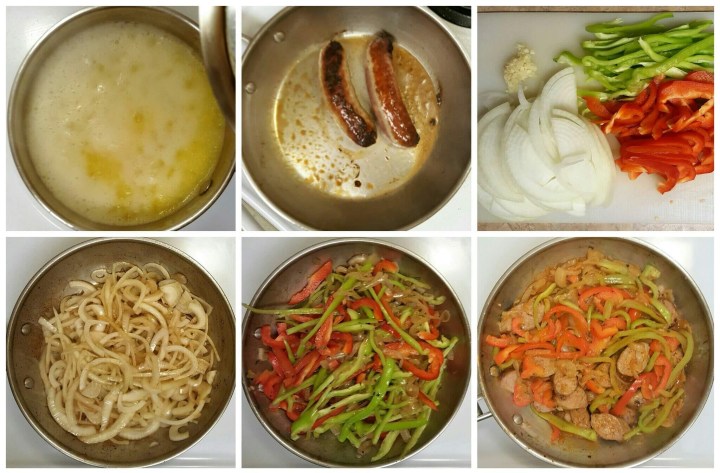 Making the meal:  Cook the polenta, cook the sausage, prep the veggies, cook the veggies, and combine.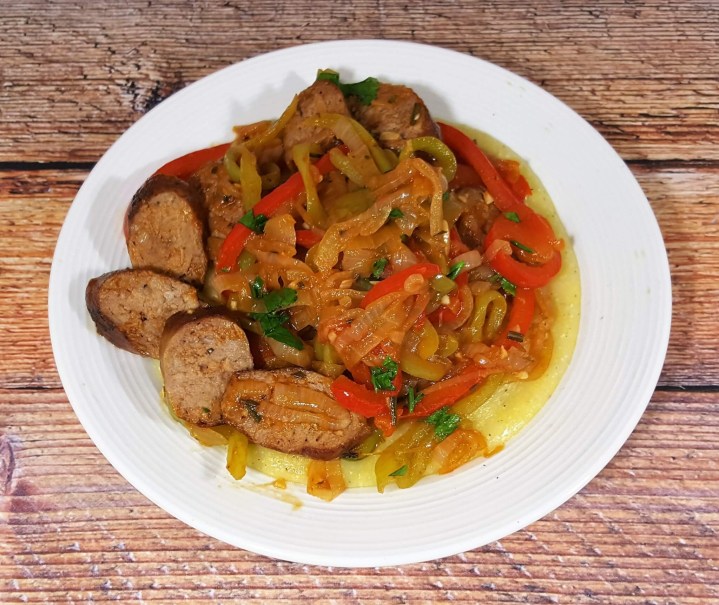 I actually make a dish very similar to this on occasion, except I serve mine over rice.  Not sure why I never thought to use polenta.  I make polenta from time to time, but never from scratch.  This was so easy and super creamy, with good corn flavor.  The creamy polenta helps cut through the saltiness of the sausage and is a nice base for the lighter peppers.  This was hands down my favorite meal of the week and will make a reappearance on my dinner menu in the near future.
Zucchini and Ricotta Torta with Mixed Greens

: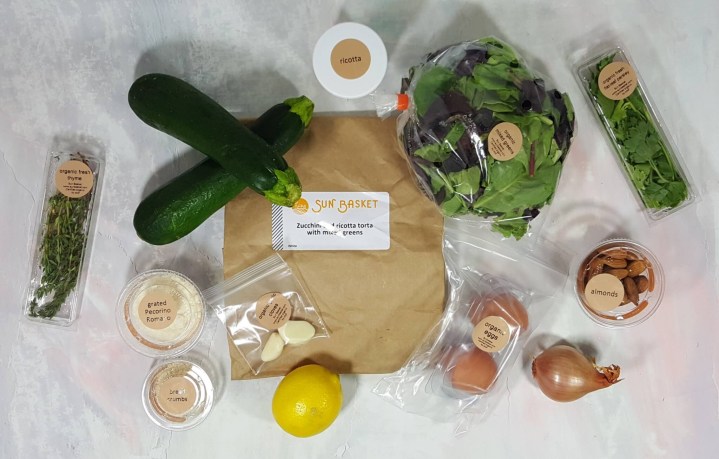 Ingredients – Although they look fine here, my almonds arrived out of the container and rolling around the bag.
Making the meal:  Prep the veggies, cook the veggies, prep the torta batter, bake the torta, and make the salad.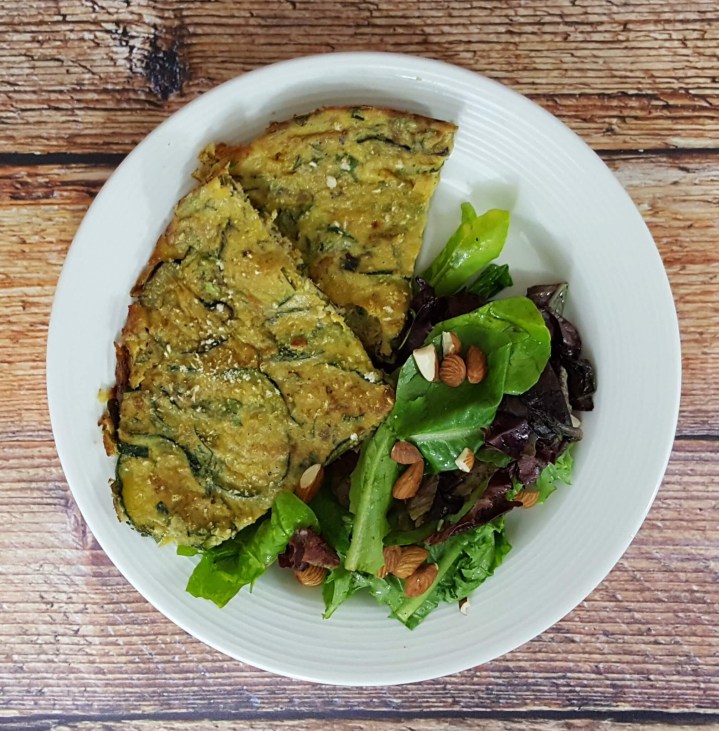 I thought this would be a great brunch dish.  The torta was packed full of flavor; however I over salted it (forgot about the salt from the cheese), and even the burst of lemon from the salad dressing couldn't save it.  Also, I think the pan I used to make the torta was too big – mine looked thinner than the composed dish pictured on the recipe card.  I'll have to try this again with less salt.
Week 2: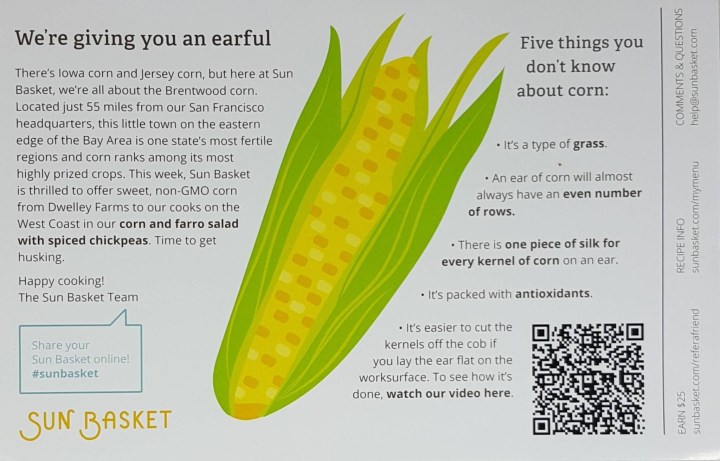 SunBasket's (and I'm) getting corny.  LOL!  Ok, that was bad.  Scan the QR code to see a video on how to safely cut the kernels off the cob.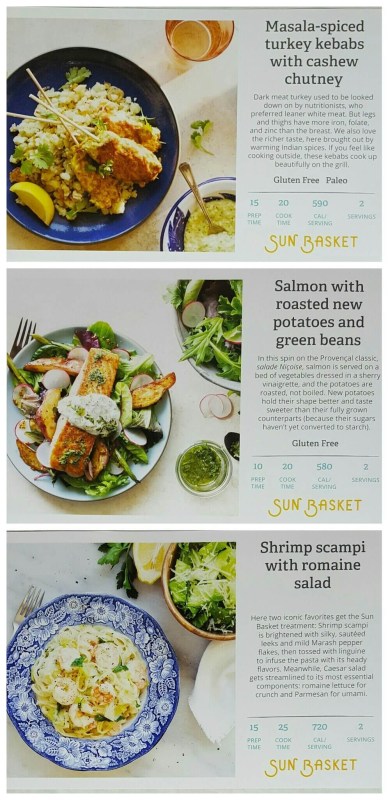 Week 2's Recipe Cards
Masala-spiced Turkey Kebabs with Cashew Chutney

: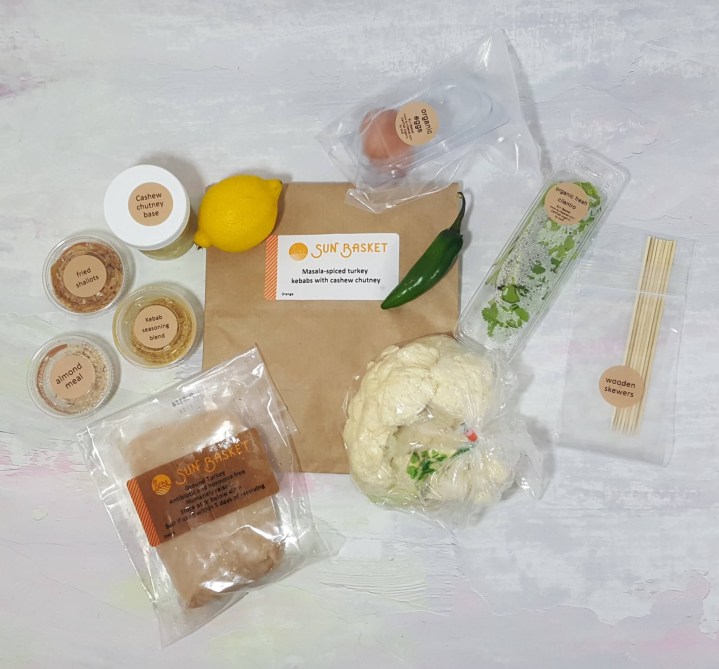 Ingredients – This recipe called for cauliflower "rice".  YUM!!!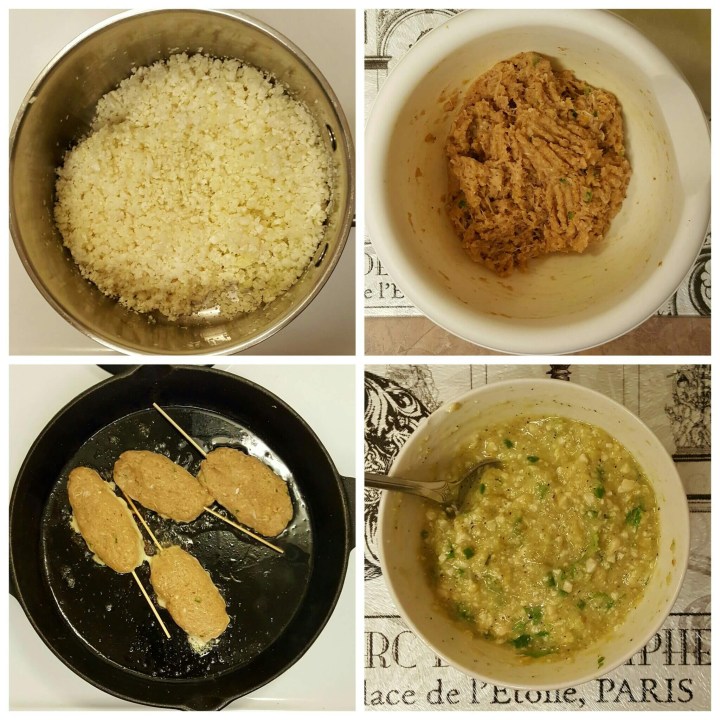 Making the meal:  Chop and cook the cauliflower, prep the kebabs, cook the kebabs, and finish the chutney.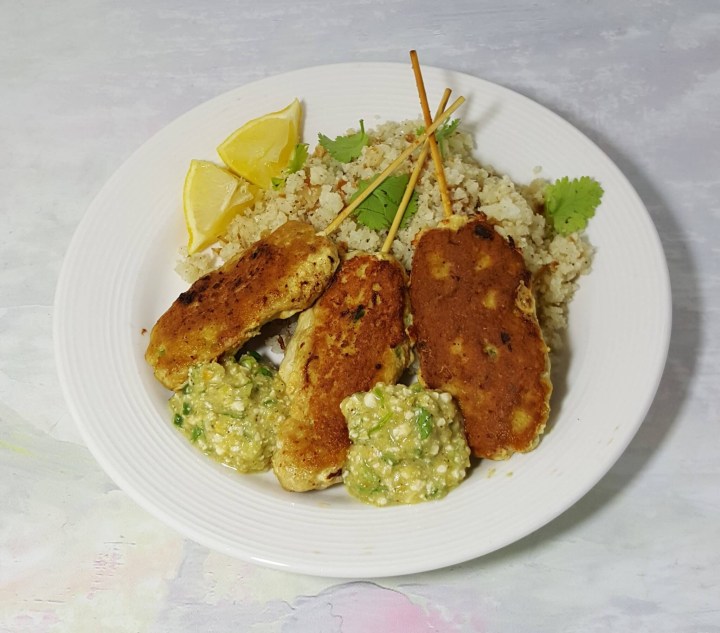 You may remember that I had a kebab meal last month too.  Told you, I really like them!  I actually preferred this version more.  The spices didn't overwhelm and the texture of the kebab was better.  This was a well-composed dish and the chutney added a nice burst of flavor.  I am definitely making this again.
Salmon with Roasted New Potatoes and Green Beans

:  
Ingredients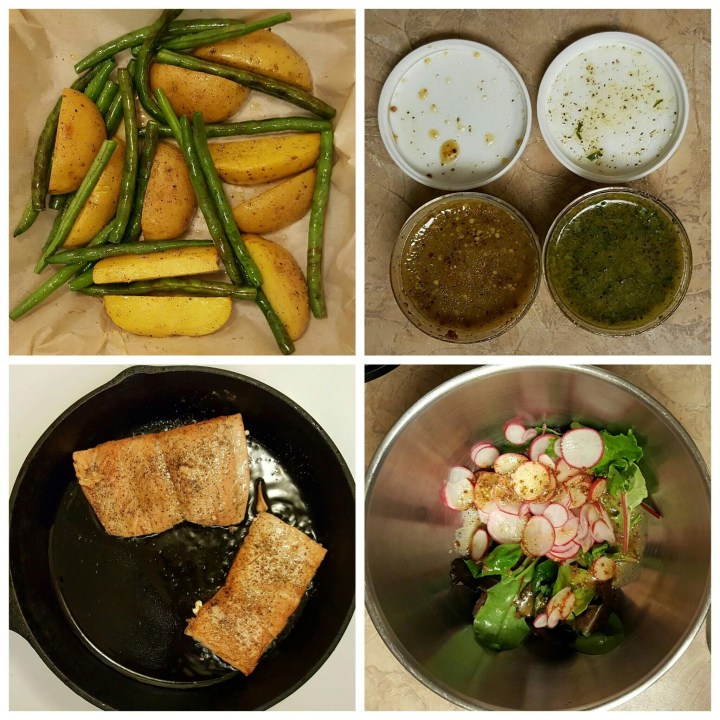 Making the meal:  Roast the potatoes and green beans, make the lemon-mint sauce and vinaigrette, cook the salmon, and assemble the salad.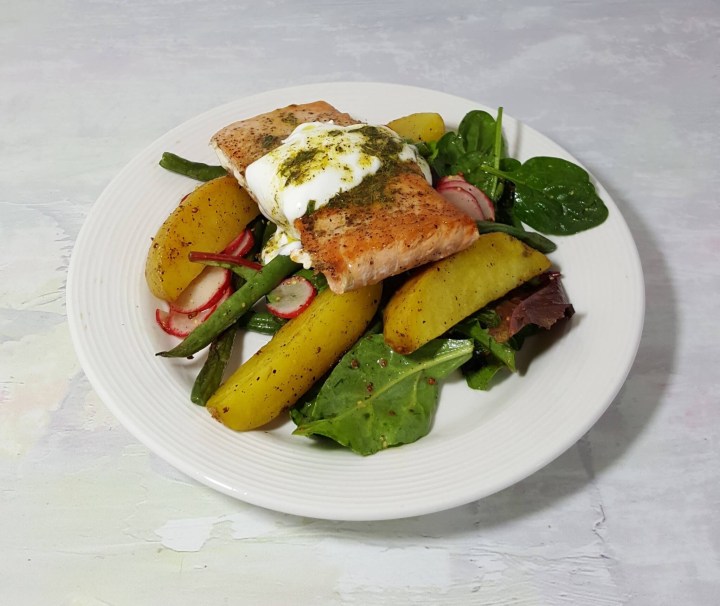 Loved this dish!  It was rich and hearty, but also light at the same time.  The Greek yogurt/lemon-mint sauce combo added a little bit of herby tartness to the salmon.  That with the peppery bite of the radishes made the perfect bite.  And, the second serving was just as good the next day for lunch.
 

Shrimp Scampi with Romaine Salad

: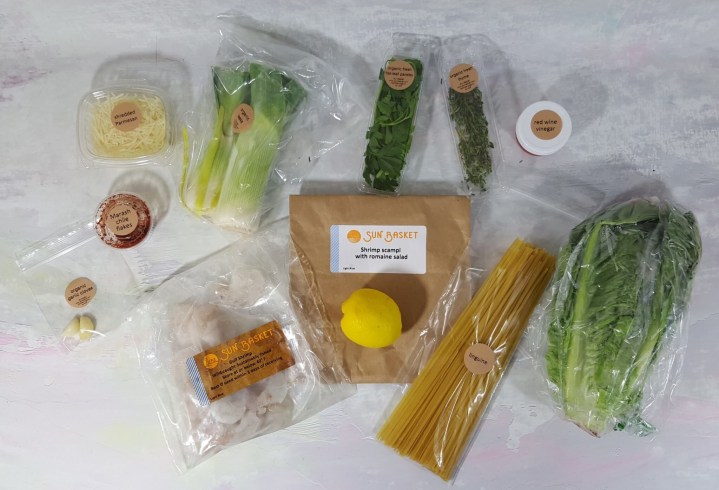 Ingredients – I can already tell that I am going to need more shrimp.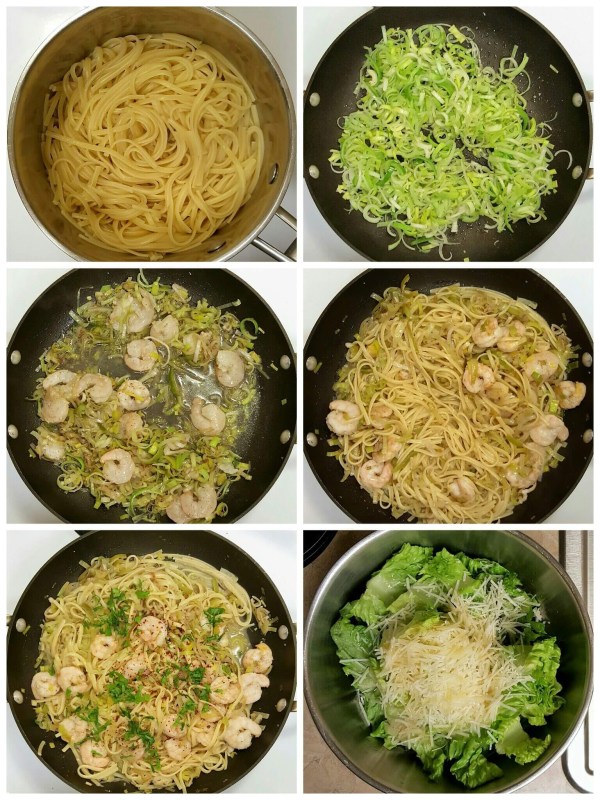 Making the meal:  Cook the linguine, cook the leeks, prep remaining ingredients, cook the shrimp scampi, and make the salad.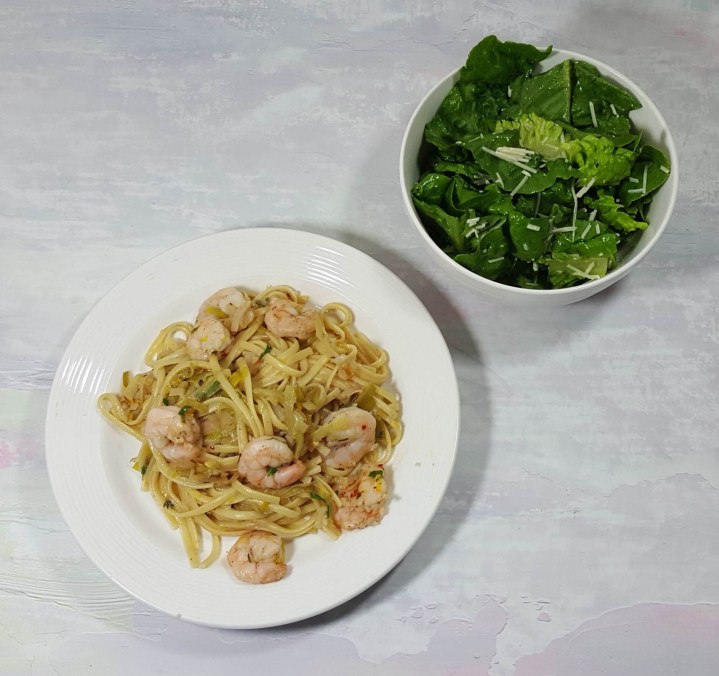 This recipe calls for white wine, but I was out.  So I subbed with a bit of rosé (hence the slightly darker color).  I was right about shrimp – we're a shellfish loving family.  This dish was alright, not my favorite but satisfying.  My dad, however, was effusive with praise about the romaine salad.
Sun Basket has made weekly dinner menus in my house so easy.  And to make it even easier, they are now providing 20-minute meals as part of the weekly selection for those short on time!
You can choose between the 2-person or 4-person plans (weekly $74.93 and $143.87, respectively).  Sun Basket meals breakdown to $11.49 per person, which is similar to eating out at a casual restaurant.  There is also a $5.99 weekly delivery fee.  You can skip or cancel at any time.  Sun Basket has an expanded delivery area.  However, they do not deliver to the following states:  AK, HI, IA, KS, LA, MN, MO, MT, NE, NM, ND, OK, SD, TX, and WI.  They only deliver to parts of AR.
Have you tried Sun Basket yet or any other meal service? Save $30 on your first box – about half off! Use this link to get the deal.
Visit Sun Basket to subscribe or find out more!
The Subscription
:
Sun Basket
The Description
: Sun Basket is a new healthy meal kit service that delivers organic ingredients and delicious, easy-to-make recipes for cooking at home. Sun Basket makes it easy to cook healthy, with Paleo, Gluten-free and Vegetarian options, plus healthy breakfasts. Get 3 recipes per week for 2, 4 or 6 people, delivered to your door in recyclable packaging that can be shipped back – free- for reuse.
The Price
: $68.94 every week