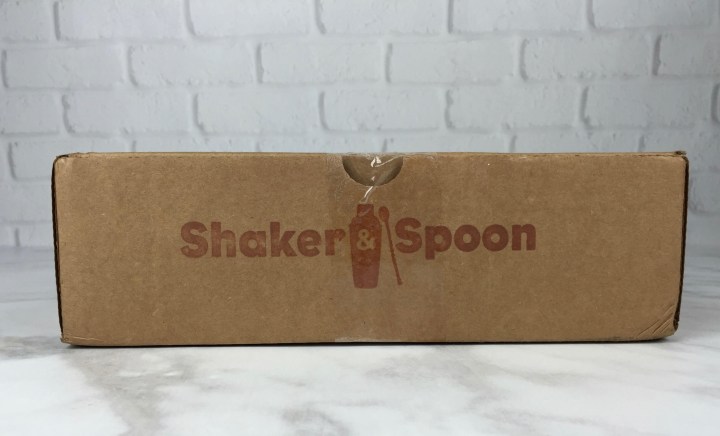 Shaker & Spoon Cocktail Club is a monthly subscription box that is a great way to discover new drinks.  It gives you all the ingredients you need (except the booze itself) to make high-caliber mixed drinks. This is a really awesome idea for people that prefer to procure their own liquor, or live in a state where it cannot be shipped to them!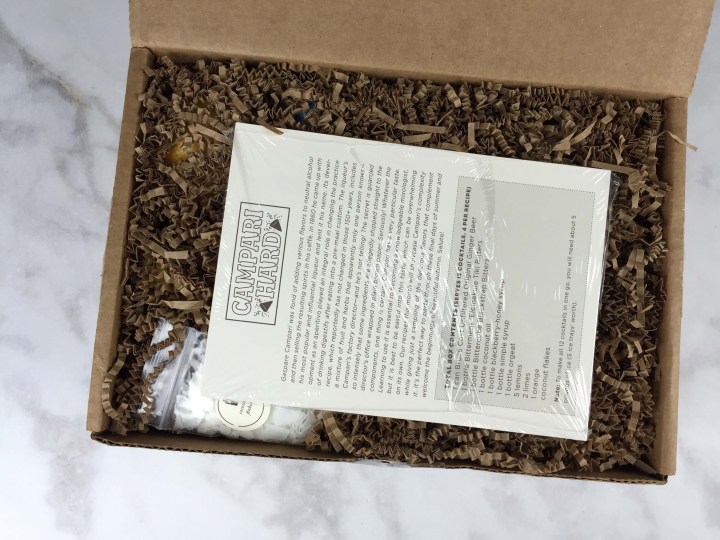 This month featured three great drinks using "Campari!"  Shaker & Spoon sends a handy email to let you know what spirit will be needed for the box, along with a value and mid-range option.  They ask high-end bartenders for advice on the brand of liquor to choose, so some suggestions may be craft or small batch, of limited availability in your area, or a little pricey for your taste.  In this case, however, there is only one real Campari, so the choice is easy!  I loved the thoroughness of Shaker & Spoon — it includes all the syrups, bitters, and citrus needed to make the drinks.  Some months even have peculiar stuff like herbs and jam.  Aside from ice and the liquor itself, the box nearly always comes with all the consumable ingredients — this month's box even was the first exception to the rule, requiring the contribution of fresh egg whites from home.
The card gives an inventory of the contents of the box and some information on the nature of the drink, as well as the recipes provided.  A useful glossary card introduces the novice barman to the tools and terminology that will be used in the recipes.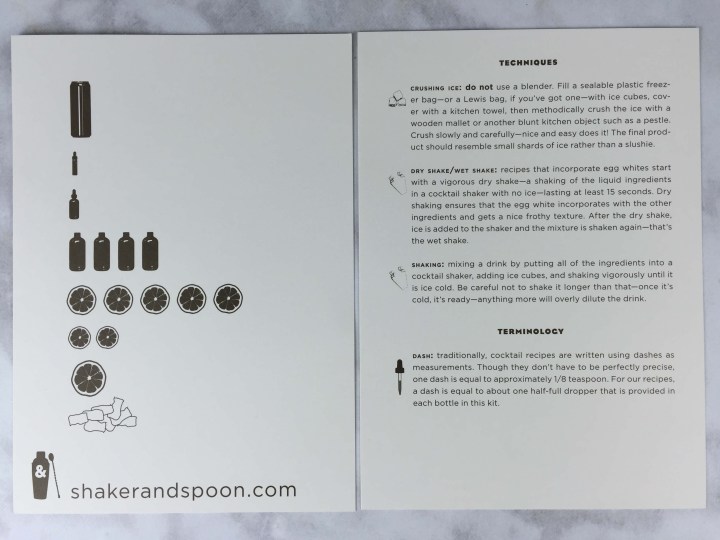 A visual inventory of the box allows a quick assessment of the contents, though everything is labeled, too!  The glossary card is very helpful, describing the techniques and measurements peculiar to mixology.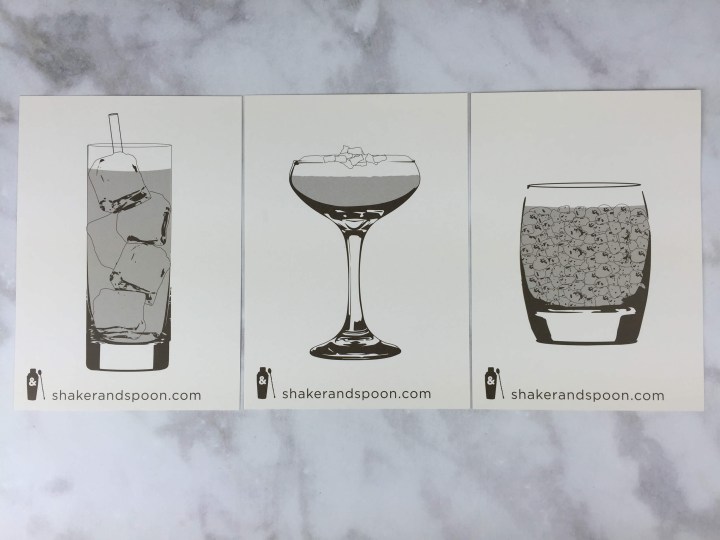 Pictures of the drink when served in the recommended glassware.  The glassware called for in this month's collection of recipes was typical, as we had one recipe using a rocks glass, one suited for a highball, and one coupe-served recipe, but it changes each month depending on the booze and recipes concocted.  We use a rocks glass for most drinks, and we usually use either the pony glasses (quarter-pint glasses) we received in our Craft Beer Club subscription in place of a coupe, or we go with a pint glass, Teku glass, or wine glass — whatever seems to work with the volume and style of drink.
Three Campari drink recipes, each described in detail with recipe and instructions.  This set of recipes differs from what you'll see in most Shaker&Spoon boxes — typically, they'll have a featured liquor-based formulation of an Old Fashioned, an original cocktail that speaks to the theme of the box, and a very drinkable remake of a classic, like a Collins, Martini, Boxcar, etc.  This month, however, appeared to have three originals designed to showcase the one-of-a-kind taste of Campari.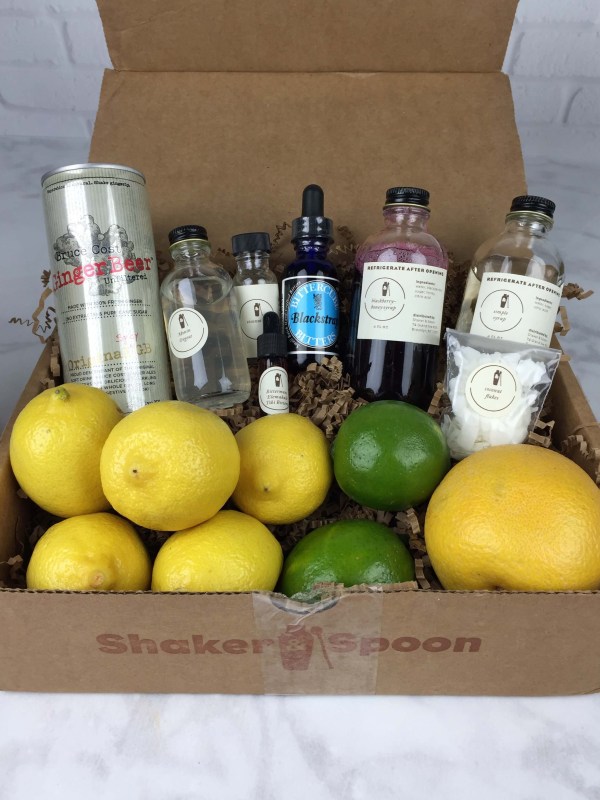 Everything in my box!   I love that the box usually has both staples you can use in tons of drinks, like simple syrup, and interesting flavors to experiment with, like the unique bitters in this box.
The kit usually includes a mixer and fresh citrus — this one had lemons, limes, and an orange!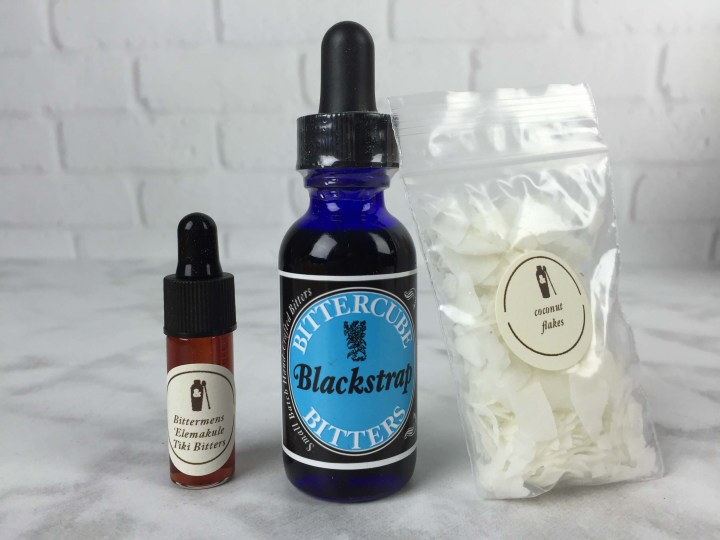 Bittermens 'Elemakule Tiki Bitters:  A fun twist on traditional bitters, with lots of floral and fruit notes.
Bittercube Blackstrap Bitters:  Rich, sweet, and spicy, these evoke a blackstrap molasses type of flavor kick.
Coconut Flakes:  Garnish for one of the unique drinks we made with this box — our foamy sour had a thick enough head to float the flakes!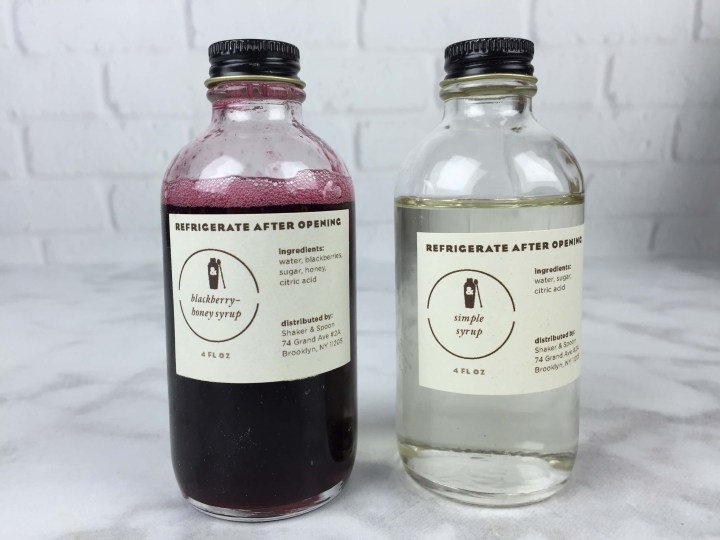 Blackberry-Honey Syrup:  Sweet and teeming with blackberry juice, this syrup was a superb complement for the bitter and spicy profile of Campari.
Simple Syrup:  The classic ingredient used to balance out citrus or bitters, this was much needed here to counteract the powerful tannin and bitter of the feature liqueur.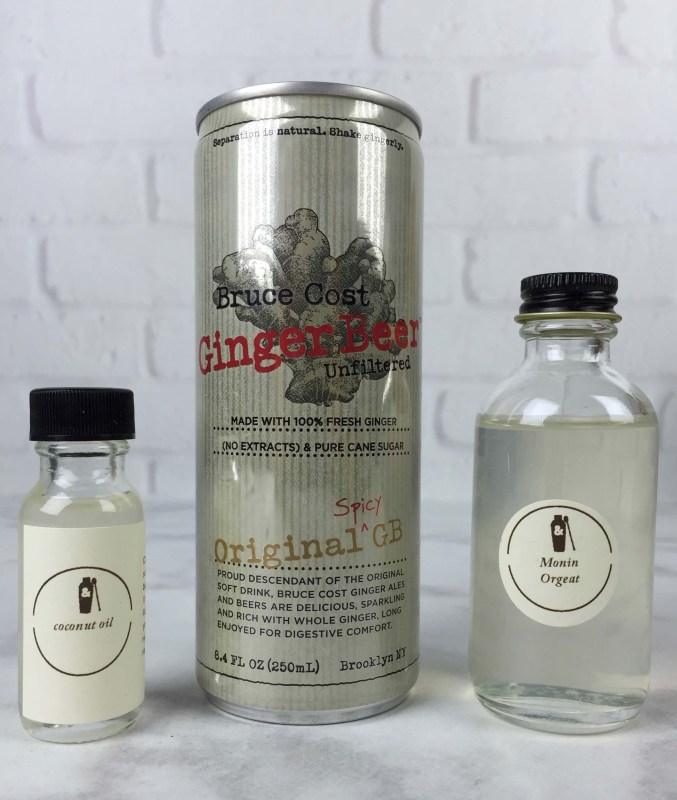 Coconut Oil:  A little bit of oil adds tropical flavor, but is also essential for producing the right mouthfeel in one or drinks.
Bruce Cost Unfiltered Original Ginger Beer:  Gourmet ginger beer tends to be very spicy and flavorful — it is one of my favorite mixers and is essential for Bucks or Mules.
Monin Orgeat:  This syrup is best known as an ingredient in a Mai Tai.  It is made of almond-infused sugar and further flavored with floral oils of rose or orange blossom.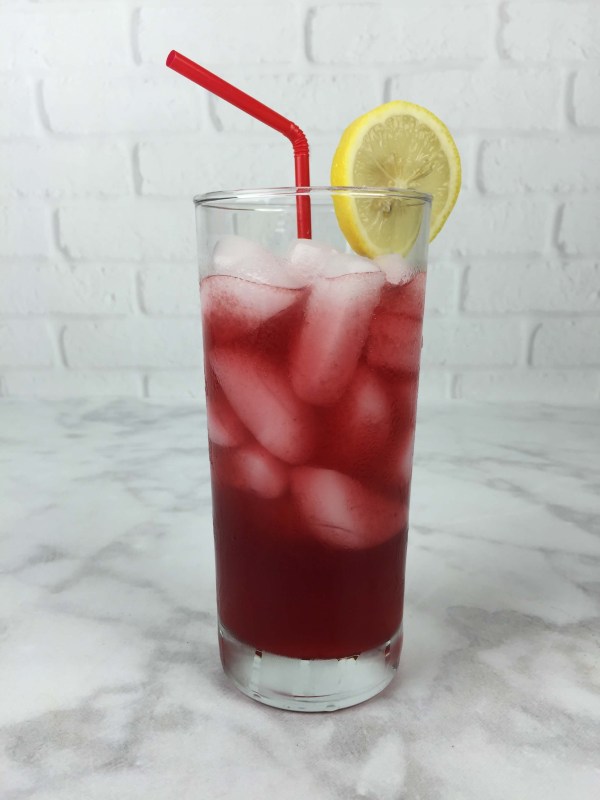 Grave & Bramble:  This was Brandy's favorite of the bunch.  The blackberry syrup did the most to balance the bitter flavors of the Campari, and the drink had the most neutral tannin level, approximating the tartness of the cranberry in a Cape Codder.  The pour of ginger beer also went a long way in making this the most rounded and drinkable cocktail.
Wherever I May Foam:  This peculiar drink is based on the foamy sours or yesteryear — the early 20th century saw egg white used in more cocktails, rendering a thicker, creamy mouthfeel.  A bit of coconut oil always creates a glossy, unctuous sip.  I liked the texture of the drink itself, but the foam just kind of floated apart from the rest until it the drink was gone, at which point it sat unappealingly at the bottom of the glass.  It had good mouthfeel and lots of brightness from the lemon.
Marbles in the Garden:  The blackstrap bitters added a bit of a licorice flavor.  The orgeat, lime, and orange combo created a nice wall of tangy citrus that reminded me of a tequila sunrise.  The bitter of the Campari was unabated, and the blackstrap only accentuated it.  This drink had lots of citrus grove flavor, but it was also a bit bitter for the non-connoisseur.
Campari is such a peculiar (it was colored with crushed beetles until 2006) and powerfully-flavored liqueur that most drinks cannot significantly alter its flavor profile, which is a bit spicy and very bitter, love it or hate it.  This set of recipes tried to nuance the flavor by adding flavored bitters, but it was a little overkill for the already bitter liqueur.  I think they would have been better sticking with syrups, citrus, and sodas (or a lovely shrub!).
I love the "just add liquor" concept of the subscription — as long as you have some basic bar equipment and a liquor store, you're set.  The featured liquor changes month to month, with some common and some exotic.  Shaker & Spoon recommends a few brands (except with one-offs like Campari), so you have a choice of mid-range or top-shelf.  Shaker & Spoon Cocktail Club fills a void in the drink prep world, and they do a great job!  I also love using the extra syrup, bitters, and garnish to make my own creations!  I really look forward to this subscription every month.
Here's info on the October box: Order by September 30th to try the ¡Viva Mezcal! Box
For the longest time, tequila was the most well-known and ubiquitous agave-based spirit in the US, but the times they are a-changin'. These days, craft cocktail menus proudly announce mezcal offerings and mezcal-devoted bars increasingly dot urban landscapes. If you haven't tried mezcal yet, it's time to see what all the hype is about.

We'll start with an adult twist for this candy-laden season. The Guatemalan Poker Game,created by Russell Davis, will sate your chocolate cravings all month long with its unique combination of house-made syrup and the previously extinct ingredient acid phosphate!

With Dia de los Muertos looming large, blood orange turns the Red Devil 2.0 by Jules Mavromatis of Agave 308 in Key West, FL, into a gorgeous, blood-red celebration, also featuring lime juice, firewater tincture, and more.

The Oaxacan Trails by Eric Johnson of San Diego's Juniper and Ivy & The Crack Shack is perfect for this transitional time of year because no matter what temperature you're sitting at, it will still go down smooth. Although mezcal gets to take center stage as the star of this show, we bet you'll love the surprising additions of refreshing celery syrup and unique Critter Bitters Pure Cricket Tincture as they vie for the spotlight just a bit
What do you think of Shaker & Spoon? Save 15% off 1 & 3 month subscriptions! Use coupon code HELLO15. Cannot be combined with any other deal, only for first time subscribers.
Visit Shaker & Spoon Cocktail Club to subscribe or find out more!
The Subscription
:
Shaker & Spoon Cocktail Club
The Description
: Every month you'll get a box with 3 recipes for 12 drinks (4 from each recipe) and everything you need to make them—syrups, bitters, garnishes, citrus—besides the alcohol. You'll be exposed to new flavors and combinations, inspiring you to see your liquor cabinet in a whole new way. Subscribe today and be your own bartender before you know it.
The Price
: $55.00 per month with shipping.