eSalon Custom Hair Color is an at home custom color subscription.  This is my third application of their permanent color.  I had switched to the permanent from the semi-permanent awhile ago and I feel like my color did last longer and I didn't notice my gray as quickly.  I actually kept my same color and mix from the last couple of times since it was perfect for me for summer time.  With fall coming I may go a bit darker next time but we'll see how I feel when its time to color again.  I don't go for a huge change with my color and really just want to enhance what I've already got and cover some of the gray that is starting to shine through.  When you first log in you fill out a survey and answer questions about what you are looking for in a color and what color your currently are etc. eSalon then had a chart showing where you are and what would work for you. From this they will send a custom blended color right to your door.
eSalon's color is $24.95 per box, $19.99 on subscription – try your first month for $10 with this link!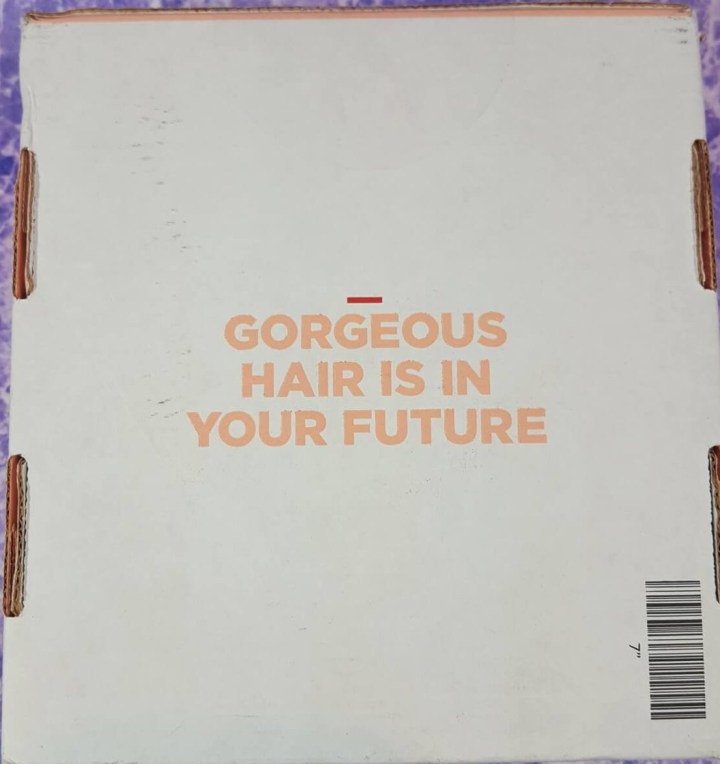 eSalon has a great box and even the bottom lets you know that gorgeousness is headed your way.  These boxes are made just for you and they make sure you know.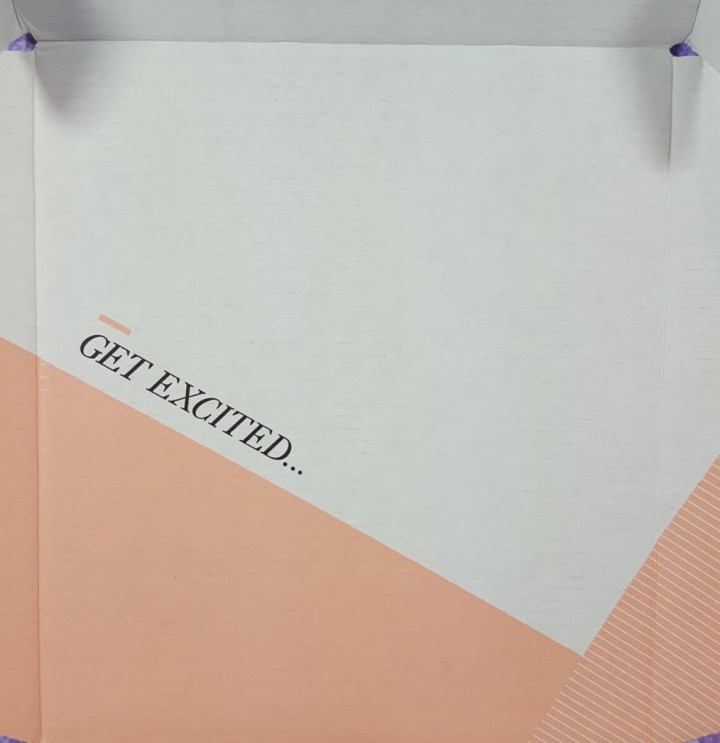 Even the lid on the inside is decorated.  I totally agree and I'm super excited. This will be the first time I color my hair since I got my most recent haircut.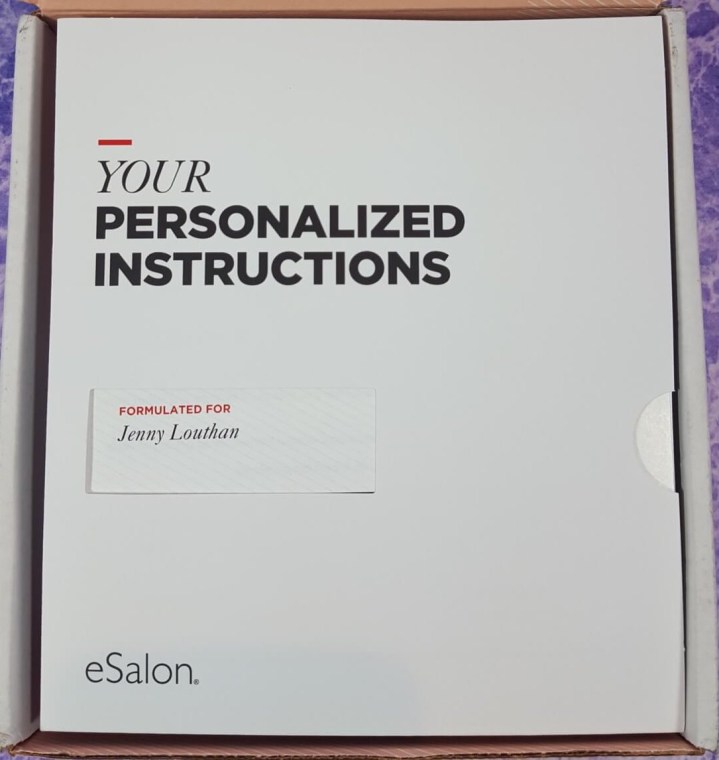 First look in the box and you will see your customized information and instruction card on top of your coloring supplies.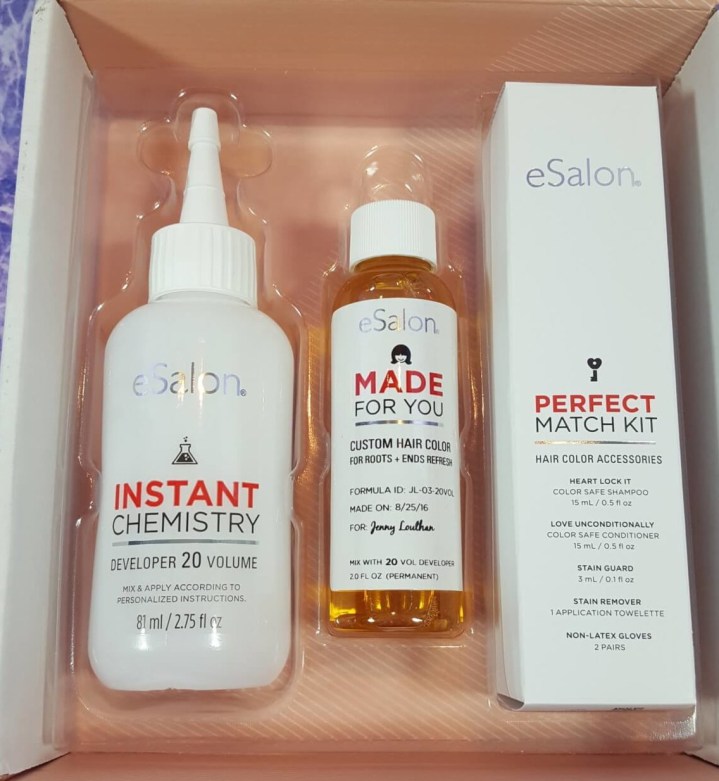 Everything that is included with the eSalon coloring kit.  I love that they each have their own little spot in the insert of the box. This keeps them from floating all around and things leaking and getting messed up.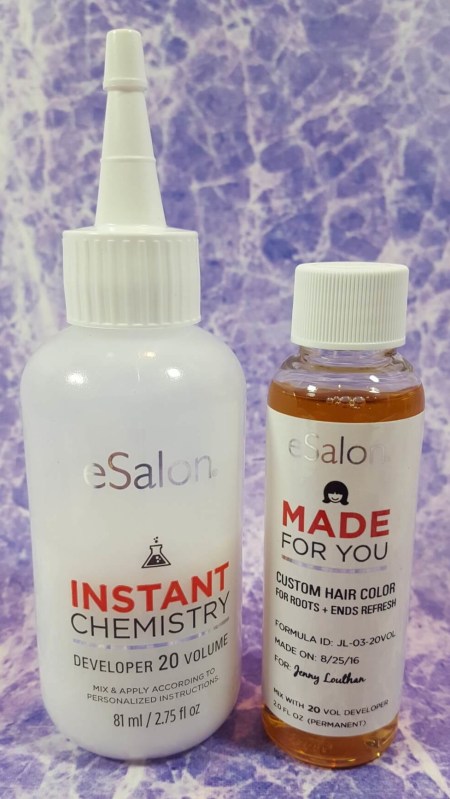 Here is the custom color solution. When you are ready to color your hair you will mix these up.
This is the perfect match kit and is all included in the little box.  It is all the extras you will need to color your hair: shampoo, conditioner, stain guard, stain remover, and gloves.
The subscription comes with easy to follow instructions.  I didn't make any changes from my past month but if I had they would have shown on here and told me what was different.  Making changes is easy and you can do it in your online account and they will send you a message saying they received it and are going to make the adjustments.
The instructions are easy to read and to follow.
Me and my shorter hair.  I mentioned last time I needed a haircut and as luck would have it I was visiting my mom and my hair stylist from when I still lived at home had an opening so I was able to squeeze in a cut. I got so much cut off and my hair feels so light now. I am using my cape from my first The Matchup box.  It was much easier to color with the cape instead of the towel that I used to use.  The towel was clunky and hard to move my arms around but the cape is lightweight and easy to maneuver with. It also didn't keep falling down since it hooks in the back. So crazy but I realized as I was coloring this morning that I really needed to flip the cape around and have the bigger front part in the back so that as my hair was down it wouldn't get on the back of my shirt.  There is some coverage on the back but the front is fuller so I just flipped it around and all was good.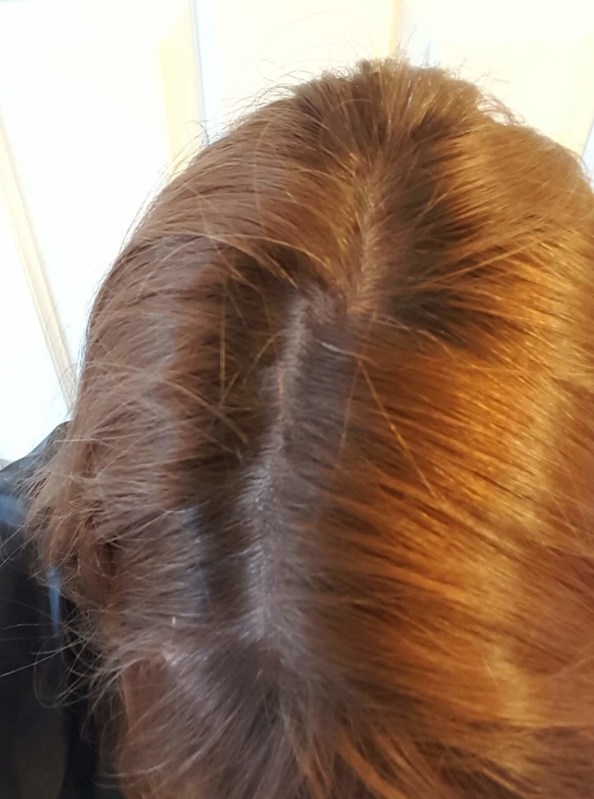 So you can see some of the gray's in my top picture and then of course the darker shade of my roots.  They grays really are scattered through my hair and not just along my part so its hard to tell. Also with all my natural highlights and coloring they do blend in a bit but they bug me non-the-less. While my roots look dark here they really are more of a darker red and then with my hair with its natural sunny highlights they are always more noticeable in the summer.
Here is my hair with the coloring on it. You can also see the cape flipped around a bit in this one.  I had my hair clipped up but took this picture when I took the clips out right before I was going to get into the shower and rinse it out.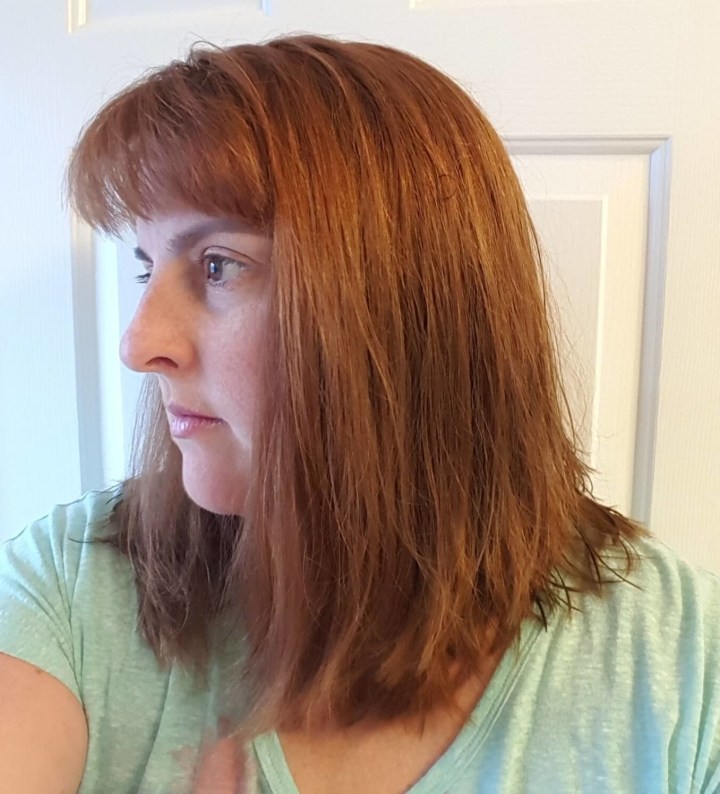 Here is my hair all ready to go.  Well mostly ready to go I wasn't planning to go out today so I didn't dry it all the way through. It is so hard to see the color change in the pictures but I do love it and I can tell the change and how vibrant my color is and how they grays are so much less noticeable to me.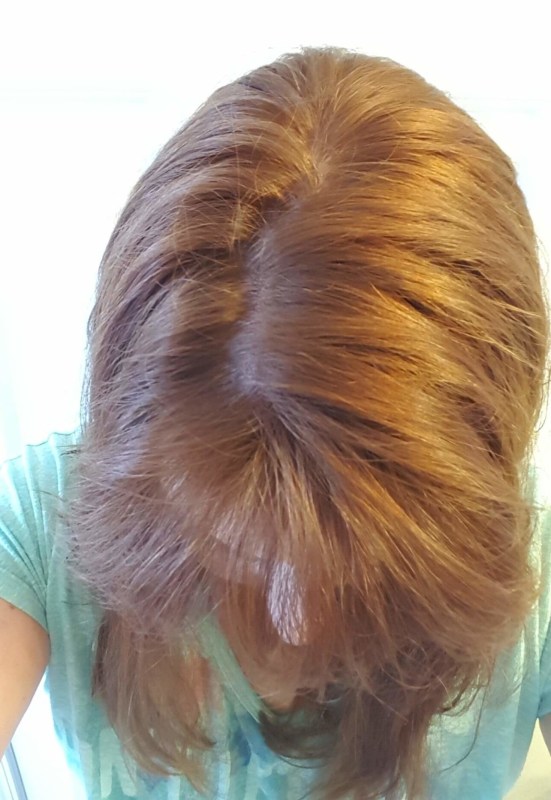 My finished hair top and while I never have a straight part and love my whatever look you can see how the gray isn't jumping out at me here and that the roots aren't showing though as much.
I love eSalon and the ease in which they made selecting my color and then the easy to follow instructions. Admitting I needed to do some coloring was another issue I had to deal with and once I got over that I was good to go.  I've been coloring my hair about every 8 weeks which is good timing for me but you can easily go in and modify that time frame for what would work for you.
Do you color your own hair? Have you tried eSalon? You can try your first at-home color for $10 with this link – no coupon code required!
Visit eSalon Custom Hair Color to subscribe or find out more!
The Subscription
:
eSalon Custom Hair Color
The Description
: Get individually blended hair color crafted just for you by professional colorists. Individual hair color, crafted just for you, with personalized instructions for an easy at-home application. Advanced formula with high-quality ingredients for rich, long-lasting color and superior gray coverage. Our hair colors are not pre-stocked. Every order is custom blended, bottled and packaged, then sent to the client as soon as it's completed.
The Price
: $19.99 per month