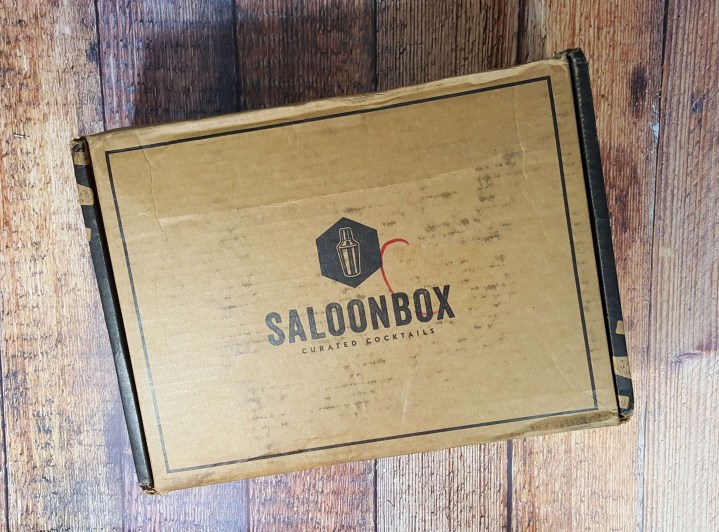 SaloonBox is a monthly cocktail subscription box. Every month you'll receive two cocktail recipes, top-shelf liquors for the recipes along with any specialty items, plus the background on each cocktail.  Note:  Be sure that someone 21+ is home to sign for the delivery.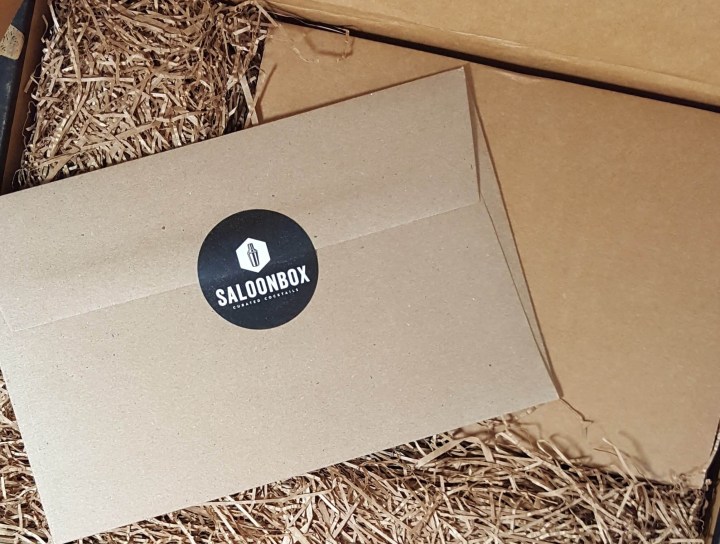 All non-perishable ingredients are packed in paper shreds and smaller boxes.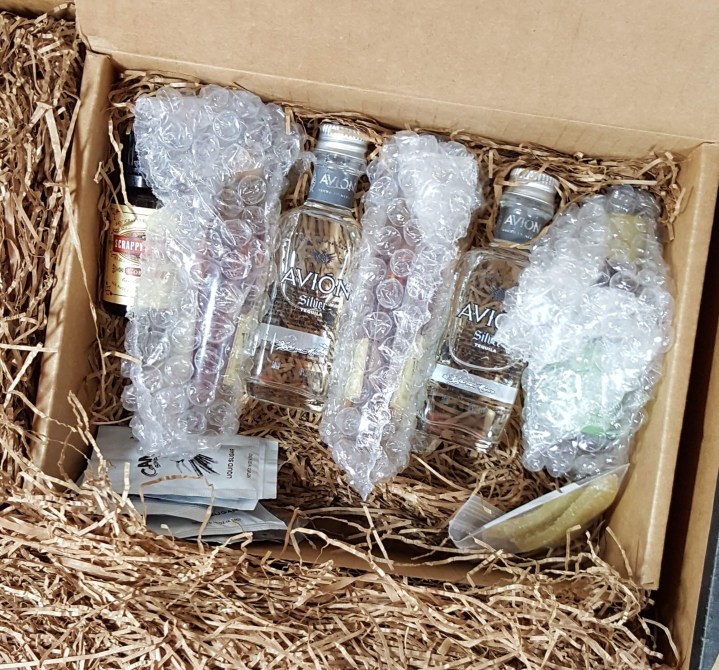 So much care is taken to ensure that your items arrive intact.  No party fouls here!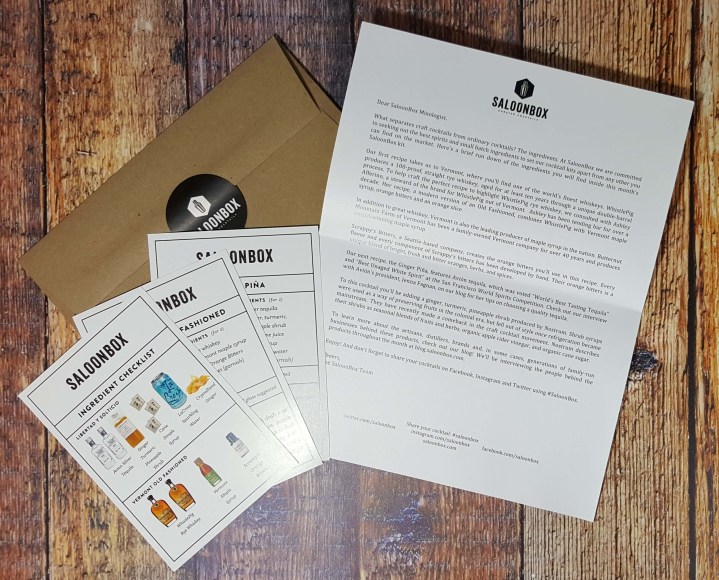 In the envelope, SaloonBox includes a letter that provides information for each cocktail, as well as details on some of the ingredients to be used.  There are also drink recipe cards and an ingredient checklist.  The recipe cards give a brief history of the drink, the bar, and mixologist associated with it.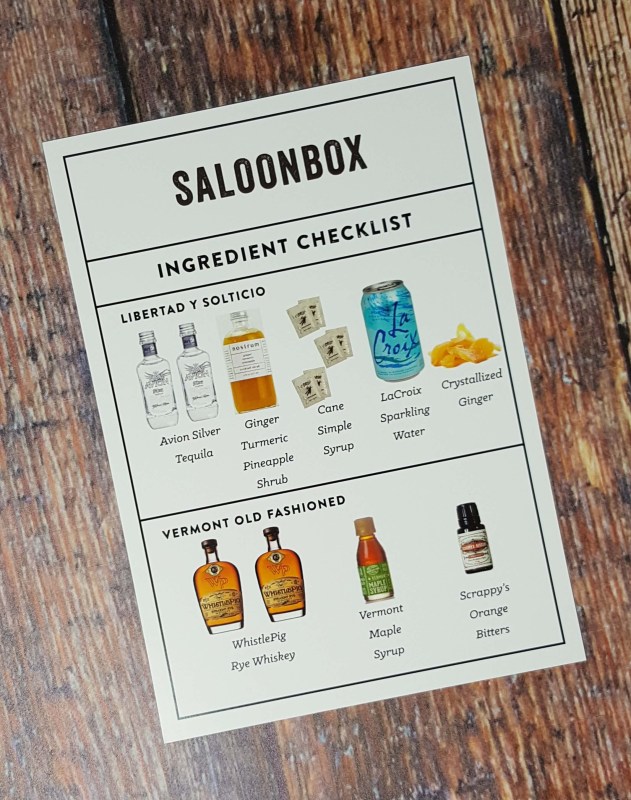 Everything in the August SaloonBox!
Cocktail 1 – Vermont Old Fashioned
This cocktail was created by Ashley Afferino of the Owl Tree in San Francisco.  Ashley is also a steward for the brand WhistlePig.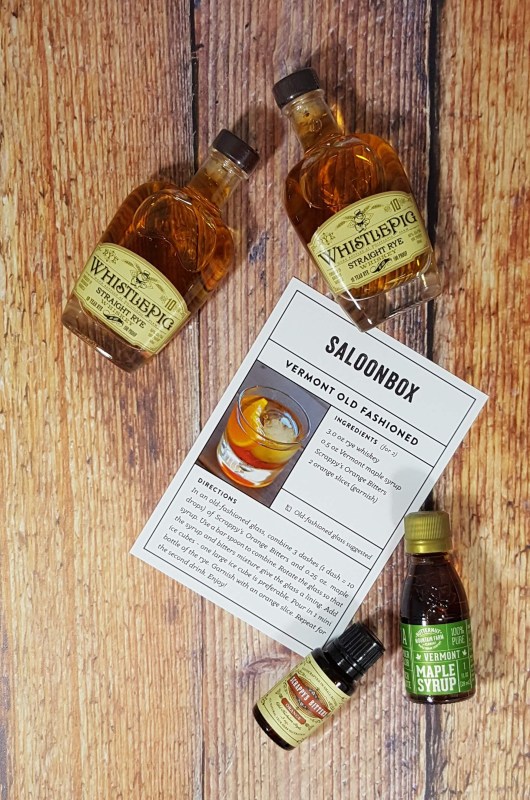 What makes this version a "Vermont" old fashioned is that sugar/simple syrup is changed to Vermont maple syrup and the rye is from a Vermont distillery, WhistlePig.  The other variation is that orange bitters are used instead of orange peel.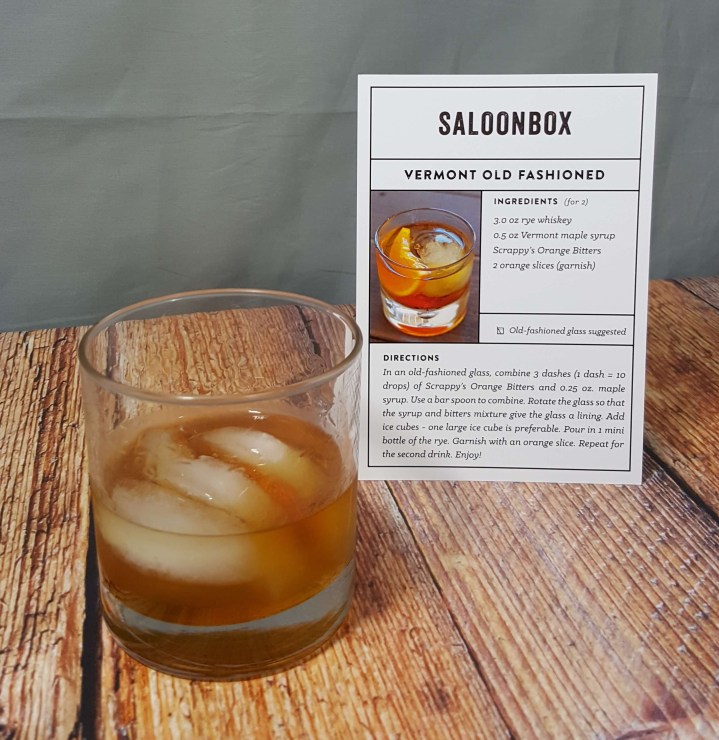 This had a lot of kick to it.  In a classic old fashioned, the sweetener is stirred in.  The directions for this drink say to line the glass with the maple syrup/bitter mixture.  This mix was fairly loose and ended up at the bottom of the glass.   A stir would have made this more palatable for me.
Cocktail 2 – Ginger Piña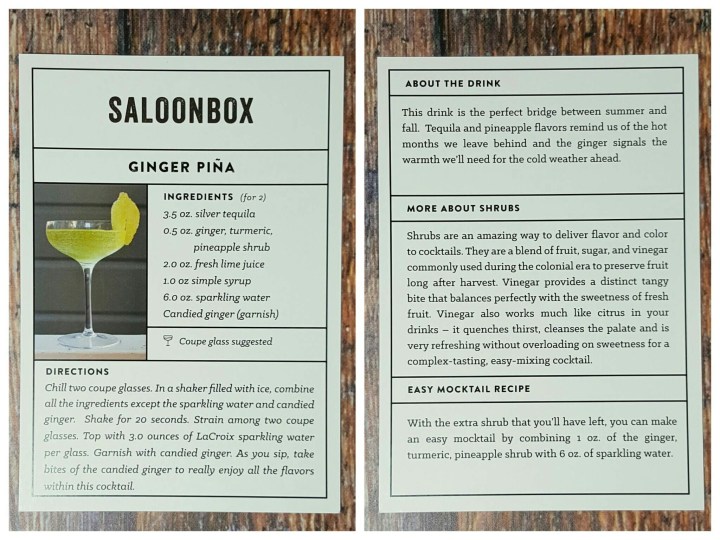 This is called the Libertad y Solticio (I think this translates to Freedom and Solstice ?) on the ingredient checklist.  The cocktail features shrub – a blend of fruit, sugar, and vinegar.  This was a new-to-me bar item and happy find.  The recipe card gives directions for making a mocktail with the shrub.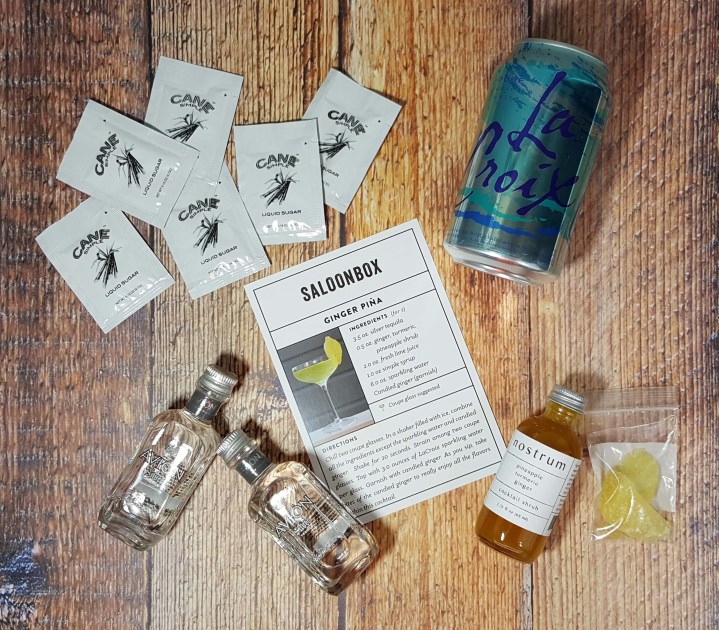 The featured liquor for this drink is Avion Tequila.  La Croix means it's going to be fizzy too.  Yay!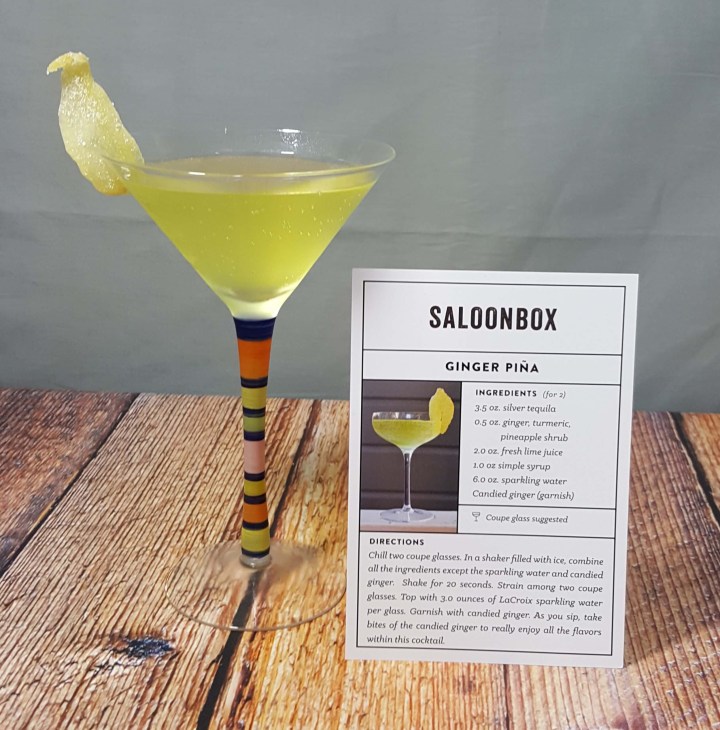 I was surprised by how much I enjoyed this drink!  Generally, I don't like ginger in any form (exceptions are gingerbread cookies).  This cocktail was so fresh and bright.  The pineapple flavor really came through, and the ginger was more of a finishing note.  What truly made this was the addition of the candied ginger.  The directions say to take bites of it while you sip.  It made such a difference.  I'll use the remaining shrub later to make mocktails for when I need to feel a bit of summer this fall.
Had the Old Fashioned been stirred, I would have given this month's box a 5 out of 5 rating.  As it was, the Ginger Piña was AH-MAZING, so the box gets 4 out of 5.  Trust me, you should try it.
SaloonBox estimates each cocktail to be around $9.  While that doesn't compare to your regular Happy Hour special, remember that you are receiving top shelf spirits and artisan bitters and syrups.  Plus, you get to enjoy the drinks in the comfort of your own home without all of the ruckus, and the recipe cards mean you can make the drink as it should be and not what you remember it to be.  Don't forget, this also makes a great gift for the mixologist in your life!
What did you think of this month's SaloonBox recipes? Save 20% on your subscription with coupon code HELLO20.
Visit SaloonBox to subscribe or find out more!
The Subscription
:
SaloonBox
The Description
: Try a wide array of top-shelf liquors and spirits without spending a lot of money buying full-sized bottles. Your subscription provides one monthly box. In it you'll find two original recipes, ingredients and a background on your cocktail, each ingredient and the mixologist. No running to the store to search for hard-to-find ingredients.
The Price
: $50.49 per month