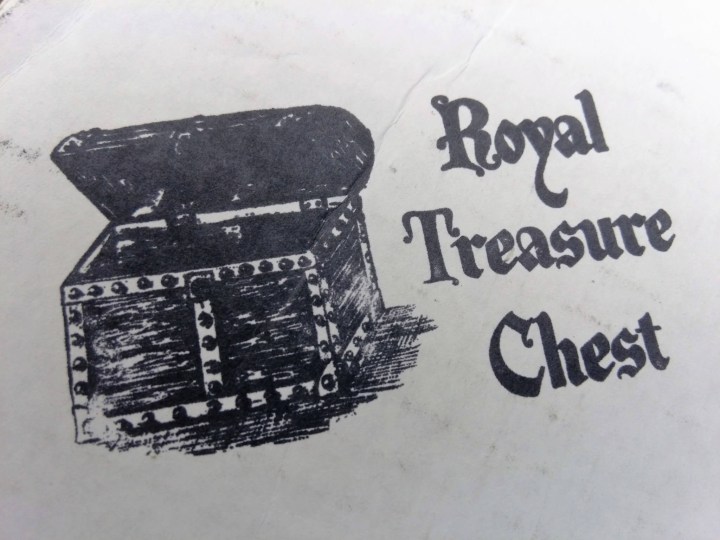 Royal Treasure Chest is a carefully curated box full of unique treasures that are unique and handpicked for you.   The box was stamped with the Royal Treasure Chest logo.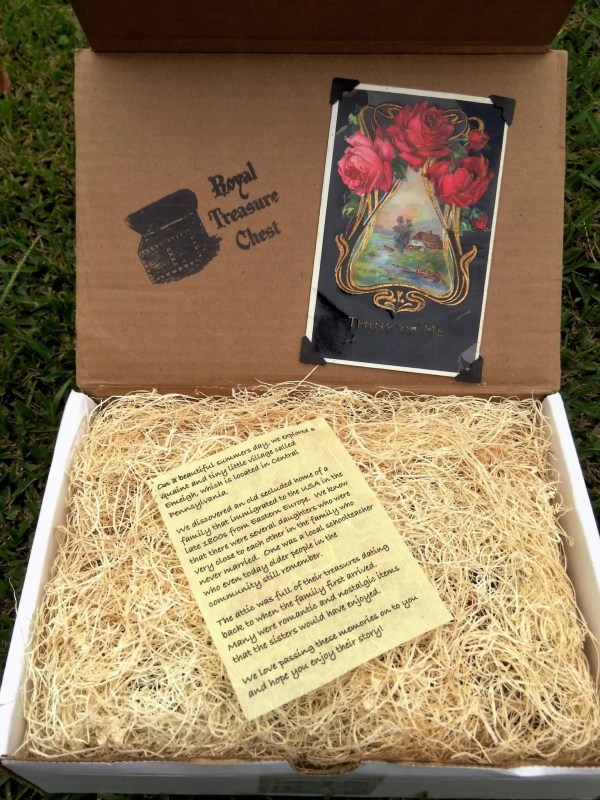 As we opened the box we were greeted by a beautiful vintage post card (see it better below) and a note neatly printed on parchment paper.  All of our treasures were securely packaged in straw packing.
Here's our wonderful box of treasures.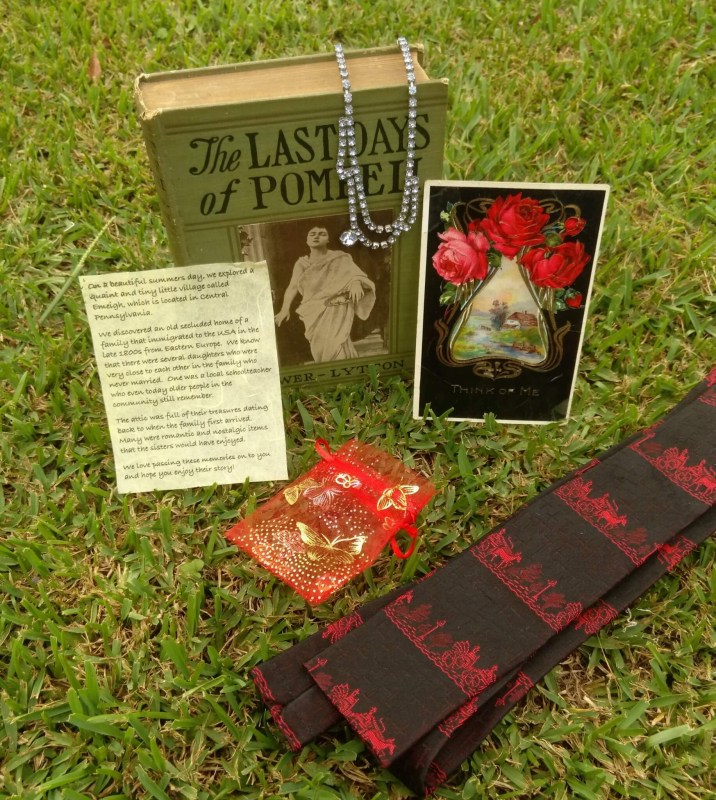 Each Royal Treasure Chest contains three unique items carefully picked just for you.  When you subscribe they ask you to choose which type of items that you prefer.  Their categories include:  Olde Books, Curios & Knick-Knacks, Jewelry, Tie-bars & Cuff-links, Paper Ephemera, Ladies Accessories, Gentleman's Accessories and Surprise Me!
Each box is $40.00 and includes shipping within the U.S.A.  Canadians can subscribe for an extra $10 shipping charge.  And, for an additional $20 shipping charge ($60 total) they will ship your treasures to you internationally.
The note told us about how they came about acquiring our treasures.
"On a beautiful summers day, we explored a quaint and tiny little village called Emeigh, which is located in Central Pennsylvania.

We discovered an old secluded home of a family that immigrated to the USA in the late 1800s from Easter Europe.  We know that there were several daughters who were very close to each other in the family who never married.  One was a local schoolteacher who even today older people in the community still remember.

The attic was full of their treasures dating back to when the family first arrived.  Many were romantic and nostalgic items that the sisters would have enjoyed.

We love passing these memories on to you and hope you enjoy their story!"
I love that they let us know where the items came from and a little of their back story.  I can just see the house and the attic full of wonderful things!!!  What an adventure they must have had sorting through it!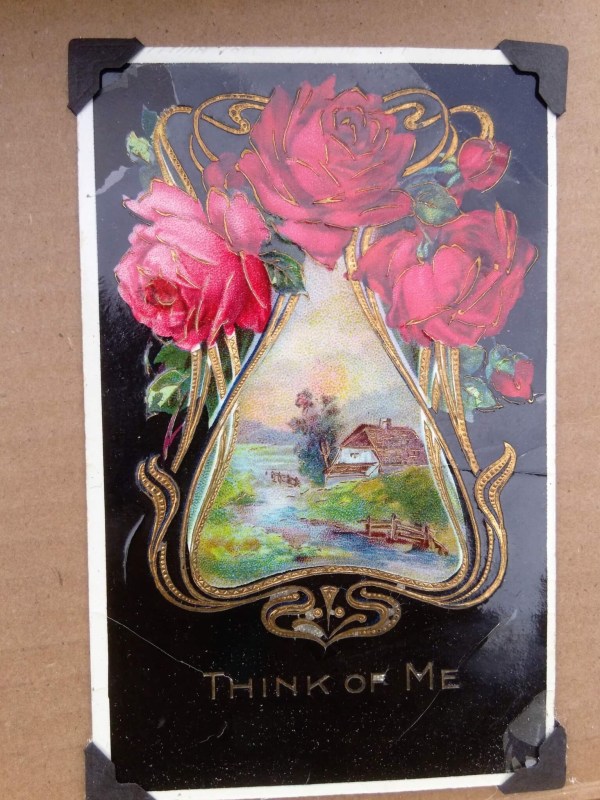 Here's a better shot of the postcard that was neatly attached to the underside of the box with old style photo corners.  It a countryside vignette with a surround of roses and the inscription, "Think of Me."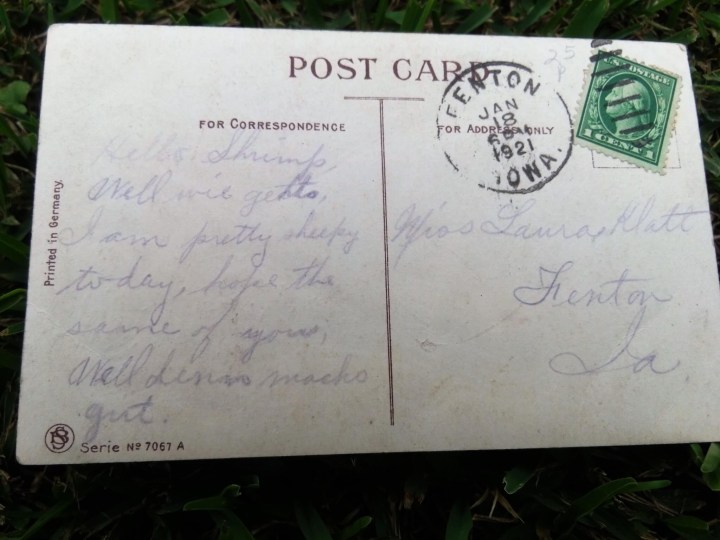 I was delighted to find that the back of the card was used!!  It was addressed to a Miss Laura Klatt of Fenton, Iowa and read as follows:  "Hello Shrimp, Well wit gehto.  I am pretty sleepy today. Hope the same of yours, well dinno macho gut."  Not all of that makes sense, so I am assuming that it may be a mixture of English and maybe Plautdietsch (the Mennonite language common to the Emeigh area of Pennsylvania)
I may have gotten a little carried away and looked up some history on a Miss Laura Klatt that fits the time on the postcard (postmarked Jan 18, 1921).  If I found the right one, she was born on June 8, 1903 to Bernhard Klatt and Martha Becker.  In 1920 (she would have been 17) a census shows her living in Kossuth, Iowa with her parents.  Our postcard would have reached her hands the next year, when she was 18 years old.  On June 19, 1924 she married Emil Schumacher (he was 22 and she was 21).  They lived on an 80 acre farm 2 miles south of Fenton, Iowa.  Can't you just see her?  She passed away on April 19, 1983.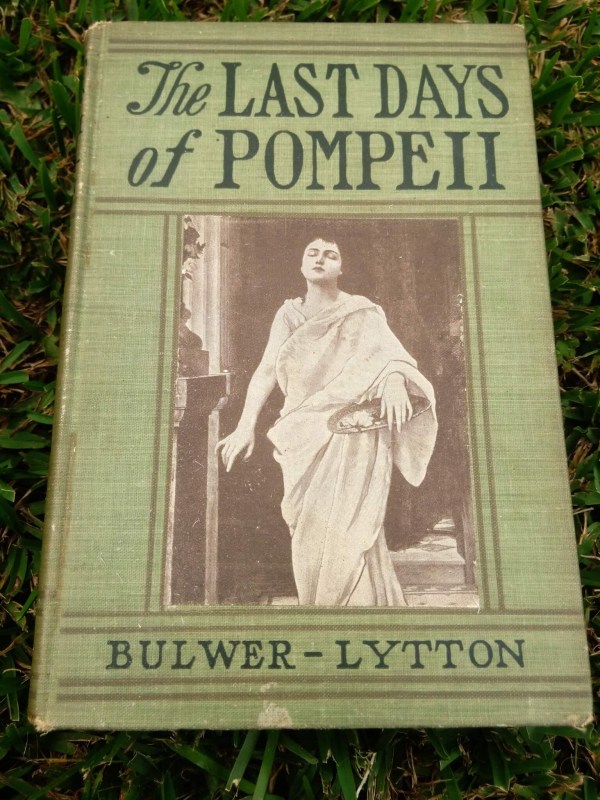 This beautiful book was in the box.  You can't get this loveliness when you read on a tablet.  Sometimes you just have to have a book to hold and pages to turn.  The book is a novel, "The Last Days of Pompeii" by Sir Edward Bulwer Lytton ($27.95) in 1834.  From what I can find, I believe this copy was printed around 1910, which would make sense with the inscription.  The writing of the book was inspired by the painting, The Last Day of Pompeii by Karl Bryullov.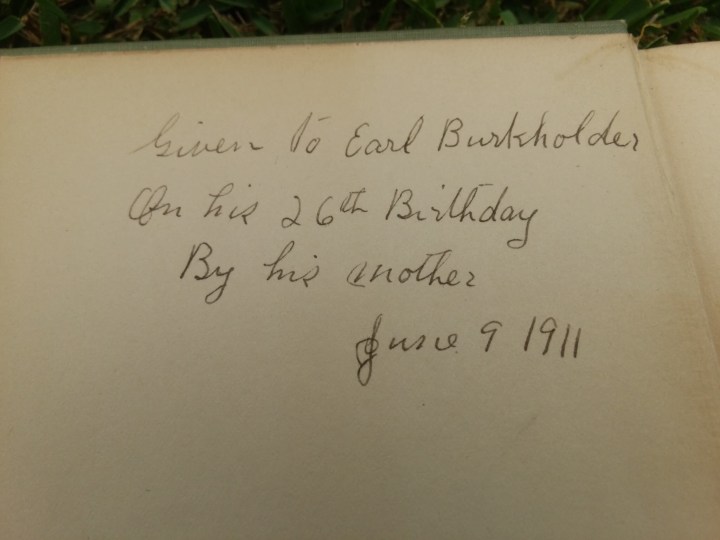 The book is inscribed, "Given to Earl Burkholder on his 26th Birthday, By his mother.  June 9, 1911".  I tried to stalk Mr. Burkholder too, but I couldn't find him as easily, except to say that the name Burkholder is a common Mennonite name in the area.   I am assuming that his Birthday is June 9, 1885.  So, let me know if you find him!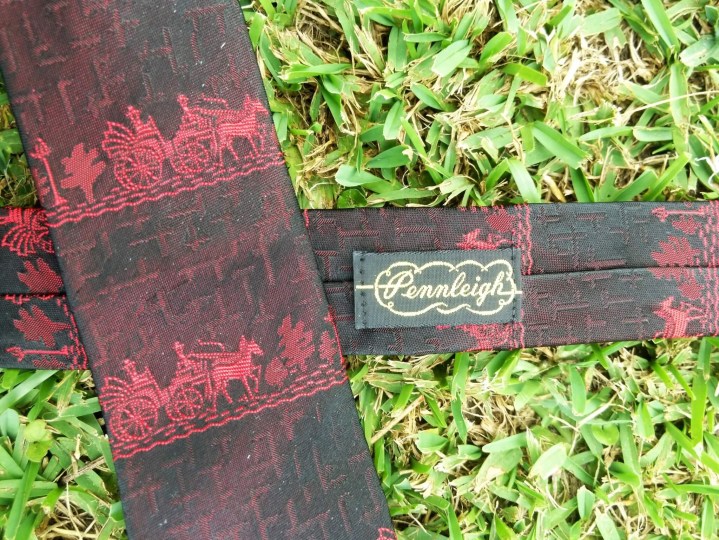 This Pennleigh neck tie was in the box.  I think it may work for me tied in a scarf style with a red glass broach I have pinning it together in the front.  How appropriate that the tie pictures a horse and buggy and the other items seem to have Mennonite ties.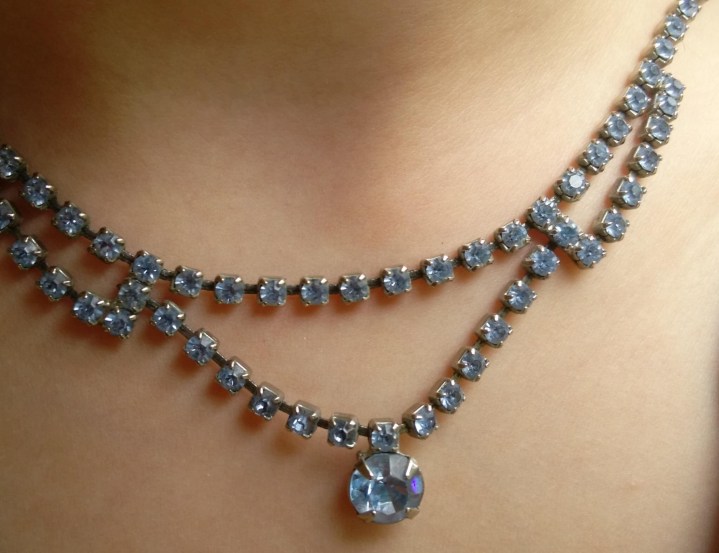 This gorgeous bauble was the third item in our box (I don't think they were counting the postcard).  The beautiful blue glass sparkles and catches the sun.  Which sister do you think wore this?  Surely she wasn't Mennonite if she wore this?  That throws a kink in my former assumptions…….  But, isn't it beautiful?  Maybe her unapproved sweetheart gave it to her and she rebelled and wore it anyway under the high collar of her dress.  Maybe I am letting my imagination run away with me?!  But, isn't it fun to imagine who held these items before?  Who they were and what happened in their lives?
Royal Treasure Chest is a delightful subscription box that will take you on a tour through the lives of people of the past by allowing you access to the things that they once held dear.  If you are like me, each item will not only be a delight to own, but also an adventure in the past to be discovered.
Have you discovered your Royal Treasure Chest yet?  What lovely things were in your box?
Visit Royal Treasure Chest to subscribe or find out more! Get 25% off the first 3 months. Use coupon code  EarlyBird25.
The Subscription
:
Royal Treasure Chest
The Description
: Royal Treasure Chest is a monthly subscription, delivering a box of 3 unique items hand-curated just for you. Scarves from another era, jewelry from a forbidden romance, forgotten books waiting for you. Each treasure is unique, genuine, and hand-picked. No two boxes will ever be the same. Choose from any combination of eight categories like Jewelry, Men's Accessories, Olde Books, Curios & Knick-Knacks, Paper Ephemera, and more!
The Price
: $40.00 per month