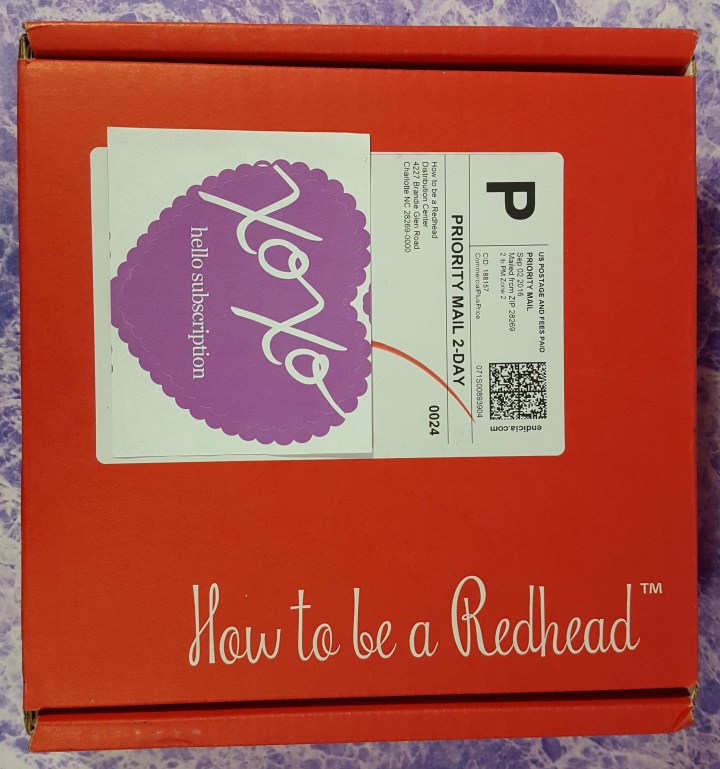 How to Be a Redhead Subscription Box is the brainstorm of two sisters, Adrienne and Stephanie Vendetti.  The box is to help redheads "to feel confident, look amazing and rock their beauty."  The products range from samples to full-size and the box ships the first week of the month.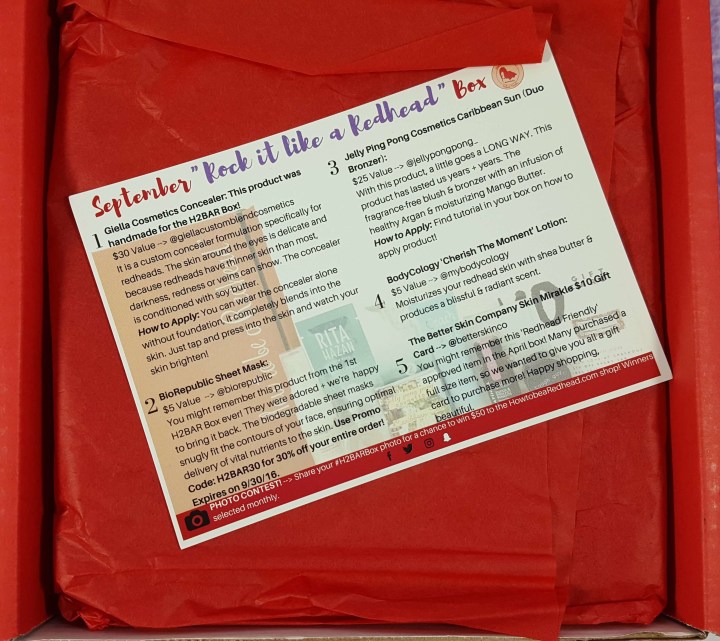 First look in my box and it is so RED!  The theme for September is "Rock It Like a Redhead"
The letter explained their inspiration behind the September box.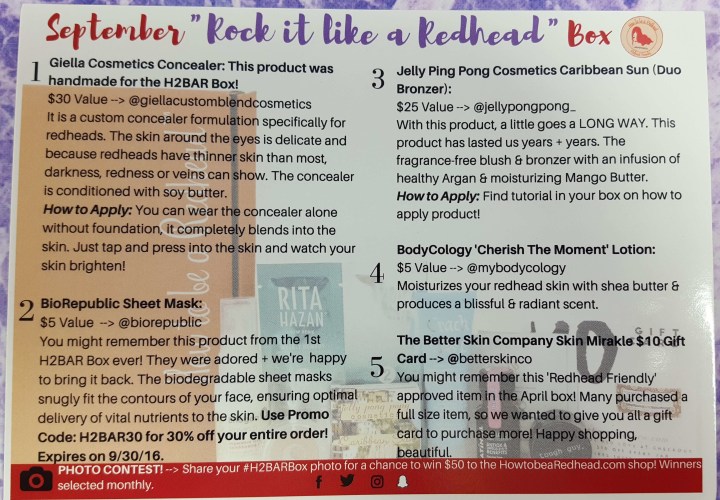 The information card lists the items, description, discounts, and prices for some of the items in the box.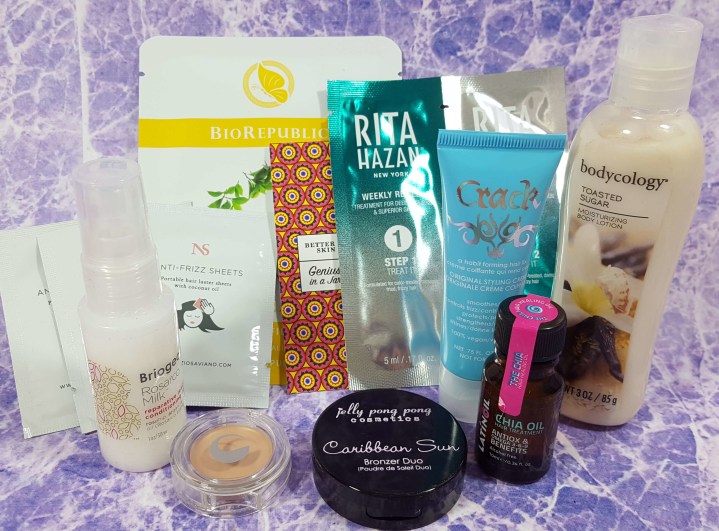 Everything in my September 2016 box.
Giella Cometics Concealer ($30) – This is custom concealer formulated especially for redheads! Hand-crafted, paraben-free, mineral ingredients and is never tested on animals.  I'm a concealer girl and I use it every morning even if I'm not doing full makeup. This is a great shade for me.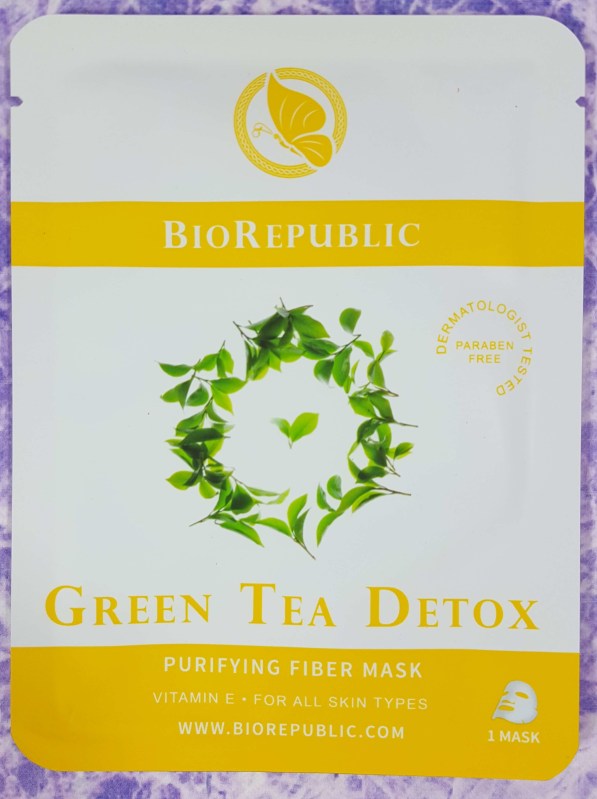 BioRepublic Sheet Mask ($4.99) – How to be a Redhead tells us this was in their first ever box and everyone loved it that they decided to bring it back.  These masks are biodegradable and will boost your anit-oxidents to help reduce the appearance of blemishes and imperfections.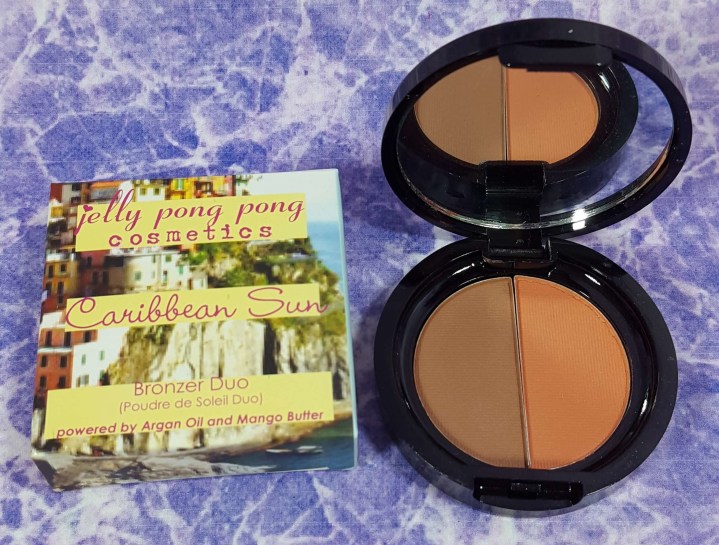 Jelly Pong Pong Cosmetics Caribbean Sun (Duo Bronzer) ($24.99) – With this product a little goes a long way and is a great on the go blusher and bronzer duo that is fragrance free with an infusion of healthy Argan and moisturizing Mango Butter.  I'm also a blush girl and this is a good shade for me while the picture looks orangish it really has more of a pink tint to it which is where I go when looking for blushes.

BodyCology Toasted Sugar Lotion ($5.00 on card – 94¢ at Walmart) This smells so good and is really a great scent to go into fall. With the air getting dryer I will be pulling out more lotions and this is a fun travel size that will be easy to take and go.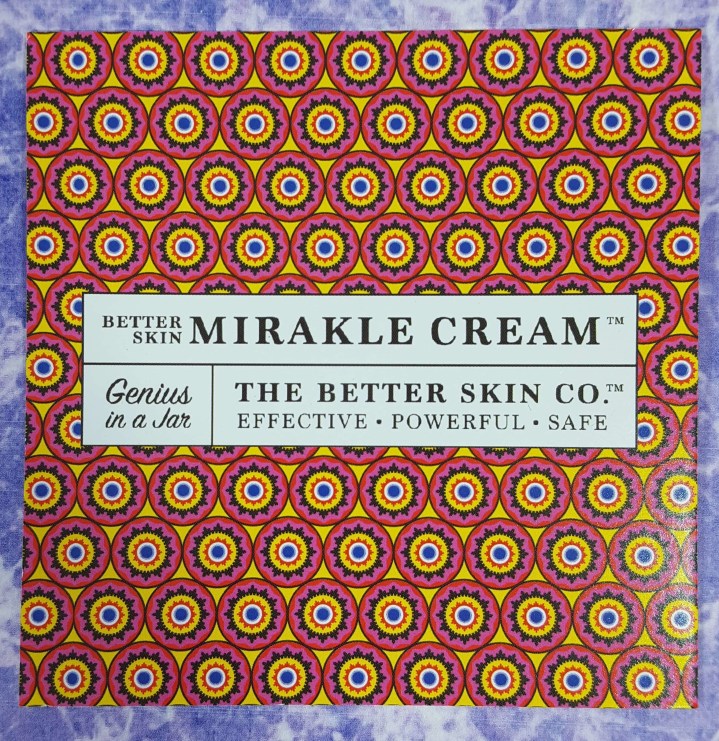 The Better Skin Company Skin Mirakles Gift Card ($10.00) – They had included a sample of this product in their April box and said that so many people were buying full sizes they wanted to include a gift card to purchase more. Unfortunately I probably won't be using this one since the product itself is $34.00 plus shipping and the gift card doesn't cover that all.
Nunzio Saviano Anit-Frizz Sheets (a pkg of 15 is $18.00 – $3.60) – These are so interesting. My hair is very straight but I do have those fly aways and then in the dry air my hair will just stick out. These individual sheets give just the right amount of product to condition and add a little bit of hold for your hair.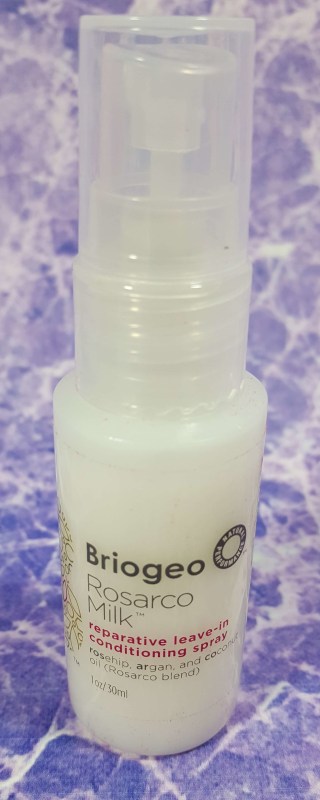 Briogeo Rosarco Milk Leave-in Conditioner ($5.00 on card – $3.96 value) – I'm so excited for this one. I've had other Briogeo products before and have loved them. I've not tried this spray leave-in but I can't wait to try it out and see how it is.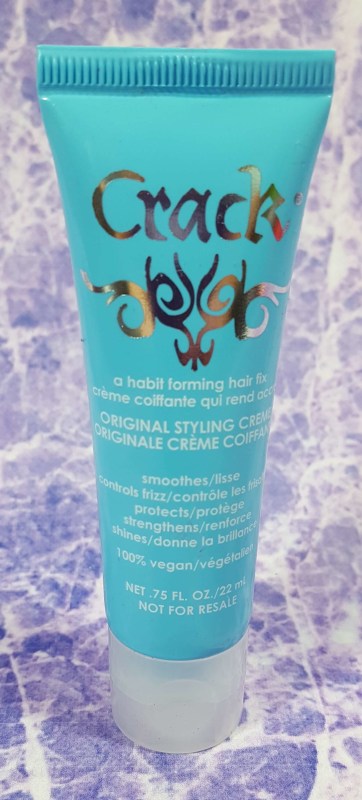 Crack Original Styling Creme ($4.05) – Another leave-in hair creme that will help with your hair's dullness and dryness.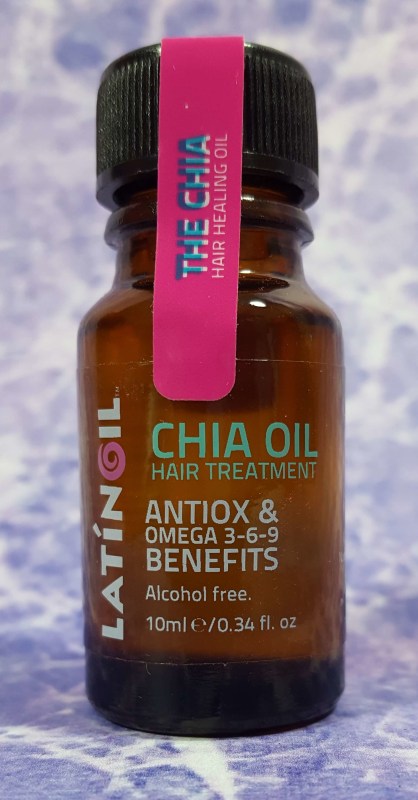 LatinOil Chia Oil Hair Treatment ($12.99) – This is great for using before and after styling your hair. It will help protect your hair and reduce the frizz.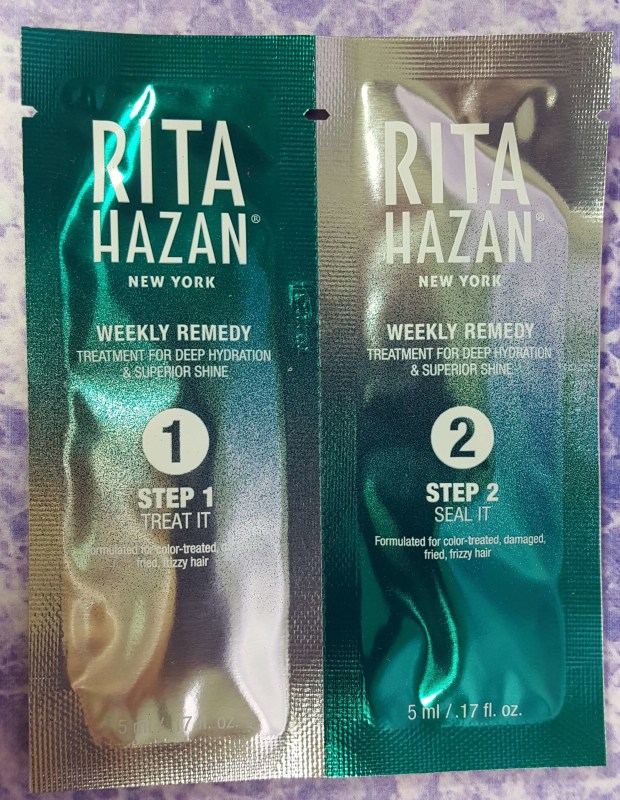 Rita Hazan Weekly Remedy (Sample) – This treatment will repair color-treated, dry, damaged, frizzy hair from the inside out
This was an interesting box for me. I'm really happy with it and I love the amount of products in here with all the different uses however there are a lot of hair sample products that I will be good on those for awhile now.
The value in this box is awesome with it costing only $18.90 and it being worth about $86. The information sheet did not include all the items however I do love getting more in my box. I am not a fan of getting gift cards in a box however since the value of the box is worth it even without the gift card I'll take it as a bonus type item and in that I'm ok.
I do like how they have taken some past favorites into account when curating this box and going back to revisit them. That is really fun and for items that are consumable since they will be long gone quickly.
Are you a redhead? What do you think of the September How to Be a Redhead box?
Visit How to Be a Redhead to subscribe or find out more!
The Subscription
:
How to Be a Redhead
The Description
: Get 'Redhead Friendly' Approved Products Delivered To Your Door Every Month. The How to be a Redhead (H2BAR) team now works meticulously to find products that meet the 'Redhead Friendly' seal of approval and is proud to deliver them to the doorstep of every redhead each month. The products range from samples to full sizes.
The Price
: $18.90 per month