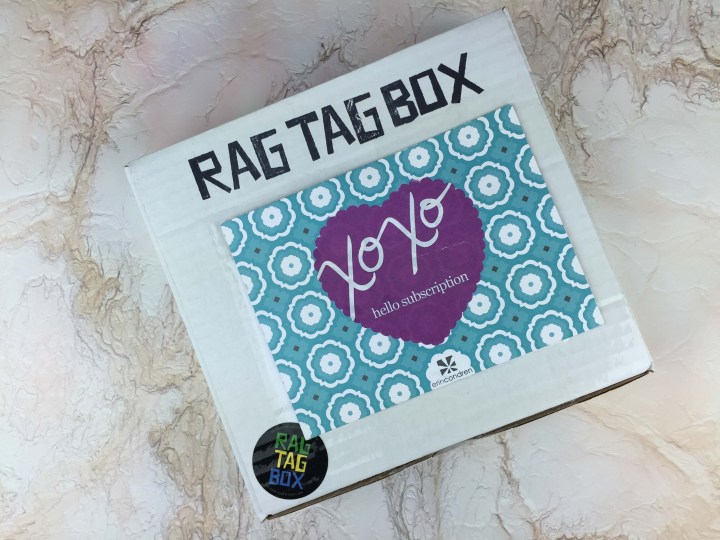 Rag Tag Box is a monthly subscription box that provides all your cross stitch needs! For only $15.00 per month, you'll get a box that includes 1 cross stitch DIY kit, and 1-2 fun miscellaneous items like jewelries, hair clips/ties, stationery, paper crafts, and more!
FYI – I'm a little behind on my stitching, and already have September in hand. The projects in the June & August boxes were more involved, with a simpler project in between in July (see the review). I'm currently working on the super fun September project now!
June 2016 Rag Tag Box
The items are neatly stacked inside the box, with the information card taped on the box. The theme for the July box is 'Don't Go Into The Woods.'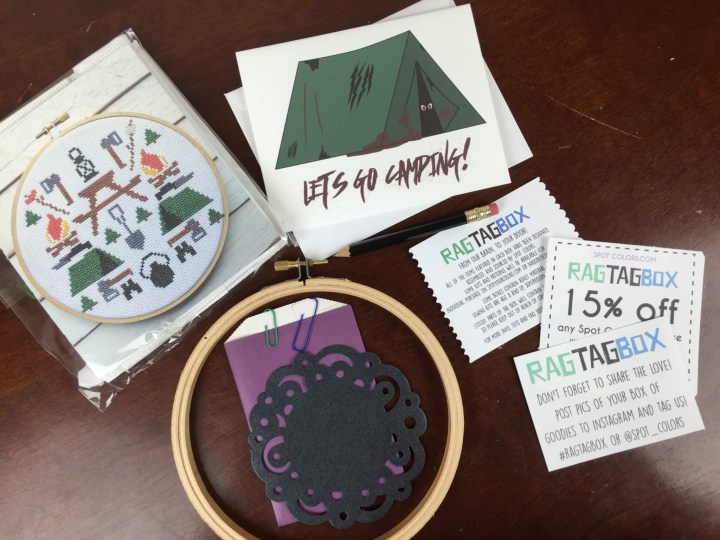 Everything in my June Box!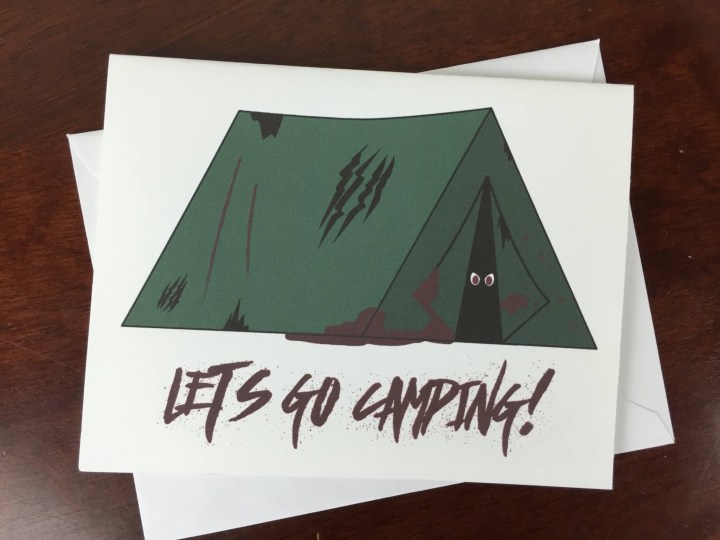 Let's Go Camping Note Card with Envelope: I thought this was a fun addition!
Mini Notecard with Envelope with Paper Clips & Circle Stickers: This card was perfect to send my aunt after she visited with her RV and swooped my kids away for a weekend of camping fun!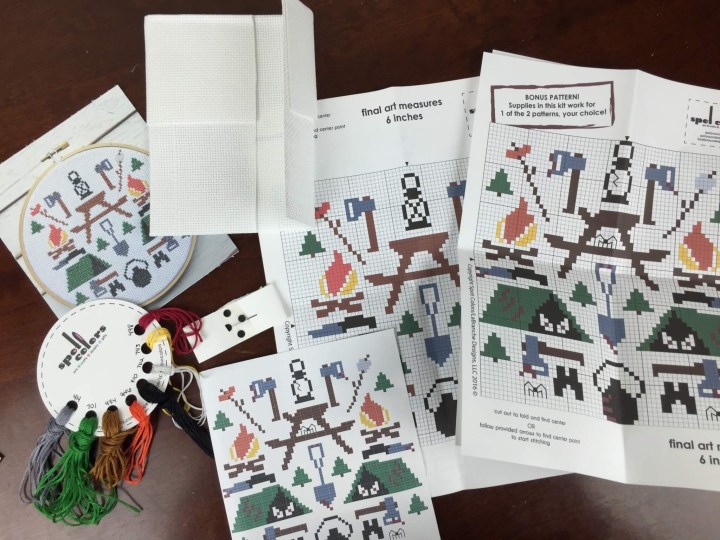 I don't have a finished project for this one yet.  It's a fun design though and I love how it includes a hoop for finishing. When it's done it will be hung up in my kids' adventure room, which will be painted next week! (aka the play room).
Camping Cross Stitch Kit (designed by Spot Colors) including the following materials:
Wood Hoop
Needle
DMC Threads
Aida White Fabric
Patterns
Instructions
Two designs were included – not-creepy, and a little spooky. I am currently stitching the not-creepy version, but it's a "while photos upload" project at my desk, so sadly, it hasn't seen much action. This subscription is really great at providing multiple chart options as well as including instructions for inexperienced stitchers.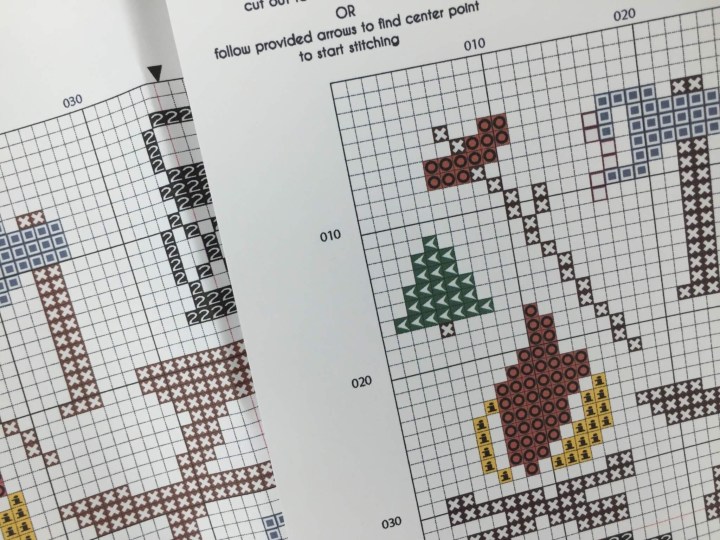 Rag Tag box includes really great color coded charts.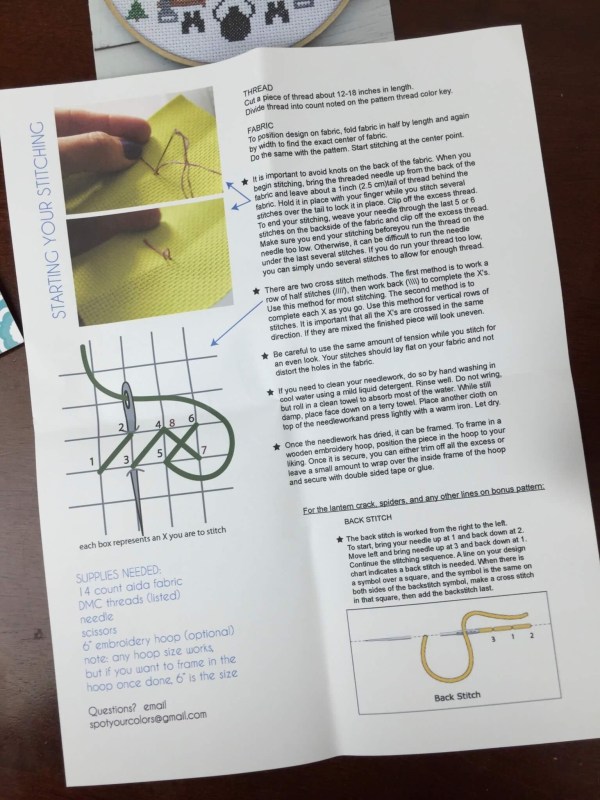 August 2016 Rag Tag Box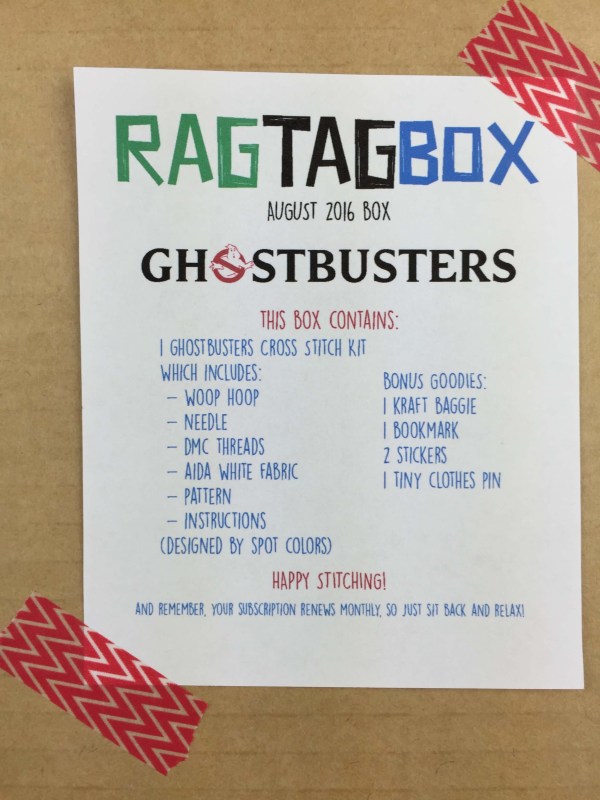 Ahhh Ghostbusters!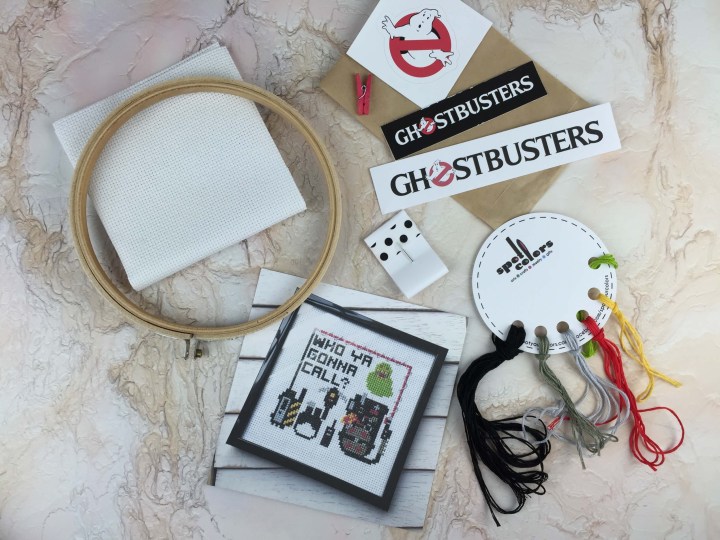 The August box included everything to make a Ghostbusters-inspired piece. I'd really better get stitching because I need this done for Halloween! The box also included some stickers.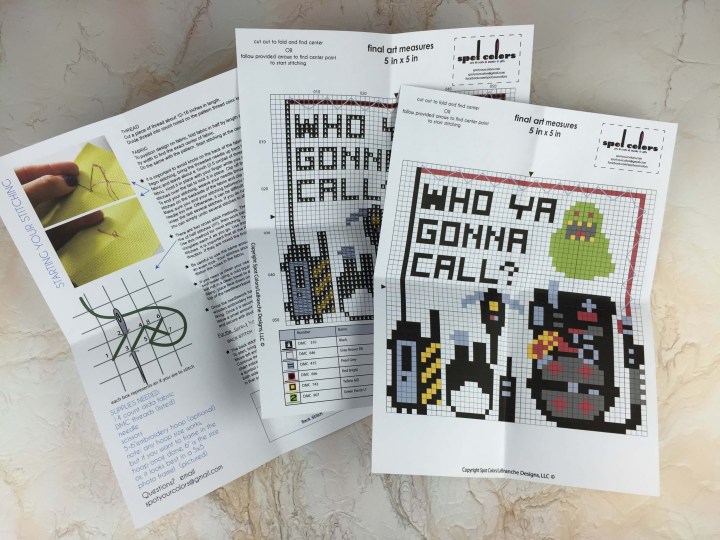 As always, a full-color chart was included, plus stitching instructions. I generally use the no-symbols charts for this subscription, but with all the black I'll have to use the symbols chart.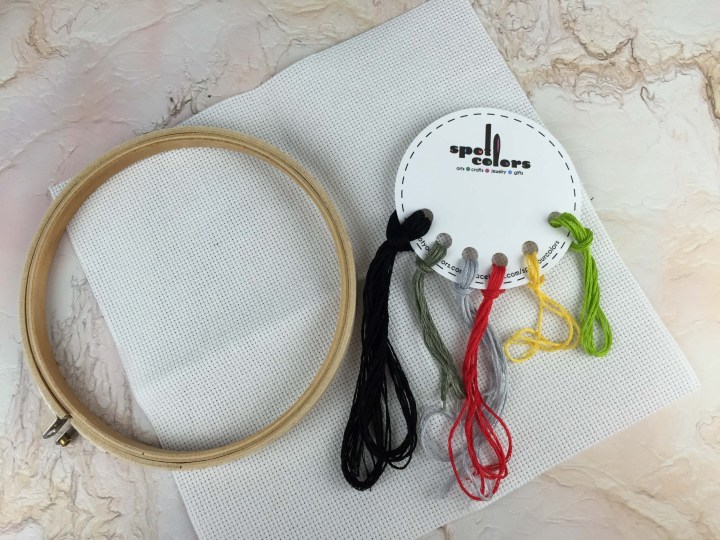 I'm not really a hoop stitcher, but it's helpful if you need it to keep your tension (I find it completely unnecessary when I stitch with Aida). I use this fabric treatment on the edges and just stitch in hand (I actually use it on all my fabric that doesn't come pre-serged).
This is a really fun subscription for me and if you have even a speck of free time you'll find the projects easy and fun to complete. I love having them around because they're portable and I don't have to gather oodles of supplies. Plus they're pretty geeky! I can't wait to show you my September project – stay tuned!
Coupon: 15% off your first box, use coupon code SEPTSTITCH (expires 9/30/16, U.S. only)
Visit Rag Tag Box to subscribe or find out more!
The Subscription
:
Rag Tag Box
The Description
: RagTagBox is a monthly subscription box for cross stitch! Each month contains: 1 cross stitch diy kit designed by spot colors plus 1-2 fun misc items which could include handmade or none handmade jewelry, hair clips/ties, paper crafts, finished stitchy items, & more!
The Price
: $15.00 per month