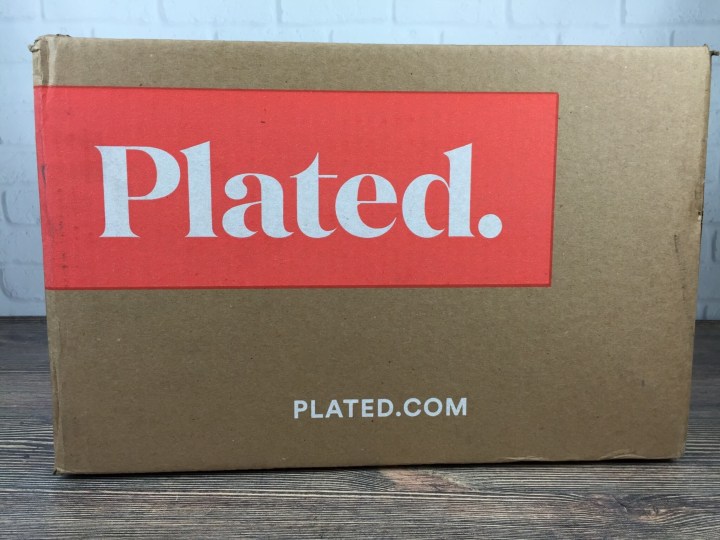 This week's Plated showcased some awesome end-of-Summer vegetables.  Plated is a weekly dinner kit subscription box with high quality ingredients and chef-created recipes. Each week you'll choose from a variety of quick gourmet meals that range from meats, chicken, seafood, and purely vegetarian options.
There's enough selection to please all palates, and the recipes are seasonally focused.  Plated seems to have made a concerted effort to offer some familiar comfort food type options each week.  You can swap out your recipes and skip any week you don't want.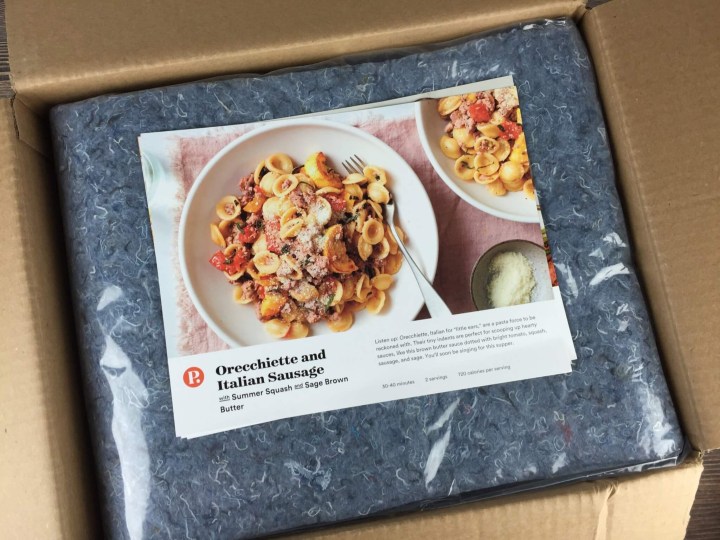 Plated has recently switched up their insulation.  They are currently using a recycled thread material.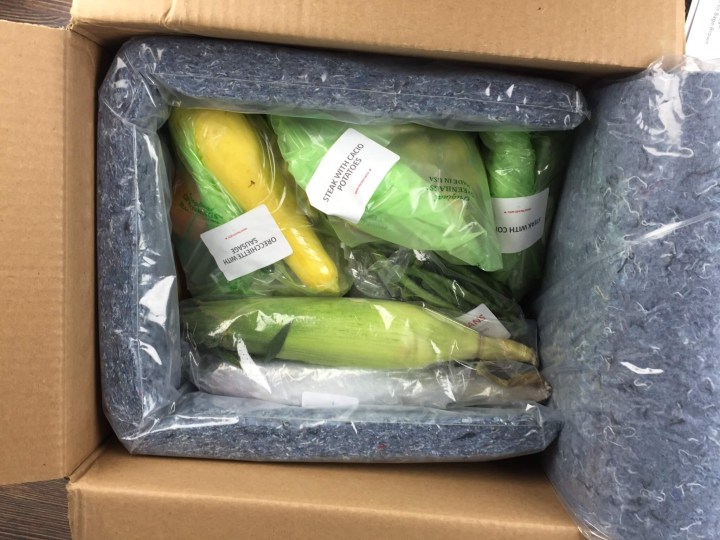 Boxes are always packed with the meat on the bottom, underneath a few big ice packs — the rest of the food is set on top with more ice.
Plated sends a weekly email — it doesn't tell you much about your meals, other than what you need from home. There's now no reminder of the ease of preparation and all the other subscriptions provide some version of that.
On-card information is now streamlined and includes only prep-time, number of servings, and calorie count.  Most of Plated's meals serve two people.  Unless stated otherwise, the pics of finished dishes show a single serving.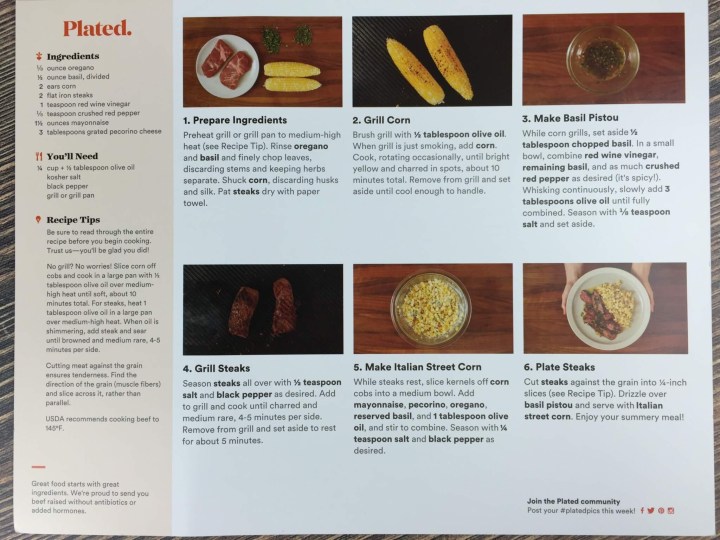 Plated's recipes rely on mise en place and then cook – we often mix up the steps from how the recipe is written, but we're both experienced cooks and know what can be accomplished while something else cooks.  So, read your cards if you need the step by steps.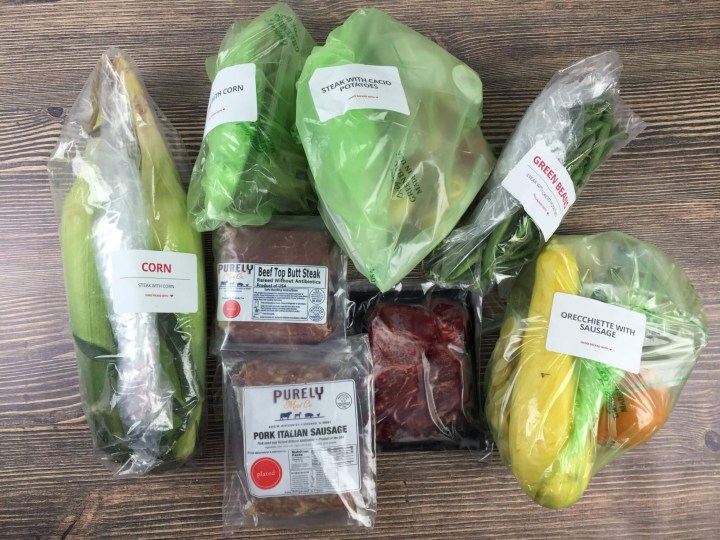 Everything in our box! All the food comes bagged up and separated (mostly) into the recipes — meat and some large or delicate items are bagged separately.
Orecchiette and Italian Sausage With Summer Squash And Sage Brown Butter.30 – 40 minutes, easy, 720 calories per serving.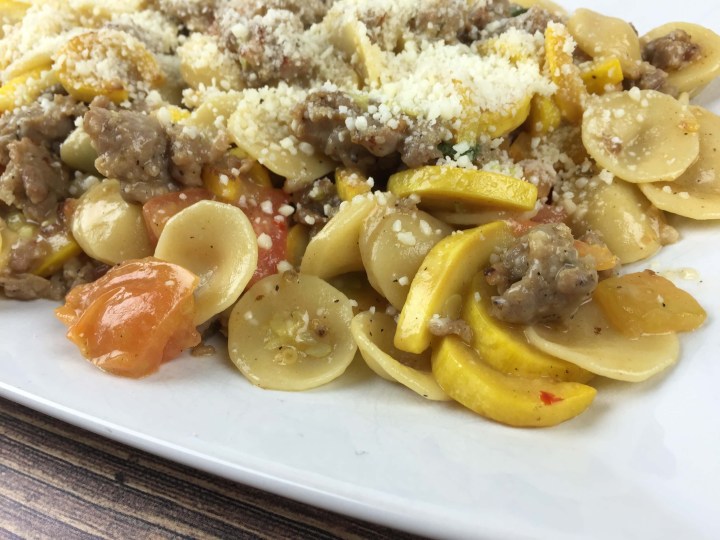 This dish was velvety, creamy, and had a nice al dente bite in the pasta.  The combo of sage, brown butter, and crisped pork is phenomenal — it echoes the unctuous deliciousness of breakfast sausage, but with a refined feel.  I loved the chunks of squash and tomato in this, as they helped lighten and balance it.  Ease of prep is also great on this dish — just a simple chop on the vegetables, some frying of the pork, and cooking pasta.  This is one of our favorites — so simple and so good.
Seared Steak With Cacio E Pepe Potatoes And Roasted Green Beans. 35 – 45 minutes, easy, 830 calories per serving.
I hadn't seen this exact preparation on potatoes before, but it worked quite well.  The Parmesan melts and creates a lovely cream sauce.  The green beans were absolutely addictive.  The roast almonds and plentiful shallot classed up the beans, and they gave the side a nice Funyun-esque flavor.  The shallot, thyme, and red wine sauce was very flavorful.  The steak itself, however, was the most impressive part of the meal — it was almost comically thick.   I cooked it to a nice crust on all sides (yes, all six sides), and that left the inside just right at medium rare.  It was very tender and flavorful.  This dish was a little bit of work — each component was simple, but you are essentially preparing four dishes (beans, potatoes, steak, and sauce).  Well worth it!
Grilled Steak With Italian Street Corn And Basil Pistou. 30 – 40 minutes, easy, 740 calories per serving.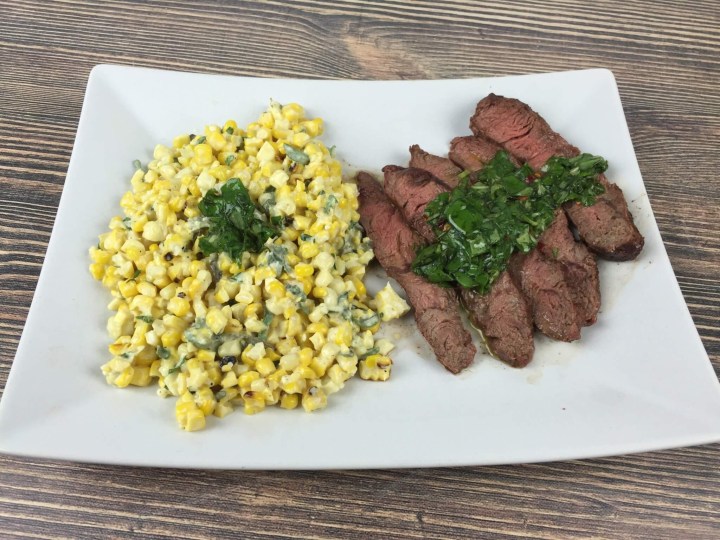 Though I often skip the grill and opt for the stovetop or oven version on many dishes, I went for the grill prep on this one.  It gave the corn an awesome bit of char and a nice kick of smoky flavor, plus it benefitted the steak greatly.  The tender steak was finished with a basil vinaigrette, and the corn was a novel mashup of classic Italian herbs and warm potato salad preparation.  This dish was ludicrously simple, and very delicious.
We enjoy Plated and order it frequently.  Of the three meal kits we regularly order, Plated shoots for the most upscale image, echoing popular trends in food culture.  Traditionally, they would employ a French sauce with most dishes.  They've since incorporated more international flavor and included many simplified and more mainstream offerings.  They seem to have dialed back the pretentiousness and trendiness, appealing to a broader audience while still offering top notch fare.
What do you think of Plated?
Visit Plated to find or more or to subscribe. Currently you can get 2 free plates when you buy 4 when you sign up with this link (no coupon code required).
The Subscription
:
Plated
The Description
: Ingredients for chef-designed meals delivered to your door. You select the chef-created recipes on the Plated.com website and Plated sends you a box of food and recipes.
The Price
: $12 per plate – must order in multiples of 2 and your box ships free with $50 in product. If you want only 2 meals, go for a Chef's Table + a regular, or 2 regular plates plus a dessert!