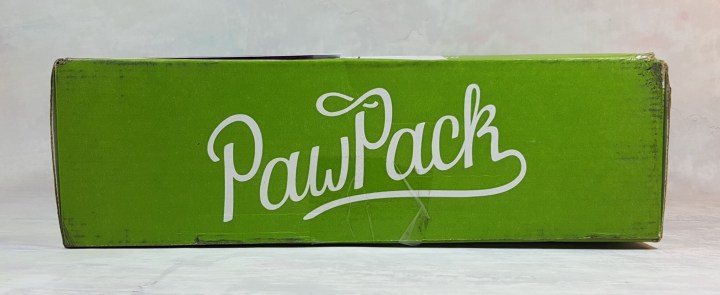 PawPack is a subscription box for your dogs or cats.  Each month, you'll receive 5 or more hand selected items that your fur babies are sure to love.  PawPack strives to feature hypoallergenic products and aims to ensure that items are all-natural and grain-free.  Additionally, 10% of PawPack's proceeds go towards supporting rescue causes.  Choose between 3 sizes to determine the right fit for your dog – small (0-20 lbs.), medium (20-50 lbs.), and large (50+ lbs.).  Boxes are $39 per month (price drops with extended plans – $29 per month for annual plan).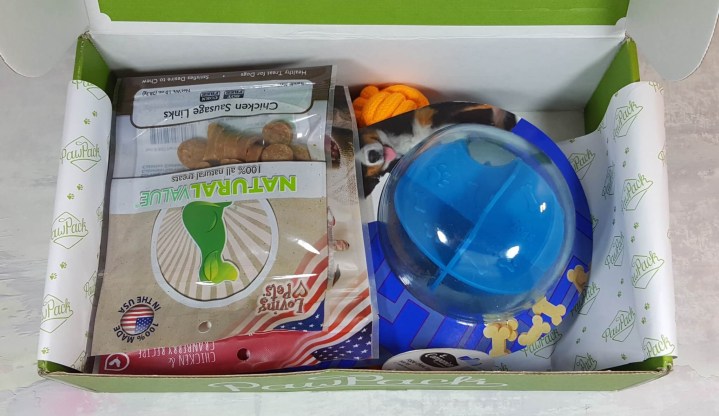 I see treats that will make my girls happy, happy!  They love sausages.  I noticed that this month's box did not have an information card, and I didn't see anything on the PawPack site with details on the box either.
Here's the August PawPack contents.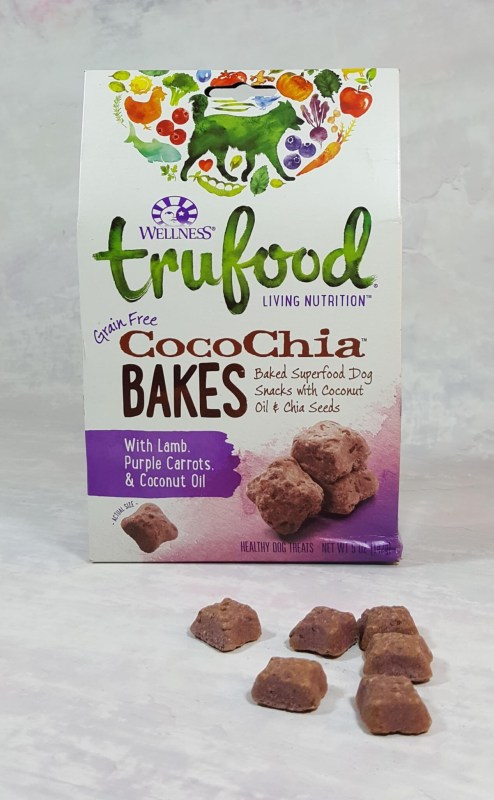 Wellness Trufood CocoChia Bakes – Lamb, Purple Carrots, and Coconut Oil ($5.09):  My girls are fans of Wellness brand dog food, so I was hoping that these treats would be a hit.  As I've mentioned before, they are not fans of cookies or biscuits.  These had mixed results – Lexi gave them a paws down, but Lily was a paws up (but it took a few sniffs and licks to get there).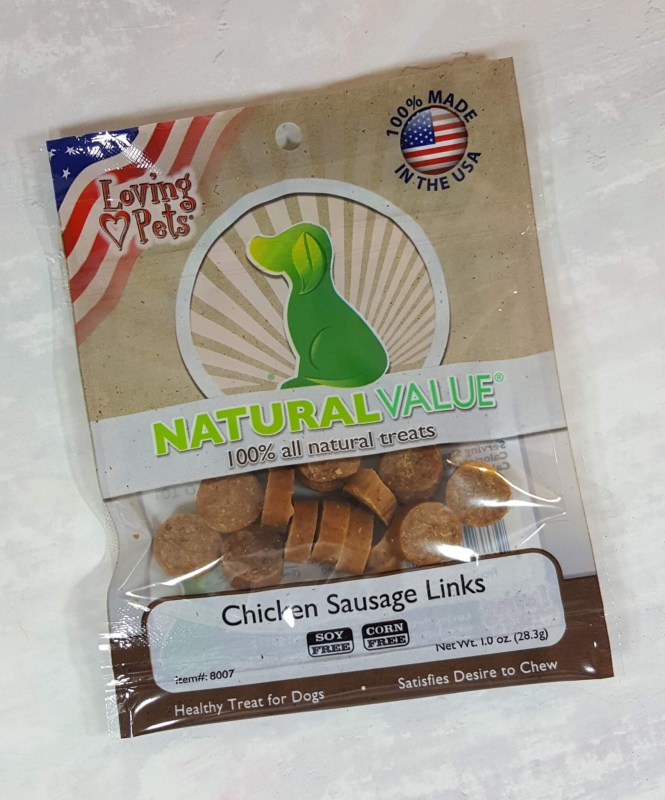 Loving Pets Natural Value Chicken Sausage Links ($2.19):  These treats are soy and corn free.  Cut into small bite-sized pieces they were perfect portions for my girls who gobbled them down.  This was their favorite item in the box, and they ate them too fast for me to get a picture.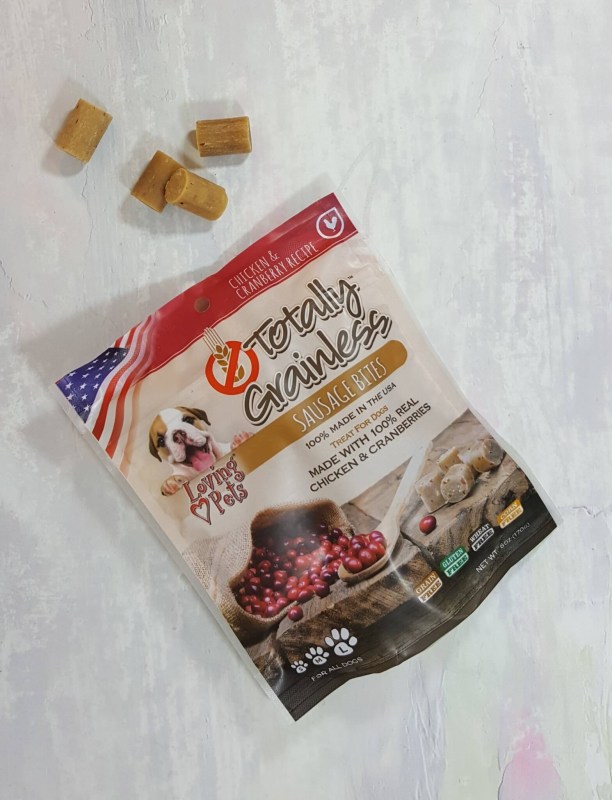 Loving Pets Totally Grainless Sausage Bites – Chicken & Cranberries ($4.99):  These treats are grain, gluten, wheat, and corn free.  Made from 100% chicken and cranberries, the sausage bites are suitable for all dogs.  I found these to be a bit hard, and not very meaty.  Regardless, the girls seemed to like these and that's always a good thing.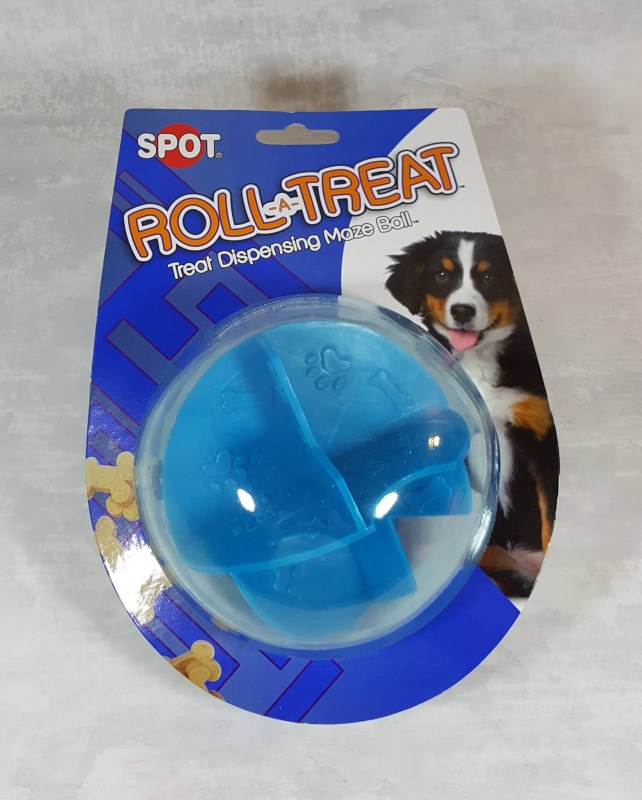 Ethical Pets SPOT Roll-a-Treat Dispensing Ball – 5″ ($12.99):  This ball has an internal maze, making it a bit more challenging and fun for your fur baby to get their treats.  Since the girls like to play ball, this would have been a fantastic toy.  However, it was just too large and heavy for them to play with.  This will be gifted to a friend with a larger dog.  Also available in purple and red.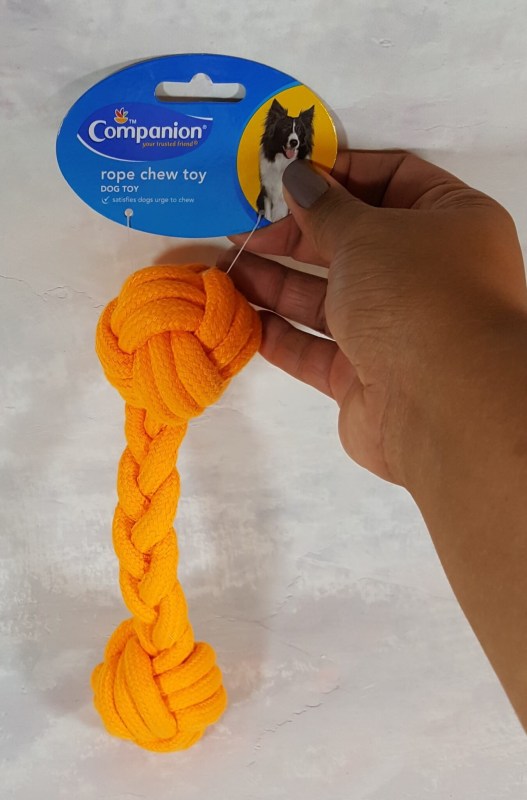 Companion Rope Chew Toy ($10.00 approx.):  I could not find this exact brand, but linked to a similar toy.  This braided rope with double knots is durable and allows for lots of play, even with heavy chewers.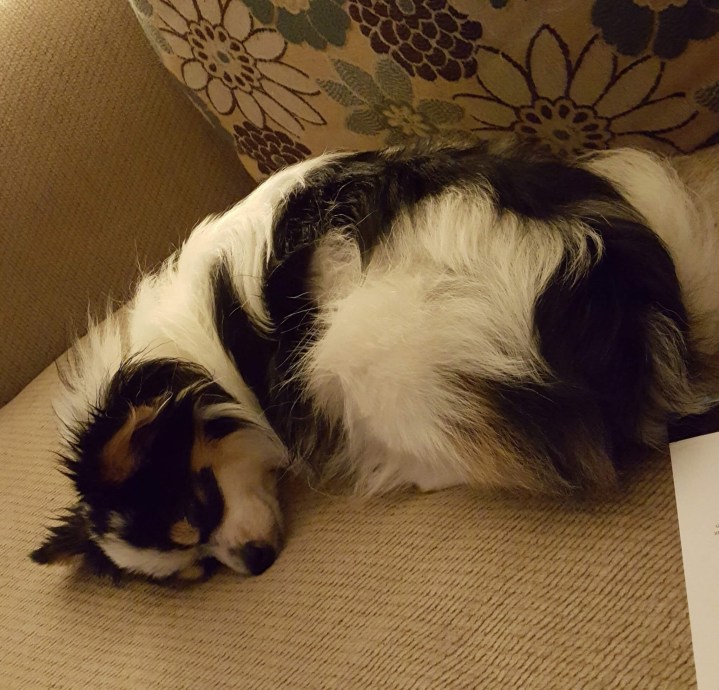 I wanted to get some pictures of the girls at play, but they weren't very cooperative.  Like their mommy, they are susceptible to sleep when it's raining…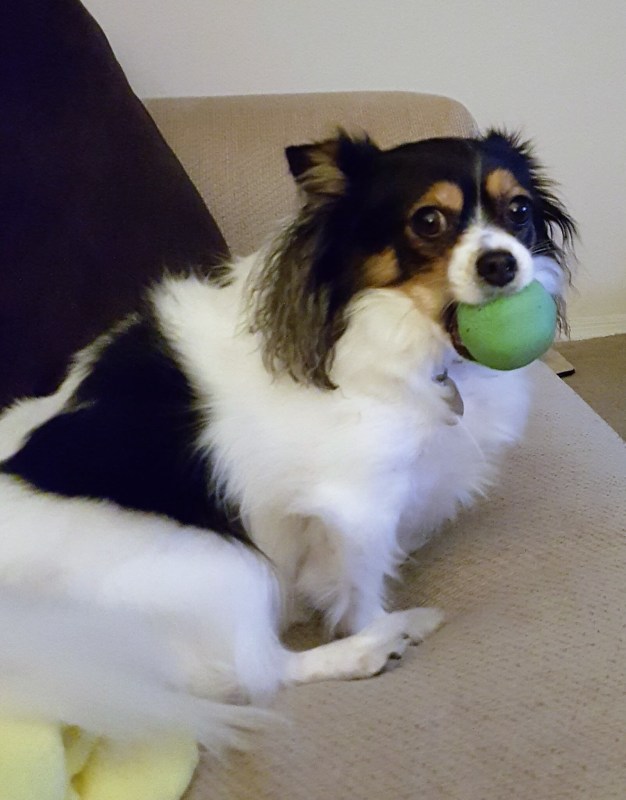 Or are singly focused on the task at hand.  For Lexi, that's keeping her Beco Ball (from the March PawPack) away from Lily.
August's PawPack comes in right at $35, breaking even with the cost of a single box.  For the most part, my fur babies were happy with their box, at least based on their responses.  I do hope that the box value goes up a bit more, and that the information card returns.
Have you tried PawPack yet?  I'd love to hear about your experience with this subscription.  Save 10% on your first box with coupon code HELLOSUB.
Visit PawPack to subscribe or find out more!
The Subscription
:
PawPack
The Description
: This subscription box for dogs will bring 5 or more carefully selected presents to your door every month! Everything will always be either Eco-Friendly, Organic, or All-Natural. PawPack features hypoallergenic products that are all natural and always GRAIN FREE!
The Price
: $35.00 per month