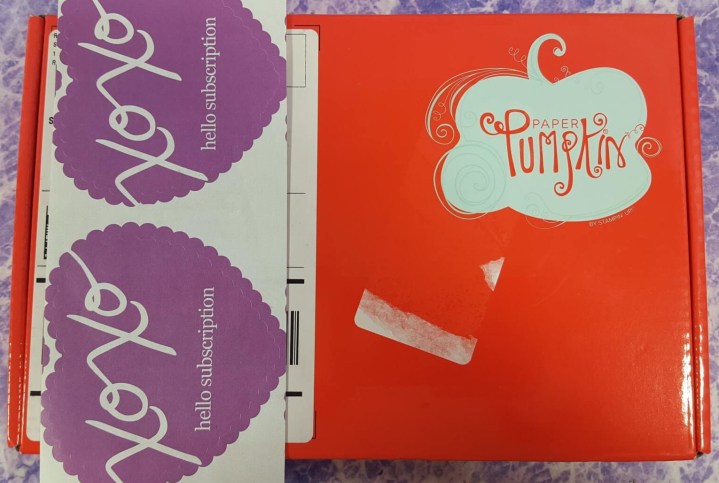 Paper Pumpkin is a craft box from Stampin' Up that sends a fun box each month with all the supplies to make a quick craft whether it be cards, boxes, bags, home decor or anything else in the paper crafting world.  Most crafts can be completed in about 30min if you sat down to work on it.  I normally work on mine when I'm with friends so it takes a bit longer since I'm just a little distracted.

Yes this right here!  I love this and I love getting crafty but I don't always have time to pull out all my supplies and dive in. The Paper Pumpkin box lets me get my creative juices flowing without the time constraint of lots of supplies being out.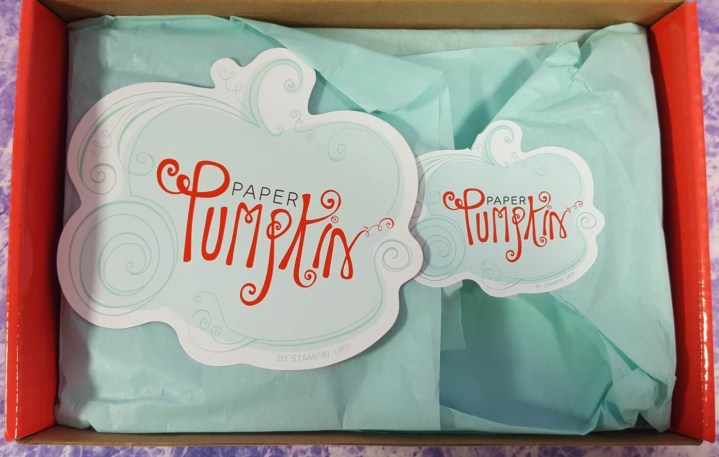 First look in the box and while I can't see what the project is I love that everything is nice and contained and wrapped in tissue. It is a nice extra touch that label colors match the tissue and the box.  Such detail and color matching is a big thing with Stampin' Up so I'm glad to see it represented here.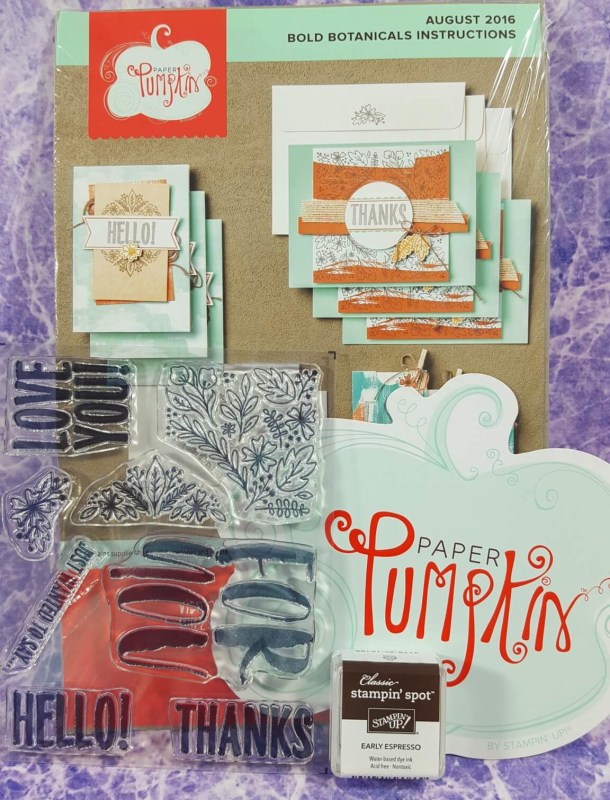 Everything in the August box.  The paper products are all sealed up with a piece of cardboard so that they stay nice and flat in transport.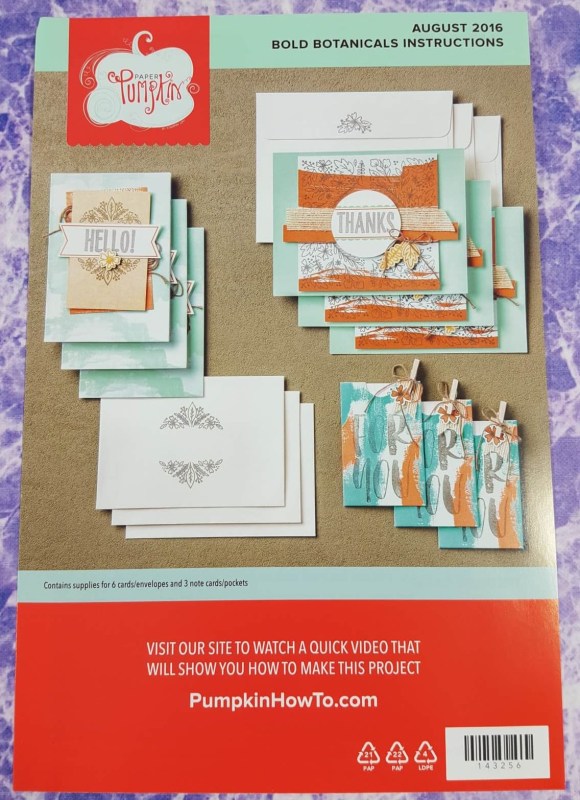 This month they sent enough product to make 6 cards and 3 notecards.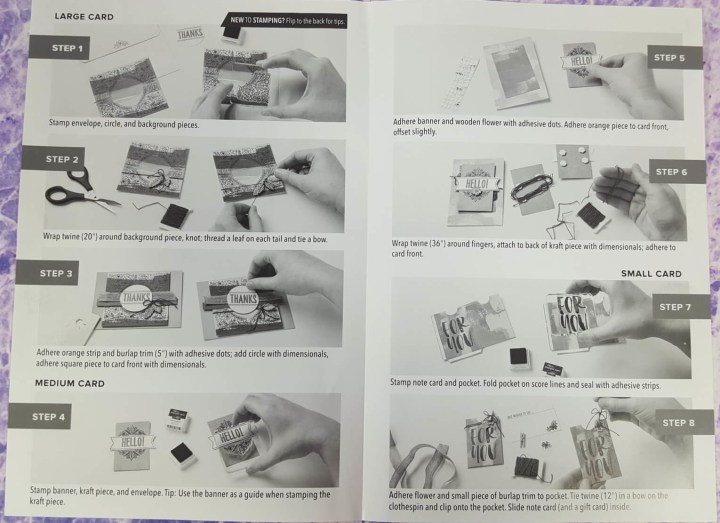 The inside of the pamphlet has step by step instructions on how to make the cards.
The back has a list of the included contents and a how to stamp. Don't worry if you don't own a clear stamping block since Paper Pumpkin will send you one if your first box.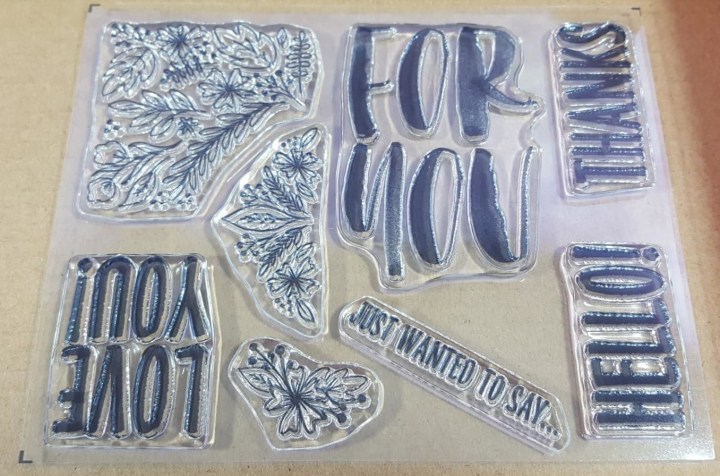 This is a great stamp set included this month. I love the large For You and then I can always use Hello and Thanks. These stamps will be added to my stash for other projects once I'm done with my kit.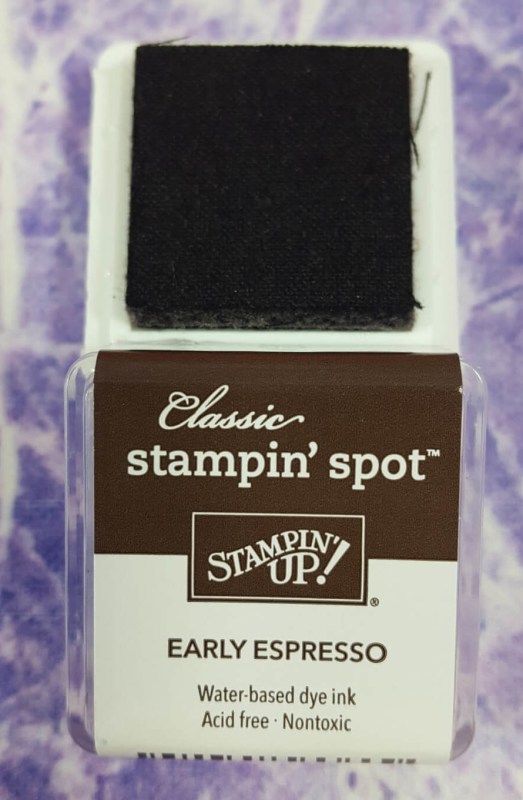 Each month Paper Pumpkin includes at least one ink spot in your box. The spots are awesome and are the only colors you will need to complete your stamping project. I take these spots and keep them in an extra stamp case and then take them with me when I'm going to a scrapbooking crop.  Since they send different colors every month I now have a nice assortment of inks to create with.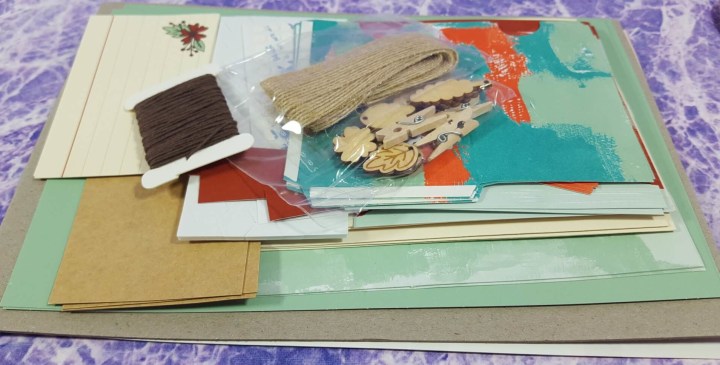 The sealed bag of paper products keeps the paper part of the kits nice and neat.  They include thick cardboard inside so that the papers will stay nice and flat while shipping.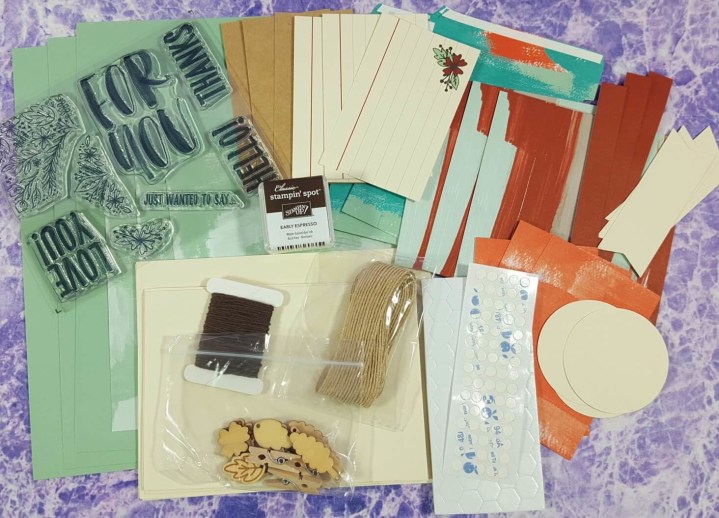 Everything in this month's kit all opened up.
All of the pieces for the first card.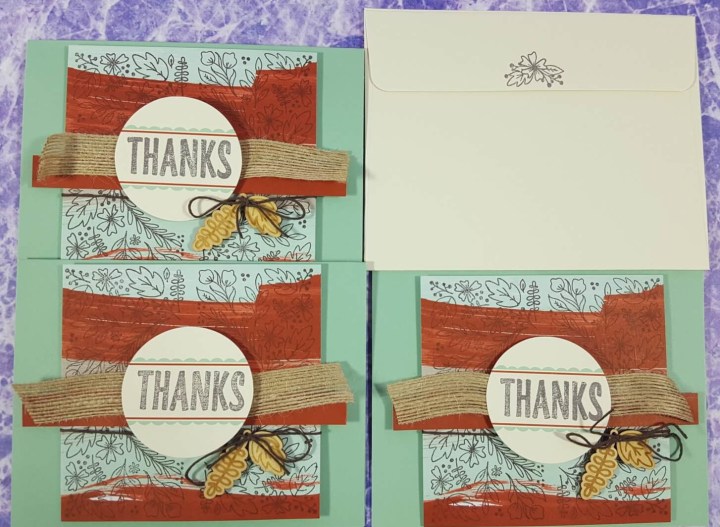 I really liked all the cards this month so I did them just like the instructions said.  This was a simple card that had lots of stamping and then just some assemble.  I'm a horrible at making bows and the first one I did was the bottom right as you can see above. While I was fussing with that one I remembered a trick my friend told me with boys and I flipped the card over when I was tieing the next two and that way the strings of the bow will be heading down the page when flipped back over.  That is an AWESOME tip and I really need to remember it for future bow projects.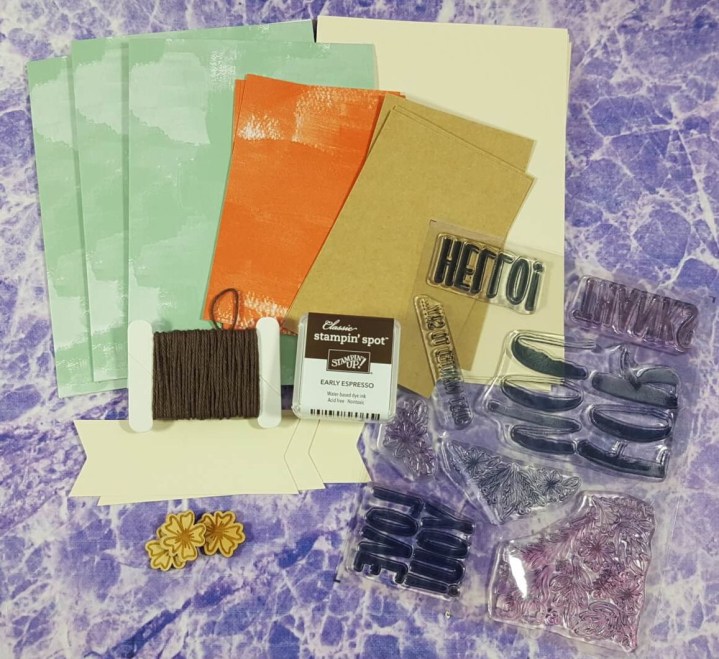 All of the supplies for the second card.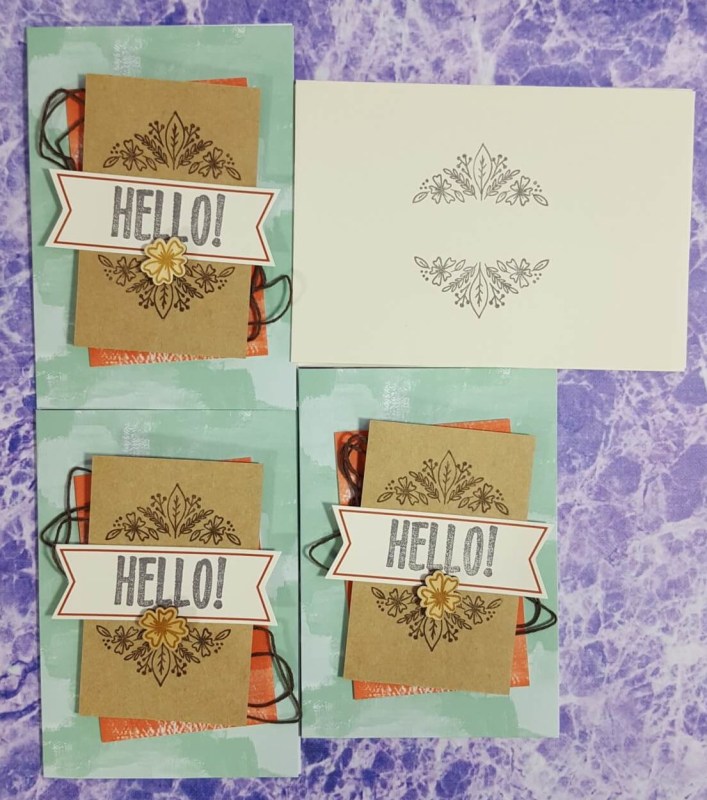 Such a simple and pretty card. I love kraft paper so having some in this card is something I would do on my own.  The simple Hello is a great sentiment since you could use it for almost any card. Hello could be for a just to say hi card, a birthday card, a thank you card, or almost anything.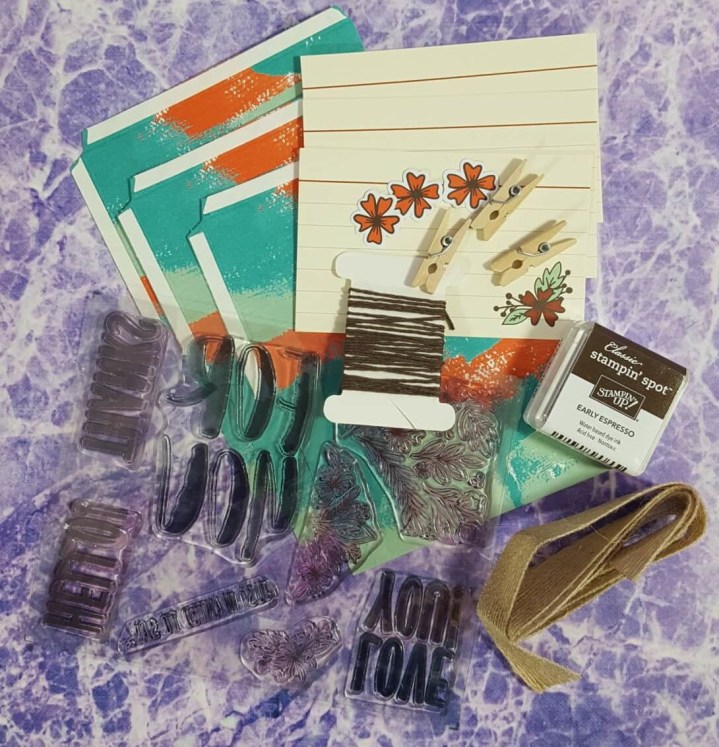 The supplies for the third project and the note/gift card holder.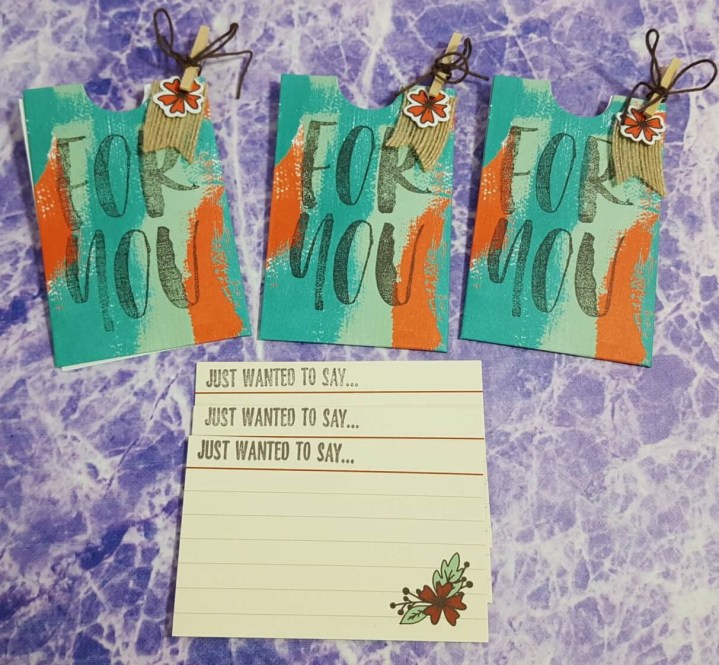 I'm always giving gift cards to people and I love to include them in a cute holder or a card or something so these are perfect for me. I think they would be great to give to a teacher this fall with a Starbucks card in it or something. I do gifts for when we track out of school so these will be used for that.
This was a great month for me and my Paper Pumpkin.  I loved all of the cards and made them just like the instructions said. The stamps are very useful ones that I'm going to add to my stash along with the Early Espresso ink spot.  I love Early Espresso as a great deep brown that works when black is just too dark.
What did you think of this month's Paper Pumpkin kit?
Right now Paper Pumpkin  is having a BOGO sale so when you sign up for Paper Pumpkin now and get your first kit for regular price of $19.95 using promo code "BOGO" and then get your second kit for FREE.  This sale runs from August 11 – October 10th,2016 and is for new subscribers only. Future boxes will be charged at regular price and you can skip or cancel anytime you want easily in your account.
Visit Paper Pumpkin to subscribe or find out more!
The Subscription
:
Paper Pumpkin
The Description
: Each month a fully designed project kit arrives in a delightful box filled with stamps, ink, and paper—everything cut and ready to go so you can skip to the fun. Just think of it as creativity in a box.
The Price
: $19.95 per month