Nexus by Espionage Cosmetics is a monthly nail subscription service for all the nail wrap addicts out there. For only $15 per month, you'll get two brand new "Nailed It!" nail wrap designs, which are uniquely designed and sought-after geeky nail wraps.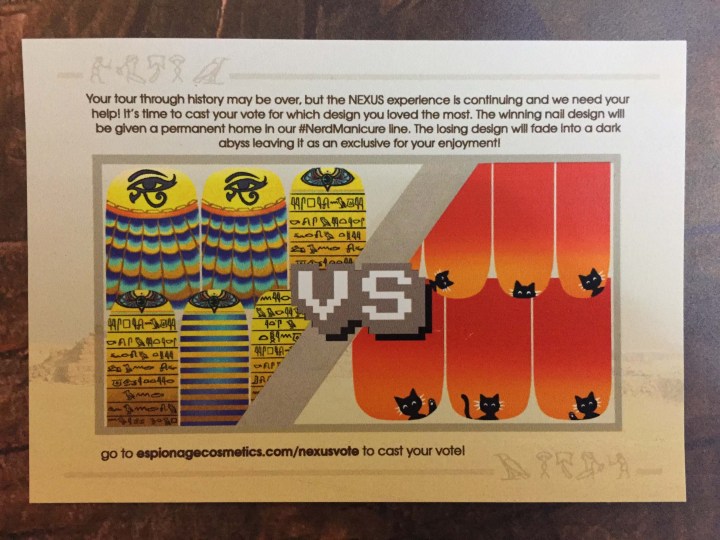 The two designs sent in this box are facing off each other to be permanently included in the Nexus Manicure line. You can cast your vote on Espionage's website. Since only one will end up being a permanent addition, that makes the other a very rare and exclusive design!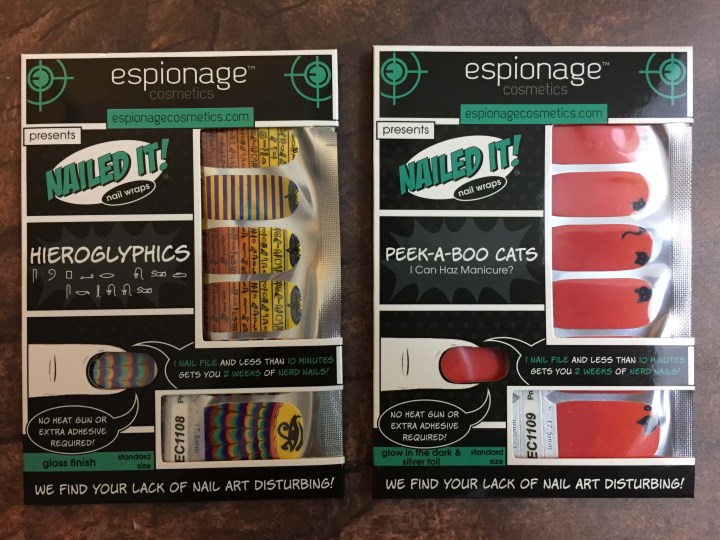 Everything in my September box! I knew there was going to be an Egyptian design, and I'm thrilled with how detailed it was. How perfect are the little cat heads for Halloween? Normally a nail file is included, but this month I didn't receive one.
Heiroglyphics I'm a geek for anything to do with Ancient Egypt. so I'm very happy with these! I love the blue and gold striped design that reminds me of the elaborate funeral masks placed on mummies when they're entombed.
Peek-A-Boo Cats I love these! They're subtle but so cute and perfect for Halloween.
Here's how they look on my nails! I always have to trim the sides on my pointer finger; it's a weird shape.
The instructions are written at the back of the packaging — it's pretty easy, really! There's also a link to view video tutorials on Espionage's website although it's broken – use this one instead.
This box is perfect if you're too impatient for the bi-monthly BOOM! Box and need to keep your nail game strong.
Which design would you choose this month?
Visit Nexus by Espionage Cosmetics to subscribe or find out more!
The Subscription
:
Nexus by Espionage Cosmetics
The Description
: Two BRAND NEW "Nailed It!" nail wrap designs in each Nexus box.
The Price
: $15.00 per month