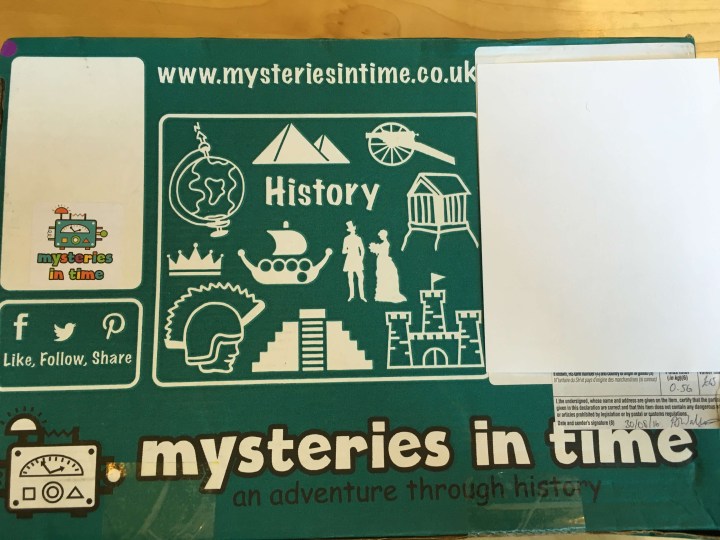 Mysteries in Time is a monthly subscription that delivers "an adventure through history" to 7-11 year old children. Each month, children will receive an historical fiction adventure story that follows Max and Katie as they use their time machine to help insert themselves in history, making discoveries that have perplexed experts for generations. In addition, each time machine box will contain relevant historical information, a craft, stickers and a number of extras, each designed to bring history to life.
Mysteries in Time offers two subscription boxes – the Classic Box and the Bumper Box. The Classic Box costs £7.95 per month and ships for £0.95 to the UK, £1.95 to EU, and £2.95 to other countries. The Bumper Box costs £12.95 each month and ships for £2.95 to  the UK, £3.95 to the EU and £5.95 everywhere else.
This is a review of the Mysteries in Time Bumper Box.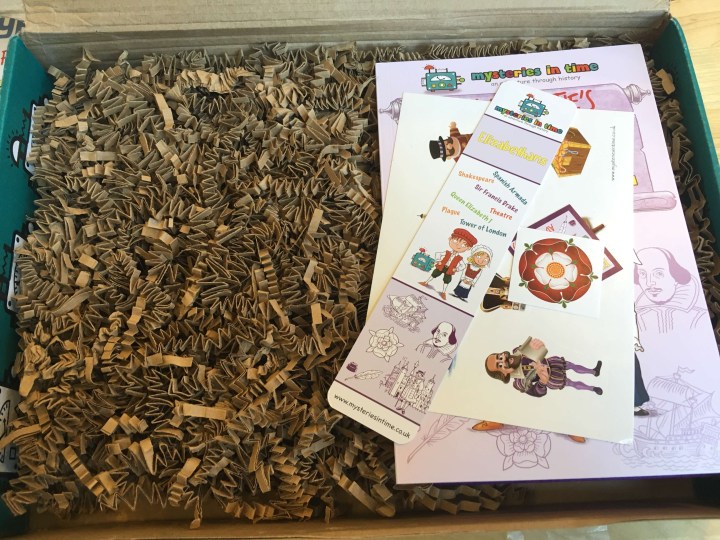 All items arrive well packaged. Squiggles help protect delicate items during transport.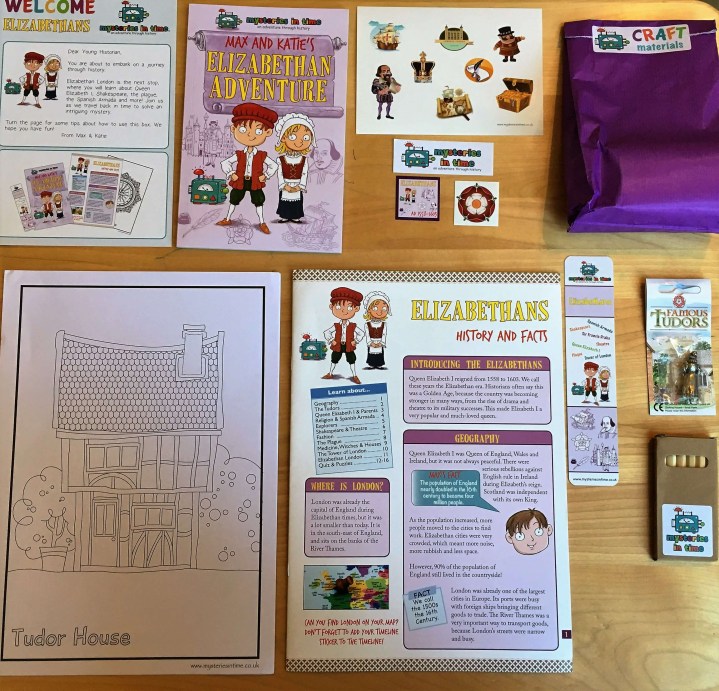 My son loved his first box from Mysteries in Time so much that when he saw this box in the mail, he literally jumped up and down begging me to open it up!
Each box contains a content map that includes suggestions for how to approach the box. There's a lot of overlap in the contents, though, so don't feel bad if you or your child want to approach the activities in a different order. That's fine!
My son and I started by reading through the enclosed booklet, "Elizabethans: History and Facts." This booklet contains tons of helpful, illuminating information. It's both thorough and succinct. My son and I loved learning all about the Tudors, real-life pirates and Shakespeare.  He was somewhat bewildered by how violent Elizabethan England could be. The quality of the text, layout and topics covered were all excellent.
The back of the booklet contains a number of activities for children to complete.
While some of the activities reinforced what children learned in the booklet, other activities were included more for fun. My four year old enjoyed them all! I did have to scaffold the anagrams for him, though (I solved the anagrams, and he copied the words down).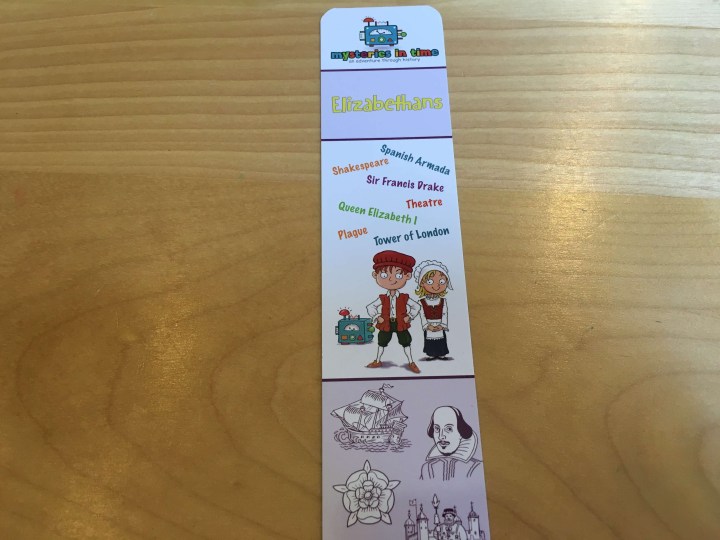 After getting a good grip on the historical background, my son was excited to delve into the enclosed chapter book! As much as he liked the bookmark, he really wanted to finish the book in one sitting.
Max and Katie's Elizabethan Adventure is the story of two ordinary kids who embark on an adventure through time to discover the answer to an important question: who stole a beautiful necklace bound for Queen Elizabeth I from Sir Francis Drake's ship, The Golden Hinde? This entertaining book was mysterious, gripping and entertaining. My son loved it! He sat captivated as I read it to him.
Finally, my son was ready to go on his own adventure!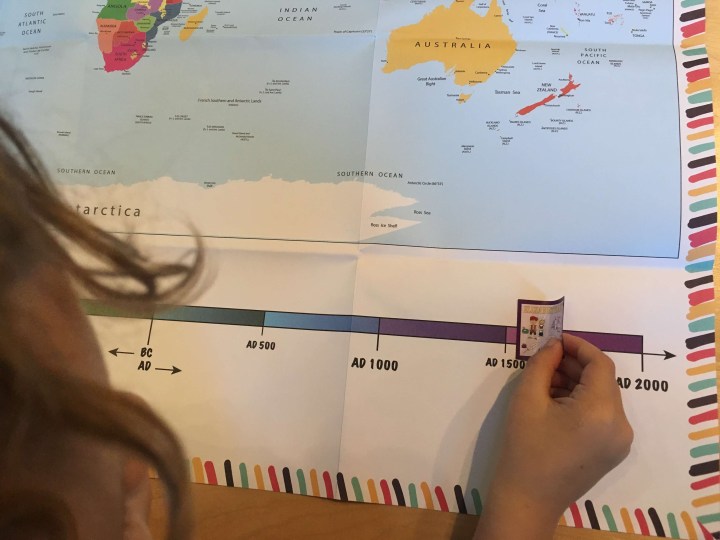 He affixed his Elizabethans sticker to his timeline (which we received in our first box) so that his time machine would know where to send him.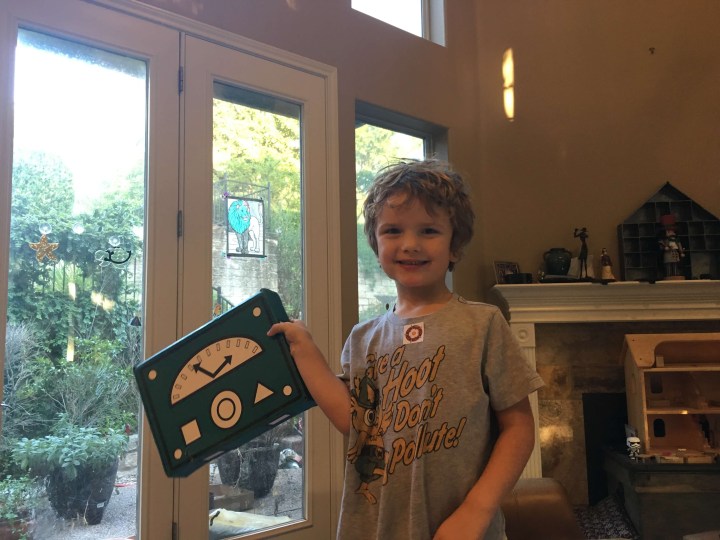 He placed his Tudor rose sticker on his shirt so that all of the words he wanted to say would come out in fluent Early Modern English. Holding tight to his time machine, he was transported immediately to Elizabethan England.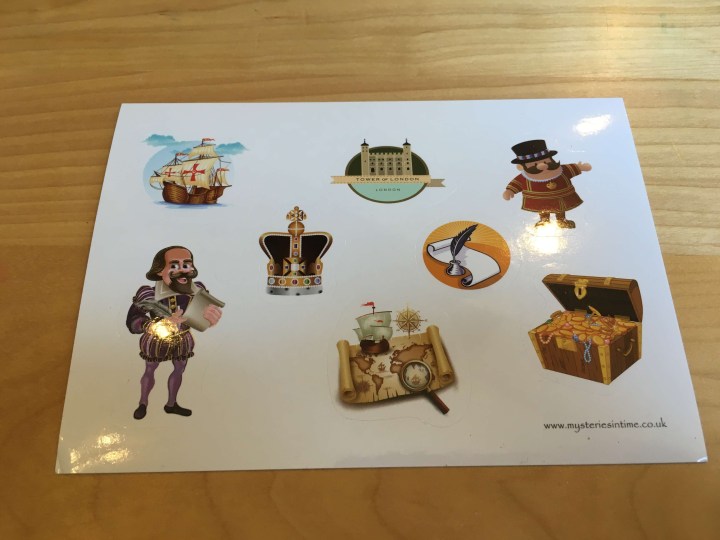 Once there, he decided to use these stickers to help guide him on his adventure.
While meeting with a Beefeater at the Tower of London, my son was interrupted by Shakespeare, who told him that the  Spanish Armada was coming! Oh no! He and I both had a lot of fun reordering the stickers to tell stories of different adventures each of us experienced on different trips back in time to Elizabethan England.
Naturally, many of our adventures included stealing treasure from Spanish ships and returning to England where we were required to give half of our booty to Queen Elizabeth I.
My son was excited to add props to his story line!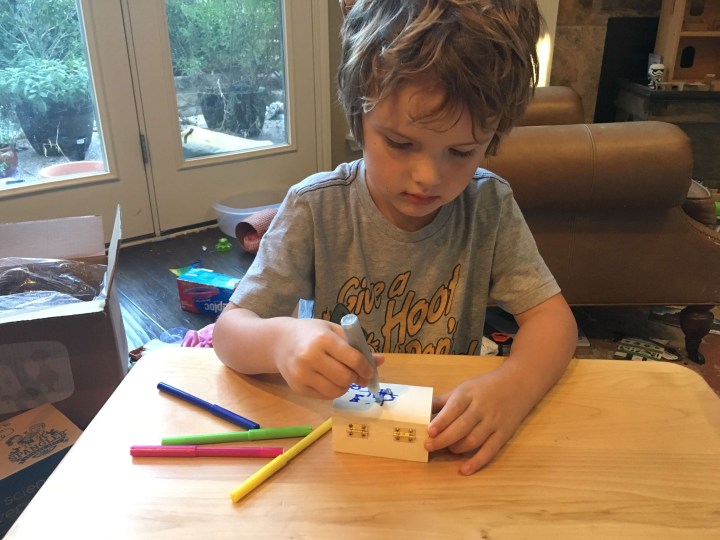 This was his first time ever using glitter glue, and he thought it was awesome!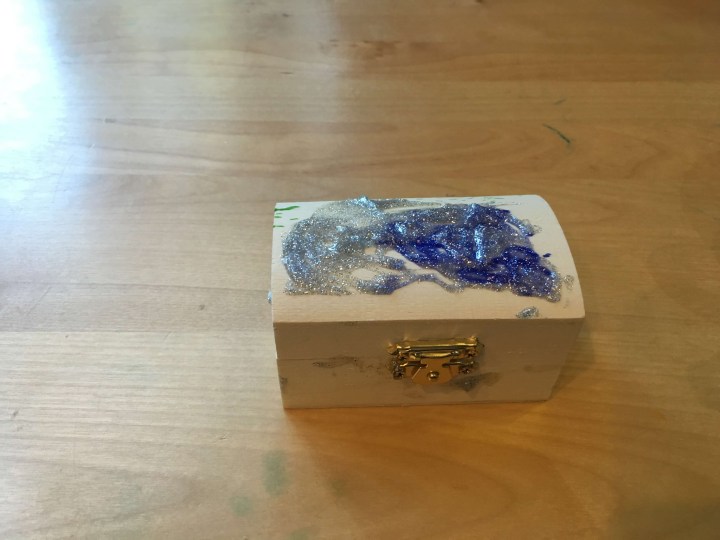 Once his new treasure chest was dry, he added the pirate coins and gems he received in this month's Little Thinker Box to his chest and practiced giving me half of it. I could get used to this!
After discussing about a half dozen different story lines, my son was happy to return home and show me some of what he saw in Elizabethan England.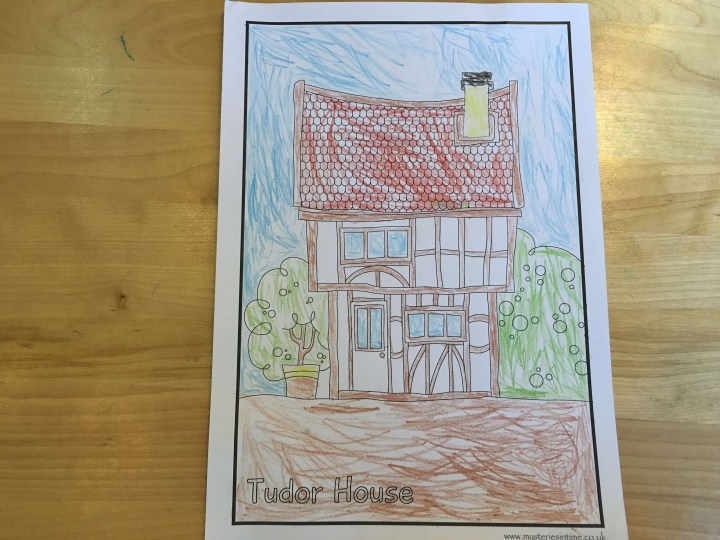 He was especially taken with the architecture. He was surprised that poor people in Elizabethan England didn't have glass windows.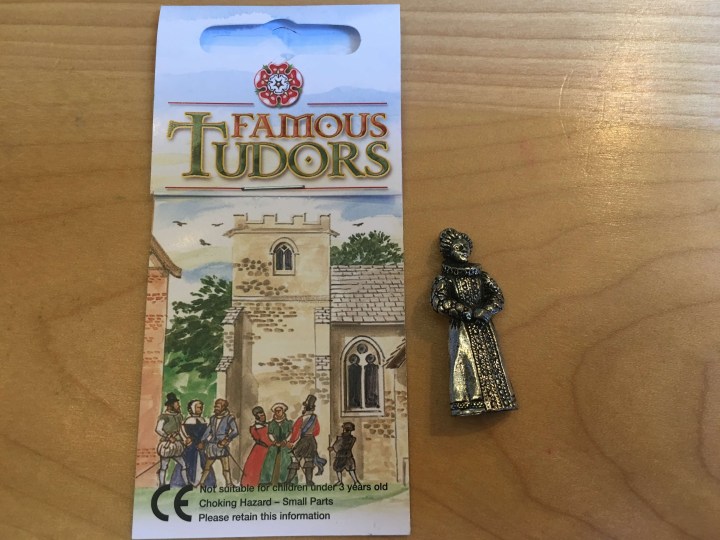 He was equally interested in the ruffs that rich people wore in Elizabethan England. He decided that, like Max and Katie, he should dress like a poor person when going on his adventures in Elizabethan England. Still, he was happy to receive this  memento from his trips back in time!
I cannot imagine a better introduction to history than the lessons contained in Mysteries in Time. Mysteries in Time makes history fun, and my son and I both absolutely love it! The stories it tells are exciting, and the subscription manages to immerse kids in the stories in ways that make the stories come to life.
Have you tried Mysteries in Time? What is your favorite box theme? Save 20% off the cost of the first box! Use coupon code OFFER20.
Visit Mysteries in Time to subscribe or find out more!
The Subscription
:
Mysteries in Time
The Description
: Mysteries in Time is a monthly educational subscription box for children, designed to bring history to life for 7-11 year olds. Each month, subscribers receive a time machine postal box packed with high-quality, fun, educational activities for children, all linked to a different period in history. Only £12.95 per month!
The Price
: $16 per month