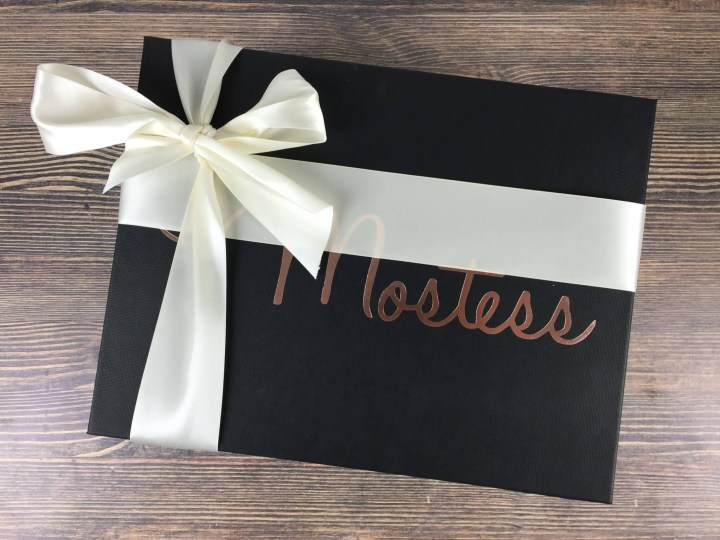 Mostess is a  bi-monthly box lovingly packed with curated entertaining items and ideas that are perfect for your next gathering (or as hostess gifts!).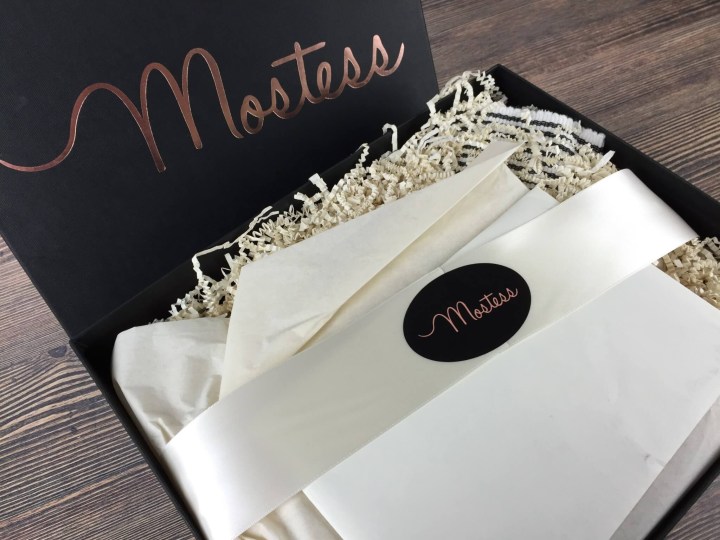 This box ships in a very large outer cardboard box and is completely covered with bubble wrap.
The packaging, as always, is exquisite.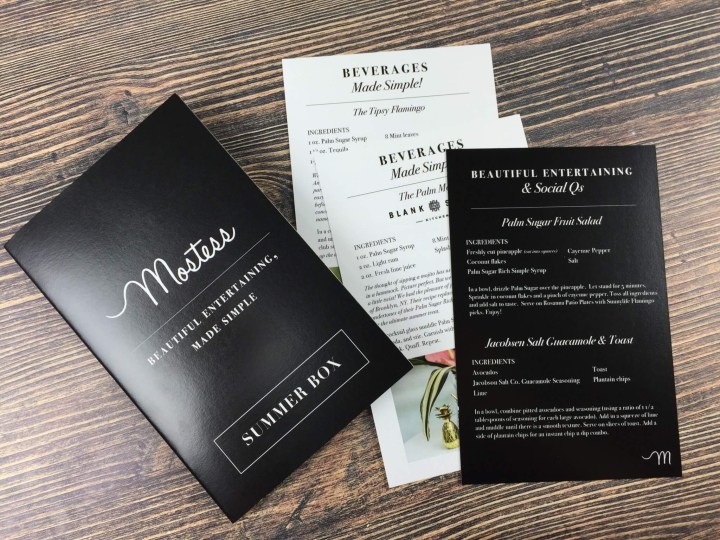 Inside the envelope was a sturdy bifold booklet printed on lightly textured heavy cardstock. The box shipped in August was the Summer Box. It also included a duo-sided card with entertaining tips on one side (brunch) along with a fruit salad recipe & a guacamole recipe. Three cocktail recipes were included, along with a scannable QR code for a playlist.
The quality of the information booklet matched the rest of the packaging with photos and ideas for every item – great inspiration for hosting your own summer event.
I like that the recipe cards are separate – I can hand off a recipe to the husband without a whole booklet getting in the way!
Everything in the Summer box, all packaged up neatly. You'll notice that everything in here is full-size.
Blank Slate Kitchen Palm Sugar Simple Syrup ($12) This rich simple syrup really amplifies the mouthfeel of your cocktail with a smooth slightly slicker feel. And of course it provides fabulous flavor with flavor notes of caramel, vanilla and spice.
Sunnylife Flamingo Forks Set ($7) I really wanted to make pimiento cheese finger sandwiches and poke them with these little skewers, but my husband forgot the ingredients at the store. Oh well. They're also perfect for picking out fruit from a fruit salad or just general party eating!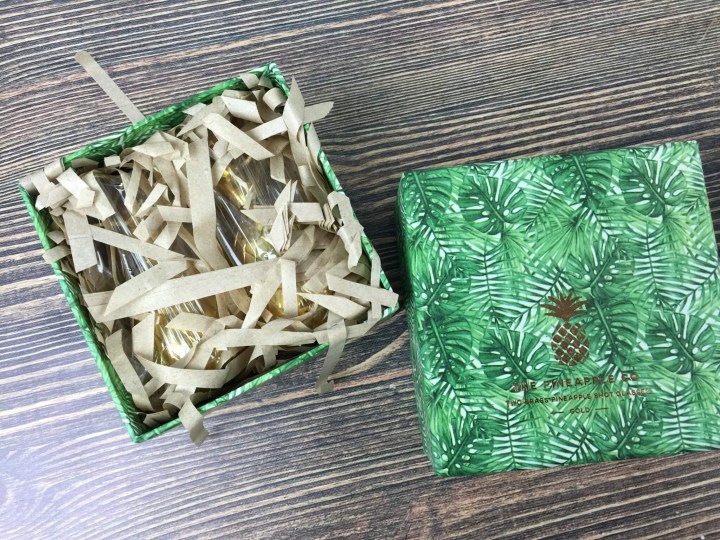 Pineapple Co Pineapple Shot Glasses ($35) 2016 was the summer of pineapples, and as my pineapple obsession is in top gear I was thrilled about these – they match my set of four pineapple tumblers from the same company!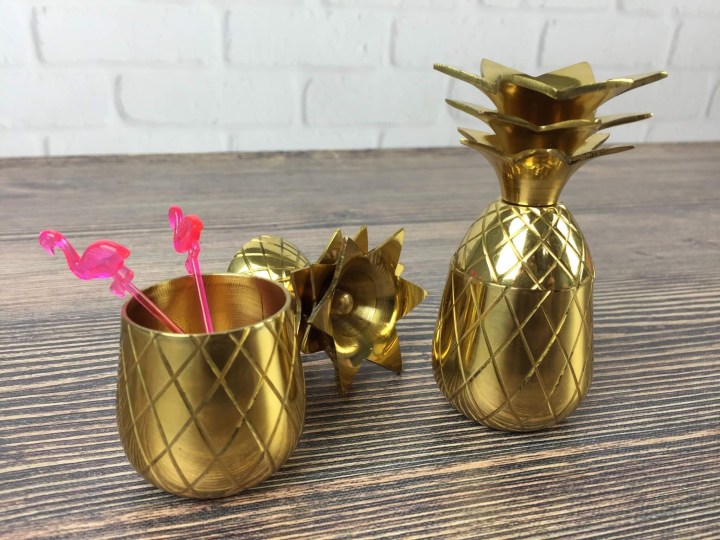 These are perfect accents for the kitchen or for your brunch or party table! 
Plus if you use them for shotglasses you can further display your pineapple flair when you knock one back!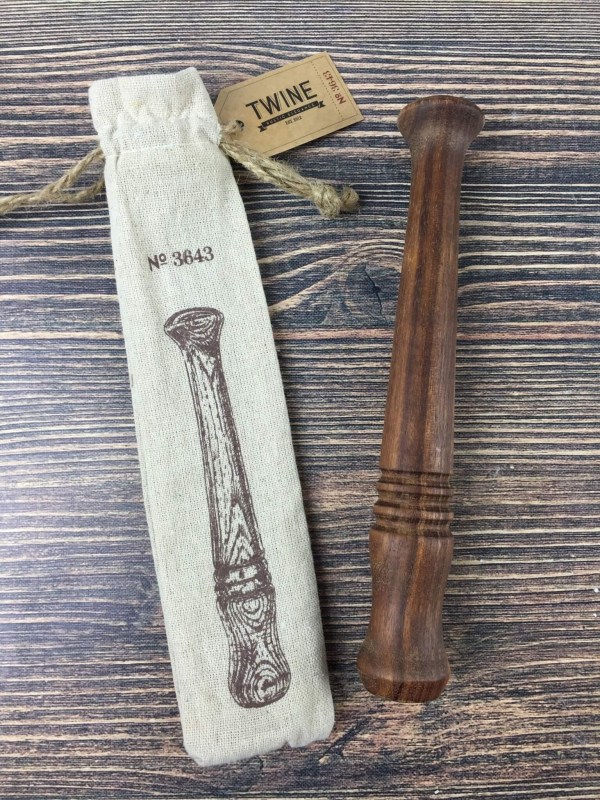 Old Kentucky Home Acacia Wood Muddler ($9.99) This was included for muddling drinks or making guacamole (?!). My husband has made multiple batches of guac with the seasoning in this box and I guarantee you he hasn't used this for that purpose yet. He's probably used it for drinks though – he's really been on a mixology tear!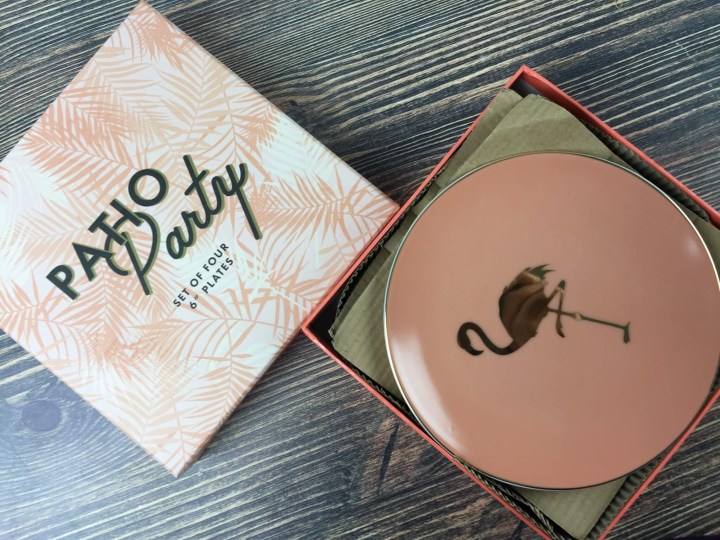 Rosanna Patio Party Flamingo Plates ($60) How darling! There seems to be an item from Rosanna in every box, and I can't complain about that – every piece has been gorgeous, usable, and a welcome addition to my tableware.  One thing I love about these is they come with extremely sturdy storage boxes that will last a really long time.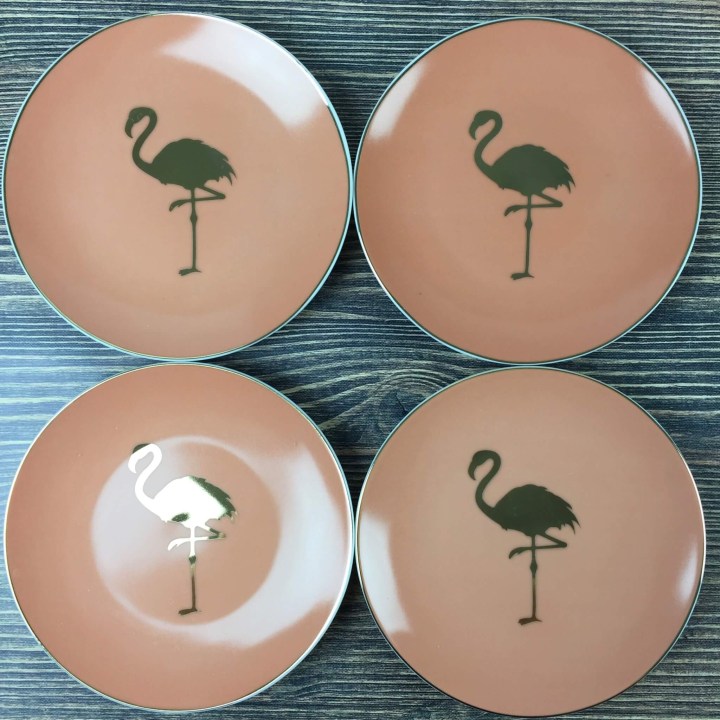 Who can say no to metallic gold flamingo plates?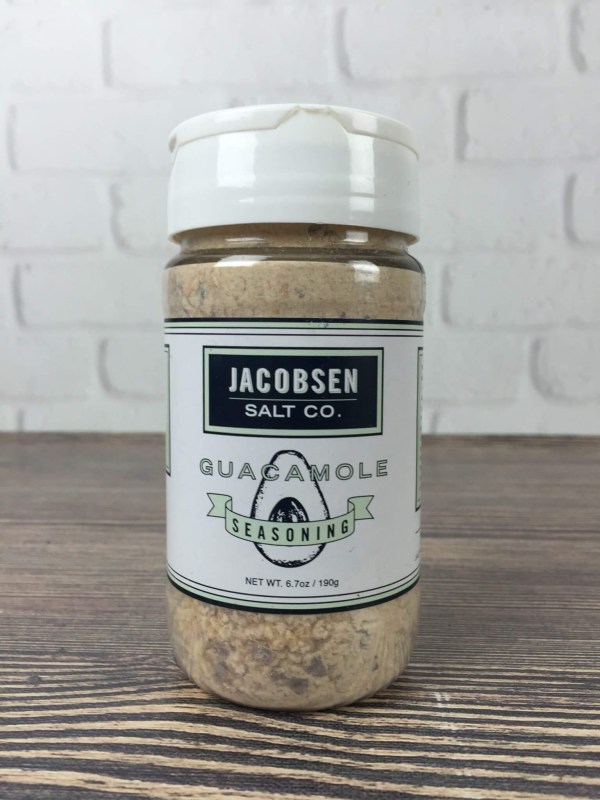 Jacobsen Salt Co Guacamole Seasoning ($9) This makes guac easy least – just mash and mix in with a squeeze of lime.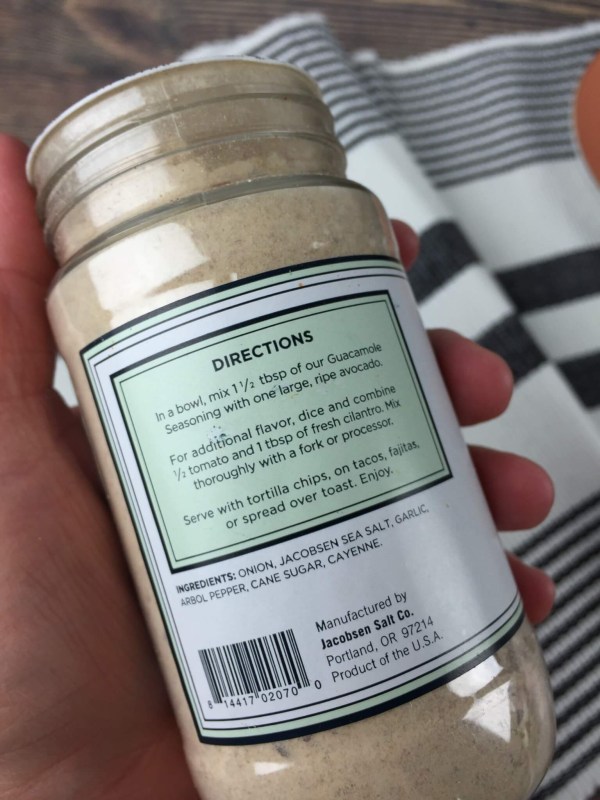 The blend contains onion, sea salt, garlic, Arbol pepper, cane sugar, and cayenne.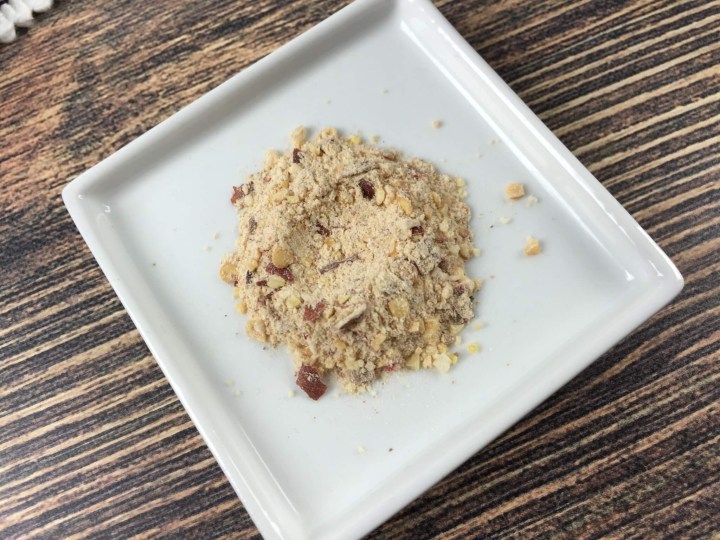 We've made this multiple times and it was freaky delicious. Tom mixed in some sour cream and fresh cilantro and it was so good. You can also use the salt for avocado toast, though I'm not big on anything heavy that early in the morning.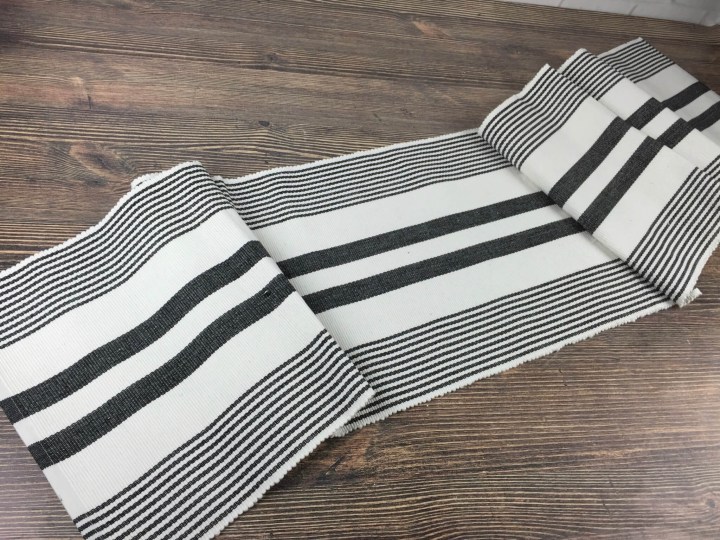 Summer Table Runner ($25?) This Mostess Exclusive is a handwoven 100% cotton runner that I think is perfect for a chic gathering or amping up the every day look of your table! It's about 13″x70″ and should accommodate most tables.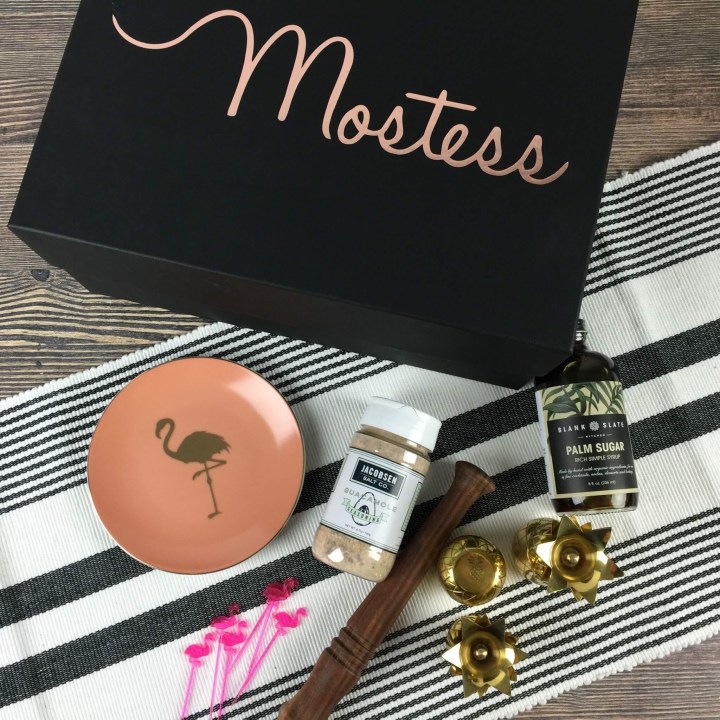 This box was really beautiful! I estimated the value around $158, which is pretty good. Not a giant savings, but a savings nonetheless, and opening the box is so special and fun – Mostess really excels on the subscription box experience!
FYI – this box isn't a subscription. They reveal the entire box and then you can decide whether to purchase or not, which is great. I do have to note that Mostess was originally supposed to have a new box every 60 days, but seems to have settled on a quarterly schedule, which I think is fine. At the time of writing this post, this box was still available. The next box that will be released will be a favorites sort of box with items from the Summer, Spring, and VIP/Launch Boxes and is available for pre-order now.
Visit Mostess to purchase a box or find out more!
The Subscription
:
Mostess
The Description
: Mostess is a membership service that helps you host beautiful gatherings in your home by sending curated party items and ideas straight to your door.  Every other month Mostess sends a box directly to your doorstep. Each box contains 4-6 handpicked and perfectly coordinated items that you can use to host a gathering in your home. Items could include cocktail ingredients, decorative items, snacks, stationery, and more.
The Price
: $120.00 every other month