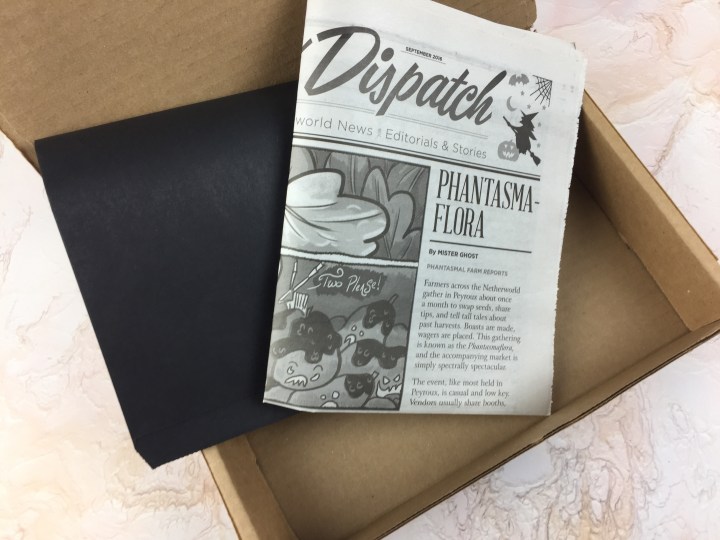 Mister Ghost's Highly Enviable Monthly Parcel of Simple Yet Amazing Wonderments is a monthly paper and stationery subscription box for $12 per month (shipping was $3.10 to us). You'll get a box with a haunted newspaper, 4 stickers, an art print, an embroidered patch, 2 notebooks, and 2 greeting cards. At first look, this box appears to have Halloween as its monthly theme!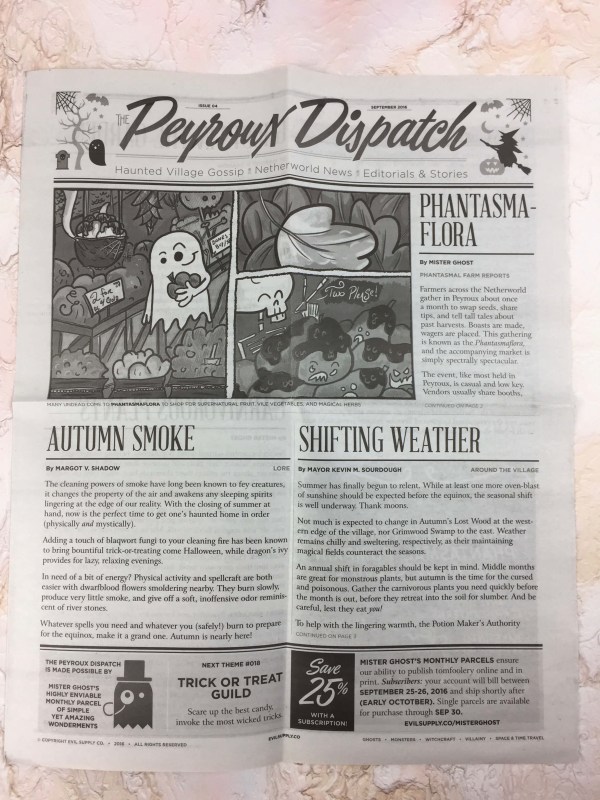 The box came with this newspaper style insert. It comes with haunted stories and editorials, plus news around the Netherworld!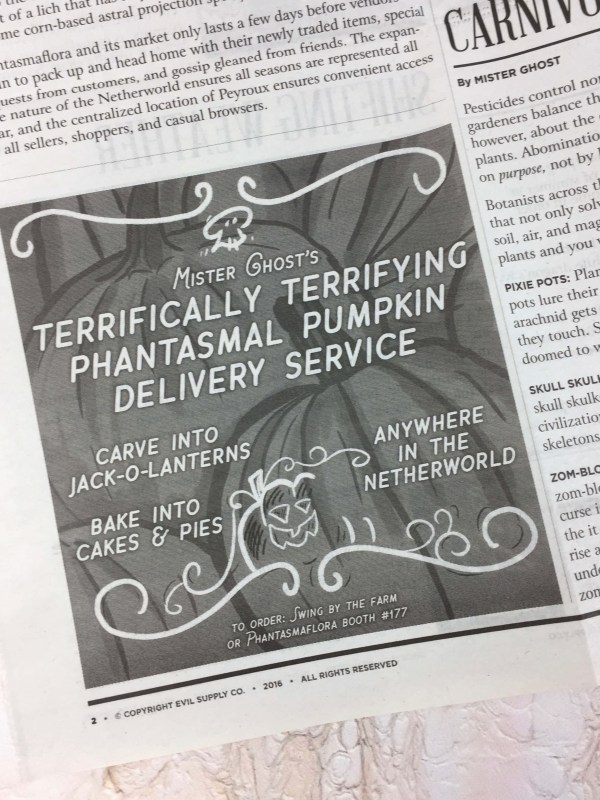 The four-page paper is complete with ads and articles — this one offers pumpkin delivery services to the Netherworld. Guess we have another box to add to the subscription box directory!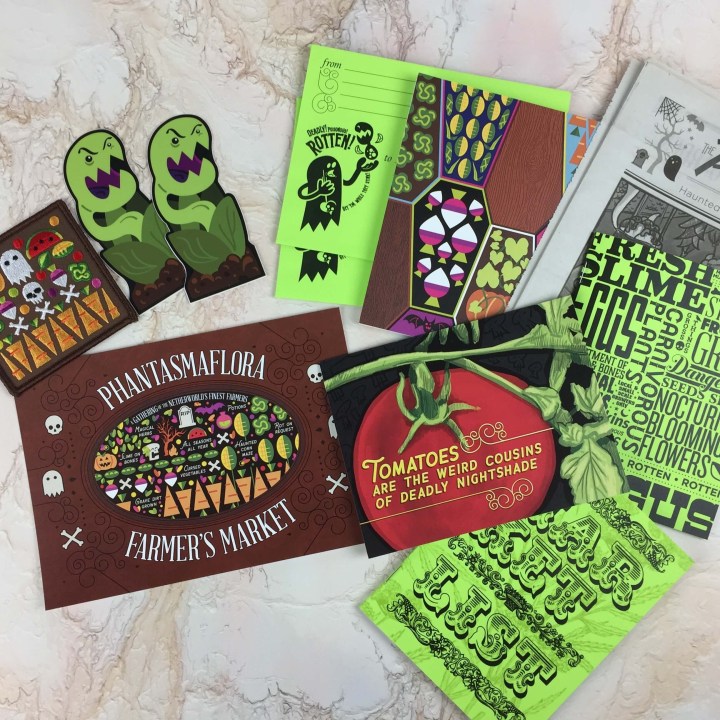 The items are secured in a black paper envelope, shown above. This month looks like "Phantasmaflora Farmer's Market!"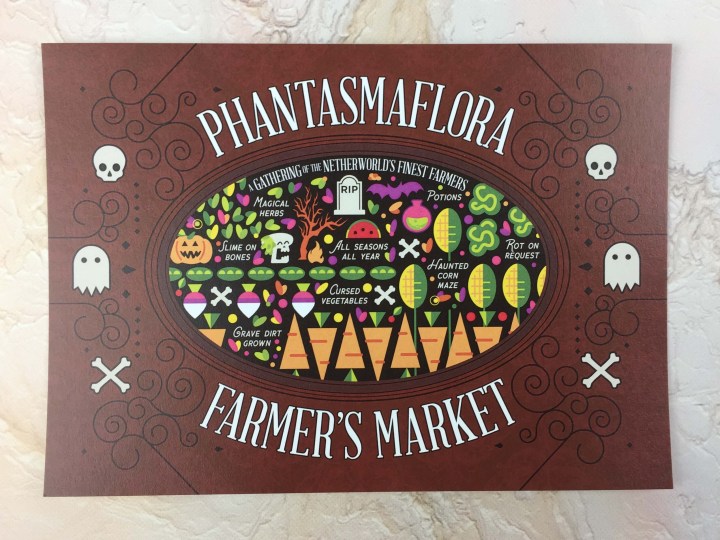 Phantasmaflora Farmer's Market Art Print: This is super cute – and advertises the unique nature of the produce at this market. Slimie on Bones! Rot on Request!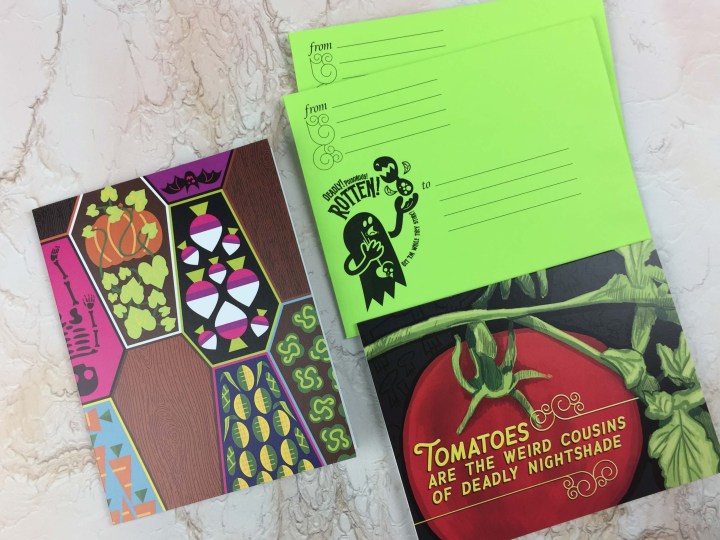 Greeting Cards & Postcards: I know that card looks upside down, but a check on the back says this is the "right" way. I love the tomatoes notecard. I'm sending it to my cousin.
Patch & Stickers: I kind of squealed over the patch – I think it's super high quality and the colors are vibrant and the embroidery is crisp. I'm really impressed. A couple of flesh eating plant stickers round it out!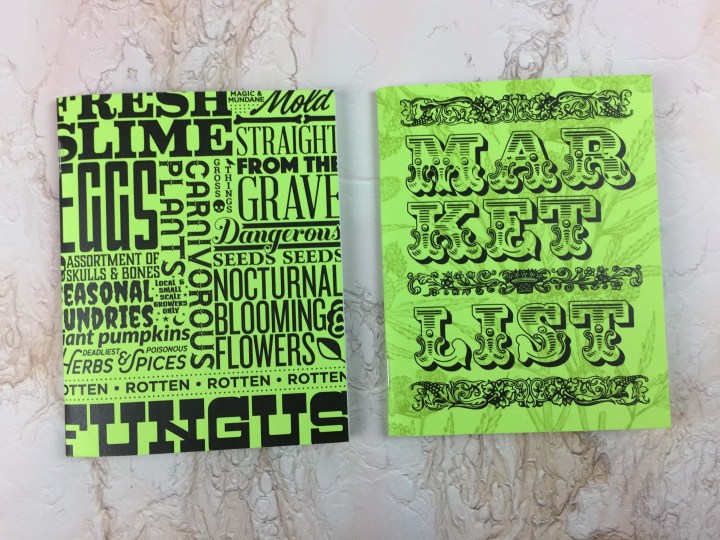 Notebooks: How funny are these! The one on the left is perfect for a Halloween loving gardener, and anyone can use a market list notebook!
The back has a hilarious check-the-box "if lost, return to" list on the back.
Like previous months, we thought this was a very cool collection of items. The contents were fun and light-hearted.  The price is also very affordable, so it's a great way to bring a smile to anyone who journals or likes fun stationary and cards. And Halloween!
We love how this box celebrates Halloween every day! A little dark humor, but wry, and the price is totally right on. If you want to get that Halloween box, subscribe now!
Visit Mister Ghost's Highly Enviable Monthly Parcel of Simple Yet Amazing Wonderments to subscribe or find out more!