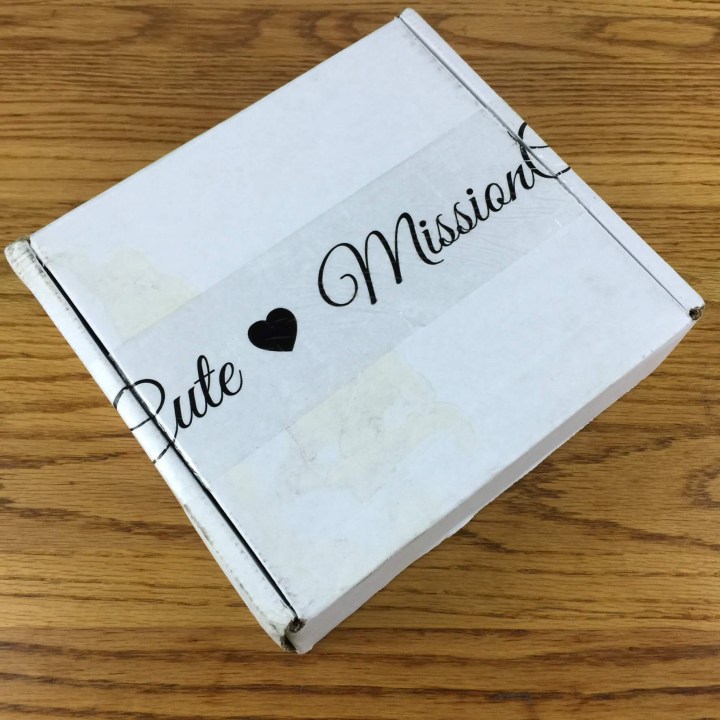 Mission Cute is a monthly subscription box of cute  – plus half the net proceeds go to that month's nonprofit pick.  Each MissionCute box comes with at least 2 items made by small-but-mighty artisans and local businesses.  By joining MissionCute, you'll receive a box of 4-6 hand crafted items starting at $39 a month for the deluxe box.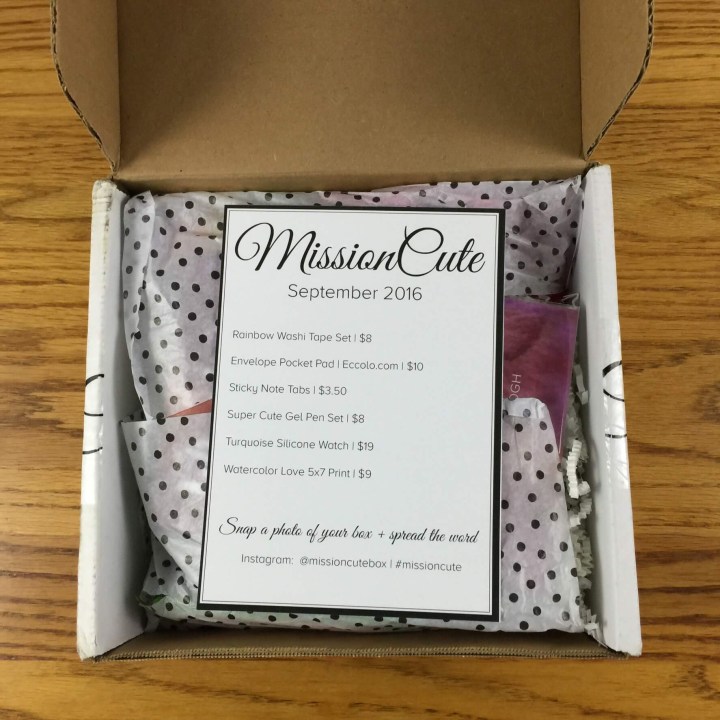 Neatly packaged to ensure nothing is broken or dirty. There is a lot of plastic protection in this box, which made me happy for the product and a little sad for the environment. Also please note the shredded paper, this stuff is hard to clean up if you spill it by accident.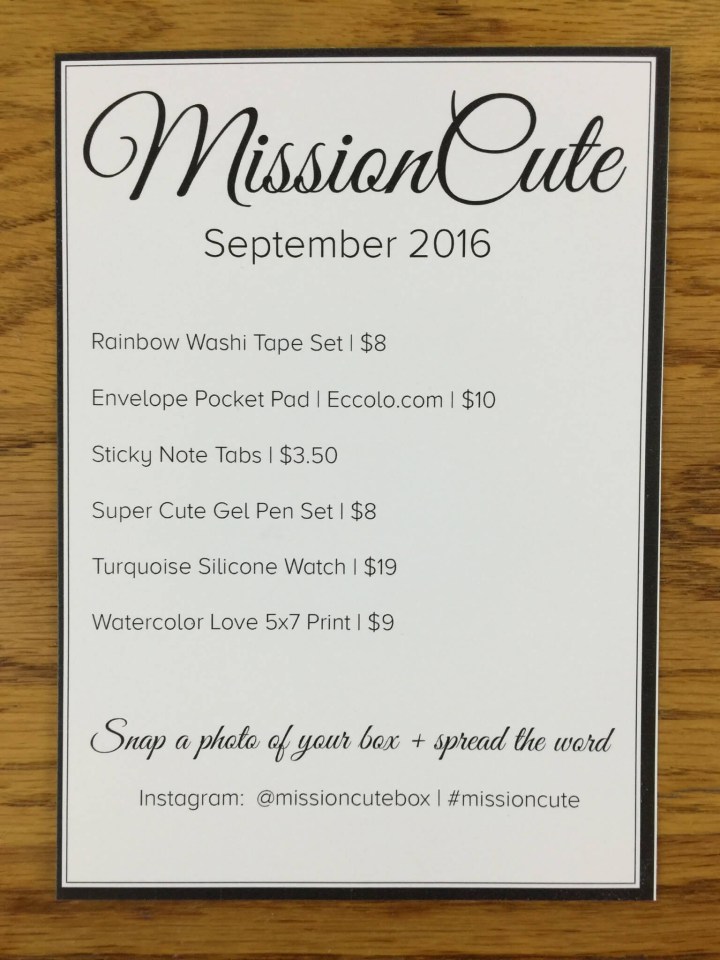 Card of Contents, includes a list of items with websites and prices. Card also includes how to stay in touch via social media.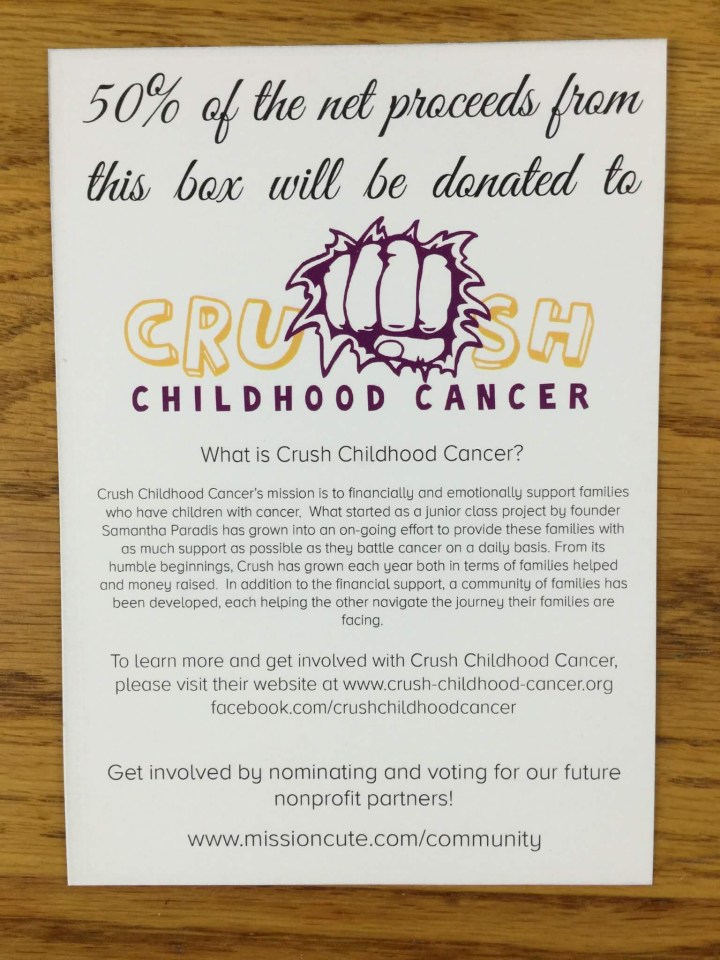 The second side includes information on the charity of the month. September is dedicated to Crush Childhood Cancer. This charity helps financially and emotionally support families who have children with cancer. I love that there is enough information on the charity without going too in depth. I also like that subscribers can vote on next months organization.
Watercolor Love 5X7 Print ($9) is pretty and I like the quote, however, the contents card has this priced at $9, which I think is a bit excessive. I feel like I could print this on a nice card stock for pennies on the dollar, frame it and still not spend near the $9 price tag quoted by MissionCute.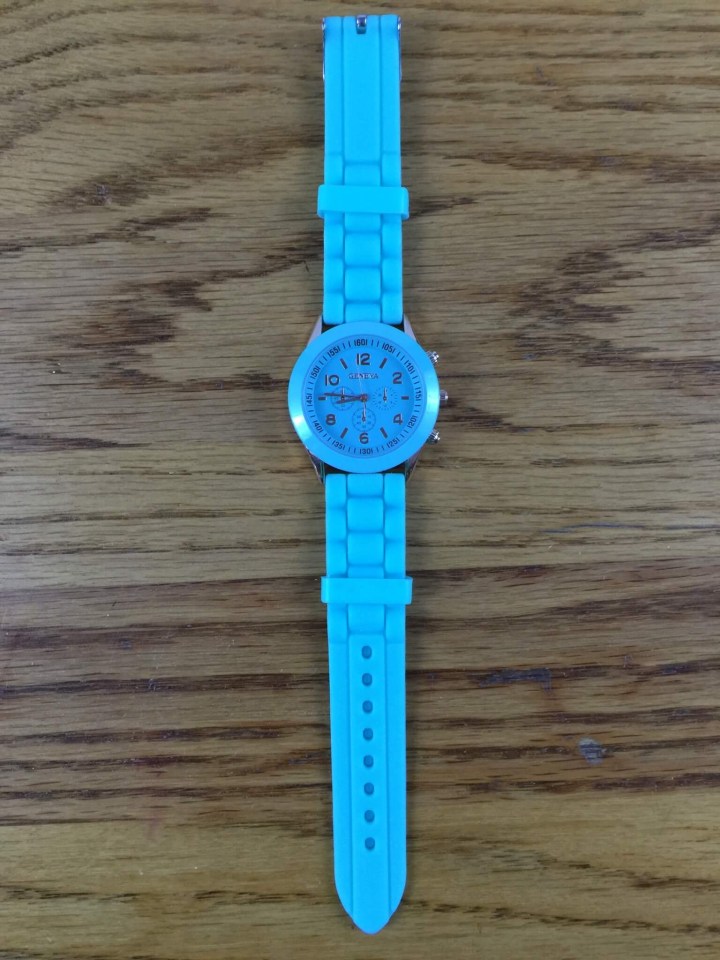 Turquoise Silicone Watch retails for $19. I love the color and details in this watch. Also the adjustable band is amazing, a bit warm for Arizona at this time but once it cools down I'll be wearing it everywhere.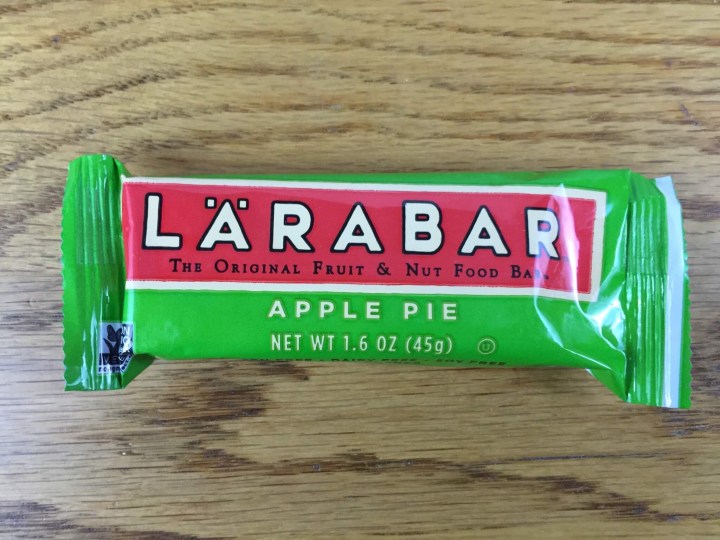 Larabar in Apple pie was delish. Soft and sweet with a bit of nuts, these may have just become my new favorite breakfast food.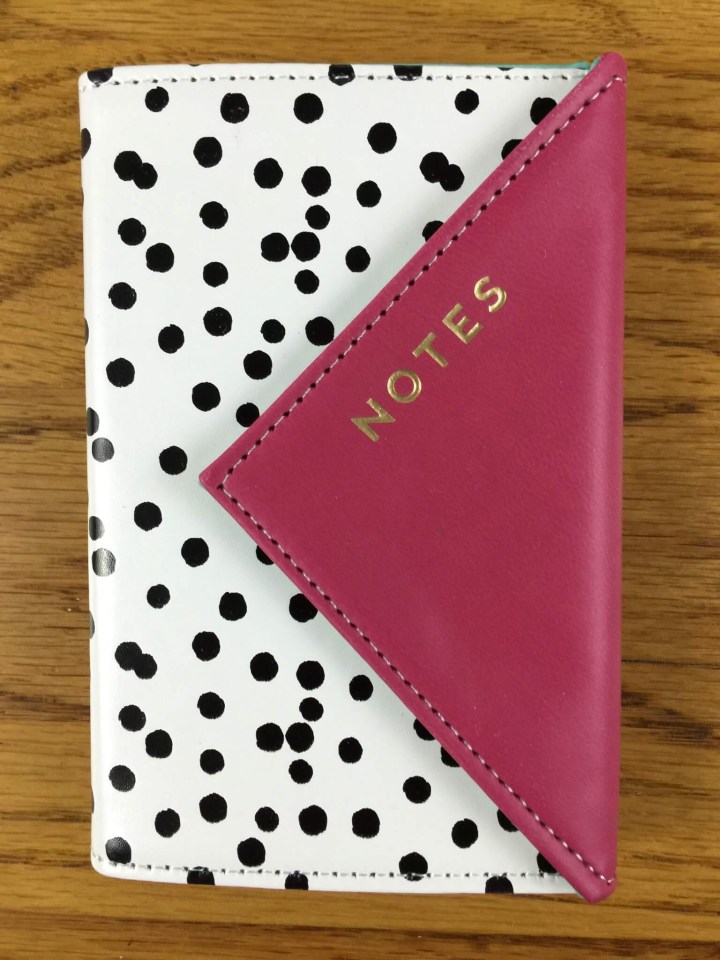 Envelope pocket pad in polka dots is extremely cute ($10). The coolest thing about this pocket pad is that you can refill the note pad. It's got a magnetic close so there are no worries about ripping pages or pages falling out.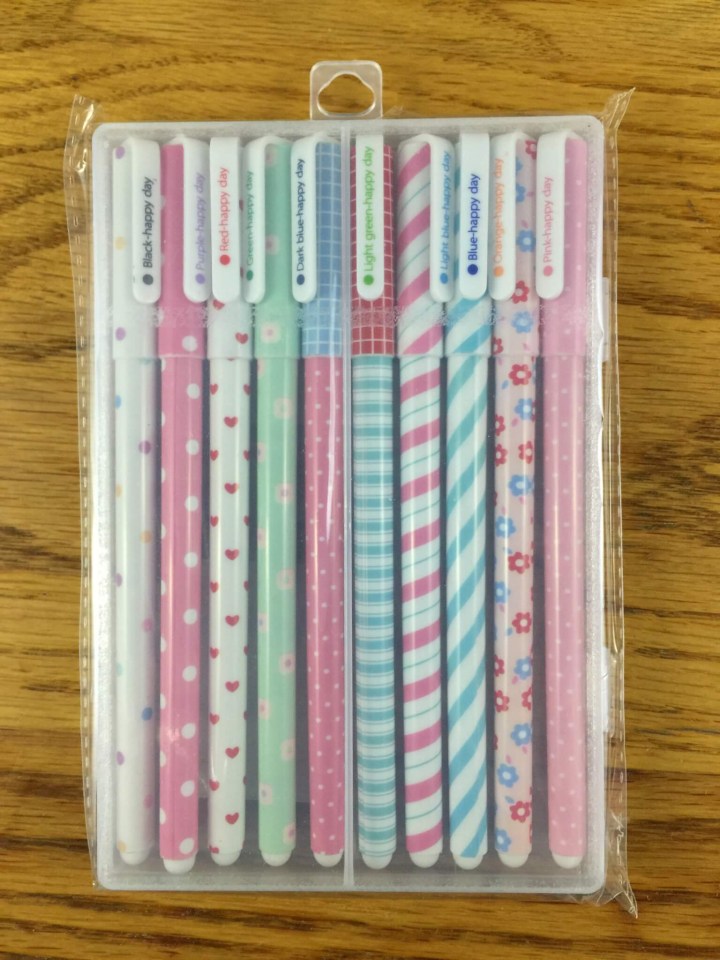 Gel Pens! I love gel pens and this super cute set retails for $8 and comes with a handy carrying case. These pens have a super fine tip and write beautifully. Originally I was going to share them with my daughter but I think I will be greedy and keep them to myself.
Rainbow Washi Tape set for $8, yes please! This is a 10 pack of individual rolls of tape that can be used for anything.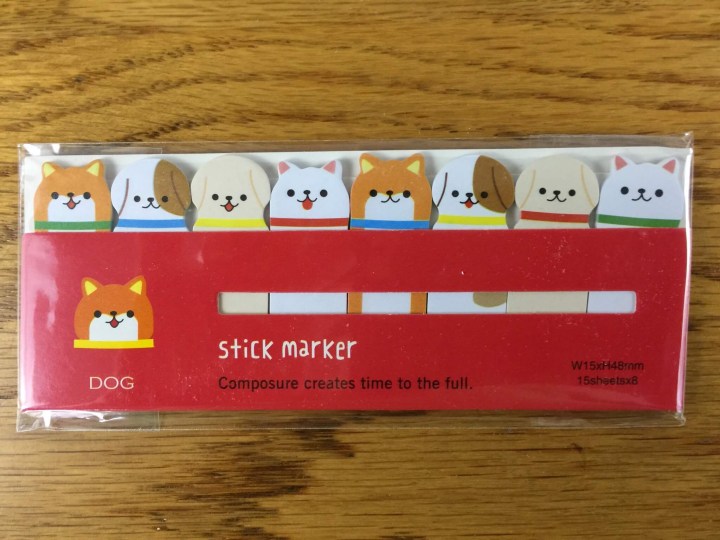 Sticky note tabs in the shape of dogs ($3.50)! I love these way more than the boring old post-it brand because of the dogs and the added happiness they bring me. I use them for marking recipes and as bookmarks.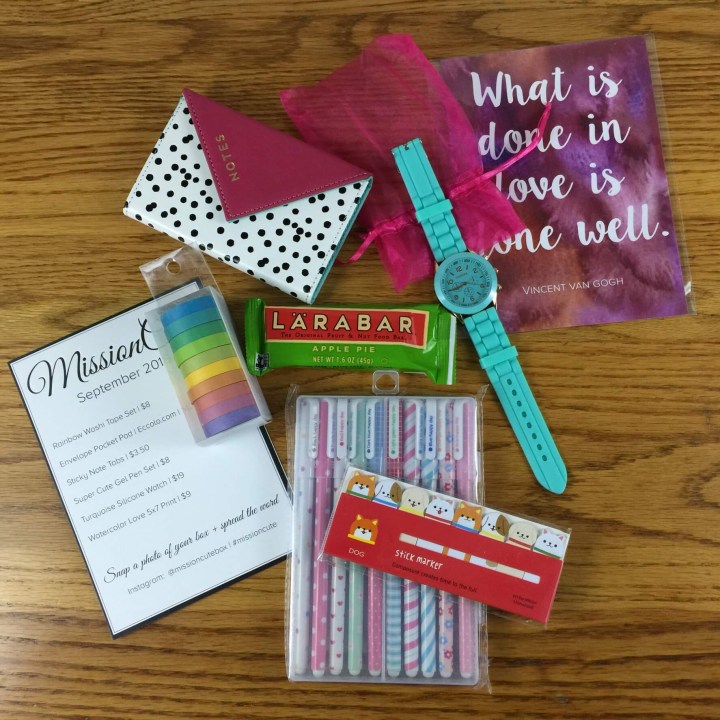 MissionCute does bring some of the cutest products to my door. September brought me all products to make organizing my life a little easier and a 100 percent cuter. I just love when all the products can be used instead of just setting them in a drawer to gather dust. I will say that I think some of the items seem over priced and that I could find similar items for cheaper but I don't know that the quality would be the same.  MissionCute has some of the best ideas for stocking stuffers or college care packages in my opinion.
Save $10 on your first Deluxe box with coupon code MISSIONTEN.
Did you receive Mission Cute? What was your favorite item? Share below!
Visit Mission Cute to subscribe or find out more!
The Subscription
:
Mission Cute
The Description
: Supporting small businesses, receive a box of CUTE items once a month. 50% of net proceeds go to a new nonprofit every month. Each MissionCute box comes with at least 2 items made by small-but-mighty artisans and local businesses.
The Price
: $39 (deluxe) or $20 (mini)