LYFnow (Love Yourself First now) is a monthly subscription box aimed at young women (14+), providing a "fun and inspiring monthly reminder to love yourself first."  Each box will contain 4-6 fun, exciting, and functional items that will "inspire and guide young women to be the best they can" by loving themselves first.  The subscription cost is $29/month, with discounts for prepaying for multiple months.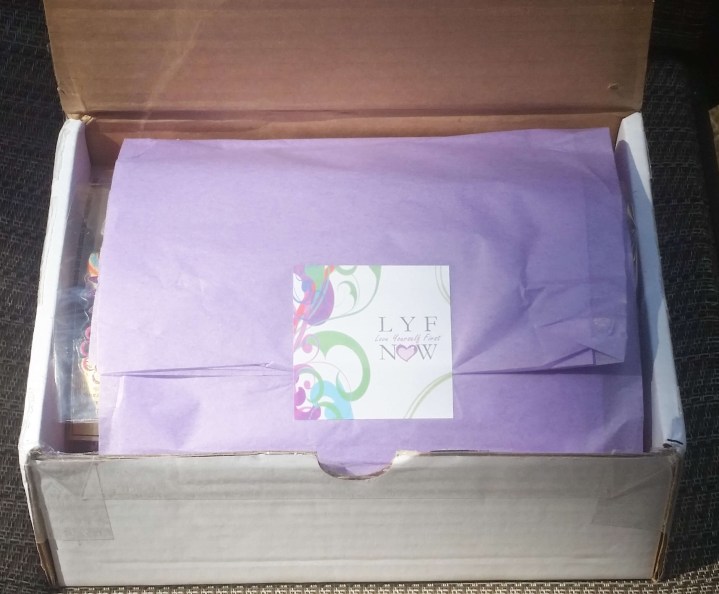 As always, I reviewed this box with the help of my teen and tween daughters (aged 11 and 14).   Opening up the box, we find pretty lavender tissue paper.  My daughters have really enjoyed the LYFnow boxes we've gotten so far, so they were super excited to dig in to September's box!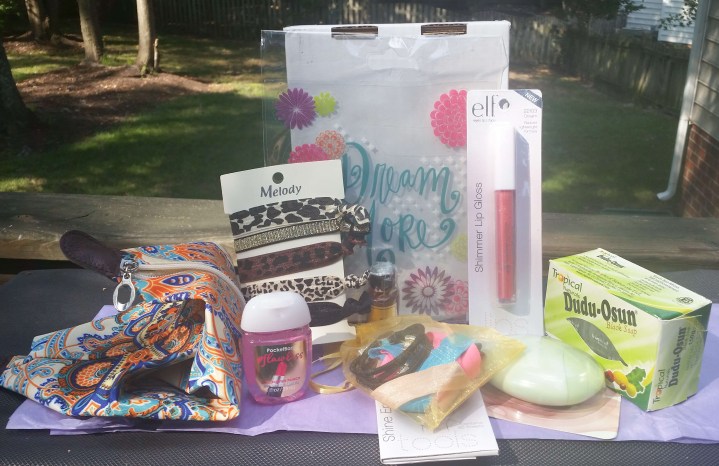 Here's a look at everything in this month's box – so many goodies!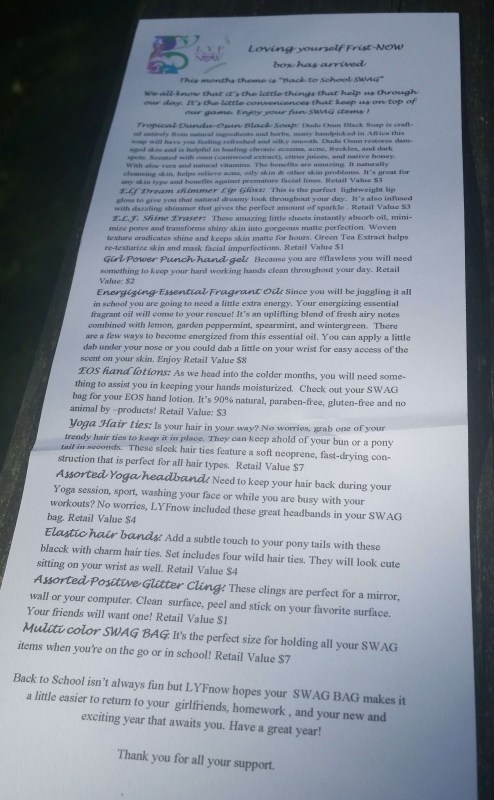 This month's theme is "Back to School SWAG" and boy, there's a lot of swag in this box.  The card that lists the item is much larger than previous months and  didn't really lend it self to being photographed!  In addition to listing off the items (and their retail prices), the card provides a positive message, this time about back to school.  "We all know it's the little things that help us through our day." and "Back to school isn't always fun but LYFnow hopes your SWAG bag makes it easier to return to your girlfriends, homework, and your new and exciting year!"
I totally love this message.  My girls had mixed feelings about going back to school – especially since they're starting middle and high school.  Remembering that it's a new and exciting year and that the little things will get them through is a great message for this month!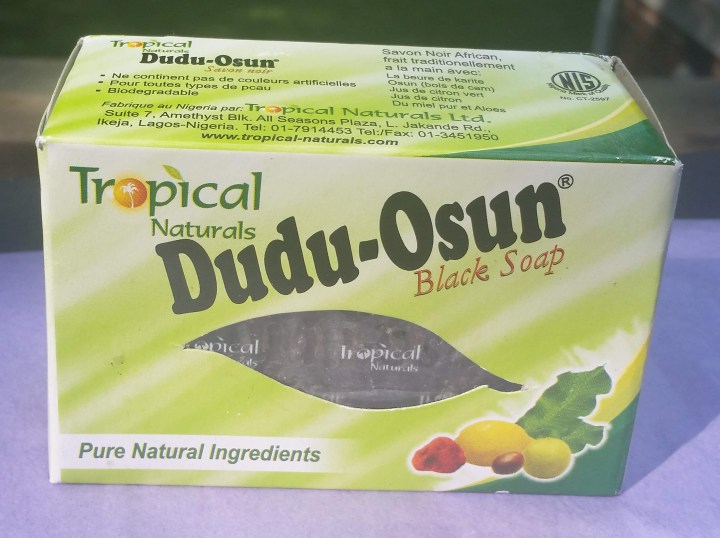 Tropical Dudu-Osun Black Soap ($3):  OK, after getting past the funny-sounding name and the fact that the bar of soap is black, my daughters agreed to test this out and ended up really liking it.  It smells very sweet and citrusy and left their skin feeling soft and clean.  I liked knowing that the soap was all natural and had ingredients that are helpful in relieving oily skin and acne, which my girls (like most teens) deal with.

e.l.f. Shimmer Lip Gloss ($3):  As a mom, I think lip gloss is the perfect makeup!  It provides color and pop without making my girls look too made up.  My girls liked this lip gloss because in addition to the pretty color, it provides a little bit of sparkle for that extra special look.
e.l.f. Shine Eraser ($1):  These are great little blotting sheets, perfect for absorbing oil.  Because the sheets come in a tiny package, this is a great item for teens to throw in their locker or gym bags for those occasional touchups at school or after phys ed.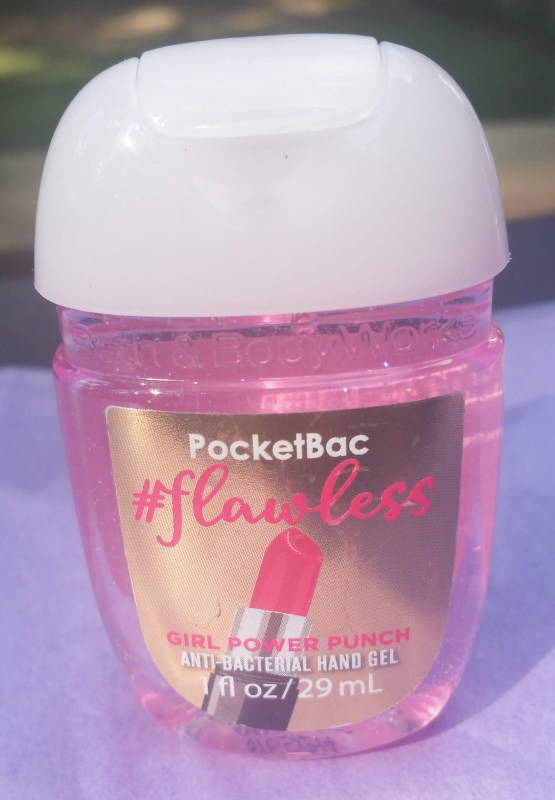 Girl Power Punch Antibacterial Hand Gel ($2):  My younger daughter grew up using hand sanitizer – she always has some in her bag.  This is also a great back-to-school item – perfect to keep in her backpack.
Energizing Essential Oil ($8):  With a blend of lemon, peppermint, spearmint, and wintergreen, this mix of essential oils provides a nice little pick me up.  With teen daughters who are busy with school, homework, and extracurricular activities, having a natural way to boost their energy is super great.  My daughters also both really liked the way this oil smelled.  The card suggests dabbing a drop under your nose or on your wrists.
EOS Hand Lotion ($3):  My girls love EOS hand lotions and lip glosses.  They are super popular among the teen/tween set.  I'm happy because its 90% natural, dermatologist tested, and hypoallergenic.  They were both thrilled to find this in their swag box!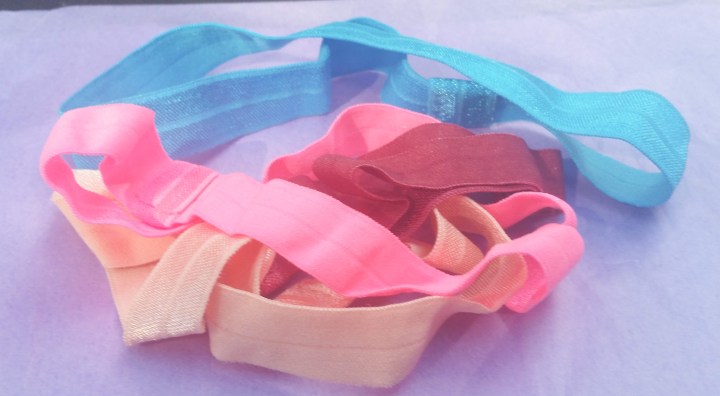 Yoga headbands ($4):  Busy girls, whether they have long hair or short hair, can always use headbands to keep their hair back and off their faces.  The box included four different colored headbands – each of them is super soft and very pretty.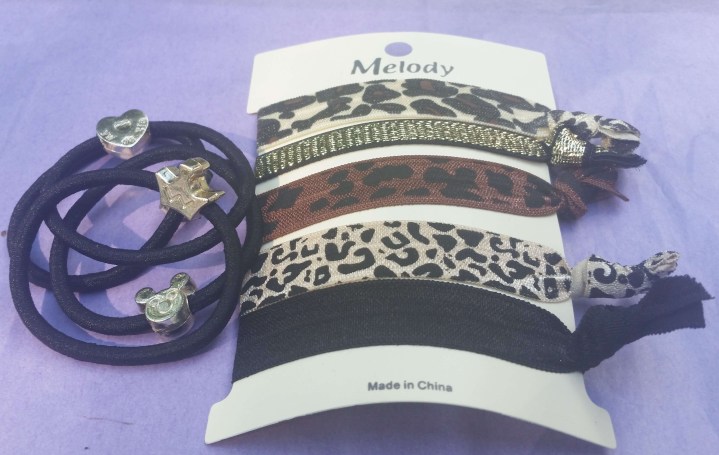 Yoga Hair Ties ($7) and Charmed Elastic Hair Bands ($4):  Whether they have them in their hair or on their wrists, my daughters are never without their hair ties.  My goodness – I should have bought stock in hair ties when I had daughters!  Anyway, the animal print ones are so trendy and the elastic bands with charms are super cute.  Both of my daughters will get a lot of use out of these!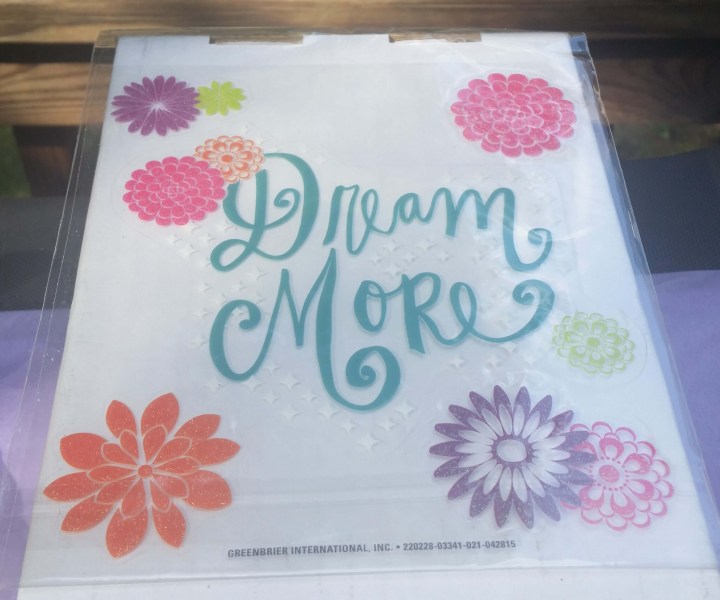 Glitter Cling ($1):  Who doesn't need a positive message every once in a while?  This is a cute window cling with a great message.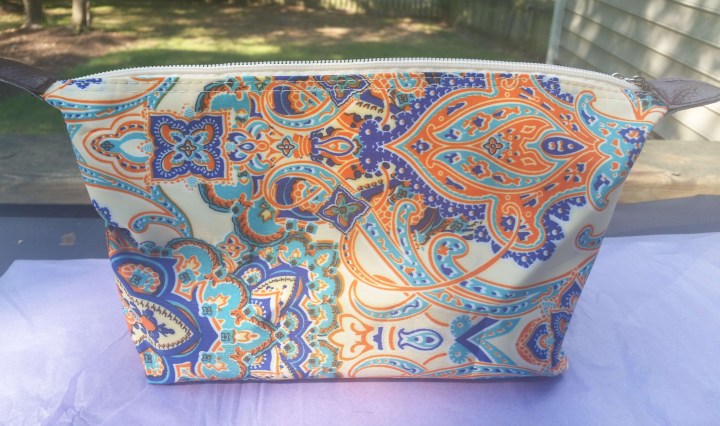 Swag Bag ($7):  The perfect bag to hold all your swag!  My girls love these bags – they use them to hold their toiletries in their sports bags, quick "fix up" gear for after phys ed, and so much more.  We can't get enough of them.  This bag has a great trendy pattern in pretty colors and will definitely be used in my house!
This month's box from LYFnow (Love Yourself First) was another big hit with my daughters.  Not only is the message perfect for teens and tweens, but this one was super timely!  Anything to make back to school less painful is awesome in my book.  All of the items in the box are practical, but also fun, and totally age appropriate.  We love LYFnow boxes!
Visit LYFnow to subscribe or find out more! Save 20% on your first box! Use coupon code HELLOLYF.
The Subscription
:
LYFnow
The Description
: This fun and exciting box is filled with functional products like jewelry, makeup and inspiration to LOVE YOURSELF FIRST-now. This box will equip you with the tools that will remind you how AMAZING you really are within on a daily basis and for a life time.
The Price
: $29.00 per month